Hey there, fellow marketer! 🚀 Are you ready to take your B2B game to the next level? Look no further because I've got the ultimate list of the 21 best B2B marketing tools that'll help you crush your goals and leave your competition in the dust. 💥
This power-packed list has got you covered from content creation to lead generation. It's time to gear up and explore these amazing tools:
I almost forgot that Plerdy's top-notch keyword analysis tool is an absolute game-changer! With its laser-sharp insights, you can pinpoint the perfect keywords and optimize your content like never before.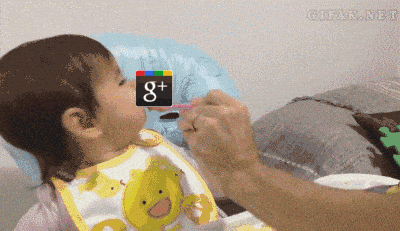 So, are you ready to roll up your sleeves and tackle the B2B marketing world head-on? This comprehensive list of marketing tools is your secret weapon – giving you the edge you need to conquer the industry with confidence and finesse. So, let's dive in and explore these incredible tools that'll elevate your marketing strategy to dizzying heights!
Why B2B Marketing Tools Matter
B2B marketing tools are pivotal in empowering businesses to create lasting connections with their target audience. They serve as the backbone of any successful marketing strategy, enabling you to:
Streamline processes
Optimize campaigns
Gather valuable insights
Increase conversion rates
Imagine launching a new product – a nifty, cutting-edge widget perfect for your fellow business owners. You employ robust B2B marketing tools, from CRM systems to social media management platforms to spread the word. With the right mix of tools, you'll have the power to track leads, analyze data, and make data-driven decisions.
My team used marketing automation software to fine-tune a promotional campaign. By leveraging the tool's built-in analytics, we identified the most engaging content and tailored messaging accordingly. The result: a significant boost in lead generation and sales.
Investing in B2B marketing tools is necessary for businesses striving to stand out in today's competitive landscape.
The Need for a Comprehensive Toolset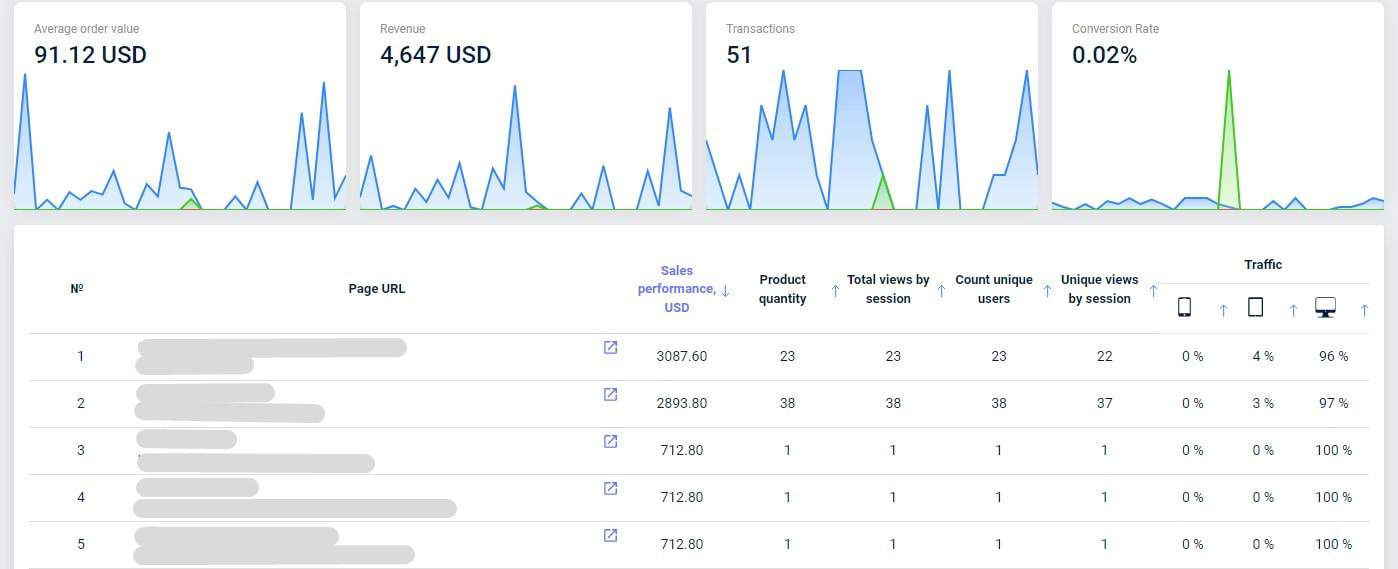 A comprehensive toolset is like having a secret weapon in the competitive world of B2B marketing. You can conquer any challenge and achieve stellar results by assembling diverse marketing tools. A well-rounded toolset enables you to:
Unify disparate processes
Foster seamless teamwork
Amplify efficiency
Propel marketing success
Take it from me – I once helped a colleague turn his struggling marketing efforts into a roaring success story. We handpicked a selection of complementary tools, knitting together a cohesive strategy that empowered his team to tackle tasks head-on, optimize campaigns in real-time, and easily track performance. The outcome was spectacular – leads poured in, and customer engagement reached dizzying heights.
Don't skimp on your B2B marketing toolkit – harness the power of a comprehensive toolset to unlock your full potential and outshine the competition.
The Different Types of B2B Marketing Tools

Let's discuss the different B2B marketing tools that can transform your campaigns into a well-oiled machine. You'll be spoilt for choice with such a diverse range of options. Here's a rundown of some popular categories:
We know that creating content is just half the battle, you need to manage and distribute it effectively. Enter content management systems like WordPress or HubSpot, which keep everything organized and streamlined.
Now, let's switch gears and talk about social media marketing and management. With marketing tools like Hootsuite or Buffer, you can juggle multiple platforms like a pro and never miss a beat. Add some email marketing firepower – think Mailchimp or Constant Contact – and you've got a killer one-two punch.
But what about tracking your success? Analytics and marketing reporting tools like Plerdy, Google Analytics 4 or SEMrush will ensure you're always in the know, ready to fine-tune your strategy.
Last but not least, don't forget about lead generation and nurturing. Again, tools Pardot or Marketo are the key to unlocking a treasure trove of potential clients, guiding them along the buyer's journey as a skilled shepherd.
Armed with this arsenal of B2B marketing tools, you'll be unstoppable – ready to tackle any marketing challenge with gusto!
List of Best 21 B2B Marketing Tools
Buckle up, my friend! I've just stumbled upon this game-changing list of the top 21 B2B marketing tools that'll knock your socks off. With this treasure trove in hand, you'll navigate the marketing seas like a seasoned captain, ready to conquer the B2B world. So, let's dive in and discover the gems that'll skyrocket your marketing prowess to stellar heights!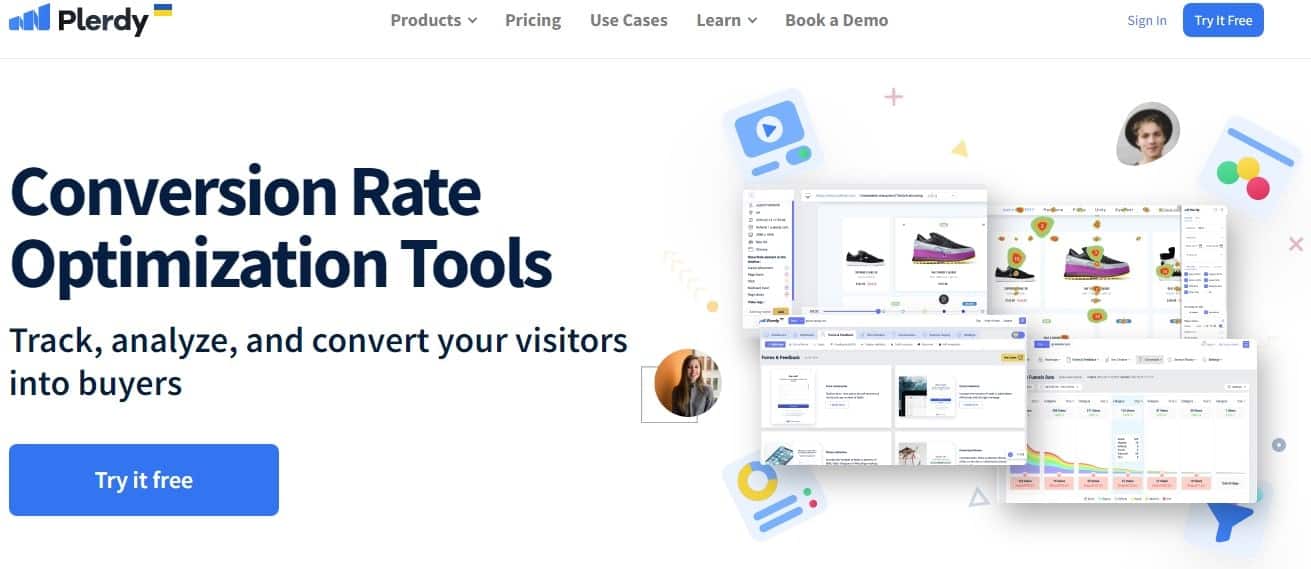 Let me introduce you to Plerdy – a fantastic marketing tool turning heads in B2B. It's sleek and user-friendly and packs a punch with its powerful features. Let me share some highlights with you:
Heatmaps for analyzing user behavior
Session replay for analyzing usability
Pop-up forms for lead generation
SEO-checker to optimize your website
You know what they say – "A picture is worth a thousand words." With Plerdy's heatmaps tool, you can see how your audience navigates your website. It's like having x-ray vision into their online behavior!
But wait – there's more! Plerdy tool also has a nifty pop-up form builder, helping you reel potential clients like a seasoned angler. Then, with the perfect bait – aka, irresistible offers – you'll have leads lining up like ducks in a row.
And to top it all off, Plerdy's SEO checker is the cherry on the cake. This tool ensures your website is always in tip-top shape, making it easy for search engines (SEO) to find and rank your content. It's like having a personal trainer for your website – pushing you to be the best you can be.
To sum it up, Plerdy is the marketing ace up your sleeve. That empowers you to dive headfirst into the B2B arena, ready to tackle any challenge that comes your way. So, give Plerdy a whirl and see your marketing efforts soar to new heights.

HubSpot is the go-to tool for B2B digital marketers, an all-in-one solution. Picture this: a powerhouse tool that streamlines your marketing efforts, keeping you ahead of the game. With HubSpot, you can seamlessly manage a myriad of tasks, including:
Email marketing campaigns
Social media marketing scheduling
CRM and lead nurturing
Analytics and Reporting
I'll remember the time I introduced HubSpot to a colleague who was drowning in manual marketing tasks. Almost overnight, her productivity skyrocketed. No more juggling marketing tools or navigating spreadsheets. Instead, she could focus on nurturing leads and driving results.
HubSpot truly is the bee's knees for marketers seeking a centralized platform to manage their B2B campaigns. However, its intuitive interface, powerful features, and stellar support make it a must-have tool in any marketer's arsenal. So say goodbye to disarray and hello to a streamlined, data-driven approach that'll leave your competitors green with envy.

Ahrefs is a game-changer for B2B marketers seeking cutting-edge marketing tools to elevate their SEO game. It's like having Harry Potter's magic wand in your marketing toolkit, providing you with unparalleled insights and capabilities, such as
Picture this: I once assisted a struggling friend desperate to boost her company's organic traffic. After introducing her to Ahrefs, her eyes lit up as she discovered a goldmine of untapped opportunities. From optimizing her website's content to outsmarting the competition with a robust backlink strategy, Ahrefs helped her business climb the search rankings like Jack up the Beanstalk.
Ahrefs is a must-have marketing tool for anyone serious about B2B marketing. Its treasure trove of data and intuitive interface make it an indispensable ally in your quest for SEO supremacy.

Asana is a godsend for B2B marketers craving a seamless way to manage projects and collaborate with their teams. Consider it the glue that holds together your marketing initiatives, giving a consolidated location for duties such as:
Planning campaigns
Assigning responsibilities
Tracking progress
Streamlining communication
Let me paint a picture: I once recommended Asana to a colleague struggling to keep his marketing team in sync. The transformation was like night and day – gone were the days of endless email marketing chains and missed deadlines. Instead, his team flourished as they tackled projects with newfound efficiency and clarity.
Asana is the unsung hero of the B2B marketing world, a trusty sidekick that helps you stay on top of your game. It's a user-friendly interface, and powerful features make managing even the most complex campaigns a breeze. So, kiss chaos goodbye and embrace the harmony that Asana brings to your marketing strategy – you'll wonder how you ever lived without it.

Salesforce is the ace up the sleeve for B2B marketers, acting as a formidable ally in the quest for stellar customer relationships. Imagine a digital marketing maestro orchestrating your every move with features:
Robust CRM capabilities
Tailored marketing automation
Smart lead nurturing and scoring
Comprehensive analytics
A colleague of mine once grappled with managing client interactions and deciphering their needs. Introducing Salesforce was like striking gold – with newfound insight, he could engage prospects, retain customers, and nurture leads with surgical precision. His marketing team danced in unison, harmonizing their efforts within this all-encompassing marketing platform.
Salesforce is the cornerstone of results-driven B2B marketing, offering a Swiss Army knife of tools that cut through the noise and deliver exceptional customer experiences. So embrace the power of Salesforce, and watch your marketing prowess transform from average to extraordinary.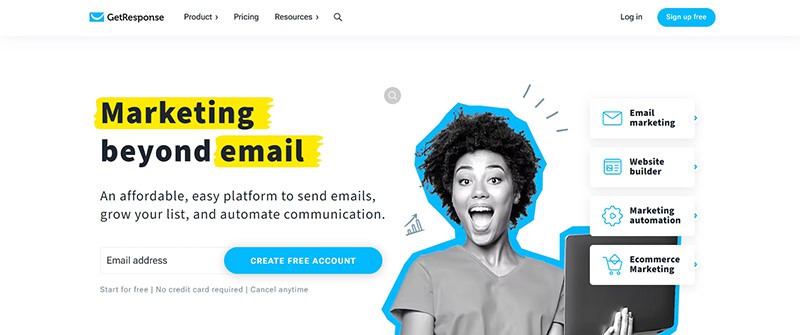 GetResponse is like the secret sauce that adds a flavorful twist to B2B marketing, leaving your audience craving more. This versatile marketing tool packs a punch with its all-in-one approach, offering marketers a powerhouse of features, such as:
I remember when my buddy struggled to find the perfect blend of marketing tools for his business. Then, introducing him to GetResponse was like throwing a lifeline – suddenly, he could streamline his efforts and captivate his audience like never before. With an arsenal of features, he could effortlessly create compelling email campaigns, design eye-catching landing pages, and host engaging webinars.
GetResponse is the Swiss army knife of B2B marketing tools, offering a treasure chest of features that enables you to orchestrate a well-rounded marketing strategy. So unleash the full potential of GetResponse and watch your marketing endeavors soar to new heights.

Picture this: you're a savvy B2B marketer looking to unlock the full potential of your online presence. This powerful marketing tool is like a treasure map, guiding you through the digital landscape to discover hidden gems of insight and data-driven strategies.
Semrush offers a cornucopia of features designed to elevate your marketing game, such as:
Keyword research and analysis
Competitor tracking and comparison
Site auditing for SEO optimization
Content marketing strategy development
Social media management
I recall when my colleague, struggling to keep up with the competition, took the plunge and dived into Semrush. It was flipping a switch – suddenly, she could decode the secrets of her competitors' success and craft her strategy to outrank them. Armed with Semrush, she transformed her marketing approach from a haphazard guessing game to a well-oiled machine.
In the fast-paced world of B2B marketing, staying ahead of the curve is crucial, and Semrush is the beacon that lights the way. With its cutting-edge features and data-driven insights, Semrush is every marketer's indispensable tool to navigate the ever-evolving digital landscape and conquer the competition. So, dive into the treasure trove of Semrush, and let your marketing endeavors reach new heights.

Tell you about the Salesforce tool – the Swiss Army knife of B2B marketing. It's like having an assistant, a data scientist, and a crystal ball all rolled into one. This powerhouse platform is essential for any marketer looking to succeed in the competitive digital world.
Salesforce serves up a smorgasbord of features that cater to every marketing need:
Lead management and nurturing
Customer segmentation and targeting
Marketing Campaign management and analytics
Marketing automation and personalization
Integration with third-party apps and services
I remember the day my buddy, overwhelmed with managing leads and campaigns, took the plunge and embraced Salesforce. It was like discovering a hidden treasure trove of marketing know-how. He quickly whipped his campaigns into shape, fine-tuning every aspect like a maestro conducting an orchestra.
With Salesforce in your marketing toolkit, you'll streamline your processes and make data-driven decisions that pack a punch. So, hop on the Salesforce train and ride it to marketing success – it's the ticket to turning your B2B marketing dreams into reality.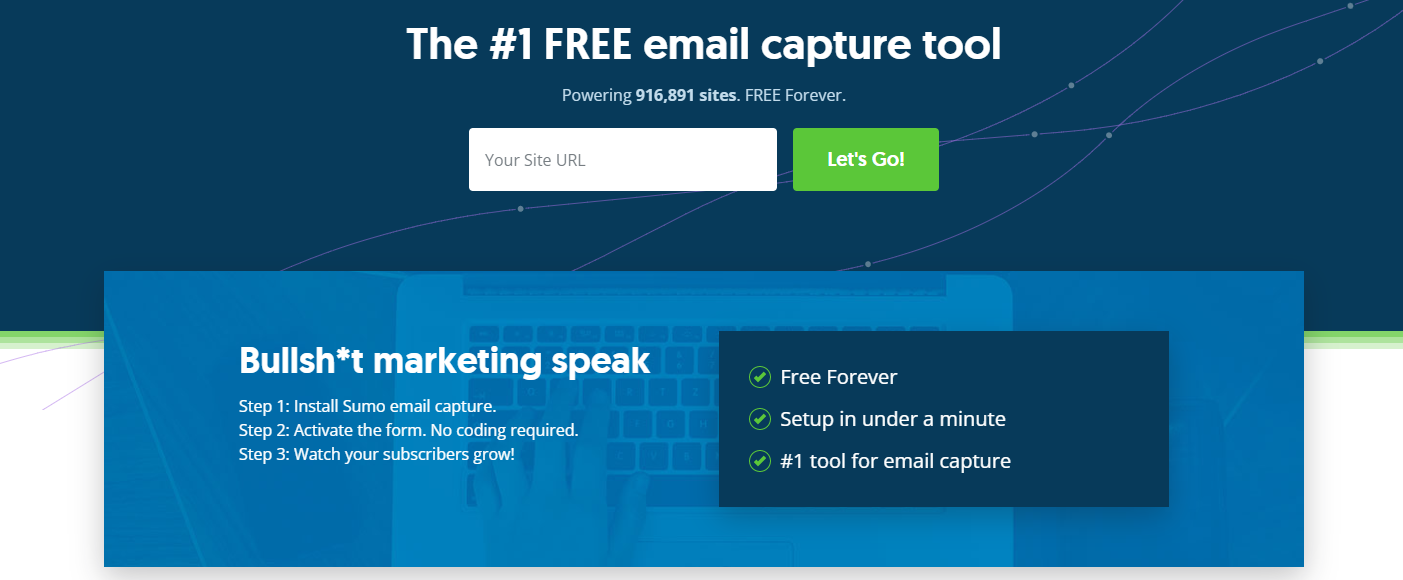 Picture this: you're a B2B marketer on a mission to boost your online presence but struggling to find the right marketing tools. Then, you discover Sumo – a marketing heavyweight that's got your back like a seasoned sparring partner. Sumo steps into the ring, ready to champion your marketing efforts and amplify your success.
This versatile tool offers a knockout combination of features:
List building and lead generation
Social sharing and analytics
E-commerce marketing integrations and cart recovery
Customizable pop-ups and forms
It was like flipping a switch when my astute marketer colleague added Sumo to her marketing arsenal. She turbocharged her website, doubled her email list, and sent her conversion rates soaring. She couldn't stop singing its praises, and I couldn't help but marvel at her transformation.
So, don't just dip your toes in the water – dive headfirst into Sumo's world of marketing muscle. With this game-changing tool in your corner, you'll be primed to tackle any B2B marketing challenge and rise through the ranks like a true marketing maestro.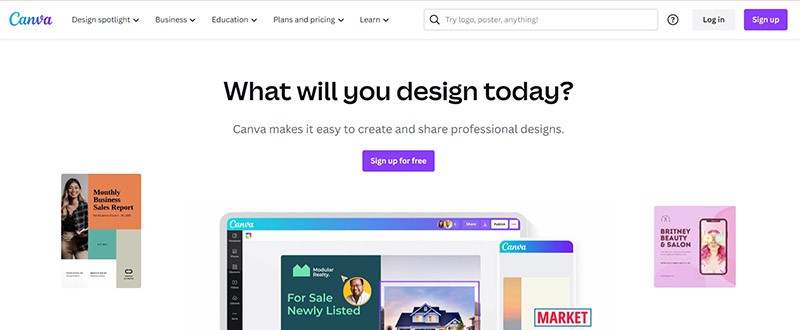 Picture this: a B2B marketer crafting eye-catching visuals like a true Picasso without spending countless hours or dollars on design software. Sounds like a dream, right? Well, it's time to wake up and smell the paint – Canva is here to turn your marketing vision into a masterpiece.
Canvas treasure trove of design features includes:
A plethora of marketing templates for social media, presentations, and more
Customizable fonts, colors, and layouts
A vast library of stock images, icons, and illustrations
Easy drag-and-drop functionality
Seamless team collaboration capabilities
My virtuoso marketing colleague recently took Canva for a spin and hasn't looked back since. She whipped up a stunning social media campaign that captured her audience's attention and left her competitors green with envy. Canva's intuitive interface and limitless creative potential.
So, take the plunge and unleash your inner artist with Canva. With this powerhouse tool in your B2B marketing toolkit, you'll be poised to create show-stopping visuals that leave a lasting impression on your target audience. The world is your canvas, and Canva is the brush to paint your marketing success.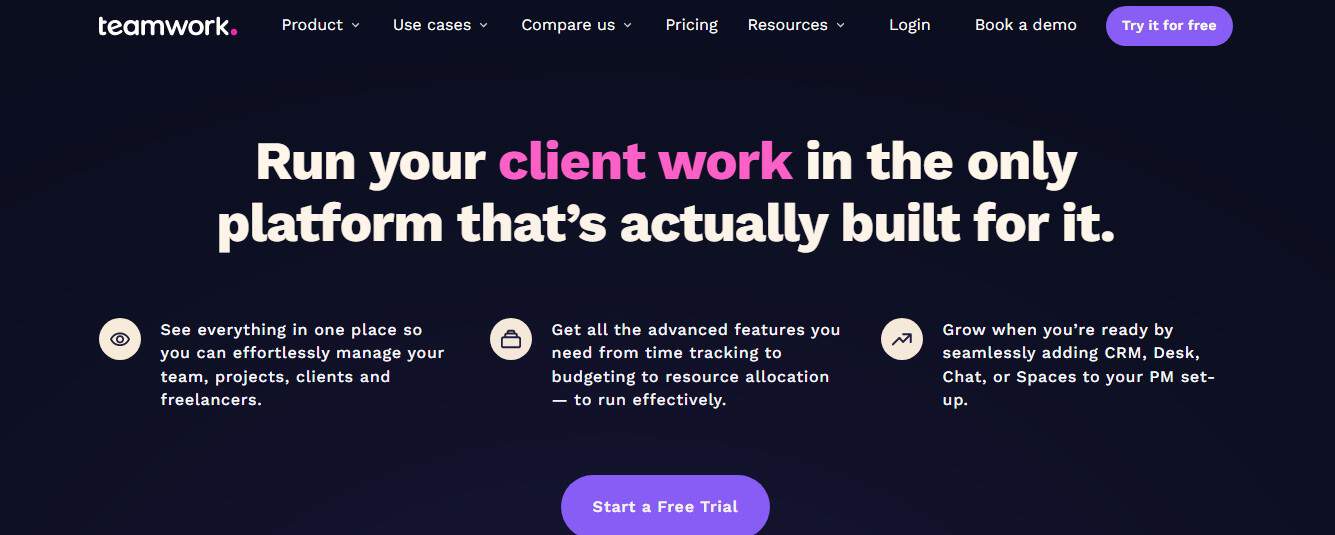 Imagine effortlessly syncing your entire marketing squad and unlocking the full potential of collaboration – Teamwork is the B2B tool that makes it happen. Designed to streamline workflows, this game-changing platform is the glue that binds the B2B marketing team together like peas in a pod.
Robust project management capabilities
Time tracking and resource allocation
Customizable dashboards for easy monitoring
Integrated chat and file-sharing functions
Comprehensive reporting and analytics
A buddy of mine recently gave Teamwork a whirl, and it worked wonders for her team's productivity. The platform's seamless communication and task management tools allowed them to tackle projects head-on, leaving no stone unturned. They've been on a roll ever since, crushing left, right, and center goals.
Teamwork is key in fast-paced B2B marketing. So, why not take the plunge? Give your team the tools to soar to new heights and conquer the marketing landscape.

Picture this: You're a B2B marketer on the hunt for high-quality leads, pulling out all the stops to get results. But what if I told you there's a game-changing tool that'll put you in the driver's seat? Enter Leadfeeder, the marketing whiz that'll help you uncover hidden gems and turn prospects into loyal customers.
A friend of mine, a marketing maestro in her own right, decided to take the bull by the horns and give Leadfeeder a spin. She was blown away by the platform's ability to tap into a goldmine of insights by analyzing website visitors, turning that data into actionable intelligence. As a result, her team's lead generation skyrocketed – all thanks to this powerhouse marketing platform.
Leadfeeder's standout features include:
Visitor identification and tracking
Integration with popular CRM systems
Real-time lead notifications and scoring
Customizable filters to segment leads
In-depth analytics for data-driven decisions
By leveraging Leadfeeder, my friend's team could roll out the red carpet for high-priority leads while also fine-tuning their marketing strategies based on their gathered insights. In a nutshell, it was like having their cake and eating it too!
If you're ready to knock the ball out of the park and transform your B2B marketing game, look no further than Leadfeeder. It's time to turn the tables on your competition and leave them eating your dust – all with a little help from this trusty sidekick.

Let me tell you about a secret weapon that B2B marketers can't live without – Grammarly. This handy tool has saved my bacon more times than I can count! Imagine a digital guardian angel watching over your written communication, ensuring it's polished and professional.
Grammarly is the bee's knees for catching those pesky grammar and spelling errors that can tarnish your marketing game. But it doesn't stop there; it also helps you:
Enhance readability with style and tone suggestions for marketing articles
Maintain consistency with a custom style guide
Avoid plagiarism for marketing content with an integrated checker
Access expert writing assistance, if needed
A colleague of mine took Grammarly for a spin, and it was love at first sight. His emails and proposals suddenly shone like a diamond, and his clients took notice. Before long, he was closing deals left, right, and center – all thanks to Grammarly's magic touch.
So if you're ready to put your best foot forward and make a splash in B2B marketing, leave home with Grammarly. With this trusty sidekick, you'll be unstoppable, and your communication will always hit the mark.
Picture this: you've spent countless hours crafting the perfect B2B marketing campaign, only to watch your hard-earned leads slip through your fingers. Frustrating, right? Well, fret not, my friend, because OptinMonster is here to save the day!
OptinMonster is a game-changing marketing tool that turns website visitors into loyal subscribers and customers.
Here's the lowdown on OptinMonster's standout features:
Drag-and-drop builder for easy customization
Eye-catching templates to grab the attention
Exit-intent technology to capture leaving visitors
Advanced targeting options for laser-focused campaigns
Seamless integration with popular email marketing services
A colleague of mine took OptinMonster for a whirl, and the results were mind-blowing. Her website went from a ghost town to a bustling hub of engaged visitors eager to learn more about her offerings. Her lead generation skyrocketed, and her sales were through the roof before long!
So if you're searching for a secret sauce to supercharge your B2B marketing efforts, look no further than OptinMonster. This powerful tool will help keep your leads on the hook and maximize your marketing ROI.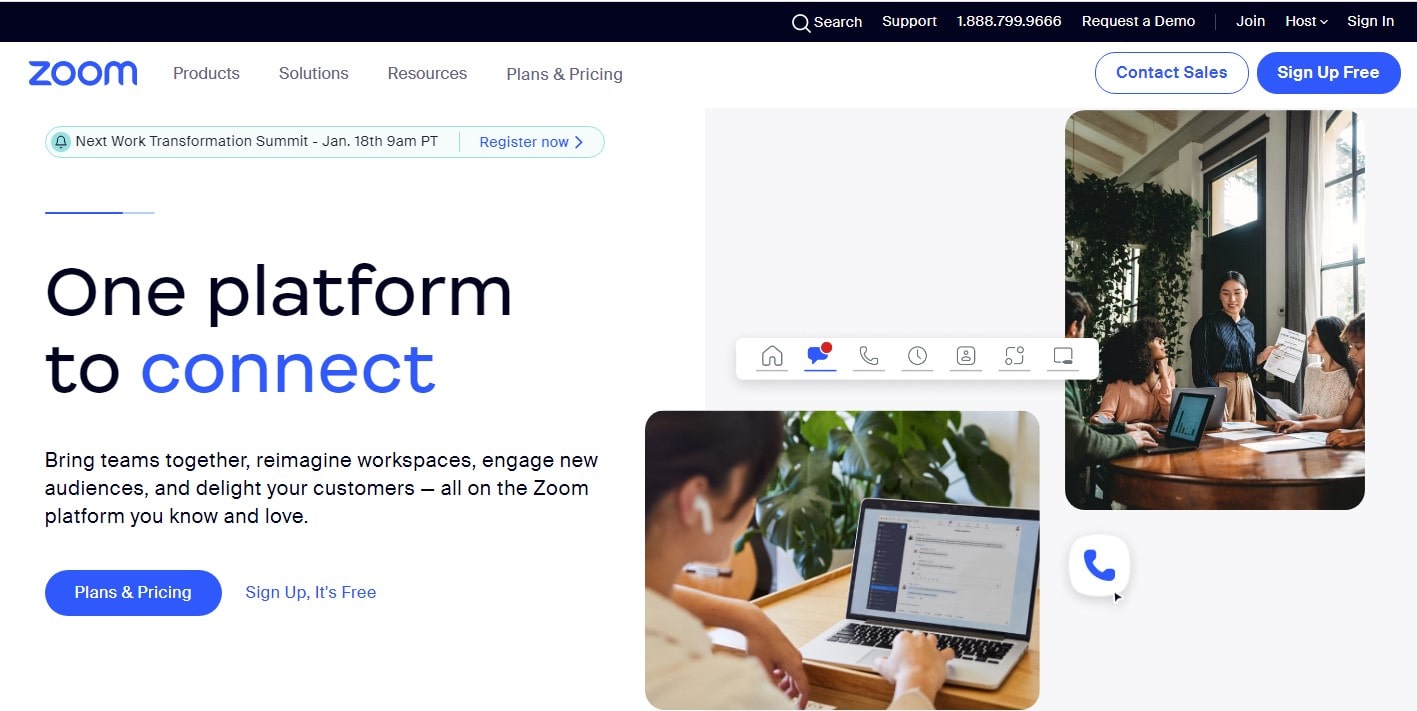 In B2B marketing, staying connected and building relationships is essential. That's where Zoom swoops in like a superhero, ready to save the day! It's more than just a video conferencing tool – it's the key to unlocking marketing, a treasure trove of networking, collaboration, and engagement opportunities.
Zoom is perfect for B2B marketers because it offers the following:
Crystal-clear audio and video quality
Screen-sharing capabilities for presentations
Breakout rooms for focused discussions
Virtual backgrounds add a professional touch
Integration with popular scheduling and CRM tools
A buddy of mine recently hosted a virtual networking event using Zoom, and the results were jaw-dropping. Attendees raved about how easy it was to navigate, mingle, and share ideas – all from their homes. Talk about a win-win situation!
So whether you're organizing webinars, hosting client meetings, or collaborating with team members, Zoom is the go-to marketing tool for B2B professionals. With its user-friendly interface and impressive features, you'll be well on your way to forging stronger connections and driving your business forward. So give Zoom a try, and prepare to be amazed by its power to revolutionize your B2B marketing game.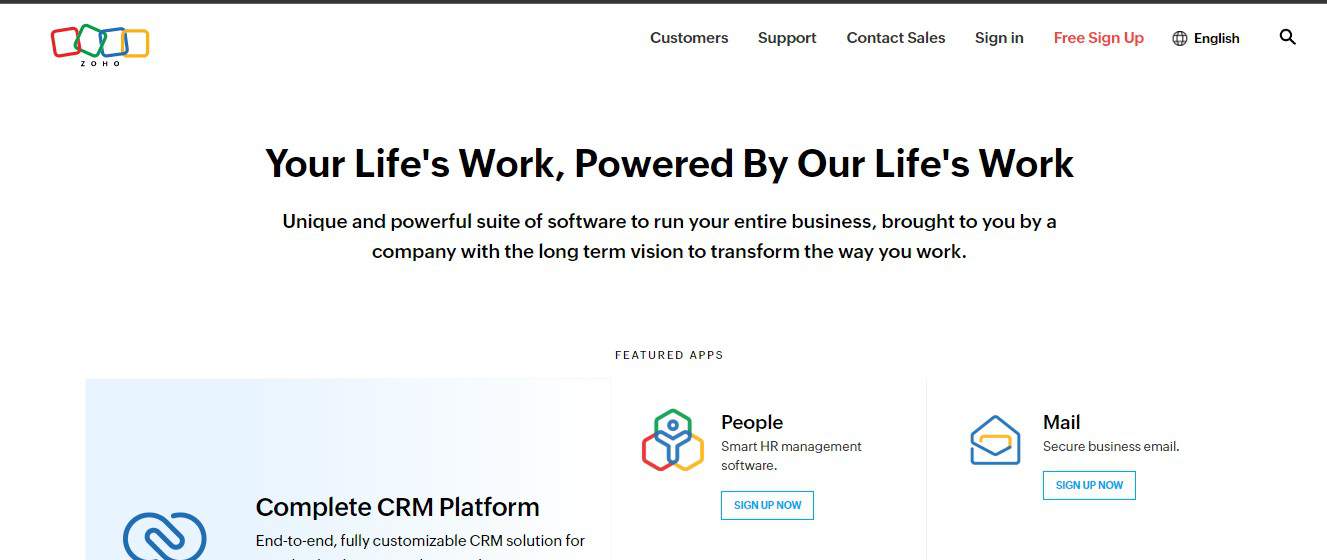 Let me tell you about the Zoho CRM tool, a B2B marketing game-changer. Picture this: a single platform that streamlines your sales, marketing, and customer support efforts – talk about hitting the jackpot! Zoho CRM empowers businesses with its powerful features, intuitive interface, and seamless integrations.
Just take a look at these standout features:
Lead management and scoring for prioritizing prospects
Customizable dashboards for real-time data tracking
Workflow automation to save time and boost efficiency
In-depth analytics and reporting for data-driven decisions
Multichannel communication for seamless customer interactions
I've seen firsthand how Zoho CRM transforms businesses. For example, a colleague of mine revamped their sales process using this nifty tool, and it was like watching a caterpillar morph into a butterfly. They saw a spike in their conversion rates, and their team's productivity went through the roof.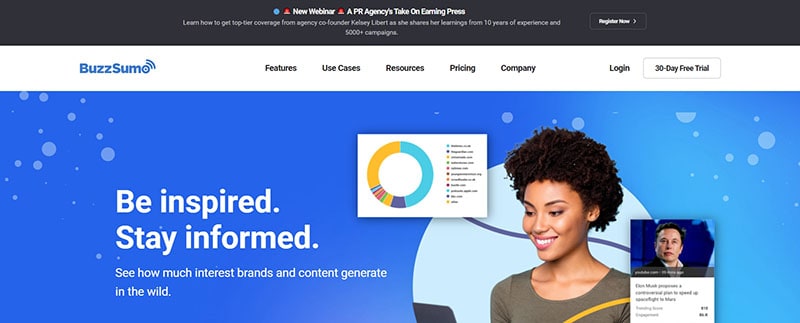 BuzzSumo is the perfect tool you need in your B2B marketing arsenal. It's like a crystal ball that lets you uncover the most engaging content in your niche, giving you the edge to outshine your competition. With BuzzSumo, you can zero in on the trends and topics that resonate with your audience, so you can craft content that hits the bullseye every time.
Check out these top-notch features:
Content discovery for unearthing viral stories and trends
Influencer identification to pinpoint thought leaders in your industry
Competitor analysis for benchmarking success
Backlink tracking to measure your content's impact
I recall a buddy of mine who was struggling to make a splash in their niche. So they turned to BuzzSumo, and it was like striking gold. They created viral content by tapping into data-driven insights and bolstered their brand's credibility.
So, if you're serious about mastering B2B marketing, BuzzSumo is the tool that'll help you hit a home run. Give it a go, and you'll wonder how you managed without it.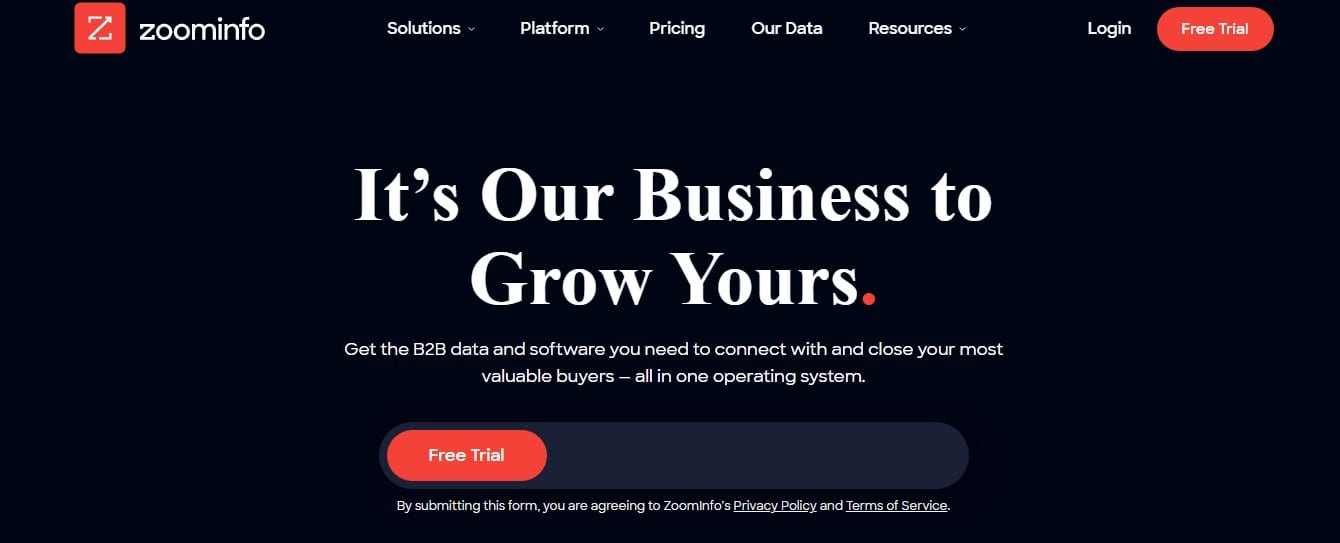 ZoomInfo is the unsung hero of B2B marketing – a powerful tool that lets you tap into a goldmine of company and contact information. Imagine having a treasure map leading you straight to your ideal prospects. With ZoomInfo, that's precisely what you get! This game-changing marketing platform streamlines finding and connecting with high-quality leads, so you can focus on building lasting relationships and closing deals.
Here are some of the top-notch features that make ZoomInfo a must-have:
Robust database with millions of company and contact records
Advanced search capabilities to zero in on your target audience
Seamless CRM integration for efficient data management
Real-time alerts to track your prospects' moves
Comprehensive analytics for data-driven decision-making
I'll never forget when my colleague introduced me to ZoomInfo – it was like a breath of fresh air. She had been raving about how it had transformed her prospecting efforts and helped her crush her sales targets. Once I gave it a spin, I was hooked, and there was no turning back.
So, if you're ready to level up with tool your B2B marketing game and unlock new opportunities, it's time to dive into ZoomInfo.
Unbounce tool is the ace for B2B marketers looking to skyrocket their conversion rates. It's a top-notch tool allows you to create and optimize landing pages, turning them into powerful conversion magnets. A friend of mine raved about the results he achieved using Unbounce – his lead generation campaign was on fire, and he couldn't stop smiling!
Some of the standout features that make Unbounce a must-have include:
Drag-and-drop page builder for effortless customization
A vast library of responsive templates to kickstart your designs
A/B testing capabilities to fine-tune your pages for maximum impact
Seamless integration with popular marketing tools for smooth workflows
Real-time performance analytics to help you make data-driven decisions
One thing's for sure – when you embrace Unbounce, your marketing game will never be the same. I've seen it transform campaigns, and the results speak for themselves. So, don't miss out on this game-changing platform that can take your B2B marketing to new heights. With Unbounce by your side

Marketo is a powerhouse in the B2B marketing arena – a tool that can propel your campaigns to new heights. My colleague recently shared how this marketing automation platform has transformed her lead nurturing process, and the results blew me away.
Here's a snapshot of Marketo's standout features:
Comprehensive lead management to efficiently track and engage prospects
Personalized email marketing for targeted outreach
Advanced analytics to monitor and optimize campaigns
Seamless CRM integration for streamlined workflows
A robust ecosystem of partner apps to enhance functionality
With Marketo in your arsenal, you can create meaningful connections with potential clients and accelerate the sales funnel.

Buffer has earned its stripes as a go-to B2B marketing tool for professionals, making social media management a breeze. When my colleague introduced me, I couldn't believe how effortlessly it streamlined our social media game.
Check out these Buffer highlights:
Schedule marketing posts across multiple platforms in one fell swoop
Analyze performance with detailed insights
Collaborate effectively with team members
Tailor marketing content using the built-in media composer
Leverage the browser extension for easy sharing
By putting Buffer to work, you can cut through the noise and engage with your audience more meaningfully. It's a game changer that saves you time, increases your reach, and keeps your social media presence on point. So take the plunge – dive into Buffer and watch your B2B marketing strategy soar to new heights.
Bottom Line
Alright, dear buddy, we've finished our whirlwind tour of the 21 finest B2B marketing tools, and I'm sure you're anxious to try them out! These tools will drive your marketing efforts like a well-tuned engine, purring efficiently and precisely. But remember, with great power comes great responsibility, and these tools are the key to unlocking your B2B marketing potential.
We've covered everything from content powerhouses like Adobe and WordPress to CRM wizards like Salesforce and SugarCRM. You've seen how Hootsuite and Buffer can be your social media sidekicks while Mailchimp and ActiveCampaign act as your email marketing maestros. Plus, analytics gurus such as Google Analytics 4 and Tableau will give you the insights to fine-tune your strategies and grow your business like never before. 📈
By now, you should be feeling like a marketing superhero, ready to conquer the B2B world with an arsenal of tools at your fingertips. Don't forget to give Plerdy's keyword analysis a whirl – it's the cherry on top of this marketing sundae! 🍒
So, what are you waiting for? Take the plunge, dive into the treasure trove of B2B marketing tools we've presented, and watch your business soar to new heights. Remember, the sky's the limit! 🚀 And when you're ready to take it up a notch, don't hesitate to explore even more tools like LeadsBridge, Oracle, or Microsoft Dynamics. Your B2B marketing journey is just beginning – the possibilities are endless!
Now go forth, my marketing compadre, and seize the day! 💪 Carpe diem!