There is no marketing without copywriting. But a good writer does not necessarily mean a good copywriter. The latter writes not only qualitatively and competently. They can also involve an audience of readers in the process and motivate them to take action: learn, make a purchase, subscribe. Forming the image of a company or brand is also not complete without the work of a copywriter. It is important to find a pro who will develop a unique tone of voice for the brand. Below, we will consider examples of good and bad copywriting.
Why is Good Copywriting Important?
Examples of copywriting are everywhere: McDonald's has been shaping the image of a family restaurant for years, Burger King is a youthful and rebellious hub, Apple speaks to customers officially, packing impressiveness into elegant conciseness of the text. Copywriting is a strategy. Recognition of the brand style, even in a post on Twitter, is the fruit of this strategy.
Starting with creative legends and ancient myths, people think in stories. The popularity of Shakespeare and Netflix is proof of that. So telling a brand's story is necessary to breathe life into it. And only good copywriting can do that.
Best 10 Good Copywriting Examples
To create effective copywriting, you need to know the history and successful cases from the past, the work of masters and examples of how not to do it. We offer you ten successful examples of copywriting.
BarkBox's Audience Understanding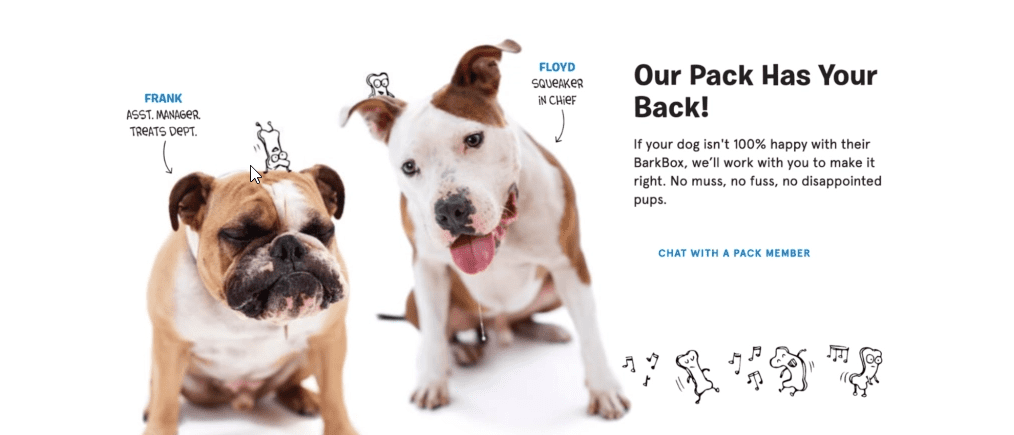 BarkBox has hit the dog market by speaking the language of love for pets. Photos of puppies and catchy phrases like "Our pack has your back!", as well as direct-to-dog selling messages, have spawned a litany of imitators in the industry. Recipe for success? Good work with ICP (ideal customer portrait) and creating a brand voice that is close and understandable to customers. As a result, the buyer thinks: "Only real dog lovers could create such advertising"! An ideal example of copywriting is a portfolio case of a successful company!
Bombas' Catchy Copy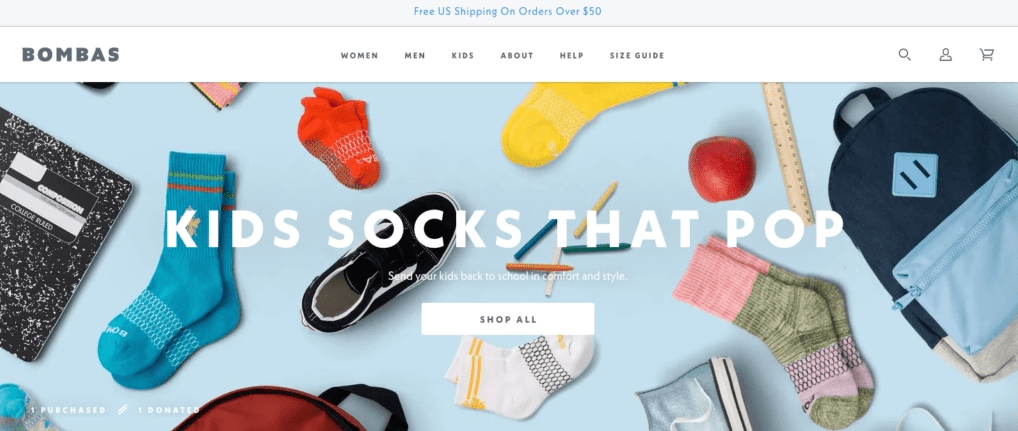 There is a theory: poetry arose to memorize arrays of information in the pre-literate period. Knowledge was passed on in songs (tales, myths, and then poems – such as the Iliad and the Odyssey). After millennia, memorization techniques have become a science. Therefore, a rhyming slogan or a song is an excellent, tenacious advertisement. The "Beanz Meanz Heinz" motif by bean maker HJ Heinz Company is one of the best examples of the method. The song was played in Britain for thirty years, and everyone knew its motive. Later, the method was discredited by a mass of mediocre performers. Therefore, the main rule is only the best rhymes or no rhymes.
A good example of copywriting: a sock company uses the slogan "Kids Socks That Pop," which rhymes and speaks directly about the product. "Stock up. Sock Up." is another version of the bright slogan of Bombas, which turned ordinary advertising into art thanks to good copywriting.
Brooklinen's Wordplay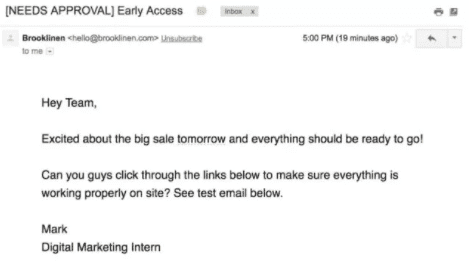 A pun on the brink of a foul and a controlled "leak" of corporate mail: bed linen manufacturer Brooklinen started Black Friday a week early and turned it into a "black week" ahead of the competition. And the letter asking to test the link to the discounts, sent allegedly by mistake, went viral.
To spice up a "boring" industry, the company flirts with consumers' sense of humor. The bottom line is in constant balancing on the boundary of the permissible and spicy hints. Remember: this only works if the copywriting is good. An incompetent writer can ruin everything with one post.
Specificity and detail (Rolls-Royce)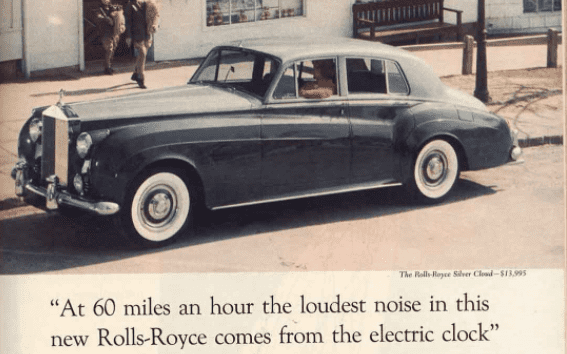 The Rolls-Royce advertising slogan "Specificity and detail" recently celebrated its sixtieth anniversary and is still considered one of the best copywriting examples. For example, the title of one of the promotional articles was "At 60 miles an hour, the loudest noise in this new Rolls-Royce comes from the electric clock".
If you write "the car is very quiet", the reader may not believe it. Add an impressive detail like "we needed a stethoscope to hear the axle work" or "the clock is louder than the car" and the ad will work. Facts and truth are important here.
Edgy humor (Ricola)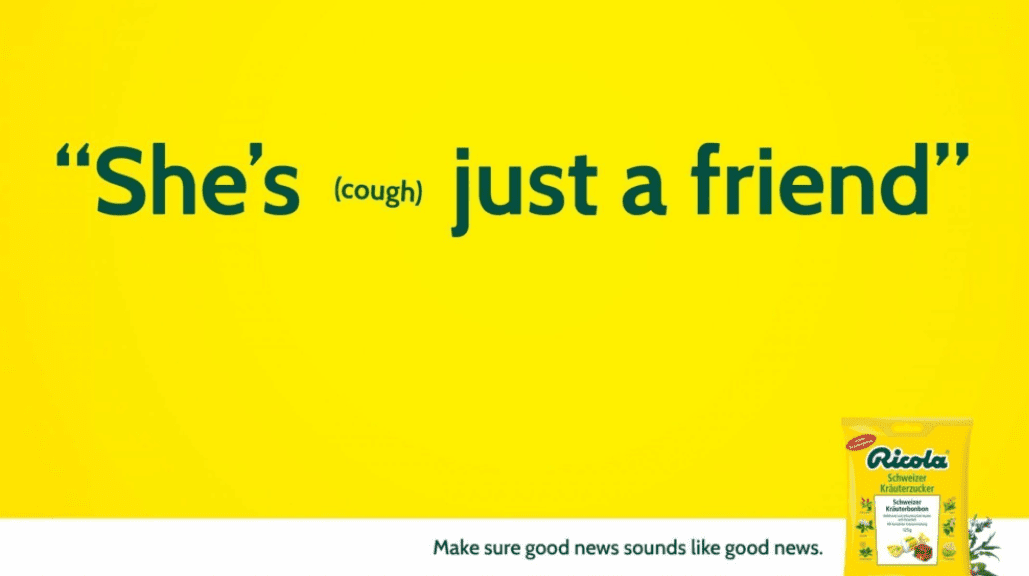 Cough lozenge maker Ricola does not try to assure customers of its quality and does not invite doctors for interviews. Instead, they created a series of videos about how a sudden cough can distort the meaning of what was said and ruin everything. No persuasion, just product demonstration. The 2014 successful ad turned out to be more lively than others – and entered the collection of copywriting examples.
This sarcastic approach should not be used for social and politicized topics unless you are prepared for a possible Twitter storm. "Black PR" is thin ice, and its strategy must be developed with particular care.
Understand your customers' perspective — then flip it (Volkswagen)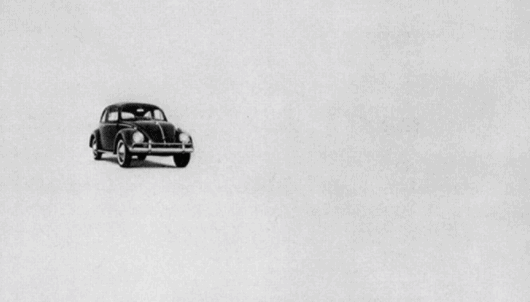 Sometimes it is effective to go from the opposite. But do not timidly cross the line and timidly jump back, but act proudly. And explain why it's cool.
A great example of copywriting: 70 years ago, large cars and colorful, "screaming" advertising posters were in vogue in the USA. Volkswagen did the opposite: the company released a black-and-white poster with a tiny car and the slogan "Think small." Both advertising and the product were radically different from the usual ones – therefore, they became noticeable. And the obvious advantages (minimum fuel and maintenance, cheap insurance) ensured sales.
Your values are our values (Innocent Drinks)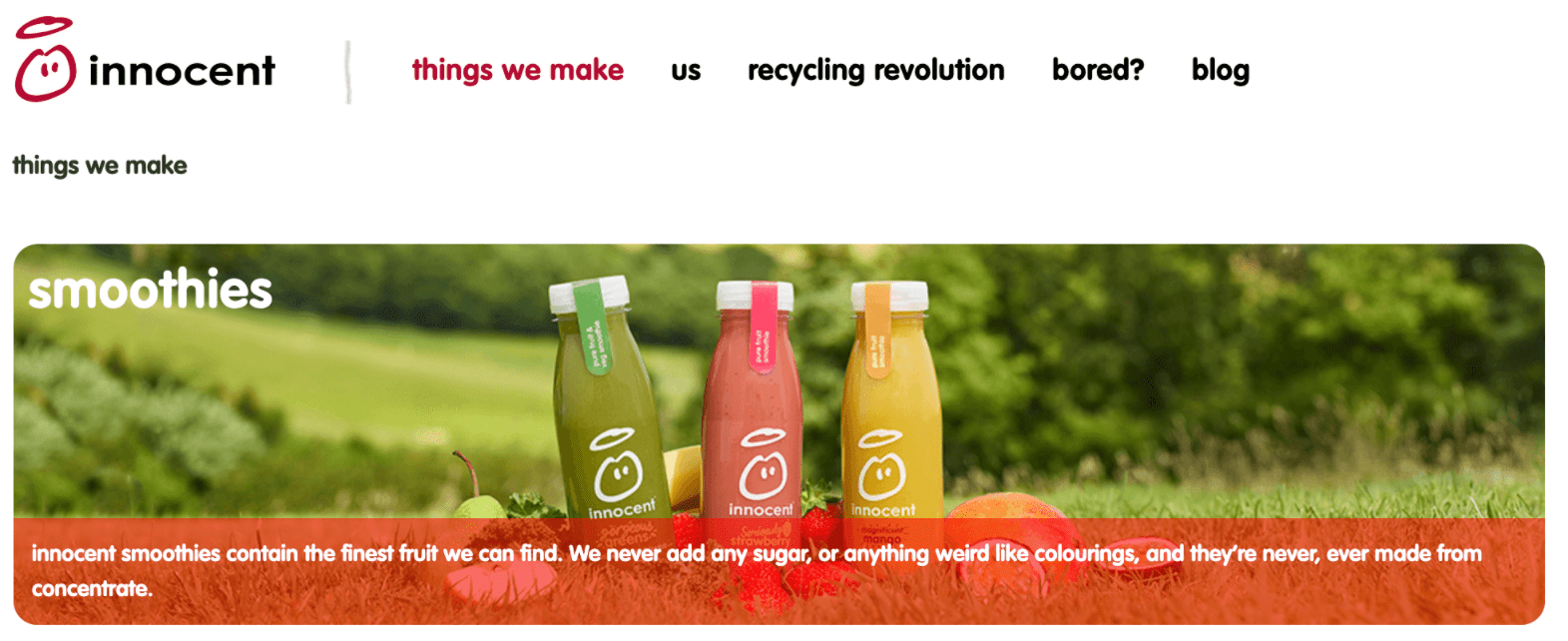 Ease, straightforwardness and a proactive strike are the strategies of the Innocent Drinks brand. Before the customer thinks, "Are there any additives in their smoothies?" the site already has the answer: "No." So it is worth doing with every question that a buyer may have. The description also includes "Only the best fruits": no "buts." And no synthetics.
To anticipate customer questions, you need to know them. You should not write only "We are close in spirit." You also need to guess the doubts of the consumer – then they will be convinced of your unity.
Articulate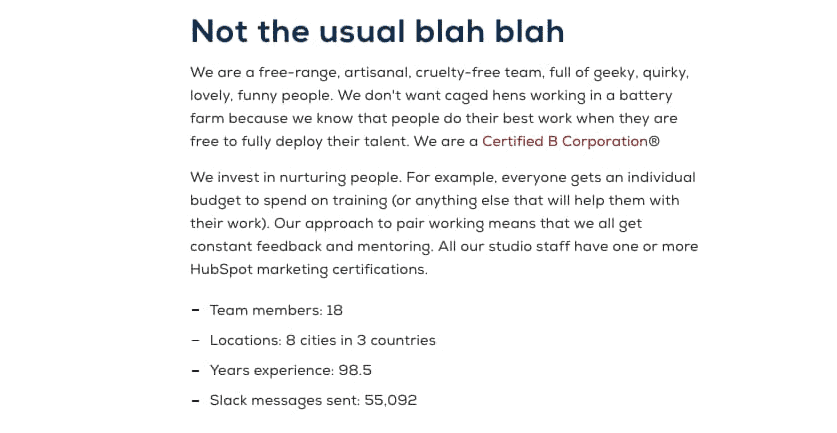 Puns and funny audience word games in the vein of "not the usual blah blah" headlines are relevant to an industry where people don't want to associate themselves with a faceless part of the system. Informality and ease helped the internal marketing agency Articulate attract a lot of clients. What is the page of acquaintance with the team on the company's website worth: "We are not chickens in cages – we are free, creative people." What a pleasure to deal with such creative copywriters!
First Round Capital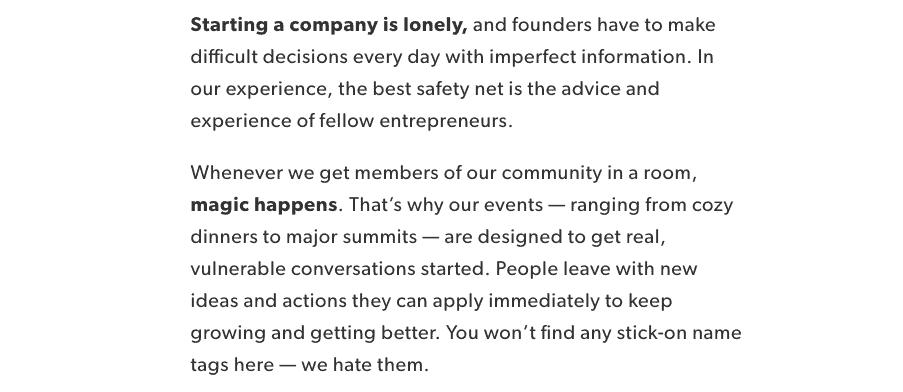 Empathy, understanding, and solidarity are the tone of voice of First Round Capital, which helps build businesses. This was reflected in the slogan "Starting a company is lonely." Potential customers feel they are understood. This means that they will also understand the problems that startups face. A sense of comradeship and comprehensive support – isn't that what we all want?
Trello

Clarity and crystal clearness are the credos of Trello texts. Descriptions of a tool that simplifies project management speak simply about the complex. Embody the accessibility of the presentation of information! In parallel with laconicism, informal details are introduced, reminiscent of humanity – robots did not create this web project.
10 Bad Copywriting Examples
Bad copywriting examples do not inspire, but they warn: knowing what not to do makes it easier for us to avoid mistakes.
When A Joke Goes Wrong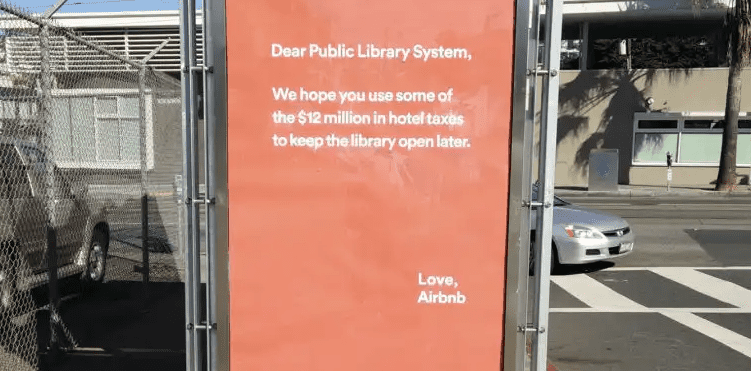 One bad joke in advertising creates millions in losses instead of profits. Example: AirBnb jokingly accused the public library chain of misusing revenue on its ad boards. Consequences? Fairly violent indignation, a statement of bad taste, and a personal apology from the director of AirBnb.
When You Alienate Your Audience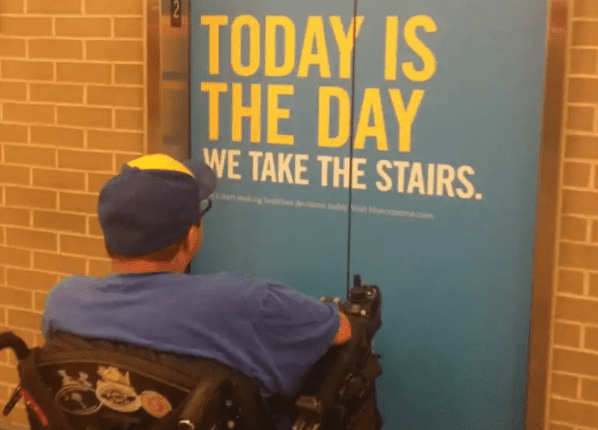 The Health Services Center posted an advertisement on a public elevator urging people to climb the stairs and make "healthy decisions." This infuriated people who use the elevator out of necessity, not laziness. The result: photos of people in wheelchairs in front of the door with ads – and a terrible loss of reputation.
When You've Been Living Under A Rock
Bloomingdale's catalog published an advertisement where a man looks passionately at a woman who does not notice this. Signature next to it: "Spike your best friend's eggnog when they're not looking." This is not just a bad joke, but an incitement to a criminal offense!
When a pun goes wrong. So very wrong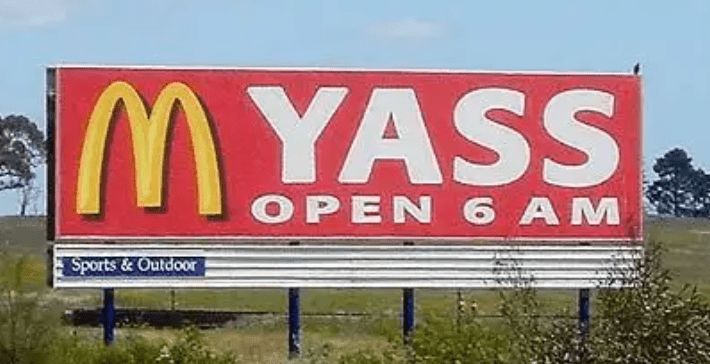 McDonald's trying to joke about the "back entrance" to a restaurant, Ray-Ban saying that the glasses want to "sit on your face" – all these examples of copywriting look inappropriate and stupid. Especially in the performance of global brands. A joke almost beyond the bounds can easily turn into a fiasco.
Typographic error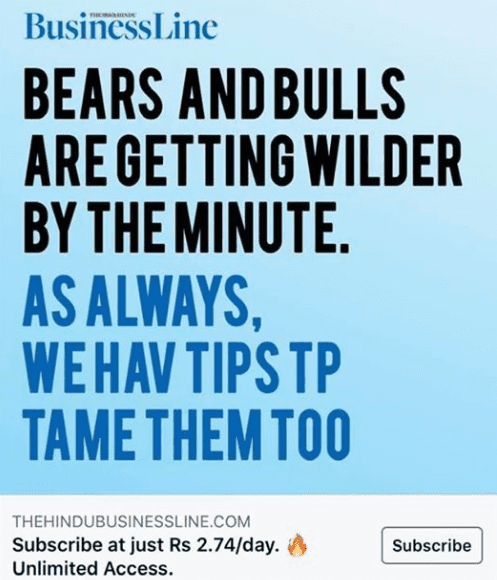 Hire only competent copywriters. Do not skimp on the work of the editor and proofreader. Make double-checking a habit. Otherwise, advertising runs the risk of becoming a meme, and only the conversion rate will be zero and the reputational losses sometimes irreparable. There are a lot of examples when the right is written incorrectly. We are sure that your collection of curiosities also has a couple – share in the comments!
Failing to proofread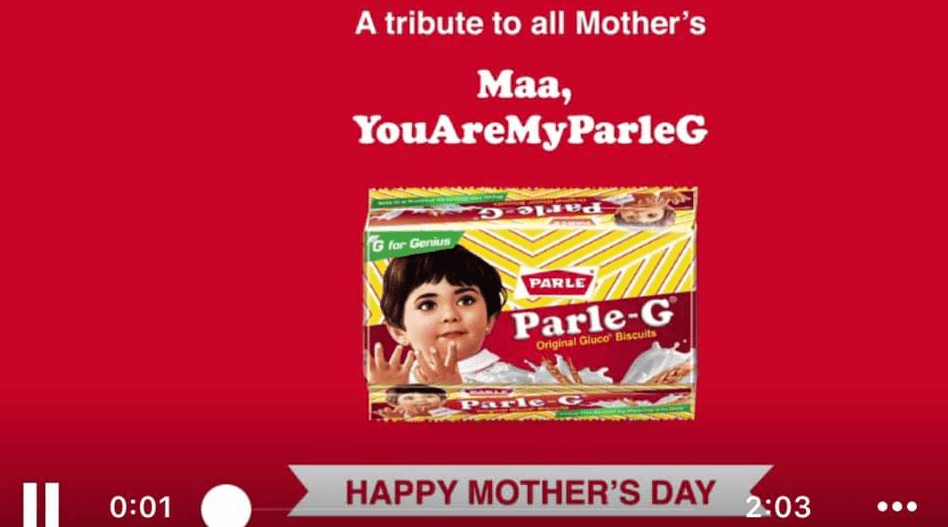 Adidas sent out a congratulatory email with the error: "Congrats, you survived the Boston Marathon!". An evil fatality: this happened shortly before the terrorist attack during the Boston Marathon in 2013. The company had to apologize, but the reputation suffered.
Class stereotyping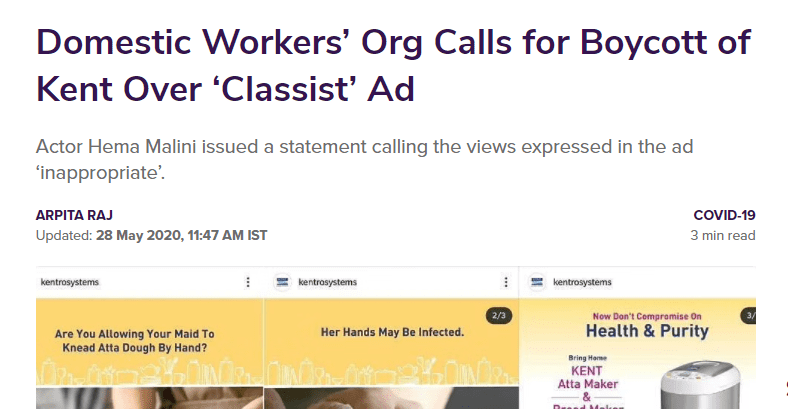 The company Kent RO in an advertisement for a bread machine, claimed that letting service personnel knead dough increases the risk of catching coronavirus. Consequences: allegations of class discrimination, a call to boycott the company, and public criticism.
Plagiarism
Stealing is bad, even if you are Apple. The iPhone ad used the phrases of a street artist who was not paid off. As a result, Apple had to pay with a name undermined by trust and shame. Stealing in an age where information is available online is ridiculously stupid.
The Story Does the Writing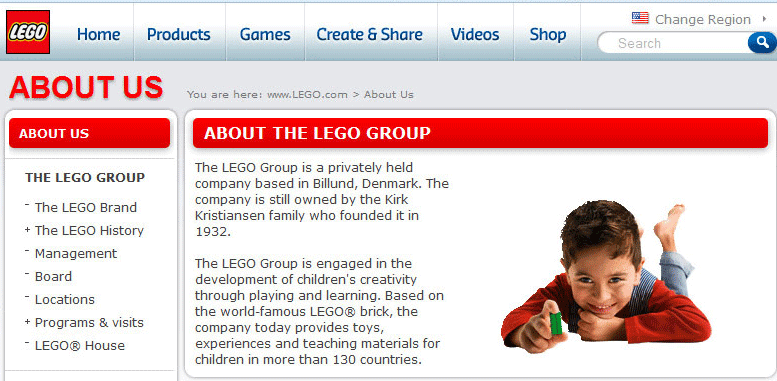 It is a mistake to let a heap of facts dictate the tone of a text. Copywriting is not popular science literature but a text that solves problems and answers buyers' questions. You should write as if you are having a casual, polite conversation that explains the essence of the matter.
Descriptive Words Don't Always Help.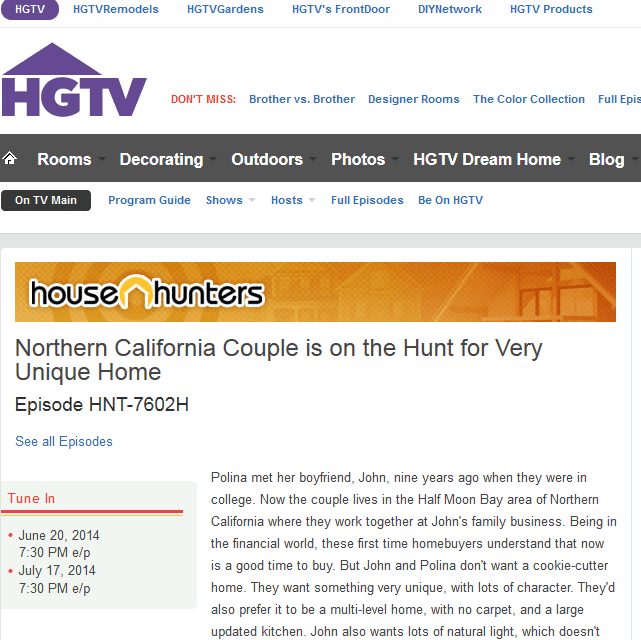 Adjectives as comparisons in literature: pointwise appropriate. And everyone should hit right on target. Verbs and fast action phrases work more effectively than the annoying swarm of compliments that the company wrote to itself.
Conclusion
People only look at ads for a few seconds, often only reading the headlines. One small mistake can turn a campaign into anti-advertising, and a bad joke can tarnish a reputation so much that it will take years to restore a good name. And vice versa: talented copywriting will go viral and pay for itself many times over. So we conclude that saving on texts is categorically harmful, just as saving on health.