Creating a customer journey map is a proven way to understand your customer's experiences from their perspective, not as you expect them to be. It reveals all the touchpoints a buying persona passes during the sales cycle. To be more precise, customer journey mapping helps you see how you obtain customers, displaying the whole way of an individual turning into a buying persona. Customer journey maps vary depending on your needs. Thus, there are different approaches to creating them.
An effective way to see the whole picture is to start with the moment when an individual gets aware of your business. That is when they've realized they have a problem and you have a solution to it. Then you can track all the steps they take until they finally make a purchase, or you can go further and analyze the post-sales effect so that to identify your customer's satisfaction with the solution they've got. To make the results more precise, you can divide your research into a few parts, let's say pre-sales and post-sales analysis. Furthermore, since the market and customer needs are rather changeable, it would be wise to conduct a regular mapping, let's say once per three years.
Luckily, today, you can access dozens of customer journey map templates online. And to help you make the right choice to meet your needs, we've selected and overviewed the best templates for customer journey mapping in this article.
19 Free Customer Journey Map Templates
Simple Customer Journey Mapping
This customer journey map template displays four phases, each representing two touchpoints. The design includes creative rocket-based illustrations but it can be customized. However, it is grey that prevails in the color scheme of the template. Plus, it has prominent blue accents.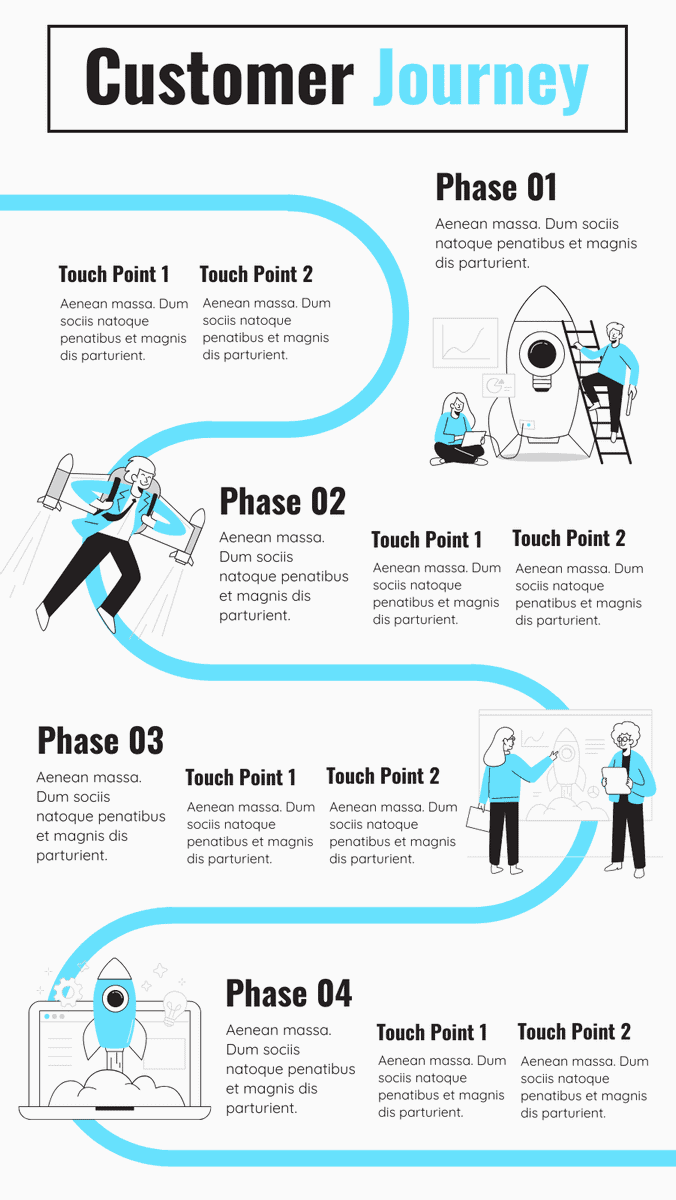 Customer Journey Map
Another CJM (customer journey map) template in grey colors with dark shades dominating. This horizontal model represents six phases consisting of two touchpoints each. Each phase has a specific icon, namely a loudspeaker, globe, magnifying lens, alarm clock, push-pin, and flash drive.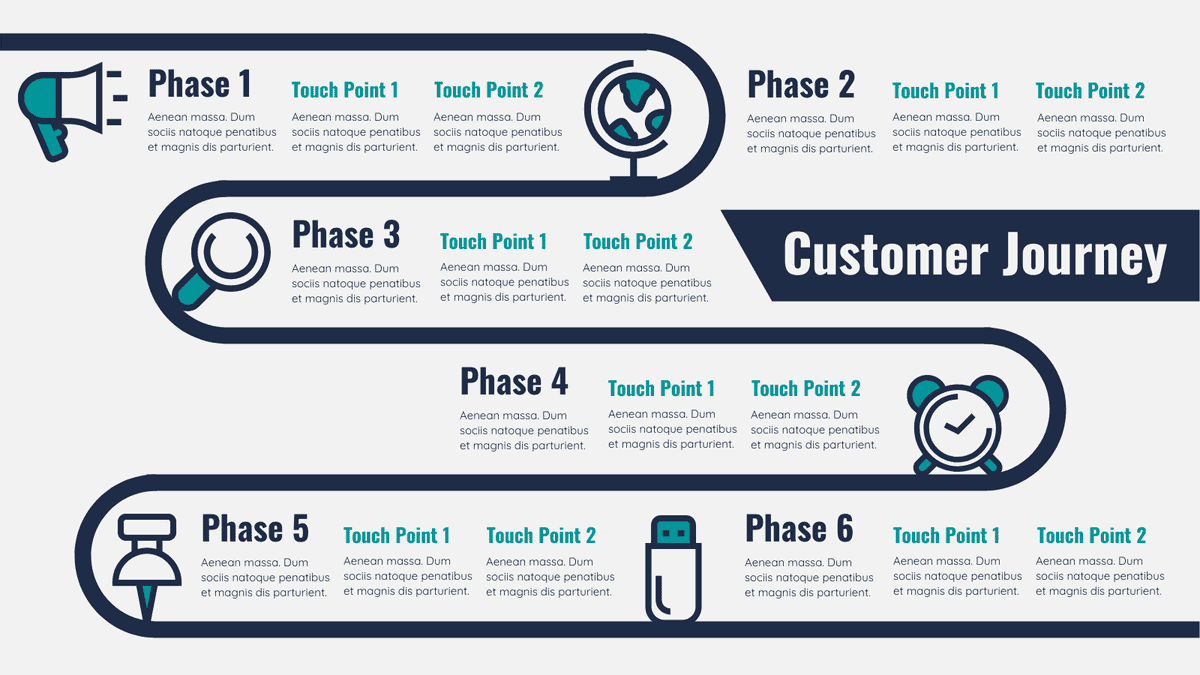 Customer Journey for Infographic
The template has been designed for a car purchase. Its design is distinguished by pink and grey color gamut and gentle icons supporting five phases of the customer journey. Though the overall orientation of the template is horizontal, the phases are described in vertical blocks.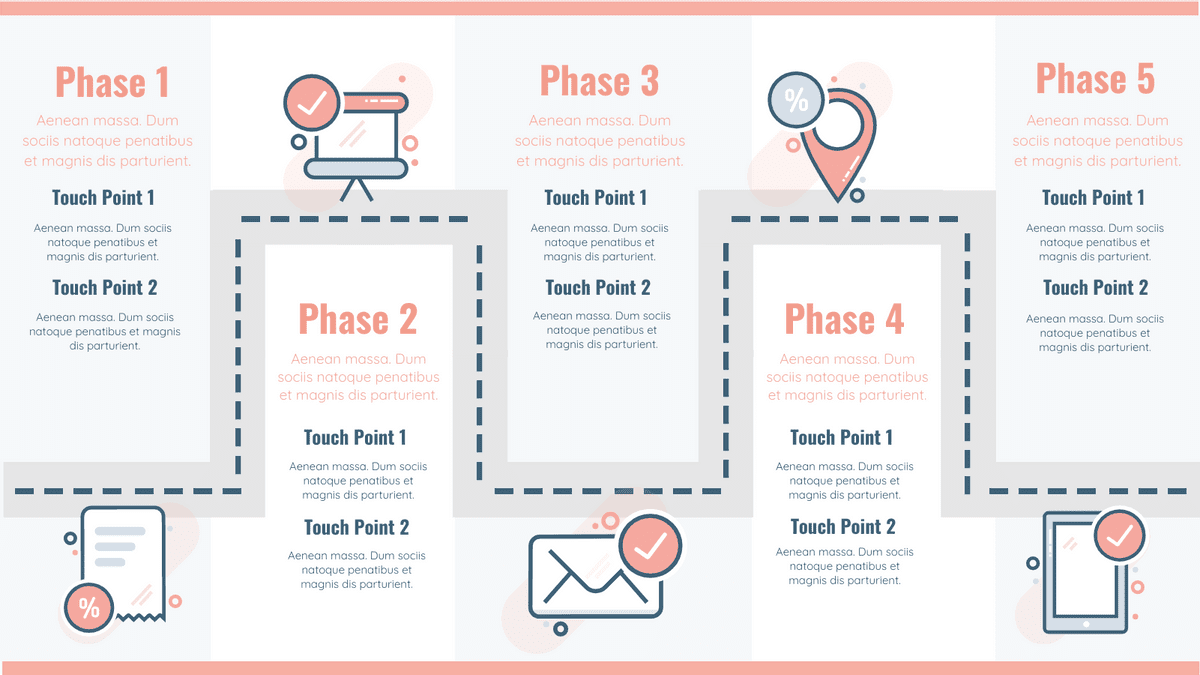 Understand Customer Journey Map
This five-phase CJM template has enough space for a detailed description of all the phases and touchpoints a buying persona takes. However, it not only describes the stages but also displays them through a line chart. Notably, the blue color dominates the design.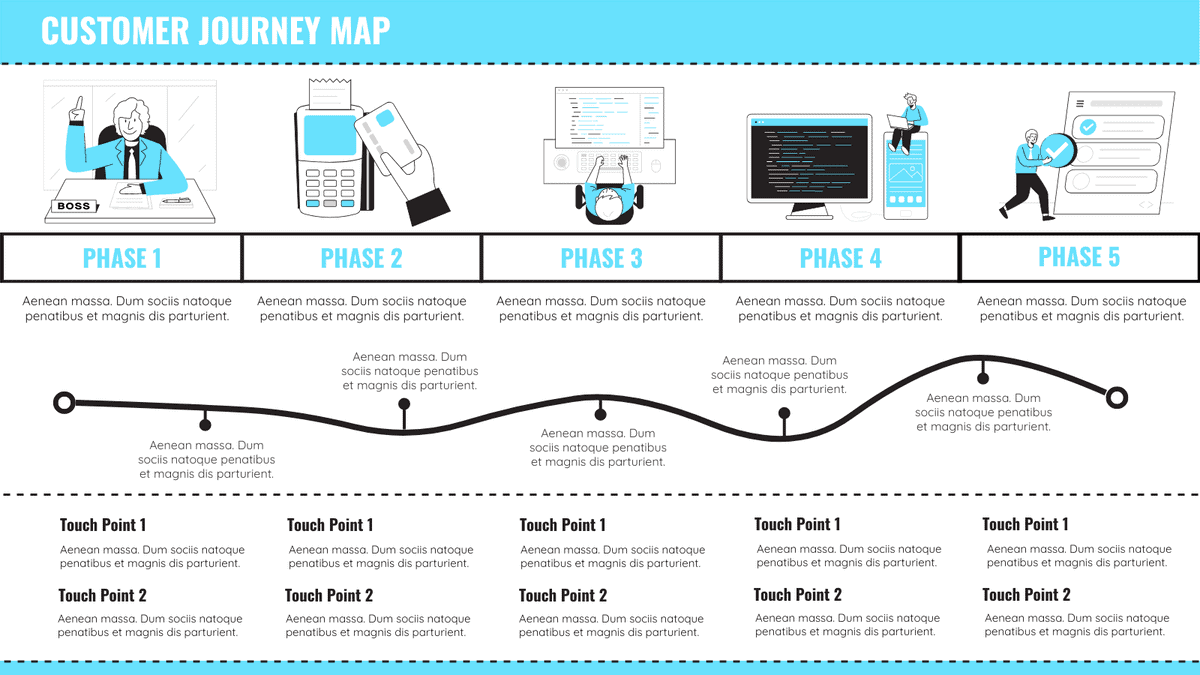 Customer Journey Map Explained
The vertical-oriented template that demonstrates your customer journey as a real JOURNEY. You can see a truck in it, moving along curved roads the turns of which symbolize the phase change. Totally, there are four of them and eight touchpoints. The color gamut is also based on grey and blue.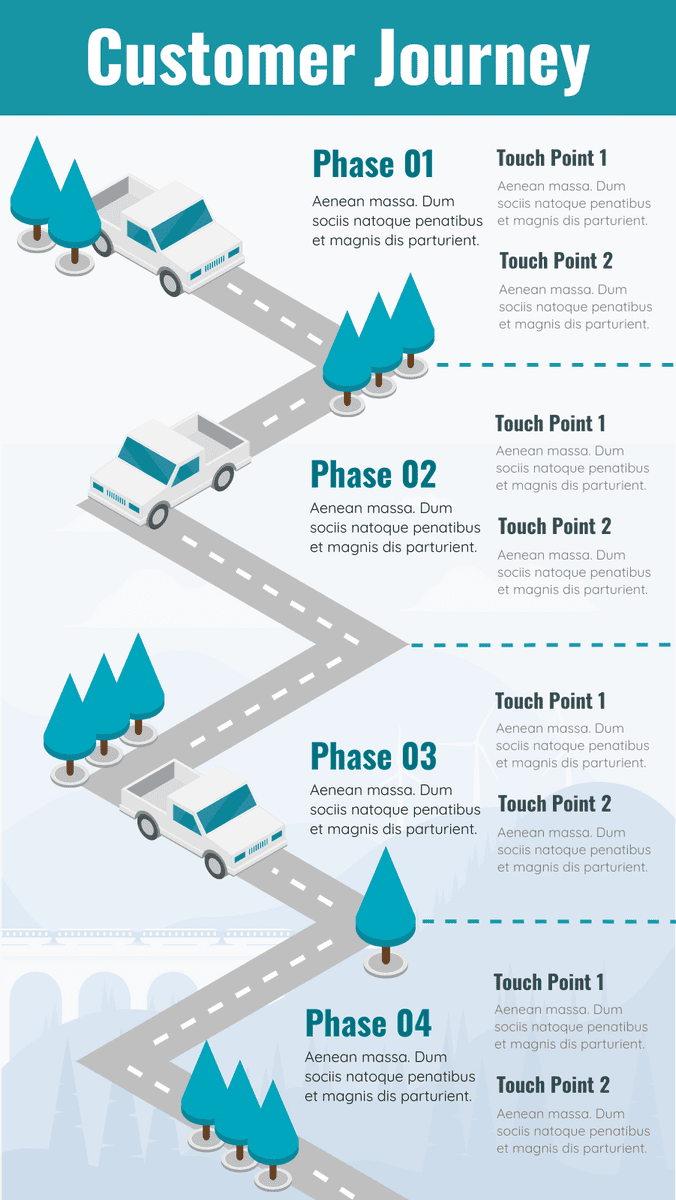 Customer Journey Mapping for Infographic
This CJM template stands out with its design that depicts a city. The city's main road symbolizes your customer journey while the houses are the symbols of different phases. In total, there are five of them. Each is also accompanied by an icon against a blue background. It is brown that generally prevails in the design.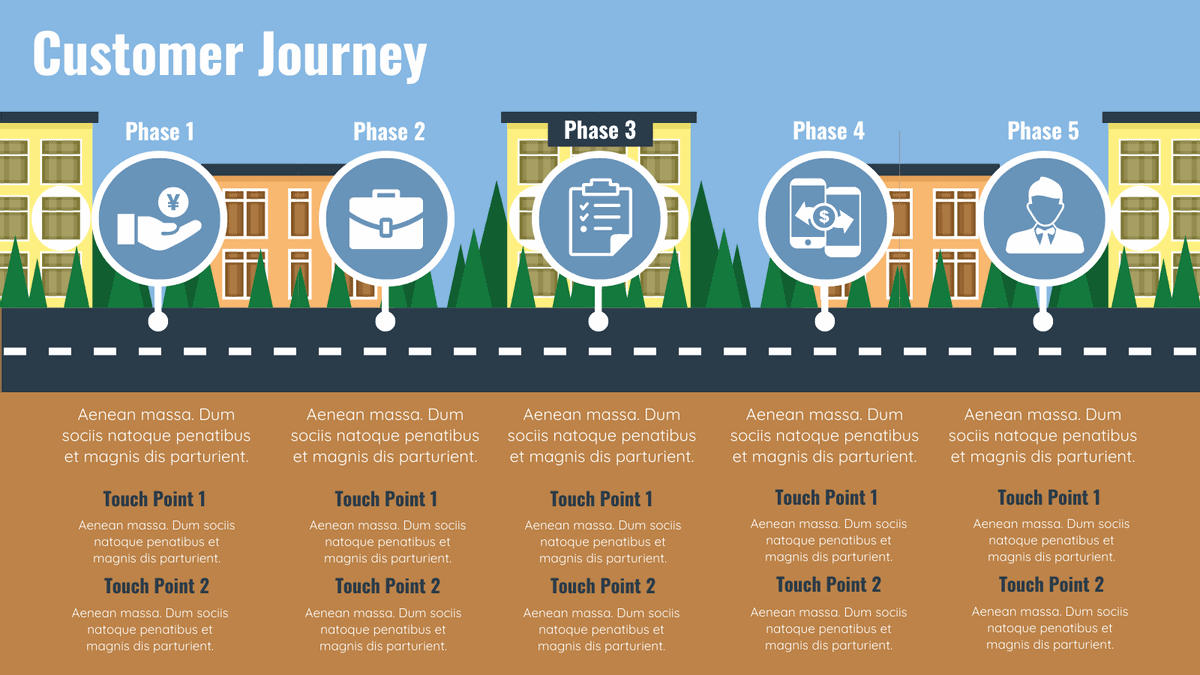 Customer Journey Mapping Template
Another customizable CJM template with a simple design. The template is horizontally-oriented. The five phases are well-described in vertically-placed blocks against a white background. Each of the phase/block titles has its own colors that are different shades of the same color scheme.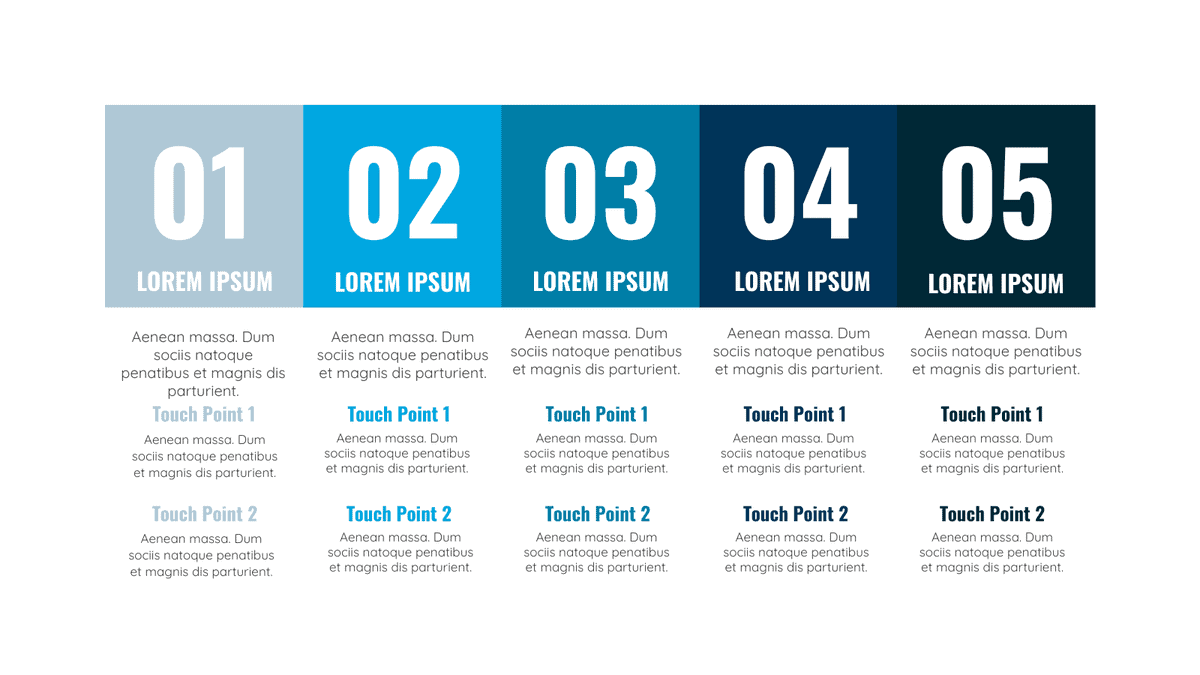 Customer Journey Mapping (CJM)
This six-phase customer journey template has a horizontal orientation with vertically-arranged text blocks. Each block is characterized by a unique color. Generally, half of the phases are painted in yellow color tones while the other half – in blue ones. All the content, including the textual blocks, and the icons, can be edited, namely adjusted or replaced.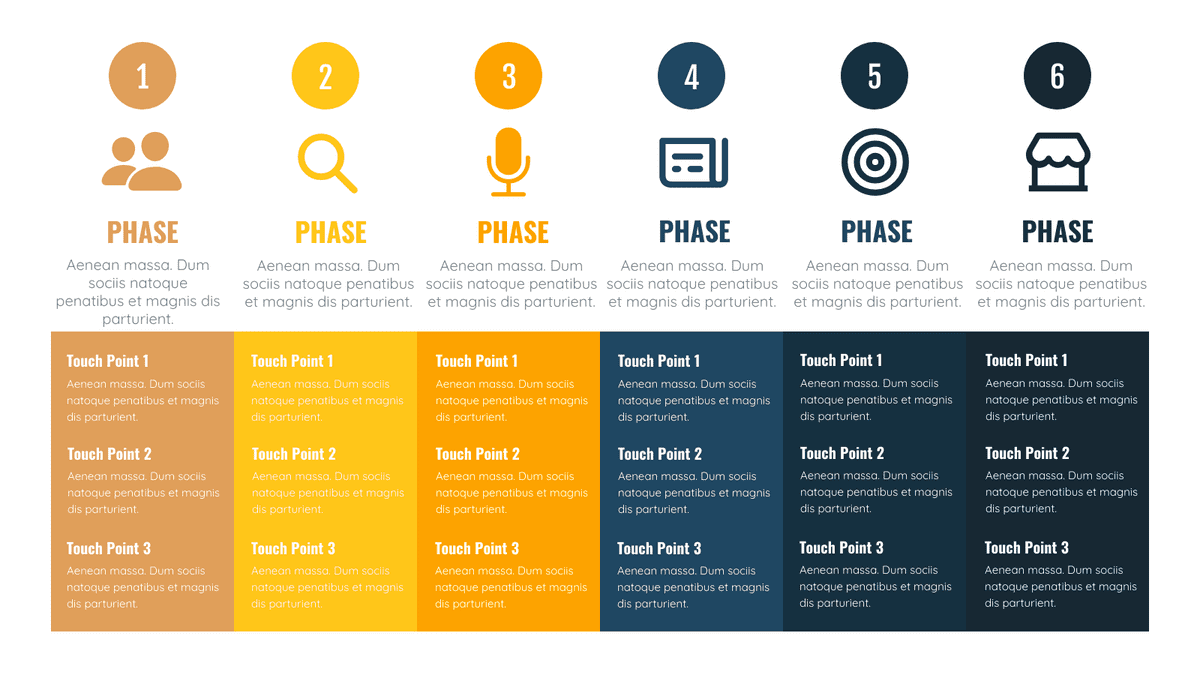 Customer Journey Map Template
Each of the five phases in the given CJM template features an icon in a round frame, a short description, and three touchpoints placed in ellipses. It is blue color tones that the design is based on. Using this template, you will be able to clearly see how your customer interacts with your brand.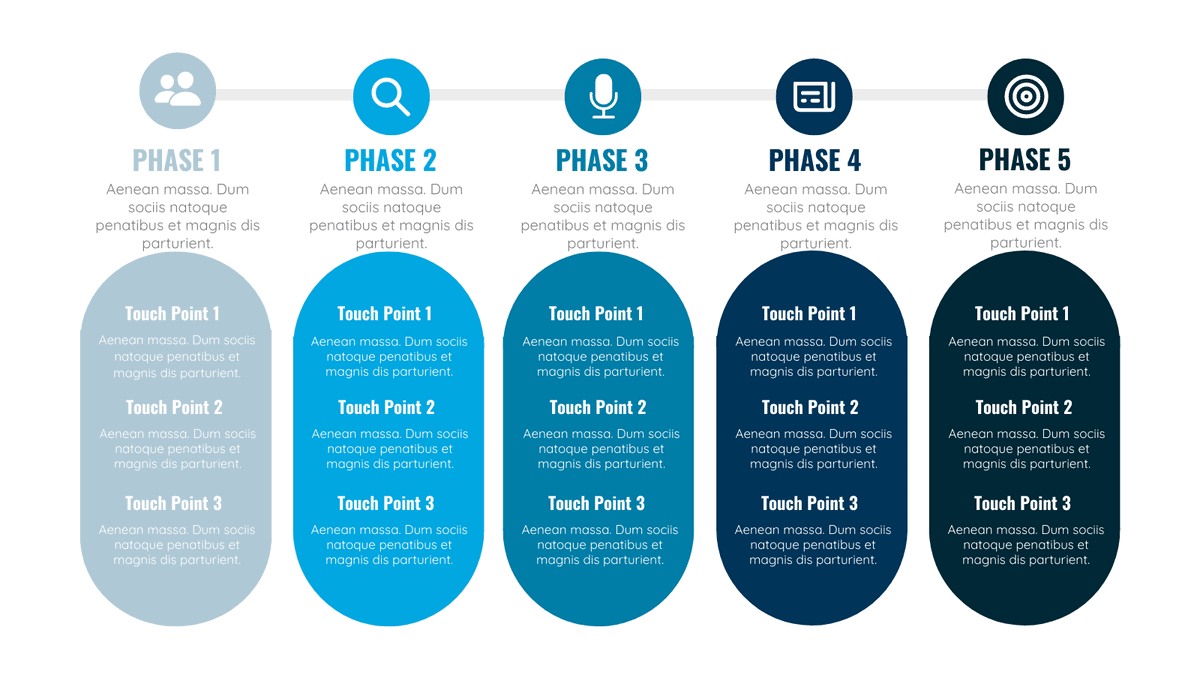 Customer Journey Mapping
The next vertical template is the representation of your customer journey in an isometric style. The combination of white and orange colors in its design makes it look rather fresh and creative. This solution involves four phases with descriptions and two contact points per each of them.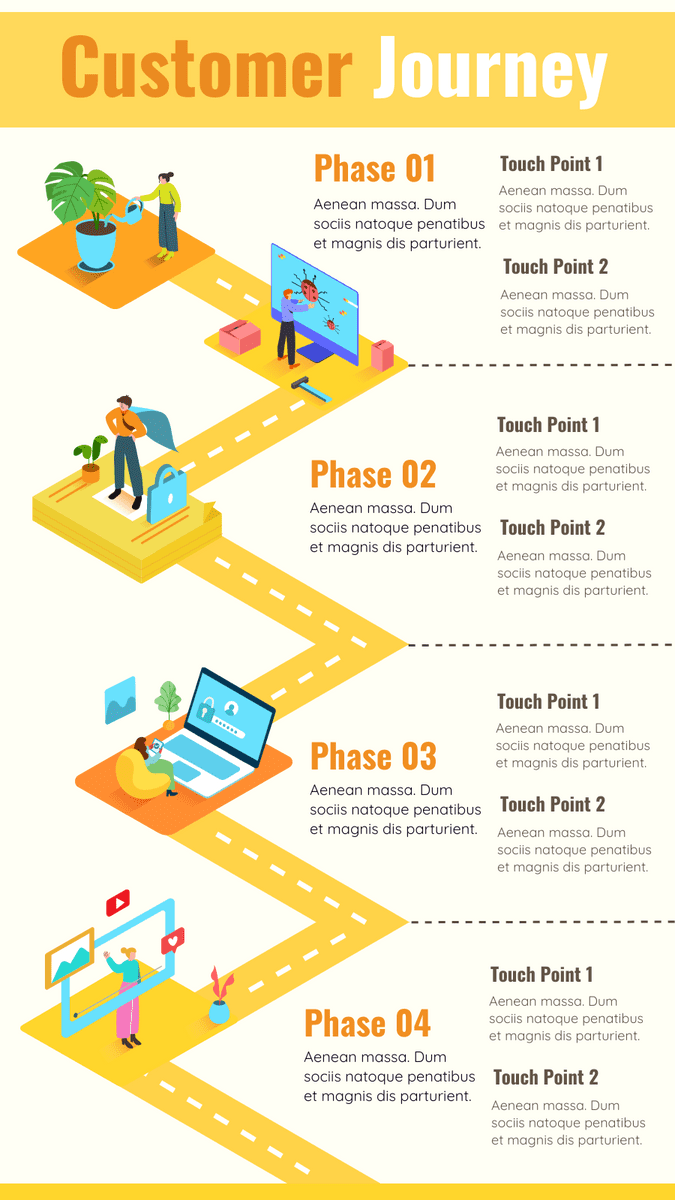 Customer Journey Mapping Tools
This customer journey template is built using a flow-based approach. Formatted as a matrix, it includes five columns and a curved line chat representing crucial stages of the buying persona's interaction with your company. Each phase has its unique isometric picture, and its title blocks are differently colored. All the content is placed against a dark brown background.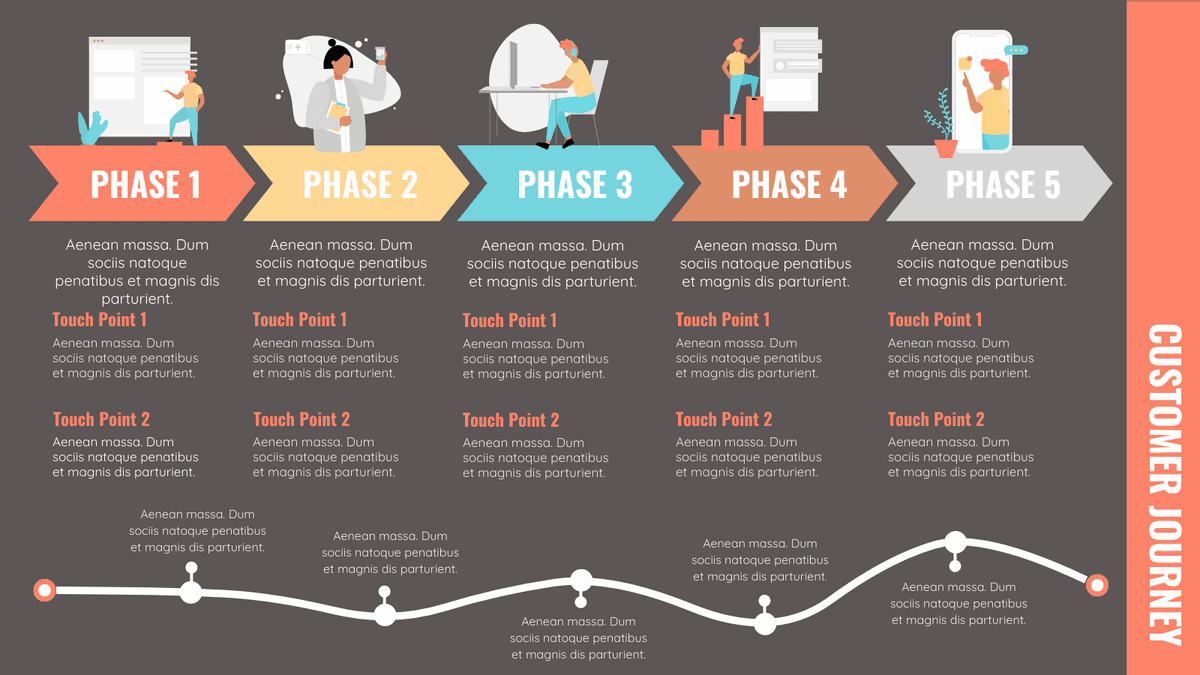 Why Customer Journey Mapping
The idea that is laid in this template implies comparing a customer journey to flower pollination by bees. It is clearly shown in its design that is based on black and yellow colors and the icons of bees and flowers. The template depicts four phases that are prominently enumerated. Each phase consists of a description that is doubled in hexahedrons and in a line chart.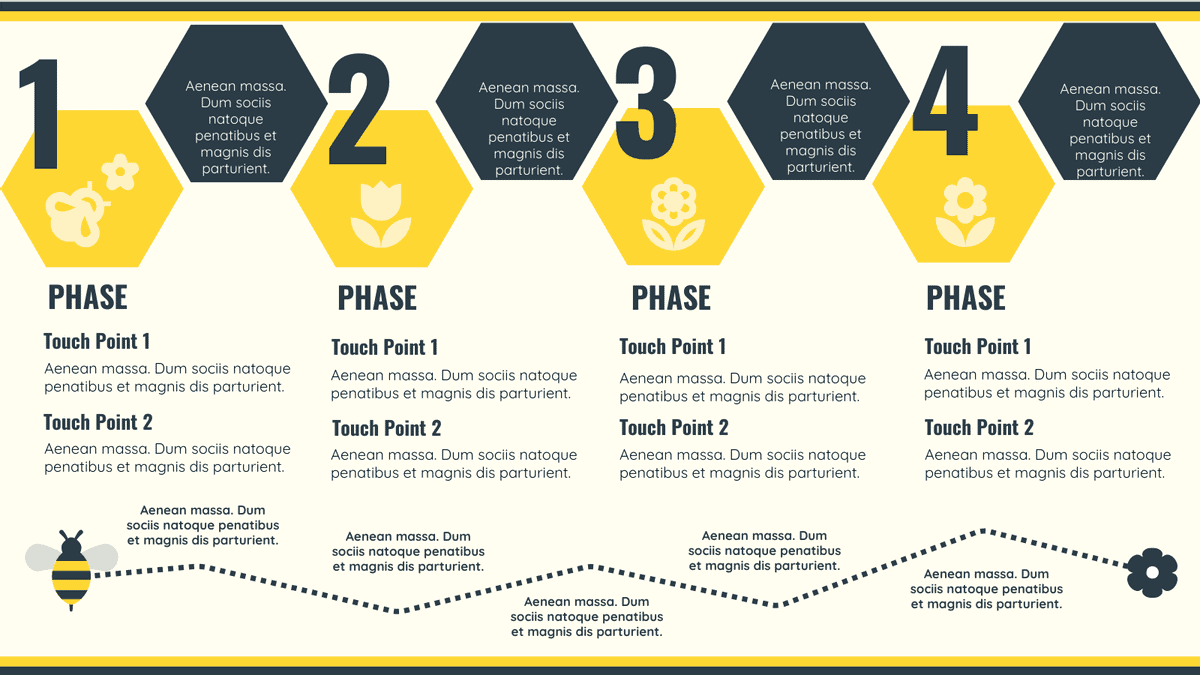 Customer Journey Map
Designed in grey color tones with light blue accents, this customer journey template may seem a bit confusing. Totally, there are ten blocks, two per phase. One of them consists of the phase title, description, and title. The other one describes three important touchpoints. These pairs are combined into vertical blocks. However, the way they're arranged varies. In some cases it is the title block that goes above whilst in others, it goes under the block with contact points depicted.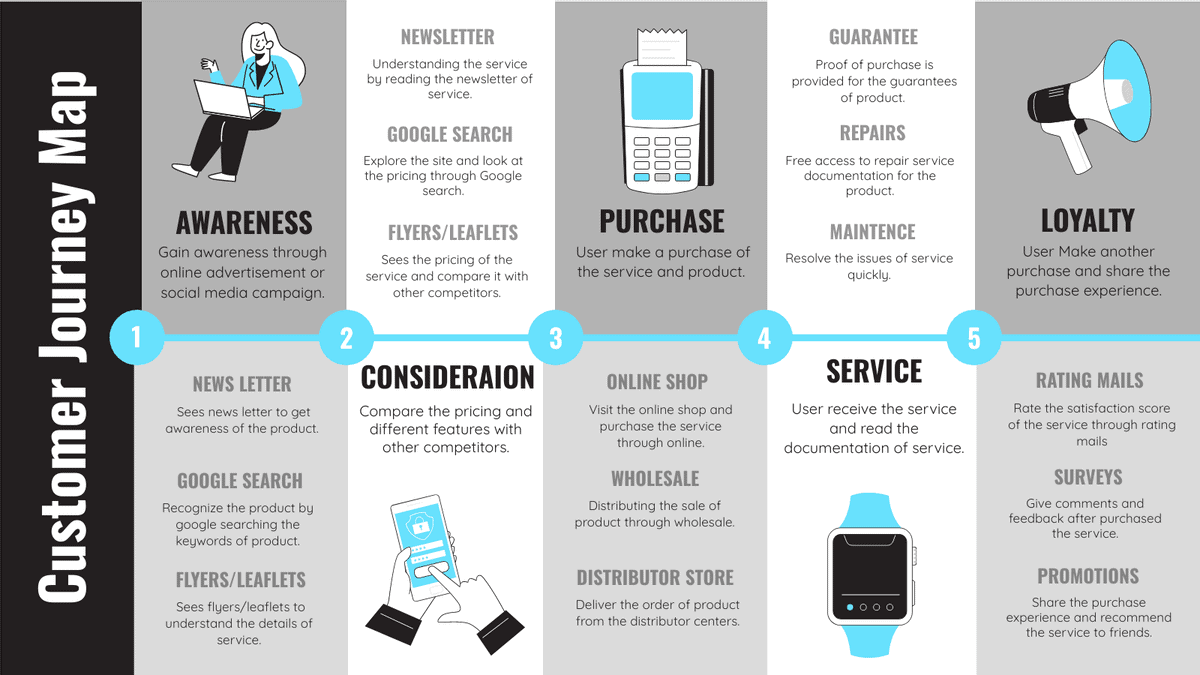 Customer Journey Mapping – Step-by-Step Guide
This is another interpretation of a customer journey based on the idea of flower pollination by bees. This time, the template features a vertical orientation. Besides, it reveals five phases of your customer journey, instead of four in a horizontally-oriented version. In other aspects, the design does not differ much. The same hexahedrons, bees, flowers, and a line chart.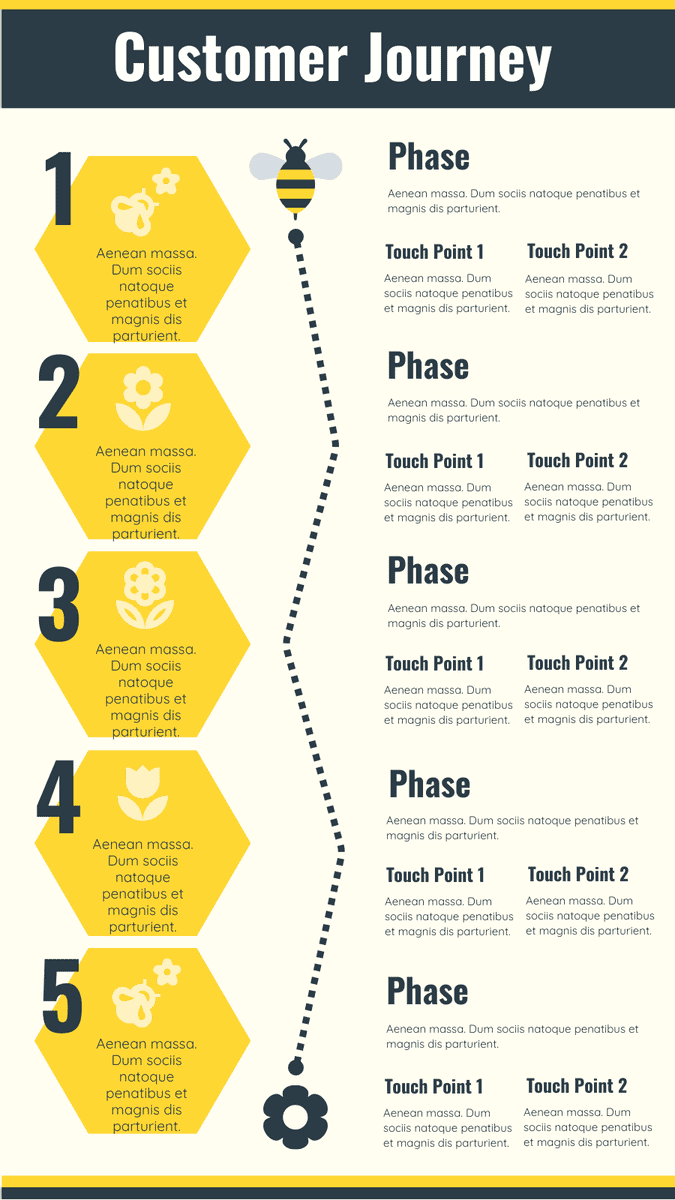 Customer Journey Mapping: Template and Guide
A sea theme – this is what the design is based on. The color scheme with different tones of a blue color, the curved line resembling waves, and the pictures of aquatic animals and the seaweed in the background. This is a horizontally-oriented template covering five phases and, generally, ten touchpoints of your customer interaction with your brand.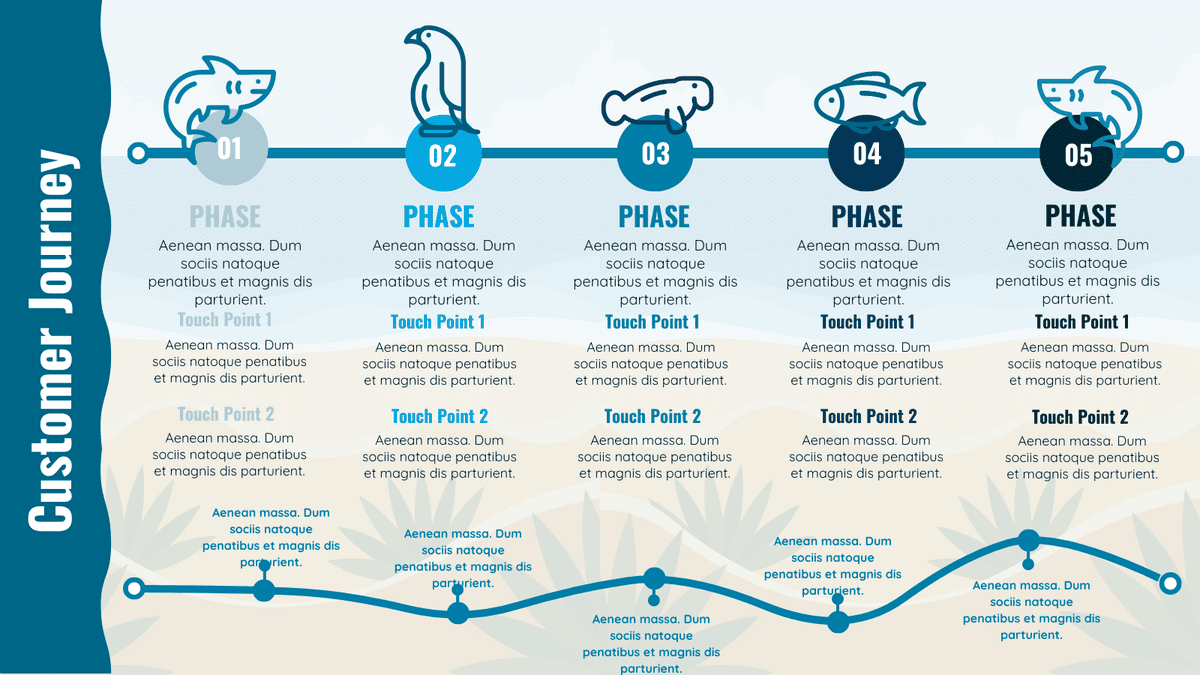 Effective Customer Journey Mapping
Again, there are five phases arranged in vertical columns, two touchpoints per each phase, blocks with descriptions, and cute icons. What does make this customer journey template stand out among the others is the red accents on the grey background that make it look rather stylish.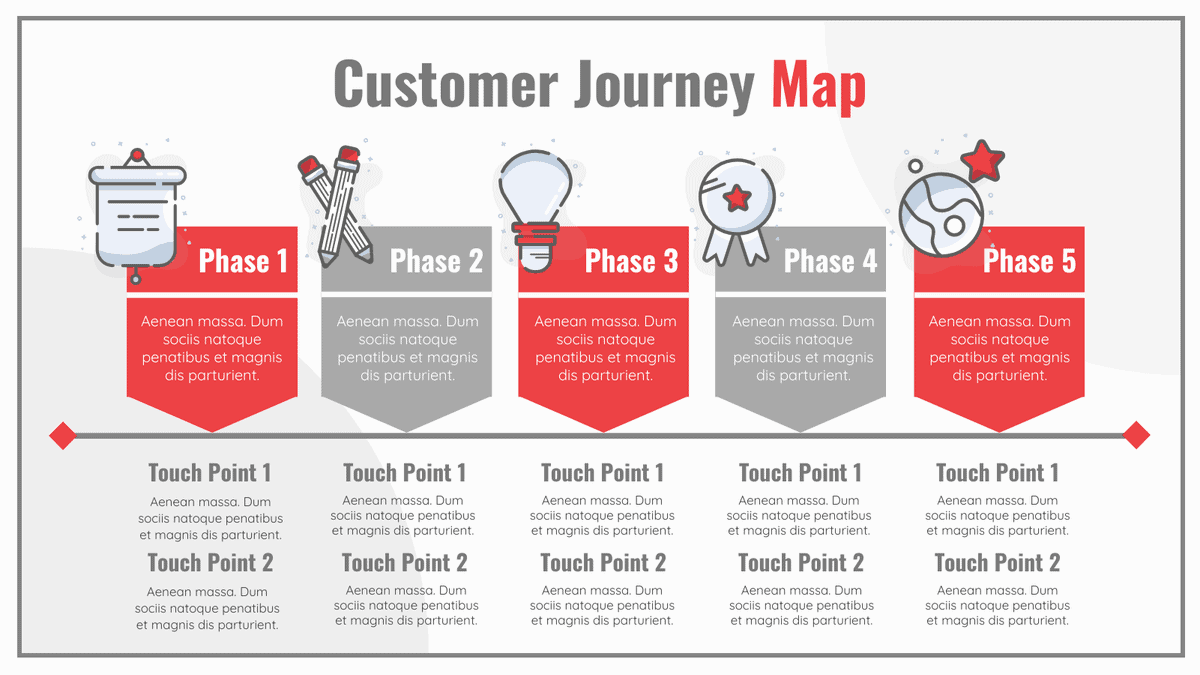 Customer Journey Template
A good solution for those preferring a restrained style. A white background, horizontal orientation, vertical columns. A description, an icon, and two touchpoints for each stage of your buying persona's interaction with you as a provider of the necessary solution. It is variable tones of a blue color that are used in its design. Simple and restrained.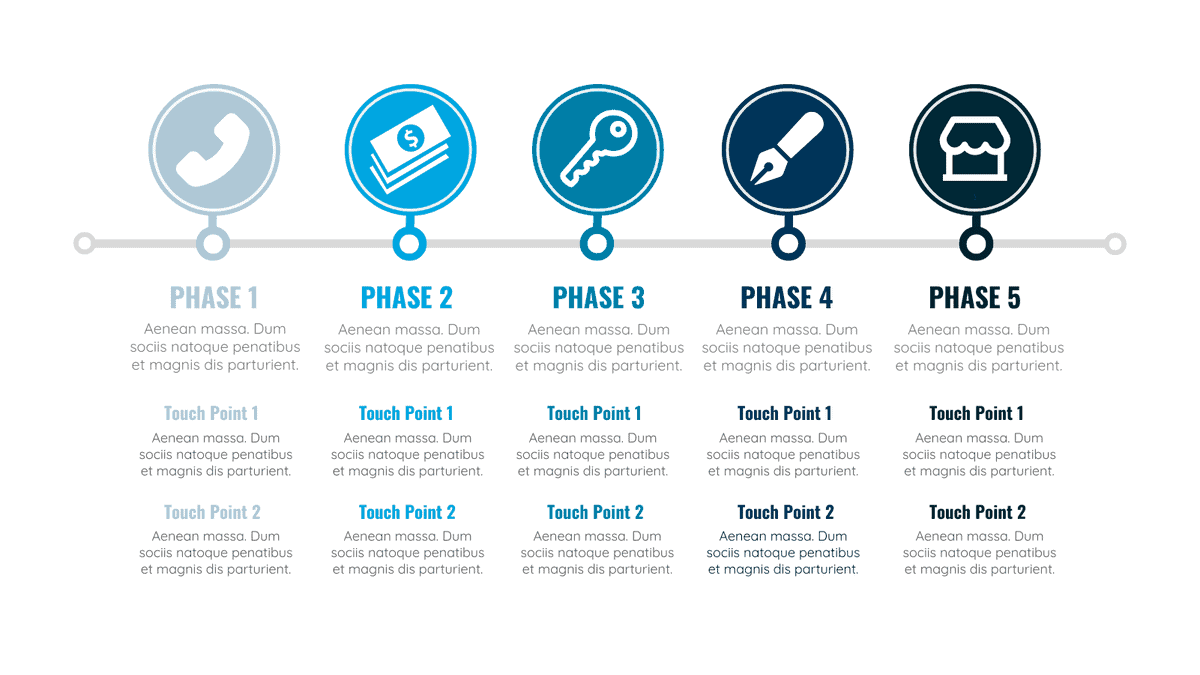 Customer Journey Map and Why is It Important
A modern creative solution that accurately displays the five important steps a customer passes while interacting with your brand. The content is provided against a simple white background but the design is emphasized with bright orange outlines. The icons depicted are very simplified. Thus, the template is not overloaded with unnecessary pictures.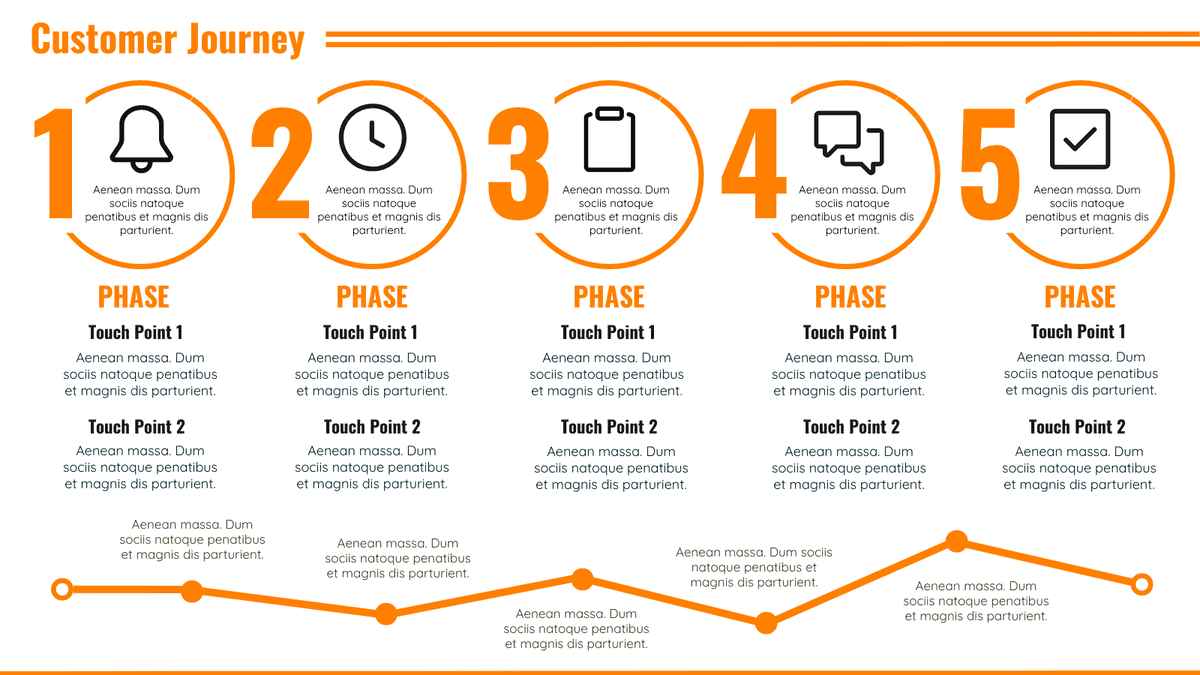 Simple Customer Journey Mapping
This is another template the design of which may seem a bit confusing at the first sight. So, there are two vertical blocks for each of the five phases your customer passes. They are placed in such a way that the upper part of the template depicts three-phase title blocks and only two with the touchpoints described. And the lower one, in its turn, consists of only two-phase title blocks and three contact points.
Conclusions
Mapping your customer journey is a proven way to see how your customers perceive their interaction with your brand. You will know how potential customers find out about your company, their actual steps and pains while getting the solution, and even the degree of their satisfaction after receiving it. Based on this information, you will be able to take measures to improve your customer experience and significantly boost your sales and conversion rate.
All in all, we hope you've found helpful the list of customer journey templates the Plerdy team has prepared for you. Map out your customer journey and reap the benefits!