Customer journey analytics helps know-how leads move through the conversion funnel. It enables you to collect and interpret data about what people do at different stages. You can learn how each interaction affects business economics, customer satisfaction, and loyalty.
Detailed information on the customer journey also enables you to record customers' goals and frustrations. It shows the gap between what the company believes customers experience and what they experience. You gain insight into which sequence of activities leads to the necessary outcome. As a result, you can optimize marketing expenses, boost sales, and increase the customer lifetime value.
If you want to run the customer journey analysis, you need some preparation. Start with reputable courses to see how experienced brands collect, segment, and analyze data about their leads. You should also use the right software and go step-by-step. There are different customer journey analytics stages to complete.
This article covers the aspects of customer journey analysis every marketer should know. Learn the main stages, use cases, and best analytics courses to consider.
3 Customer Journey Analytics Stages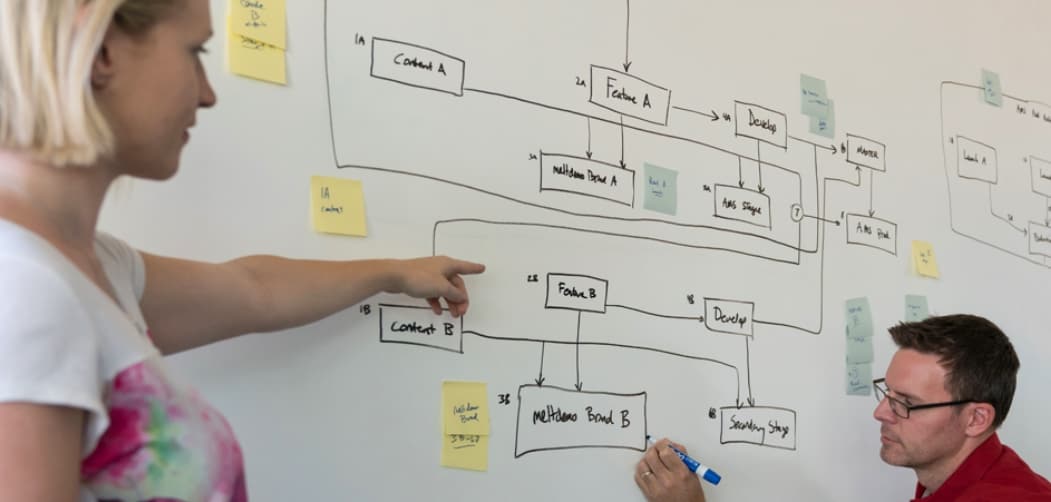 The customer journey consists of three main stages: acquisition, activation, and adoption. Each of them includes different touchpoints and analytical approaches. Let's review them.
#1. Acquisition
At this stage, the buyer has a specific problem and considers your company as one of the possible solutions. They learn about your brand and offer through social media, organic search, reviews, and other channels. Since the customer is likely to visit your website during acquisition, UX experience is essential. So make sure to engage professional UX designers to facilitate customer navigation.
Acquisition Touchpoints
Customers read blog posts
Check online reviews
Google your company
Interact with sales content (e.g., emails, calls, or sales chats)
Navigate website pages
Click or view PPC ads
Watch videos
Acquisition Metrics
Clicks, taps, scrolls, open rates
Website traffic
A/B testing results for website UX and marketing materials
Entry-point conversion
Referral channels
#2. Activation
Now, the customer starts interacting with your brand. Based on the first impression, they can become your promoter or detractor if the person likes your brand, lucky you. They will onboard and complete the required conversion. If the customer refuses to convert, it's a bad sign that should guide you on ways to optimize their journey.
Activation Touchpoints
Customers complete the checkout
Subscribe for content
Create an account
Verify their contact information
Download your application
Update their profile information or photo
Study your training videos
Activation Metrics
Cart abandonment
Time to launch/convert
Viewed pages and which pages nudge customers to convert
Trial sign-ups and subscriptions
Daily and weekly active users
Retention rates
#3. Adoption
It's the last stage of the customer journey when the lead has already received your product or services. Now, it's time for nurturing. The approach and KPIs vary depending on your niche. Whereas e-commerce focuses on repeat sales, SaaS companies limit themselves to new offerings and product updates.
Adoption Touchpoints
Customers try new features
Use your product
Keep making purchases
Share positive reviews about your services
Invite friends through the referral program
Use live support and chatbots
Upgrade to premium plans
Adoption Metrics
Number of daily weekly sessions
Upsell conversion rate
Cross sales
Net promoter score
Customer support rate
5 Customer Journey Analytics Use Cases
Are you eager to see how it works? We have collected use cases that illustrate how skilled marketers run customer journey analysis.
#1. Assisted Conversions
This customer journey analysis was done for VF Outlet, a US retail company. It proves that assisted conversions benefit the final ones.
In this case, analysts measured the number of assisted conversions on the website to determine what customer interactions lead to conversions. They found that some people interacted with five marketing elements before converting. It means that these touchpoints are also essential elements of the customer journey and require attention.
#2. Mobile Conversions

The analysis for e-commerce retailer JuiceBlendDry showed that over 35% of their sales happened on mobile devices. 15% of purchases people made on tablets. In other words, if they didn't support the responsive website version, they would lose 50% of sales. This information confirmed the right strategy of JuiceBlendDry and increased the focus on mobile.
#3. Customer Journey Analytics for Cost-Saving
When a national utility service provider noticed an almost $850 million loss caused by overdue payments, they decided to find the reason. After data analysis, the team saw many customers calling the service center after disconnecting. They promised to pay as soon as they received the next paycheck. The utility company validated it by measuring that 22% of disconnected people paid bills within ten days. Hence, they decided to start disconnecting customers if they didn't pay after the promised date rather than the fixed 33-day deadline.
#4. Optimize Support Call Volume
A retail bank analyzed how customers use support channels to evaluate their efficiency. The team detected that the IVR channel had the highest bounce rate – 81% leakage. When they tracked the people across their journey, they discovered that 60% of customers wanted to speak to an agent and refused to try IVR payments at the last moment. The bank changed the message in IVR, which reduced IVR leakage.
#5. Reduce Customer Effort Scores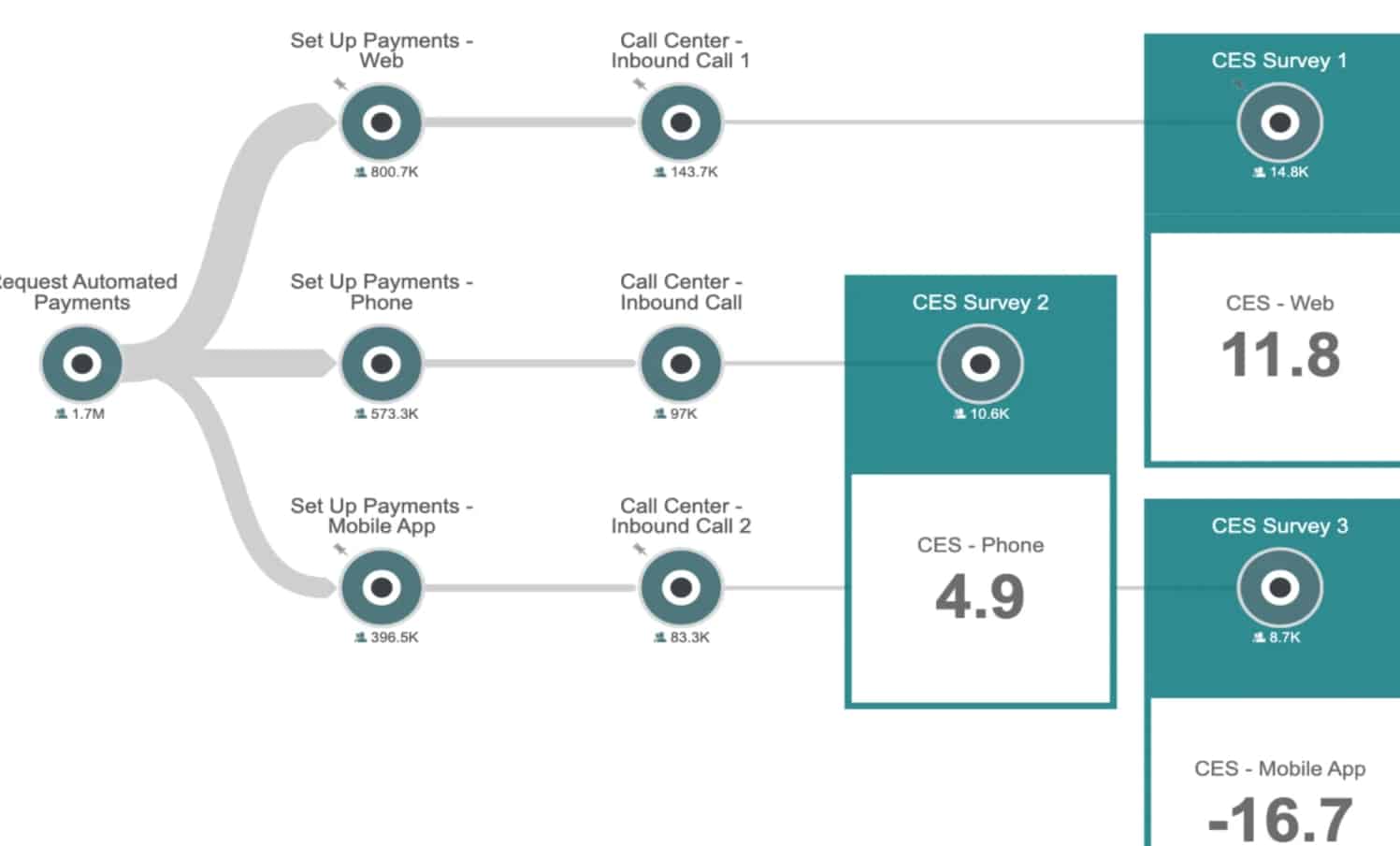 A health insurance agency tried to find the reason behind high Customer Effort Scores among new customers that configure automated premium payments. They used customer journey analytics to spot that 21% of members setting up payments in the mobile app face the same issue. The members who contacted the company over the phone were more successful. As a result, they took steps to enhance the mobile app UX.
The cases are provided by WebFX and Pointillist.
5 Best Customer Journey Analytics Courses
Successful customer journey analysis requires specific knowledge and skills. You should master customer behavior and website analytics solutions to run data-driven research. Here are some popular courses that should help you.

It's a 2.5-hour course for beginners that teaches to identify customer journeys. Learn how to use Miro, analyze personas, and define main customer journey paths. The instructor is Jasper Albert, a Senior Strategy Professional with over 16 years of experience.
"You will get a great overview of Journey Maps and Miro. But note that some of the UI elements have changed (by AY)."

This Udemy course by Learoy Tonight can teach you how to build a customer-centric business approach. After taking it, you will understand how to prevent potential pain points across the customer journey and enhance retention. It's suitable for anyone striving to optimize the customer experience.
"It introduces into customer journey mapping but almost doesn't address how to do something (Bayu Y.)."

This beginner course details digital marketing fundamentals, software, customer persona, and consumer journey. Discover different tools to navigate through the sales funnel in the course by Hotel Management School.
"It's a live classroom session, so expect some student noises (Nilay A.)."

Four instructors, including María Eizaguirre, Brian Hallett, Pedro Cifuentes Huertas, and Michael Thompson, offer these courses to help branding specialists start their careers. You can learn to create engaging content, develop a brand value proposition, and evaluate your branding activities based on their impact on customer experience.
"Glad I did this course. It was 100% useful for everyday marketing activities and choices (LG)."

Osman Khan, Business School Professor, Consultant & Trainer, created this course for marketers, managers, and anyone interested in improving business performance. Joining it, you get a customer journey map template, learn about key customer touchpoints, and master journey mapping.
"I understood why paying attention to all touchpoints is so important to optimize customer experience (Ali Haider H.)."
Conclusion
Customer journey analysis is a powerful tool for brands that want to step into their customers' shoes. It enables you to see what people experience at every stage of their path. You can discover the tricky spots to remove them and boost conversion. Yet to do it right, you need specific skills, including web analytics and customer journey mapping.