A customer journey map (CJM) is a spreadsheet or infographic conveying specific data where the diagram shows the points of contact with the product or brand. In other words, it displays the client's engagement when it comes to the brand, products, or services.
A customer journey map is a tool that helps improve user experience. The companies that have implemented these maps can:
Increase loyalty and conversion
Shorten the sales cycle
Become more customer-oriented
Reduce the risk of new product failure
Find growth points for existing ones
If you want to achieve maximum growth, use customer journey maps. A CJM is a unique scenario for a customer interaction, focusing on the potential buyer's lifespan in the sales funnel.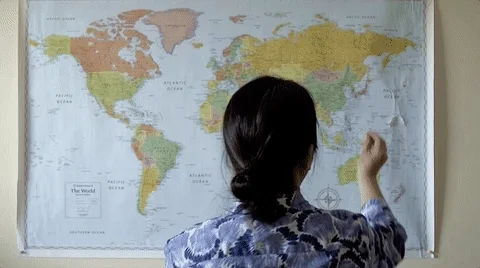 The user's route is non-linear and has several branches from the point-of-site entry to the order. It is important not to lose a client at every journey stage. To develop a strategy, everyone needs specialized software.
What are customer journey mapping tools?
Companies that want to learn more about how their customers use their websites use customer journey mapping tools. These tools allow businesses to track and analyze customer interactions across various touchpoints, from initial awareness to post-purchase follow-up. By mapping the customer journey, a digital marketer can see where customers have problems (nuances or issues), where they could improve, and where they are doing (interact) well.
A brick-and-mortar retail store can be an example of how customer journey mapping tools can be used offline. By tracking customers' behaviors in-store, such as browsing habits and purchase decisions, the store can gain valuable insights into what drives customer engagement and increase revenue. In the same way, an online store can use CJM tools to look at page views, drop-offs and the amount of time users spend on certain pages (user sessions).
By analyzing data such as product views, cart abandonment rates, and checkout completion, the online store can identify pages (URLs) where customers may be dropping off and improve CR. It can also identify high-value customer segments and tailor the experience to their needs and preferences.
Customer journey mapping tools are a must-have for UX or CRO specialists looking to understand their customer's experience better and optimize their engagement, conversion, and retention. It's a tool to unlock growth potential and boost the bottom line.
What are the benefits of using customer journey mapping tools?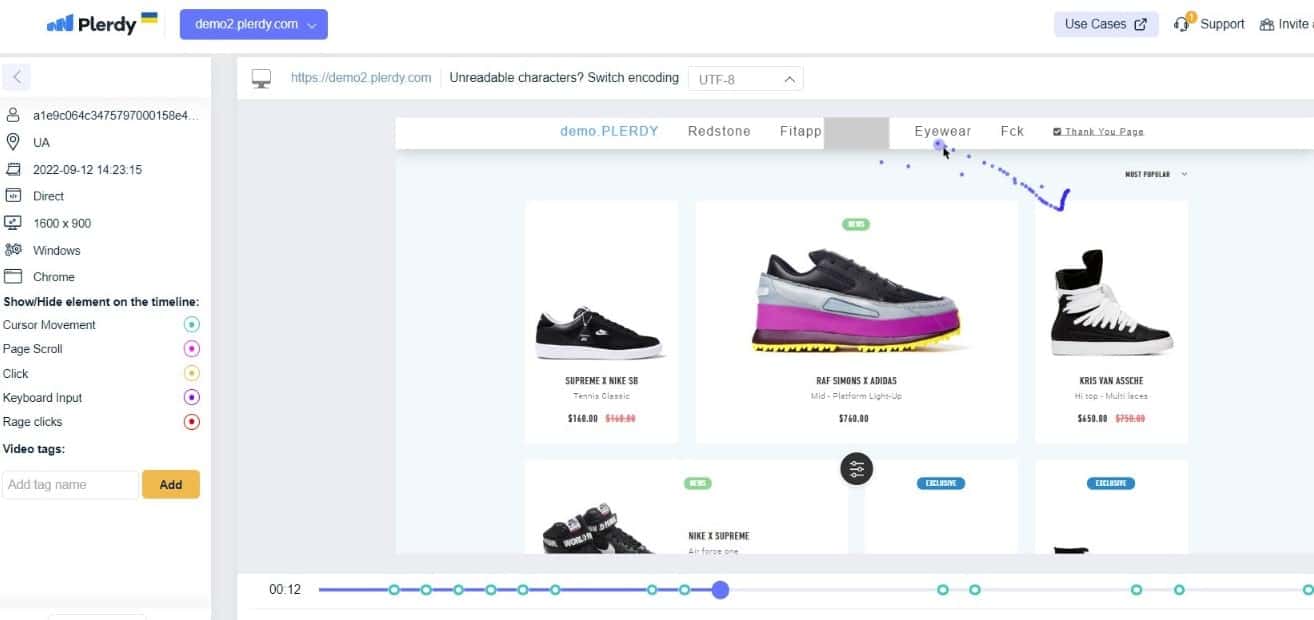 Using customer journey maps (CJMs) can bring several key benefits to websites and online stores. Here are some of them:
Identifying problem areas in the customer journey and improving the overall customer experience.
Identifying upsell and cross-sell opportunities, which helps businesses increase their revenue.
Segment customers and customize their experience to increase loyalty and retention.
Track the effectiveness of marketing campaigns and other initiatives.
According to expert Mark Smith, CEO of CustomerThink, "Without a clear understanding of the customer journey, online businesses risk losing valuable customers to competitors. CJMs provide clear and actionable insights into the customer experience, enabling businesses to improve customer retention and drive growth."
One example of how a website can use CJMs is to analyze user behavior, such as the number of clicks and time spent on certain pages.
How do I choose the customer journey mapping tool?
When choosing a CJM tool for business, either offline or on a website, there are a few key factors to consider to ensure it's right for your needs:
First, it's important to check out tool reviews on sites like G2 or Capterra. This will give you an idea of how useful other marketers in the industry find the tool and its strengths and weaknesses (likes and dislikes). In addition, it's worth looking at which companies (B2B or B2C) currently use the tool to see if it fits your business.
Another important factor to consider is the price of the tool. It's important to analyze the price to see if it's reasonable for your business. While the high price of $1b000 may not be the deciding factor, ensuring that the tool's features justify its cost is important.
Regarding the tool's features, it's important to look at the roadmap (what's planned for this year) and what's currently available. This will give you an idea of where the tool is headed and what you can expect from future updates.
Pay attention to whether the tool has an API integration with leading tools like Google Analytics or Mailchimp, as this can greatly enhance your ability to track and analyze customer data.
Finally, it's important to consider the usefulness of the tool's reports and settings. Look at how easy it is to read and understand the reports, and see if the tool has useful settings such as IP blocking or guest access.
Choosing the right customer journey mapping tool for your business requires careful consideration of these factors. Still, by taking the time to research and evaluate your options, you should find a tool that helps you better understand user behavior on your website.
List of The 20 Customer Journey Mapping Tools
If you want to create a successful e-commerce platform or increase the conversion of an existing online store, put yourself in the shoes of a potential buyer. Special tools will help you determine all the touchpoints with your audience.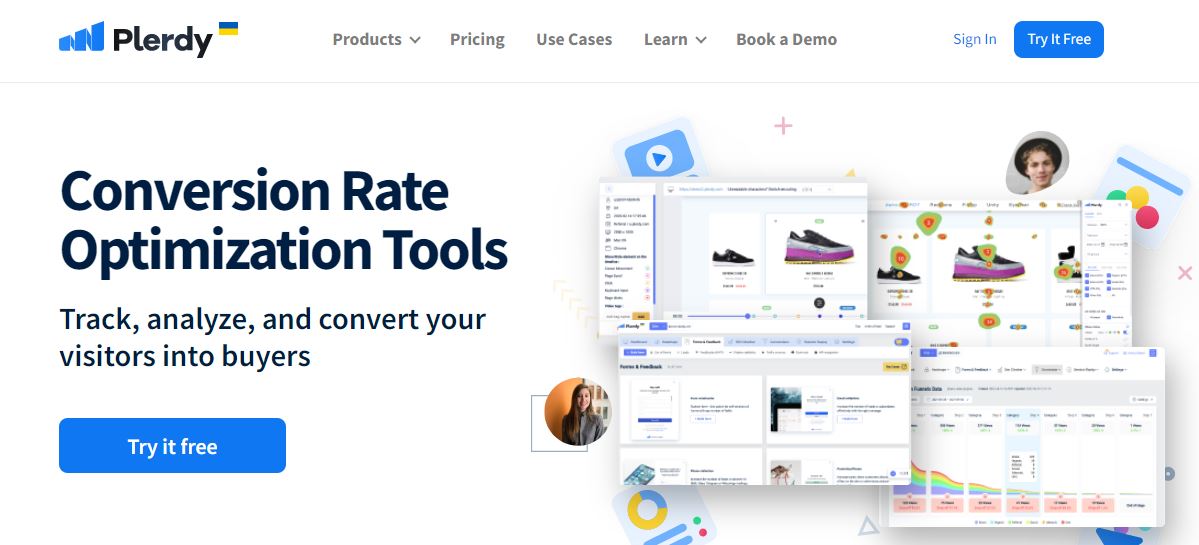 Plerdy is a website analysis tool that helps businesses optimize their conversion rates by providing detailed insights into how visitors interact with their websites. It offers a range of features, including heatmap tracking, SEO analysis, session replay, event tracking, and form customization. These tools enable businesses to understand how visitors behave on their websites, identify areas of improvement, and make data-driven decisions to increase conversions. The Plerdy also offers an excellent way to collect feedback and Net Promoter Score, which has been trusted by some of the world's largest enterprises. Customers have praised Plerdy for its accuracy, ease of use, and customer support. Businesses of all sizes have reported seeing a 1.5x increase in sales after implementing Plerdy's insights. Plerdy is a cost-efficient and easy-to-use tool that can help businesses improve their website's performance and increase conversions.

Visio is a visual communication tool that allows users to create, share, and collaborate on diagrams. It is part of the Microsoft 365 suite and is available to commercial subscribers. The tool suggests a variety of templates, shapes, and stencils to make it easy to create flowcharts, org charts, floor plans, network diagrams, and more. Visio can create diagrams for various business processes, such as decision-making, data visualization, and process execution. It also integrates with Microsoft 365 apps, such as Microsoft Teams, Power BI, Power Automate, Excel, PowerPoint, Word, OneDrive for Business, and Microsoft Azure. With Visio, users can create and coauthor diagrams in real time, and the tool also supports accessibility features for users with disabilities. Additionally, Visio provides enterprise-grade security and privacy features, such as Information Rights Management (IRM), to ensure that diagrams are protected while users collaborate.
Microsoft – one of the top software developers co-founded by Bill Gates with Paul Allen. This widget allows you to work on visualization and create diagrams and customer journey maps regardless of the location, including remotely.
Tools like Microsoft Visio make creating and sharing maps easy. Such international companies as HP, Campari, UNICEF, Northrop & Johnson, and ACTUM Digital use it for their purposes.

Smaply is a tool for mapping the customer experience that helps businesses collect and manage customer data in one place. The tool offers a variety of features such as journey mapping, persona mapping, and stakeholder mapping to help businesses understand customer pain points and business opportunities along the customer journey. Smaply lets users create a journey map repository, connect journey maps in hierarchies, assign accountable team members, and create data hubs to manage customer experience activities. Additionally, Smaply has the ability to integrate with project management tools like Jira, allowing for all CX projects and initiatives to be visualized in one place. Smaply also allows visitors to take their customers' perspectives to understand needs, pain points, and feelings. The tool also provides support for diversity and takes initiative in supporting disadvantaged people, especially those being located in, or refugees from war zones, and for diversity as a whole.
This is a console-rendering utility from IBM. The creator of the tool is a team from Innsbruck. Their goal is to help organizations successfully do service design. Some partners (Bayer, Toyota, Deloitte, LinkedIn, Ford) improved their customer focus with this tool.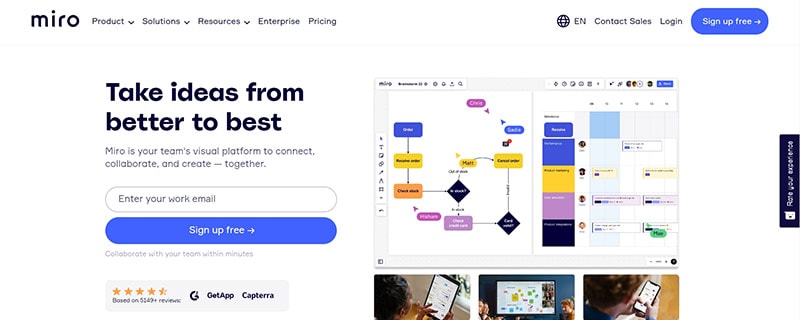 Miro also offers a variety of features for customer journey mapping, which allows businesses to understand their customer's needs and pain points. The platform allows businesses to create journey maps and visualize interactions, facilitating a common understanding between all team members. It also lets businesses manage customer experience activities by creating a repository for journey maps, connecting journey maps in hierarchies, assigning responsible team members, and making data hubs. Additionally, Miro's integration capabilities allow businesses to connect their customer journey mapping data with other tools they use, such as Jira, to centralize and manage all customer experience projects in one place. This allows businesses to uncover overlaps and synergies, resulting in an improved customer experience.
It is a platform created by Andrey Khusid for making customer journey maps and interactions when creating projects and interface design. You can configure integration with other collaboration tools, third-party services, and applications.
Miro's offices are all across the world: Amsterdam, Berlin, London, Perm, Sydney, and New York. The platform is used by over 15 million users, including Cisco, Twitter, Pivotal, Netflix, and Skyscanner.

Figma is a cloud-based user interface design tool that allows for real-time collaboration and version control. One of the features of Figma is the ability to create customer journey maps using a template, such as the one created by Nigel in this text. Customer journey mapping is a common UX tool that helps digital specialists understand their customers' actions, thoughts, and emotions throughout their interactions with a company. Figma's template and auto-layout feature make creating a beautifully presented user journey map easy, with the option to share, modify and remix the template. Additionally, Figma has a Community feature where users can share and collaborate on design files.
This tool is not software, but a full-fledged online service from a company with the same name, founded in 2012 by Dylan Field. The web tool was created for collaborative interface development and prototyping, and all this is possible in real time.
Headquartered in San Francisco, CA, US. There are also offices in New York and London. The main global users are Twitter, The New York Times, Kimberly-Clark, Zoom, and Deliveroo.

Lucidspark is a customer journey mapping tool that helps digital specialists learn and optimize their customers' experiences with their brands. A customer journey map is a diagram that illustrates how customers interact with a company and engage with its products, website, and/or services. The goal is to understand and optimize customers' journeys with the brand so that they want to make a return trip and tell all their friends about their experience. Customer journey mapping is the process of outlining and visualizing the customer's experience with the brand. You can use multiple customer journey maps depending on your goals and the specific buyer persona you're focused on. It helps to learn about and improve the customer experience (CX), identify gaps in communication and messaging, reveal customer pain points or friction, increase customer retention, optimize customer onboarding and align marketing, sales, UX, and other teams.
Developed by Lucid, a trusted partner of 99% of the Fortune 500 companies like Amazon, GE, and Delta Air Lines, Lucidspark offers a flexible digital canvas for brainstorming, real-time collaboration, and turning ideas into actionable next steps. It also offers enterprise-ready features for connecting teams, keeping sensitive data safe, and scaling to meet business needs. Lucidspark is also a top pick for remote teams as it is named one of the top 50 products for remote work by G2.
Lucid has developed this virtual whiteboard for creating and visualizing ideas, group brainstorming, and remote collaboration. The brand was co-founded by Ben Dilts and Karl Sun.
Offices can now be found in South Jordan (the United States), Amsterdam (the Netherlands), and Melbourne (Australia).

Canvanizer is a business tool that helps teams brainstorm and collaborate on concepts using pre-structured canvas templates. With Canvanizer, teams can create their own canvas for free, post ideas on a business model or customer service journey canvas, move notes, fine-tune ideas, and share the canvas with their team for synced changes. Canvanizer also provides privacy settings and the option to post canvases for public feedback. The tool even offers Canvanizer 2.0, which includes over 40 popular canvas templates, private canvases, custom segment titles, mobile editing, and team collaboration features.
The product was developed by Canvanizer specifically and almost exclusively for creating models using the Business Model Canvas methodology by Alexander Osterwalder. Now this method is also used for creating customer journey maps.
Founder of the Canvanizer – Stefan Peter Roos, one of the organizers of the Nuremberg Startup Weekend, 2011. Their office is located in the Coworking Space Nuremberg, Germany. The software can be downloaded in the public domain, so companies and people worldwide use it.

Gliffy is a diagramming tool that helps teams communicate visually. With Gliffy, users can create diagrams with an intuitive drag-and-drop interface, collaborate in real-time and share diagrams with anyone. Gliffy is integrated with Atlassian tools such as Confluence and Jira, allowing teams to create documentation-ready diagrams without ever leaving the platform. Gliffy also offers enterprise solutions for businesses, product teams, software engineering teams, and IT teams. Additionally, Gliffy offers a feature to improve a business's customer experience with Journey mapping. The journey mapping process allows businesses to better understand the customer experience, process data, and identify opportunities for improvement.
It is a cloud-based online service for creating flowcharts, organizational, UML, and network diagrams, wireframes, maps, and more. It was created and continues to improve by developers from Gliffy. Two friends and former colleagues Chris Colhardt and Clint Dixon opened this IT company in 2005.
Now it has offices in the United States of America, EU countries, Israel, Japan, India, and Australia. Among the clients are such top brands as Nike, Harvard University, Pixar, Xerox, Apple, and NASA.

LucidChart is a visual collaboration platform that allows teams to innovate faster with virtual whiteboarding, intelligent diagramming, and cloud visualization. It offers a suite of products, including Lucidspark, Lucidchart, and Lucidscale, that support every part of the workflow and help teams drive revenue, decrease costs, and improve productivity. LucidChart also offers a customer journey mapping tool that helps visualize a customer's journey with website pages, map out different customer touchpoints, and collaborate with colleagues. The tool comes with a basic customer journey map template that can be easily customized to fit the specific use case. Trusted by millions of users, LucidChart integrates with other popular tools such as Atlassian and Amazon. TMobile, Microsoft, Okta, NBC, and Asana use LucidChart.

Omnigraffle is a powerful visual communication tool for professionals who need to organize or communicate ideas in a clear and beautiful way. It is designed for professionals such as architects, designers, and developers who need to diagram and prototype ideas accurately. The software comes with a 14-day free trial and is made by The Omni Group, an employee-owned company based in Seattle, Washington. Omnigraffle offers features such as diagramming, rapid-prototyping, and design, which can be used to create professional-grade vector graphics. Omnigraffle also includes a feature for customer journey mapping to help explore and visualize a customer's journey with a website.
This is a diagramming and digital illustration app for macOS and iOS created by Omni Group. The American software company was founded in 1989 by Will Shiple, Ken Keyes, and Tim Wood. Key customers – MSLGROUP, QA Limited, Lorven Technologies, Capital One, American Express.

UXPressia is a company that offers customer journey mapping tools to assist businesses in understanding and enhancing their customer experiences. Their online platform includes features such as real-time collaboration, an omnichannel experience visualization, an experience graph, branded export options, a presentation mode, and integrated web analytics. Additionally, UXPressia offers a variety of customer journey map templates, as well as an online course, to assist businesses in getting started with mapping their customers' journeys. They also offer integration with various CRM software, allowing businesses to import customer data and create accurate journey maps. The company also supports Ukraine and provides resources for customers to learn about ways to help. Many customers have praised UXPressia for its user-friendly interface, ease of use, and ability to quickly create polished customer journey maps.
Many customers, such as Rui Grilo, CIO of Square Asset Management, and Nick de Voil, Director of De Voil Consulting, have praised UXPressia for its simplicity, ease of use, and ability to create beautiful customer journey maps in a short period of time.
It is a tool for designing customer journey maps in a standard linear form. There are persona and card templates that can also be downloaded in PDF. In the free version, you can create 1 card and 1 person. Founder of UXPressia – Yuri Vedenin. Its software users include Michelin, StepChange, Freeman Capital, HorizonCX, and UrSpectr.
Qualtrics is a company that provides a platform for collecting, understanding, and taking action on all forms of experience data. The Qualtrics XM platform allows businesses to understand what people are saying about their company, wherever it's being said, from the contact center to social media to online reviews and more. With the acquisition of Clarabridge, the XM platform now includes the ability to understand the emotion, effort, and intent of customer and employee feedback. The platform also includes tools to take action to improve individuals' experiences, while also optimizing processes to scale improvements. In addition, it offers the ability to personalize the experience for every customer and employee with automated actions powered by a rich and accurate experience directory.
Visual Paradigm is a software company that offers a customer journey mapping tool, which helps businesses to learn and improve the CX. The tool provides an overview of the entire customer journey, allowing teams to identify and resolve specific customer pain points and hurdles. The tool also allows businesses to prioritize actions in their customer experience strategy, reveal gaps between various channels and departments, and improve customer conversion and retention rates. Visual Paradigm also offers other features, such as UX design and wireframe tools, and is trusted by over 320,000 people in companies ranging from small businesses to Fortune 500 companies. Visual Paradigm users – more than 100 large companies, including ASUSTeK Computer, EMC Corporation, Financial Times, US Army, and Starbucks.
This software is a suite of business process and database modeling tools. The creator of the program is a well-known software developer, Curtis Tsang. The company is headquartered in Hong Kong.

InMoment is a leading provider of customer experience (CX) solutions, offering a comprehensive platform for businesses looking to improve their interactions with customers. The Experience Improvement (XI) Platform is designed to integrate customer signals, gain insights, and take informed action to drive real, actionable business value. It offers a range of features including surveys, social listening, call scripts, SMS, IVR, and data signals, as well as personalized, actionable reporting and advanced text analysis, intent prediction, impact evaluation, and anomaly detection. The platform also includes an AI-powered adaptive model for unparalleled accuracy and understanding. InMoment's solutions are tailored to various industries, including automotive, B2B, contact centers, financial services, food services, healthcare, insurance, retail, telecom, travel & hospitality, and utilities. Many of the world's leading brands trust InMoment to improve their customer experience.
The developer of this product for customer journey maps is a young, but recognized company in the USA, Europe, Canada, Australia, New Zealand, and Singapore. Volvo, Tesco, Hawaiian Airlines, Castlight, and Hootsuite use InMoment's developments.

SuiteCX is a powerful customer experience (CX) platform that gives businesses the ability to design, visualize and deliver optimal customer experiences that engage customers and drive business value. The platform is fully customizable and secure, and includes robust customer journey mapping capabilities, as well as integrated survey data, persona development, improvement planning, and contact strategy creation. SuiteCX offers several features, such as visualizing persona-based customer journeys, CX assessment to identify customer pain points, and Applied CX to turn insights from customer journey maps into real-world execution. The company offers training, coaching, workshops, and CX consulting services to ensure its customers succeed. SuiteCX is also known for its thought leadership in the industry, for example, the book Managing Customer Experience and Relationships written by the board chair Martha Rogers, and CEO Valerie Peck's chapter on Understanding Customer Experience through Customer Journey Mapping. SuiteCX's customers include Bank of the West, JumpstartMD, Furnace Creek Resort, Kimberly Clark, Starwood Vacation Network, and Xanterra Parks and Resorts.
SuiteCX has developed a customizable and secure platform for customer service, mapping, and travel analytics. The founder and CEO of this company is the young and ambitious Valerie Peck, who made his way to the international market.
Design tools for mapping the customer journey
Customer experience management is dependent on the creation of tools that map out a customer's path from first contact to purchase. These technologies enable companies to recognize and address consumer unhappiness, resulting in enhanced customer experiences and increased profits.

PowerPoint is one of the Microsoft 365 cluster applications built for presentation and diagram design. It offers a wide range of powerful features for creating visually appealing slideshows, including an extensive collection of pre-designed PowerPoint templates to help users create professional-looking presentations quickly and easily. Microsoft's offices are located around the world. The headquarters is in Redmond, Washington, USA.
The CEO, Satya Nadella, has been working here since 2014. Clients arecc both individuals and large businesses, including Bosch, Cersanit, Siemens, London School of Business & Finance, and BAASS Business Solutions Inc.

InDesign is a layout and visualization tool from Adobe used to create beautiful graphic designs and customer journey maps with templates, preset images, and typography. Save content in PDF format and share it with other specialists.
John Warnock and Charles Geschke founded the brand in 1982. The developer specializes in design programs, so the maps are colorful and informative. Offices are located worldwide, with headquarters in San Jose, CA. Some of the main users are Dior, Dell, Mastercard, Mercedes-Benz, and Motorola.

It is the eponymous tool, from the Australian graphic design service, founded by Melanie Perkins and Cliff Obrecht for creating images based on ready-made elements and templates. It can also be used for creating informative customer journey maps.
According to Cameron Adams, the third co-founder, their service registered 55 million users, including Intel, PayPal, Gucci, Danone, American Airlines. The company's offices are located in Sydney, Milan, and Beijing.

This tool for creating complete maps and diagrams of business processes and buyer-seller interaction was created by XMind Ltd. It was founded in 2006 by Brian Sun, who is still the CEO. The software is useful to absolutely everyone, from schoolchildren to large companies.
Final Word
In short, customer journey mapping is an indispensable tool for organizations of all sizes in the twenty-first century. Businesses may obtain significant insights into consumer preferences, behaviors, and experiences with the help of the 20 top customer journey mapping tools in 2023. This would facilitate the development of customer-centric strategies and make it easier to boost customer loyalty and happiness. Investing in one of these instruments is a wise decision that will contribute to the long-term success of any organization.