The dynamic change of trends on Instagram allows businesses to find new ways to promote. Consider what trends for business and marketing are relevant in 2022:
Online sales with links to the store.
Humorous content and storytelling.
More attention to storytelling.
Instagram Reels that increase your reach.
Collaboration with major bloggers.
Influencer marketing: collaboration between brands.
How can you get more followers on Instagram? Social media junkies demand that companies be competitive and stand out. So stick to trends, experiment and form a marketing strategy that will bring better results and increase your number of followers.
20 Ways to Get More Followers on Instagram
Frequent policy changes on Instagram encourage brands to be more creative. For example, you can "wind up" the number of followers and likes, but the social platform will not allow you to advance and get real customers. We share tips that will allow you to gain an active audience and increase your number of followers on Instagram.
Optimize your bio
150 characters – in them, you need to fit basic information about the brand. Here is what should be written in the biography, in addition to the brand name:
For example, writer and traveler Claudia Laroye described her activities in her biography. A user can easily find her account with key phrases in the search bar.
Find the best time to post on Instagram
Use the Instagram Insights feature to see when your target audience is online most often. Then post content at the right time to collect more views and likes. Random posting will not allow for contact with users.
The example below: collected statistics show when followers are most active.
Post consistently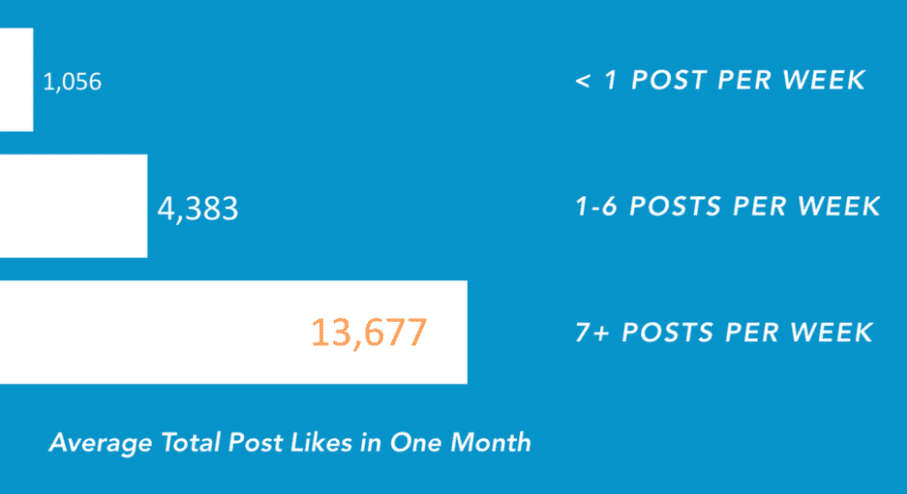 Regular posting helps Instagram algorithms recognize you and bring you to the top. Therefore, you should pay attention to the number of posts and their quality. As a result, you will gain more audience engagement. In addition, new users will note that you systematically provide useful and interesting information – and they will also subscribe.
Tailwind shared a study on how many posts to publish. They found that posting regularly can double the number of followers.
Learn how the Instagram algorithm works
You do not need to be afraid of Instagram algorithms – learn how to use them for your purposes. For example, switching to a timeline feed allows users to see more relevant posts.
Experiment with different content types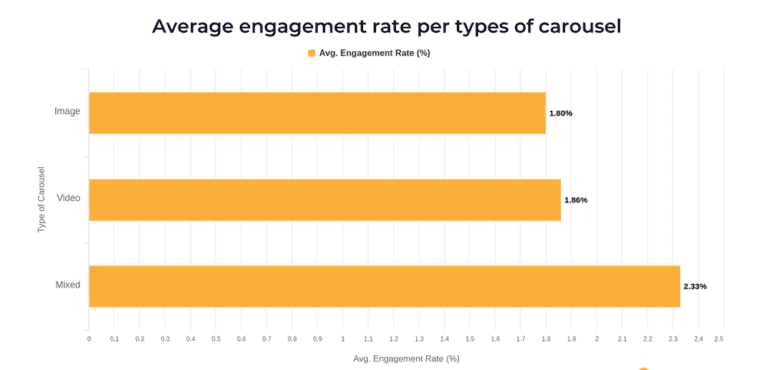 Initially, Instagram was a social network used primarily for posting photos, but today you need to use all the tools for promotion. For example, reels are very popular – short videos that allow you to catch the interest of a larger number of visitors.
A study by SearchEngineJournal shows that, on average, photo carousels engage 1.92% of users more than just one very good photo. Experimenting with different post types will let you see what content your audience responds to best.
Keep a consistent content calendar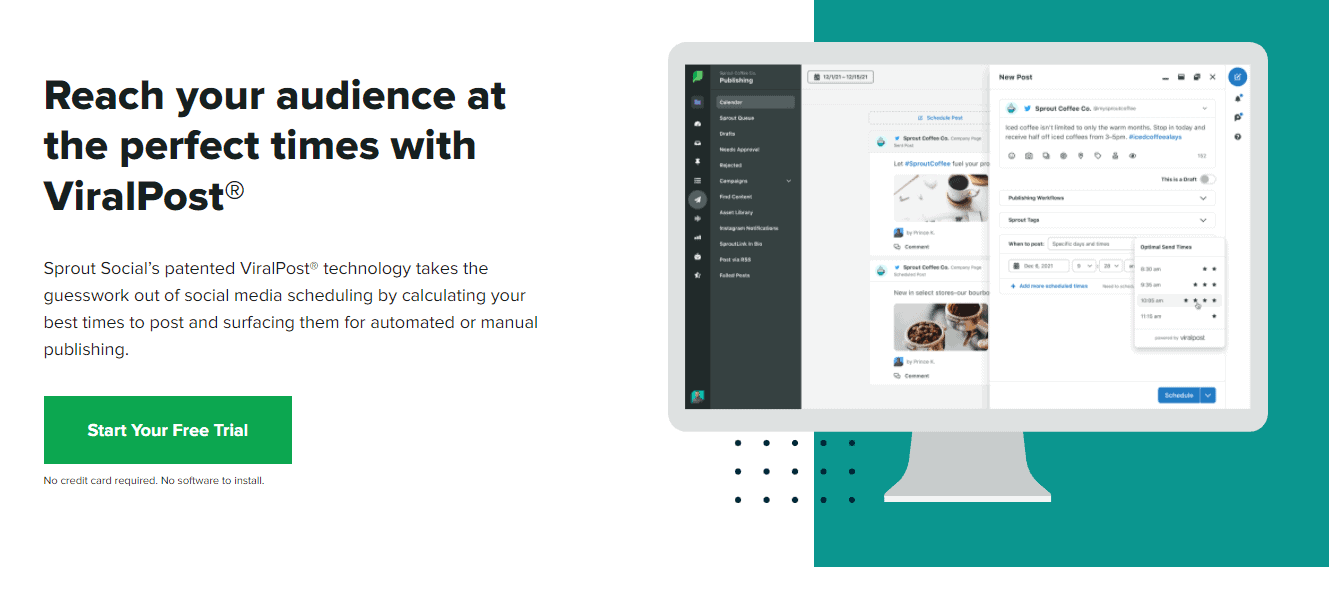 A posting schedule is essential to provide a "fresh" post. Chaotic posting will not create the system needed to recruit new followers.
For example, Sprout Social offers a tool for creating a content plan – ViralPost. You plan when to post publications and gain information about user interaction with its content. Based on this analysis, the optimal time for posting publications is determined, and the target audience is studied.
Get partners and brand advocates to post your content
When promoting on Instagram, it is important to regularly update information on your page and collaborate with other brands.
For example, LG attracted influencers to advertise the new LG V20 smartphone. Bloggers posted photos taken by the new smartphone on their pages, thus discussing its technical characteristics. The result was more than a million likes on blogger posts and 10,000 comments from users.
Avoid fake Instagram followers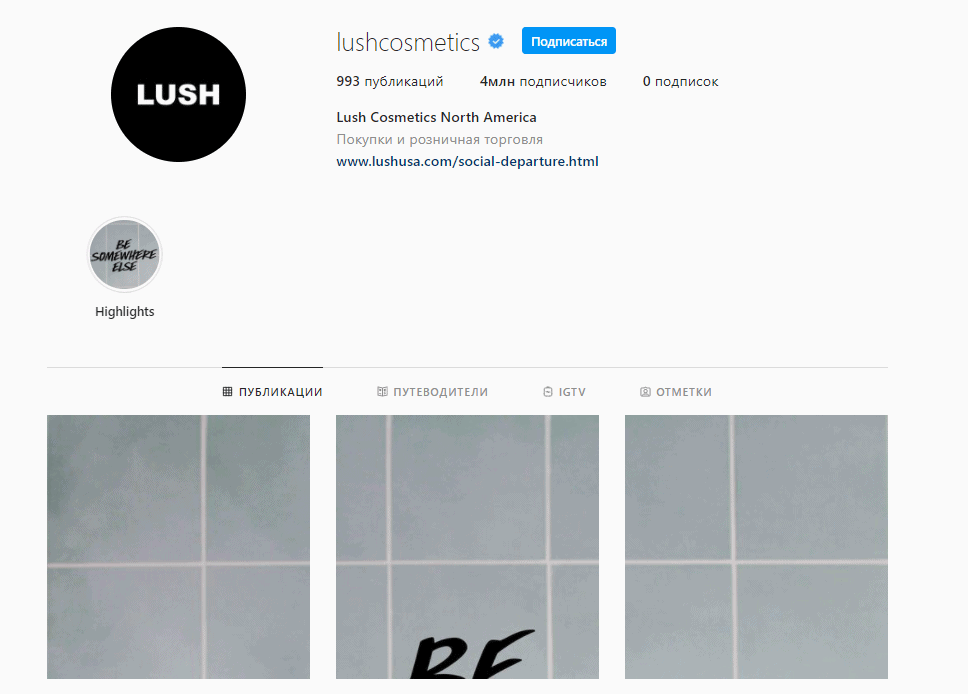 "Follower Boost" – In the past, Instagram did not show such content to users and did not encourage cheating. Accounts that do not want to wait for organic growth and set a goal in the form of a beautiful number in the "followers" column remain in the shadowban of the social network. Fake accounts do not interact with content – your page will not be promoted.
Check out an example from Lush Cosmetics, which responds to followers' comments so that they return to them and repost publications.
Showcase your Instagram everywhere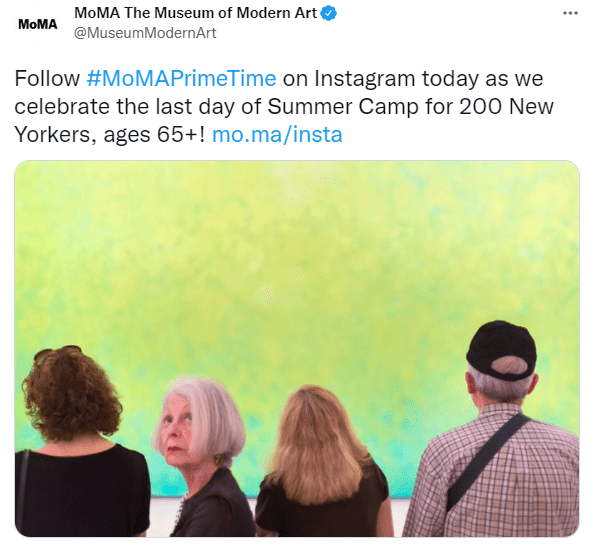 Do you want more people to see your account? Then, use all the opportunities of the Internet. For example, you can link to your Instagram on a company website or blog.
For example, MoMA The Museum of Modern Art posted a link on their Twitter, Facebook, TikTok, and YouTube leading to their own Instagram account to attract as many users as possible from other sites. Thanks to creative content, subscribers followed them on multiple social networks.
Post content followers want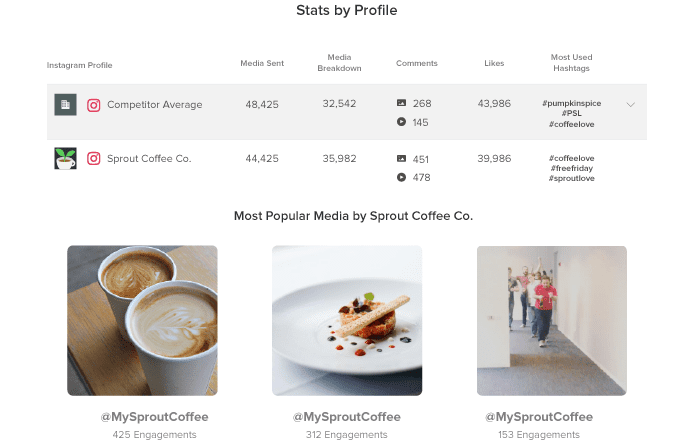 You may have noticed that some types of posts are liked by the audience and are more active in collecting responses and comments. How do you achieve the best results? Use Instagram analytics and create trending content.
Sprout Social offers you page performance reports to analyze what types of posts are most effective to create.
Use relevant hashtags to reach new users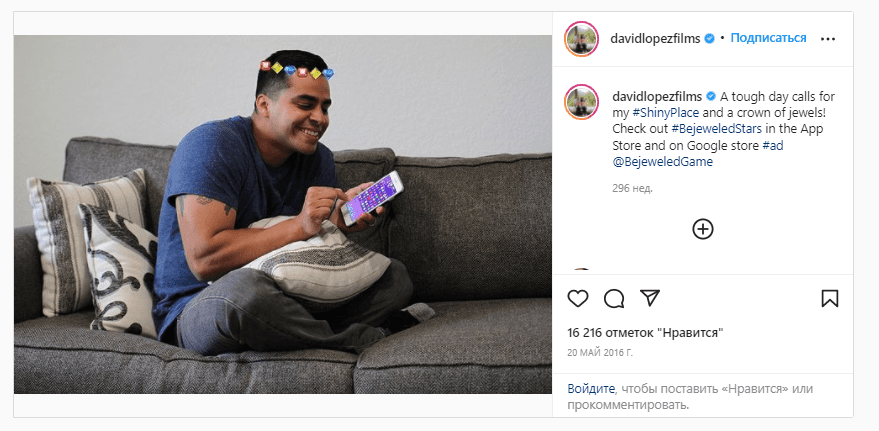 One of the most accessible free ways to promote on Instagram is hashtags. Users search for information by entering keywords into the search bar. Therefore, it is important to use high and low-frequency hashtags to make your content stand out from others.
The creators of the game Bejeweled launched a campaign among bloggers who posted photos under the hashtag #shinyplace. As a result, the game moved up to 135th place in the rating — the company increased its recognition, and influential people took note of their game.
Design a gorgeous Instagram grid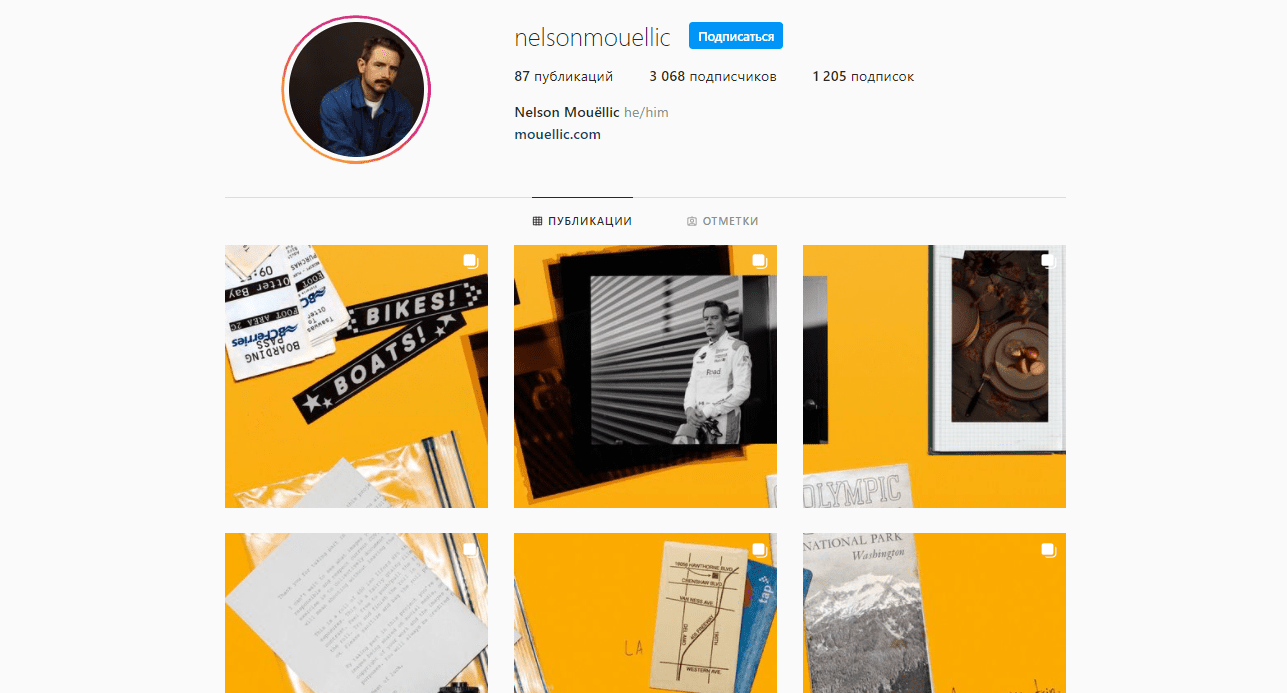 The visual on Instagram is still important – it's the first thing a new user sees when they land on your page. However, today it is not enough to use stock photos, people need to see your personality and understand that you have something in common. The more genuine you are, the more users will know about you.
A great example of a visual is the work of photographer Nelson Mouëllic. Bright photos and the correct arrangement attract the attention of a large number of users.
Pin your best comments
Instagram allows you to pin comments under a post, which can be used for several purposes at once:
For users to see a review written by a customer.
To add text that does not fit into the frame of a short post.
Finally, to reinforce a call to action for readers.
Attract more attention and communicate with users in the comments – people appreciate openness and sincerity.
Aim to get featured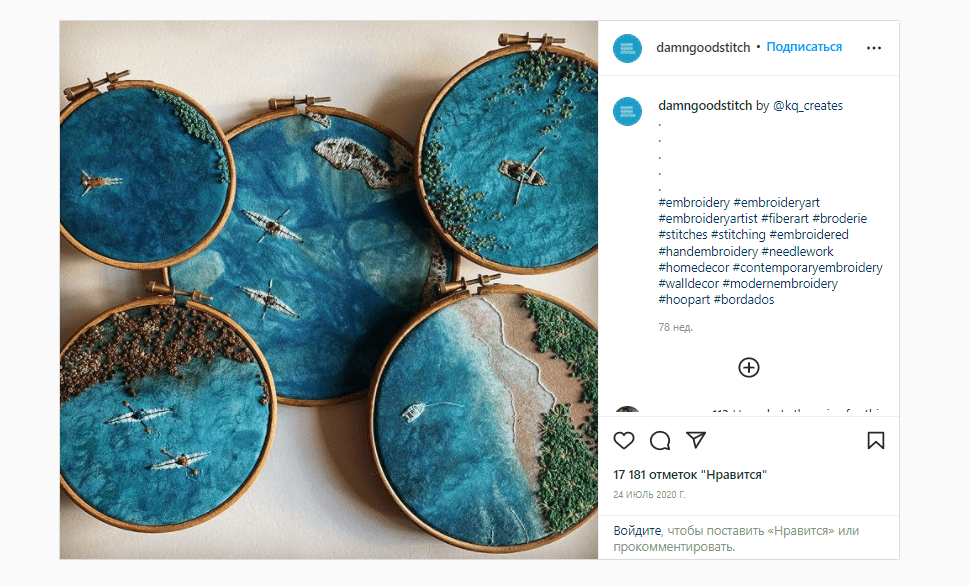 Greater recognition can be given by large accounts that repost your publications on their page and tag you. This gives you an organic influx of followers interested in your content.
The damngoodstitch hobby account with 187K followers reposts embroidery from other users. To do this, tag them on your post or use the appropriate hashtag.
Follow relevant accounts
Follow accounts that may be interested in your content. This way, you will attract their attention – most likely, they will look at your profile. Look for these people in recommendations or among followers of other accounts close to you in terms of topic and direction.
Follow photography and editing best practices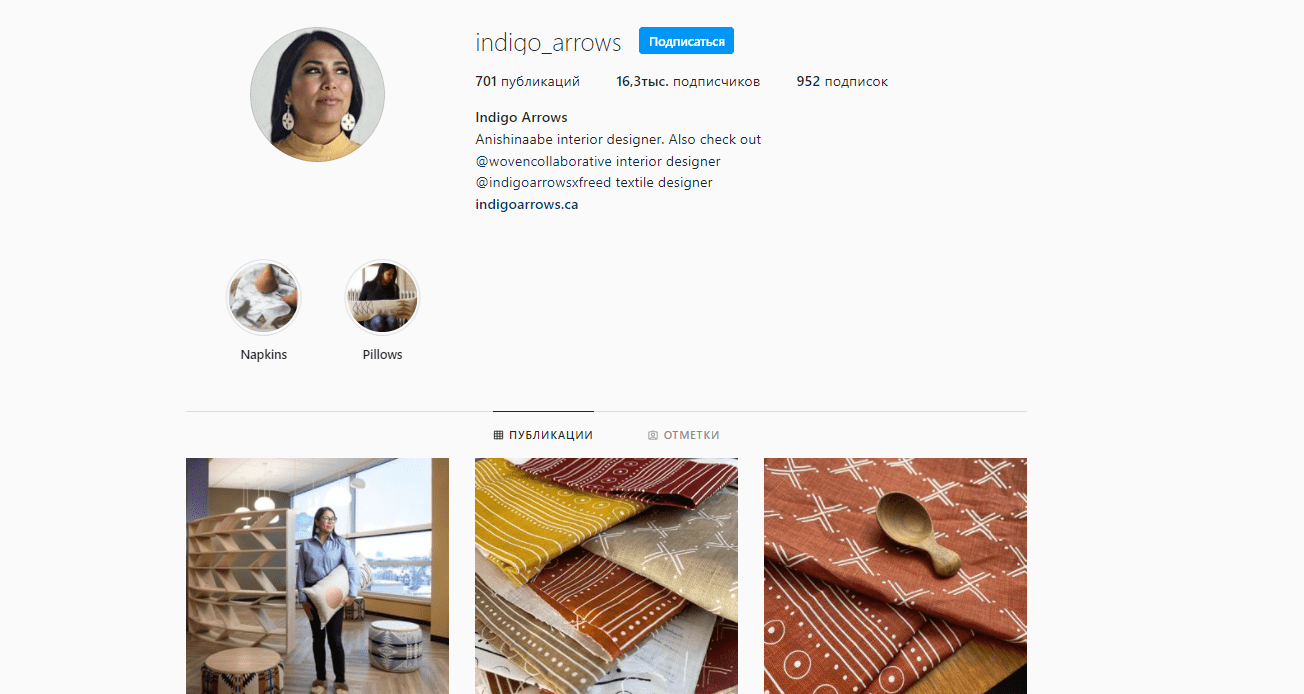 The basis of Instagram is a beautiful visual design. You do not need a professional camera or take photography and photoshop courses.
We see a great example of good product photography in the profile of user indigo_arrows. The arrangement of objects, their layout, and minimalism appeal to many users.
What are the standard rules for a good photo:
Few details.
Interesting, unusual perspectives.
Use of funny shots.
More realism and "life" in photos.
If you stick to these points, you will be able to take nearly-professional photos with minimal effort.
Allow outside contributors to curate your content
Delegate responsibilities to create better content. For example, one person on your team can take photos while another can write texts. If the company has an event, ask colleagues to send a photo. If there is an interesting topic for followers, let the person responsible for this process share their opinion.
This will make your task easier, and it will be more interesting (and more useful!) for followers to read a variety of content.
Use a consistent, platform-specific brand voice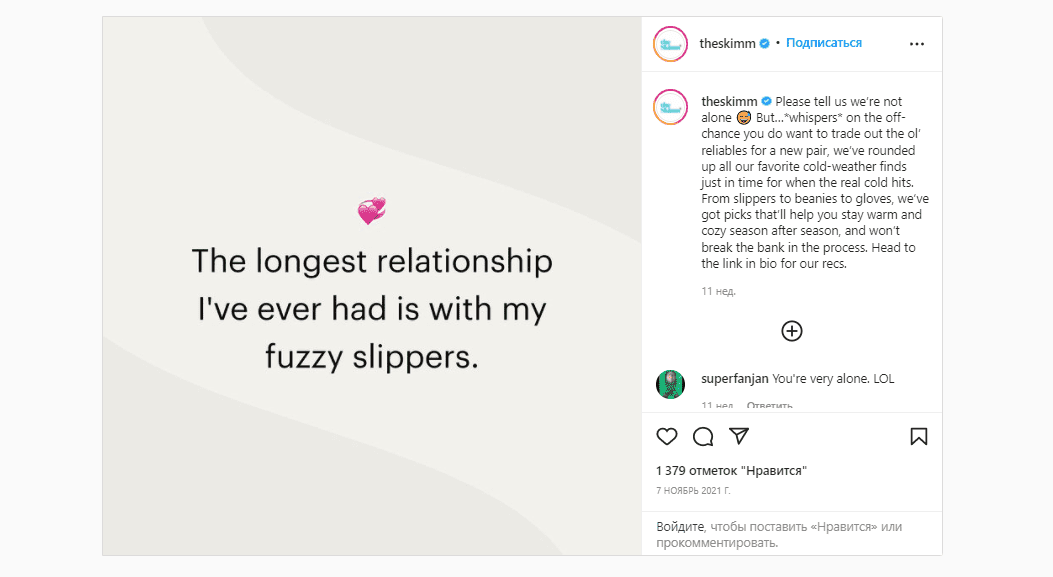 To be competitive on Instagram, you need to emphasize your individuality in a skilled manner. This applies to the visual and the communication style you use with followers, called the tone of voice. This kind of "brand voice" brings you closer to your followers, and they will recognize you by specific calls.
A great example of brand intonation is seen in this skim account: they communicate with followers very relaxedly, and the audience trusts them.
Promote your Instagram
You need to promote your account to attract new followers. Use both free and paid methods:
Targeted advertising.
Contests with the opportunity for followers to receive valuable prizes.
Interaction with users.
Cooperation with other brands.
A perfect example of the latter way of promotion is the interaction of accounts @sweetlikeoyin, which has 92.5K followers, with clothing brand Lulu's. The girl posted a photo in their outfit, and the brand's account made a repost on its page. As a result, both profiles increased their number of followers.
Run Instagram contests to encourage engagement
Contests are a good way to get new followers. So why don't you take advantage of it? Old Spice launched a Dream Runner campaign where users had to post a photo of themselves exercising with the hashtag #runoldspice. More than 50 participants became the winners of the "photo contest" and the brand increased its visibility while collecting 6 million views on YouTube videos.
Conclusion
We've broken down all the Instagram trends you need to follow to get more followers. The social platform continues to change and improve its algorithms – you need to be aware of all the innovations and try to be the first to use them. Create unique content and explore new ways to promote so that your followers will trust you more and you will outperform your competitors.