I want to tell you about the subtleties of launching a startup on Product Hunt in this post. We tested different methods to promote our product Plerdy and know what works best. If you are interested in Product Hunt, most probably, you also have a project you want to present to the world.
I'll share my experience to help you with this. Read on to learn:
What goals did we want to achieve by launching Plerdy on Product Hunt?
How did we prepare to launch the startup on Product Hunt?
What channels did we use to spread the word about our startup?
Did we cooperate with a hunter to launch the startup?
How did we manage the product launch?
Was our Product Hunt launch successful?
What recommendations would our team give to someone who is about to promote their startup on Product Hunt?
Our goals
Here's our project on Product Hunt – https://www.producthunt.com/posts/plerdy-2. The first goal was to become the Top 1 product of the day and get to the weekly TOP 10. We didn't manage to achieve it. Plerdy lost first place to another product by around 50 votes (as of May 7). Over time, our main competitor won even more votes:
Nevertheless, second place is also a great result. As to the weekly Top 10, we only fell short of  +/- 100 votes. However, our tool could have performed better, so we admit a few shortcomings in our work.
The next goal was to ensure high levels of traffic from target counties. From 6-11 May 2020, we got around 1500 users.


Given that these people came from 102 countries, such traffic was a pretty good result. Even though some countries generated very little traffic, the United States was the leading traffic source, and that's exactly what we wanted. We also got many visitors from Great Britain, which was another key location our team targeted.
Besides, we faced several confusing issues. For example, there was nobody from Canada or Germany. Of course, the bounce rates vary, yet the composition of the target audience may be another reason behind this. Many Product Hunt users aren't marketers or business owners who are the usual target audience of Plerdy. Therefore, they may be interested in absolutely different solutions. And although our project got some decent traffic, we expected better results for the money and time spent.
The main goal was to increase brand awareness. This is critical for any product to boost marketing and attract more users. The Product Hunt launch helped us to make Plerdy more recognizable. Now, it's more popular on different resources where we place information and ads.
The start on Product Hunt is not only essential for achieving the listed goals. It serves as a launchpad for your further development, growth, and success. The strategic launch on this renowned platform helps startups move to the next level, bringing more benefits than the very position in Product Hunt's rankings.
How to get more upvotes?
Plerdy managed to receive around six hundred votes thanks to a clear plan of action. Here's what we did:
Searched relevant groups on Facebook, Telegram, and Skype
Created a list of partners that could support us
Used my personal Facebook and Linkedin accounts as well as our subscription newsletter to spread the word
Bought one of the Ship plans powered by Product Hunt (It enables you to create a subscription page where you can collect subscribers beforehand and inform them when the product is launched. It's a good preliminary preparation)
Asked our acquaintances to support us
Added the voting button with the cat logo on our website: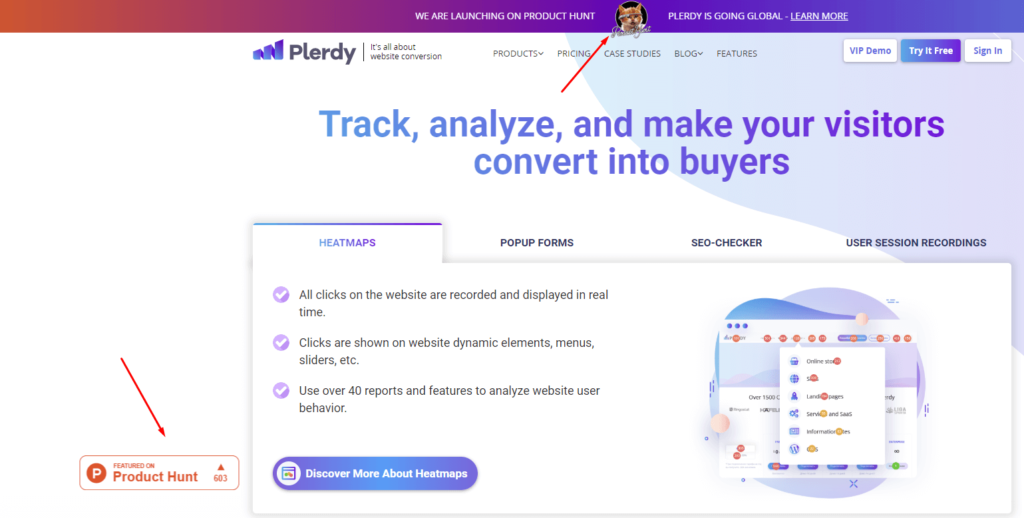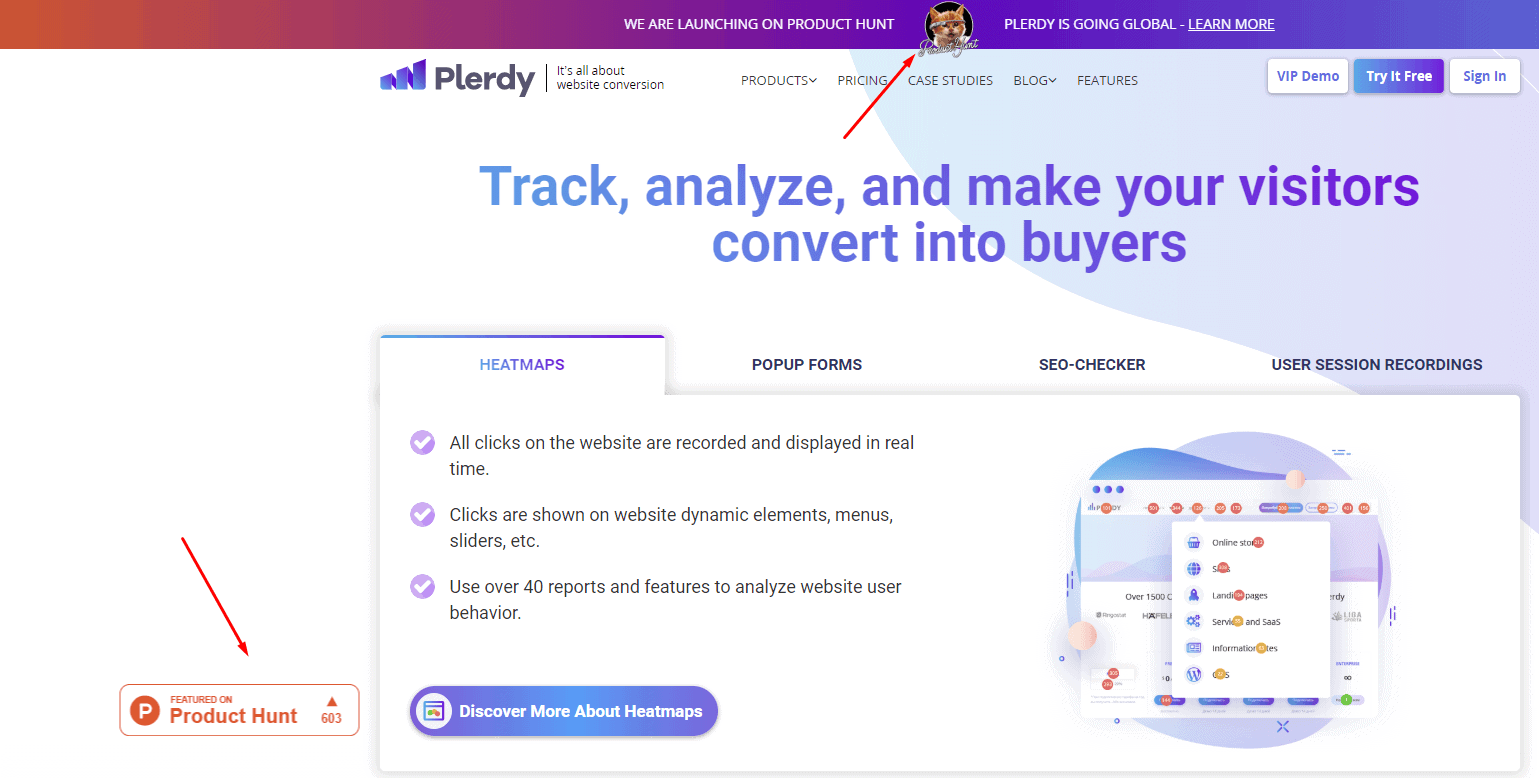 Even if these steps weren't decisive, they helped us to get some clicks:
We also used Reddit that produced almost no result
Bought Facebook ads (largely for testing)
Invested in paid Product Hunt ads, which look like this: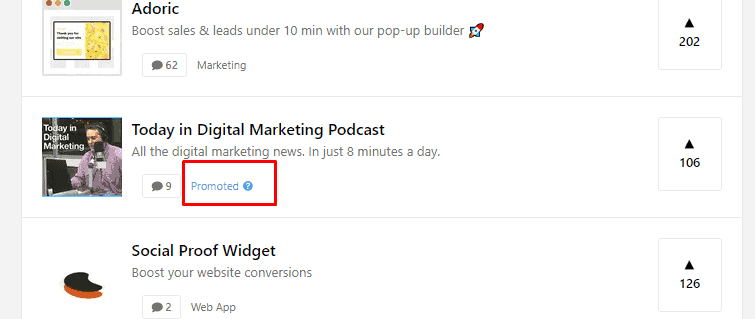 Such ads are super expensive, about $3,800 per day. It's an astronomical price, especially taking into account the volume of traffic these ads generate. Since we got only 150 registrations, there is no point in using paid advertising on Product Hunt. The expenses are huge, and I honestly don't believe they can pay off or bring you some crazy benefits.
Hunter search
There are two ways to launch on Product Hunt:
Do it yourself
Ask a hunter who will help to create a page you can later customize
The second option has its advantages since the contracted hunter may have their own group of subscribers. If your product is compelling, they will bring you upvotes. In some cases, these votes are enough to become the Top 1 of the day.
What did we choose? Our team found a freely available list of Hunters, prepared a request, and sent it through LinkedIn and Twitter to the first 10 and, later, other Hunters on the list. Only one of them replied. Now I understand why. We sent the template crude letter recommended by other companies that had previously launched on Product Hunt. As a result, our request wasn't taken seriously.
The hunter who accepted our offer and prepared everything for the launch did a good job. I can't say how much impact this had on the final result, but we planned to engage a hunter from the very beginning.
How we prepared
We initially had a video and a product intro that are life-critical for the launch. Screenshot cannot tell users how your product works and what functionality it has. They only provide additional information: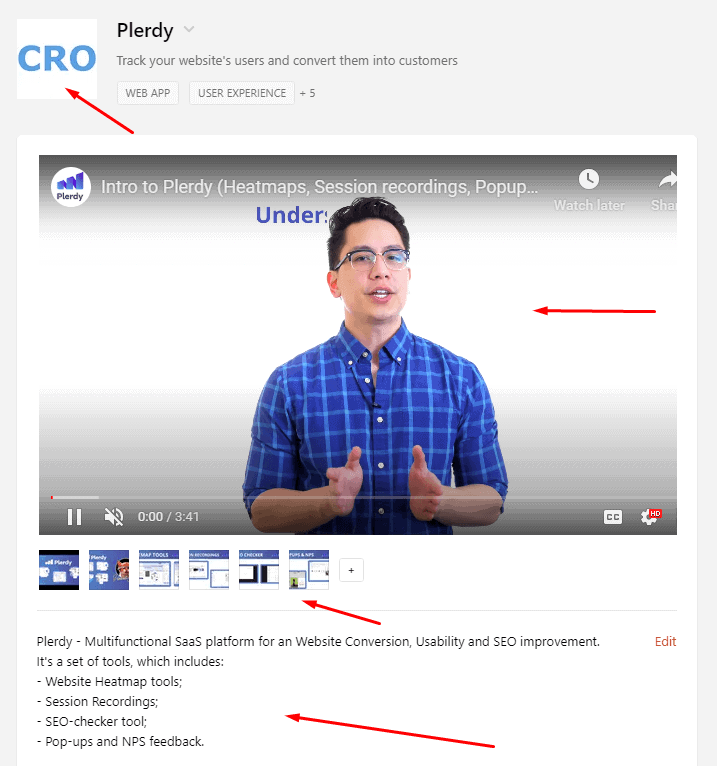 GIF format:
We also added the description and our website page.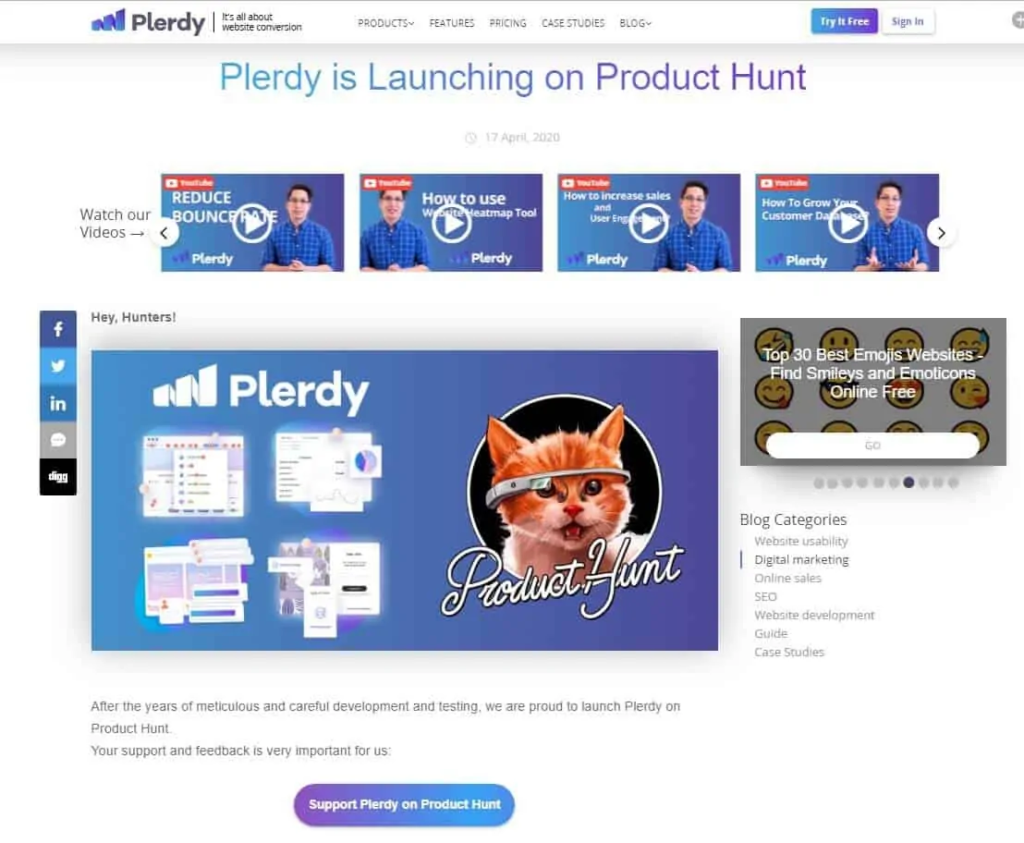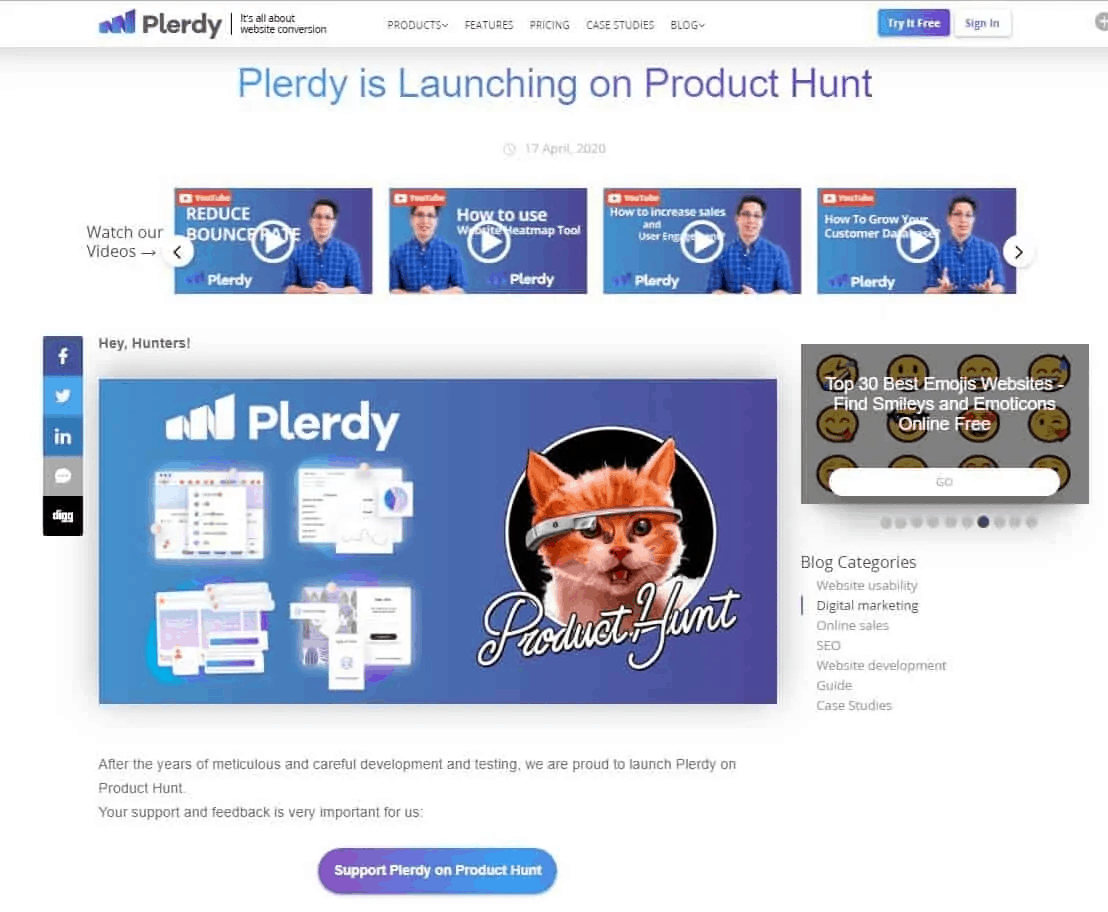 Another mandatory step is to check your website for bugs. The user conversion path must be perfect, be it registration or any other action. You also need to make sure your letters don't have any errors. The Plerdy team did come across some issues and tried to eliminate them as soon as possible. Sometimes, other people would tell us what to fix, and we immediately started working on the problem.
And one more thing. Prepare the list of resources where you will place the information about the startup launch. Otherwise, you won't get the necessary number of votes. Besides, it would help if you planned who will publish the product and where. One person won't be able to do this in time. We had four people working on this task and managed to finish it by the minute.
Analysis
This step is necessary both before and after you launch the product:
Competitor analysis. Analyze how they launched, their page, achievements, numbers of votes, comments, etc.
Choose the launch day. It's an essential aspect since launching your product on Thursday. You may get measurably different results than on Sunday. Analyze other companies and the correlation between the chosen day and votes. Usually, the competition is the fiercest on Tuesday and Thursday. Besides, a lot depends on what products are launched the same day as yours.
Find related articles. It takes quite a lot of time, but if you rely on our tips to understand the most critical information, the process should be much faster.
When to launch?
In fact, this is a key moment. We waited for the launch of Plerdy for two years. Why? Our team wanted to complete several tasks: 1.) Create a product that outperforms competitors. 2.) Increase product awareness to get more supporters.
If you already have a unique, turnkey product with quality support and all the necessary features, or your competitors have launched such products, go, do it. Then, the launch on Product Hunt is the logical next step.
What about the target audience? It's hard to predict. Of course, some users will never get interested in your product or buy anything. Still, Product Hunt is great advertising that generates links, online mentions, and potential customers. For example, we were contacted by one of the top world's usability experts who wanted to communicate directly because he liked our product. We plan to stay in touch with him and even start mutually beneficial cooperation.
Final tips:
Use every channel to place the information about your product. Otherwise, you won't manage to get the necessary votes.
Votes on the product page (upvotes) are less critical than the votes on the main page. We didn't know about this, but you should keep such a peculiarity in mind.
A lot depends on what other products are launched on the same day. Besides, the votes usually start spiking when it's morning in the US.
There is a way to cheat on votes, but we didn't do that. Since Product Hunt bans such practices, you may lose the product page and, most importantly, ruin your reputation. Actually, you should minimize the number of votes from newly created accounts. They have less value and may result in sanctions.
Reply to comments/tickets. They often give handy recommendations so that you can fix something, thank you for the help, and show how quickly you solve problems.
That's it. But if you have any questions, I'll be glad to answer them. Also, subscribe to my YouTube channel for other useful content.