Companies need to completely understand the product user journey to maximize profits. All stages are important – from when a person first comes into contact with the brand to re-ordering and recommending the product to other people.
Thanks to the "marketing funnel" model, the marketer can analyze each stage of the customer's interaction with the product and identify problem areas. As a result, you can increase sales and loyalty and brand awareness by correcting mistakes. The marketing funnel is used in both B2C and B2B models.
What is a Marketing Funnel?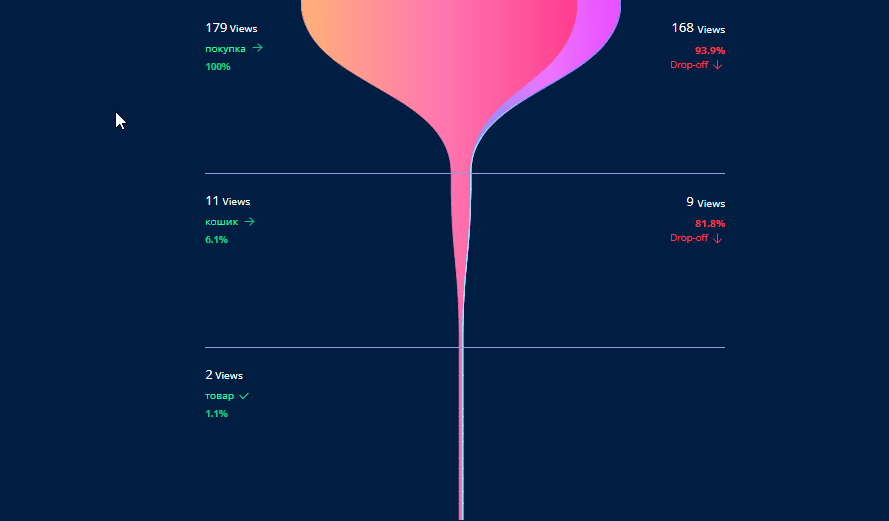 A marketing funnel is a visualized way of converting a lead into a customer. It usually includes the following elements:
Google & Facebook Ads
SMM, content marketing for social networks (Facebook, Instagram, LinkedIn, TikTok)
Getting organic traffic based on SEO
Referral traffic or an affiliate program
Video ads or influencers
TV advertising
Why exactly is it a "funnel"? At the first stage, interaction occurs with many potential customers – but in the end, only a few of them buy your product or service. At first glance, everything is very simple, but don't jump to conclusions – many marketing funnels can be complicated:
There are a variety of traffic channels – it can be difficult to choose the most effective ones. Therefore, you need to choose one to analyze after interacting with at least 1000 users. This can be done using Plerdy's user behavior analysis tools, heatmap, and video sessions.
Clients have different problems that you need to solve with your product or service. If a young IT specialist is looking for an apartment to live in, then an entrepreneur needs to be the one to rent it out.
Each customer is aware of the product differently. For example, one may be subscribed to all brand pages on social networks while the other first learned about the company from paid advertising.
Ideally, a marketing funnel should be a promotional cylinder, but that isn't always the case. Companies can move in two directions: increase the number of leads at the entrance or promote existing leads towards the funnel's center.
There is no "perfect" marketing funnel that is consistent across all types of businesses. For example, one funnel can consist of a few simple steps (buying salt from a supermarket), while another can consist of complex, specific steps (buying a used car).
Why is the Marketing Funnel Important?
The marketing funnel allows a company to prioritize marketing activities while defining and implementing a marketing strategy – even if the marketing decisions are minimal due to little experience or budget. The marketing funnel should be the backbone of your marketing strategy – to sell a product. You need to know how people interact with your website or online store. It is also important to highlight the steps that turn potential customers into real ones. The presence of such a model will allow you to gain maximum efficiency from marketing activities that ensure the rapid development of your business.
The main purpose of using funnels is to generate new high-quality leads. There are also a few more advantages:
Channel of communication with clients. The funnel visualizes communication with customers of any business (online sales or a physical store).
Simplifying the customer journey. The funnel displays each phase of the customer journey, the tools used, and the overall tactics.
Planning. When you know where the funnel has a "hole," you can change your strategy and optimize further actions.
Marketing funnel reports can help you identify where a company is losing customers and optimize this process. In addition to driving new leads, the funnel also allows you to increase repeat purchases, overall revenue, traffic, digital marketing ROI, and more.
Marketing Funnel Stages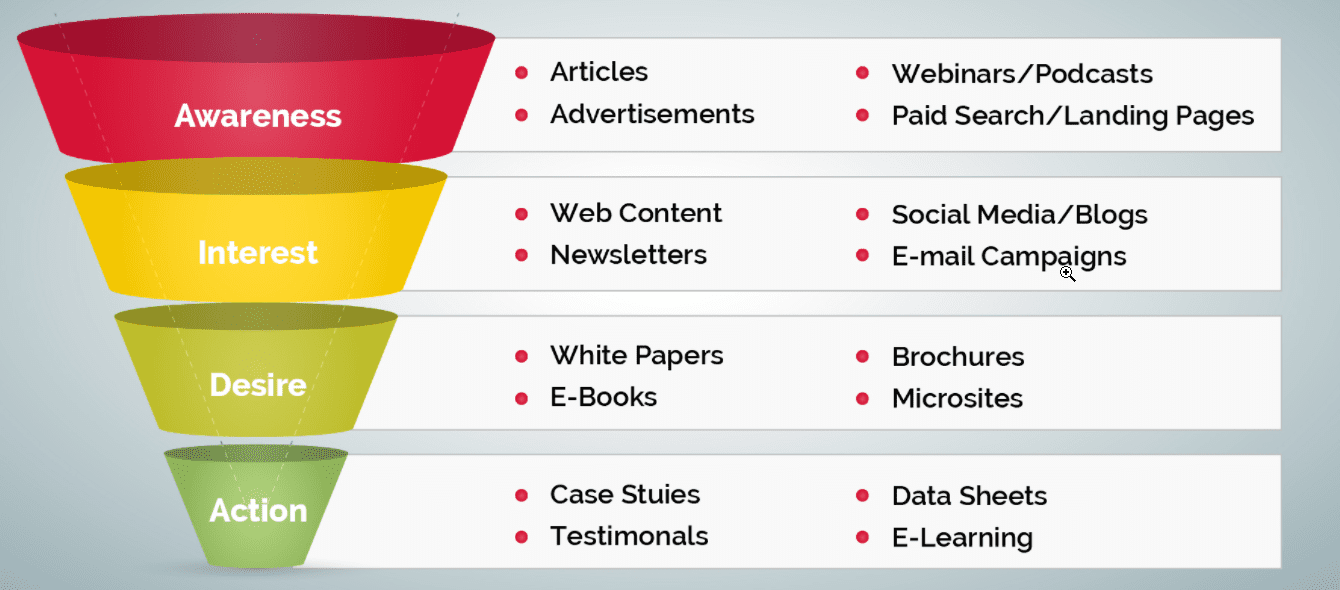 At the end of the last century, Elias St. Elmo Lewis devised four main stages that customers go through in the funnel (AIDA):
A – Attention. A person sees a message, publication, or announcement of a company or product or perhaps hears about it from a friend or acquaintance.
I – Interest. The product can solve a person's problem or satisfy their needs, so the potential client learns more. This step can also be called Consideration.
D – Desire. The potential client has decided that the product can solve their problem and wants to buy it.
A – Action. The customer buys the product or performs any other expected action regarding it. This stage can also be called Conversion.
Since then, after-sales customer engagement has been added to the marketing funnel formula through the following stages:
Loyalty. The stage at which you interact with customers in a way that turns them into loyal fans of the brand.
Advocacy. Customers constantly buy brand products, compare them with competitors, then advise their relatives, friends, or acquaintances about the better product.
An intermediate stage between Desire and Action can be Evaluation – when a person decides to buy your particular product after comparing it with possible alternatives.
How Does a Marketing Funnel Work?
The marketing funnel works in stages:
The widest part (the top of the funnel) includes the maximum number of new leads.
The middle part (middle of the funnel).
The narrow part (the bottom of the funnel) includes those customers who have made a conversion.
At stage A (Attention), there are a lot of potential customers who have a problem. Some move to Stage I (Interest) after deciding that your product can solve their problem (at this stage, many can also leave the funnel by choosing another company's product). Later potential buyers move on to stage D (Desire) – with a few more who "drop out," and so on. This is why, from a business perspective, the customer journey is compared to a funnel.
Let's look at examples of a marketing funnel for a single product:
Buyer A
Buyer A reads the blog post even though he doesn't subscribe to the email newsletter.
A week later, the client sees retargeting ads.
Buyer A goes back to reading the blog.
The client subscribes to the email newsletter.
Buyer A converts.
Buyer B
Buyer B reads the blog post and signs up for the email newsletter.
Buyer B has completed the conversion sequence.
Buyer B reads another blog post via organic search.
Although both customers came to the end of the tunnel through content marketing, they took different paths. As a result, they made different conversions (in the first case, subscribing to a newsletter, and in the second, subscribing to a newsletter and performing an organic search).
Other examples of simple funnels:
Podcast Announcement> Blog Post> Conversion
Posting to Facebook> Landing Page> Conversion
Social Media Influencer Post> Landing Page> Conversion
Companies that use a full marketing funnel have a higher conversion rate. For example, a restaurant that has implemented the simplest digital marketing funnels in its activities increased the average purchase price by 8.3% and the total income by 2,128%. This is because the traffic on the website grew, and the attraction to publications increased, thus raising the level of conversions accordingly.
Different Types of Marketing Funnel
Different types of funnels have different purposes, so the first step is determining at what action is the funnel "closed." For example, to attract new customers, the following types are suitable:
Lead generation funnel
Self-liquidating funnel (lead generation, sales, and reimbursement of advertising costs)
A funnel with organic lead engagement
"Welcome, customer cultivation, and sales sequence" system
Free sample or demo funnel
Product launch funnel with limited information
Funnel of free consultations
Purchase cancellation funnel
Cross-selling funnel
A funnel base can be PPC ads, content marketing campaigns, official book downloads, social media video ads, or physical ads. The first stage in a funnel can be compared to a single marketing campaign.
Let's take a closer look at the lead generation funnel, whose purpose is to attract new potential customers. To implement this funnel, you need:
An attractive lead magnet that solves the problem
A landing page with a form to fill out the customer's information
A thank you page for the end of the conversion
An answering machine
Customized Facebook Ads
The target audience
As a result, this marketing funnel will look like this:
Posting to Facebook> Landing Page> Thank You Page> Getting Leads.
Marketing funnels can be divided into the following types:
Sales funnels
Funnels for webinars
Email funnels
Video marketing funnels
Lead magnetic funnels
Funnels on the home page
Despite their different names, they all track the same thing – the steps a prospect client takes to convert.
Conclusion
Marketing funnels will help define the customer journey while increasing brand awareness and sales. Funnels are the backbone of marketing strategies, and they help build a long-term customer base and drive the business forward. You should start with simple funnels, optimize them, and find new opportunities for the company.
Creating marketing funnels is conversion and the transformation of potential buyers into regular, loyal consumers. Such buyers will recommend your products to others and prefer your products over the competition.