Multi-level marketing (MLM) is a business model in which a company distributes products through a network of independent contractors who earn a commission by recruiting and selling to others. While some people have succeeded with MLM, others have criticized the industry for its pyramid-like structure and questionable business practices. In this 👇 article, we'll look at the top 16 MLM companies of 2023. We'll analyze each company's products, compensation plan, and reputation to help you decide if joining one of these companies is right for you. So, let's get started!
What Is Multi-level Marketing (MLM)?
Are you ready to learn about the wacky world of multi-level marketing (MLM)? Good, because it's a wild ride!
MLM is kind of like a game of hot potato, but instead of a potato, it's a product and instead of throwing it to someone else, you're selling it to them. Got it? Great.
Here are three examples of products you might find in an MLM:
A jar of pickles that are guaranteed to cure your pesky cold.
A shirt that changes colors when you're feeling happy ( sad, angry, or any other emotion).
A special kind of ketchup that makes your fries taste like they're being served by a five-star chef .
Sometimes, the people in the MLM will get a prize (percentage of sales, the more you sell, the more you get) for selling lots of products or convincing their friends to join the selling chain. But other times, only a few people at the top of the chain make all the money, while the rest are left high and dry (i.e. it takes time to start earning). So, it's essential to consider whether MLM is right for you before you join one.
How Does Multi-Level Marketing (MLM) Work?
Multi-level marketing, or MLM for short, is a business model that has been around for decades. It's a way for companies to distribute their products directly to consumers without going through traditional retail channels. Here's how it works:
First, the company recruits a bunch of independent contractors, also known as "distributors." These distributors sell the company's products and recruit even more distributors to join the team.
The distributors earn a commission on their own sales (such as Amway or Avon cosmetics, as well as a percentage of the sales made by the people they recruit (hence the "multi-level" part). This business approach creates a pyramid-like structure, with the original distributor at the top and an ever-expanding base of lower-level distributors beneath them.
Some people love MLM because it allows them to be their own boss and set their own business hours. Others criticize it for being a pyramid scheme, where the vast majority of people lose money, and only a select few at the top make a profit.
MLM experts, like Robert Kiyosaki, author of "Rich Dad, Poor Dad," argue that MLM is a legitimate way to start a business and can be a great source of passive income. Others, like consumer advocate and author of "The Truth About MLM" Jon Taylor, argue that MLM is inherently flawed and predatory.
So, is MLM a scam or a legitimate 🥴 business opportunity? The answer is a bit more complicated than a simple yes or no. It greatly depends on the company, the products, and the personal distributor's effort and ability to sell. Just be sure to do your research before signing up as a distributor for any MLM company.
Top 16 Multi-Level Marketing Companies
These businesses have successfully implemented a multi-level marketing approach. Chances are you have even bought some of their products from friends or coworkers.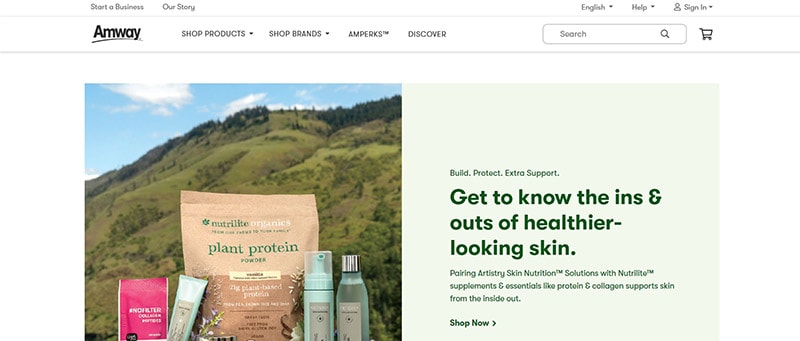 Amway is an American multi-level marketing company that sells health, beauty, and home care products. The company was founded in 1959 by Jay Van Andel and Richard DeVos, with headquarters in Ada, Michigan. The current CEO of Amway is Doug DeVos, the son of one of the founders, Richard DeVos. In 2020, Amway recorded a revenue of USD 8.8 billion, and it is considered one of the top multi-level marketing companies in the world. The company has offices in over 100 countries, with a large presence in Asia, North America, and Europe. Amway has over 21,000 employees worldwide and more than 3 million independent business owners (IBOs) selling its products.
Over the last 10 years, Amway has invested in sustainability, intending to become a net-zero emissions company by 2040. It has acquired XS Energy drink to strengthen its nutrition portfolio. Amway has also expanded its footprint in the digital sphere, investing in e-commerce platforms and digital marketing strategies to grow its business and reach more customers. Amway has added more health and wellness products to its portfolio, such as supplements, protein bars and functional beverages.
Review from Nelson of Camden, IN:

I have been in business for over 5 years and am very happy with the company and products! They have changed our life, my wife is allergic to certain soaps, and Amway's products don't make her break out in hives!

This company provides a range of commodities, from personal care & wellness to food & beverage. Herbalife is the most famous for its dietary supplements. Mark R. Hughes launched Herbalife in 1980 in Los Angeles, California, where it still has its headquarters. Herbalife hires almost 10,000 people worldwide and has nearly 4.5 million members. Its MLM strategy relies on the binary structure. It means that one distributor can have up to two sellers on the first level of sales.
Review from Girish of Bengaluru:

It's wonderful products overall and it's overall 93 countries. Daily 8.3 million shake is being consumed. Many life transformations have happened. The excellent build community and strong marketing strategies. Positive mindset.

This German company sells household appliances, fitted kitchens, and cosmetics. Founded in 1883 by Carl & Adolf Vorwerk, it has a long and exciting history. Nowadays, the brand unites 2,000 full-time employees and 590,000 sales representatives in over 70 countries. It has offices in every region, from Africa and the Middle East to Eastern Europe. In 2017, Vorwerk received a Top German Marketing Award, and in 2019 it was ranked third in DSN Global 100.
Vorwerk marketing approach supports the party plan compensation. The MLM company advertises its products by organizing events like home-based get together, parties, etc.
Review from Independent Sales Advisor, Liverpool:

Excellent job for mums looking forward to be back to work. You plan when you work and how much you want to earn (commission based). Excellent incentives and tons of training to achieve your goals.

It's a Chinese company selling health products founded in 1992 by Lee Kum Kee Group. They have branches in many Asian countries and are expanding to new markets. Recently, Infinitus appeared in Kazakhstan (2020), the Philippines (2019), and Thailand (2018). Their annual revenue reaches $4.5 billion and keeps growing thanks to correctly chosen marketing efforts. They also regularly launch new products backed with eco-friendly technology.
Review from Jay Neill:

In this job, you can work part-time or full-time, nights or weekends only and still earn 25% of the selling price of Infinitus products.

Avon is a beloved brand of many women since it offers cosmetics, fragrances, skincare, and personal care products. Although they have something for men, female goods are their primary direction. Avon appeared in 1886 after David H. McConnell, a door-to-door book salesman, decided to switch to perfumes. After almost 140 years of operation, Avon has offices in nearly every country, with headquarters in London, UK.
Avon's marketing model implies that salespeople invite new distributors and give them product brochures and catalogs. The company even has training centers where it teaches people how to sell.
Review from Donna of Slough:

I'm a rep of 5 years and customer of some 30 years with AVON UK. The company keeps listening to its customers and reps and it will keep you in good stead for another 125yrs.

This Korean company produces water filtration appliances, air purifiers, and body care products. Founded by Yoon Seok-geum in 1989, it has become one of the Korea 100 Best Companies to Work For. This brand is also renowned for its high quality. The main markets of Coway include China, Dominican Republic, Germany, India, Indonesia, Malaysia, Japan, Thailand, the UK, and the US.
Review from Ivan M:

No preliminary payment is required to join Coway. But it's a marketing business, you are also in charge of all your expenses around marketing products such as gasoline and phone calls to consumers, etc.

In 2018, Mary Kay was the 6th largest MLM company globally. It's a cosmetics brand started by Mary Kay Ash in 1968 and based in Addison, Texas, US. Its main product categories include skincare, makeup, body&sun, fragrance, men's, and gifts. Consumers can order something on the website, visit a store with Mary Kay's products, or contact a representative. This brand has implemented a hybrid MLM model, and some marketing nuances are quite unique. It organizes offline events or meetings and hires beauty consultants that directly offer goods to buyers. Distributors also get a commission when they invite new sales representatives.
Review from Sales Consultant, Englewood, NJ:

Great atmosphere to work in. Very easy to learn about the Mary Kay business and earn extra income. Would recommend this opportunity to many.

It's an American multi-level marketing company that produces and distributes dietary supplements and personal care products. Blake Roney, Sandie Tillotson, Nedra Roney, and Steve Lund started it in 1984, and after almost 40 years, it has branches across the globe. Nu Skin's MLM approach is called a Stairstep Breakaway Plan. It involves creating a rank-based group of distributors. The marketing trump is a commision percentage increase when a distributor reaches a specific milestone.this business model motivates the members to try harder to promote products.
Review from Product Manager, Provo, UT:

Good people, and good physical products. Ambitious and goal oriented business. Tries to empower employees to make decisions. Lingering effects of favorable employment terms.

Here's a brand based in Scottsdale, Arizona, founded by Rex Maughan in 1978. It manufactures a range of natural products for health and care, such as bee-derived cosmetics, aloe vera-based drinks, etc. Forever Living joins the effort of 9.3 million distributors and 4,100 employees. In 2021, the income was $4 billion. Like many other brands listed here, Forever Living has offices worldwide. These representative branches in 164 countries maximize sales and reach millions of people.
Review from Current Employee, Jharkhand:

Best network marketing company. No investment. No scheme and scams. Person goes with regular business training for achievement. Stress-free atmosphere and best support system.

It's another MLM brand with beauty products, namely essential oils. Gary Young started the company in 1993 in Riverton, Utah, the US, and soon bought a farm to manufacture wholly pure and naturally derived products. Distributors get the fast start bonus for the first three months and then enjoy a 4-8% commission on orders depending on the hierarchy.
Review from Former Employee:

This company is a great company if you fall into either of these categories; 1. Fresh out of college and wanting to learn the ropes for your career field 2. Second Family Income. The work is fairly simple as well.

This company has lots in common with the previous one – it also sells essential oils. Former executives of Young Living created it. Based in Pleasant Grove, Utah, US, DoTerra has existed since 2008, using a multiple-level marketing approach. It has over 100 offices, 1,650 corporate employees, and 3 million advocates.
Review from Current Employee:

Co-workers, culture, advancement opportunities, respect. I have felt respected and my supervisors have been the best I've ever had, they are continually pushing me to advance my career and develop marketing skills.

The US company, headquartered in Bellingham, Washington, was started in 2002 by Glenn Sanford. eXp Realty is an agency that can help you buy or sell a house, using a multi-level marketing approach. Unlike other brands mentioned here, it offers services, not goods. eXp Realty agents form a consulting network with access to real estate databases. When an agent closes the deal, they earn company shares.
Review from Current Employee:

As a new agent the opportunity and support I have received to get my business off the ground has been tremendous. I wish all agents were aware of the culture this company fosters. It's uplifting and inspiring.

PM International is a Schengen-based (Luxembourg) manufacturer of cosmetics and dietary supplements. Rolf Sorg launched it in 1993, reaching 4,000 employees and $1,7 billion in revenue. This multi-level marketing company has offices on all continents, with regional Headquarters in Europe, the Americas, and Asia.
Review from Monica Rizzato:

As a distributor, I continue on my growth path and strive for important business goals. PM-International is a meritocracy that provides great satisfaction and allows you to grow with the right tools!

This American MLM company offers kitchen and household products, including trendy plastic containers and bottles. Earl Tupper founded it in South Grafton, Massachusetts, the US, in 1946. Today Tupperware is present in Europe, China, India, Indonesia, and many other countries, with over 13,500 employees. The company has an extensive network of members that sell products, bring new people, and organize meetings and events.
Review from Current Employee:

I love being a Tupperware consultant because it's fun, I meet new people all the time, able to sell on social media, love their products, new products coming out all the time and I have direct 1:1 support from my Director plus additional support online.

Here's another company selling skincare products (cleansers, toners, creams, exfoliators, moisturizers, and sunscreens). The brand's founders, Katie Rodan and Kathy Fields, launched it in 2005 with headquarters in San Francisco, California. Anyone can become a consultant through its website to start using a custom app that tracks sales.
Review from Former Employee:

Due to the MLM nature of Rodan and Fields, the job can be worked at your pace. The more time you invest the higher the return. The payments are quick and easy, as the company provides a debit card that they direct deposit onto.

It's a Swedish-Swiss company competing with other MLM brands selling beauty products. Brothers Jonas Af Jochnick, Bengt Hellsten, and Robert Af Jochnick founded it in 1967 with a head office in Schaffhausen, Switzerland, and a registered office in Stockholm, Sweden. Currently, they have 6,000 employees and generate $1.4 billion in revenue. The multi-level marketing scheme is typical for this niche. Distributors sell directly, search for new sellers, and have training and events.
Review from Current Employee:

Low cost of entry to a profitable multi-level marketing business model, entirely self-directed, an awesome company with loads of heart at every level, fantastic products.
How to Choose a Multi-Level Marketing Company for business?
Here are five tips for choosing a multi-level marketing (MLM) company for your personal business:
Study the company's products: Make sure the products are high quality and in demand. You should also be able to test them yourself too. In any case, you will also need to know how exactly it works.
Understand the compensation plan: Make sure you fully understand how you will be compensated for your sales efforts. This will make it easier to build a plan for the day, the month and beyond. The goal is to earn thousands of dollars.
Check the company's reputation: Read reviews and testimonials from current and former distributors, and any legal issues the company may have faced. If the customer to whom you offer this product has already had a negative experience, you need to be ready for this.
Assess your fit with the company culture: Consider whether the company's values and mission align with your goals and vision. It will be easier for you to convey these in the sales process.
Talk to current distributors: Contact existing distributors and ask them about their experience with the company. Over coffee, they can share more tips and nuances of how to sell, negotiate and so on.
Of course, Google is always helpful, and you can read reviews about MLM companies on various websites and forums such as Better Business Bureau, Glassdoor and Reddit. It is also worth checking with unbiased third-party sources, as some reviews may be biased or promotional.
Conclusion
So there you have it, the top 16 MLM companies of 2023. Some may be the cream of the crop, while others may be a little more questionable. But ultimately, the decision of which one is right for you comes down to personal preference and whether or not you believe in the products. Just remember to do your due diligence before diving in headfirst, and always be wary of pyramid schemes masquerading as legitimate MLMs. Happy hunting!