? Propel your brand to stellar heights with the crème de la crème of content marketing agencies! ? In this dynamite article, we're showcasing the Top 15 Content Marketing Agencies that breathe creativity and effectiveness into brands. These maestros craft magnetic content, architect bespoke strategies, and wield the power of storytelling to forge an emotional connection with your audience. But they don't stop there! Their data-driven approach ensures that your content isn't just visually sumptuous but hits the ROI jackpot too. Whether you're a startup seeking to carve a niche or an established behemoth aspiring for even loftier heights, these agencies have the prowess you need. Plus, for that extra oomph in your web optimization, give Plerdy a whirl and watch those metrics soar! Buckle up for a game-changing journey.
What Is A Content Marketing Agency?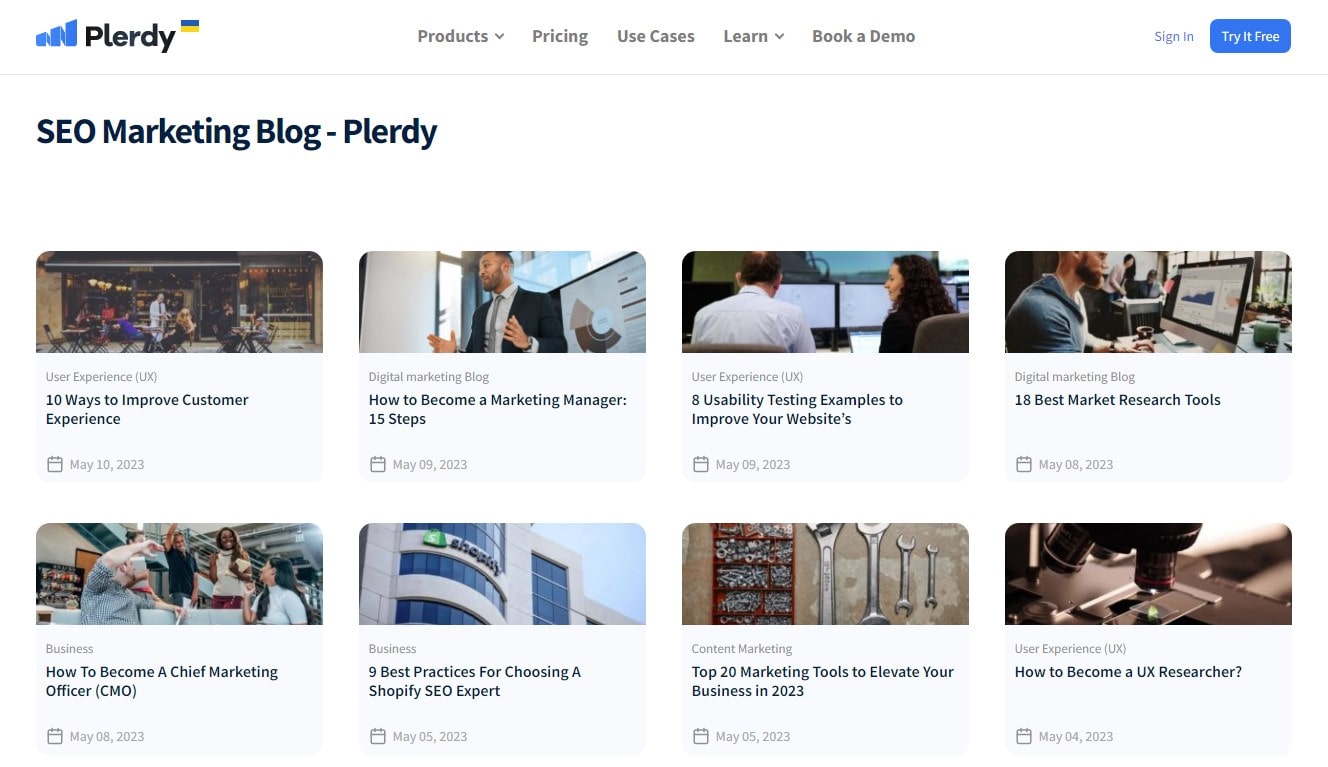 A Content Marketing Agency serves as your brand's powerhouse – fueling it with tailored strategies and captivating content. These agencies breathe life into your marketing campaigns by meticulously crafting content that resonates with your target audience. They're the alchemists who transmute words and visuals into gold.
Here's what they excel at:
Building Robust Strategies: These mavens comprehend your industry and audience, piecing together an invincible marketing roadmap.
Content Creation: From riveting blogs to persuasive videos, their suite encompasses it all.
Distribution and Promotion: They ensure your content reaches the right eyes through diverse channels, including social media.
Analytics and Optimization: Post-launch, they don't leave your campaign adrift – they measure, analyze, and tweak.
For example, if you're in the health and wellness niche, a Content Marketing Agency can conjure blogs, podcasts, or videos that not only educate but drive customers to your products. For tech startups, they might create whitepapers, case studies, or infographics that showcase innovation and solutions.
Ultimately, Content Marketing Agencies are the wizards that seamlessly blend creativity and analytics, ensuring that your marketing isn't just eye-catching but packs a powerful punch in the competitive landscape. They help build brand loyalty, drive website traffic, and catapult conversions. Through their expertise, your brand narrative evolves into a symphony that leaves an indelible mark.
What Does a Content Marketing Agency Do?
High-quality content can softly push potential clients to perform a target action, purchasing, subscribing, or whatever. And this is exactly what content marketing agencies can ensure.
They provide you with top-quality content that is both user-friendly and SEO-friendly. What is meant here is that your content should be clear to visitors so that they can effortlessly perceive it and understand what you want them to do. And it should also be engaging so that they want to perform that target action and, finally, do it. Meanwhile, being easily read by search engines is no less important. Your content should be SEO-optimized and contain a reasonable amount of keywords to be highly ranked.
This clear and engaging SEO content is the key to successfully implementing your marketing strategy. And content marketing agencies help businesses create such content and develop a different development strategy on its base.
Among the types of content they create, you can get texts (blog articles, website content, email newsletters, eBooks, landing pages, guides, posts on social media, etc.), infographics, videos, design elements, etc. Content marketing agencies also ensure automation of various marketing processes, SEO-optimization of texts, and content analytics.
Why Hire A Content Marketing Agency?

When it comes to painting the digital landscape with compelling content, nothing beats partnering with a Content Marketing Agency. They're the maestros, the creative minds that'll catapult brand into a symphony of success.
Consider a niche like eco-friendly products. The agency delves deep, conjures up content that touches hearts, and showcases your unwavering commitment to Mother Earth. They don't just market products – they build movements.
Now, why bring these virtuosos on board? Here's the scoop:
Unleash Creativity: With diverse skills, these agencies conjure content that's fresh, persuasive, and downright fabulous.
Save Time and Resources: No need to wrangle with content creation – focus on your core competencies as they grease the wheels.
Harness the Power of SEO: These wizards optimize content so that search engines and humans love it alike.
Data-Driven Insights: With an analytical approach, they know what ticks and what doesn't – and pivot accordingly.
Multichannel Expertise: From social media to email – they're the pilots that navigate the omnichannel skies with finesse.
In another niche, let's say, gourmet coffee, the agency could whip up rich blogs about exotic beans, create infographics on brewing methods, and even capture the journeys from farms to coffee cups in videos.
It's not just about ink on paper – Content Marketing Agencies script sagas. They're the custodians of your brand, curating content that marries the heart to the mind. Through evocative storytelling and razor-sharp strategies, they crystallize your brand essence and leave an indelible imprint on the digital tapestry. Your brand doesn't just live – it thrives, blooms, and captures imaginations.
5 Reasons To Employ Professional Content Marketing Services
In the ever-evolving digital landscape, employing Professional Content Marketing Services is like harnessing the prowess of a dream team to elevate your brand. These marketing maestros wield the tools and tactics that transform businesses.
Here are five unbeatable reasons to join forces with them:
Expert Storytelling: Imagine running an artisanal cheese business. Content marketing agencies will conjure stories that transport your audience to the rolling pastures, whisper the heritage of cheesemaking into their ears, and make them savor every morsel through words and visuals.
Time Is Money: Forget the hassle of mastering content marketing. Professional agencies free you up to dive headlong into what you do best – be it brewing the perfect cup of tea or forging the next tech revolution.
SEO Savvy: Your content needs to shine in the spotlight, and agencies know how to make it happen. They optimize content to ensure that search engines embrace it.
The Data Advantage: Agencies measure the pulse of your campaign through analytics. They know when to pivot and add that extra zing to keep the momentum going.
Diverse Skillsets Under One Roof: Content Marketing Services are like a sumptuous buffet. From the tantalizing aroma of graphic design to the enticing flavors of copywriting and the finishing touch of social media expertise – it's all there.
Let's take an example: a business dealing in handcrafted jewelry. A content marketing agency can turn this into an emblem of elegance and heritage. Through spellbinding product descriptions, blogs about the craft, and social media campaigns featuring artisans, the agency establishes not just a brand but a legacy.
The bottom line is – Content Marketing Services aren't just a cog in the wheel. They're the alchemists who know the magic spells, the elixirs, and the incantations that bring brands alive and weave them into the hearts and minds of audiences. Through strategic genius and creative brilliance, they craft the tapestries that capture imaginations and build dynasties.
How To Choose The Best Content Marketing Company For Your Business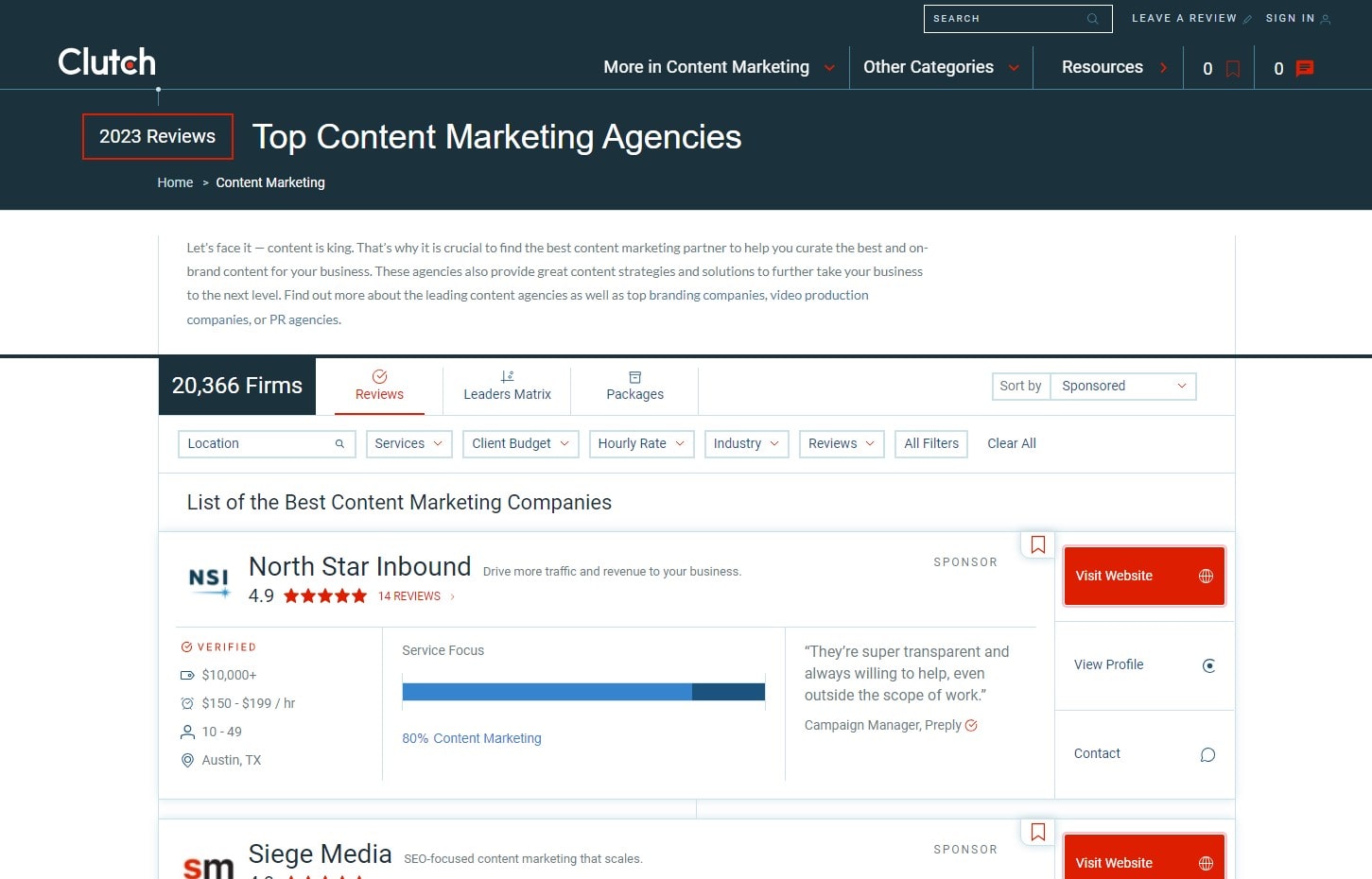 Diving into the ocean of content marketing agencies to fish out the best match for your business can be daunting. However, pinpoint accuracy in selection can catapult your brand into a powerhouse.
Firstly, gauge the creativity and innovation the agency brings to the table. For instance, if you're in the organic skincare niche, an agency should conjure content that resonates with the earthiness, purity, and revitalizing spirit of your products.
Also, consider these aspects:
Portfolio Prowess: Scrutinize their past work. A fashion brand should seek an agency that weaves stories around elegance and style.
Client Feedback: Scour testimonials – happy clients are the footprints of success.
Skill Diversity: Ensure they're a one-stop-shop – from spellbinding copywriting to sizzling graphics and savvy social media.
Cultural Fit: Their values and communication style should sync with your brand.
For a high-tech home automation business, the agency should effortlessly mesh technology with lifestyle in their content, creating a tapestry that shows homes not just as structures but as abodes adapting to their occupants.
Lastly, get the scoop on how they measure success. An agency worth its salt will be data-driven, constantly monitoring the winds and adjusting sails accordingly.
By meticulously evaluating these elements, you'll forge an alliance with a content marketing company that's not just an agency but an extension of your brand. They'll breathe life into your vision, and through a symphony of words, visuals, and strategies, your brand will evolve into a legend that etches itself into the very soul of your audience.
15 Best Content Marketing Agencies
Below, you can familiarize yourself with the list of the nine popular content marketing agencies Plerdy finds helpful for businesses.
1. Content Marketing Agency ClickGiant
Headquartered in Charleston, SC, the marketing agency "ClickGiant" is a recognized Google partner. Thanks to their services of SEO-optimization with longtail keywords, Berle increased the number of visitors per month by 2,000%. Good Life Co. got into the top three search results for the "financial planners and advisors" request, gained multiple quality leads and boosted their organic traffic by 163% after SEO-optimization by ClickGiant. They've also created Google-friendly content for American Steel Inc., Glenn & West, Alder Energy, Nectar, and others.
"We didn't have to be experts in SEO because they took care of everything", points out the Director of Marketing in American Steel Carports.
2. Content Marketing Agency NowSourcing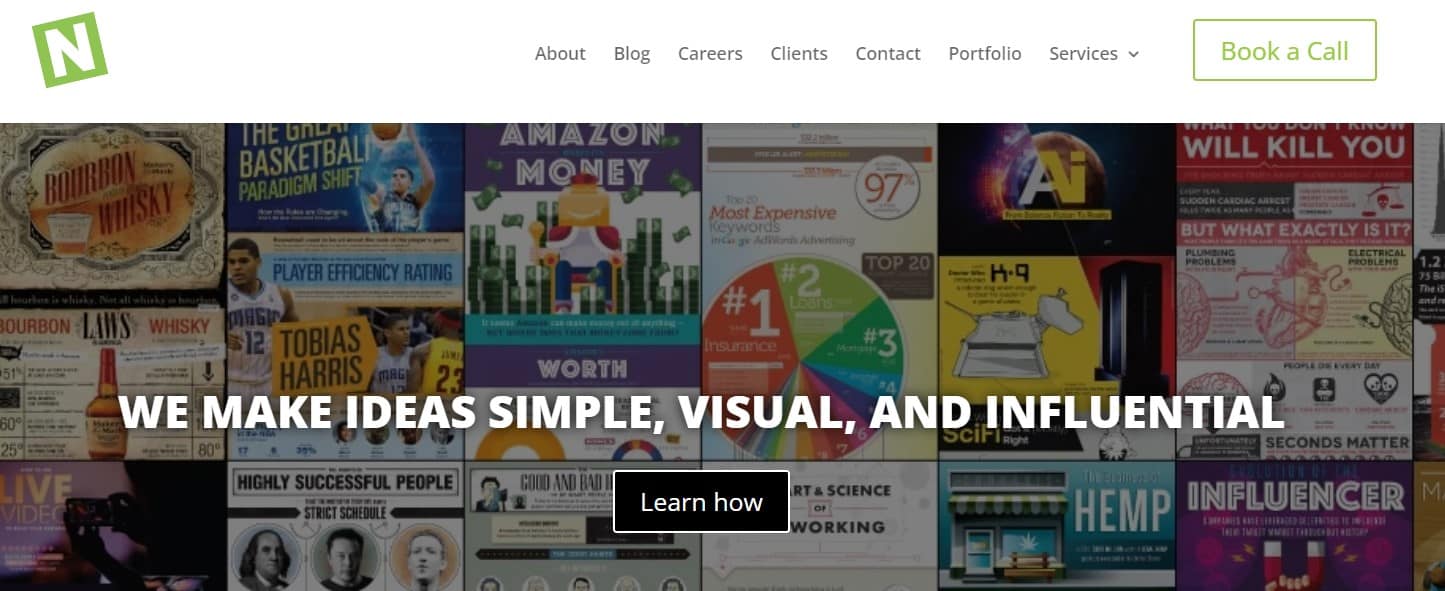 NowSourcing is an infographic design marketing agency trusted by Google, Forbes, Microsoft, Adobe, BBC, and other well-renowned brands. They provide solutions in four primary spheres: research, graphic design, public relations, and SEO. In particular, they designed infographics for explaining the importance of pet insurance in the framework of the "Being a good pet parent means having pet insurance" project for IBBC. Besides, the NowSourcing team is the creators of Berkey Filters' infographics dedicated to their "Water is Life: Use Water Filter Systems" project.
"The team did not only create amazing infographics but also helped in promoting them", underlines the Marketing Manager of CADENAS PARTsolutions.
3. Content Marketing Agency Brafton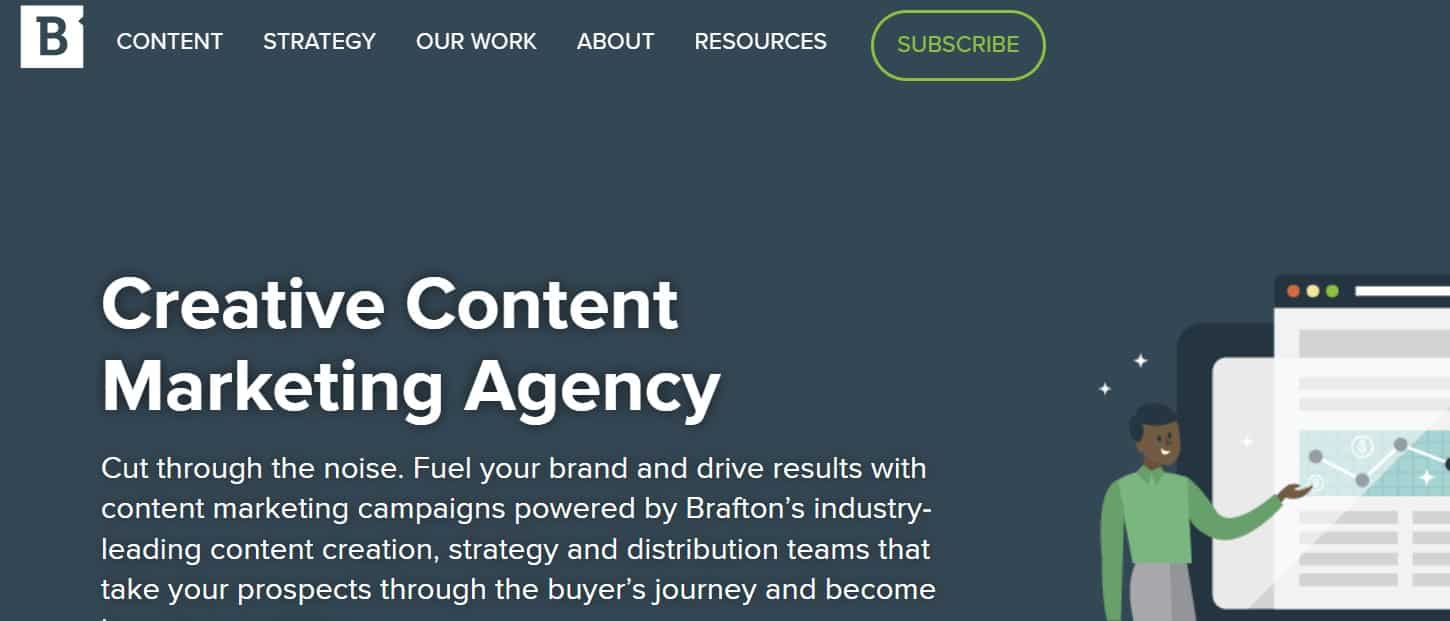 Brafton is a creative content marketing agency that "fuels" such well-recognized brands as
Appian, AIG, Marketo, Farmers Insurance, Pearson, etc. Their specifics are a unique Search Performance Brief (SPB) that helps maximize the ranking results and quality leads. Brafton promoted eSpatial to the first page of search results for ten of their target keywords and, thus, significantly boosted organic traffic and sales. Phone Ninjas turned to Brafton to improve brand awareness and increase site traffic. In the end, they got a 10% increase in overall search traffic, a 209% increase in sessions from Facebook & LinkedIn, and a 60% increase in blog traffic.
"Brafton is very methodical; their processes and timelines for the project are really easy to understand", says VP & Partner of Phone Ninjas.
4. Content Marketing Agency Siege Media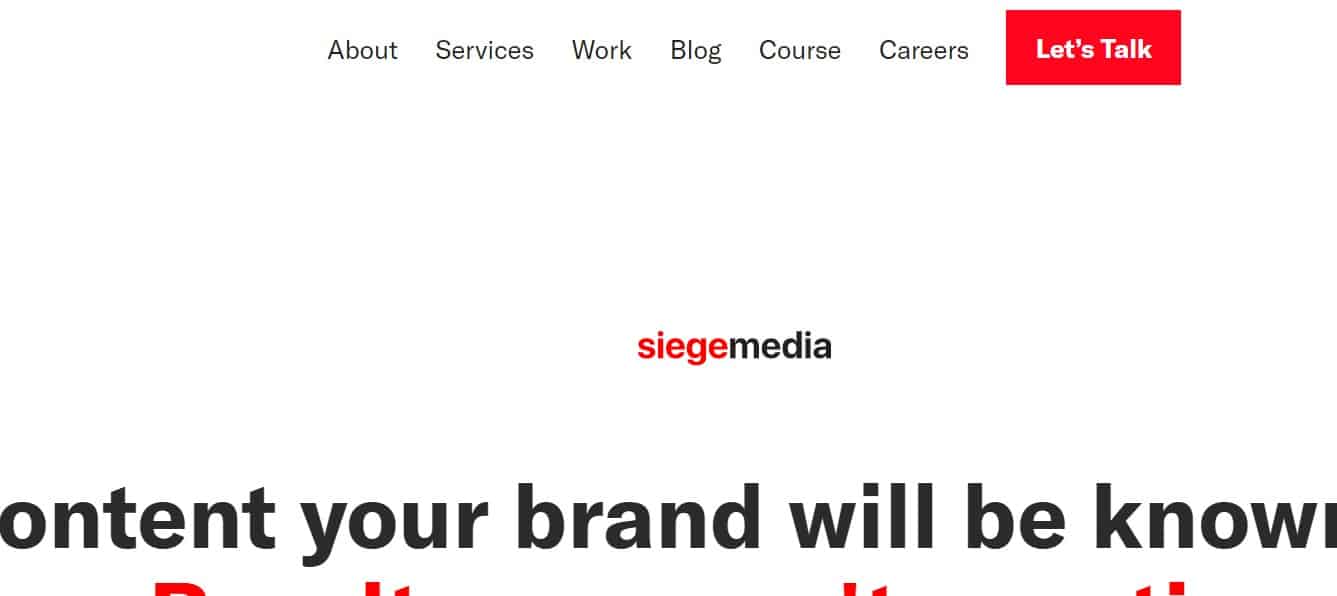 Siege Media is the agency that provides a whole spectrum of content marketing services your brand may need – copies, design, UX, optimization, promotion, links. They got 30 posts ranked No.1 by Google for Audible and promoted 48 posts out of 50 to the first search results page. Siege Media also ran a content strategy for Shutterfly. As a result, the monthly traffic value of their blog grew up to $1,700,000, their organic traffic increased to 2,500,000, and they earned more than 7,000 links. Among other clients there are FastCompany, lifehacker, TIME, CBSO, Mashable, and others.
"Siege Media has amazed us with a strong pitch and a business-minded presence from the start", claims the Former Head of Content Strategy of Work Management Platform.

IGW is the visual marketing agency trusted by Pepsico, Intel, Google, World Health Organization, P&G, and other world-famous brands. They take care of building content strategies, conducting research, developing campaigns, implementing marketing strategies, and improving ROI. IGW created medical animations for American Heart Association and Promaxo, explainer videos for APOPO and Hilton, 3D animations for ALLEGRO and CANBAZ, and implemented other successful projects.
"They do a great job taking a high-level theme and giving creative ideas on what to do", highlights Global Well-Being Leader, GE.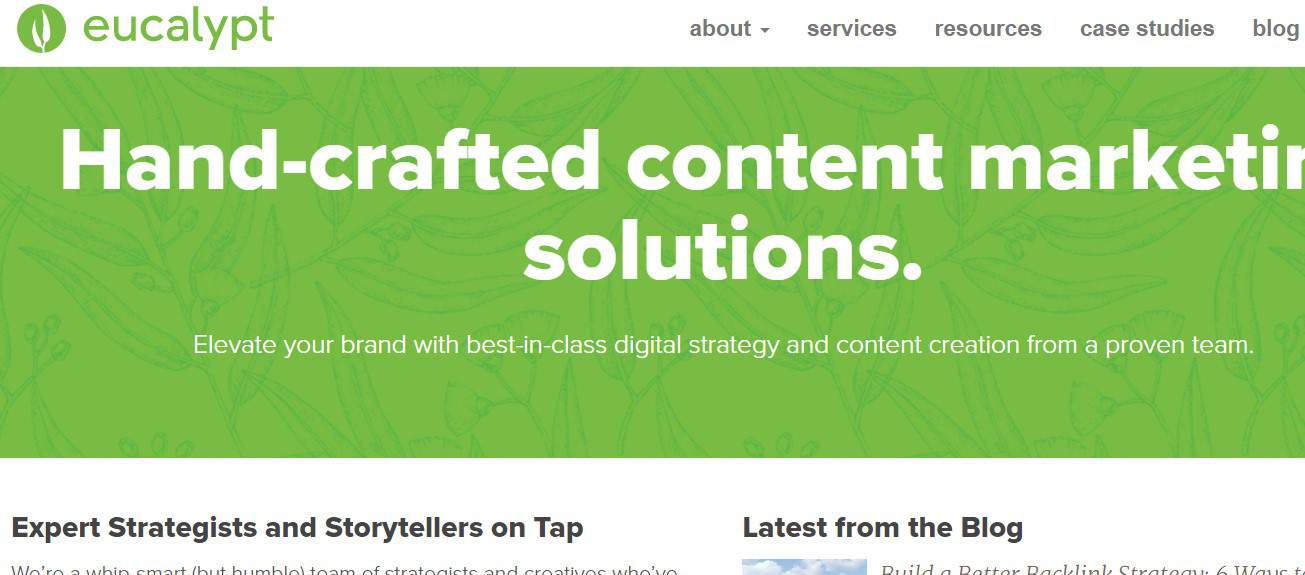 Eucalypt Media is the content marketing agency in Jacksonville, Florida, that delivers hand-crafted creative solutions to their clients, including ATLASSIAN, cadence, Colby, LinkedIn, etc. Eucalypt Media grew web traffic of Instore by 400+%. The agency also assisted Bizo in raising its profile and generating leads. As a result, after extensive branding, advertising, and retargeting campaigns, Bizo started generating more than 250 leads at a low cost per lead.
"From day one, it's felt like they've truly been part of our team for years", shares the Director of Product Marketing in Internet Platform.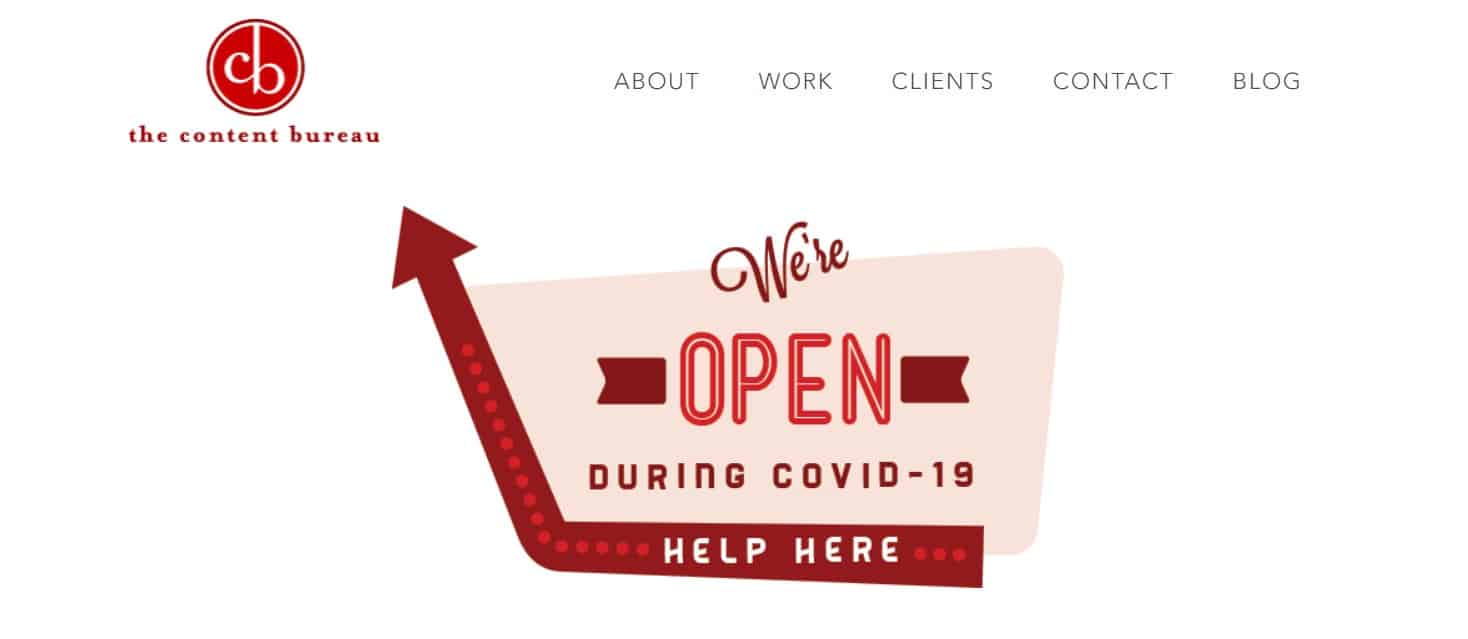 The Content Bureau is a successful marketing communications agency creating the highest quality B2B marketing collateral. They created the cover story for three of the last four "PeopleTalk" glossy magazines distributed quarterly to over 100,000 PeopleSoft customers, suppliers, and partners worldwide. Besides, The Content Bureau caused a growth in sales for Business Objects by writing a high-profile white paper, "Developing a Stronger CIO-CFO Relationship" that earned 1,500 downloads and established $500,000 in new pipeline opportunities. Yahoo!, Sony Electronics, Apple, XOJET, Sofinnova Ventures, etc.
"Their project management and communication are the most impressive", marks the Sales Development & Creative Services Director of Crowe.
8. Content Marketing Agency Fractl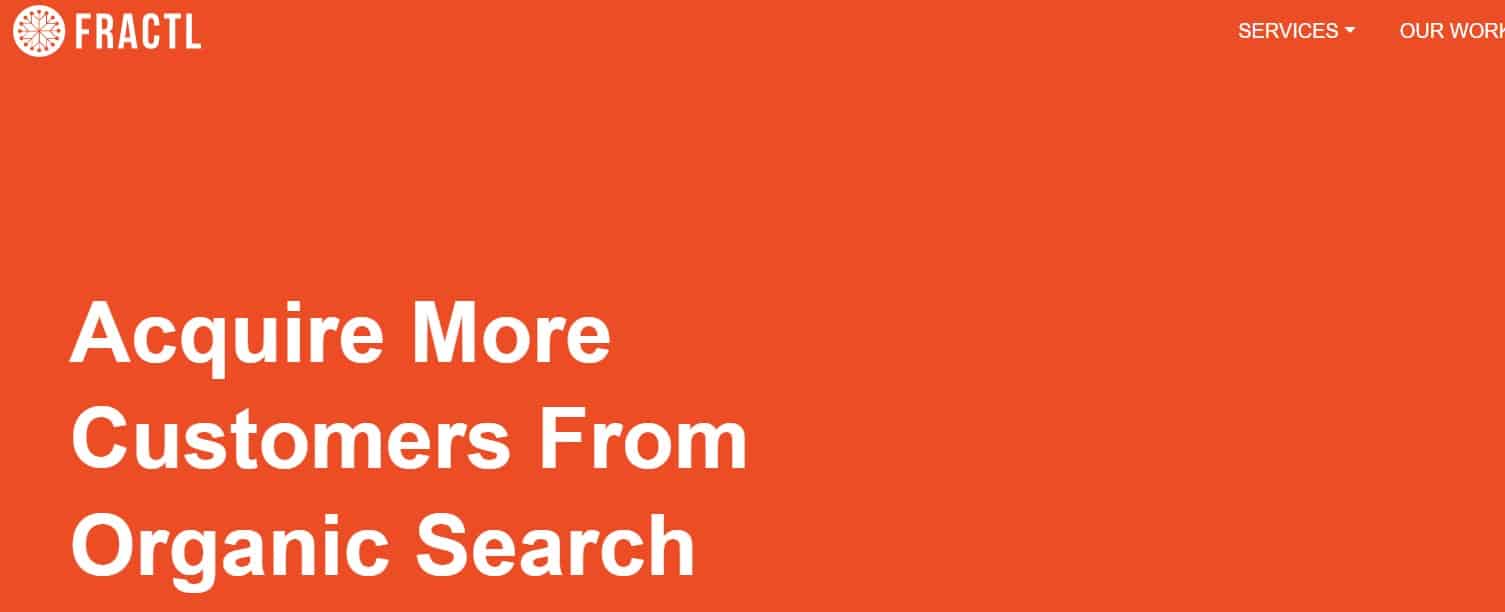 Fractl is the content marketing agency that delivers high-quality services related to organic growth, strategy consulting, content, development, digital PR, and SEO. Some of their clients are TIME, ebay, PAYCHEX, busbud, The New York Times, etc.
Fractl earned links from 931 exclusive domains for Porch.com in one year. They also brought Superdrug a 238% increase in organic search traffic in 16 months.
"They don't just complete the deliverables; they see our success as their success and want us to do well", says the Head of Organic Growth at Business Startup Studio.
9. Content Marketing Agency Fixture Media

Fixture Media was originally named "Content Harmony." This marketing agency assists brands in reaching their target audiences via content marketing and builds its publishing and eCommerce brands. In particular, they cooperated with iFit, wikibuy, zulilu, Coastal, Liquid Web, and others.
Home Goods DTC got +100,000 growth in monthly organic sessions. And Healthcare Startup got 400+ digital placements and links.
"They have a very proven system for getting companies up and running and getting that content engine purring," emphasizes the VP of Marketing, Atlas Informatics.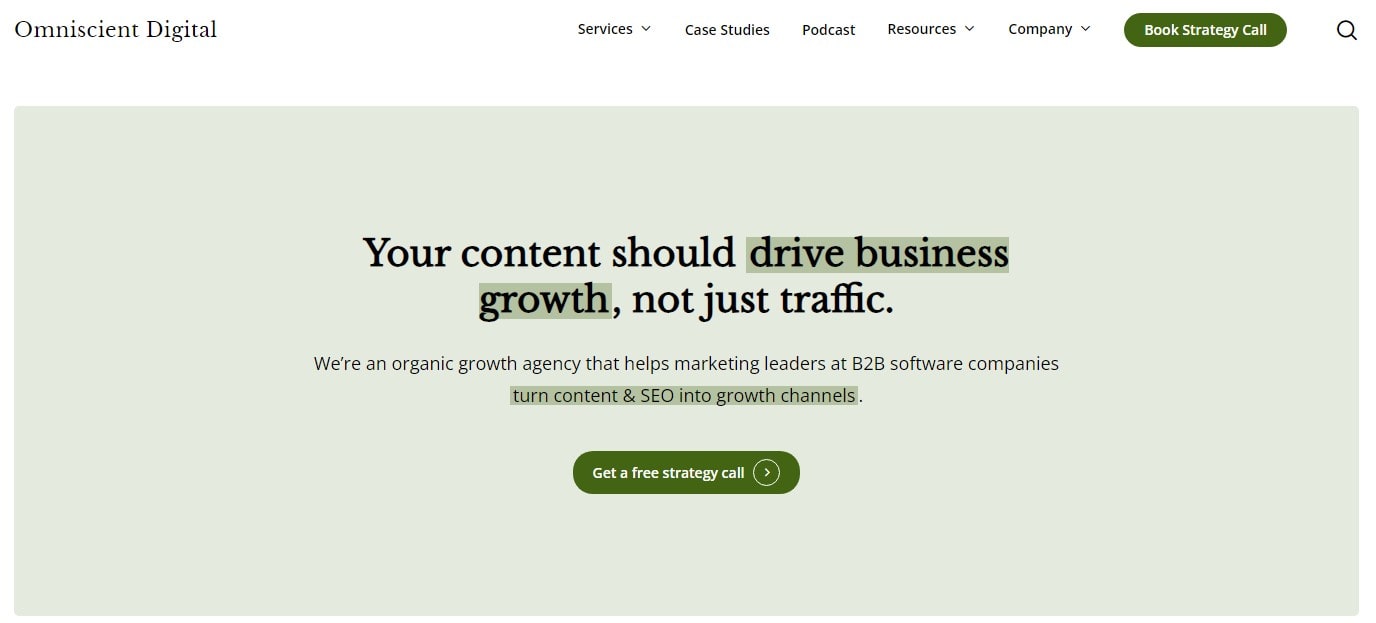 Content marketing agency Omniscient Digital wears the crown when it comes to weaving seamless strategies around content. They're the masterminds who meticulously build bridges between content and audience.
One of their inspiring cases involved a company offering remote team solutions. Omniscient Digital skyrocketed their traffic by 302% within a year. How?
Creating a content reservoir around remote work culture.
Meticulously optimizing old content.
Amplifying content through social channels.
The beauty of Omniscient Digital lies in its laser-focused approach. They don't spray and pray – they target with sniper-like precision.
11. Content Marketing Agency Animalz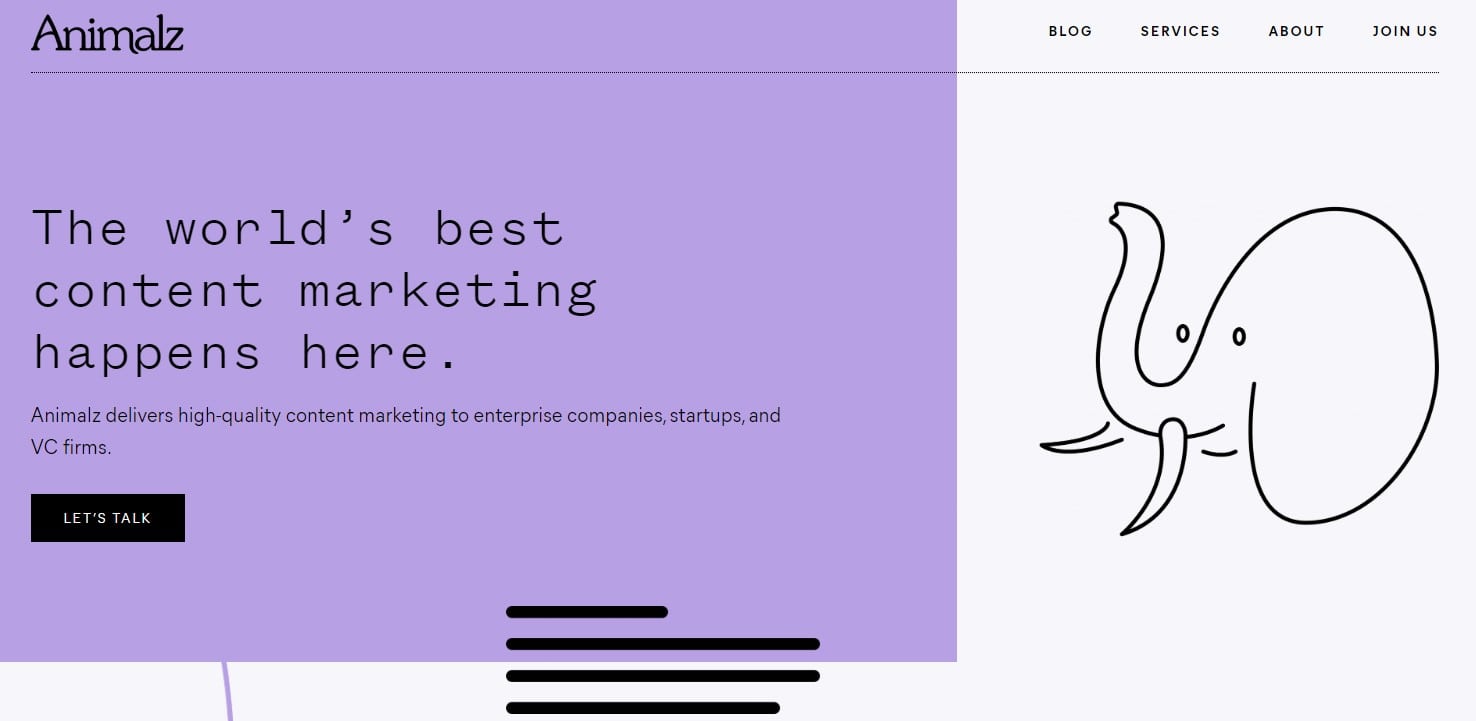 Content marketing agency Animalz prides itself on creating content that's not just engaging but meaningful. They don't chase algorithms – they chase hearts.
When a SaaS company approached Animalz, the challenge was to break through the cacophony of competitors. Animalz worked its magic:
Crafting content that became the voice of the industry.
Establishing thought leadership through deep-dives into market trends.
Creating evergreen content that continues to draw traffic.
They turned the company into a go-to resource. From being one among the many, the company became the one.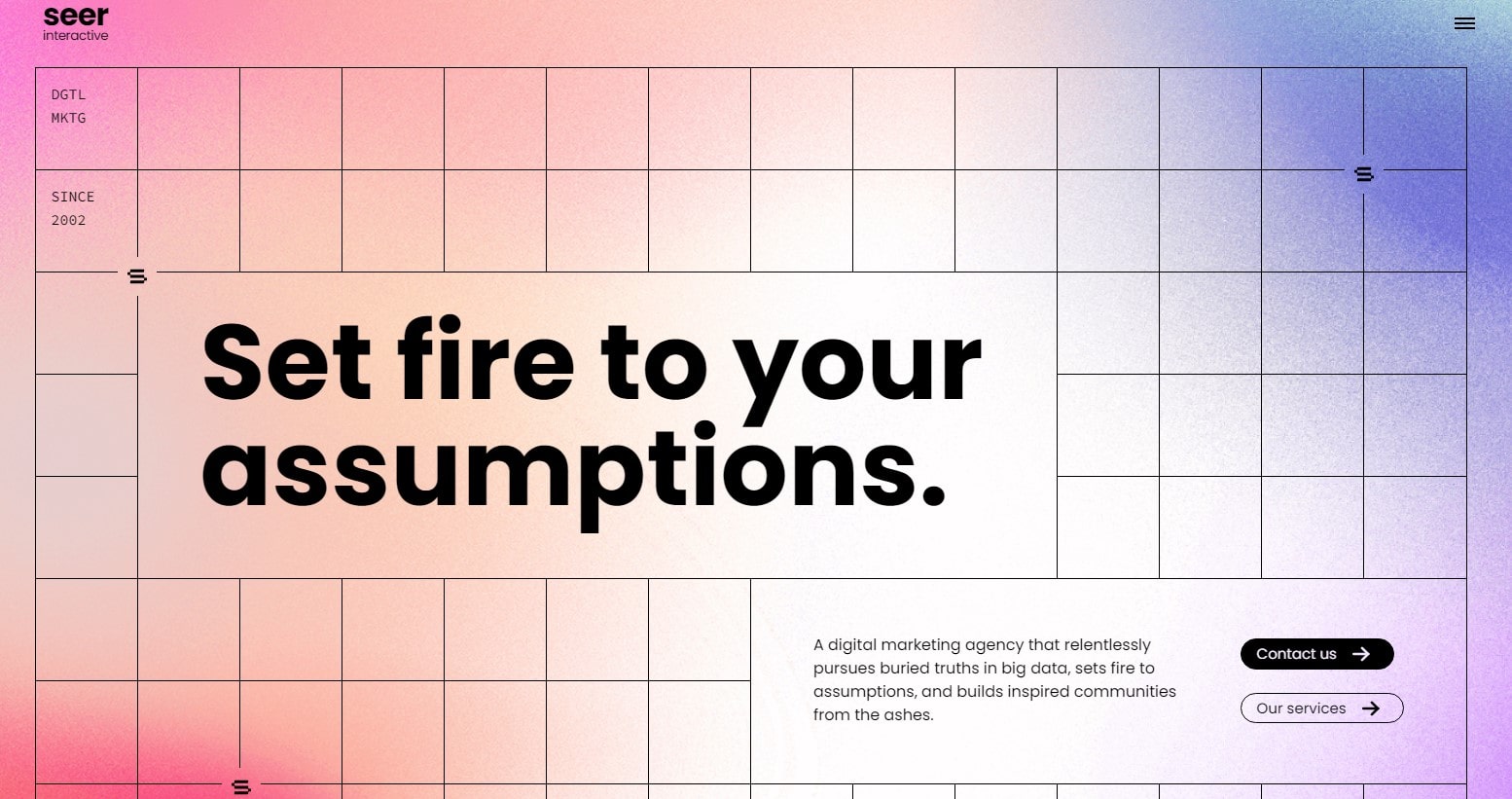 Content marketing agency Seer Interactive weaves its web through data. They dive into oceans of data to understand what makes audiences tick and then unleash content that hits right at the heart.
Working with a healthcare provider, Seer Interactive had the mammoth task of breaking through the clutter. Their antidote included:
Comprehensive keyword research to understand audience pain points.
Creating content that not just informed but empathized.
Building a community through social media, where content spurred conversations.
The healthcare provider didn't just see a spike in traffic but a community that stood by them.
13. Content Marketing Agency Column Five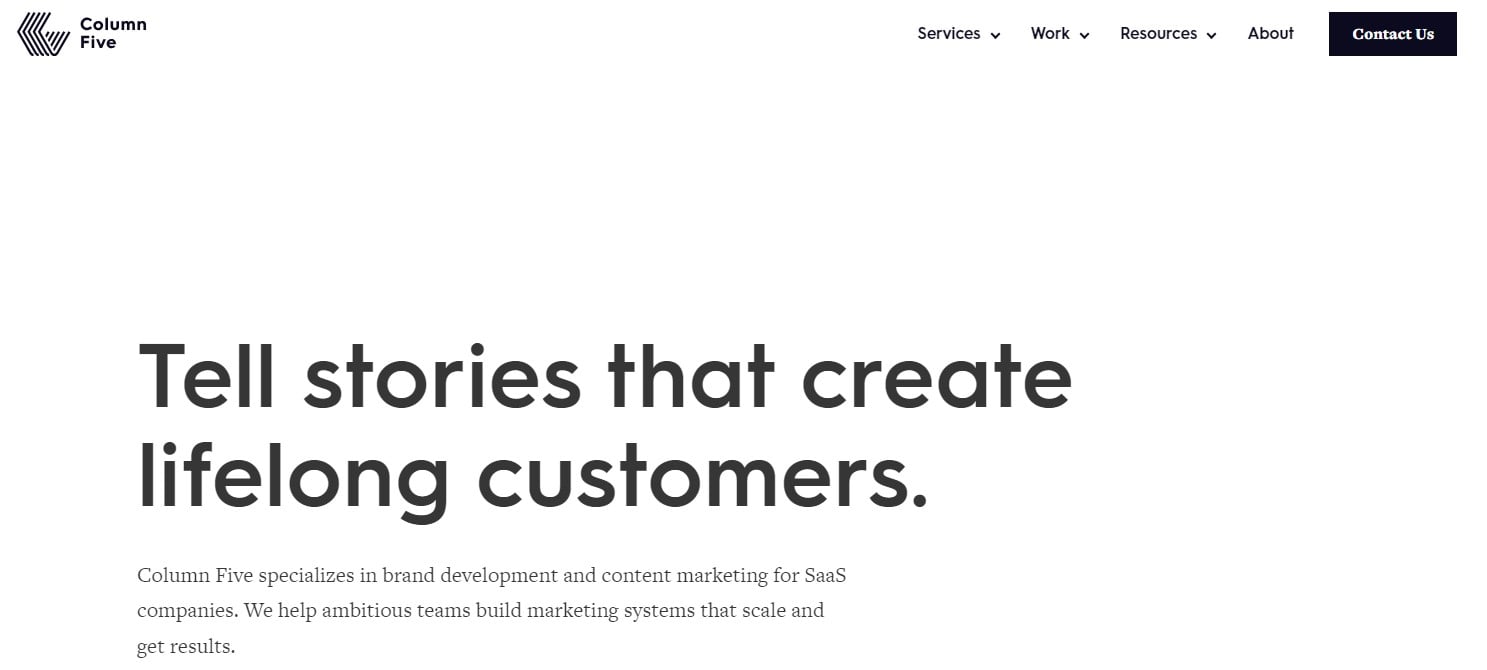 Content marketing agency Column Five brings stories to life through the magic of visuals. As pioneers in infographics and visual content, they paint pictures that words alone cannot achieve.
One case that showcases Column Five's prowess involved an education technology company. They needed to make a mark in an oversaturated market. Column Five's brushstrokes included:
Designing infographics that simplified complex concepts.
Creating interactive content that kept audiences engaged.
Establishing a robust social media presence with compelling visuals.
The education technology company became synonymous with innovation and excellence.
14. Content Marketing Agency Foundation

Foundation has cemented its place in the content marketing realm through its unparalleled diversity. They're not just an agency; they're a content chameleon.
A case in point is their work with a leading e-commerce platform. The challenge was scaling – and Foundation delivered:
Building a content repository that touched every aspect of e-commerce.
Harnessing the power of visuals – infographics and videos that became viral sensations.
Implementing a razor-sharp promotion strategy.
Foundation turned the e-commerce platform into an omnipresent entity. From entrepreneurs to industry veterans, everybody was talking about it.
15. Content Marketing Agency Optimist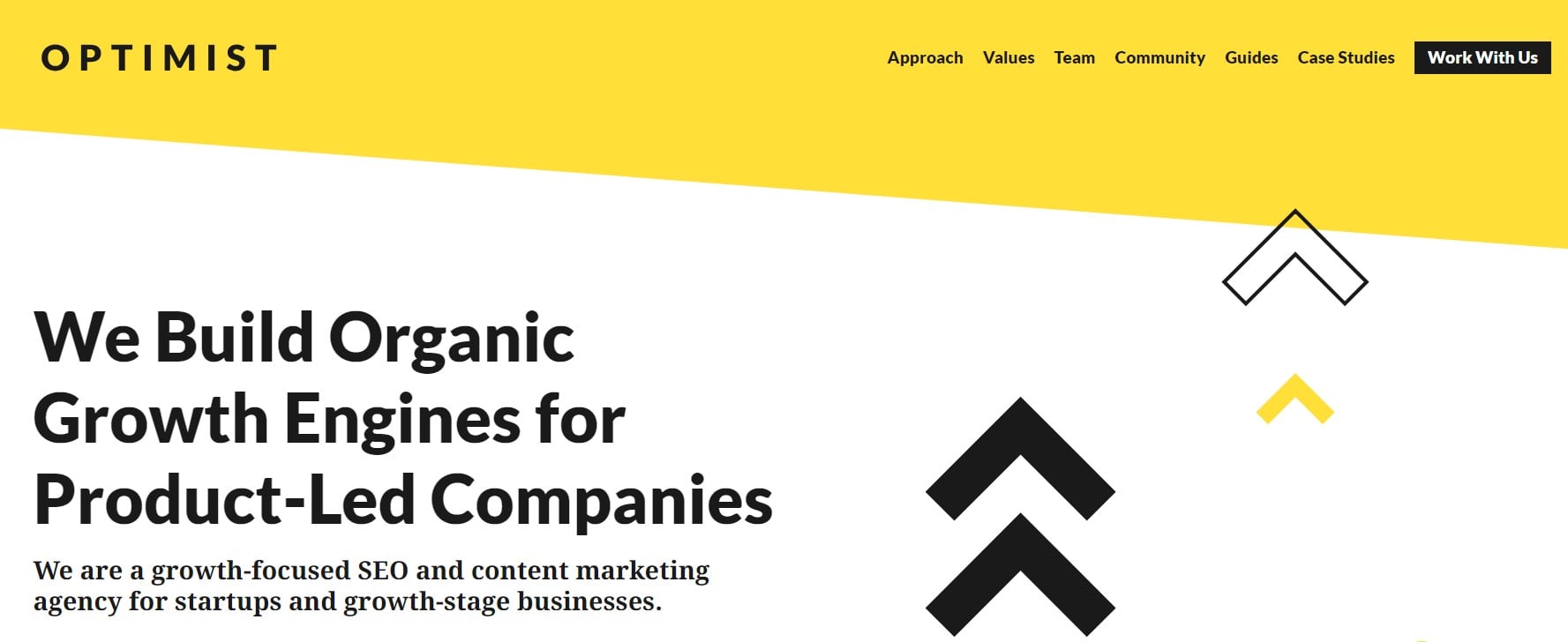 Optimist, a full-service content marketing agency, specializes in bespoke strategies. They believe in the power of custom content to captivate audiences and build brands.
One of their stunning success stories involves a fintech company struggling to stand out. Optimist came to the rescue by:
Crafting high-quality articles that became the talk of the town.
Building an exhaustive library of resources for customers.
Harnessing the power of influencers to amplify their content.
The fintech company saw an explosion in organic traffic and positioned itself as an authority in its sector.
Conclusions about Content Marketing Agencies
In the high-octane race of content marketing, the creme de la creme have emerged. The pantheon of Top 15 Content Marketing Agencies paints a dazzling canvas – a symphony of strategies, storytelling, and data-driven marvels ?. These agencies have not just charted territories; they've built empires. From Omniscient Digital's strategic symphony to Column Five's visual masterpieces – they've set bars higher than skyscrapers. So, if you're itching to get your brand in the fast lane, hitch your wagon to these stars ?. Before you dive in, make sure you've got Plerdy by your side. Plerdy is the treasure trove of SEO & UX analysis, enabling you to track how your content is performing. Go full-throttle on content marketing with Plerdy – and watch as your brand becomes the talk of towns, cities, and countries ?.