Welcome to the article on the "Best 12 B2B SaaS Marketing Agencies"! ⚡ As a B2B SaaS marketing expert, I can assure you that this article's main task and goal is to help you find the perfect marketing agency that fits your business needs. The agencies that made it to our list have been carefully selected based on their proven track record, innovative strategies, and exceptional results. From lead generation to customer acquisition, our top 12 agencies offer various services to help your business grow and succeed. So sit back, relax, and let us guide you to the best agency for your ⚡ B2B SaaS business.
Why Hire a B2B SaaS Marketing Agency?
Are you a B2B SaaS agency struggling with high customer acquisition costs? Consider hiring a B2B SaaS marketing agency to drive new leads and maximize your business revenue while minimizing spending. These agencies take the guesswork out of SaaS digital marketing, providing you with immediate access to SaaS marketing experts without needing costly in-house candidate searches and team-wide training. With the SaaS industry growing at a rapid annual rate of nearly 20%, an experienced digital marketing agency can make marketing more efficient and help your SaaS company cut through the competition. But only some B2B marketing firms are the same, so looking for an established agency that meets your needs is crucial.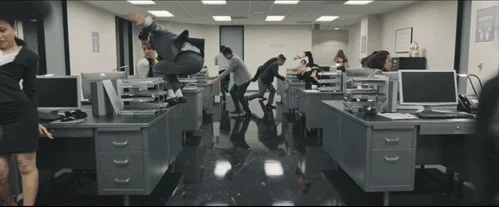 A reputable B2B SaaS marketing agency will give you the confidence to achieve your sales and profit goals by using past successes as a roadmap for your action plan. Additionally, a full-service agency will employ SaaS marketing experts across various industry-essential verticals like search engine optimization (SEO), pay-per-click advertising (PPC), organic and paid social media, email and content marketing, and creative and branding efforts.
The foundation of a successful B2B SaaS marketing plan is grounded in a solid digital marketing strategy and powerful tactics. An experienced agency will help you build a comprehensive plan guided by the goals you indicate at the start of the partnership. Then, with the necessary tactics to meet your plan's goals, an agency can streamline the marketing process and provide a roadmap to achieve your objectives.
Remember that the first 100 days of your engagement with a B2B SaaS marketing agency are crucial to your short, medium, and long-term success. Effective communication, proper expectation setting, and involvement of the right people in your organization are essential to success. Powered by Search is one agency that can help you achieve predictable growth through SEO and paid media. Book a Free SaaS Scale Session today to learn more about how we can help you increase your profits.
How Do You Choose a B2B SaaS Marketing Agency?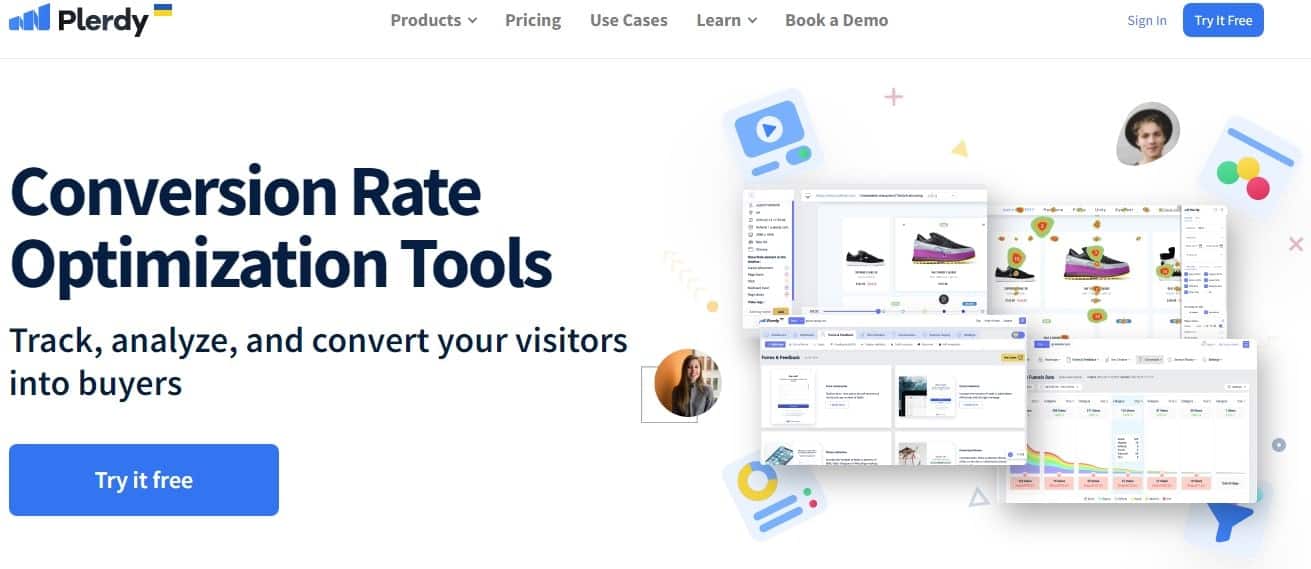 Are you a B2B marketing agency needing a marketing agency to help you with your SaaS products? Choosing the right agency can be daunting, especially when you need help figuring out what to look for. Here are some things to consider when choosing a B2B SaaS marketing agency:
Look for an agency that understands the sales funnel. A good B2B SaaS marketing agency should understand the different stages of the sales funnel – TOFU, MOFU, and BOFU – and know how to target customers effectively at each stage.
Consider their marketing impact on LTV, MRR, and ARR. Look for an agency to optimize customer lifetime value and monthly and annual recurring revenue.
Beware of absurd marketing proposals. If an agency makes grandiose promises and offers that sound too good to be true, they probably are. Instead, choose an agency that delivers realistic goals and objectives.
Pay attention to content and video production proposals. Good B2B SaaS marketing agencies should offer creative content and video production solutions. Ask for their ideas and samples of their work.
Analytic marketing tools matter. Choose an agency that uses the right analytic tools, such as Google Analytics 4 or Plerdy, to measure the success of your campaigns.
Programmatic SEO for SaaS might be useful. Some agencies may offer programmatic SEO, which automates the process of optimizing your content for search engines. If this is important, ask if the agency provides this service.
Check their case studies about SaaS startups. The best way to evaluate an agency is by looking at its past performance. So check out their case studies and reviews to see their success.
Compare pricing. Of course, pricing matters too. Compare the prices of different agencies and choose the one that offers the best value for your money.
Choosing a B2B SaaS marketing agency can be overwhelming, but considering these factors will help you make a well-informed decision.
What Services Do B2B SaaS Marketing Agencies Offer?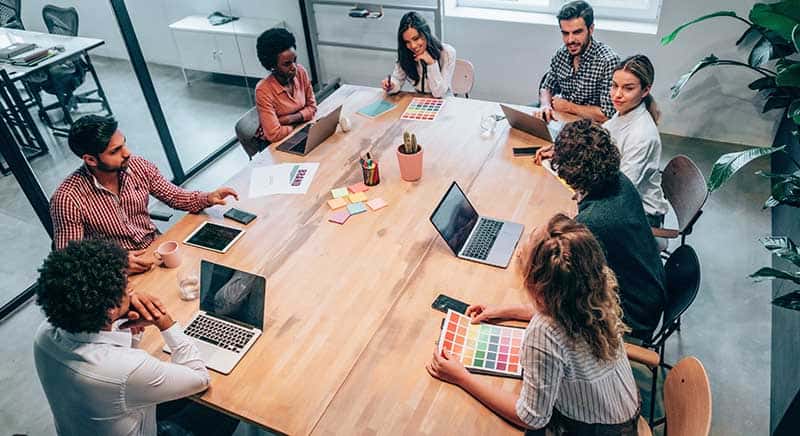 The complexity of marketing for SaaS companies lies in the product. It is virtual. The software is difficult to try on and impossible to hold in your hands or provide open demo access. It is challenging to promote and advertise it. In addition, the SaaS niche is one of the fastest-growing. How do you get customers interested? How do you enter into long-term contracts to maximize the user experience? A SaaS marketing strategy aims to differentiate a product from an array of similar and competitive ones and can be done in two stages:
Attract the maximum amount of targeted organic traffic to your site.
Effectively promote the product to new customers, and attract potential customers from other traffic channels. In both cases, provide high-level support.
In the first phase, marketing agencies use proven, actionable strategies and:
Experienced marketers often take a holistic approach to SaaS companies by combining strategies. Much depends on the budget and the target country of the customer. To start an advertising campaign, you should choose 1-2 traffic channels to test hypotheses. After the first traffic, leads and payment, you can plan the next scaling marketing step.
At the initial stage of choosing marketing traffic channels and all subsequent ones, analyze your competitors. Information about which traffic channels users come from can significantly simplify the work of advertising campaigns.
If potential customers are ready to buy, they need to be enticed to buy. The second stage is to keep paying customers. The following guidelines work here:
We'll highlight nine of the best marketing agencies in the B2B SaaS niche and implement all these strategies.

NoGood is a B2B SaaS marketing agency focused on sustainable growth. They offer a full-funnel, high-velocity experimentation approach that rapidly grows your user base for subscription-based software products. The agency employs a combination of community- and product-led growth to provide low acquisition costs for high-quality leads. They take your software platform's unique value proposition and craft intelligent and high-ROI growth marketing strategies while converting high-quality leads through organic community-based approaches. NoGood's services continue beyond just top-of-funnel acquisition. They also audit, optimize and build frictionless conversion journeys to retain high-quality leads and increase your LTV. In the SaaS market, maximizing high-impact, low-cost marketing strategies is crucial to increase lead generation and retaining your software's customers. NoGood's data-driven experimentation framework and results-based retention strategies help transform the initial click into a loyal paid customer to bring you more qualified leads and lower costs. NoGood is a strategic and insightful partner for many SaaS startups and Fortune 500 brands, offering various services, including SEO, content marketing, SEM/PPC, social ads, CRO, email marketing, video marketing, SMS marketing, and performance branding.

Kalungi is a full-service B2B SaaS marketing agency offering specialized growth marketing services for SaaS companies. It combines a proven playbook with an instant marketing team to help software companies build and launch their go-to-market motions. The company is an outsourced marketing agency that offers services to early-stage B2B SaaS companies. Their services are designed to help clients get their businesses to the next level by hitting the right groove, from starting up to scaling it to the top. They offer specialized SaaS growth marketing services for IT companies and packages that provide fast results. The company offers services to clients at different stages of growth, from those with $1M to $10M ARR to those with $100M+ ARR. Kalungi has a recipe booklet outlining what companies need to do and in what sequence to define their brand and bring products to market. The company has an experienced and qualified marketing division that can handle all of a client's marketing efforts.

If you're looking to generate more customers for your B2B SaaS business, Directive Consulting is the marketing agency to call. As the customer generation agency for tech companies, Directive is dedicated to delivering on its promise of results. Their marketing expert team provides SEO strategies to build your customer base and maximize their lifetime value. With a deep understanding of the SaaS industry, Directive's PPC ads create targeted brand awareness and achieve higher conversions. Impactful design is key, and Directive can create customized designs to create lifelong fans. They can also help you unlock your revenue potential by maximizing investments, lifetime value, and customer relationships through their revenue operations services. If you want to communicate your value faster across all platforms, their short-form videos can help. Directive's customer generation strategies can help you attract, convert, and retain your customer base. If you need to improve your brand discoverability, maximize SQLs from paid media, or improve lifecycle conversion rates, Directive can help. With offices in Orange County, New York City, Austin, London, Canada, and Sydney, Directive is a truly global agency that can help take your SaaS marketing to the next level.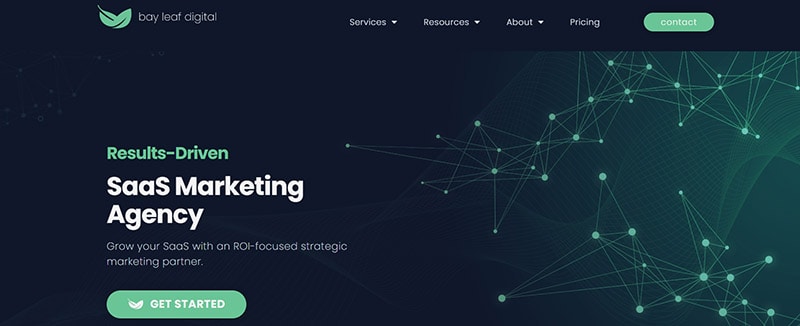 Bay Leaf Digital is a B2B SaaS marketing agency that provides a marketing approach centered on ROI. The organization has a team of professionals who develop data-driven B2B SaaS analytics solutions. Bay Leaf Digital delivers the necessary statistics for maximizing lead generation activities within a defined budget. The rapid expansion of Bay Leaf Digital's staff of SaaS marketing experts is due to its reputation for its big-picture perspective, analytical skills, and responsibility. The website of Bay Leaf Digital provides services such as analytics, website maintenance, and website refreshment. The agency deals with B2B SaaS startups with a product-market fit, and clients are praised for its services. Bay Leaf Digital provides case studies of companies it has worked in the past, demonstrating outstanding growth and outcomes via inbound lead generation. Text2Drive, Acctivate Inventory Software, MeazureUp, Emissary, and Sapience Analytics are among the agency's clientele. With its superior marketing automation services, Bay Leaf Digital has helped these clients expand their businesses.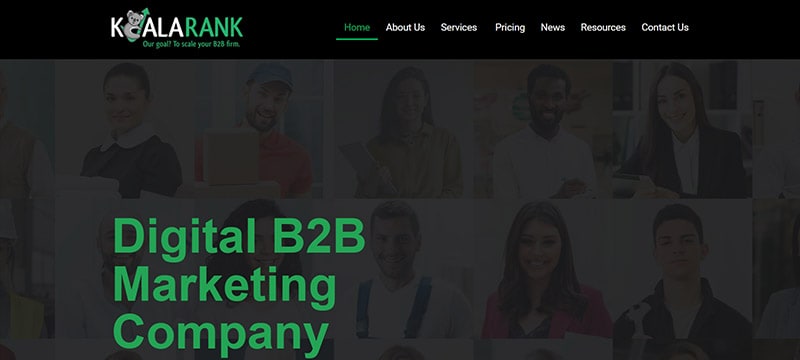 Koala Rank is a creative agency with in-depth marketing knowledge and experience focused on helping B2Bs SaaS thrive and grow online in the digital age. Koala Rank offers a range of SEO and content marketing services that capitalize on your momentum and enable you to effectively extend your digital marketing across all social channels and search engines.
One of the standout services Koala Rank specializes in is content marketing. They use their expertise to create engaging online content that attracts clients to your company, SaaS products, and services. Their strategy nurtures brand loyalty every step of the way. Their team of experts knows how to optimize your company's online presence for search engine ranking (SEO). They invest in the latest automation marketing techniques and use innovative strategies that guarantee your company reaps the rewards of high ranking in organic search results.
Koala Rank has a long track record of producing superior results for their clients, with testimonials from large and medium-sized corporations and small family-owned B2B SaaS companies that have benefited from their digital marketing skills. They offer scalable marketing solutions to improve your company's market reach and help you achieve and maintain rapid growth without limits. Pricing for their services is flexible and transparent, with marketing packages offered on a fixed month-to-month basis, giving you the freedom to upgrade at any time. Contact Koala Rank today to request a free SaaS consultation and personalized game plan designed for exceptional revenue generation.

NinjaPromo is a top-rated B2B SaaS marketing agency that offers a full range of services to help businesses grow and reach their maximum potential online. With their sleek and professional logo, they specialize in multi-channel marketing solutions, branding, and creative design for B2B, Fintech, Crypto, Startup, Small Business, and Software industries. Their services cover B2B SEO, Social Media, Lead Generation, PPC, Content Marketing, PR, Inbound Marketing, Demand Generation, and Influencer Marketing. They are also SaaS experts in Blockchain Development.
NinjaPromo's services generate targeted traffic for SaaS websites and increase the visibility of search results through strategic SEO, PPC, and Paid Social campaigns. They also offer video production and marketing to help businesses generate leads and drive conversions. With their team of specialists in influencer marketing, email marketing, and PR, they can amplify brand awareness and positively influence public opinion. NinjaPromo has helped various businesses and organizations achieve their advertising objectives. They always want to add more to their list of happy SaaS clients.
If you're looking for a comprehensive, results-driven SaaS marketing strategy, then NinjaPromo is the agency to partner with. Their team of seasoned marketers will work closely with you to uncover your unique value proposition and identify your target market's pain points. They have all the tools you need to succeed in the fast-paced software-as-a-service world. NinjaPromo is passionate about seeing its clients grow their businesses with their help, and they want to play a pivotal role in the success of your SaaS business. So, if you're ready to chart a course to explosive growth, let's talk!

Krafted Digital is an exceptional B2B SaaS marketing agency that creates custom-tailored, innovative marketing plans for various digital channels. With a unique approach to every project and campaign, their team acts as a partner. Krafted Digital has expertise in developing winning marketing strategies that reflect your business's goals by analyzing your SaaS brand, market, audience, and more. Their services for SaaS products include paid search, content marketing, search engine optimization, social media advertising and management, web design and development, branding and creativity, and influencer marketing. They have successfully provided growth solutions for brands like Nema Boston, Tennis Point, Raw Generation, and All Modern Furniture. They trusted Krafted Digital with their digital growth. Krafted Digital has a dedicated team of experts that leverages performance marketing channels to ignite growth, using a holistic, comprehensive approach that considers the entire consumer journey. They also offer newsletter sign-ups and contact forms on their website to help interested companies and brands contact their representatives.

Inturact is a leading SaaS consulting and integrated marketing agency focusing on B2B growth consulting, inbound marketing, growth hacking, web design and development, content marketing, graphic design, analytics tracking, and data analysis. With their proven SaaS user onboarding framework, you can plan, build, track and implement an effective onboarding funnel that will increase paid customer conversions in as little as one month. Better SaaS user onboarding increases more than just conversions; it is the foundation for a scalable and profitable SaaS business. Here are a few things that you can expect when you work with Inturact:
Make sure to let a lack of onboarding hold your SaaS business back. Suppose you don't have an onboarding process. In that case, your users require a lot of hand-holding to see value in your SaaS product, or you need to figure out if it's working. Then, it's time to start optimizing. With Inturact, you can get a better user onboarding process and achieve passive revenue.

HookLead is a SaaS marketing agency specializing in conversion, PPC, and kick-SaaS growth marketing. Their extensive experience in SaaS marketing strategies can help optimize your funnel by focusing on acquisition, activation, education, onboarding, referral, and churn to boost your MRR and ARR growth. HookLead offers two services: as an extension of your team, providing analytics, reporting, strategy, design, implementation, and execution, or as a consultant working with your existing team, reviewing data and planning strategy for a fresh, outside perspective. HookLead's comprehensive approach to SaaS marketing includes analyzing and taking action on any part of the funnel, such as analyzing target reach and sign-up flow and preparing a complete analytics setup. They also offer paid advertising to improve acquisition, conversion optimization to increase activation, and onboarding and retention marketing to improve retention. HookLead is committed to optimizing your customer journey and helping you achieve growth everywhere for SaaS.

SevenAtoms is a top-rated digital marketing agency in the San Francisco Bay Area. They specialize in B2B SaaS marketing, focusing on inbound and paid marketing strategies to help you stand out in a competitive landscape.
Their website offers a comprehensive list of services, including eCommerce marketing, content creation, landing page design, and more. They also provide SaaS marketing services such as PPC management, social media advertising, and remarketing.
One of their success stories is a cyber security SaaS company that saw a 1,012% growth in customers won from their paid campaigns, thanks to SevenAtoms' expert management of Google paid search and retargeting campaigns, landing page development, LinkedIn and Facebook campaign management, and inbound and content marketing.
SevenAtoms' goal is to build long-lasting relationships with their SaaS clients, taking full responsibility for their marketing campaigns and constantly improving and refining them. They take time to understand each company's unique challenges and devise strategies integrating multiple channels for maximum performance.
Partner with a SaaS digital marketing company to help disrupt your market and achieve tangible, bottom-line results. Contact SevenAtoms for a free consultation and proposal.

SimpleTiger is a B2B SaaS marketing agency specializing in helping SaaS businesses of all sizes scale their MRR through search and dominate their market. They have been in the industry for over 15 years, making them the top choice for many well-known brands worldwide. Here's a brief overview of what they offer:
Overall, SimpleTiger is a SaaS SEO and marketing agency that delivers results. They have a proven track record of success. They are dedicated to helping your business succeed in a highly competitive landscape. Contact them today to schedule a free demo and see how they can help you scale your MRR and own your market.

BAMF Media is a different kind of LinkedIn Marketing Agency that focuses on telling its clients' stories to the world. They provide a 100% done-for-you marketing solution to help clients become prolific content creators and lead generation machines without them having to work hard. BAMF's unique approach to LinkedIn Marketing has helped over 500 entrepreneurs like B2B SaaS Founders, Sales Leaders, and Agencies generate millions in revenue and half a billion content views from their LinkedIn profiles alone. They offer comprehensive services, including ghostwriting viral content for your profile, connecting you to relevant prospects, doing authentic outreach and messaging to relevant prospects, and flooding your calendar with qualified leads. The Four Pillars of LinkedIn growth are LinkedIn Profile Optimization, Lead Generation, Done-For-You LinkedIn Appointment Setting, and LinkedIn Content Creation. BAMF Media's website offers free consultations, free guides to LinkedIn success, and LinkedIn Bible Collection, five books with step-by-step processes available in eBook and Paperback formats. BAMF Media has a vast client base of over 500 entrepreneurs and agencies that have grown with their LinkedIn Influencer Service.
Conclusions
So, we've covered the best 12 B2B SaaS marketing agencies around, and I hope you've found some brilliant tips to help set your marketing efforts on the right track. You can accelerate your growth with the right agency by increasing your pipeline to optimize your current strategy.
These agencies are disrupting the market with innovative ideas and executing quality promotions for their clients. Their internal leadership and specific location are reasons they're on the top shelf.
It's about more than just the billion-dollar enterprise clients too. They're even helping small startups face their challenges head-on intending to increase their chances of success. And let's remember the essentials, like building strong relations with your customers and promoting your brand effectively.
If you're a CMO, staying up-to-date with the latest marketing trends and technologies is essential. So read up on what's new, like the Plerdy video popup form, which can help your SaaS company stand out in a crowded market.
So, take a leaf out of the book of these disruptive agencies and set yourself up for success. One day we'll mention you in the next study of B2B SaaS marketing agencies.