Are you looking for some inspiration to get your creative juices flowing when it comes to meta descriptions? Look no further! We've gathered 50 examples of the punchiest and most challenging meta descriptions to help jumpstart your creativity. From witty one-liners to humorous observations, we've got something for everyone. Get ready to have a good time and generate some awesome meta descriptions!
What Is a Meta Description?
A meta description is a snippet of text that appears under your page's title in search engine results. Your meta description aims to entice potential visitors to click on your result and visit your page while inspiring trust that your page is a valuable resource they should click on. Additionally, search engines can use meta descriptions to determine a page's relevance and rank for specific search terms. If a Google (or Bing, Yep.com) search engine's algorithm finds that your meta description is relevant to the page's content, the description will appear in search results alongside the URL. To create a meta description for a page, you need to add "meta tags" to the page's code, and the information will be automatically added to the web page.
<meta name="description" content="On-Page SEO Checker — Most people believe that on-page SEO is about adding as many keywords to the text as possible.">
Benefits of a Meta Description
Relevant meta descriptions have an incredible impact on your search engine optimization efforts. What do you win with appealing versions?
Get more clicks: An increased click rate is the primary benefit of having a wel-written meta description. The more enticing your description is, the more likely people are to click on it and visit your site, which can lead to more leads, sales, or sign-ups. Furthermore, one study found that increasing click-through rates by just one percent can lead to a 25% increase in overall revenue.
Boost SEO traffic: A highly-clickable meta description can also help you get more traffic from search engines. A meta description that accurately represents your page and its content can help search engines determine what your page is about. If the algorithm finds that your description is relevant, it can SEO boost the page and potentially show your site higher in the search results.
However, it is a real art to come up with a fruitful meta description. Thus, you may need some hints on how to make it right.
Tips for Writing a Meta Description for SEO
Writing meta descriptions for SEO can be tricky, but with proper guidance, it doesn't have to be so daunting. You could say that meta descriptions are like the window dressing of your website – they give potential visitors a quick glimpse into what they can expect when they click through to learn more.
Use unique descriptions for each page: Having the same description for multiple pages can confuse both Google and users. Make sure to write unique ones for each page on your website. It will also increase the chances that your page will appear higher in search engine results.
Pay attention to quality. Your snippet must be genuinely descriptive. If it is too abstract, the users may not feel this is what they are looking for. Thus do not hesitate to add relevant information. For example, a meta description for a product page may contain a manufacturer and even a price, while a snippet for a blog may include various details about its author.
Auto-generate descriptions. It is not feasible to add hand-written meta snippets for large sites. Google offers your to consider the programmatic generation of descriptions. Just make sure you use appropriate page data to get human-readable results.
Include a call to action: Encourage users to click through to your page by adding a call to action to your meta description. A simple phrase like "Learn more" or "Find out more" can encourage users to visit your page.
Avoid duplication: Avoid copying and pasting content from other pages or sites in your meta description. Not only is this plagiarism, but it also confuses Google and can result in a penalty.
Make it compelling: The meta description is your opportunity to make a good first impression on potential visitors. Ensure your description is captivating and entices users to click through to your page.
Remember that you want to grab viewers' attention with something distinctive and informative so try injecting humor or creative phrasing into your description. And don't forget that each page should have its unique meta description; otherwise, search engines won't know where each one belongs!
Also, tips from Sarah Berry of WebFX: "It is important to write compelling meta descriptions to increase your website's click-through rate. Meta descriptions should be unique, inspire action, include keywords, and be under 155 characters. Additionally, structured data, such as ratings and product information, can make the meta descriptions more engaging and descriptive. By following these tips, you can improve your website's visibility in search engine results and increase traffic to your site."
How Often Does Google Rewrite Meta Descriptions?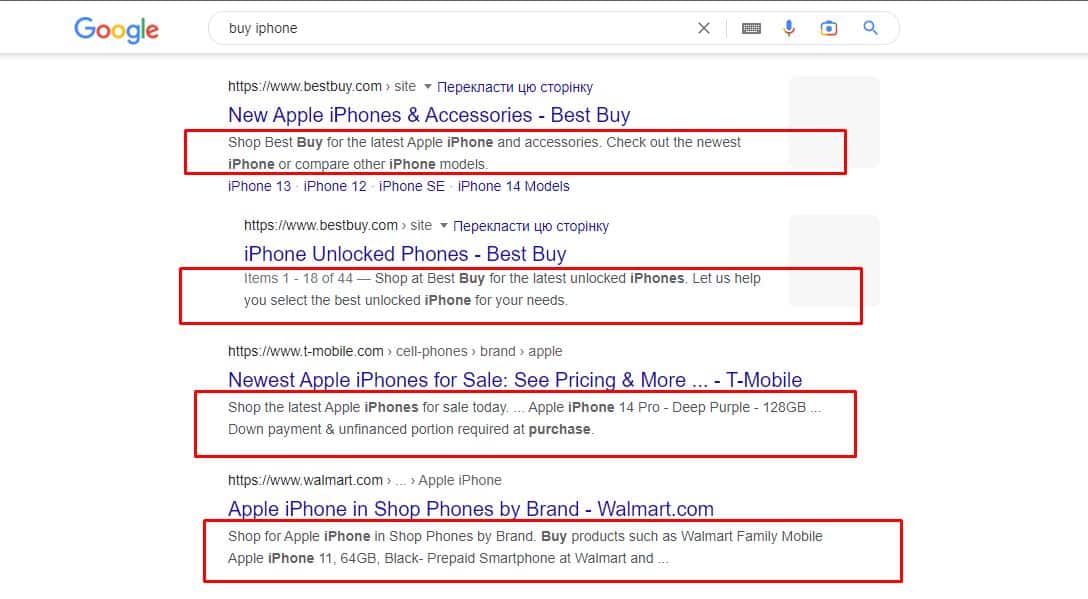 A study by Michal Pecánek from Ahrefs shows that Google rewrites meta descriptions 62.78% of the time. The study compares hardcoded meta descriptions with the actual Google desktop snippets for 20,000 keywords. The study also finds that Google is slightly more likely to rewrite meta descriptions for long-tail keywords, but the difference is minimal. Additionally, the study finds that the length of the meta description does not significantly impact the probability of it being rewritten. Despite the high rate of rewriting, the study still suggests that writing relevant and compelling meta descriptions is worth the effort as it can entice more clicks and, ultimately, more traffic.
Examples of Meta Descriptions from Travel Websites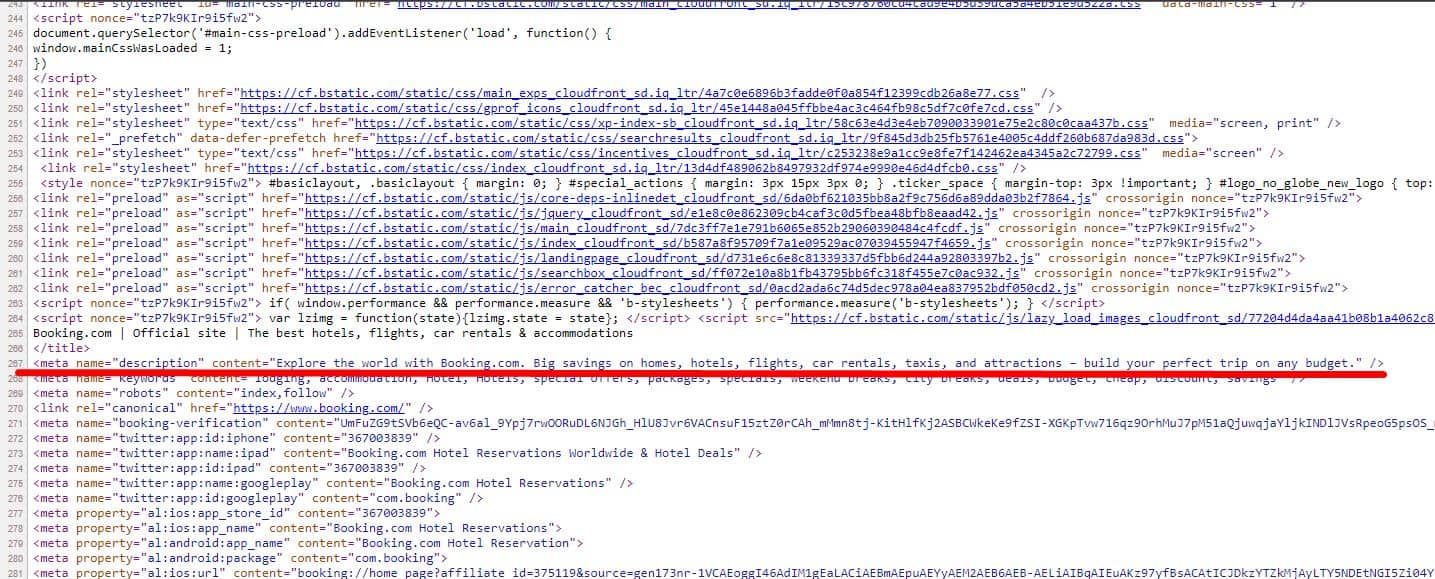 How do the most popular travel resources attract a continuous flow of visitors? The trick is pretty simple – apt meta descriptions.
Airfarewatchdog Meta Description Examples: "Find cheap flights and buy airline tickets online with Airfarewatchdog. Book your flights with us and save up to 80% on airfare, hotels and vacation packages. Book online now!"
Booking.com Meta Description Examples: "Find hotels with great reviews and discounted rates online. Search for hotels by location or destination and identify hotels with free breakfasts. Make hotel reservations and travel plans with Booking.com."
Airbnb Meta Description Examples: "Find a place to stay anywhere in the world. Discover inspiring travel destinations and explore local cultures. Experience a new way to travel."
Tripadvisor Meta Description Examples: "Find travel advice, hotels and vacation packages at TripAdvisor. Discover the world from the comfort of your couch. Visit local attractions and find things to do, restaurants and hotels."
Each of the above examples contains something a traveler is always keen on – save, discount, package. Follow this tendency to meet the customer needs.
Examples of Meta Descriptions from E-commerce Websites
As a rule, e-commerce sites have thousands of products to sell. How to come up with general wording to engage all types of customers?
Walmart Meta Description Examples: "Shop Walmart today for Every Day Low Prices. Join Walmart+ for unlimited free delivery from your store & free shipping with no order minimum. Start your free 30-day trial now!"
Target Meta Description Examples: "Shop Target online and in-store for everything from groceries and essentials to clothing and electronics. Choose contactless pickup or delivery today."
eBay Meta Description Examples: "eBay.com: Find What You're Looking For, Buy New, Buy Used and Sell Your Items."
Best Buy Meta Description Examples: "Bestbuy.com: Shop for a New Laptop, an HDTV or a Smart Home Device."
You have seen the solutions of the world's e-commerce giants to follow and invent something similar.
Examples of Meta Descriptions from Blogs
If you run a blog, your snippet should transmit its main theme. Look how famous blogs have written their meta descriptions.
Entrepreneur Meta Description Examples: "Entrepreneur is your one-stop source for advice and information for starting and running a business. Run a better business with expert advice, scary statistics, and useful resources."
Rolling Stone Meta Description Examples: "Rolling Stone is the authority on music, culture, and politics."
BBC News Meta Description Examples: "BBC News provides impartial news coverage of the key events of the day, using the best journalism from the BBC around the world."
Mashable Meta Description Examples: "The latest in tech, business, entertainment, and culture from the people who are creating these technologies and culture."
Huffington Post Meta Description Examples: "Get the latest breaking news and top headlines from around the world, plus weather, sports, health, and lifestyle, and original articles and photos on HuffingtonPost.com."
It is enough to follow the same pattern to attract the right audience. This approach will surely bring you lots of new readers.
Examples of Meta Descriptions from Local Businesses
This type of meta description aims to attract local traffic. Do not hesitate to include details that can attract local customers.
Denver Zoo Meta Description Examples: "Visit the Denver Zoo and see over 2,000 animals from around the world in a spectacular Rocky Mountain setting. Explore the Denver Zoo and experience wildlife as you've never seen it before."
Lowe's Meta Description Examples: "Lowe's is a leading home improvement retailer with the expertise needed to help you plan and create the outdoor living spaces, gardens, renovations, repairs and projects you've been dreaming of. Shop online or visit your nearby store to get started today."
Dominos Meta Description Examples: "Order pizza, pasta, sandwiches & more online for carryout or delivery from Domino's. View menu, find locations, track orders. Sign up for Domino's email & text offers to get great deals on your next order."
You can even add location details to your snippet. It will then bring more local people to your website.
Meta Description Examples for Homepages
When it comes to optimizing homepages for search engines, a meta description is a key element. This sneaky little snippet of text tells people who find your website on Google what it's all about. The problem is that writing a compelling meta description can be tricky business. That's why we've compiled this list of funny, creative meta description examples for homepages that will help you get the job done with style.
From wry puns to obscure pop culture references, these clever descriptions are sure to make readers do a double-take when they stumble upon your site in search engine results pages. So if you want your homepage to stand out from the crowd and show off your company's personality in one go, then look no further than this selection of unique meta descriptions!
Website
Meta Description
UnitedHealth Group
UnitedHealth Group helps people live healthier lives and helps make the health system work better for everyone.
att
Shop deals on unlimited data plans, Internet service, and DIRECTV STREAM. Get 24/7 support, pay your bills & manage your account online.
gm
General Motors is home to Buick, Cadillac, GMC & Chevrolet. Learn about General Motor's rich history and dedication to community, sustainability, & innovation.
AmerisourceBergen
AmerisourceBergen fosters a positive impact on healthcare around the world by advancing the development and delivery of pharmaceuticals and healthcare products.
chevron
Chevron works to meet the world's growing demand for energy by exploring for oil and natural gas; refining and marketing gasoline; producing chemicals and more.
Costco
Shop Costco for electronics, computers, furniture, outdoor living,

appliances, jewelry and more. Enjoy low warehouse prices on name-brands products delivered to your door.

Verizon
Shop Verizon smartphone deals and wireless plans on the largest 4G LTE network. First to 5G. Get Fios for the fastest internet, TV and phone service.
GE
GE rises to the challenge of building a world that works. Learn how our leading technologies & reach helps the world work more efficiently, reliably & safely.
Walgreens boots alliance
Walgreens Boots Alliance (WBA) Is a Trusted, Global Innovator in Retail Pharmacy. WBA's purpose is to create more joyful lives through better health.
Fannie Mae
Fannie Mae is your source for mortgage financing and reliable housing information.
ABC.xyz/
Alphabet Inc. is a holding company that gives ambitious projects the resources, freedom, and focus to make their ideas happen — and will be the parent company of Google, Nest, and other ventures. Alphabet supports and develops companies applying technology to the world's biggest challenges.
bankofamerica
What would you like the power to do? For you and your family, your business and your community. At Bank of America, our purpose is to help make financial lives better through the power of every connection.
express-scripts
Millions trust Express Scripts for safety, care and convenience. Express Scripts makes the use of prescription drugs safer and more affordable.
wellsfargo
Committed to the financial health of our customers and communities. Explore bank accounts, loans, mortgages, investing, credit cards & banking services»
phillips66
Our vision is to provide energy and improve lives. We are excited about the

future of energy and helping the world move forward.

Microsoft
Explore Microsoft products and services for your home or business. Shop

Surface, Microsoft 365, Xbox, Windows, Azure, and more. Find downloads and

get support.

state farm
State Farm® helping protect what matters most for 100 years with great rates for life, home, car insurance & more. Get a quote or find an agent today!
Freddie mac
We are supporting America's homeowners and renters while serving as a stabilizing force in the U.S. housing finance system.
MetLife
Stay covered with MetLife: life, auto & home, dental, vision and more. Learn more about MetLife employee benefits and financial solutions.
upsus
Select a UPS service region to explore solutions for shipping, logistics, and more.
adm
Food is fundamental. Food sustains us, fulfills us and fuels our

well-being—and ADM is devoted to that impact every single day.

Aetna
offers health insurance, as well as dental, vision and other plans, to meet the needs of individuals and families, employers, healthcare providers and insurance agents/brokers. The path to healthy starts here.
Youtube
Share your videos with friends, family, and the world
Yahoo
Latest news coverage, email, free stock quotes, live scores and video are just the beginning. Discover more every day at Yahoo!
JD
JD is the largest retailer in China, a member of the NASDAQ100 and a Fortune Global 500 company.
wikipedia.org
Wikipedia is a free online encyclopedia, created and edited by volunteers around the world and hosted by the Wikimedia Foundation.
zoom.us
Modernize workflows with Zoom's trusted collaboration tools: including video meetings, team chat, VoIP phone, webinars, whiteboard, contact center, and events.
live
Get free Outlook email and calendar, plus Office Online apps like Word, Excel and PowerPoint. Sign in to access your Outlook, Hotmail or Live email account.
Reddit
Reddit is a network of communities where people can dive into their interests, hobbies and passions. There's a community for whatever you're interested in on Reddit.
Instagram
Create an account or log in to Instagram – A simple, fun & creative way to capture, edit & share photos, videos & messages with friends & family.
office
Collaborate for free with online versions of Microsoft Word, PowerPoint, Excel, and OneNote. Save documents, workbooks, and presentations online in OneDrive. Share them with others and work together at the same time.
Netflix
Watch Netflix movies & TV shows online or stream right to your smart TV, game console, PC, Mac, mobile, tablet and more.
force
Go digital fast and empower your teams to work from anywhere. Develop scalable, custom business apps with low-code development or give your teams the tools to build with services and APIs.
Bing
Bing helps you turn information into action, making it faster and easier to go from searching to doing.
Conclusion
Meta description examples allow everyone to express their creativity and put a personal touch on their website. Whether you're looking for something witty, informative or just plain weird, there is undoubtedly a meta description out there that appeals to you. So why not take the time to create one that stands out from the crowd? After all, it could make all the difference in your website's search engine performance.