Bringing your business to the network, you need to consider all the nuances, including those that are not much obvious, such as the length of links. Of course, it makes little sense to an average network user, but a competent reduction of the URL's length gives several advantages. First, the reduction is performed without human intervention and takes a minimum of time, so you need only to choose the appropriate service.
Links are shortened for the following reasons:
they look more accurate and are easier to remember;
they are easier to quote, especially in social networks, limiting the length of the message (for example, Twitter);
they are easier to dictate or type in a message;
if a link contains a referral ID, the user can delete it manually. This is impossible with the shortened links;
a full link may have words that are automatically blocked by the resource where users will share it. These stop words include, for example, "gambling", "adult".
Among the disadvantages, we should highlight only that the services take money for the URL's shortening and additional functions. However, there are a lot of them, and the competition is high. So you can choose an option for any budget.
How it works
Let's enumerate the main stages of the link shortening:
on the service's website, the user enters a full link in the corresponding field;
it is automatically checked for presence in the database. If it's there (that is, it was added earlier), the final result, namely a shortened URL, is immediately returned;
if the link is not found in the database, the hashing function creates a hash of a specific length;
the generated hash is checked against the database. If this shortening was previously used for another link, the base link is converted to a different hash. It must be unique;
the shortened version is displayed on the screen.
Here is an example of an unshortened link: https://www.blog.google/inside-google/working-google/2019-review-stories-google-year/. It consists of 85 characters, that's too long. However, after shortening, the same link gains a compact look, like https://bit.ly/3fgcTRm – the length is only 22 characters; it's four times less than before shortening.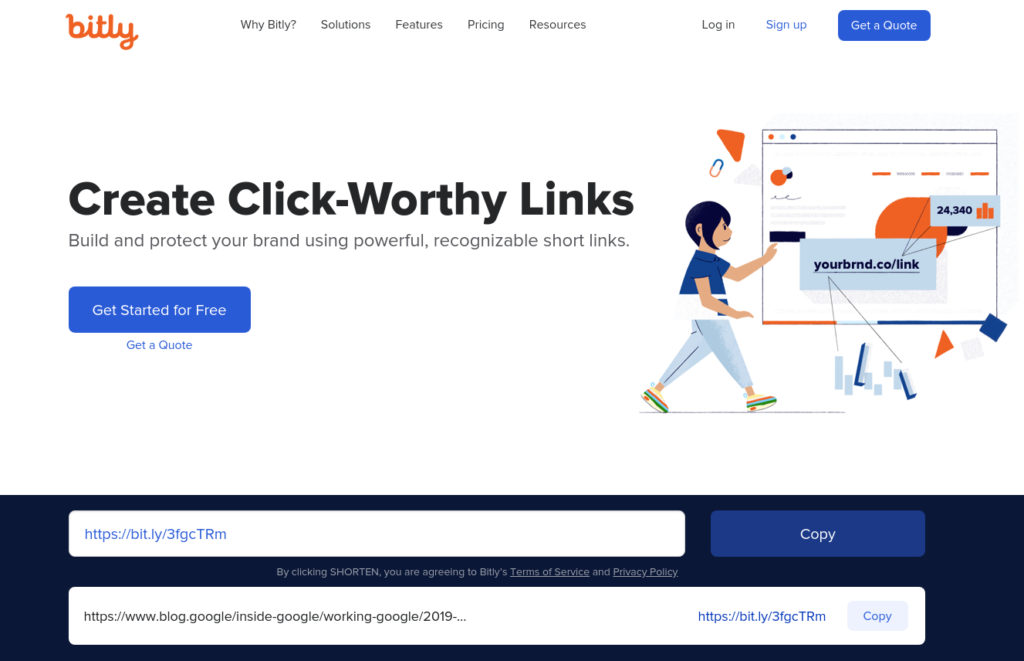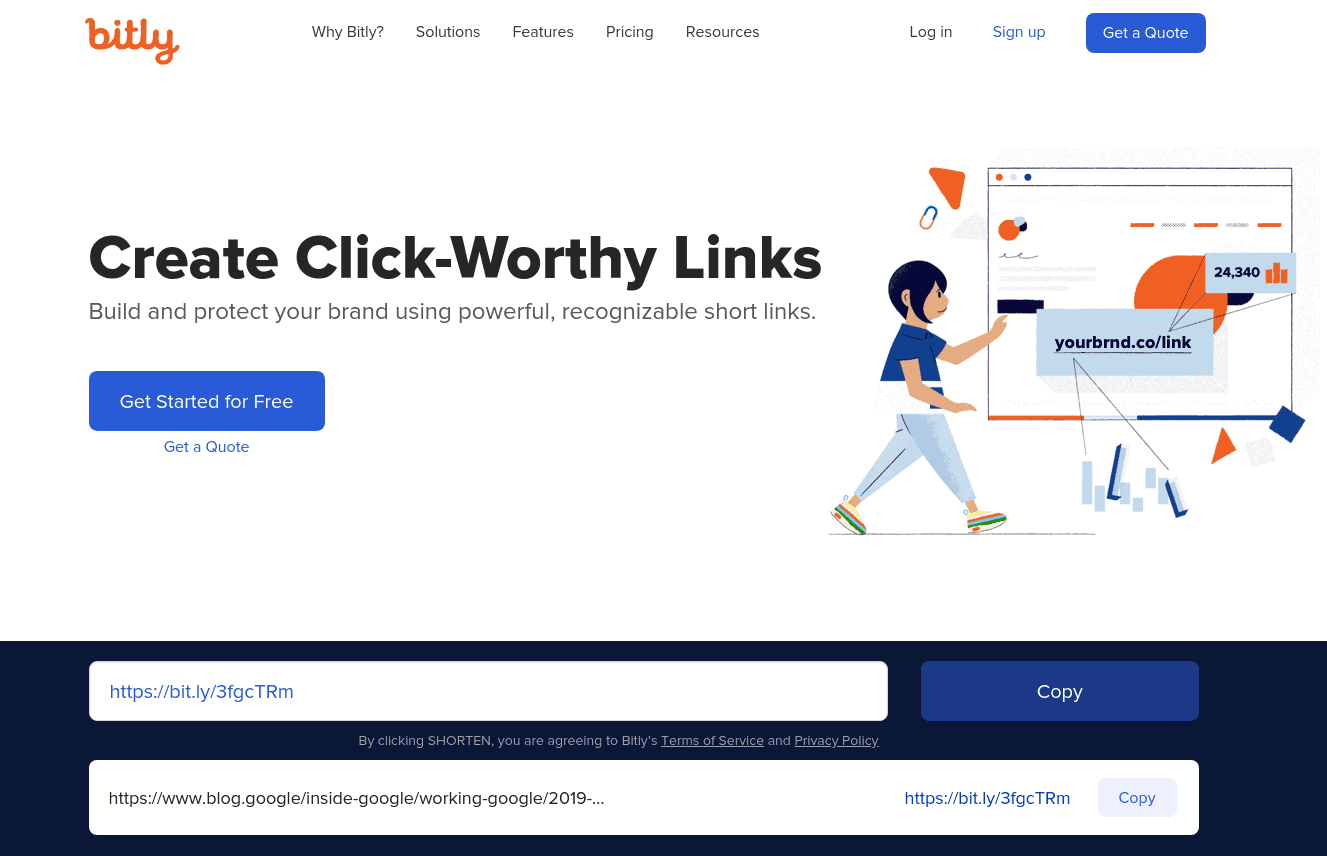 All these stages are executed instantaneously. The order of operations is given for a better understanding of how such services work.
Risks of URL shortening
There are a couple of nuances that you should be aware of before you start actively making short links:
if a service stops operating, its database also becomes inactive. As a result, all the links shortened with the service do not work;
therefore, hackers can try to redirect the reader to a page with undesirable content. If the link is shortened, then where exactly it leads remains unclear. So the visitor can fall into the trap of the hacker.
Most of the troubles can be avoided if you don't choose the first service you come across, but choose it according to your needs. Shortening links are worthy, do it wisely and with an eye to security.
The difference between the services
There are dozens of suggestions on how to make a short link on the network. Though the principle of operation is generally the same, there are still some differences:
the price and availability of the trial period;
the need to register — some services suggest that you try making a short link without registration, others require you to create an account first;
the ability to work with statistics. You can not only make a short link but also collect traffic statistics from it and then sort the data by traffic source and geographical factor;
the possibility of branding. It is not enough to make a short web address of the desired page. In an ideal scenario, you should also adapt it to your brand and make it recognizable. Some services provide you with this opportunity;
the convenience of use. Some services enable you to make short web addresses only through their site. There are options with a button placed on the browser toolbar. All you need to shorten a link is just to click on the button;
the availability of a full-fledged Russian-language version. The basic functionality of URL shortening services is clear enough. However, you'll find it difficult to customize a link and work with the API if you don't speak English and the instructions aren't available in Russian.
Also, when choosing a URL shortening service, mind the length of its operation. The longer the service is on the market, the more reliable it is and the less likely the project is to close and the database to become unavailable, breaking all your short web addresses.
Best services for creating short links
The list below is not a rating, and the position in it does not reflect the service's quality. Each of them can be used. In fact, they've already proved their usefulness.
Rebrandly — your brand on your links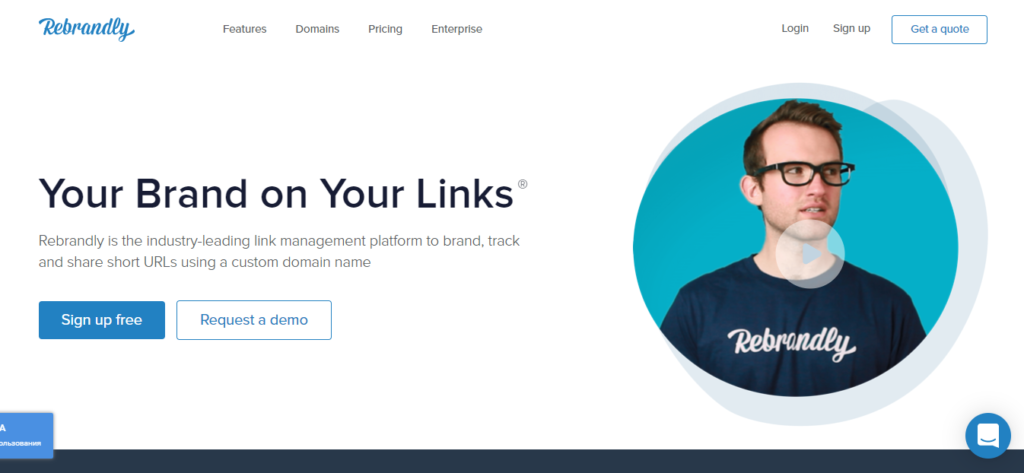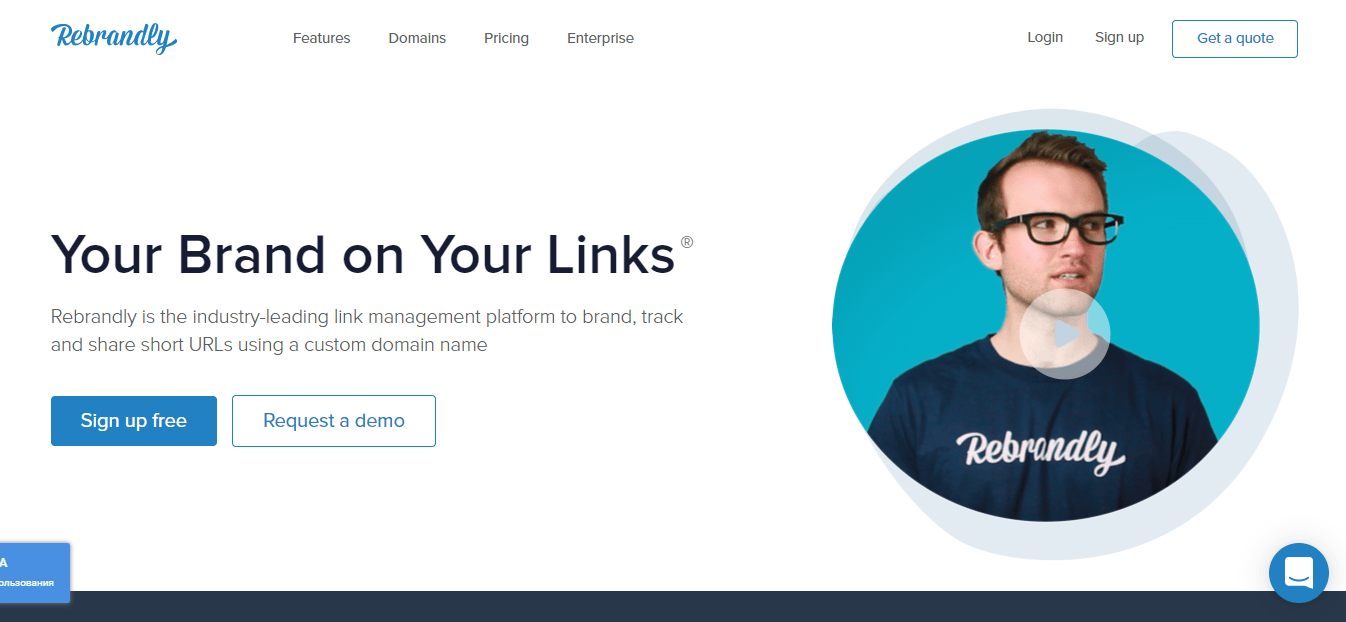 Rebrandly supports:
flexible configuration of short links, their mass creation, and branding;
301 redirect, this is crucial in SEO;
emoji URLs;
all the statistics on traffic transitions, segmentation, and other criteria is tracked. You can customize the report creation by including only the necessary parameters in it;
connecting multiple team members to the same account.
The powerful training block should be highlighted. The database of materials is regularly updated. If you speak English, you can easily figure out how to work with Rebrandly.
There are no serious disadvantages, except that the service is not translated into Russian and is generally focused on a high-profile client. It's better for newbies to choose an easier service.
CLickMeter — get the most from your links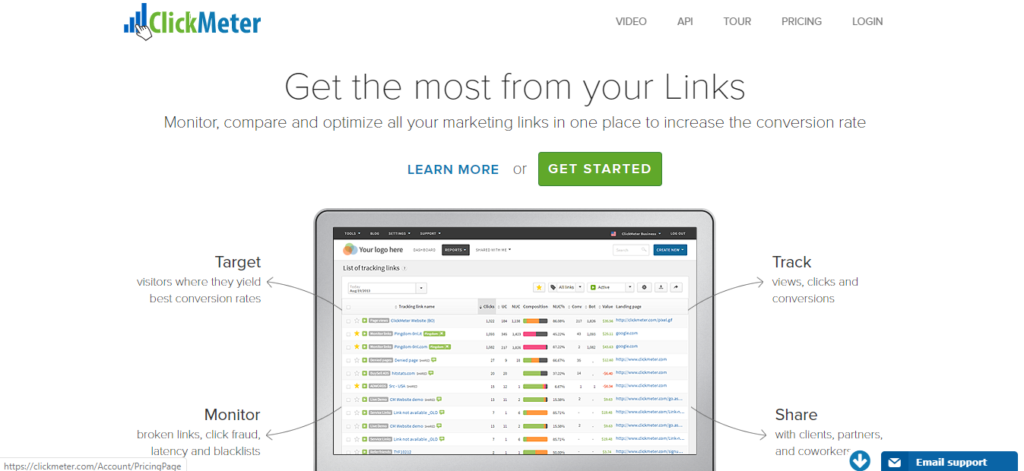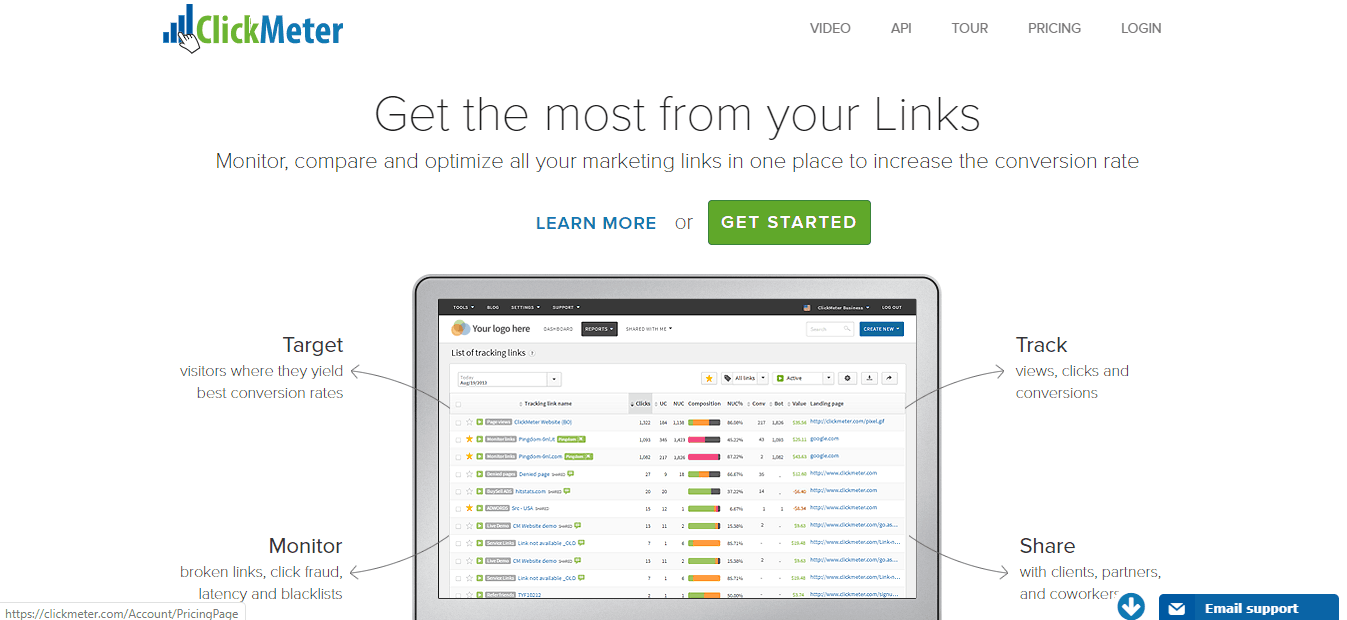 ClickMeter has been running since 2012. Just like Rebrandly, this service is primarily suitable for experienced marketers, not newbies. On ClickMeter you can:
make a short web address, adding the desired brand to the name;
analyze the users' actions on the site – watch their behavior. By the way, there's a division by traffic sources;
create up to a hundred subaccounts. You can grant your partners and company employees with access to your account;
set up retargeting.
There is integration with the most popular browsers, a related service Rebrandly, and AdWords. Special attention is paid to fraud protection. As for the statistical data, security will be available for 3 years with the maximum service plan.
Bitly — powerful, recognizable links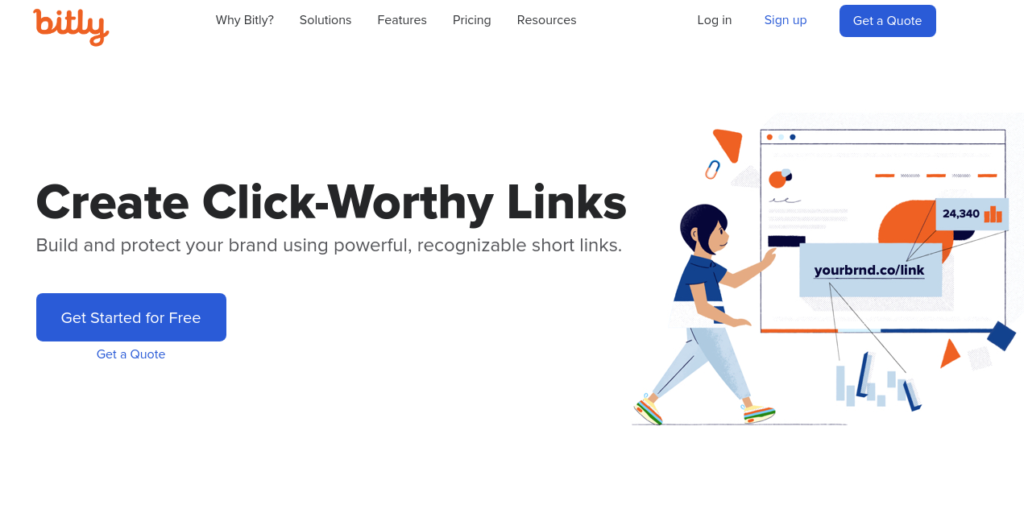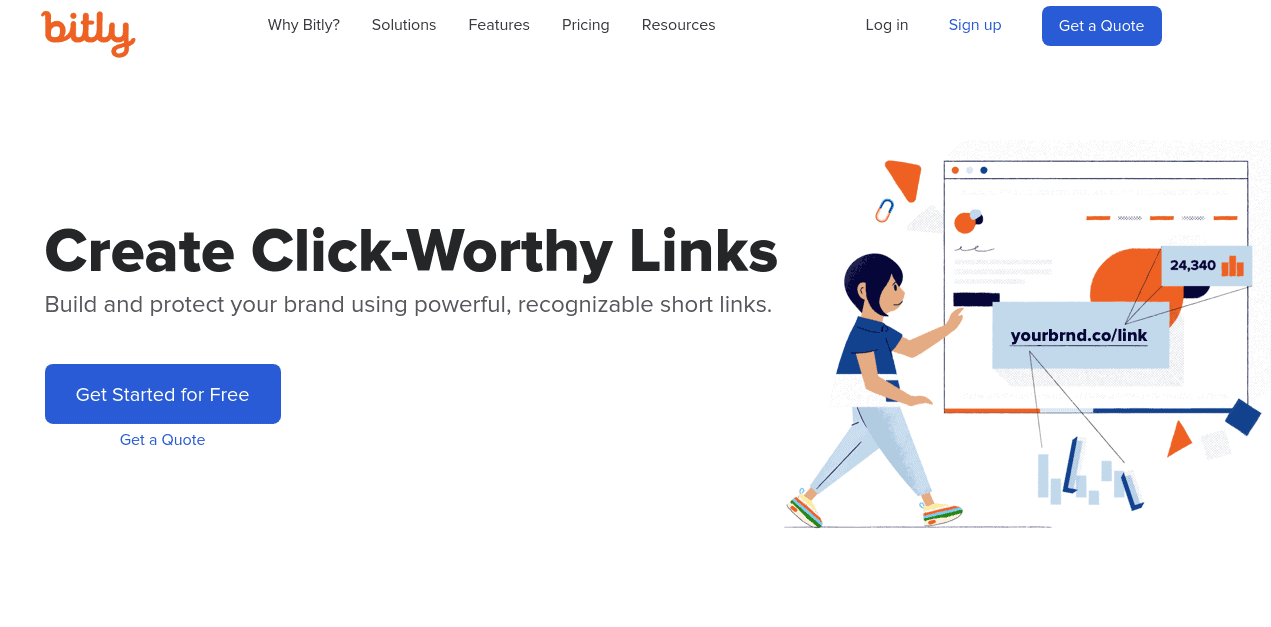 Bitly is a simpler service compared to the previous two. Bitly enables you to:
create a downloadable QR code for any Bitly link;
"brand" short web addresses;
choose a domain name;
Despite its limitations, Bitly is a great choice for small businesses.
TinyURL — URL that will not break in email postings and never expires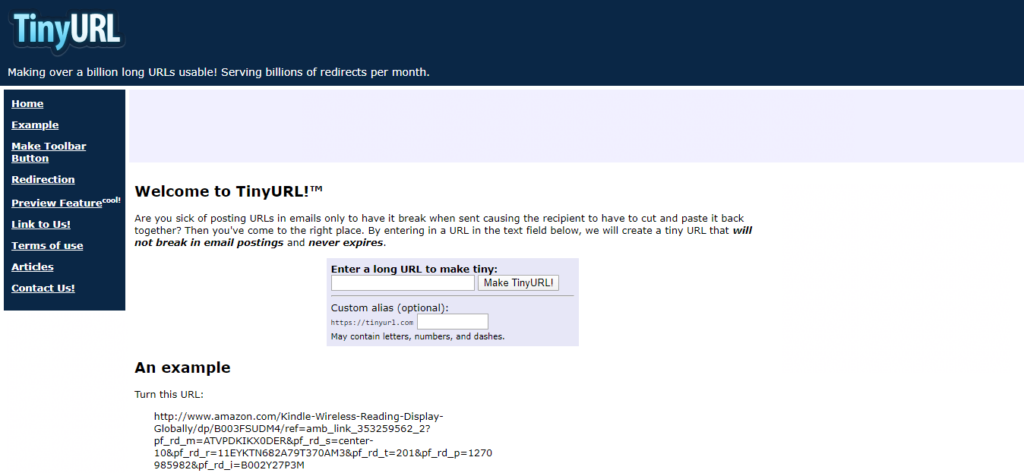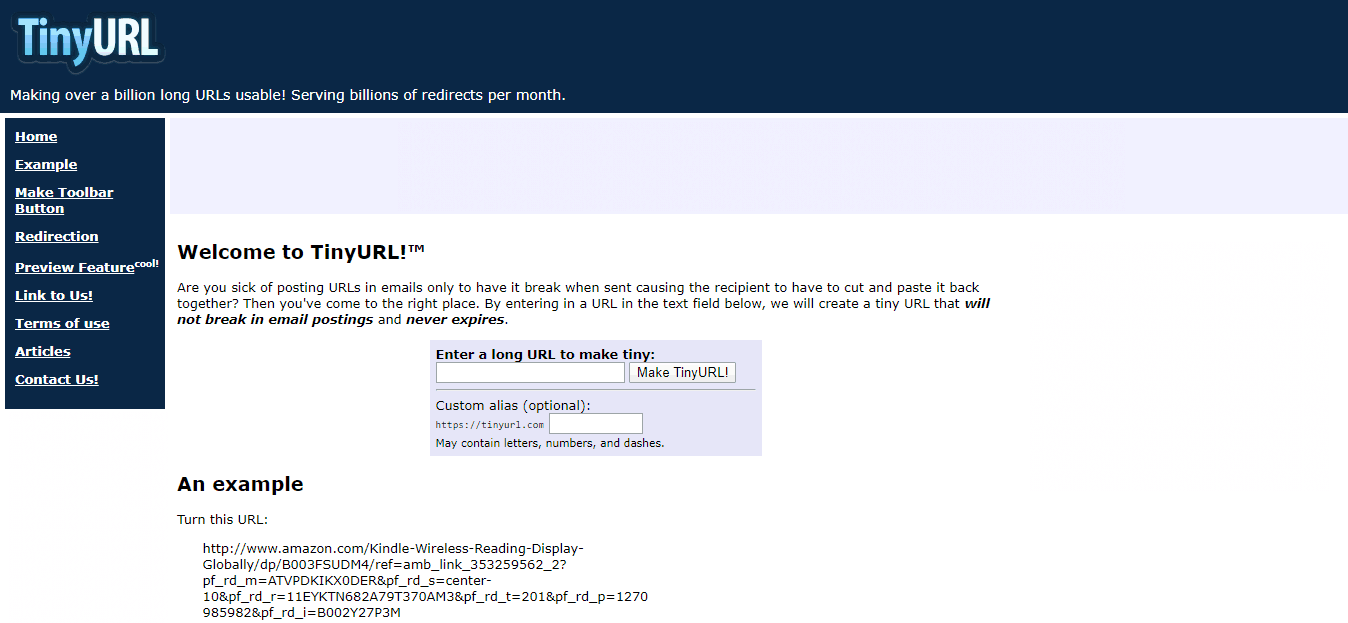 TinyURL is a simple service that is more suitable for ordinary people and small businesses. Links can be customized. You can configure the transition to any page of the website. Moreover, it is possible to activate a try-out before switching to TinyUrl.
Bl.ink — short links that click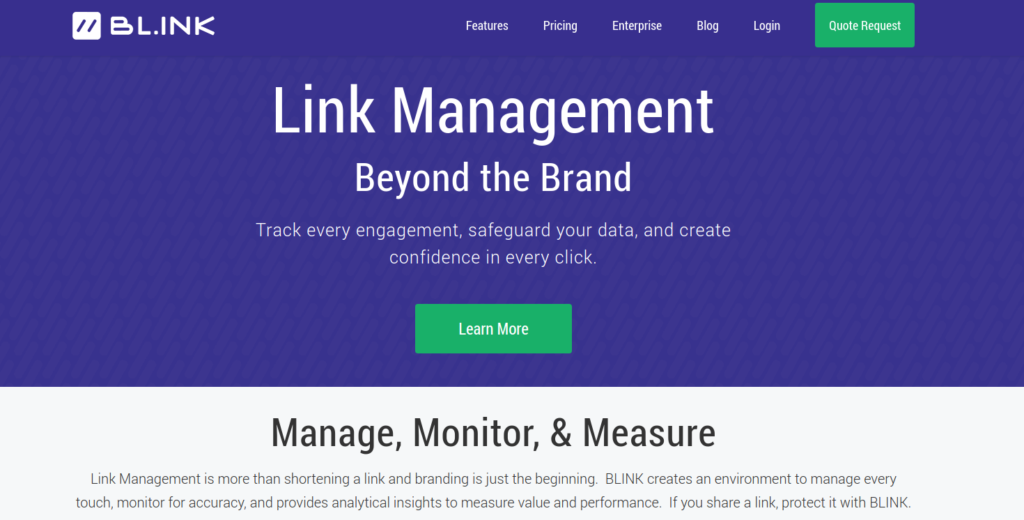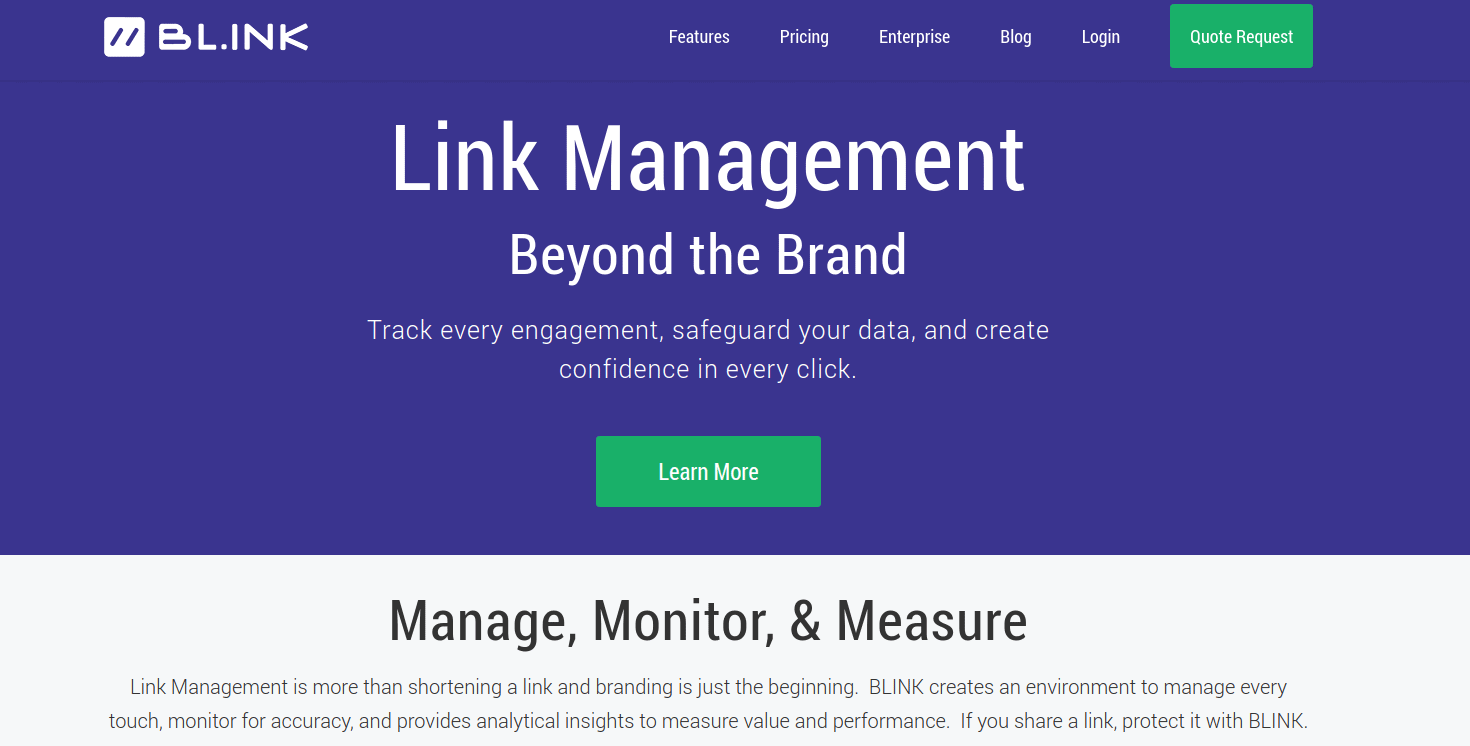 Bl.ink is focused on business. That's why, in addition to URLs shortening, there are also good analytical capabilities. To the specific features of Bl.ink we refer:
tracking statistics of clicking on links with various filters; integration with other analytical services (Google, Adobe);
integration with Zapier;
a separate browser extension;
no restrictions on redirects;
connecting up to 50 users to an account (relevant for large teams).
Emoji links are not supported here and the free plan has quite strict restrictions.
Branch — supercharge your mobile growth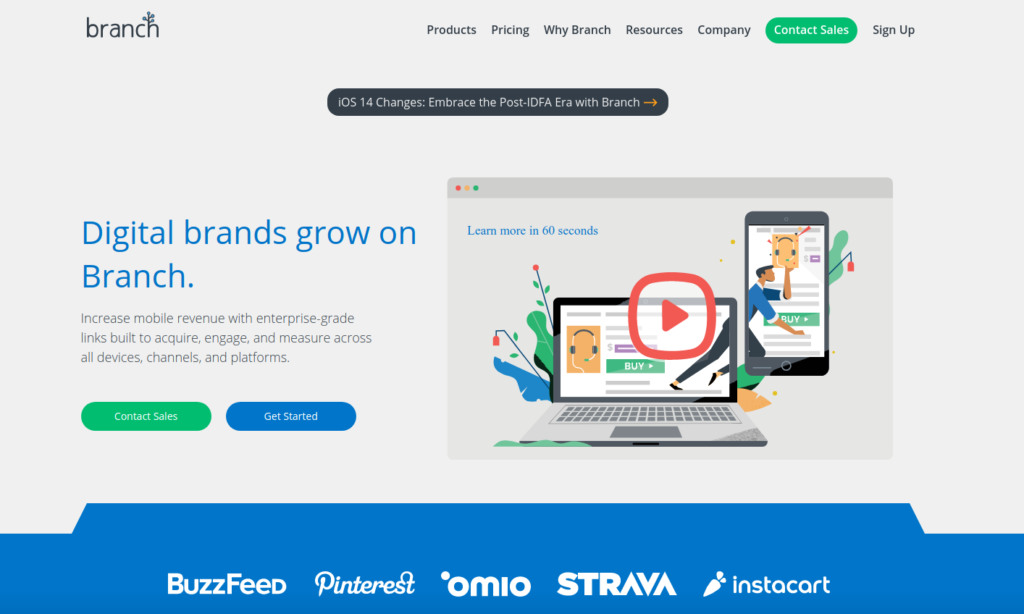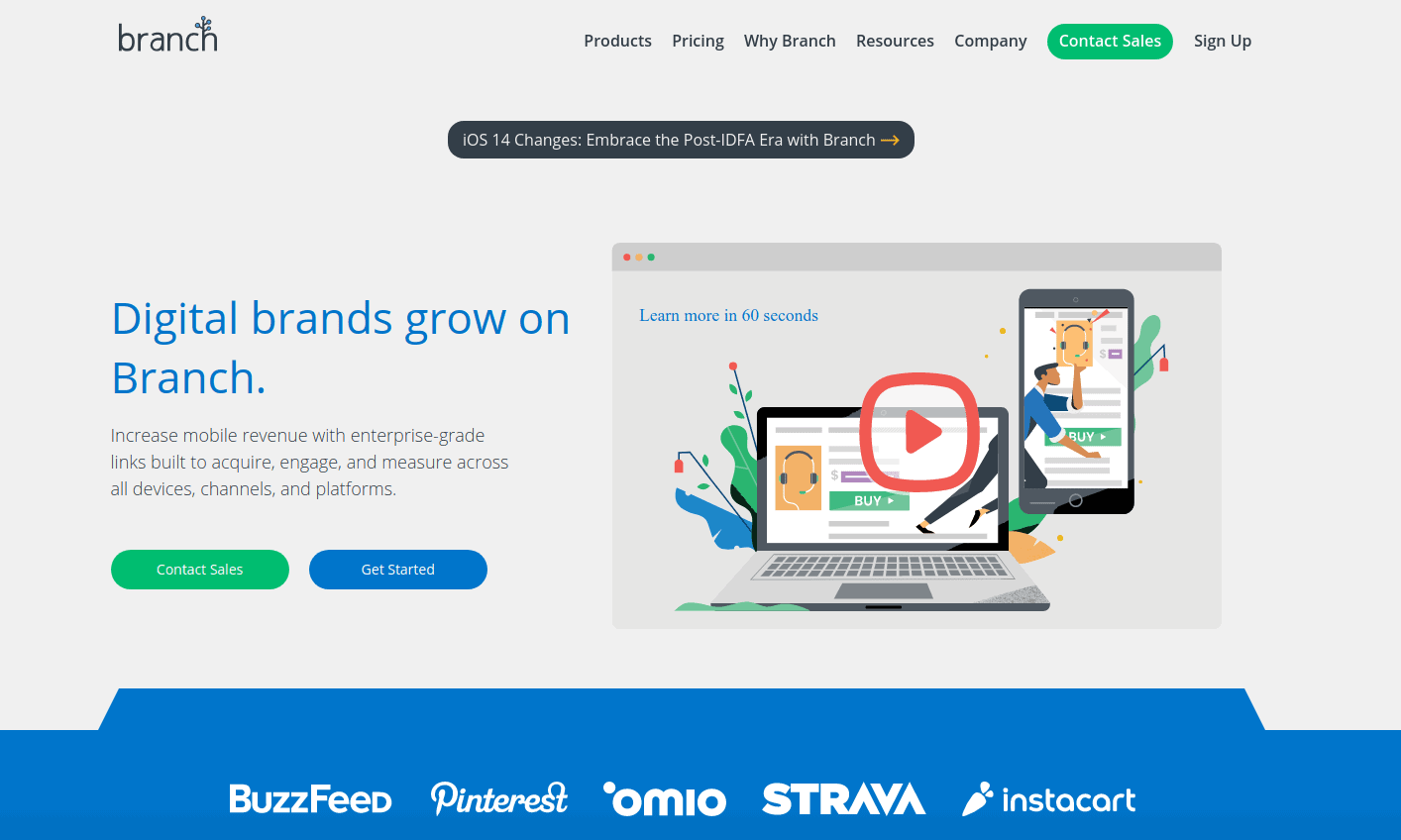 Branch positions itself as a company specializing in "deep links" and the mobile component of the online business on the Web. It assures that the web addresses are not lost when adapting content to mobile devices, and the user gets all the necessary content.
Sniply — add a call-to-action to every link you share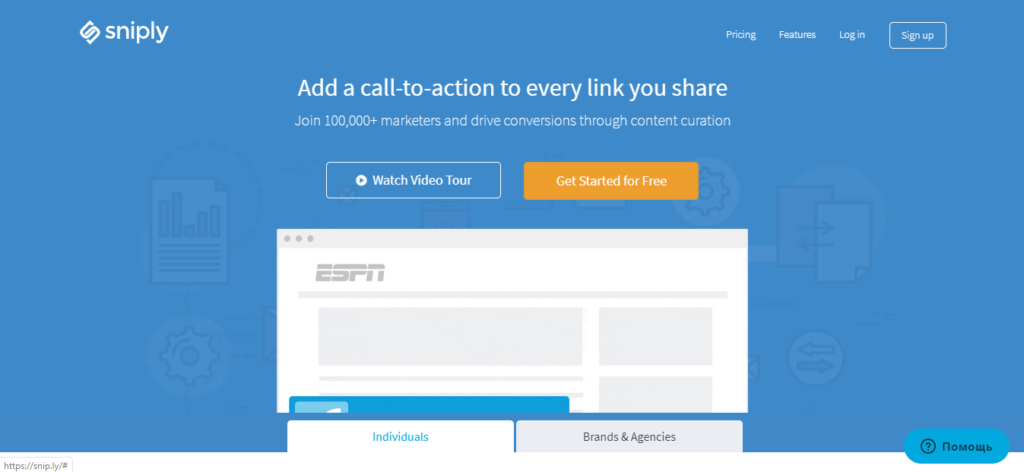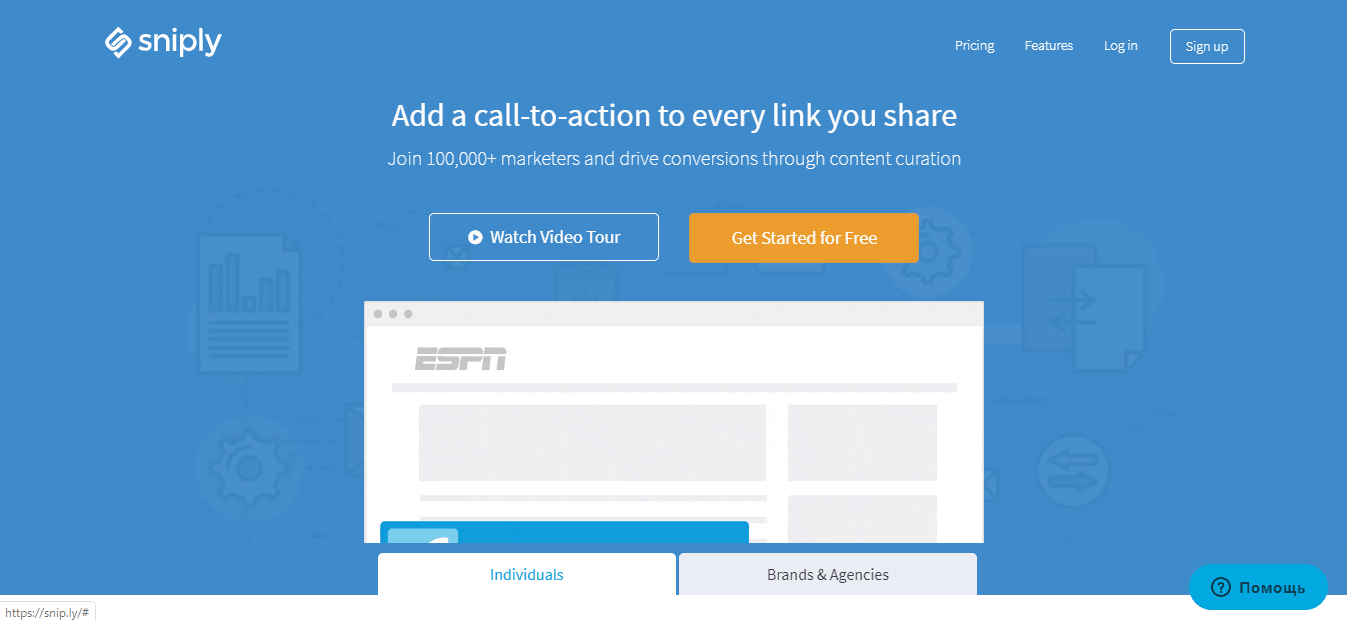 Sniply stands out for its focus on collecting contact data. Sniply allows you to make a short link. When the user clicks on it, they are shown the content of the desired site in an iFrame, and a CTA element is displayed on top of it. This approach is controversial — on the one hand, it is good for collecting data, but on the other hand, this method can make the user angry and lose them forever.
Features of Sniply:
adding CTA elements;
integration with Zapier, Buffer, HootSuite and other services;
ability to add Image Snip. By clicking on it, the user will be redirected to the desired page.
The main flaws of Sniply are related to rather aggressive work with CTA elements. As for analytics, it is not bad, but it is primarily focused on studying conversions.
Hyperlink — give your links superpower



Other features of Hyperlink:
distributing PUSH notifications when the user goes to the page by clicking on a short link. You can set the distribution of statistics for an hour, day, or week;
the Standard and Enterprise service plans offer free domain names;
automatic QR code generation;
statistics gathering in real-time mode.
The free plan does not limit the number of created and tracked short links. The Standard service plan costs $9 per month if you pay for annual access, and conditions of the Enterprise plan are discussed individually.
YOURLS — your own URL shortener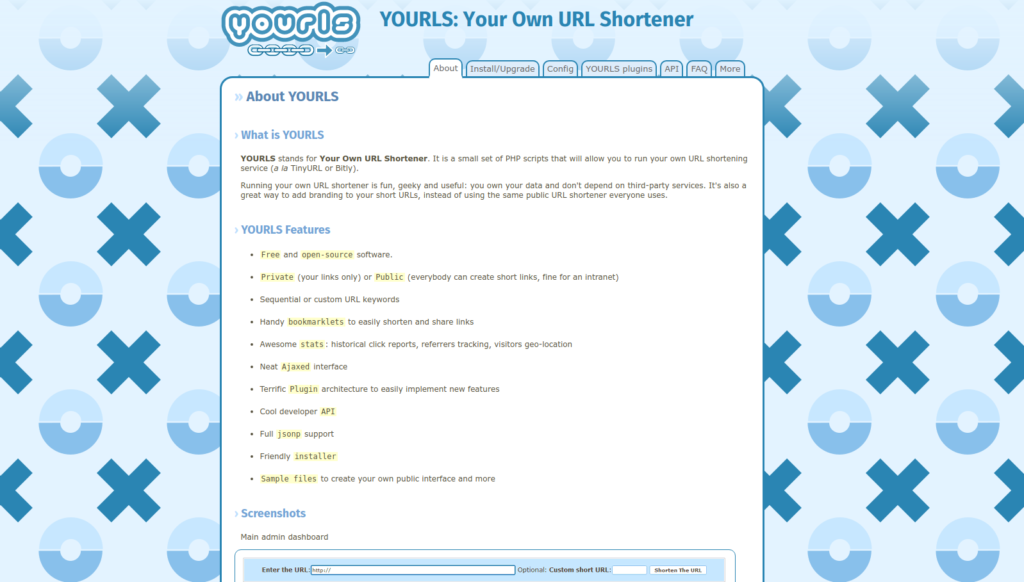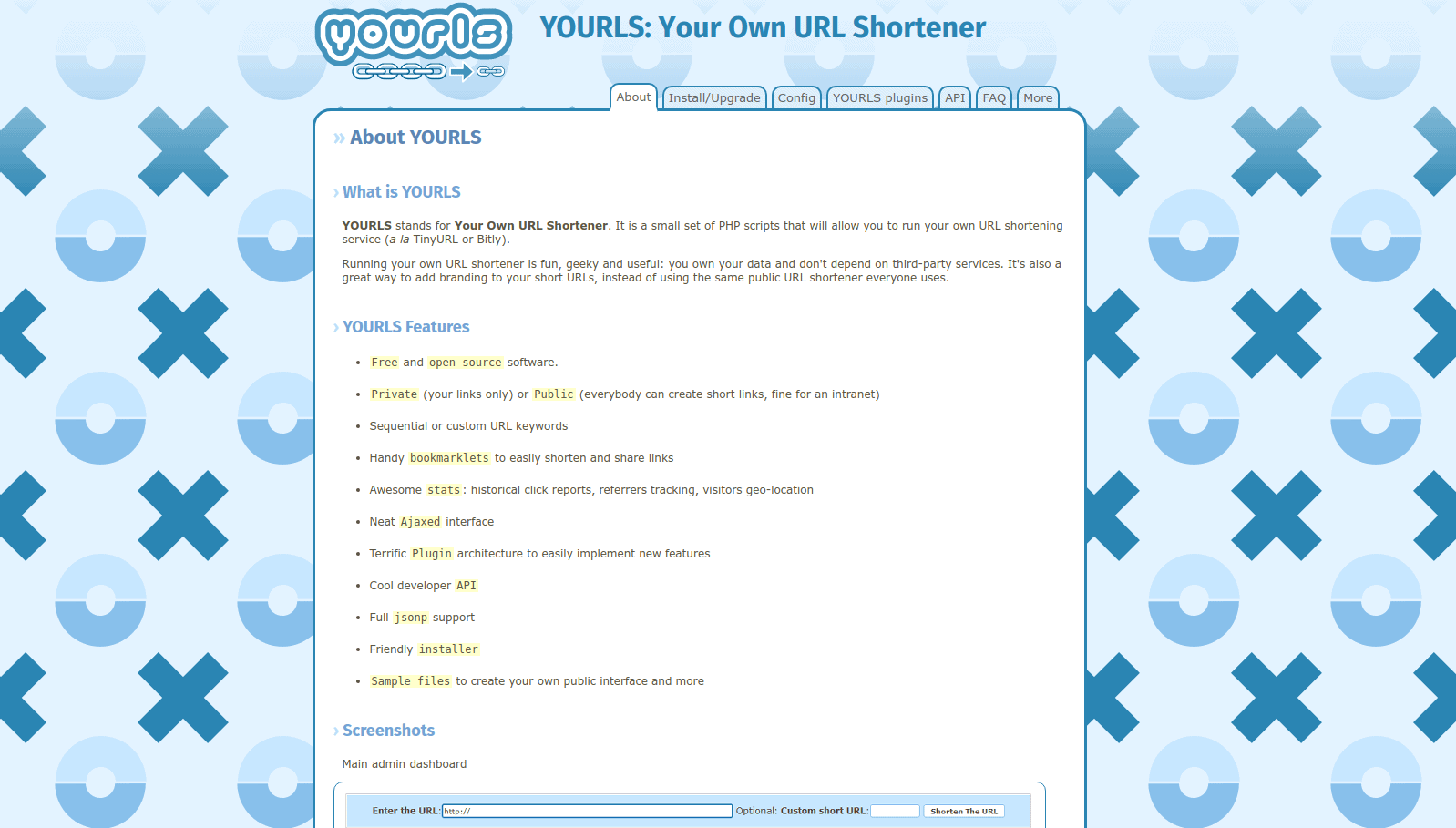 YOURLS is a rather specific tool, suitable for those who have at least a little experience in programming.
YOURLS is an open-source project created by enthusiasts. You're not asked to pay so that to use it.
Regarding the weak points, the service is inconvenient to use "out-of-box", you will have to tinker with the settings. There are a lot of materials on GitHub, but they are not adapted for the average user, clueless about programming.
Bit.do — share links and track clicks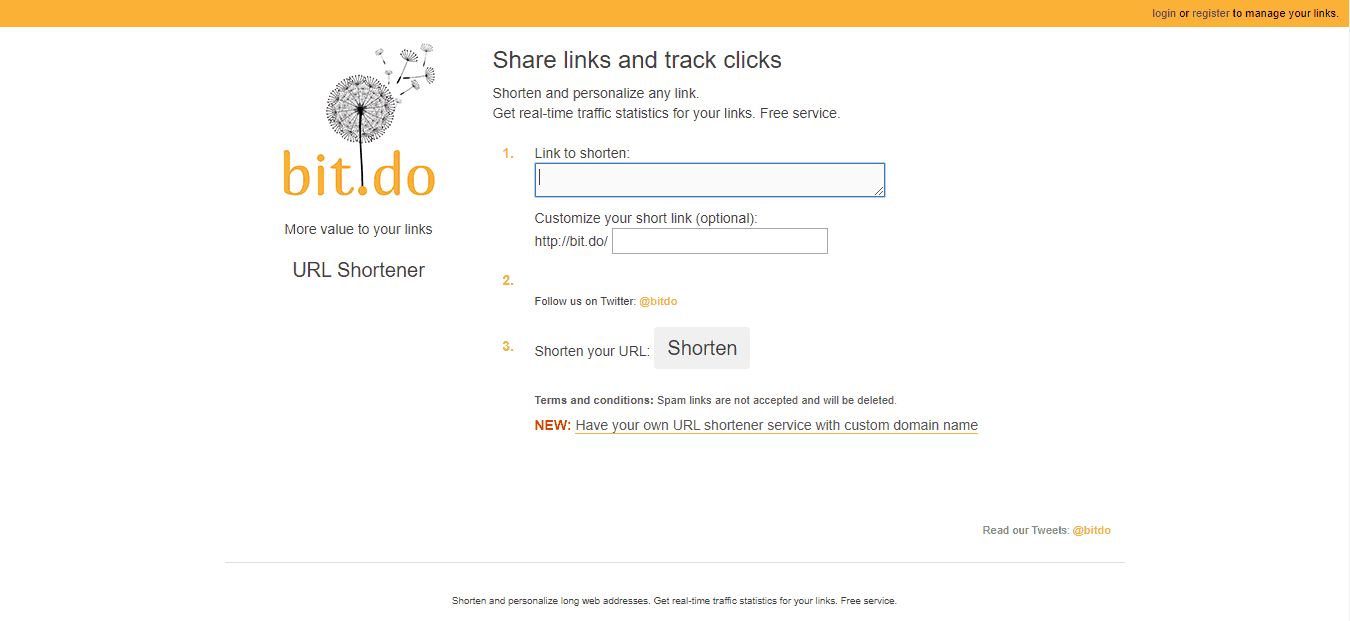 The main flaw of the service is the relatively small number of clicks on which statistics are gathered. Another weak point is the website design. It's oversimplified. It would do no harm to make information about Bit.do features more prominent.
Summary
If we consider the technical side of URL shortening, the process is very simple — insert the web address in the appropriate field and get a short link in a second. Such services differ in the price and the set of auxiliary functions.
Options such as short links built out of emoticons or buying a domain are rather auxiliary functions.