Popups are annoying ?, and more so when deployed like a web preventing you from reading any content on the website. Ethan Zuckerman was so disappointed with his creation that he came out to utter the "I am sorry" keywords in a lengthy apology. However, it doesn't mean the enigmatic website creators will stop using them. ?
Honestly, a popup isn't as bad as a user might think. If it is deployed correctly, it can connect users with their preferred content and benefit websites with leads of regular readers. It is a win-win deal, but creating user-friendly popups is easier said than done.
Popup builder software has risen to fame over the last few years and reshaped how viewers interact with popups. The software allows creators to redesign their popups and collect leads like never before.
How to Choose the Best Popup Builder Software?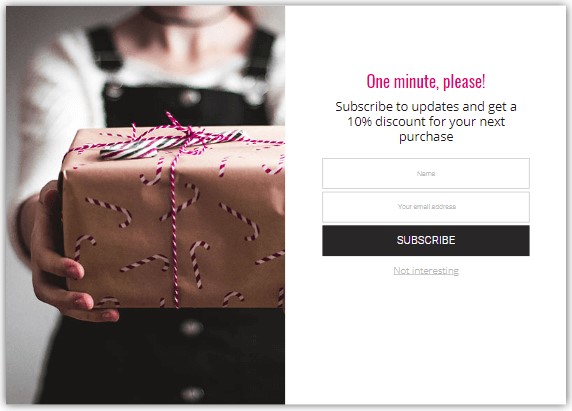 Every popular website, such as Forbes or Huffington Post, uses popups; their significance in reducing acquisition costs is undeniable. However, website developers should find the best popup builder software to enjoy the best benefit. A good popup builder will ensure customers are ready to enter their details and aren't annoyed by the intervention.
So, consider the following factors:
Conversion rates: a fundamental factor in judging the efficacy of a popup builder. Software companies usually publicize average conversion rates for their popups. It can help you evaluate their performance.
Advanced triggering: a reader needs to feel the taste of your website before signing up for your newsletter. If your popup pops up before they can read a word, they will probably skip past it.
Diverse targeting options: different viewers have different fits, so we don't have a fit-for-all popup. A good popup builder software should have advanced targeting options based on user source and path.
Apart from these factors, a popup builder should also excel with an easy-to-use interface, multiple templates, analytics, and shared integrations.
If you aren't aware of a popup builder software that fits the criteria, you should still not worry! I'll take you through the 7 best popup builder software, which will ease your marketing efforts. Let's go!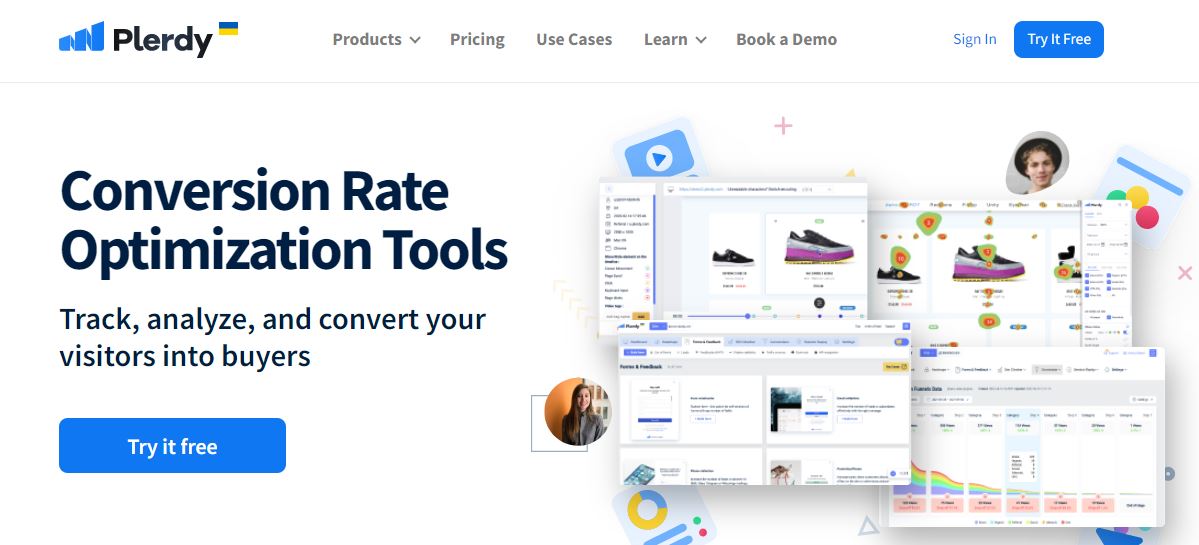 Plerdy has made a name for a great digital marketing platform. Popular eCommerce companies have used our popup builder software and consistently brought outstanding results.
Plerdy promises that the popup builder produces as high as 30% CTR and has an innovative interface that saves your time in popup development. It allows you to create different popups for users at various positions across your website.
The software will enable you to develop persuasive popups to convert your abandoned carts. The video popup feature allows you to present invites and offers in an exciting new way. Plerdy also has over 20 display rules to create a better customer experience. The API with email tools and Google analytics orchestrates event data to launch remarketing and improve your results.
The popup builder software is also ranked highly amongst experts due to its innovative targeting options. The analytics can be segregated based on user attributes and sources to gain deeper customer insights. Moreover, you can also use Plerdy to create different types of popups, including surveys, forms, and video popups.
Softserve, Kredo Bank, SamCart, and many other famous companies currently use Plerdy's popup forms. Another standout feature of Plerdy is the easy process of popup creation. You can find a detailed outline of our complete work system on our Youtube channel.
With Heineken, VANS, and Jaguar amongst their customers, Wisepops is a solution provider for mega businesses. Their popup tool has impressed the masses, and its unique features set it apart from its competitors.
Wisepops boasts the ease of its popup builder usage. The popup builder software requires no coding expertise to develop or deploy the popups. Users can use the drag-and-drop editor to develop a beautiful popup. You can change the popup requirement based on your marketing strategy.
Wisepops has numerous targeting options that allow you to segregate your viewers into over 40 divisions. The 1-click feature enables you to compare user attitudes toward the popups. It also offers multiple triggering options to make the most of your popups. Wisepops has split A/B testing that enables you to experiment with your creatives.
Over time, Wisepops has grown into a trustable popup software builder. It has gathered customers across 193 countries and is used for 166 million popups. The average CTR is 6.4%, but businesses can score better with an improved strategy. Wisepops' user base includes famous names such as Unilever, Blume, Asphalte, and others.

More than 1.2 million users have already trusted OptinMonster for their website's popups. Their services advocate for their vast user base. OptinMonster started in 2013, and its service portfolio has grown over the last decade.
The popup builder software was the first to introduce the "Exit intent technology." It detects a user's behavior while interacting with the popup and modifies it to drive better results. OptinMonster has over 100 different popup templates designed beautifully for the best results.
Apart from other similar services, OptinMonster also specializes in advanced traffic redirection. Businesses can use OptinMonster's popups to advance their funnels and improve their conversion rates. The software company has diversified its popups to suit varying website needs. They offer gamified wheels, scroll boxes, and floating bars to meet different customers' tastes.

Picreel has developed good marketing solutions to boost your conversion rates significantly. The company's popup builder software has reported an improvement of over 300% for some users after its implementation.
Picreel's popup builder doesn't only emphasize popup development, but it also focuses on customer behavior. Picreel utilizes AI to evaluate the customer's navigation pattern. It helps create personalized popup graphics and displays them effectively for the viewers.
Picreel provides over 100+ templates in over ten different categories to suit varying customer tastes. Their standout feature is the unique offer or question popup. You can use the builder software to target movements and actions.
Once an action is performed, Picreel displays a personalized offer or question that boosts conversions. Picreel's popup builder can help you increase lead conversion and reduce customer acquisition costs.

Launched in 2022, Privy is a relatively new popup builder software. The website claims it's the fastest way to grow sales with emails and SMS. Nonetheless, the claim may seem far-fetched, but their services advocate for its accuracy.
Privy provides all standard features offered by other popup builder software, but it goes a step ahead to improve customer retention. The software company treats humans as humans. It redesigns its templates frequently to accommodate ongoing trends, festivals, and occasions. Any business can quickly deploy the updated popup for better customer reception.
Similarly, Privy also focuses on mobile optimization. Over 53% of website visitors access it using a phone; thus, it's essential to have an optimized popup. Privy's popup builder software has intuitive designs that look beautiful on screen and produce higher conversions.
The software also has numerous integrations to ease your eCommerce journey. Privy is used by many famous companies such as YeboBox, Marbela Cosmetics, Ka'lure swim boutique, and many others. They have obtained numerous positive reviews from customers worldwide.

Modern consumers are harder to retain due to rising competition. Static popups are no longer as effective as they used to be, and it is time for gamified popups. Popconvert started as a conventional marketing tool but has grown to one that includes a diverse portfolio of services.
Popconvert stands out from its competitors due to its innovative popups. They have developed a series of interactive popups for various points across a website. The software claims you can boost your results by up to 10x within 5 minutes.
Popconvert's interactive popups are divided into numerous widgets and games. These popups convince users to stop and try them, leading to a better conversion. Popconvert also uses behavioral targeting to display relevant ads at the right stage. It helps you bring more customers and enhances your customer experience.

Founded in 2018, Popupsmart is the last but not the least popup builder software on our list. Popupsmart has added innovation and advancement to its development, which has helped them gather a loyal audience.
The software focuses on streamlining the popup development process to enable creativity and limitless thinking. It has distributed the procedure into four steps, and users use and edit the templates to suit their customers' tastes.
They have a comprehensive series of games, forms, widgets, and essential popups to increase customer interaction. You can use an appropriate popup type to increase your CTR. Popupsmart also stands out in terms of its targeting and integrations.
It enables you to segregate your audience into five different categories. You can track their source, movements, and actions and personalize their popups. Popupsmart has over 120+ integrations, making it a seamless fit into your network.
Conclusion
Popup builder software can significantly impact your customer retention and engagement. You should always select a popup builder software with interactive templates and comprehensive targeting that can easily be deployed to your website.
Most popup builder software mentioned in the blog fits these criteria. However, some may have better features that require a higher price. Hence, if you choose one from the list, ensure it fits your budget and long-run goals.