What is the tool that is essential for every marketer? The modern market is full of diverse instruments, so choosing what suits you better may be challenging. Privy is one of the solutions designed to help you grow your store and thus increase your income. Learn more from this Privy review.
What is Privy?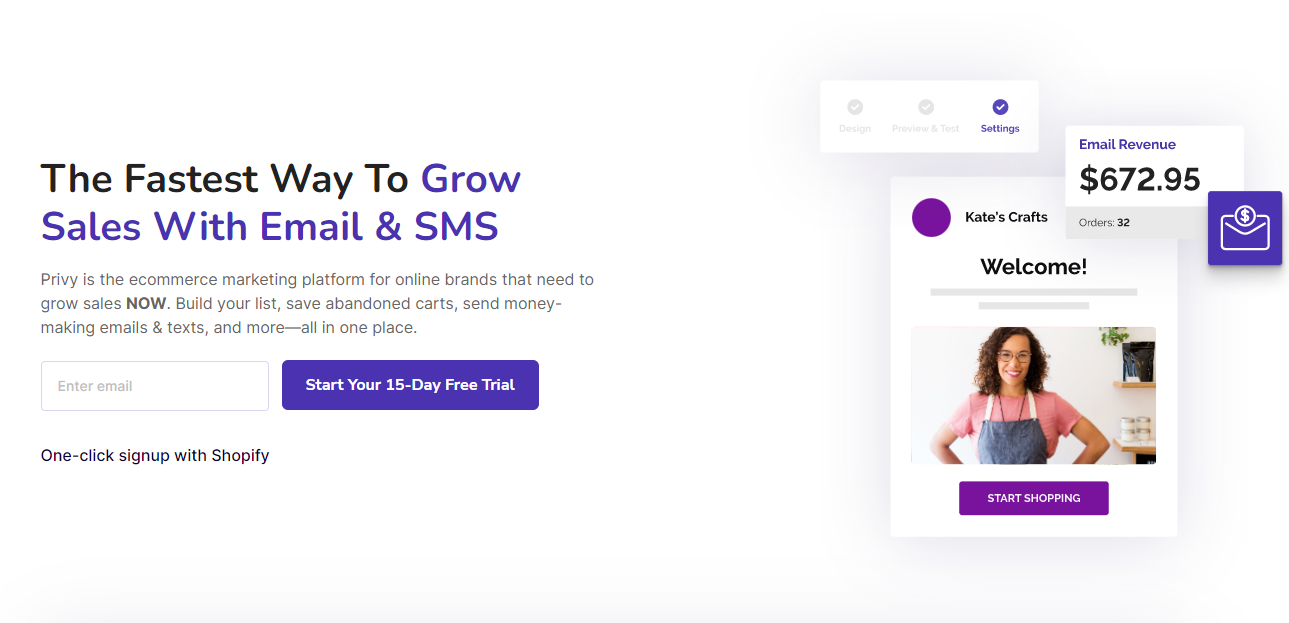 Privy reviews say it is an e-commerce tool that greatly increases your on-site email capture and conversion rates. In addition, it offers great email marketing tools. Here are several Privy reviews from the main page of the tool's website.
What does Privy offer to its customers?
Privy reviews state several things that make this tool good. First of all, the amount of integrations offered is impressive. So, the tech stack you already have will be compatible with Privy: many reviews highlight it.
Then, the email automation functionality is also really helpful for solving your tasks.
Another thing we should highlight in our Privy review is the segmentation components. The ability to segment users dynamically is great, indeed. Reviews show that users like it a lot. You can offer them the right things based on what they bought before, what pages were visited, and the products in their carts. Again, this influences your store's performance significantly: reviews vividly show it.
What metrics improve?
No Privy email marketing review would be full without the information on what metrics can be improved with the help of the tool. The first thing that improves is the on-site conversion rate. Next, you get better chances to watch your customers.
Your email list size improves as well. It grows significantly: Privy reviews say you will immediately notice it. It means your brand recognizability will improve, so your sales will be sky-high!
What about tool management?
Speaking about setting up, it usually takes about five hours (detailed segmentation). As for management, it is not too complicated, according to reviews. A head of marketing and a marketing manager will cope easily.
Options offered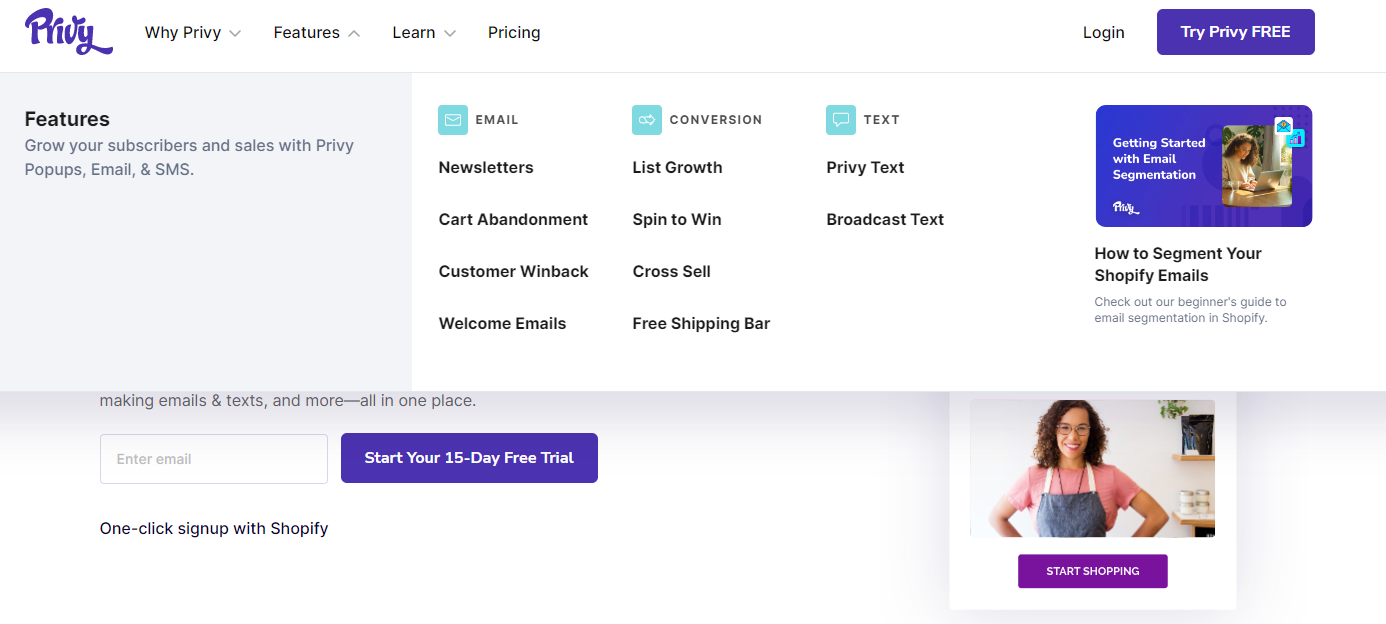 Here are the options you will be able to utilize.
Single-use & bulk coupon code integration. Surface coupon codes in your pop-ups & autoresponders
High-quality customer support.
Customizable displays ( like pop-ups, banners, flyouts, announcement bars).
Run automated A/B tests and optimize your conversion rates.
Target campaigns based on various criteria.
Send messages to increase sales.
Set up a free shipping bar to boost average order value & cart conversion rates.
Automate your email marketing with different mail types.
Synchronize contacts to 50+ email marketing services.
Should You Use Privy?
Both positive and negative Privy reviews can be found on the Internet. Nevertheless, we are convinced there are many more positive aspects. So let's consider the benefits and drawbacks for you to make the right decision.
Advantages:
Diverse helpful instruments to grow your email list.
There is an editor that helps create content.
Automated cart-abandonment emails.
Templates library is available.
Instruments that help increase AOV (free shipping bar, cross-selling campaigns).
An extensive contact list (filtering option is provided).
Customer targeting helps to monitor people carefully.
Disadvantages:
You will have to pay additionally if you require a bigger contact list.
As you can see, there are many options you will enjoy. We are convinced you will like your user experience, as positive aspects are numerous. Another thing we haven't discussed yet in our Privy review is prices. There are three tariffs offered. Those are Free, Starter, and Growth. The price is $15 per month, but you can try it free. You have nothing to lose, so why not give it a try? Features of each plan differ, so make sure to check those before you dive into this experience.
Privy Review

It's high time to take a look at the real user reviews! We have selected several reviews to make the fullest picture for you.
"Great free marketing tool-Privy Text is fast and easy!" – Brindy Nuttall
What do you like best about Privy?
Privy is easy to navigate and creates newsletters for our customer base. The privy text has also been easy to use, and it's a fast way to send out messages to those who have signed up for text! Customer support is always helpful when I have an issue, they respond fairly fast and get the job done. I like that there are ways to segment my emails, especially when I wanted to resend a sale reminder but didn't want to include those purchased in the last few days.
What do you dislike about Privy?
I wish there were more creative and professional-looking template options for newsletters, which look amateurish.
"Really great for creating newsletter campaigns and gathering emails from sign ups on your website." – A-Rushh Menez
What do you like best about Privy?
Newsletter campaigns and the ability to create aesthetic pop-ups on your website shop. I like to use the column tools in the newsletter edits to add text and images to create compelling emails.
What do you dislike about Privy?
The price depends on which subscription you choose and how many email sign-ups you have, so the bigger your brand grows, the cost does as well. That might be the only thing I dislike.
Recommendations to others considering Privy:
Start with the trial. Guarantee you'll love it.
What problems is Privy solving, and how is that benefiting you?
It is solving the email list problem that I had before Privy. I was using MailChimp, but could not customize it as much as I could now with Privy. It's an amazing tool to have.
"We all need this service" – Aura Lora
What do you like best about Privy?
I love the templates and how helpful customer service is.
What do you dislike about Privy?
Sometimes it can get a little confusing when setting up campaigns. It would be very helpful to have a how-to video tutorial to pop up on the task you would like to complete. Some of us are a little more challenged than others.
Also, I wouldn't say I like that whenever I create an email, I have to add my social handles. It would be nice to have the automatically suggested like the Facebook one.
Recommendations to others considering Privy:
Privy has everything you need to help your business grow. Customer service is great and always helpful. I love how they have templates available for you to customize and send an email for marketing. You don't have to worry about the layout they take care of it all. I can't do without them.
What problems is Privy solving, and how is that benefiting you?
Privy comes to the rescue when social media isn't working with email marketing. I'm now ready to try and enroll in text marketing as well.
Conclusion
Hopefully, this Privy email marketing review was helpful. As you can see, it is a nice solution that can be helpful for your business. In addition, an impressive selection of options is guaranteed to impress you. Good luck!