Any web portal will be detrimental if it is not in demand. Potential customers must want your product and visit your virtual platform more often. It requires high-quality synchronization and optimization of the online resource. Hiring a smart team of professionals is more convenient for this.
What is OptiMonk?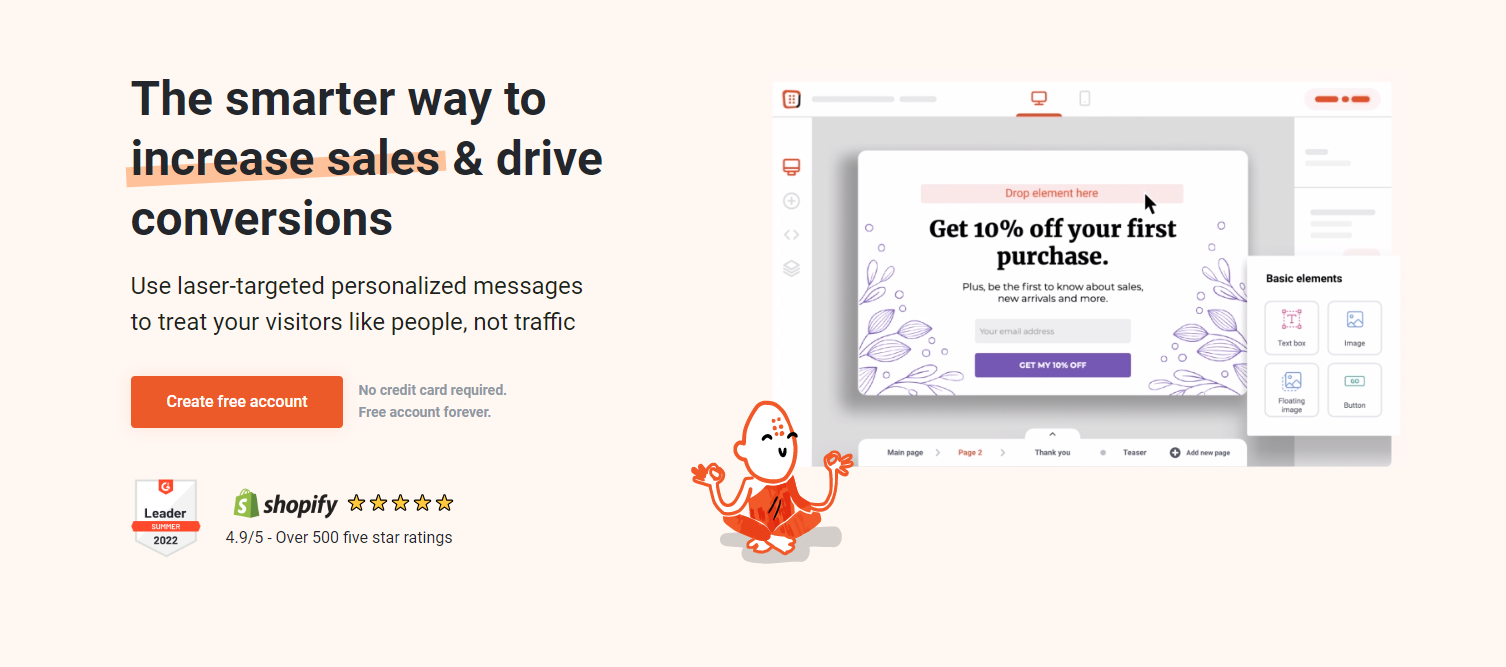 The company offers an experienced team to make your website successful and popular. You don't need to go into details because OptiMonk takes the case and takes a close look at the features of your product. Many OptiMonk reviews prove that this is not just the introduction of keywords and phrases for search engines but a deep analysis of your online platform for its high-quality SEO optimization and ranking increase.
What is Privy?

Privy offers to take your Internet business to millions of dollars. These qualified experts study the segment of your offer and create a profitable online platform. The agency offers effective digital marketing tools to optimize things you may have forgotten. As a result, your product becomes in demand in the shortest possible time, and you receive inflated traffic. The development of your virtual store will be rapid, bringing more profit.
Compare OptiMonk vs. Privy
Virtual stores are constantly growing and developing their opportunities for customers, so they must be updated and expanded. Clients' needs change, and you should know what they want. Regular monitoring of the market and support of a web resource requires a lot of time, knowledge, and money. Learn the features of OptiMonk vs. Privy to choose a suitable company and turn your website into a desirable product with excellent returns.
Pricing OptiMonk vs. Privy

OptiMonk has a free version and four paid packages. You can pay monthly and purchase: Essential, Growth, Premium, and Master. Each variation has a certain number of domains and pageviews. For the free version, this is 15,000 pageviews and one domain. The Premium package ($199) has 500,000 pageviews and ten domains. If you choose Master, contact the experts to know this OptiMonk pricing and package details.
Privy offers a free version and two paid packages: Starter and Growth. The last type costs $45 per month, but you can select the set of features you need and calculate the exact sum online. Each package differs in tools and the number of mailable contacts. The free version is limited, but it's enough for a simple function to optimize the virtual platform. Paid packages are more advanced; some tools have no restrictions.
Solution OptiMonk vs. Privy
OptiMonk specialists always create a trusting relationship with clients to work carefully on their products. Each online platform is a unique project with an individual approach. A high level of service, affordable prices, and professionalism will bring your site to the top positions for greater profitability. Any difficulty in SEO promotion is a challenge for OptiMonk, and the team always does the job efficiently and operatively.
Privy offers a unique approach to increasing sales through communication with customers. The group offers email, SMS, and conversion tools to prove to your consumers that your product is useful and needed. Experts accompany you at every stage of communication with users to attract them and make them want your products. New visitors, live chats, pop-ups, advertising mailings, promotions, special offers, and other elements for growing your business will increase its profitability.
Customer Review Optimonk vs. Privy

Among various OptiMonk alternatives (Adoric, SALESmanago, etc.), Privy is the most popular. Both companies have created unique tools for the digital analysis of web portals. OptiMonk's main direction in researching customers' opinions is e-commerce, marketing automation, pop-up builders, and Email marketing. Privy provides more opportunities: these functions plus personalization, retargeting, lead capture, and lead generation.
Tariff plans differ, although users gladly purchase packages from OptiMonk to work with large-scale Internet platforms. Customer feedback also shows that OptiMonk's templates and functions are simpler even if you don't have specialized skills. In addition, the support teams at both agencies are very friendly and willing to help at all stages of cooperation.
Benefits Optimonk
The goal of the company is to lead your business to e-commerce success. It is a team of SEO specialists, designers, programmers, managers, and marketers who work to grow your online marketplace. The agency's founders are Nicole Mezei and Csaba Zajdo; the main office is in Debrecen, Hungary.
The main advantages of OptiMonk:
Retargeting.
Design and customization.
Audience segmentation.
Behavioral targeting.
Analytics campaigns.
CRM/Email integrations.
No-Code customization.
Lise B is happy with the features of this tool because she got live chats, templates, easy dragging icons, and 24/7 team support. Peter T also appreciated the variety of templates and their ease of use even without special knowledge of the program. For Dylan R's needs, the agency group did a great job with regular support and finding new solutions to address the weaknesses of his web resource. OptiMonk reviews on WordPress also describe the benefits of running a site to increase subscribers and traffic.
Benefits Privy
Privy offers Coaching + Support from Ecommerce for even entry-level virtual businesses. Any task to establish communication with potential customers is a priority. The main office is located in Boston, Massachusetts, and the director of the Privy company is Ben Jabbawy.
The main advantages of the Privy company:
A suitable product catalog (templates).
1:1 e-commerce coaching.
Easy-to-understand revenue reporting.
Live chat + email support.
Automated abandoned cart emails & texts.
Free boarding session.
Creating unique or master coupon codes.
Brindy N used Privy power to navigate and create newsletters, and simple tools helped her to segment her emails. A-Rushh M used the features to develop aesthetic pop-ups; he liked the tables and columns to insert images into the body of emails for newsletters. Aura L thinks that her customer service has improved thanks to Privy features, and she also finds the templates quite creative.
Conclusion
Each site can become outdated for users. Their requirements are changing, and they search for multifunctional portals to satisfy all their needs. Any OptiMonk review will tell you that this product is ideal for enhancing your online projects. Privy also stays up to date by offering even more helpful features to generate leads and increase your site's profitability.