After the first couple of steps towards business growth, small business owners soon start thinking about investing in social media marketing and overall online presence. And exactly that step divides any small business from another. A small business with a social media presence shows that they know what they are doing and, most importantly, they are here to stay, which is the first step toward true small business prosperity.
Also, while big companies have to maintain the specific brand image they made in their customers' heads, a small business can build a brand from scratch on social media. With social media marketing for small businesses, you can create any brand image you want. But once you choose what your brand will represent and what feeling it will invoke from your customers, there is no turning back.
There is no college for learning how to ensure social media presence. However, many businesses successfully create effective social media strategies by following valuable tips and trends. So let's start with these 7 tips that made social media marketing for small businesses more understandable and your investment – profitable:
1. Use Platforms that Make Sense
Regarding social media marketing for small businesses, it's essential to know where a broad audience is hanging out and spend time investing in those platforms. Fortunately, there are a few ways to determine which social media websites the target audience uses.
Start by looking at the analytics of your current social media pages. See which ones get the most engagement and focus on those platforms first. Also, think about this: are you a visual brand? – Then, Instagram might be the best fit. Do you have long-form content to share? Consider starting a blog or using LinkedIn. Or you can simply follow the statistics.
TikTok officially has over 1 billion monthly active users. For reference, active users of other social platforms: Facebook – 2.9B, YouTube – 2.2B, Instagram – 1.4B, TikTok – 1.0B, Snapchat – 500M, Pinterest – 480M, Twitter – 397M.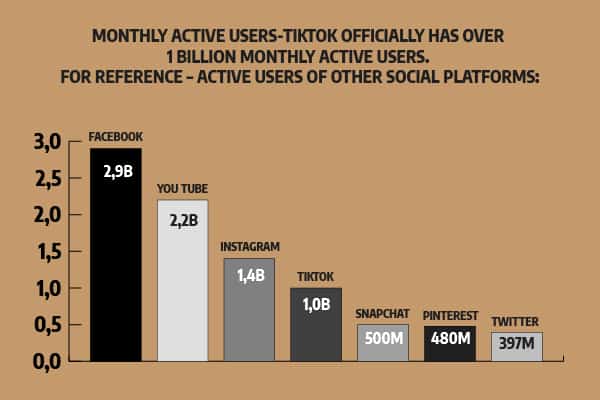 And remember word-of-mouth marketing – it's often overlooked but can be one of the most powerful channels for building a brand. For example, Google My Business offers a free listing that allows customers to leave reviews and add photos – talk about free advertising!
By figuring out where the audience is already active, you can better target social media marketing efforts and see the results you want.
2. Be Consistent with Branding
The truth is that social media marketing for small business owners is a crucial step in establishing their brand, building customer loyalty, and driving sales. However, to show a specific brand image, our social media presence needs to be consistent with the story we tell on our website and other marketing materials.
So why not have some fun with it? Share behind-the-scenes team photos, or share why you started that exact business in the first place.
Customers want to know who you are, what you stand for, and what makes you different. So please share your story on social media, and ensure it is consistent with the story you tell on the website and other marketing materials. Consistency builds trust, which is essential for driving sales and building a successful brand.
3. Include Storytelling in Social Media Marketing for Small Businesses
Customers are more likely to share interesting, funny, or valuable content. So make sure the content you share is high-quality and aligns with your brand identity.
People are visual creatures, and social media is perfect for sharing eye-catching visuals. So social media strategies for small businesses should incorporate pictures, infographics, videos, and more. For example, if you sell health products, create content that educates the target audience on the importance of leading a healthy lifestyle.
Besides, you should know that every platform has its own rules. For example, Linkedin is a platform for business people, so the content you share should be appropriate. So, do research.
4. Focus on Engagement in Your Social Media Strategies for Small Businesses
Social media is not a one-way street. First, for an excellent start in social media management for small businesses, you must engage with customers to build relationships and drive sales. Respond to comments and questions promptly, and run regular promotions and giveaways to keep people interested in your brand.
To keep the target audience engaged, it's important to post new content regularly. Start by planning a content calendar to ensure you always provide fresh and exciting content.
And always keep this in mind when your audience is active. For example, Twitter is a great place to engage with customers since a significant percentage of the target audience visits that social media network daily.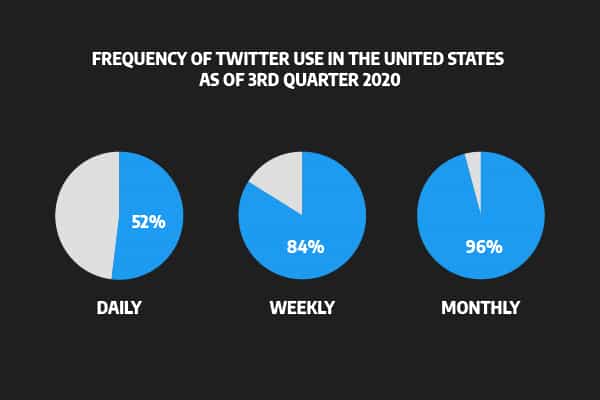 5. Monitor Activity and Measure Results
Don't forget to monitor all social media channels regularly so you can identify any problems and take advantage of any opportunities.
For example, if you see that one of your posts is getting a lot of engagement, you should create similar content in the future. Conversely, if you see that a particular type of content isn't performing well, you should adjust your social media strategy accordingly.
6. Include Paid Advertising in Social Media Marketing for Small Businesses
A social media strategy should also include a plan for paid advertising. Paid ads can help you reach a larger audience and generate more leads.
Consider using paid advertising on platforms like Facebook, Instagram, and Twitter. These ads can help you reach a wider audience – and with targeted options, you can even narrow down precisely who sees your ad.
Plus, paid advertising can increase the likelihood of engagement, leading to more followers and potential customers. Make sure you track results to know whether or not it's worth investing in these ads.
7. Embrace Trends of Social Media for Small Business
Social media marketing is constantly changing, so it's essential to stay up-to-date on the latest trends. By embracing new trends, you can keep your social media presence fresh and engaging.
Live video is one of the hottest trends in social media. If you haven't jumped on the live video bandwagon yet, it's time to do so. Take all factors into consideration before you start recording.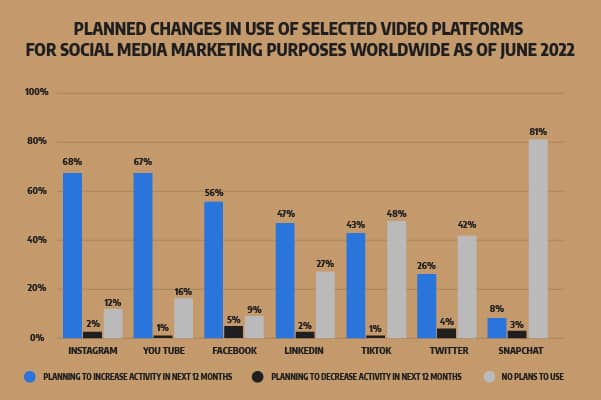 These statistics show that 68 percent of responding industry professionals stated they would increase their video activities on Instagram in the following 12 months, while 67 percent said they would do so on YouTube.
Live video is a great way to authentically connect with the target audience. It also allows you to show personality and build rapport with viewers. Unfortunately, small businesses often shy away from live video because they think it's too complicated or time-consuming, but that's not the case.
There are plenty of easy-to-use live video platforms out there, such as Facebook Live and Instagram Live. All you need is a smartphone and a little bit of creativity.
Conclusion
Now that the list of priorities is here, you can start building social media marketing for your small business ?‍?. But before you start with that creative work, be aware that it can consume you fast because there are a lot of new trends regulations, algorithm changes, authors' correct terms and conditions, and much more that can harm your business. So think through everything again, and even if you decide to hire a marketing agency to do this for you, you will be glad you educated yourself about this topic, and at least you know what to expect and look for in their services.
And remember, you are the one that knows your industry the best, so don't be afraid to use that knowledge ? you got for the job in social media marketing for small businesses and start picking the fruits of hard labor.
Start by following these tips, and you can effectively use social media to grow your small business!