Business analytics (or BA for short) means the process of monitoring historical and current data to obtain practically valuable analytical information for taking strategic steps for the business. As a result, the specialists engaged in such research, their forecasts, and models help eliminate problems at enterprises, increase their reputation and make them viable in the market.
There will be no competition for the business analyst profession in the coming years, so prospects are excellent. Since technology is developing every day, businesses require competent specialists, and experts do not expect a decline in the labor market. Therefore, it is worth completing business analytics courses.
Types of Business Analytics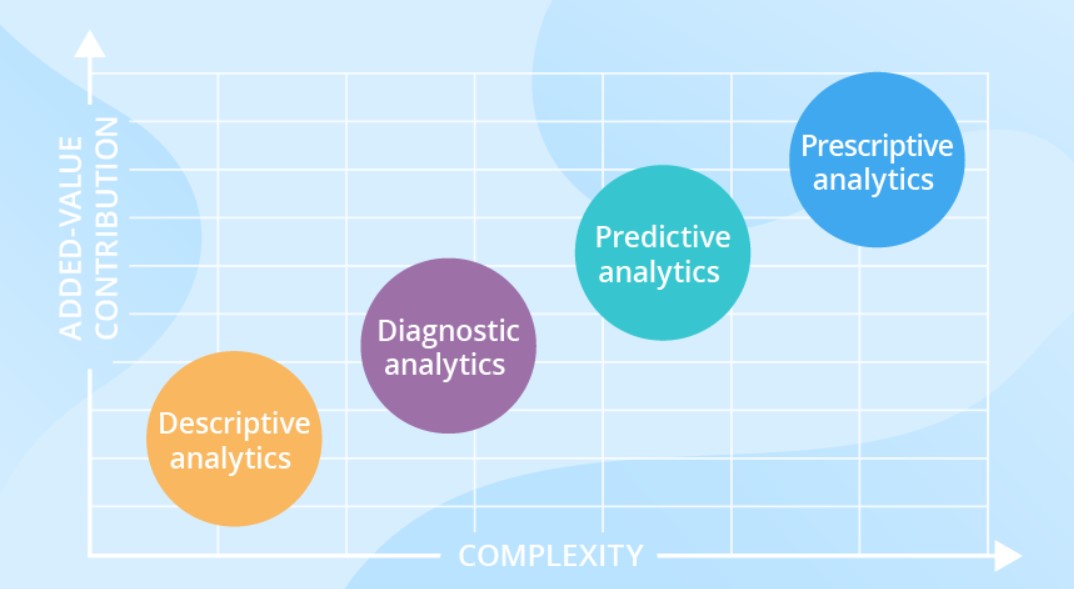 It is customary to distinguish 4 types of business analytics, differing in order of complexity of working with information and the human involvement degree.
Descriptive Analytics
This type answers the question "What happened?" by creating a summary of historical data for further analysis. For instance, the continuous collection of information from production equipment using smart sensors and other IoT/IIoT devices will allow you to accurately determine the moment of failure in the technological process.
Diagnostic Analytics
This type of BA analyzes information to answer the question "Why did it take place?". Statistical methods of data analysis help here to cluster, classify, detail and detect correlations to determine the main factors affecting results.
Predictive Analytics
It predicts strange events hereafter, answering the question "What can happen?" taking into account the analysis of accumulated information. Specialists use many means here: mathematical statistics, modeling, computerized learning and other areas of Data Science, as well as data Mining.
Prescriptive Analytics
This research answers, perhaps, the main managerial question, "What to do?". Here, analysts, with the help of computer-aided instruction and other artificial intelligence methods, analyze all the accumulated and treated data to find perfect solutions for some specific situation.
Business Analytics Courses
Many training programs exist now. There you can acquire business analytics skills. Let's study some of them.
EdX Courses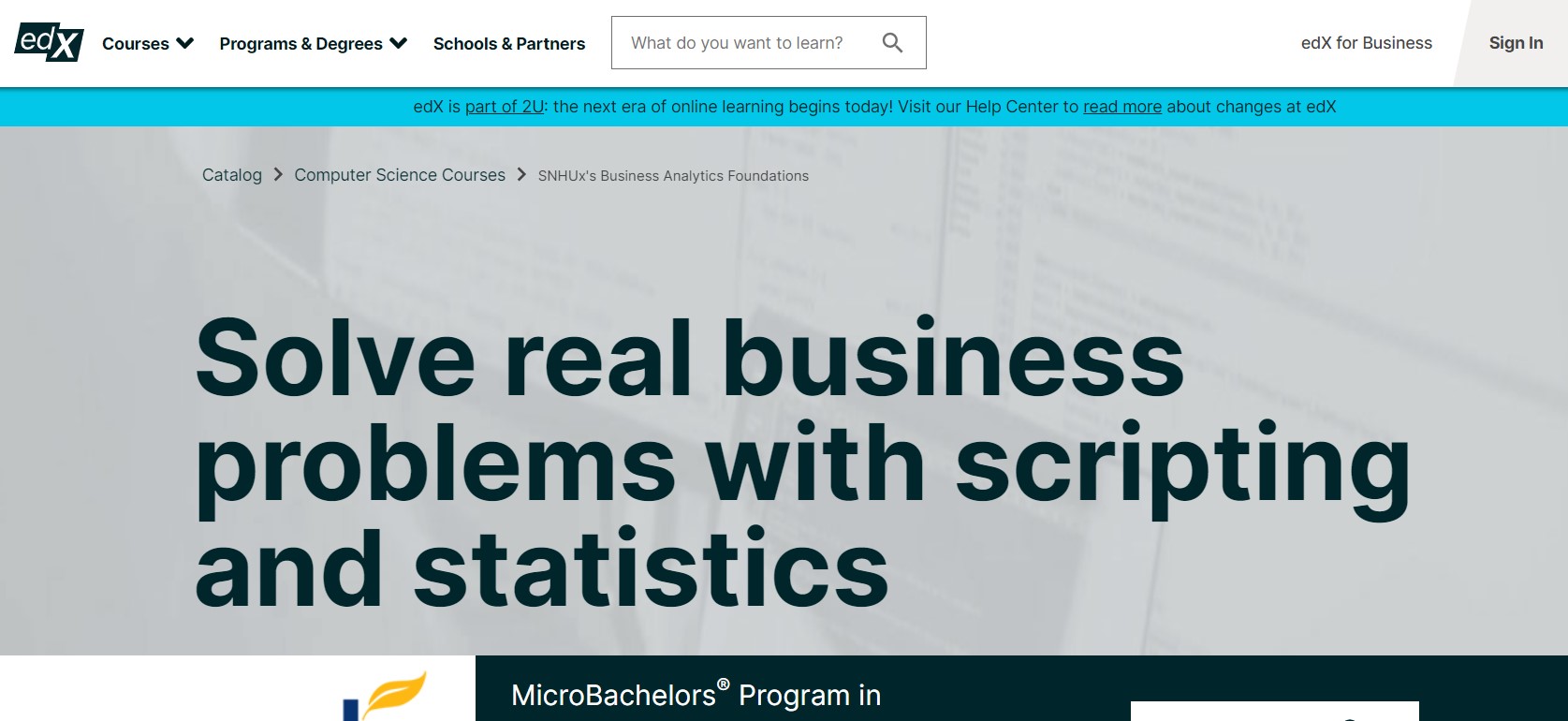 Open for yourself this joint initiative of MIT business analytics, Harvard University and the University of Berkeley. EdX teaching methodology comprises lectures divided into modules of up to 10 minutes, alternating with exercises to provide effective material assimilation. On average, 1 course lasts 4 weeks. The instructors of the courses are:
Gwen Britton – SNHU, Associate Vice President;
David Sze – Mathematics;
Curtis George – Computer Science;
Ben Tasker – Data Science and Data Analytics.
Here, you will learn statistical methods for analyzing, question formulation, methods to solve business problems, etc.
Coursera

In the business analytics Coursera you can start from several courses and then choose the one you want to master the skill perfectly. Your lecturers will be:
Eric Bradlow, a Professor of Marketing;
Martine Haas, an Associate Professor of Management;
Sergei Savin, an Associate Professor of Operations, Information and Decisions and others.
In general, 12 teachers will guide you for one specialization. It includes four courses, and each lasts 4-5 weeks. A practical project must be completed to finalize the specialization and receive a certificate, which you can share with potential employers and colleagues.
Harvard.edu

Harvard University, one of the most famous global educational institutions, which has received wide recognition, offers business analytics courses. They last from 2 weeks to 2-3 months. University professors teach students how to apply fundamental quantitative methods to real business tasks, from performing A/B testing on a website to using sampling to check inventory. At the end of the course, students will:
learn how to interpret data for making business decisions;
recognize trends;
generalize datasets;
test hypotheses;
perform regression analysis and other analytical methods in Excel.
Udacity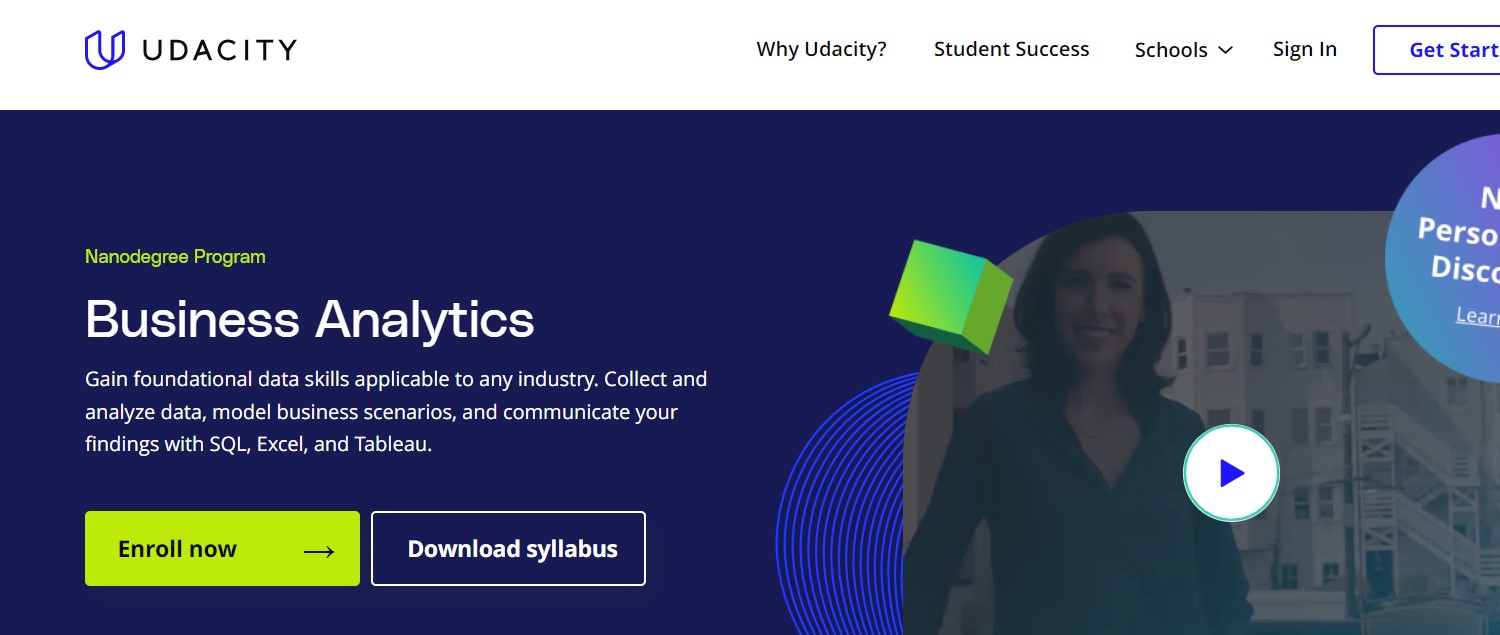 Udacity aims at students who want to gain practical skills necessary for career development or profession change. Their business analytics course consists of video lectures with test questions for knowledge control. Some lessons include projects.
Your instructors will be skilled practitioners from the required field:
Patrick Nussbaumer, a Technical Director at Alteryx;
Josh Bernhard, a Data Scientist at NerdWallet;
Derek Steer, CEO at Mode.
Courses here usually last several months. After completing the traineeship, students receive an electronic certificate. But it is possible to get a Verified Certificate, too.
Coursera Analytics
The educational resource includes this specialization in the online program MBA. It is from the University of Illinois at Urbana-Champaign partner on the Coursera portal. Here you will be guided by 5 instructors under the guidance of Ronald Guymonfrom the University of Illinois.
You will learn:
to process data with special software, and how to choose the best applications;
the algorithm of exploring the interaction with data analytics;
to approach business problems with the help of analytic mindset;
how to use summary statistics and what kind of data you need for visualization and solving tasks.
Conclusion
In the business analyst profession, you can advance in different directions. If you choose horizontal promotion, you will be able to become an ace in a certain field of activity, delve into specialization, move into system analysis or architecture, and improve your skills in individual niches. Vertical promotion will help you grow from a junior to a senior specialist.
The profession of a business analyst is very creative and involves great responsibility and organization. You have to move, learn new things, and develop. To do this, you will need the courses, the best of which are listed above.