Welcome to the fantastic digital journey where we unravel the "17 Best SEO Tracking Tools" ⚡. Every savvy marketer knows that effective SEO tracking is the heart of a successful digital marketing strategy. The correct tools can turn tables, shooting your website's visibility and ranking sky-high.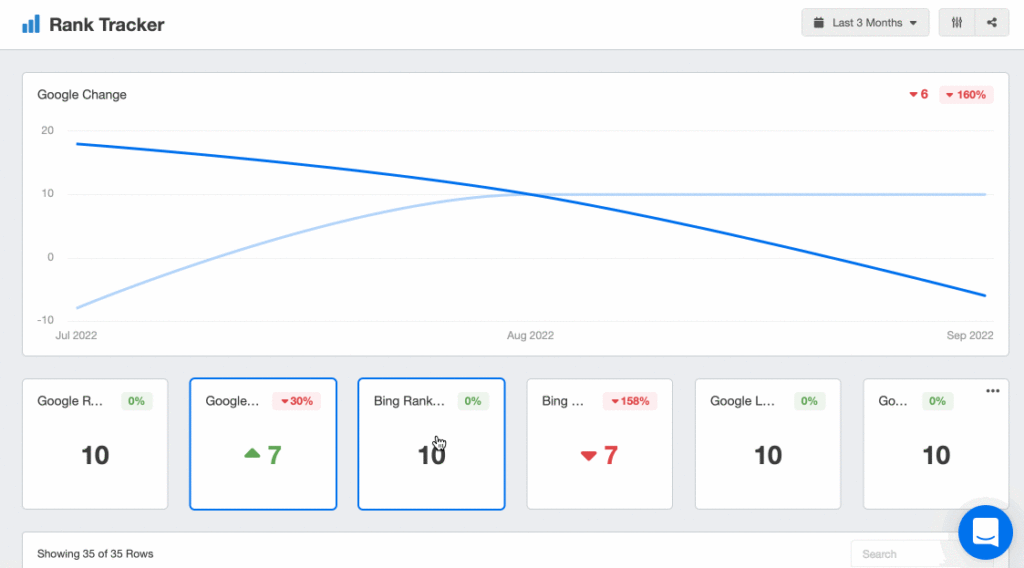 We've handpicked 17 SEO tracking tools that pack a punch in optimization and tracking. Ranging from comprehensive solutions to niche-specific tools, they share a common aim – boosting your website's SEO health. Here's a sneak peek:
Google Analytics: All-rounder for website data insights.
SEMrush: The go-to choice for competitor analysis.
Plerdy: An unmatched tool for UX & SEO, promising top-notch data insights.
Stay with us as we delve into the specifics of these SEO tools, unveiling their unique features, advantages, and use cases. We will provide snapshots of how each tool can supercharge your SEO game and ultimately lead to conversions and higher website traffic ?.
Don't wait around – get a head start on your competition. Let the magnificent power of Plerdy elevate your website. Activate the Plerdy tool for CRO & SEO now and step into the bright future of digital marketing ⚡. Dive into our article, gather your tools, and start crafting a powerhouse SEO strategy today!
Importance of Tracking & Analyzing SEO Data
In the bustling landscape of digital marketing, tracking and analyzing SEO data is the linchpin for your online success. Imagine navigating the labyrinth of the internet without a compass. That's what happens when you forgo tracking your SEO performance.
Let's break it down – SEO tracking empowers you to pinpoint the nitty-gritty details of your online presence, giving you invaluable insights that bolster your strategy. For instance, eCommerce stores can track product page rankings to gauge customer interest, while bloggers can track backlinks to fathom the spread of their content.
Consider these prime benefits:
Actionable Insights: Track user behavior to optimize website navigation and content. A fitness blog, for instance, can track how many users are engaging with posts about high-intensity interval training.
Improved Visibility: Measure keyword performance to determine which terms resonate with your audience, and tweak your content accordingly.
Increased ROI: By assessing traffic sources, you can identify high-converting channels, and allocate resources wisely.
Take a leaf out of the book of savvy marketers – deploy a robust SEO tracking tool. Don't let your website flounder in the abyss of the internet. Zoom in on what's working and what's not, and refine your strategy with razor-sharp precision. SEO tracking tools like SEMrush or Ahrefs are adept navigators in this digital odyssey, offering a treasure trove of data for those who dare to venture.
Best SEO Tracking Tools
We'll go into the "17 Best SEO Tracking Tools." From each tool's unique functionalities to how they give your SEO strategy the edge it needs, we'll strip everything down to brass tacks. This comprehensive review will serve as your road map in the intricate labyrinth of SEO tracking tools, helping you navigate easily and precisely.

Immerse yourself in the power of Plerdy's SEO and SERP Checker tools — comprehensive solutions for SEO professionals and marketers. Streamline your website conversion rates with the SEO Checker tool, collecting and analyzing SEO data from every webpage drawing traffic. This robust software offers:
Daily Automatic SEO Analysis: Diving deep into your website's SEO health, it keeps you abreast of the latest trends.
Mobile-first Indexing: It factors in Google's "mobile-first" approach, analyzing data from both mobile and desktop versions.
SEO Analysis for Small and Large Websites: Whether your website is a sprawling enterprise or a niche blog, Plerdy supports you.
SERP Checker, on the other hand, takes the pain out of tracking your website's ranking position in search engine results. It collects and delivers key UX & SEO data, painting a holistic picture of user interactions. Here are its main highlights:
Pinpoint Accuracy in Data Collection: Get the most accurate data for your website's SEO performance.
Unveiling Competitors' Insights: Discover important metrics from the top 10 contenders in SERPs, enriching your SEO strategy.
Real-time Tracking: Stay informed about changes as they happen.
Andrew Chornyy, Founder and CEO of Plerdy, designed these tools to be simple and intuitive to use, whether you're a beginner or experienced SEO expert. These all-encompassing tools are trusted by some of the world's largest enterprises, reflecting their efficacy in supporting your SEO strategy. Plerdy SERP Checker SEO tools — the cornerstones of an effective, data-driven SEO strategy.

Step into the arena where SEMrush reigns supreme – an all-encompassing titan in the kingdom of SEO tracking tools. It's like an oracle, whispering the wisdom of the ancients in the ears of digital marketers, SEO strategists, and content mavens. Whether you're an intrepid start-up in the eco-friendly clothing industry or an established online journal, SEMrush offers a cornucopia of features to cater to diverse palettes.
SEMrush's Keyword Magic Tool is akin to a wordsmith forging keyword swords. With it, your website's content transforms into a legion of keyword-infused warriors ready to conquer the SERPs. The Competition Analysis features are your spyglass – granting a panoramic view of your adversaries' strengths and vulnerabilities.
What's more? SEMrush serves up delectable platters of link-building strategies. For instance, suppose you're curating content for a niche, like vintage automobile restoration. In that case, SEMrush helps you to forge alliances with relevant high-authority domains.
Behold the key hallmarks:
Audience Insights: Dive into the ocean of audience data and resurface with pearls of knowledge.
Content Analyzer: Refine your content into a polished gem that catches eyeballs.
Cognitive Social Media Toolkit: Harness the power of social media and fire up your online presence.

Ahrefs takes the baton from SEMrush, sprinting through the SEO tracking tool relay with finesse and agility. Picture a maestro, orchestrating a symphony of tools that empower you to ascend the SERPs. Ahrefs is that maestro. With its unparalleled backlink analysis, Ahrefs unravels the mysteries of your website's link profile.
One of Ahrefs' crowning jewels is the Content Explorer – a treasure map that guides content creators to uncharted territories teeming with gold. Imagine running a website dedicated to artisanal coffee blends. Ahrefs tells you exactly what kind of content is brewing up a storm among caffeine aficionados.
The Rank Tracker and Site Audit features are like the wind in your sails – propelling your website through the stormy seas of the internet. Niche eCommerce sites, such as boutique pet accessories, will find that Ahrefs excels in uncovering keywords that are ripe for the picking.
Feast your eyes on these features:
Site Explorer: A crystal ball that reveals the intricate web of your site's backlinks.
Keyword Explorer: Your compass in the keyword wilderness, guiding you to the Promised Land.
Alerts: Your sentries, ever-watchful for new backlinks, keywords, and mentions.

Let's cut to the chase and dive straight into the treasure chest of SEO tracking tools – Advanced Web Ranking. Picture this: you're orchestrating a grand symphony of keywords, backlinks, and website performance, all harmonizing to elevate your brand's visibility in search rankings.
Advanced Web Ranking wields the conductor's baton with finesse, fine-tuning every aspect of your SEO strategy. Let's say you're in the organic skincare niche. You've sourced the purest ingredients and mixed them into an elixir of beauty. Advanced Web Ranking enables you to choose the right keywords and perfectly position your brand to the audience craving your natural skincare solutions.
One of the striking features is Advanced Web Ranking's Share of Voice. Imagine a stage; your products are the performers. Share of Voice ensures that the spotlight focuses on your brand. The skincare line takes center stage, and the audience erupts into applause.
What's in the toolbox:
Keyword Ranking – Know where you stand, and climb the ladder of search rankings.
Competitive Analysis – Keep tabs on rivals and outsmart them with master strokes.
White Label Reports – Customizable reports that are ready to roll out the red carpet.
Cloud-based Architecture – Access the magic from anywhere, at any time.

Shift gears and cruise down the racetrack with ProRankTracker – the speedster in the SEO universe. Imagine running a fleet of food trucks. Your burgers are sizzling, and the fries are golden. ProRankTracker is the sleek sports car that ensures your food truck locations are zipping through search results, leaving dust in the competitors' wake.
ProRankTracker's real-time tracking is like the high-octane fuel for your SEO engine. As your food trucks serve delectable delights across town, this tool ensures you're always in the fast lane in the local search rankings. Never worry about your competition catching up; you're driving the SEO equivalent of a supercar.
ProRankTracker's Reporting Engine is akin to the dashboard of a racing machine. A glimpse gives you all the vital stats. Your food truck empire is expanding, and this feature ensures you have the data to make the right turns.
Hit the racetrack with:
Local Rank Tracking – Know the lanes you rule, especially when you're serving street-side.
YouTube Video Tracking – Shoot your brand to viral status with perfectly tuned video rankings.
Automated Reporting – Focus on driving; ProRankTracker takes care of the stats.
Multilingual Interface – Speak the language of SEO, no matter where the racetrack takes you.

Let's steer the ship into the uncharted waters of SEO tracking tools, where RankTrackr is the captain. Visualize yourself running an exotic island travel agency. You know the ins and outs of every hidden cove and paradise beach. RankTrackr is the sextant guiding your travel site through the tumultuous waves of search engine rankings, ensuring you find the coveted X-marks-the-spot.
RankTrackr's Local Rank Tracking is akin to the compass rose on a map – steering your travel packages to the top of local searches. When someone yearns to sip a coconut on an isolated beach, RankTrackr ensures your agency is their first port of call.
Harness the wind with RankTrackr's:
Precision Tracking – Navigate through the choppy waters with exact coordinates.
Geo-specific Ranking – Become the master of the local SEO tides.
Competitor Insights – Keep an eye on rival fleets and plot a better course.
Custom Reports – Draw your own treasure maps with data that matters.
When sailing in SEO seas, RankTrackr is the ship to be aboard. With its unparalleled accuracy and detailed insights, it's the first mate that no digital pirate should sail without.

When it comes to SEO tracking tools, Moz Pro stands head and shoulders above the rest. With a plethora of features – Moz Pro sweeps the floor with its competitors. Its Rank Tracking feature is an invaluable asset for any digital marketer aiming to scale their online presence. Let's break it down:
Precision – This tool tracks your keywords with pinpoint accuracy.
Versatility – Keep tabs on mobile and desktop rankings.
Geography – Track rankings across various regions seamlessly.
Updates – Stay in the loop with scheduled reports.
For instance, let's say you run an online store that sells vintage clothing. Utilizing Moz Pro, you can effortlessly keep an eye on your store's rankings for keywords like "vintage denim jackets" or "retro sunglasses". If your rankings dip, Moz Pro's nifty features help you take swift action. The tool boasts an insightful Site Crawl, which delves into your website, spotting any issues that might be dragging your rankings down.
What sets Moz Pro apart is the sheer breadth of data at your fingertips. The tool's Link Explorer unearths an array of backlinks, giving you a crystal clear view of your site's authority. Moreover, its Keyword Explorer ensures your content strategy stays razor-sharp, armed with the most relevant keywords.
In the fast-paced digital landscape, Moz Pro proves itself as a robust and savvy ally in forging a dominating online presence through skillful SEO and relentless tracking.

Picture yourself as an artisan coffee roaster. Your beans are the talk of the town and you're ready to conquer the online market. You need to break through the crowded space of coffee sellers. SE Ranking is your aromatic, rich blend that keeps the customers coming.
SE Ranking brews the perfect SEO blend with its multi-feature platform. Keywords are your coffee beans – you need the finest selection. SE Ranking's Keyword Rank Tracker ensures that you're always stocked with the most aromatic keywords.
The platform's Page Changes Monitoring is like your coffee bean roaster, fine-tuning your web pages, ensuring they're crisp and flavorful. Keep your content as fresh as your coffee, and the customers – and traffic – will pour in.
Let SE Ranking's enticing blend awaken your SEO strategy with:
Keyword Rank Tracking – Handpick the finest keywords like you would your coffee beans.
Page Changes Monitoring – Roast your content to perfection.
Competitor Research – Know what brew your competitors are serving.
Backlink Monitoring – Build a strong, full-bodied link profile.
SE Ranking is the coffee connoisseur's choice – a rich blend of SEO tools that ensures your online coffee shop is the most talked about, the most visited, and the customers' favorite.

Switch gears and think of yourself as a sci-fi indie book author. Your mind is a galaxy of stories waiting to be told. Wincher Rank Tracker is your starship, navigating the universe of SEO, ensuring your tales are heard across the cosmos.
Your keywords need to be as intriguing as your storylines. Wincher's Keyword Rank Tracking ensures your keywords have the allure of a page-turner. When a reader searches for their next interstellar adventure, Wincher ensures your books are front and center.
Wincher's Competitor Analysis is akin to knowing the layout of the galaxy. Navigate your starship with the knowledge of the stars, and avoid getting lost in the vastness of the SEO universe.
Embark on an interstellar journey with Wincher's:
Keyword Rank Tracking – Attract readers with enthralling keywords.
Competitor Analysis – Navigate the stars, armed with knowledge.
Ranking Alerts – Be the first to know when a new star – or keyword – is discovered.
Customizable Reports – Your star map to the universe of SEO.
Wincher Rank Tracker is the explorer's starship in the ever-expanding universe of SEO. With cutting-edge features, it's the trusty vessel that ensures your sci-fi tales resonate across the galaxy.

Imagine you're a bespoke tailor, threading the needle through the competitive fabric of online clothing retail. SERPWatch is the dazzling tapestry woven with precise craftsmanship to showcase your brand to the world. It's the tailor's table where fabric – your website – is meticulously measured and cut for a perfect fit.
SERPWatch's rank tracking serves as a laser-focused pair of scissors, trimming the edges, making sure that your keywords are sharp and stylish. The platform's notoriety for tracking keyword rankings in real-time is akin to a tailor taking measurements with pinpoint accuracy.
Dive into SERPWatch's astonishing features:
Real-Time Rank Tracking – Keep your stitches – and keywords – straight and neat.
Detailed Reporting – Analyze the fabric of your website with a discerning eye.
Custom Alerts – A thread out of place? You'll be the first to know.
Data Visualizations – A tapestry of metrics to marvel at.
SERPWatch ensures that your website fits like a glove, meticulously crafted, and customized to perfection. It's the tool that measures, cuts, and stitches your online presence into a glorious tapestry, a showpiece in the vast gallery of the internet.

Now, morph into an avant-garde chef, eager to pepper the internet with the flavorful zest of your culinary art. Zutrix is your kitchen – the place where ingredients come together in a symphony of taste, where your creations come alive.
Zutrix's Keyword Lab is the chef's pantry – stocked with an array of spices known as keywords. It's the place to find the perfect combination to bring out the flavors in your website content. Your kitchen needs to be known, and Zutrix's Google Rank Tracker ensures your restaurant gets the attention it deserves, by placing it on the culinary map of Google search.
Gather your ingredients with Zutrix's palate-pleasing features:
Keyword Lab – Stock your pantry with the finest spices – keywords.
Google Rank Tracker – Get your kitchen on the culinary map.
Real-time Notifications – Fresh ingredients delivered right when you need them.
Competitor Analysis – Know the flavor profiles of other kitchens.
Zutrix transforms your SEO strategy into a gastronomic adventure. Your website, the kitchen, stocked with the finest ingredients. Your content, the dish that leaves a lasting taste. Zutrix ensures that your cuisine is the talk of the town, with flavors that resonate and a zest that lingers.

Authority Labs is a force to be reckoned with in the SEO tracking landscape. Packed with razor-sharp features, this tool takes the bull by the horns and steers your online visibility to a pole position.
Daily Data – Get your daily fix with fresh ranking data served up piping hot.
Local Tracking – Keep tabs on the lay of the land with hyper-local rank tracking.
White Label Reporting – Craft bespoke reports with your branding, sleek as a well-tailored suit.
Competitor Recon – Scope out the competition's hideout, sneak in, and snatch up their tactics.
Picture yourself running a pet grooming service. Your business thrives on "fluffy dog grooming" or "eco-friendly cat wash". Authority Labs leaps into action, poring over your website to ensure it's spruced up and sparkling in search rankings.
One striking feature of Authority Labs is its Now Provided Report – think of it as a treasure map, guiding you through the labyrinth of keywords, lighting up hidden paths and alleyways. Whether you're keen to size up competitors or eager to sniff out new opportunities, Authority Labs is your trusty sidekick.
In the cacophony of SEO tracking tools, Authority Labs belts out a clarion call, promising not just a tracking tool, but an ally in the quest for online supremacy. It's not just about data; it's about sculpting your niche with finesse and fortitude. Turn to Authority Labs, and never look back.
Now, shift gears and let's put the pedal to the metal with Serpstat – the Swiss Army Knife of SEO tracking tools. It's packed with features that can slash through the thickets of the digital forest, carving a clear path for your website.
For example, if you run an eco-friendly cleaning service, Serpstat will help you sweep away the competition. It shows you which brooms, or rather keywords, to wield to make sure your audience sees nothing but sparkling clean content.
For the creatives, if you are an indie game developer, Serpstat lets you power-up your online presence by finding the golden coins, i.e., backlinks and keywords, which are needed to unlock new levels of success.
Let's unveil Serpstat's array of gadgets:
Backlink Analysis: The grappling hook that pulls in traffic.
Keyword Research: The compass directing you to an SEO treasure trove.
Rank Tracker: The binoculars to spy on your competition.

Botify is the cutting-edge radar that helps you navigate through tempests and treacherous waters to the SEO treasure island. It's the tool that ensures your vessel, aka your website, is shipshape and ready for an expedition.
Let's say you're a real estate mogul. Botify guides you through the turbulent housing market, ensuring your listings outshine the competition and entice those seeking a safe harbor in their perfect home. It's like the Northern Star guiding ships, the beacon you can rely on.
Or, if you're running an online fitness platform, Botify will help you flex your SEO muscles and pump up your online presence. Just as you craft the ultimate fitness regimen, Botify carves out the perfect SEO strategy that has your traffic breaking a sweat!
Botify's nifty features include:
Log File Analysis: Checks the nuts and bolts of your website.
Real Keywords: Like a spyglass, brings the most valuable keywords into focus.
Actionable Reports: Offers the treasure map to make informed decisions.

Swap your captain's hat for a general's helmet, as Rank Ranger transforms you into a strategic mastermind in the battlefields of SEO. It's the tactical genius that ensures your forces are well-equipped, your strategies foolproof, andyour campaign conquering.
Imagine being the owner of an emerging tech startup. Rank Ranger helps you orchestrate the perfect campaign that has your innovations going viral. It's the war room where your strategies take shape.
Or, as a creative writer and blogger, Rank Ranger empowers your words to strike a chord with readers across the globe. Just like an eloquent speech inspiring troops, your content will rally an audience around your brand.
Rank Ranger's arsenal of features:
Market Insights: Like aerial reconnaissance, giving you a bird's eye view of the industry.
Custom Dashboards: Your strategic war room to plot your campaigns.
Keyword Finder: The decoder ring to unlock the right phrases and terms.

Dive into Nightwatch, a swiss-army knife of SEO tracking tools. Its cutting-edge features catapult your website to the zenith of search engine rankings.
Segmentation Galore – Slice and dice data like a pro chef; pick what matters.
White Label Reports – Dress up reports in your brand's attire, crisp and classy.
Backlink Monitoring – Keep a hawk's eye on your links; nothing slips past Nightwatch.
Global Tracker – A globetrotter; keeps tabs on rankings in multiple countries without breaking a sweat.
Envision you've launched a line of organic skincare products. Keywords like "paraben-free moisturizers" or "natural face masks" are your bread and butter. Nightwatch takes the reins, meticulously examining every nook and cranny of your SEO strategy.
Its Site Auditor feature rolls up its sleeves and gets down to business, scrubbing away the cobwebs and polishing your website's SEO until it gleams. The Backlink Monitoring tool then sweeps in, ensuring your link-building is on point.
Nightwatch isn't just a tool; it's a maestro conducting an orchestra, ensuring every section plays in harmony to create a symphony of success. In the dizzying whirlwind of SEO, Nightwatch is the eye of the storm – calm, focused, and ruthlessly efficient. Harness the prowess of Nightwatch, and brace yourself as your website cuts through the competition like a hot knife through butter.

Unleash the power of AccuRanker, a trailblazing SEO tracking tool that's lighting a fire under the industry. This agile titan effortlessly scales the mountain of keyword tracking, giving you eagle-eye insights in a flash. Whether you're a budding entrepreneur or an established brand, AccuRanker has your back.
Lightning-Fast – It serves up data at breakneck speed, making it a high-flyer in real-time tracking.
Google Grains – A treasure trove of data from Google Search Console, right at your fingertips.
Custom Reports – Tailor your reports to fit like a glove; crisp, clear, and to the point.
Competition Sniffing – A bloodhound when it comes to picking up the scent of your rivals' strategies.
Imagine you've set up shop selling artisanal coffee beans. To brew a storm, you've chosen keywords like "organic coffee beans" or "hand-roasted arabica". AccuRanker's laser-focused tracking keeps a keen eye on your standings.
But wait, there's more! This tool gives you a clear-cut view of the landscape – think of it as a high-powered telescope for your SEO strategy. Its Share of Voice feature is pure gold – pinpointing precisely where you shine in the search engine galaxy.
In the kaleidoscope of SEO tracking tools, AccuRanker is a prismatic powerhouse. Whether you're keen to nip potential issues in the bud or carve a niche with relentless tracking and precision, this tool is your steadfast companion. AccuRanker is here to elevate your SEO tracking to uncharted territories.
Conclusion
In the quest for SEO supremacy, we've journeyed through a digital landscape teeming with tools – all designed to fuel your success. From start to finish, we've scrutinised 17 top-notch tools to help in SEO tracking. From the dynamics of WordPress management, to the utility of comprehensive SEO plugins – we've seen it all.
Tools, like Screaming Frog and SEOQuake, have shown the power of in-depth site crawls and data-based SEO diagnosis. Others, such as the impressive SEOMator, have demonstrated the ease of automating SEO analysis and reporting. Yet, the crowning glory in our expedition might just be the Plerdy tool. ? With its seamless UX analysis and insightful SEO capabilities, Plerdy stands as a beacon, paving the way for businesses to optimize their online presence with precision.
Conclusively, mastering these SEO tracking tools equates to owning a toolkit for success in the complex yet rewarding arena of digital marketing. Dabble in the world of SEO tracking tools, and you might just find your goldmine. ⚡
Remember, the Plerdy tool awaits your exploration. Let your SEO strategy evolve with Plerdy today!