Website optimization is a significant factor in becoming a competitive and beneficial company. It bothers me when you are dependent on improving objective parameters, such as user experience and interaction level, loading speed, web design, etc., when meeting the expectations of modern customers. Due to Google's latest algorithms, relevance usually plays a decisive role. Many search optimization aspects should be considered to make Google place the website at the top of the search results. Therefore, SEO monitoring software can help determine the advantages and flaws of your website and provide a quick analysis of the current SEO condition.
What is an SEO Monitoring Tool?
SEO monitoring includes tools used for analyzing the most significant relevance parameters. It is a specific indicator responsible for determining the conformity of the content to search requests. Finding all of the key factors is impossible due to their regular changes. But optimization of several of them can seriously influence the website's ranking and make it suitable for most requests.
The main parameters, which can be optimized with the use of SEO and social monitoring software are the following:
Website traffic – The website becomes recognized by the target market.
Use of keywords – The automated semantic analysis helps to pick up the most suitable keywords for your content.
Linkbuilding – Track income and outcome links and manage the existing partners via links.
Content optimization – New ideas for your content can be easily picked up with the help of a specific tool.
As a rule, deployed statistics are provided with SEO monitoring software. It contains information about the workability of objective parameters, which influence the relevance of your website. The solutions for their improvement are suggested due to the latest optimization algorithms.
SEO Monitoring Tools From Plerdy
Plerdy's team developed SEO monitoring tools to track the visible and invisible relevance parameters. Since 2017, customers from all over the world have been confirming the high efficiency of these tools. Plerdy's tools are valued because:
Mark E.: Plerdy offers a ton of functionality! I replaced HotJar with Plerdy when Hotjar made changes to their plans and moved a bunch of features around.
Martin C.: As a designer, being able to see heatmaps and customer behavior videos is so valuable when testing your design against the user experience. It's also a great way to see if the website isn't displaying properly on certain browsers and resolutions.
Mat G.: I think Plerdy is a great tool for online marketers. I've been using their heatmap tool for months to get better insights into how visitors are interacting with my site.
Several Plerdy SEO monitoring software tools can be tested for free. A quick result with statistics due to the exact period will be provided.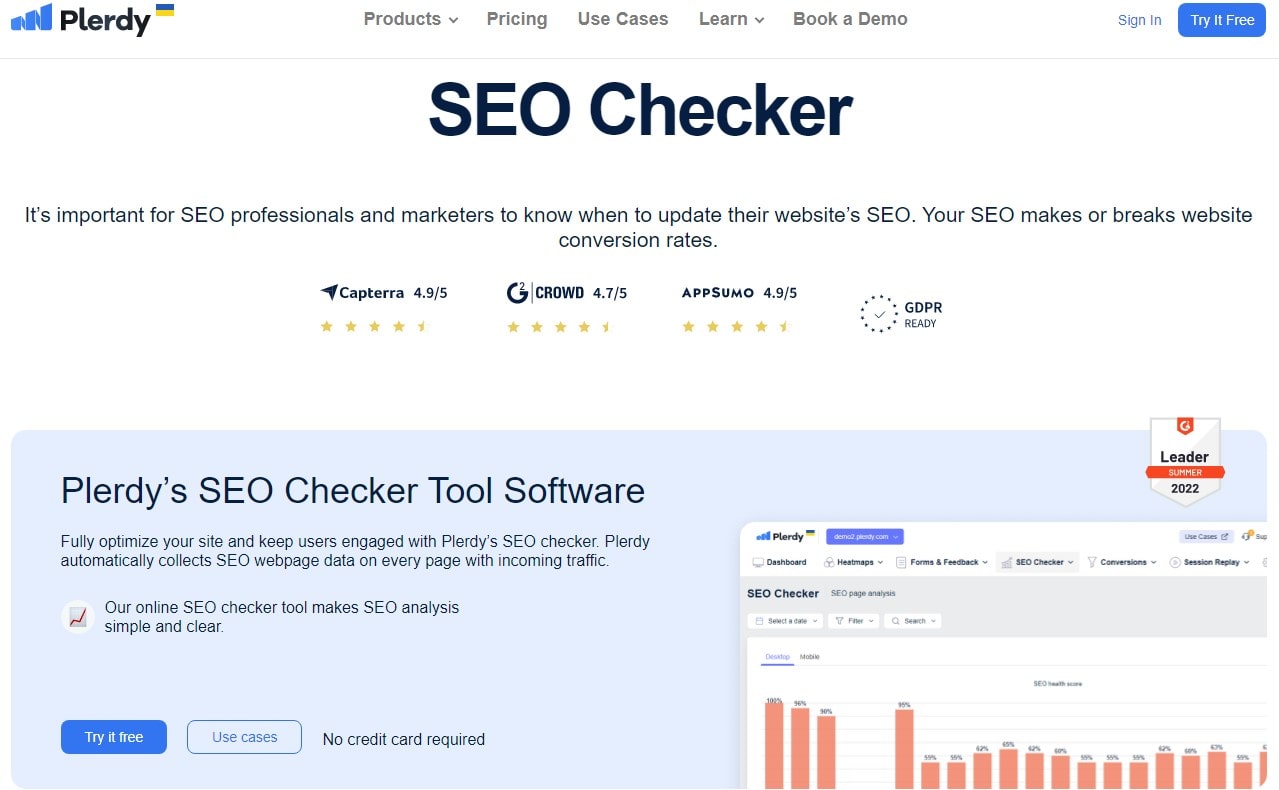 The analysis of essential metrics can be provided by the specific Plerdy tool. Its standard functions are:
Automatic audit of the keywords and verification of titles, subtitles, descriptions, and other essential SEO characteristics.
Integration of Google Search Console API for better analysis of added and missing keywords.
Viewing the parameters' changing history.
Exporting data to Google Analytics (optional).
SEO and social monitoring software from Plerdy takes less time than a website audit, which helps to save time and resources.
The TemplateMonster audit was provided with Plerdy's SEO monitoring software. SEO Checker detected mistakes on more than 400 pages of mobile versions and more than 300 pages of the desktop version of a famous marketplace. The common mistakes were regarding the standard title structure and relevance of the semantic core of the pages.
SEO Checker
SEO Checker from Plerdy will help you analyze critical SEO metrics every day. The benefits are automatic SEO analysis, reduced risk of traffic loss, the possibility to export your data to Google Spreadsheets, etc. All of the missing keywords are detected automatically.
11 Best SEO Monitoring Tools
BlackFridayDeals has analyzed different SEO monitoring software tools and made a general rating of the most efficient. The parameters, which were considered are the following:
Page authority
Domain authority
Alignment of a landing page
Keyword management
Related keyword suggestions
Advertising/PPC metrics
Difficulty in scoring
Webpage crawling and backlink tracking
Google Search Console Integration
CPC Metrics
Each of the listed parameters is considered essential in optimization using SEO monitoring software, and highly demanded web products should always follow them.

Seomator is a popular business SAAS SEO monitoring tool focused on SEO optimization of online marketing agencies. It provides SEO audits of the websites and helps fix misunderstandings between the online marketing agencies and websites, who want the optimization to be more elaborate. Many companies, such as ReliableSoft and ZEO, have already become a partner of Seomator and confirmed the efficiency of its SEO monitoring software.
Charudatt D.:

It is incredibly easy to use the solution for SEO analysis. I appreciate the forecasting ability. As compared to other tools, it is not able to give a detailed analysis like Ahrefs and SEMrush.
Dmitriy U.:

In the SEOmator project, I liked the fact that the service not only scans the site but also receives data about the site from other sources.

A company, which offers specific SEO analysis of web resources, is capable of doing the following functions:
Expiration checks
Status check
Change monitoring
Indexability check
Sitemap validation
Malware detection
Little Warden offers different subscription types depending on the specific functions of SEO monitoring software. Polemic Digital, Aira, and other companies have already used these tools.
Coywolf.Reviews:

Created for webmasters, site owners, and agencies, Little Warden automatically checks and monitors everything important for site health and SEO.
SEOTools Guru:

Little Warden is a lightweight tool that simply monitors your website or websites for any technical changes or errors that may have a negative effect on your rankings.

The company provides tools for higher website ranking and increased search visibility. It has a staff of more than 150 experts from all over the world. Tracking local website rankings, audit citations, white-label reporting, integrating GMB insights, and other essential functions can be provided with the SEO monitoring software of Bright Local platform. IKEA, Hilton, iProspect are the companies that trust the company and regularly use its tools.
Dominique K.:

Customer service is what I find most hopeful. If you don't understand the intricate use of a tool you can set up unlimited half-hour sessions as soon as the same day to get insight into product expert tips and tricks.
Kim S.:

Kind and caring people work for BrightLocal. Very knowledgeable and so helpful and friendly that you learn a lot and get your issues solved.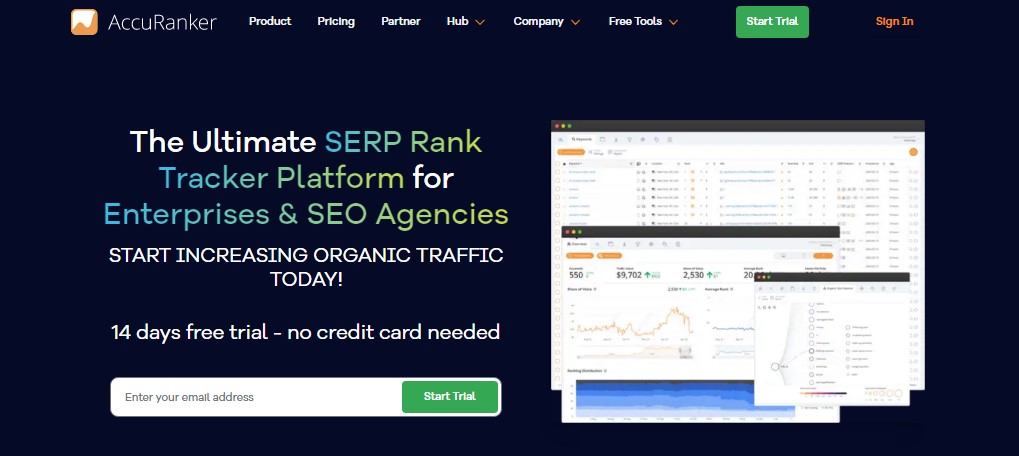 SEO monitoring tool AccuRanker is a popular rank-tracking platform that provides an efficient and up-to-date analysis of important SEO parameters. Custom template reporting, regular ranking updates (including keywords and content updates), and in-depth analysis make the platform competitive among other SEO optimization companies. It is trusted by McDonald's, HBO, SalesForce, WPP, and many others.
Kolia B.:

I love AccuRanker! The interface is super user-friendly, which is a huge plus for an easy workflow. But the real kicker for me is the real-time ranking feature.
Tom Q.:

I've used many rank trackers and what I love about AccuRanker is it's a fully featured rank tracker. Accurately tracks rank for multiple geographies, search engines.

The platform has a toolset of custom SEO monitoring tools, which acts as one unit. The toolset includes:
Keyword tracker
Page speed monitoring
SEO monitoring
Uptime monitoring
Syntax checker
The simple interface with personalized solutions is the main advantage of Screpy, which differs it from other SEO platforms.
Al. N:

I have been using Screpy for a couple of weeks and have ZERO regrets! It's very intuitive with a clean interface with navigational ease.
Synthia S.:

I love that it speeds up the whole process and makes life easier! It makes it easier for SEOs to find relevant backlinks and keep an eye on competitors. It provides clues to improve SEO and also helps level paid marketing efforts through competitive intelligence and keyword suggestions.

Senuto offers a list of different solutions for SEO monitoring software, which helps to introduce essential SEO aspects. They include:
Visibility analysis
Content planning
Daily monitoring
Keyword explorer
Internal linking
SEO consulting
Starcom, Leroy Merlin, DHL, and others trust Senuto products and optimize online resources.
Wojciech Śmiałek:

SERP Analysis gives tons of useful data; I think it's my favorite one as I can plan strategies based on it. Keyword Tracking is also an amazing feature together with Rank tracker.
Tomasz D.:

Senuto is a very simple tool to help me find more keyword opportunities. It helps me monitor my site position for selected keywords and collect all my site visibility in Google.
The Oncrawl SEO monitoring software helps meet the expectations of most modern users and improve the essential ranking factors with custom tools, which include:
SEO crawler
Log Analyzer
Oncrawl Labs
Business intelligence solutions
Forbes, Rakuten, and Canon are Oncrawl partners and use their services to support most enterprise SEO efforts.
Atinder S.:

OnCrawl is the go-to solution for all my needs related to SEO which include technical health of the site, crawling issues, content optimization, conversion optimization, and many more.
Himanshu S.:

The log data available gives more insight into a website on how it is performing and what the issues that need to be fixed.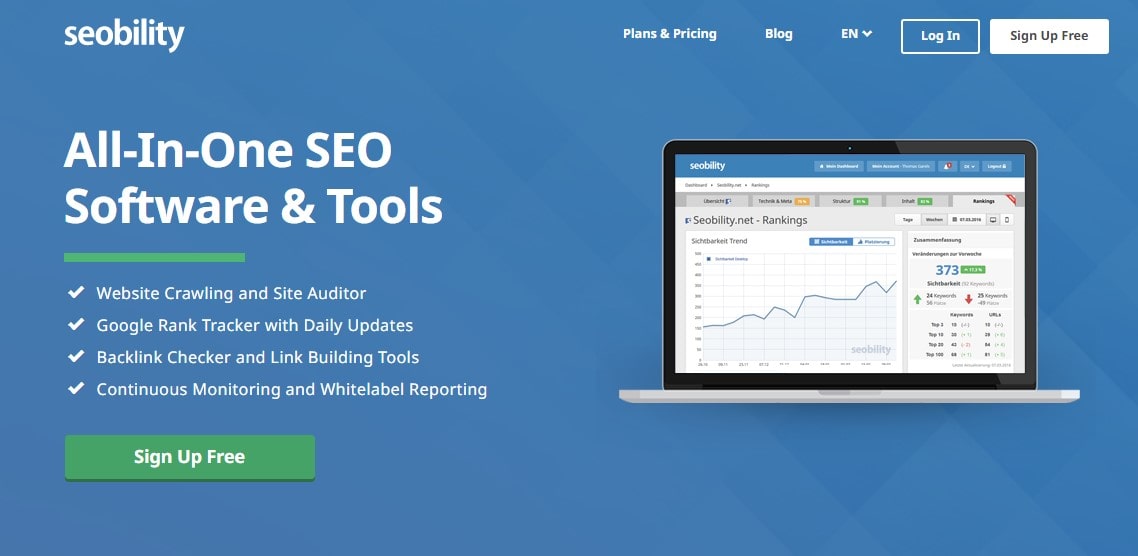 The monitoring service Seobility is responsible for the analysis, optimization, and monitoring of your own website and includes the three functions of on-page optimization, rank tracking, and backlink analysis. The monitoring instrument evaluates all linked pages and identifies both technical and content errors and thus enables extensive on-page analysis.
The results can be evaluated via a list view or summarized directly in the browser. Monitoring ensures that users are informed about all relevant changes in reporting by email. Other functions include the SEO check, keyword check, and backlink dashboard with a link-building instrument.
Bora K.:

I use Seobility for my and my client's projects. They provide optimization advice on three different topics: technical, structural, and content topics.
Trevor O.:

I value the ease with which I can track our position against our key competitors on our most valuable keywords. Seobility makes it simple to identify opportunities to improve our visibility online.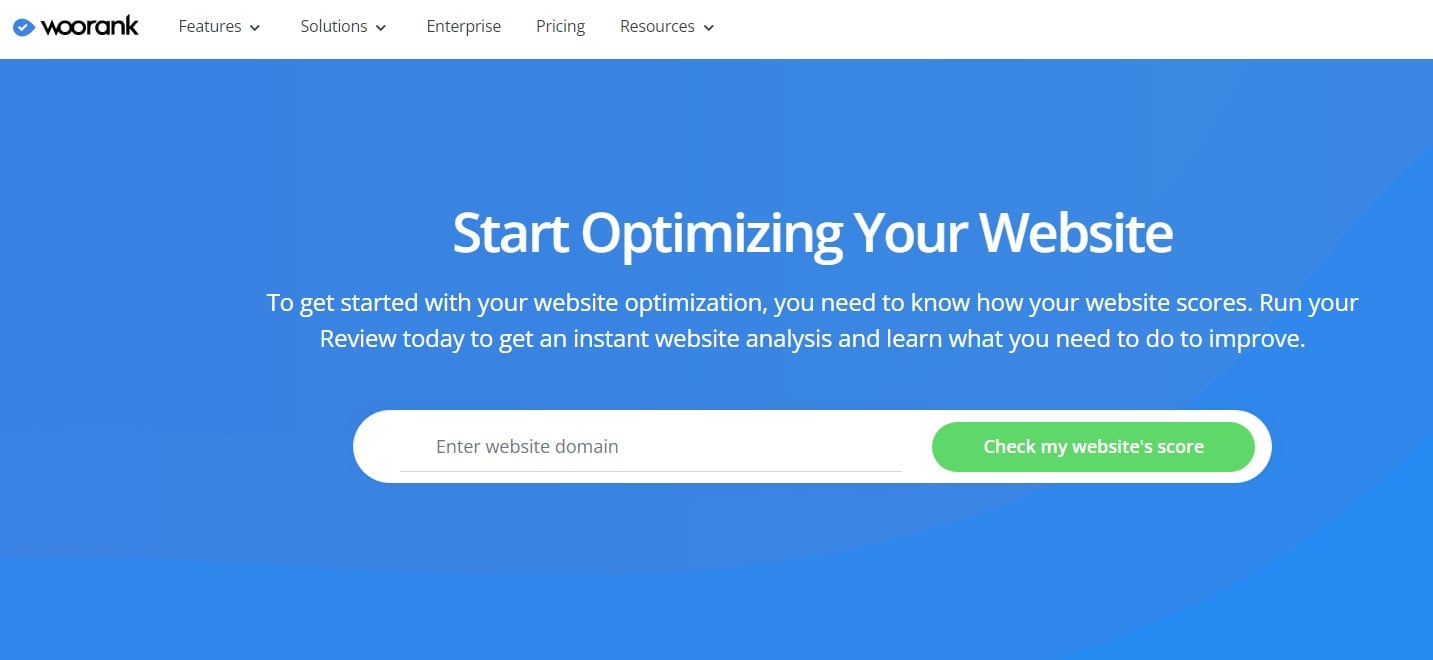 The automated monitoring instrument WooRank combines many different functions. In addition to website verification, keyword tracking, and website crawling, this also includes competitive analysis, which allows the user to monitor their competitors, so this monitoring instrument is definitely worth your attention.
The monitoring instrument provides the opportunity to monitor and optimize your website through advice and insights. In addition, this search engine monitoring software offers white-label PDF reports and a unique lead-generation service for digital marketing professionals.
These are the most important functions:
Competitive analysis
Keyword determination and tracking
Technical website analysis
Website instant analysis
White label reports
Sven.H:

The best thing about Woorank is the attention to detail that the software goes to when ranking your website. This has to be designed by someone who truly knows what it takes in order to rank websites.
Justin H.:

WooRank has always known what it's best for. Their crawler is probably the best and maybe among the first in the world.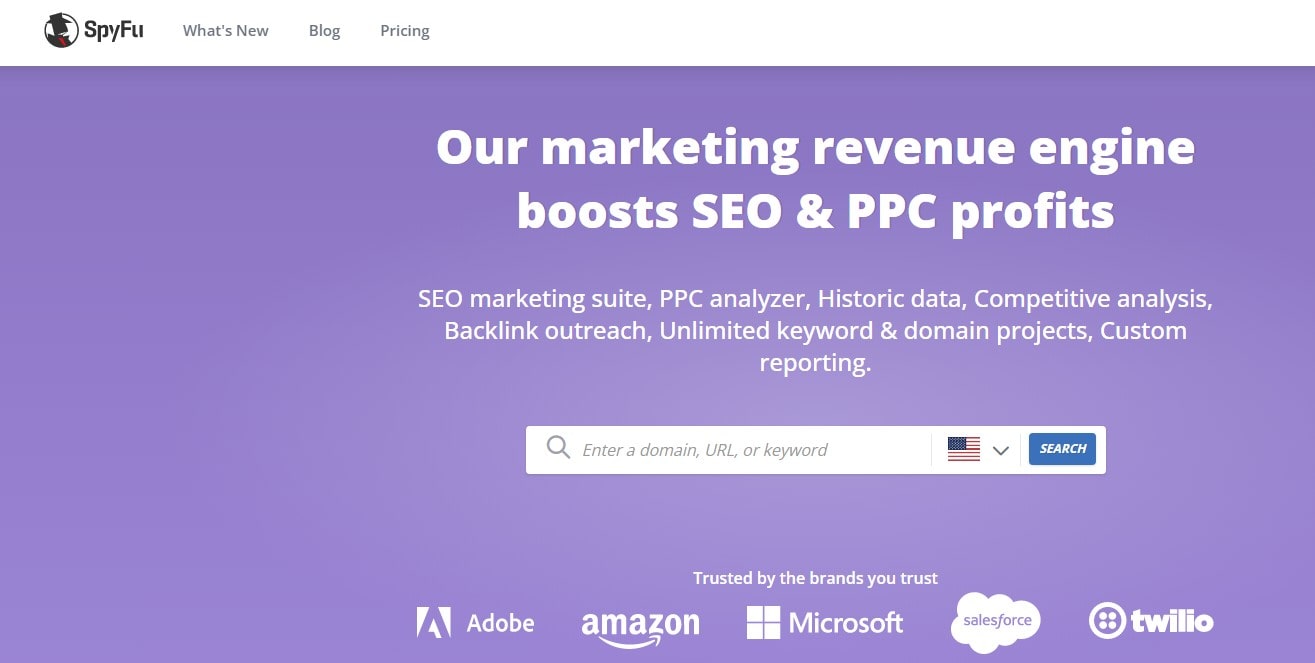 If you want to surpass competitors, track rankings, and increase web traffic, the SpyFu monitoring instrument is perfect for the job. This SEO keyword monitoring tool has been used by numerous online marketers for a long time. The program spies on the competition, so to speak, and releases the data that people want. Keywords are clearly displayed in groups, and ad campaigns are also available. More than 7 billion keywords are present in the database. If you want more, you simply pay more.
SEO monitoring tool SpyFu offers unlimited SEO and PPC data. Also available on the platform are SEO marketing suites, PPC analyzer, historical data, competitive analysis, backlink reach, keyword and domain projects, as well as custom reporting. For this purpose, SpyFu offers competitive analyses, backlink builders, keyword research rank tracking as well as SERP analyses, and domain comparisons. SpyFu provides various plans. The cost starts at $49 per month.
Michael. C.:

Spyfu offers so many golden nuggets of search data when researching competitors. I work purely within the optimization industry, so I use it just for this purpose.
Belrie D.:

Spyfu is a game changer for keyword research; the menu is so easy to understand even for first-time users. Simple User interface and Quick results!
SE Ranking SEO monitoring application is a browser-based software (similar to Ahrefs or Semrush). With the SE Ranking instrument, you can perform keyword research, competitor analysis, and SEO audit. The inexpensive software also includes an instrument for keyword tracking and backlink analysis.
The software is not only suitable for content marketers and bloggers but also for small agencies, freelancers, etc., who perform SEO services for customers.
The software basically offers all the important functions you need for search engine optimization:
Keyword research
Keyword tracking (position tracking)
Competitor research (competitive analysis)
Backlink check
SEO audit (website review)
Content Marketing instrument (optional)
Reporting
As you can see, this SEO monitoring instrument is worth your attention. You can monitor SEO listings and do lots of other tasks with its help.
Harshit K.:

It's helping me a lot to track the keywords ranking in bulk within a few minutes, and the most amazing feature is, It is providing keywords ranking for Google as well as for Yahoo and Bing also.
Claire E.:

I love the competitor section, that is really cool, and I really like the marketing to-do list with all the helpful documents!
To Sum Up about SEO Nonitoring Tools
Overall, SEO monitoring instruments help improve a website's relevancy and place it in the higher positions of Google search results. Define what parameters you need to improve with the specific tools and optimize them in the shortest period.