Want to work as a user experience designer? You will need a well-written UX designer resume. If drafted correctly, this particular document will help you attract the attention of a company that later wants to hire you.
A UX designer's resume is a reflection of skill in a specific area. It contains information about education, skills, and work experience. When it is well structured, clear, and logical, a UX designer's resume looks attractive – potential employers will pay attention to such a specialist. And vice versa, if a person needs to reflect on what he has read, re-read it several times, and find the information he needs – most likely, the HR manager will not decide in favor of the candidate.
What are the types of UX designer resume?
A UX designer's resume should represent a complete list of knowledge, skills, abilities, and work experience in the desired industry. In addition, the specialist must share the principles and values ​​of the company he is applying for.
Let's look at examples of resumes for UX designers of different skill levels.
Junior UX designer resume
Are you a beginner and writing one of your first resumes? Take care to describe your education and basic skills fully. When you are just beginning your career and cannot demonstrate ready-made cases, indicate where you studied and did your internship. Mention specialized courses and training.
Your resume should be easy to study, so pay attention to the design. Break the information into blocks. For example, in the resume of a junior specialist, a block related to education and acquired skills should be placed above other achievements. Be sure to indicate which programs you understand and at what level.
Fluency in foreign languages ​​will be a big plus. Also, add a few points about what functions you are prepared to perform early in your career.
Mid-level UX designer resume
When designing a CV for a mid-level designer, a job seeker needs to describe their work experience. Write down the names of the companies, the periods of work, and be sure to elaborate on the responsibilities that you had. The best way to do this is to use a bulleted list to make it easier for hiring managers to review the information.
Add in small blocks data on profile skills and a list of programs you specialize in. It will not be superfluous to write exactly which options in the programs you used at previous jobs.
If you have any awards or victories in specialized contests, do not forget to write about them at the end. You don't need to focus too much on this point, but this is your competitive advantage over other candidates.
Senior UX designer resume
A senior UX user experience designer's resume usually looks as detailed and structured as possible. This is justified because professionals with 10+ years of experience are usually hired for leadership positions. Therefore, begin by specifying the periods of work in the organizations – this gives the potential employer an objective understanding of the real experience of the applicant.
Next, list the skills in UX design necessary for working with the software. Try to highlight this information in a different font or choose larger text size. This will help focus the attention of the future employer on the most important information.
Please note: the main part of the questionnaire (for applicants of all skill levels) is a block for the contact information of former employers who can provide feedback about your skills. If interested in a candidate for the Senior User Experience Designer position, HR will contact them without wasting time searching for the data.
Example UX designer Resume from Plerdy
Let's analyze UX designer resumes using two specific examples. First, both specialists apply for a job at Plerdy.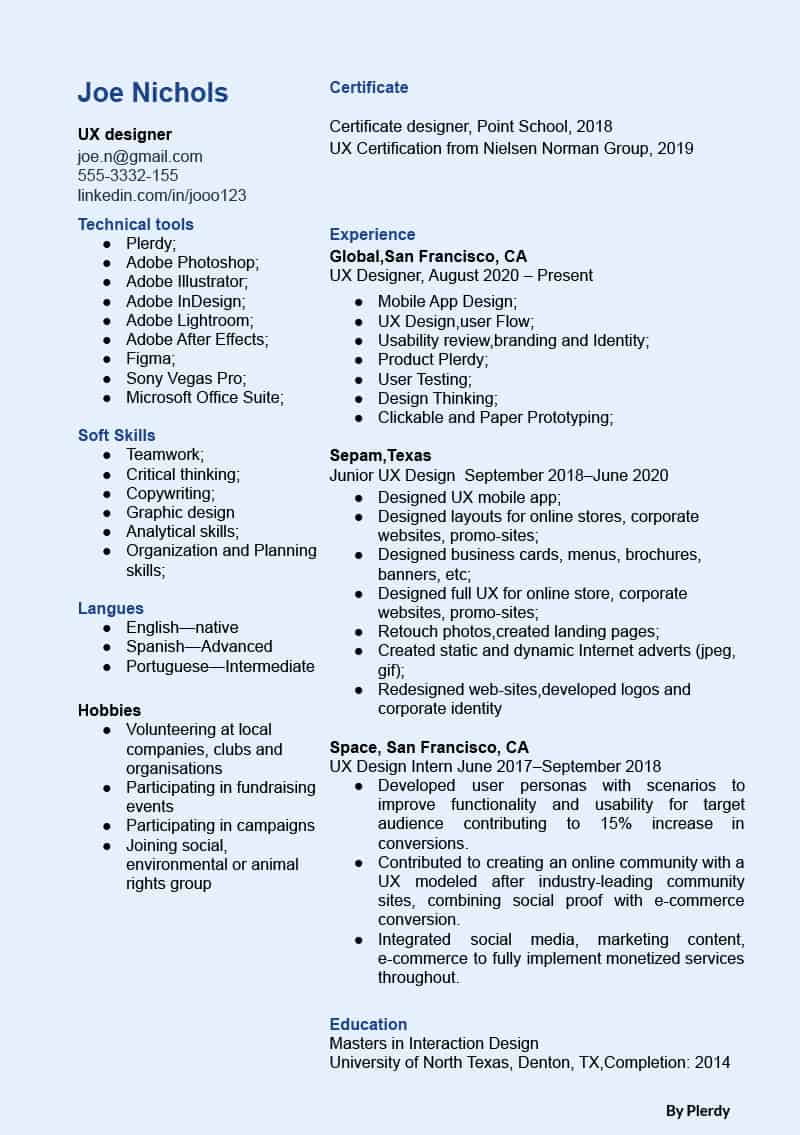 The first applicant wants to be a user experience designer. In general, the resume is well-formed, and the information is structured in a noticeably professional format.
He starts by providing contact information: email address, phone number, and LinkedIn profile. Next comes a block listing the programs in which the applicant is competent. Among them are specialized services (Plerdy), specialized design software (InDesign, Figma, and Photoshop) and standard computer programs (Microsoft Office Suite).
In the section on skills, there is information regarding the candidate's organizational skills and ability to work in a team and think analytically. Joe Nichols mentioned a graphic design qualification, but this term is too broad.
The next item is a hobby. The applicant mentioned participation in animal rights groups. Even though this does not apply directly to the open position, such information will help the potential employer understand more about the applicant's personality. Finally, separate parts are devoted to certificates and education – it is better to combine them into one section.
The most extensive part of the resume is previous experience. Then, the candidate describes each job in detail, indicating the period length and functional responsibilities.
Consider the second example of a resume for a UX designer position. At first glance, the document has a good structure and contains the necessary information for employment.
The second candidate also submitted profile data about himself. In the section on technical skills, he lists his expertise in highly specialized design programs. There is no need to write that an experienced specialist is fluent in basic computer programs – the potential employer already assumes this.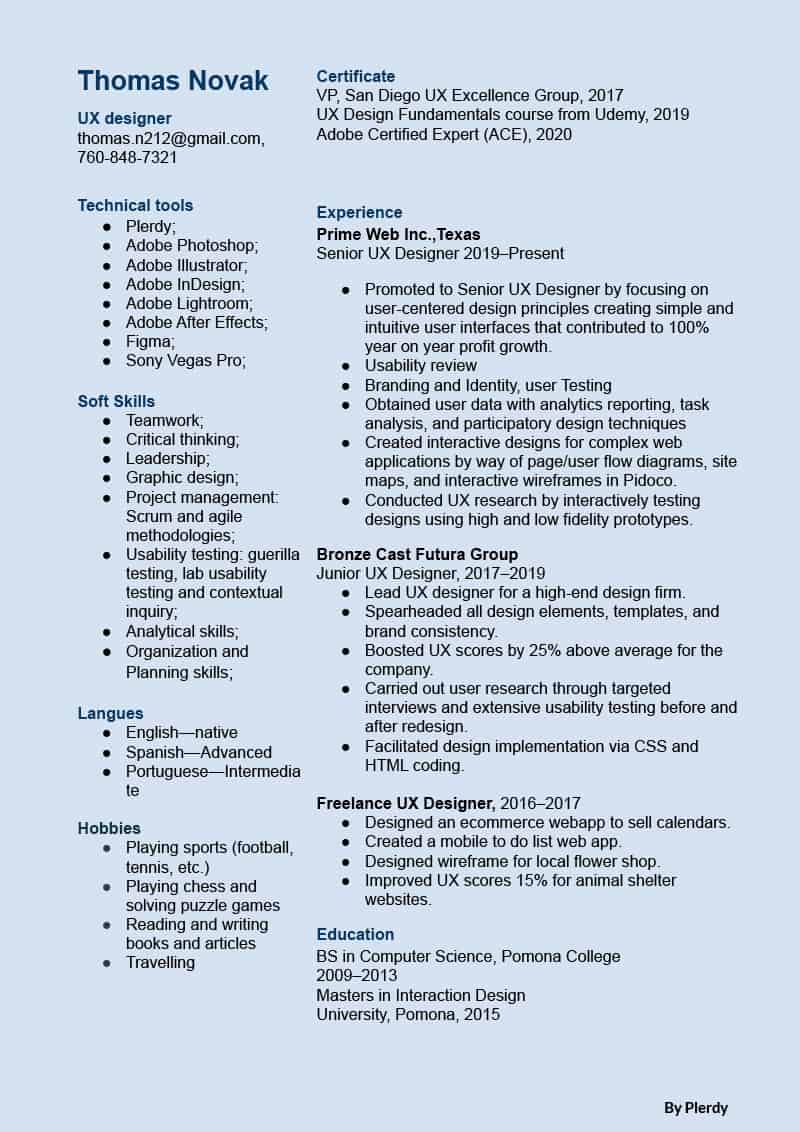 The skill block contains more relevant data than the previous candidate. The skills listed are SCRUM, agile methodologies, usability testing, contextual inquiry, and traditional skills (planning skills and similar abilities).
The largest informational section of the resume is a description of previous experiences in different organizations. It's good that the candidate also points out his experience as a freelancer – this makes him a more versatile candidate for a UX developer position in the eyes of a potential employer.
The best vacancies for a UX designer
The profession of a UX designer is in great demand in the market – if you want to work in this profession, you can easily find a suitable vacancy.
Let's analyze the vacancy for a UX designer position at the well-known American company Netflix. The requirements for candidates indicate the need for good communication skills and the ability to work well with teams of engineers, developers, and other experts. In addition, the applicant must have a basic understanding of production stages from concept development to launch.
A candidate for the position of UX designer at Amazon, in addition to professional qualities, must have a high level of culture and morality. The company promotes the principles of an inclusive society, which excludes any discriminatory behavior.
Duolingo is a global leader in the development of educational platforms and applications for language learning. They are looking for a UX designer who is attentive to detail and can comprehensively assess users' needs. The job description states that an expert must be able to think critically and use analytical data. This is necessary to offer customers the most effective solutions embodied in digital products. Thus, the user experience developer at Duolingo Corporation must understand marketing and its associated tools.
Cubestech is looking for a remote UX designer with top-notch self-organization skills. One of the main requirements for a candidate is participation in various communities comprised of product end consumers.
This requirement is justified – a UX designer must thoroughly know the client to offer them the most effective interface. Another important ability is to cooperate with product development teams actively. The UX specialist will be responsible for part of the prototype's design.
Hotwire is looking for a UX designer with a demonstrable e-commerce background. Apart from this unique condition, all others requirements are standard for this kind of work. This includes developing the concept of a future product and its prototype and cooperating with the design team at every stage of development. In addition, a UX expert must have a good mindset for design and reading statistical and analytical data. Finally, logically, a good specialist should be able to apply obtained theoretical information to development activities.
Conclusion
If you are looking to find a high-paying UX design job, prepare carefully. First, create a professional resume by thinking through each block in detail. Again, observation will help you: study the CVs of other specialists in the desired industry, analyze them for relevance, expertise, design, and presentation method. Next, think about which company you want to work for and compose a resume based on their basic requirements. The above tips will help job seekers prepare an expert resume to help them find a job as a UX designer in the shortest possible time.