Do you want to build a website that attracts customers and is easy to navigate? Stop right there! Here are the 35 most recommended web design agencies, handpicked exclusively for you. ⚡
These agencies specialize in developing visually appealing and highly effective websites leveraging modern design principles and cutting-edge tools. They will assist you with every process step, from defining your website's purpose to writing and testing the code.
Every chosen agency has been handpicked for its unique perspective, high standards of professionalism, and track record of success. They have a staff of seasoned web designers who can make your website a reality. Therefore, without further ado, let's dig in and check out the top 35 web design agencies for your next big project.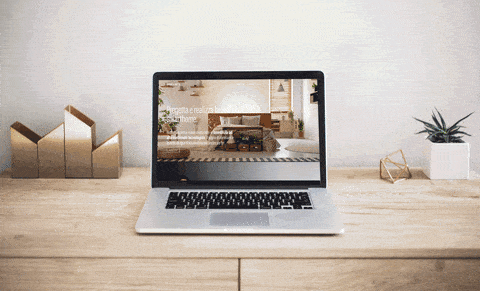 Tips for choosing a great web design agency
In today's digital age, choosing the right web design agency for your SaaS, IT, or eCommerce business can significantly impact your online success. However, with more than 178K web designers and agencies in the United States alone, it can be challenging to narrow down the options. To help you find the perfect fit, we've compiled eight tips to make the process more manageable.
First, set a budget for yourself and use that as your starting point to narrow your options.
Then, ask for pricing information immediately and understand what you get for your dollar. Next, look for case studies and examine the agency's client retention rate to gauge service quality.
It's also crucial to determine who will be responsible for your website and ensure that the customer support system suits your needs. You should ask if the web designer or agency can handle website relocation. Set clear deadlines with concrete criteria to avoid payment process uncertainty.
You should check what tools web design agencies use to analyze UX and user behavior on the website's pages, such as Plerdy.
Lastly, list your website needs and goals, review experience, agency culture, and portfolios, and read online reviews and testimonials.
By following these tips and asking the right questions, you can quickly narrow your options to choose a web design agency that aligns with your business goals and needs.
Why is it important to hire a web design agency?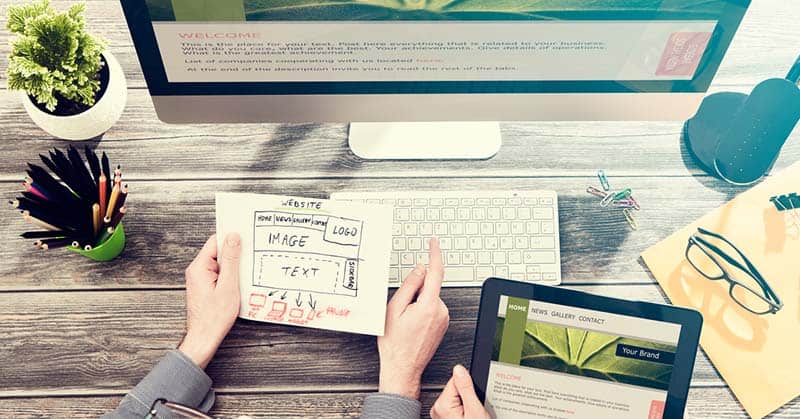 Are you debating hiring a web design agency for your business website? While it may seem like a good idea to save money and do it yourself, there are numerous benefits to hiring a professional web design agency. Here are some of the top reasons why you should consider hiring an experienced agency:
Experience: A web design agency employs professional web designers with years of experience creating and fixing websites. They can create a website that looks and functions better than you could achieve alone.
Resources: A professional agency has access to tools, web development kits, and add-ons that are unavailable to regular folks. They can use the latest technology to keep your website up to date and running at high speeds.
Saves Money: Creating and maintaining a website can be time-consuming, taking you away from more important tasks. Hiring professionals frees time and energy to spend where your business needs you.
Search Engine Optimization: A web design agency can implement SEO requirements and help your website rank higher in search results. This translates to more potential customers discovering your products or services.
Professionalism: A well-designed website that is fast, responsive, and easy to use builds a positive user experience, which can translate to online visitors trusting your business.
Mobile-First Design: With more people accessing websites through mobile devices, a web design agency can optimize your website for mobile-first design techniques. This means your website will rank higher on search engines, attracting more potential customers.
Personalized Expert Help: A professional agency can provide expert advice when building and maintaining your website and can fix issues as they arise.
Ease of Use for Customers: A web design agency can arrange forms, page content, navigation bars, and calls to action to provide the best user experience, drawing in potential customers to actively engage with your business.
Quality Content Development: An agency can create quality content for your website, including specialized keywords, phrases, custom images, and videos that set your website apart from the rest.
Saves Time: Hiring an agency to handle website maintenance tasks can free up your time, allowing you to focus on more important tasks that need your attention.
Hiring a web design agency is an investment in your business. With their expertise, resources, and experience, they can create a website to attract more potential customers and make your business look professional and trustworthy.
What does a web design agency do?
When you hire a web design agency, you can expect them to take your website from the first spark of an idea to completion. Building an effective website is comprehensive, and a team of experts is required to achieve great results. A web design agency will discuss your goals for the website, identify your target audience, and work with you to design a wireframe blueprint of your website that details the layout and elements without considering the design. They will then develop your website by coding it from the backend, which appears on the user's screen as a functioning website on the front end. Some web design agencies may also conduct testing to check if the website is getting a good response from your audience and tweak any necessary factors to reach your goals.
By outsourcing web design to an agency, you can save time, get a professional finish, and benefit from the agency's industry expertise. Web designers at agencies have likely worked on countless websites before, giving them the experience and knowledge of what works and what doesn't. To choose a web design agency that suits your business, ask for referrals from other businesses, check out designers in your local area, look for well-designed, professional websites, and review the team's past work before making a final decision.
In addition to website design, web design agencies can offer services such as digital design, product design, app design, graphic design, and brand design. They have a hierarchical structure, and work is overseen by senior staff or heads of departments who run different teams. Agencies come in all shapes and sizes. The team you select depends on the quality of service you require, whether it suits your project, and your business needs. Web designers at agencies work faster and on multiple projects, which can be overwhelming for some. However, agency work still provides excellent personal and career growth opportunities.
List of Top 35 Web Design Agencies
Before diving into the list of "35 Best Web Design Agencies," grab a cup of coffee and sit in your thinking chair because you're in for a wild ride! With this carefully curated list, you'll find web design agencies that can make your wildest website dreams come true, so get ready to be impressed!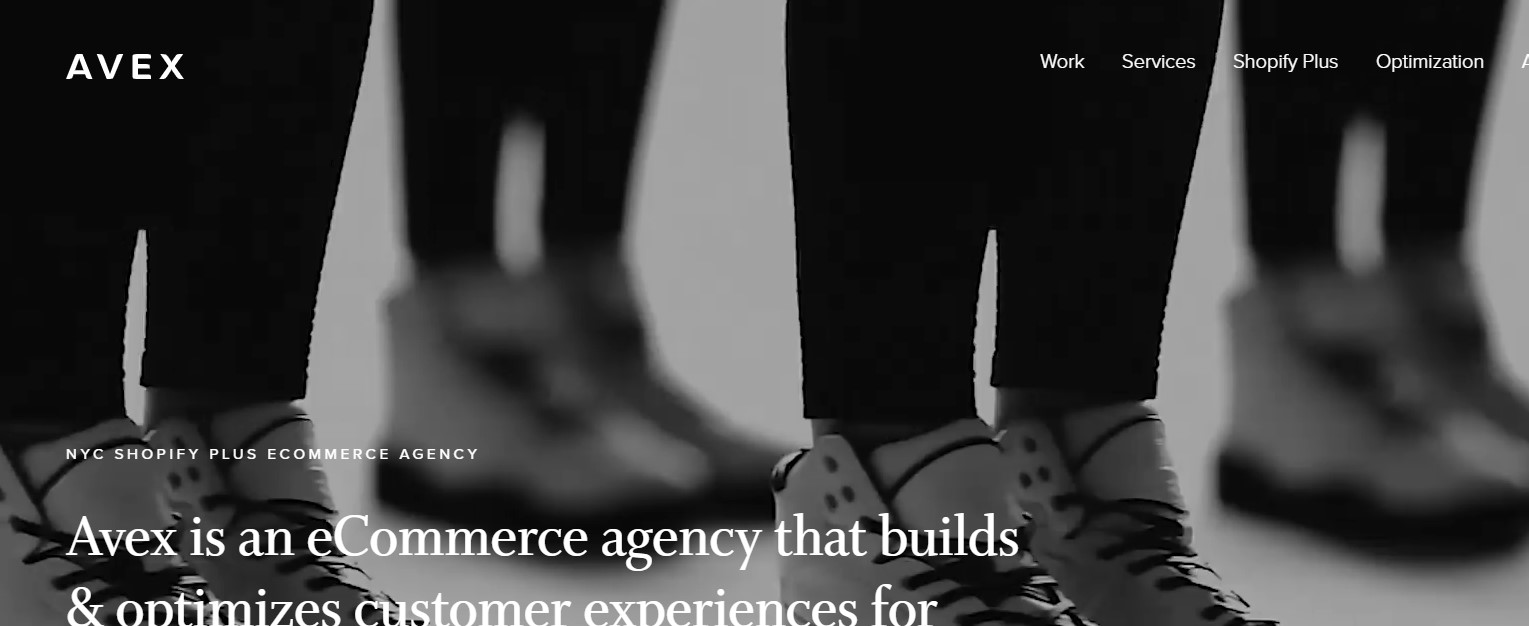 Avex is a Shopify Plus eCommerce web design agency passionate about building and optimizing customer experiences for high-growth brands. Based in New York City, Avex is a team of strategists, web designers, technologists, and creators, all laser-focused on your brand's growth. They are a team of 35+ experts, with 70% females, and 1% of their revenue is donated to No Kid Hungry. Avex is obsessed with growing your business and delivering value, so they provide real, measurable results by building, deploying, and optimizing eCommerce experiences. They love partnering with merchants to help them scale through data-backed eCommerce development, UX web design services, conversion rate optimization, and Klaviyo email marketing services. As a Shopify Plus Partner Agency and eCommerce development agency, Avex leverages the platform's power to design, develop, and optimize beautiful eCommerce websites for fashion and lifestyle brands. Their clients include O'Neill, Boss Hugo Boss, Kith, Badgley Mischka, Balance, and Haus. They have helped these brands increase conversions by up to 235%. They have trusted partners with Shopify Plus, Klaviyo, and Dynamic Yield. Avex is all about teamwork, passion, respect, talent, accountability, resourcefulness, radical transparency, and being visionary.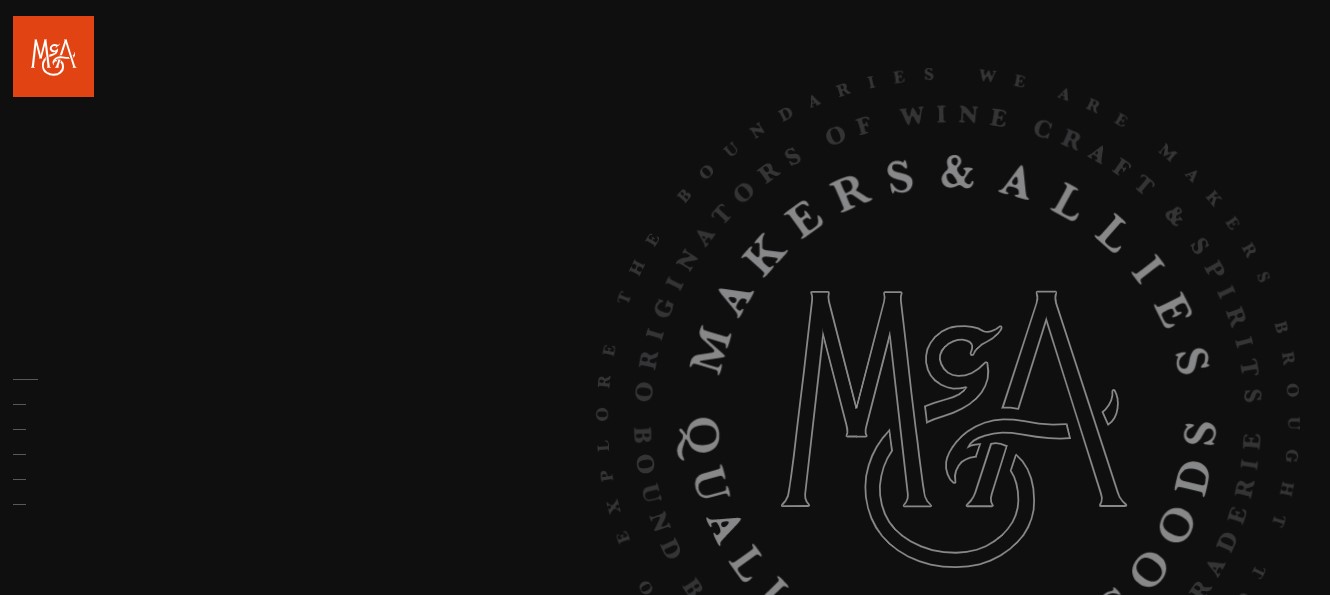 Makers & Allies is a web design and branding agency focusing solely on the wine, craft, and spirits industries. Although they have received numerous awards and recognition for their work, what sets them apart is their thriving relationships with clients and the culture they foster. They are not your standard run-of-the-mill studio; they are a team of purebred creatives fiercely dedicated to doing extraordinary work. They offer a variety of services that just scratch the surface of their capabilities. The team comprises boundary-pushing creatives with a unique perspective on a constantly changing industry.
Their website showcases their impressive portfolio with a wide range of clients, from small-town distilleries to major names in the industry. Some of their notable works include Gaslighter Wines Website Design for The Chicks, Templeton Rye Website Design for Infinium Spirits, and NapaValley.Wine Website Design for Napa Valley Vintners. The team has also been recognized by prestigious organizations such as Awwwards and Bev Testing Institute, with various honorable mentions and international gold medals.
Makers & Allies is not just about the work; it's about the culture they foster. They are a group of creatives dedicated to staying on top of the industry's latest trends, making them a boundary-pushing creative partner. They have an active newsletter to inform clients of the industry's latest news and stay hip on the finest booze. If you are looking for a creative partner who is passionate about their craft and can take your brand to the next level, Makers & Allies is the perfect fit.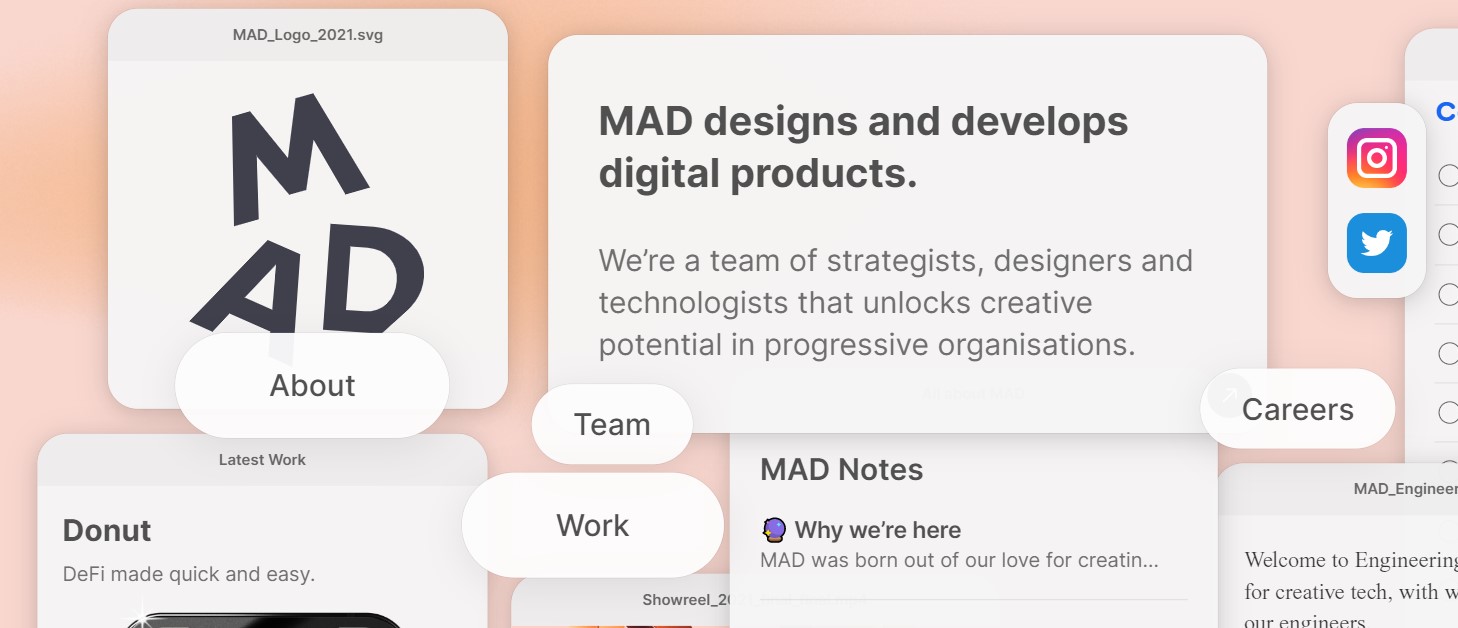 MAD is a creative agency specializing in digital product development, offering a unique approach combining refined strategy, spotless web design, and powerful engineering. A shared passion unites their strategists, designers, and technologists for creating meaningful digital products and a desire to do things differently from traditional digital agencies, product companies, and studios. Here are some things that set MAD apart:
Their approach to problem-solving is fluid and flexible, focusing on finding a solution that works for each unique challenge.
MAD prioritizes working with clients who share their values and are as ambitious and forward-thinking as they are.
The agency has strict commandments that guide their work, including no pitching, prioritizing partnerships over one-nighters, and valuing people over process.
MAD's process includes initial meetings and discovery, workshops and user experience, product and brand strategy, web design and prototyping, and technology and engineering.
They have worked with various clients, including Sparkasse, Back, BVG, and ZEIT Online, to deliver end-to-end digital product experiences.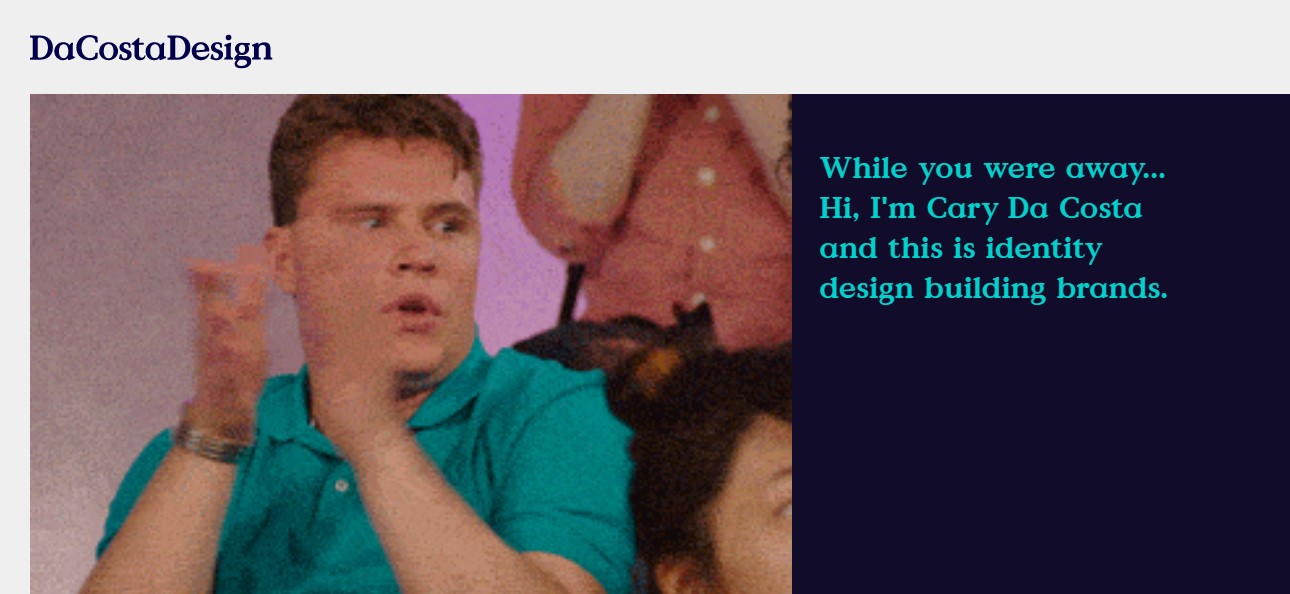 Cary Da Costa is the creative director and identity web designer from Canada. He is here to help you build a better-performing product that is meaningful and beautifully connected to the future of your business. With over 15 years of experience, he offers a no-nonsense approach. He is committed to providing you with engaging experiences that are never middle-of-the-road.
At Da Costa Design, his trusted approach is multidisciplinary, which includes creative direction, identity web design, art direction & photography, modular design systems, digital and print typography, paid social design and performance-driven creative, making web design scalable across channels, digital UX web design and creative user interface, and packaging design. His services include brand & identity design, art direction, brand strategy, digital design CX UX UI, social media design, advertising, print, packaging, naming & messaging, and creative sprints.
Over the years, He has had the privilege to work with exciting local & global brands such as Amazon, Uber, Philips, The Walt Disney Company, and The World Health Organization. His scope of business includes global & local brands, start-ups, health tech, consumer products, NGOs, agro-insurance, art & culture + fashion, private & retail banking, plant, flowers, fruit & vegetables, hotel & travel, real estate, and city municipalities.
At Da Costa Design, He always strives to create better solutions that will benefit your business.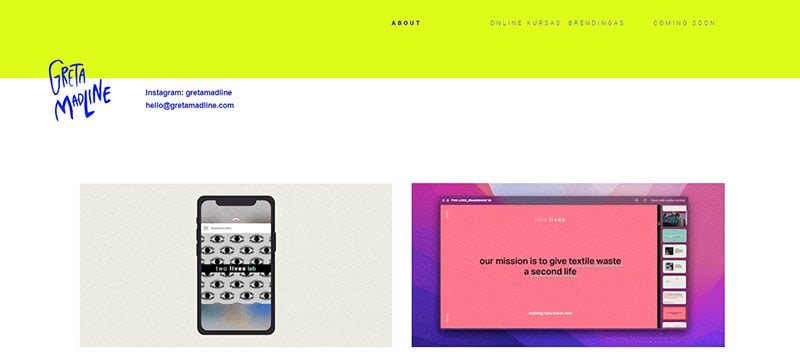 Meet Greta Madline, the multi-disciplinary graphic designer and art director behind some great branding, web design, and social media content projects. She received a top-notch design education at Leeds Arts University and Central Saint Martins in London. Her experience in the industry is extensive. Over the years, Greta has worked with big brands such as Twitter, Heineken, and Booking.com and also found joy in freelancing with sustainable, niche, or independent brands. Her skills include branding, web design, social media, and art direction. She cares about the environment and loves surfing, slow living, and long walks in nature.
Some of the projects Greta has worked on include:
POWDERROOM – logo design for a "candy shop for adults."
THEATRIUM – branding for a theater festival
KDT.LT – web design for a theater group
R4D – plant scenography for social media content and branding
SUN 365 – web design for a juice brand
LOW INTERVENTION – social media content for the "best natural wine subscription in the universe."
VARNA TERASA – logotype design for a restaurant in Nida
PICK A STORY – web and keynote design for a storytelling agency
CLUBHAUS – web design for an "achos" brand
BABE GURU – editorial layout for a self-love magazine
READYSET – social media content and script writing for video ads
TWITTER – book design for a coffee-table book showcasing the best of Twitter
DOORDASH – art direction for social media content
GABRIELĖŠVIRINĖ – branding and logo design
HEINEKEN – social media campaign for a beer crate
Suppose you're looking for a creative and talented graphic designer to work on your next branding or web design project. In that case, Greta Madline is the person to reach out to.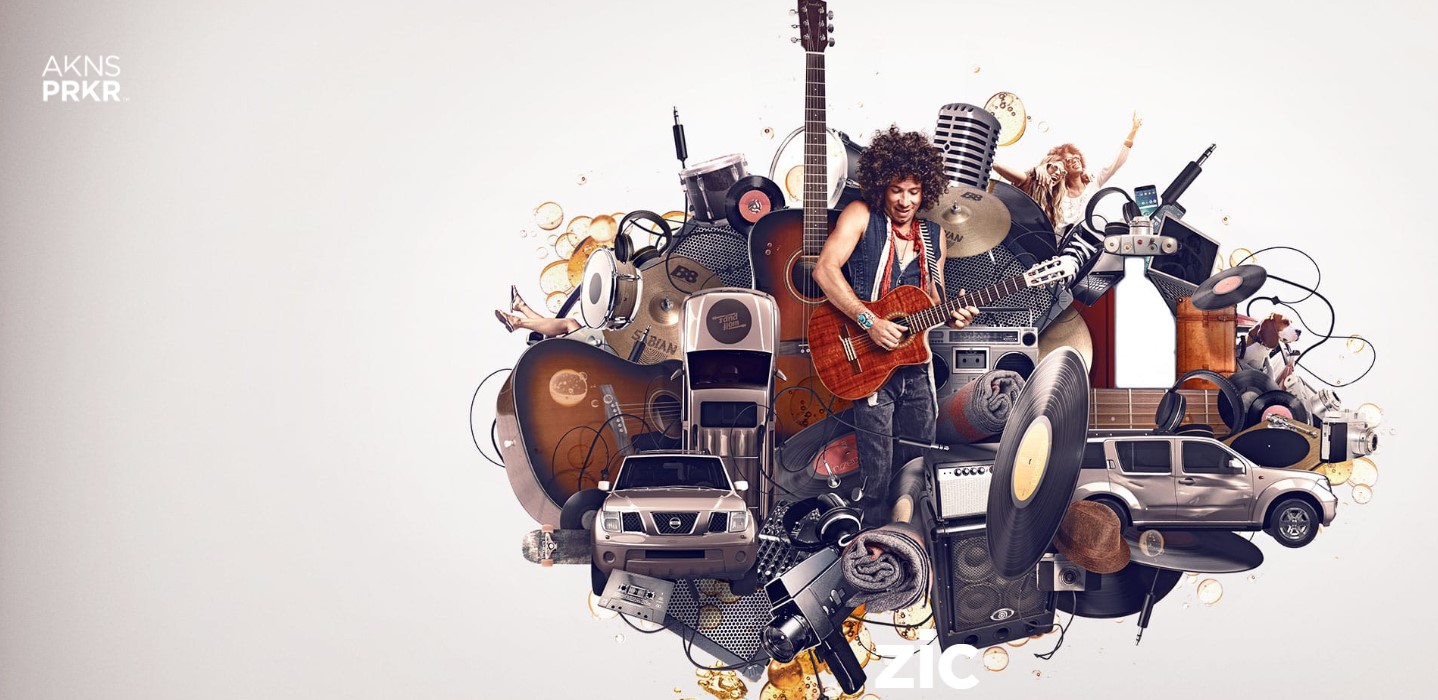 AkinsParker is a web design agency aiming to create great work, partnerships, and work environments. The agency values having a posture of service, celebrating strange ideas, and moving boldly. They believe that style is the enemy of great work and that the work should have a purpose beyond just being visually pleasing. AkinsParker also believes in making the client famous instead of promoting themselves above the work. The agency focuses on listening, fostering creativity in others, having integrity, and spending wisely. They strive to build a creative environment and value life balance, prioritizing the parts of life most important to each individual.
AkinsParker offers integrated campaigns, experiential and environmental web design, and brand expression services. They also provide communications strategies, media planning and purchasing, packaging design, broadcast, video and motion graphics, entrepreneurial creativity, and rapid prototyping. AkinsParker believes in coordinated messaging that reinforces itself across all media, from broadcast to out-of-home, online to experiential. They also understand the importance of packaging design, how the perception of a product is inseparable from its container, and that short- and long-form content, TV spots, title sequences, and animations can all serve a compelling brand story across every channel.
The agency can help navigate the communications landscape, hone a story, and identify an ideal ecosystem for the message. They also offer rapid prototyping to enhance brainstorming and to get a working model into the hands of potential investors. AkinsParker would welcome the opportunity to work in a creative partnership with a venture. The agency focuses on building businesses and products that make a difference.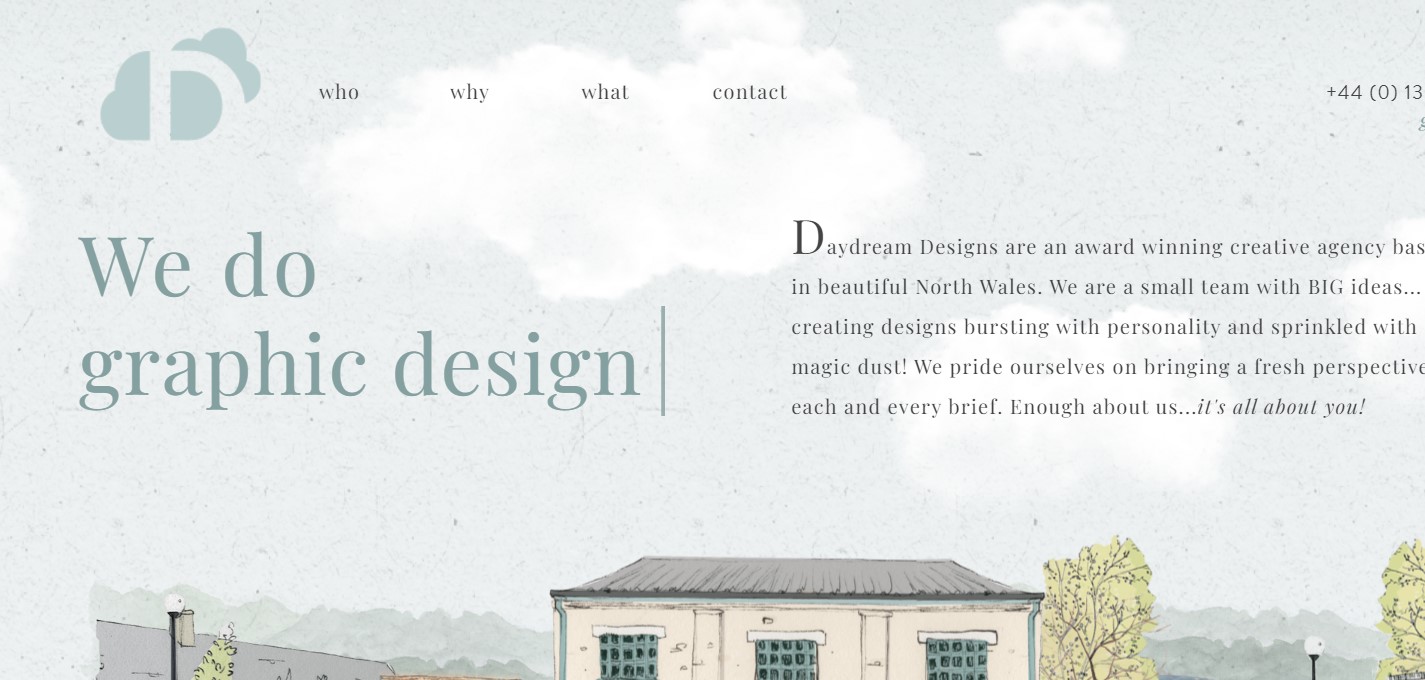 Daydream Designs is a multi-award-winning creative agency located in beautiful North Wales. They are a small team with big ideas, crafting web designs bursting with personality and sprinkled with magic dust. Daydream Designs brings a fresh perspective to every brief and prides itself on its ability to translate client needs into action. Their clients are the focus of their work, and Daydream Designs is dedicated to providing a high-quality service that delivers results.
Here are some of the reasons to choose Daydream Designs:
They are a full-service, results-oriented creative agency providing web design, branding, packaging, marketing, and illustration services.
They specialize in brand design, creating eye-catching brands with a personality that speaks volumes.
Daydream Designs offers creative workshops to help clients discover their brand voice, tone, language, look and feel.
They conduct market research to understand the competition, target audience, and consumer trends to develop the best strategy for clients.
Daydream Designs offers bespoke, knock-your-socks-off websites with the WOW factor, user accessibility, responsive web design, and search engine optimization.
They offer results-oriented integrated marketing solutions, handling PR, copywriting, research, advertising placement, digital marketing, and social media.
Daydream Designs has worked with many clients, including The Stamford Gate, Welsh Mountain Zoo, Gladstone's Library, and Chester Zoo. They have an excellent reputation, with many clients praising their honest work and the hard graft and imagination they meet in their web design process. Their attention to detail, process, and client focus ensures they deliver designs exceeding client expectations.

Stuurmen is a branding agency with a history of building compelling brands for premium products and services. They are located in Eindhoven, a city of high-tech and high web design, which makes it a natural basis for Stuurmen. The agency is committed to high standards and specialist knowledge and is genuinely interested in premium products and services. The team at Stuurmen is made up of creative developers, brand and web designers, and project managers. Here are some of the projects that Stuurmen has worked on:
Certhon: Growing anything, anywhere (Tech & Horticulture)
Triple&Crown: Where automotive meets finesse (Cars & Boats)
Hyer®: Personalised aviation (Travel)
Abstraction: Games Beyond Boundaries (Tech & Videogames)
Studio Mees: Small actions with a huge impact (Lifestyle & Leisure)
Impossible Drinks: Impossible made possible (Lifestyle & Leisure)
Stuurmen's core values include playing hard and hard, ensuring that everything is thought through with utmost care, creating brands that catch people's attention, incorporating playful elements and clever copy, and being sincere and direct with clients. Stuurmen works exclusively with companies keen to become or remain a leader within their industry. Companies that dare to swim against the current and are worthy of the label premium. Stuurmen's ultimate goal is to eradicate mediocrity from this world, and they are always up for a challenge. Latest news: Stuurmen is hiring. Check out their jobs.

Octoplus Group|Agency is an integrated communication agency web designed to help clients grow, and companies succeed. The agency's extraordinary cultural assets, from Italian taste and Swiss quality, enable them to build captivating and effective customer experiences that connect the brand's heart to the consumer's. Strategic, "disruptive," and digital expertise are their strengths.
Octoplus Group|Agency analyzes market dynamics, customer insights, rivals, and their clients' strengths to add value to their business. Their strategy develops the brand's personality, aim, and strength and fits it to target groups. Brand identity defines its experience. Octoplus Group|Agency gives the brand a personality and mission that directs all touchpoints with creative concepts. They create brand experiences through strategic planning and an ideal media mix.
Octoplus Group|Agency believes effective communication requires a comprehensive understanding of its customers' market, consumers, and culture. They're a disruptive agency that believes only startling, effective, and dynamic communications can reach consumers' hearts. They help digitally transform organizations to communicate with consumers in a new language. Having innovative communication ideas isn't enough. Marketing and business goals are their only satisfaction. Octoplus Group|Agency builds solid ties with clients and partners before consumers.
Octoplus Group|Agency offers strategy, branding, advertising, digital content, and performance. They adore working with brands and storytellers. They value collaboration and user-centered web design. Campari, Lamborghini, and Ducati are clients.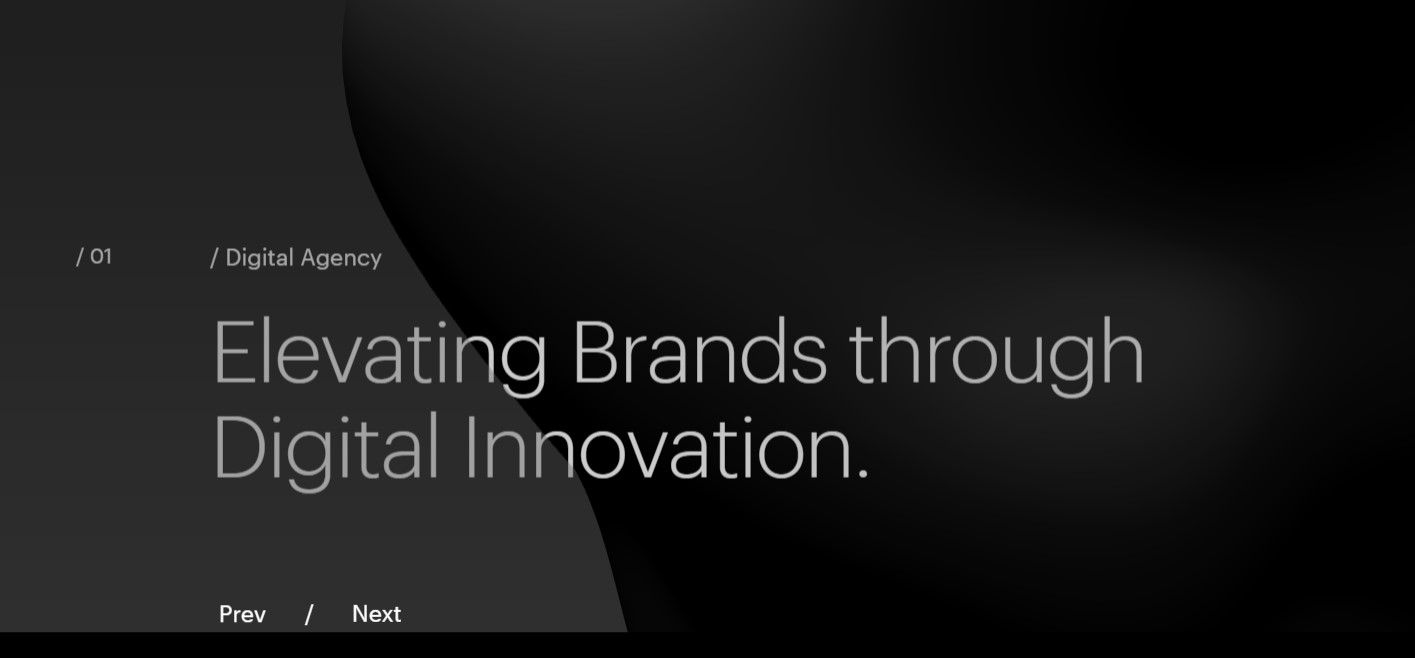 Fleava is a strategic digital innovation agency based in Singapore and Bali, Indonesia. Their team of industry-leading professionals is passionate about uncovering the best digital innovations for forward-thinking brands looking to push boundaries and drive significant impact. They fuse data with unrivaled creativity to achieve remarkable results for ambitious brands. Their focus has always been to create enjoyable, intuitive, engaging, and remarkable experiences for people, which sets them apart. Fleava offers a wide range of expertise, including digital strategy, branding, web and app development, user experience, digital marketing, and media production. Their services are designed to elevate brands through innovation in digital transformation. In addition, they have assisted businesses in developing sustainable growth to generate momentum that lasts for years.
Fleava has worked with some of the world's most renowned brands, including Canon Asia, McDonald's Manila, The Body Shop Indonesia, Gojek, Midtrans, J.Co Donuts, Boga Group, IHG, Marriott, and more. They have been nominated as the Agency of the Year amongst the best Digital Agencies Worldwide, and Awwwards have recognized their work. Fleava is fully dedicated to principles that guide and define their work with their people, clients, and brands. They prioritize measurable results and never compromise on quality. They believe that experience is everything and always do things once and do them right. A balance of exquisite form and powerful function is a formula for success.

Bilberrry is a web design agency specializing in developing websites, apps, and digital experiences that help clients grow, innovate, and transform. They listen, learn, and understand their client's goals before building, identifying that sweet spot of realistic and impactful. They offer various services: Innovation Strategy, Digital Product Strategy, Technology Architecture, Information Architecture, Digital Product Design, UX Research & Design, Website Design, Brand Identity Design, Web App Development, Magento Development, WordPress Development, and Mobile App Development.
Some facts about Bilberrry: they have been in business for over ten years and are headquartered in Seattle, Washington. They have a team of 55 full-time employees who are autonomous, outspoken, collaborative, and love doing the work. Bilberrry prides itself on being a true partner to their clients, solving problems, not tickets.
Bilberrry's clients include PepsiCo, Lockheed Martin, OfferUp, Deloitte, Impinj, David's Bridal, Blueprint Registry, and a global non-profit. They have built impressive digital experiences and helped legacy businesses transform their operations. One thing that sets Bilberrry apart from other web design agencies is its approach. They always start with "Why?" and use the answer to drive real growth and meaningful transformation.
Bilberrry's leadership includes CEO Adam Brazg, CTO Ross Dzikovsky, Head of Engineering Alex Mukho, Director of Product & Digital Strategy Arthur Shwab, Lead Designer Karen Tucker, Head of Creative Emma Thesenvitz, Director of Engineering Bohdan Protsiuk, Director of UX Design Sasha Samkova, Director of Project Management Irene Rezva, and Director of Product Management Eugene Vyshegorodtsev. Each brings a wealth of experience and expertise to Bilberrry's clients.

Baunfire is a creative digital agency building elevated websites in the heart of Silicon Valley. They are a team of designers, developers, strategists, and producers who pride themselves on pushing the boundaries of digital design and development. With a passion for building great things, Baunfire is dedicated to perfecting its craft and taking industry-leading brands and startups to the next level. They build impactful experiences through great UX, web design and development, and web design visually engaging marketing assets to help drive brands forward. They identify businesses' challenges and develop solutions to achieve their goals.
Baunfire has an impressive roster of clients, including Netgear and Pulse Secure, for whom they lead all web and digital efforts, and Maxim Integrated. In addition, they have built corporate websites for Replicant AI, Incorta, Unifi Protocol, and Optimal Dynamics, among others. They combine relevant trends and best practices to build platforms with longevity, and they sweat the small stuff because they believe that the details make the web design. Baunfire is detail-oriented, self-starting, and entrepreneurial, ensuring that every team member proudly takes ownership of each project, from concept to execution. They also value feedback and strive to embrace it from team members and clients.

Huemor's services include digital strategy, web design, content creation, visual asset creation, brand guides, B2B and enterprise websites, web development, and third-party integrations. They also offer website support such as data and analytics, UX audits, landing page design, conversion rate optimization, and more.
First, they specialize in website redesign, branded assets, UI/UX design, CRO, and full-stack development.
Second, they focus on results and care about their work's impact on your business—not how it looks in their portfolio or an award showcase.
Third, they're responsive and limit the number of clients they take on each year to ensure each one has an outstanding customer experience.
Fourth, they go the extra mile and view their engagements as relationships, not vendor agreements.
Huemor has worked with various clients across different industries, including Luseta, BetterCloud, Tripleseat, VRC, A+ Products, and Caldera Lab. These projects have included full website redesigns, increased engagement, direct-to-consumer solutions, and more.
Huemor has won multiple awards, including being voted a 2023 Global Leader. They pride themselves on creating best-in-class user experiences that translate into improved client conversions, sales, and engagement.
At Huemor, you can expect responsive, friendly service that goes above and beyond. They offer long-term partnerships and have a talented team of web designers, developers, managers, marketers, quality analysts, and writers. With Huemor, you'll receive a website you can be proud of, massive results that matter, and a partnership that yields amazing results.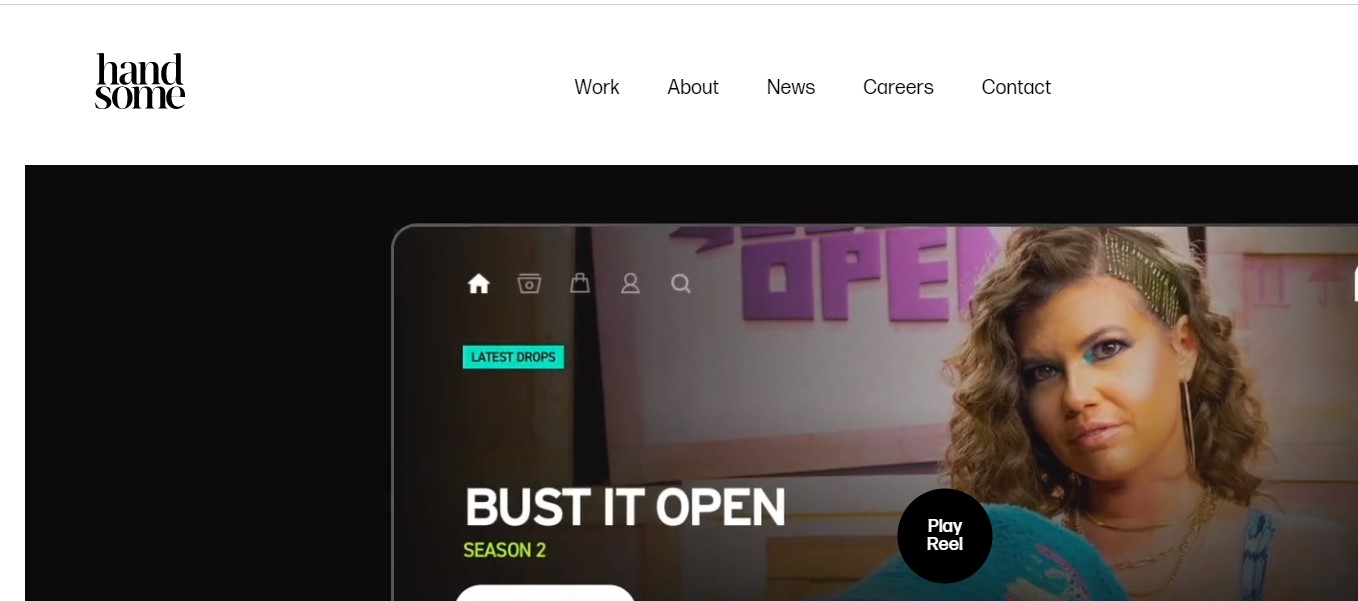 Handsome is a holistic web design agency from Austin, Texas. The company provides various design-related services, from research to photo/video shooting and VR. This studio has worked with well-known brands like Nickelodeon, Audi, FedEx, and others.
As to the web design of their website, calm dark tones prevail. A user will see a list of successful cases on the main page. Each of them has its special style. Images and animation are also very eye-catching.

D.FY is a design studio with offices in Seoul and Tokyo. They mainly work with strategy development, marketing, and production and complete many design-related tasks. In addition, the company provided various services for Samsung, AKI, POOQ, etc.
The web design of their website has vivid transitions and animations. The main page is divided into several scrolls, each presenting a certain project. The navigation between the pages and the non-linear placement of content blocks are also very interesting. Users immediately see some links to the important pages.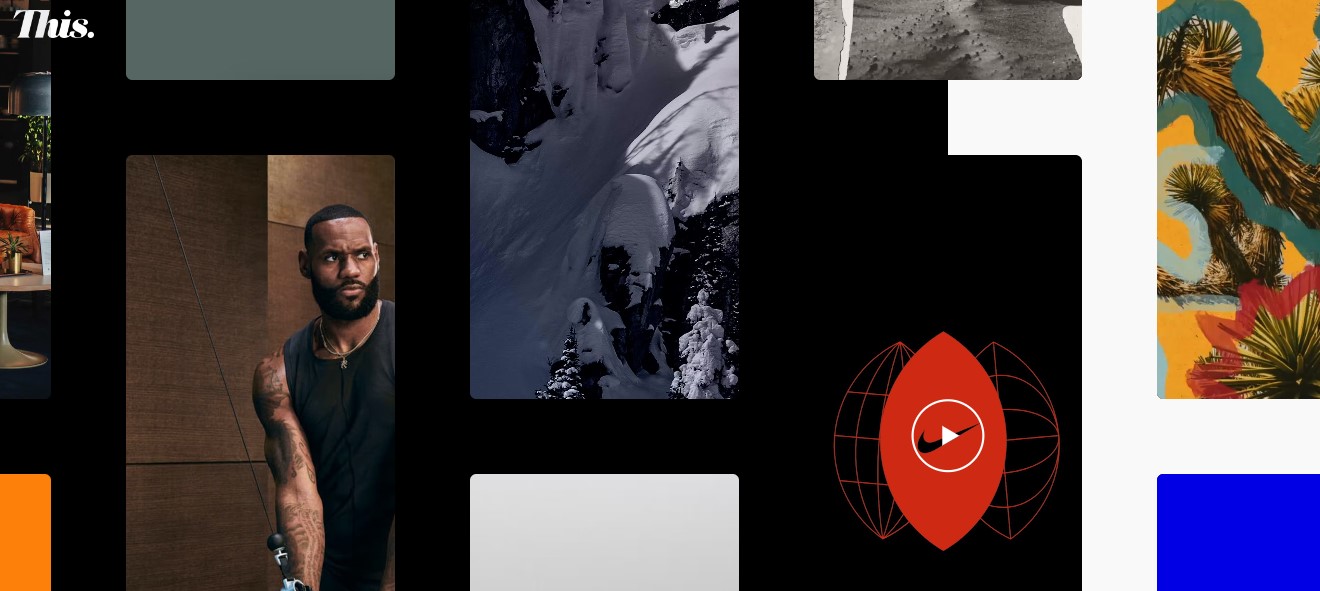 This creative agency is from Portland, Oregon (sorry for the play upon words). It provides services such as branding, marketing strategy development, UX, etc. This company has a special focus on ecological projects. In their portfolio, you will see Xmas (a cartographic project) and Bonsai Mirai (a project for the American school of bonsai art).
They have a unique website, both from a technical and stylistic perspective. The images and videos on the pages look very realistic, rich, and detailed. A peculiar website structure is also of interest. Additionally, we want your attention to the selection of fonts and colors that complement each other well. The bright color palette makes the image and text look distinct without an unpleasant contrast.

Logram / to design is a branding agency located in Tokyo, Japan. This studio specializes in branding, web design, and creative solutions. Among their clients, there are Starbucks, merci beaucoup, and NewYorker.
The web design of their website is unique. It has many content blocks in different directions, various font sizes, and Japanese characters next to English. The selection of colors is also very strange – the constant alternation of dim and acid shades is confusing. Finally, pay special attention to the website navigation. The placement of links, text, images and other elements that take you to the rest of the pages is unusual. On the one hand, this demonstrates the team's creativity but, on the other, prevents visitors from using the website intuitively.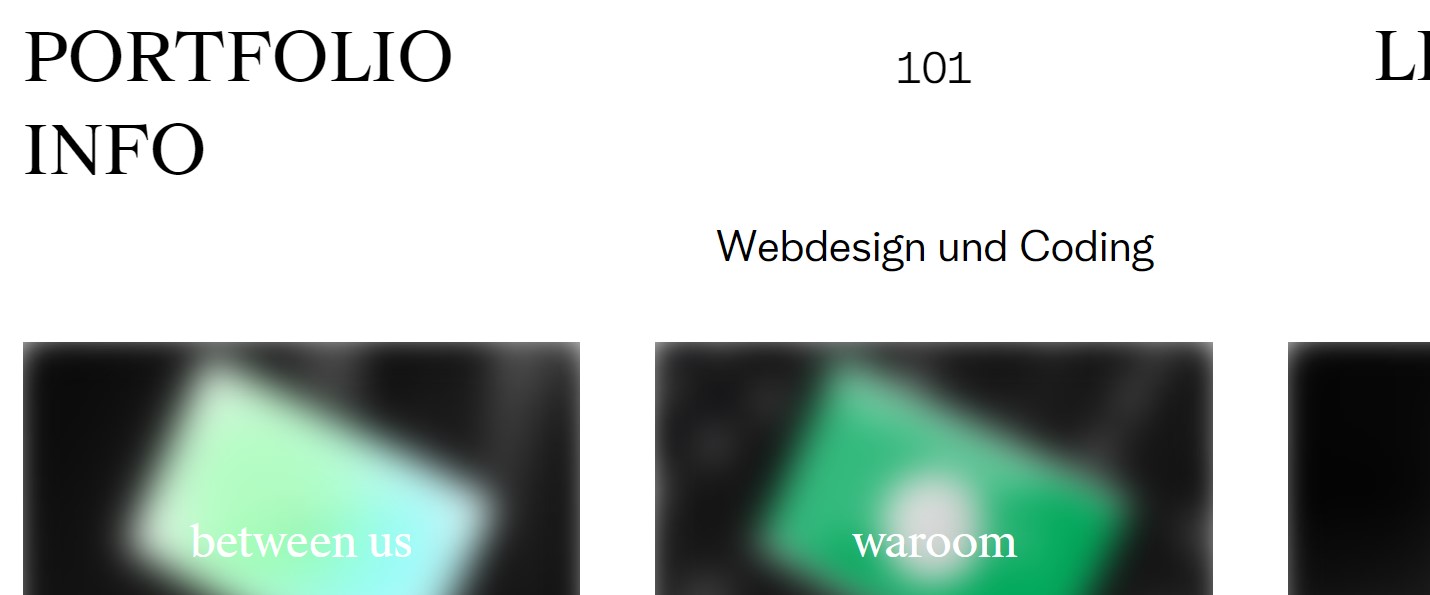 This Austrian agency codes and designs. Their portfolio has many projects associated mainly with web design, content (including video), and development.
The website of 101 studio is very unusual and has numerous interactive elements. You will be asked to click, scroll, or do other actions to view something on most pages. Thanks to this solution, a great part of the content dynamically changes. There is also an interesting hook. It blacks out if you don't interact with the page for some time. To continue working, you must erase the black color with your mouse.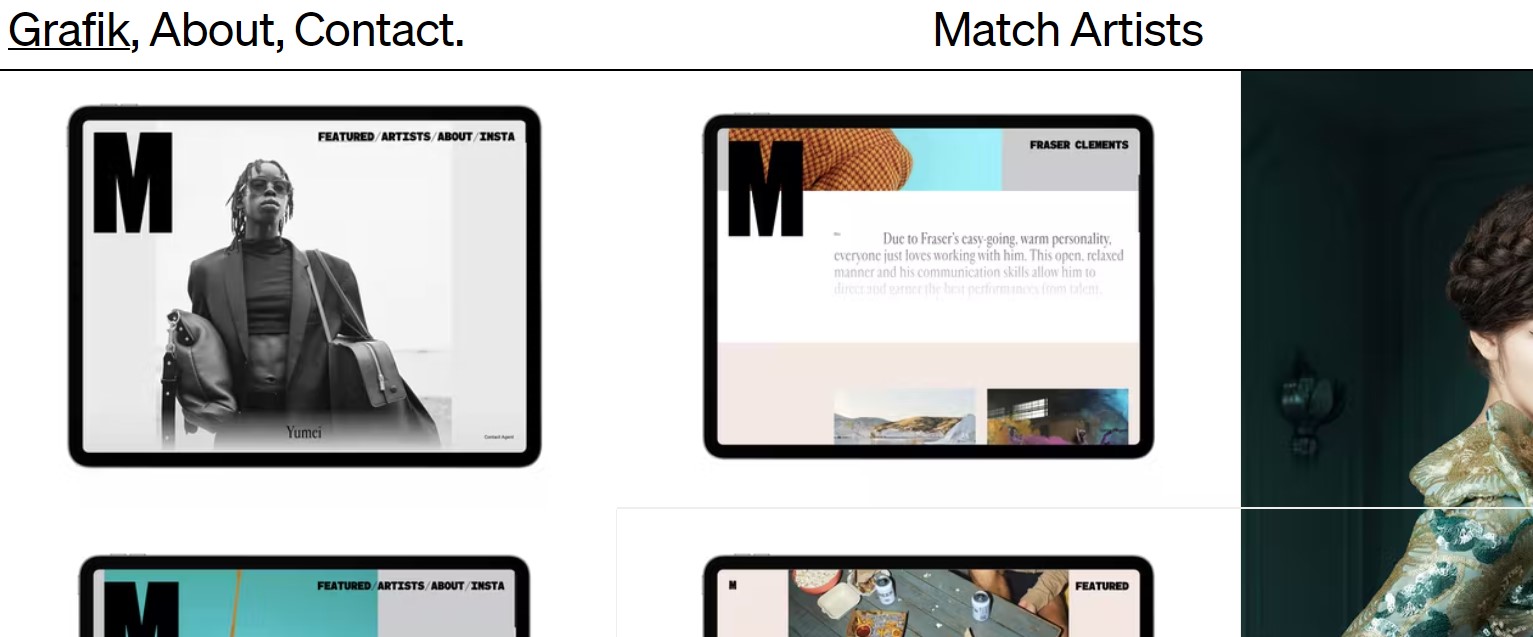 Grafik is a small stylish studio from Wellington, New Zealand. They mainly specialize in unconventional web design solutions that have won them numerous awards. Among their successful projects, it's worth listing Public Library, Patchwork, and Miles Calder.
The studio's website is notable for its bright and peculiar web design. Grafik's specialties include large font sizes, rich colors, and an unusual placement of content blocks. We should also note the unique navigation on this website.

Nero Motion is an Auckland-based web design agency specializing in bespoke software solutions. With the belief that technology can accelerate every business, they have been helping clients extract order from chaos for over a decade. They start their process with a thorough discovery phase. Their senior architects, business process analysts, and technology experts discuss the client's problems, goals, and quantifiable success measures. Next, they move on to design. They create an interactive prototype and layer the ideal technical structure with UX/UI web design to ensure a seamless, scalable user experience. Finally, they get to the development phase, where their software engineers build the solution from the ground up, ensuring it stays true to the vision while continually testing and reviewing the progress.
Nero Motion has an impressive portfolio of clients, including Sunglass Style, Kāinga Ora, and Cumulo9. For Sunglass Style, they designed a stunningly modern and optimized e-commerce website with custom API integrations, a comprehensive end-to-end integration of Google Analytics, and a bespoke QR code system. For Kāinga Ora, they developed a modular CMS allowing the organization to create multiple unique websites with the same underlying framework, a universally integrated booking system, and a custom solution for producing marketing materials. And for Cumulo9, they refreshed the website with a bold new layout, eye-catching images, a cleaner web design, bolder, more prominent colors, and well-balanced animations.
Nero Motion's team includes exceptional developers, web designers, architects, and marketing specialists working together to deliver world-class results. They have an impressive track record of satisfied clients, and their work speaks for itself.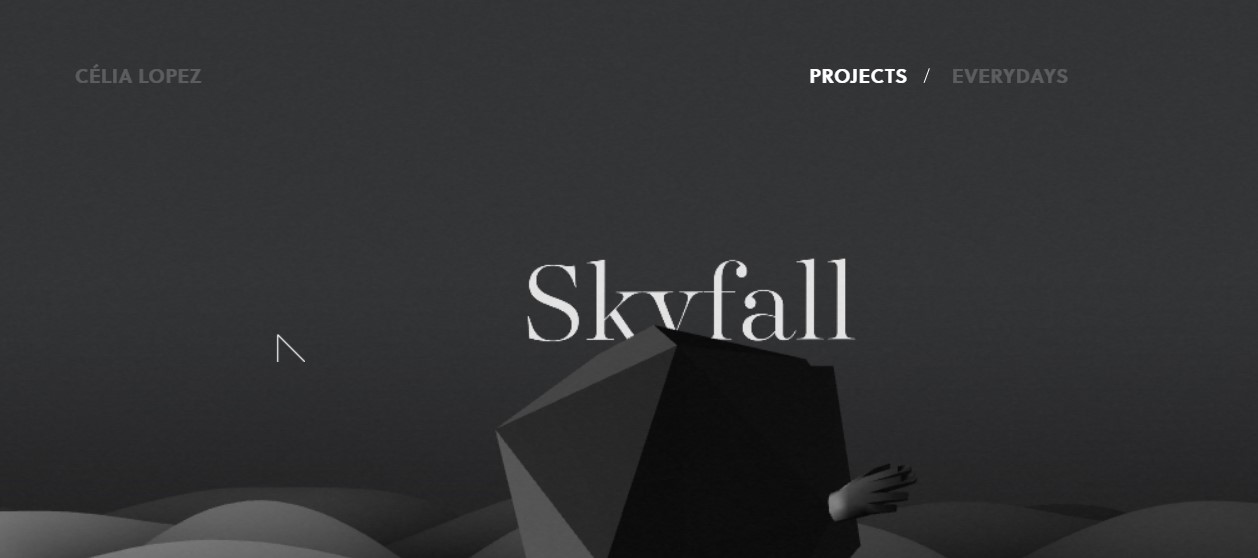 This position in our TOP is unique since Célia LOPEZ is a website created by a junior designer specializing in 3D and interactive. The web designer herself works in Viens-là studio, which, by the way, we have also included in this overview. After her day at the web design agency, this junior spends her leisure working under her brand. She mainly deals with 3D and 2D designs, UX, and concept development. She can boast about the completed projects of Parcea, Orange, Fuse, and others.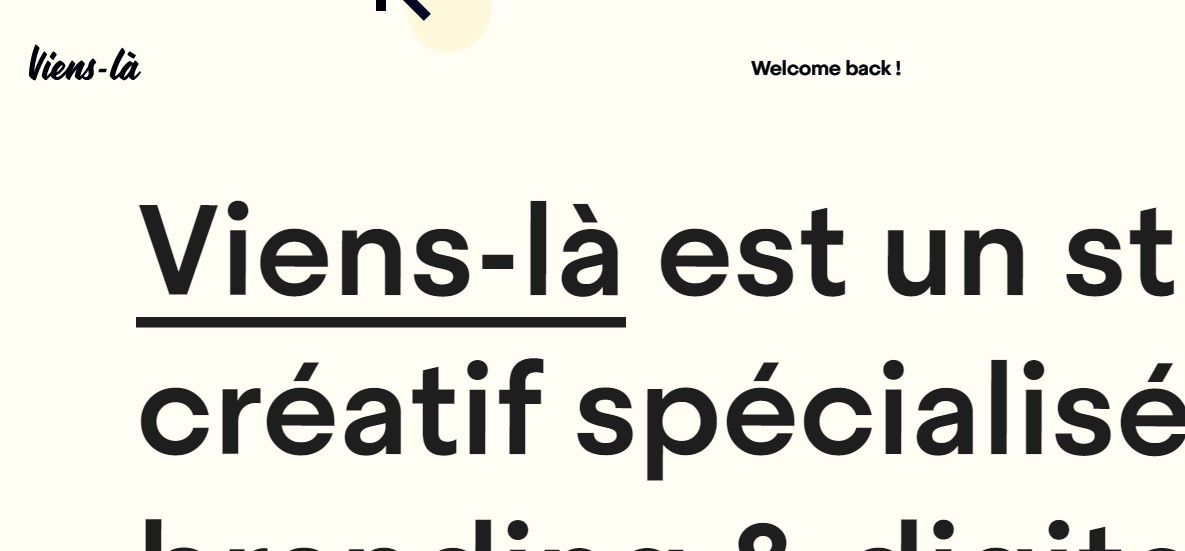 Viens-là is a digital agency founded in 2011 in Paris. The studio offers full-cycle development, from creating an idea and basic concept to maintaining the finished product. In addition to numerous awards, this company is also notable for its team. A part of its employees has their projects and design studios. The studio completed FIAWEC, ING, Frateli, and many others.
The design of the website of this web studio deserves your special attention. Users first see a GTA Vice City-inspired preloader and slider once the resource uploads. After clicking the Skip button, they are taken to the main page. The web design has many animated elements, stylized transitions, and appealing images. Everything is as logical and intuitive as possible.

Anagrama is a design agency from Bucharest (Romania) founded in 2006. The studio offers development, web design, strategy planning, and research services. It worked on various projects, including moovel Group, BitLocation, and Bancpost.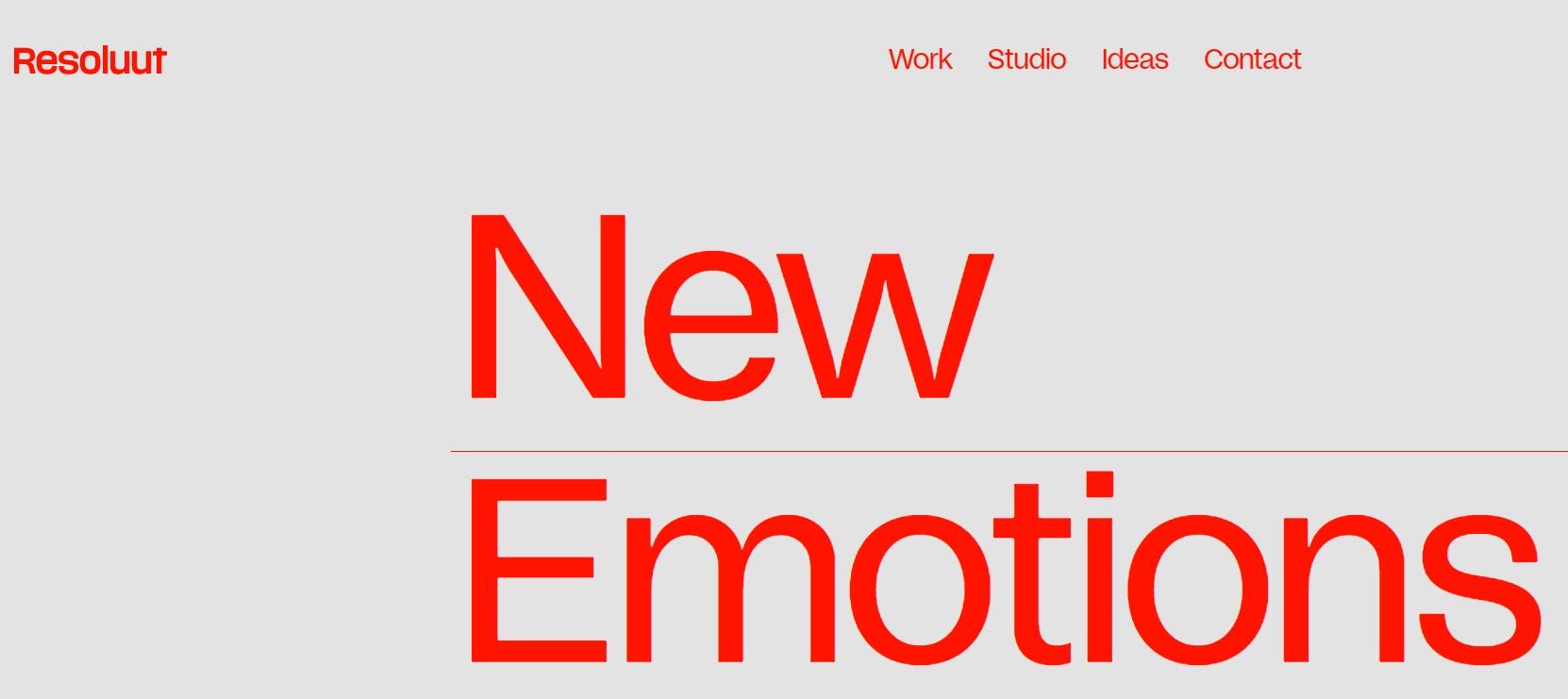 Resoluut is a strategic web design agency that creates emotional connections and brand relationships through digital experiences. With almost two decades of experience, they have mastered designing brand identities and digital experiences that elicit new emotions at every touchpoint. They are a studio comprising web designers, strategists, copywriters, illustrators, and project leads, specializing in branding, visual identity, digital design, and communication. Collaboration is at their core, and they approach every project as a joint effort with their customers, internal teams, and other agencies. Resoluut's team consists of highly specialized individuals who strive to do the best work possible and have fun while doing it. Their studio is where they connect. Through their mentor program, training, and collaborative sessions, they ensure everybody can grow creatively and personally. Resoluut's services include brand experience design, digital design, UI/UX web design, design systems, and app design. Some of their clients include Simon Lévelt, IKEA, and Intergamma. They have partnered with companies such as Soda Studio, Milkshake Research, and Mr. Koreander. Resoluut is a showcase of all things web design, where they share their explorations, personal work, and stuff they like.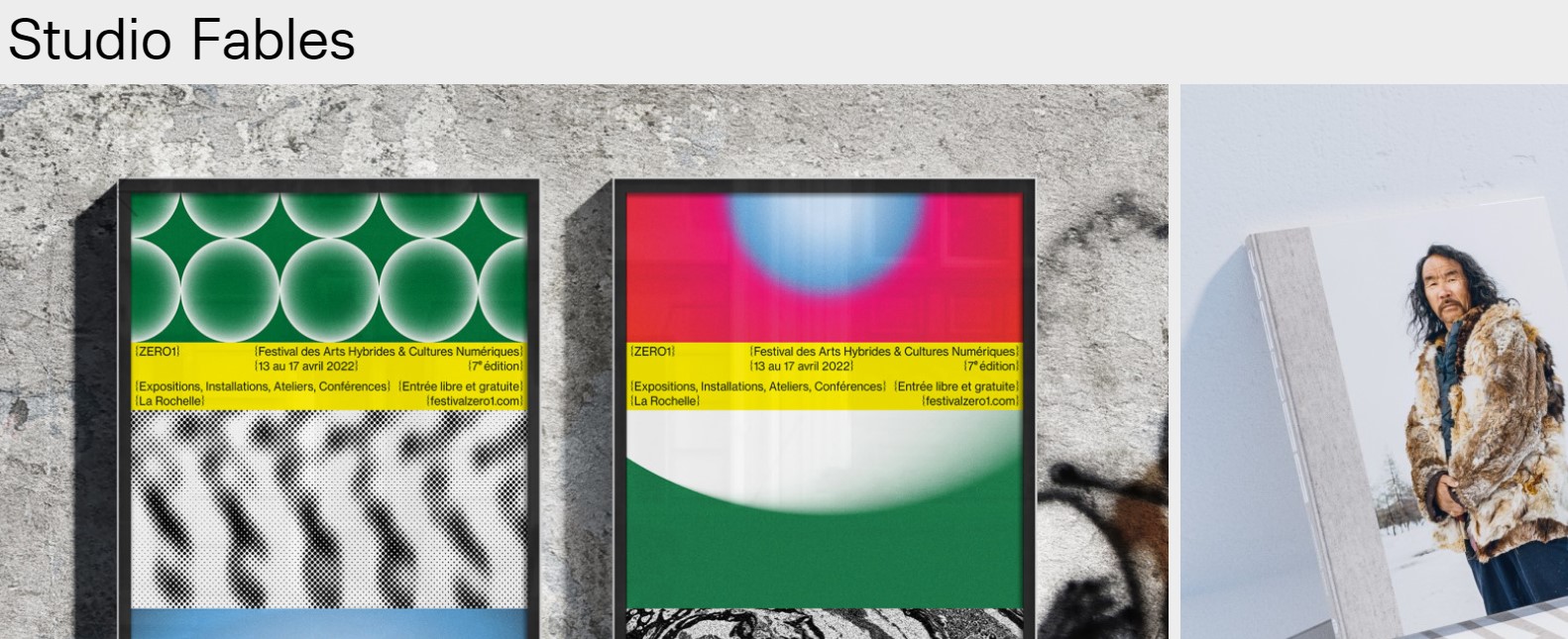 Studio Fables is an independent graphic and digital studio with an office in Paris. The company is well-renowned for its various awards and creative approach to projects. This agency's main services include art direction, motion web design, UI/UX, and web development. They have worked for Arte, BNP Paribas, Evian, Sosh, and other famous brands.

Momkai is an international web design agency with offices in Amsterdam (the Netherlands) and New York (the USA). They offer UI/UX, print design, branding, and more services. They worked on outstanding projects, including Oncode Institute, De Correspondent, and Master Digital Design. The website of this agency has an interesting structure. Instead of a standard main page, users go straight to the page with the listed projects. Furthermore, every case has its style with lots of high-quality graphic materials.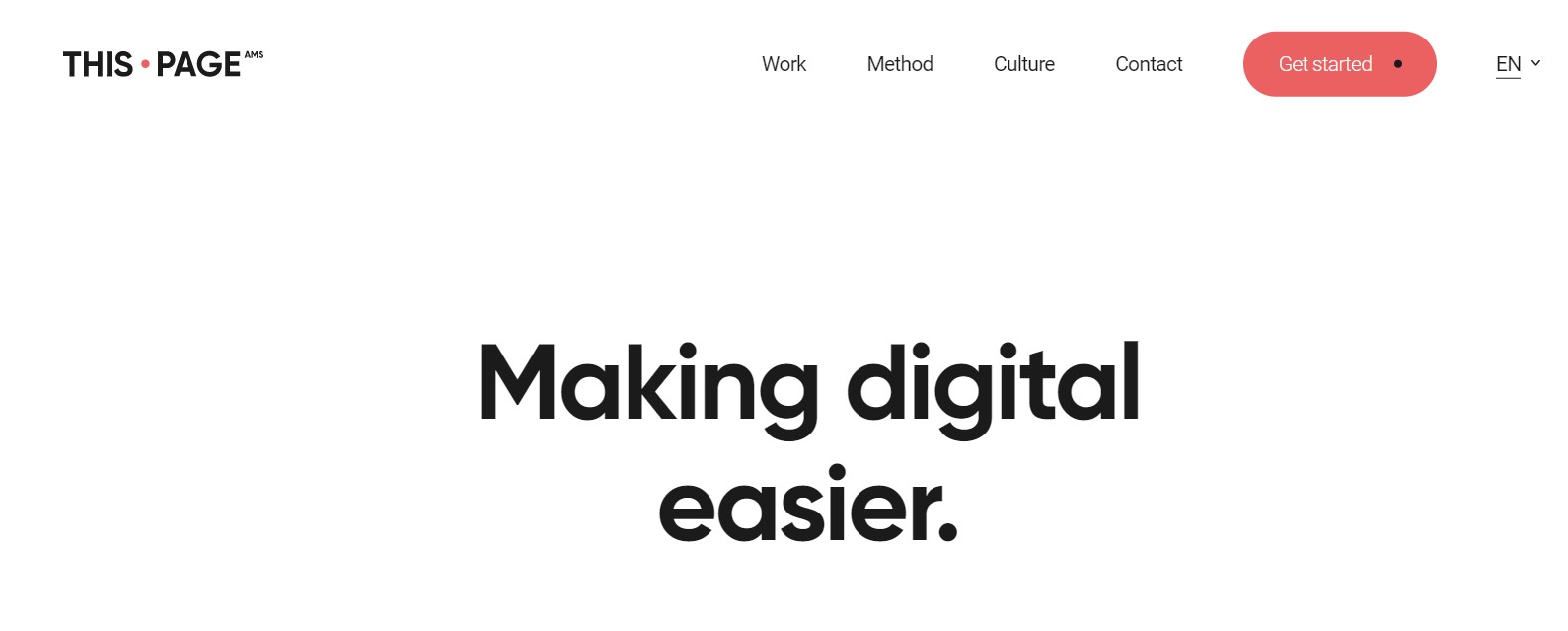 Welcome to This Page Amsterdam, the creative web design agency that helps organizations establish their digital branding and produces all assets needed to move forward. With years of experience and a team of human, international, ambitious, passionate, and creative professionals, This Page Amsterdam has established a solid reputation in the industry. This Page Amsterdam offers a wide range of digital services covering your digital needs. Here's what they offer:
Branding: Brand positioning, development, refresh, guidelines, collateral
Advertising: Display ads, rich media ads, digital out-of-home, and social media ads
Social: Social media post design, animated social media graphics, social media concept design, social media branding, social media collateral
Presentation: Presentation template design, slide deck design, sales deck design, pitch deck design
Creative: Motion graphics design, animated videos, custom illustrations, custom marketing material, custom infographics
Web: Landing page, UI/UX web design, website, newsletters & email, campaigns, blog
This Page Amsterdam's clients include big names such as JBL, Nike, and Into The Woods Festival. They have won several awards, including The Lovie Awards, Awwwards, and The Webby Awards. With their work, capabilities, method, and culture, This Page Amsterdam is committed to making digital easier for everyone.
Ronin161 is a web design studio based in Montreuil (France). They call themselves a digital gang. Their team deals with Front-end/Back-end development, motion and digital design, and 3D modeling. BETC, La Chose, Universal, Wagram, and others have trusted them.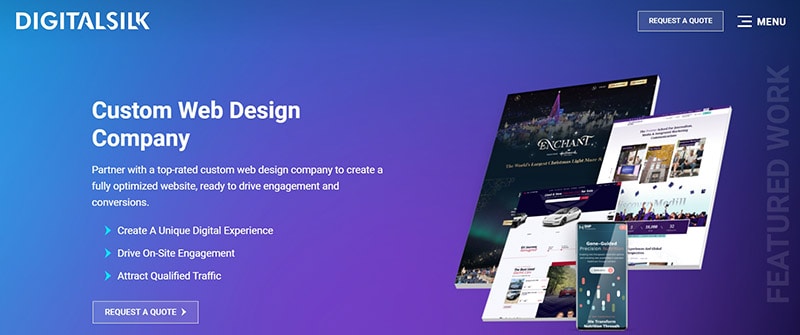 It is a world-class web design agency that focuses on creating incredible digital experiences. They work both with B2B and B2C. They can develop creative but incredibly effective digital properties. There is a team of professionals whose extensive experience guarantees excellent results. Clients include:
Digital Silk is located in Miami, Florida, United States. Gabriel Shaoolian is the founder.

We have something interesting for you if you want a New York web design agency. Unified Infotech is the best web design agency in New York City. It offers the following services:
It was established in 2010. As you know, this top web design agency is headquartered in New York, United States. Pratip Biswas is the CEO and founder of this New York City web design agency.

It is a web design agency established in New York in 2007. This company is an independent one. Their ideology is that the user comes first. The interesting thing is that there is no sales department. The range of services guarantees they will go deep into your business and create one-of-a-kind solutions for you. Stamatis Papatheocharis is the founder. Customers include:
Data Device Corporation
McDonald's
Brown University

This company is an award-winning web design & digital marketing agency. This NYC web design agency is rightfully considered one of the best. Their portfolio includes projects for about 500 companies. Professionals from this web design agency in New York do miracles when conceptualizing online business models, various websites, powerful direct response strategies, apps, and great marketing strategies.
Clients include:
Frey and Wagner;
Melanson;
Campervan Iceland;
Gold Dust Casinos.
Ken Braun is the founder of this NY web design agency.

RNO1 is a Growth-First Digital Design Experience Agency. This web design agency in San Francisco guides game-changing Tech&eCommerce brands across platforms and places through agile thinking. Working with diverse brands, from Acorns to Airbnb, they understand that having a growth mindset is essential for the modern brand across all strategies and solutions. The company is headquartered in San Francisco. The founder of the San Francisco web design agency is Michael Gaizutis.

Uinno is a web design and development agency offering web and mobile development. Their services include:
Solution web design
Websites and platforms
Mobile applications of any type
Custom software development
AI/ML
There are offices in Ukraine and Estonia. Although the agency web design is rather new (they have about three years of experience), they perform their work skillfully.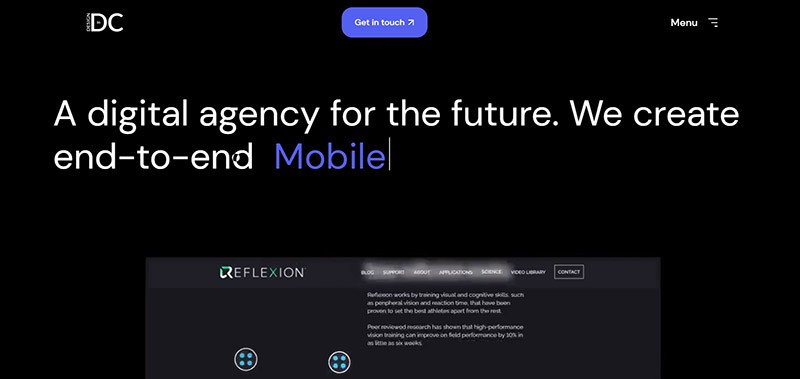 Design in DC is a boutique website design agency in Washington, DC. They started like most small companies: a company that grows business brands using an array of mediums, techniques, and technologies. The b2b web design agency surprises with the website: visit it, and you will notice their skills immediately. Photography, videography, and more – they know everything about web design and will make your platform one of a kind. Durell Coleman is the founder.
Conclusion
Choosing the right web design agency can be critical for any business. With so many firms around, finding the perfect one that suits your needs might be challenging. Some firms charge too much, while others might not bring the traffic you desire. However, the firms on our list excel in their work, and their rates are often reasonable. Their common goal is to manage your project and ensure you launch a stunning website. Since their founding, these agencies have been sure to analyze usability with tools like Plerdy, bringing plenty of traffic to their client's stores. They began their journey with a proposal, and weeks later, they launched a simple website to browse and manage. So explore Dribbble, browse their ratings, and remember to leave a rating after your journey with a key agency like Dentsu. Remember, location is vital, and even an offshore firm can bring a great presence to your business.