The first pop-ups appeared on websites in the late 1990s, but it wasn't until recently that they became an effective tool for lead generation. As technology developed, formats of pop-ups also were perfected. This process continues: online marketers constantly find new ways to use pop-ups expanding functionality.
It isn't a secret that those more proficient in pop-ups are more likely to use all functions to achieve the necessary marketing goals.
The combination of customized pop-up and personalized settings offer new opportunities for online marketers. Continue reading to learn more.
The Key Advantages of Pop-ups
A pop-up can leverage a tool to collect leads, reduce a bounce rate on pages, improve conversion, and increase sales.
Here are the four main advantages of pop-ups:
Easy implementation. You can quickly add them to the website on your own. No need to spend several hours and hire designers or programmers. Additionally, you can always easily change the design and content during testing without any extra spending from the marketing budget.
Dynamism and design. The design trend of recent years is animation and effects that break standard flat design's minimalistic and static style. Dynamic pop-ups with branded design are more likely to attract users' attention than static website elements.
The right offer at the right time. Pop-ups include calls to action and, if properly set, they are only displayed when a user is ready to see a certain offer. Moreover, such words as free, discount, gift, etc., trigger the human mind. They impact users' feelings and thus, give what any company dreams of – a base of subscribers, buyers, and loyal customers.
Brevity. Here is the formula: up to 2 buttons, a clear call to action, 1-2 fields, and no distracting elements. It's really easy to understand what you should do when you see a pop-up. There are always two options: to leave without doing anything or to complete the offered actions. This is called "users' path," and pop-ups make it straight. All actions are completed without wasting time, going to third-party pages, or entering login details.
Maybe, most users don't like them. Nevertheless, pop-ups do work. The refusal to accept them can rather be handled with the right design and placement.
Let's look at the main types of pop-ups, which differ in format, action, placement, and purpose.


Types of pop-ups by format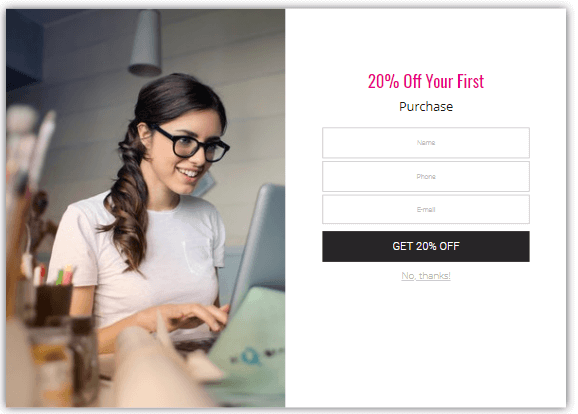 There are two large groups here:
Hello-boards
Page-stops
First of all, they differ in navigation, size, and the display's timing, not in design or location.
The pop-ups of these types are displayed immediately or a few seconds after a user visits a website. In some cases, they can even appear before the content of a page fully loads.
Hello-boards are now used more often than page stops. Moreover, design has changed. Modern hello-boards are smaller than predecessors, don't overlay the content of a page and let users decide whether to close a website or continue browsing.
Whereas page stops mostly attract attention to the content of a window. They overlap the page and sometimes are displayed without navigation preventing users from browsing until a target action is completed.
Almost everyone uses hello-boards, whereas page-stops are only effective in certain niches and specific situations (for example, to sell time-limited products or services, motivate users to subscribe, etc.).
Hello-boards are much less irritating to users, but they aren't as effective as page-stops. Today, only large and popular websites, such as Pinterest, Cosmopolitan, etc. can allow themselves to use page-stops. Yet they alleviate the pressure on the good attitude and loyalty of visitors with proper timing and targeted display.
Types of pop-ups by action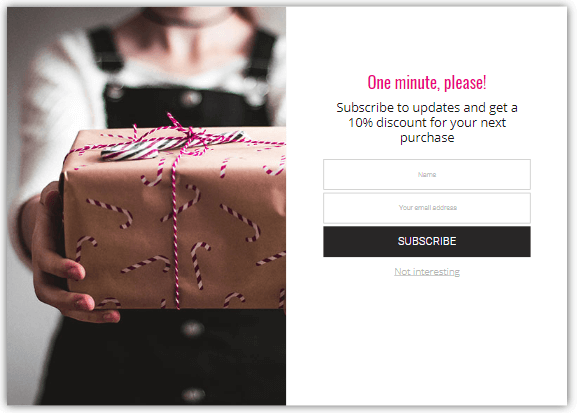 Pop-ups can be classified based on location, time, and type of action.
1. Entry pop-ups. They can be overlaying, pinned to the top or bottom website bar, or placed without content overlapping. These pop-ups are believed to be one of the most underestimated pop-up types in online marketing. Perhaps, the thing is that they can be harmful to conversion and strongly distract users from what they planned to do.
Such forms pop up before a page fully loads or almost right after its content is displayed. There is still no user interaction with the website. The users aren't sure whether they want to visit the page again and don't understand where they have landed.
It sounds repelling and frightening.
Yet if everything were so simple, pop-ups would have passed into oblivion long ago. Nevertheless, they generate quite a good effect based on unexpected and spontaneous displays. When a pop-up suddenly appears, users have no time to think. Moreover, they are nudged into the completion of a target action with the desire to learn more about the content hidden behind the transparent pop-up. The bet is that the users will provide information or use an offer without hesitation (or even reluctantly but still).
The effectiveness of such pop-ups largely depends on the message. Offer something valuable and motivate people to want it. For example, a 50% discount on all products is a great trigger that wouldn't hurt to be shown to all users. Spice everything with a time limitation, 1-2 fields, and a target action button to ease the pressure created by entry pop-ups.
2. Click pop-ups. They are activated when a user clicks a certain link, image, or word. Click pop-ups depend on action and are the least annoying to users. They appear when users want to see them and work gently without any risk to website conversion.
In many cases, click pop-ups can substitute landings: they don't pressure users, make them feel like they still control the browsing, and create an atmosphere of comfort and safety.
3. Sidebar scroll pop-ups, opt-in bars. This type of pop-up looks the most natural, thanks to its suitable location and timing. They are displayed when users already have a good grasp of content and probably won't stop browsing the website because of a pop-up.
4. Timed pop-ups. They aren't so annoying as entry pop-ups. Additionally, they aren't shown to every user but only to those interested in the corresponding offer.
Hence, we don't recommend using timed pop-ups without testing.
As an alternative, you can easily substitute a timed pop-up with a scrolling window. The optimum display time is 20-60 seconds after a targeted user visits a page.
The exact timing is determined during a set of tests. The time of the display remains the cornerstone of the effectiveness of such pop-ups.
5. Exit pop-ups. The task is to make an attractive offer before a user leaves a website. To do that, website owners often use different bonuses and promise discounts. Such pop-ups are also shown at the cart stage to motivate users to place an order.
Surprisingly, but this, at first sight, the useful tool has a huge number of haters. The thing is that such pop-ups are strongly aggressive. It's hard to persuade someone ready to leave. Again, as in the case of entry pop-ups, you have to find serious motivation. If there is no opportunity to use generous encouragement, you'd better refuse from such pop-ups at all. Otherwise, they will bring more harm than benefit.
Yet even if you make a relevant offer (gift, good discount, etc.), don't overdo it. Exit pop-ups shouldn't be displayed to the same users more often than three times per week. The exact parameters of the display can be more accurately clarified during testing.
The applicability of the mentioned pop-ups depends on timing, location and the degree of user engagement. Scroll and click pop-ups have a neutral and gentle effect on users. Despite being an insecure and more irritating option, exit-entry and timed pop-ups can significantly grow conversion.
Types of pop-ups by placement
Pop-ups are also classified based on the place where they appear.
Generally, there are 4 locations:
Header pop-up windows appear at the top of the screen. They can be dynamic and follow the content of a page or static.
Center pop-ups. The center of the screen is the most common place to display pop-ups. Here they are much more likely to be noticed.
Sidebar pop-ups. They appear when a user scrolls the corresponding page and look like a small humble window on its left or right side. These pop-ups are often used instead of timed pop-ups (will be further described) which are simply shown with 5-30 second interval. Scroll pop-ups appear when a user already had enough time to check out most of the page. Therefore, they are relevant to the user path.
Footer (also opt-in) pop-ups are added in a similar way yet they are pinned at the bottom of a website. Such windows are an optimum choice to collect subscribers, provide seasonal and time-limited offers, discounts, sales. So, whereas after spending 5-30 seconds on a website, users cannot be deeply engaged and are irritated by being distracted from the content, a bottom (or side) pop-up actually just complements the page.
Types of pop-ups by purpose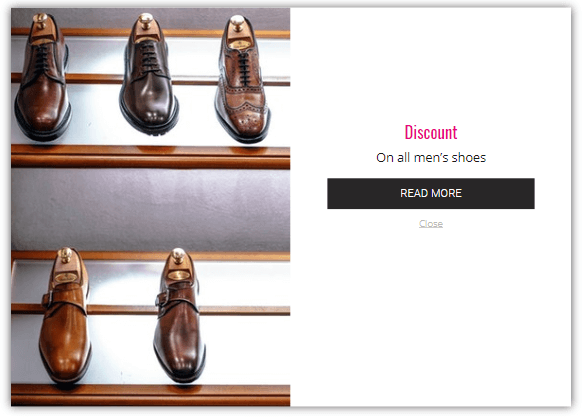 Pop-ups can be a full-fledged replacement for landings, promo and product pages. There are almost no limitations to application.
Subscription. Such pop-up windows are placed in blogs. They usually consist of a call-to-action, 1-2 fields (name, email), and a button. You can motivate users to subscribe with useful updates, unique content, gift books, and podcasts.
Promo offers, discounts. Pop-ups can also be used to display seasonal and time-limited offers, provide product recommendations, etc. The primary goal is to increase sales (including repeat sales). The standard structure of such pop-ups: a call to action, 1-3 fields (name, phone number, email), and a button. To motivate users to act, it's important to specify the actual amount of discount and clearly explain the promo terms.
Callback. This is another type of pop-up that can considerably help to increase direct sales. Users often cannot decide whether to place an order. Professional advice is like a sedative, a chance to hold off the very purchase and part with money later. The standard structure: a call to action, 1-2 fields (name, phone), and a button. To increase user motivation, it would be helpful to stress that the consultation is free.
One-click order. These pop-ups are used to increase sales. They offer users to shorten the order path and entrust everything to a service provider. The standard structure: a call to action, one field (phone number), and a button.
Conclusion
Pick the optimum type of pop-up for a website based on the required format, chosen action, and key task. For example, hello-boards are more often relevant than page stops. Scroll and click pop-ups are weaker user triggers than exit-entry and timed pop-ups. Subscription can (and should) be offered on the resources with a blog or a section with regularly updated content.