Are you a small business owner looking to increase conversions on your WordPress website? You may have heard about the power of WordPress popup plugins but are overwhelmed by all the options available. Don't worry — we've got you covered! ?
In this blog post, I'll share my top 10 recommendations for WordPress popup plugins in 2023 so that you can find the perfect plugin for boosting your WordPress website user engagement and sales. WordPress popup plugins are becoming increasingly popular among small businesses to help them create engaging popups that quickly capture customer attention and drive conversions.
Keep reading to discover some of the best popup plugins available to make your WordPress website (and brand!) stand out from the rest! ?
How to Choose the Best WordPress Popup Plugin?
It is important to consider several factors when selecting a WordPress popup plugin. The following tips will assist you in choosing the right popup plugin:
When selecting a WordPress popup plugin, prioritize one that is responsive; this ensures the optimal viewing experience regardless of device.
Guarantee that your WordPress website is completely compatible with the popup plugin for seamless functionality.
Make your popup campaigns more successful with plugins enabling A/B testing and analytics capabilities. Such tools will help you track, measure and optimize the performance of your marketing efforts.
WordPress popup plugins that offer a variety of display choices, such as timed popups and scroll-triggered ones, are worth taking into consideration. This way, you'll be able to deliver your popup messages more effectively.
A WordPress popup plugin should be effortless to customize and seamlessly integrate with other plugins, including email APIs or customer relationship management software.
When selecting the ideal WordPress popup plugin, ensure that it meets your financial capabilities and contains all of the essential features you require.
What are the Benefits of Using Popup Forms for Businesses?

In addition to increasing customer engagement, popup forms can boost sales for businesses. In the right hands, these tools aid in building relationships with potential customers and encouraging them to purchase from you. The use of WordPress popup plugins has the following key benefits:
An increase in conversions
Popup plugins make capturing leads and converting them into customers simple and convenient. You can increase conversion rates with them by making it easy for readers to sign up for your service or purchase.
Broadening your audience's reach
It is common to use popup plugins to capture leads from potential customers who may not otherwise have access to traditional marketing methods and to reach them via popups. Popup forms extend your reach and may increase conversion rates.
Marketing targeted at specific audiences
You can customize your messaging and offer products and services relevant to specific types of customers with popup forms. By doing this, you will boost sales and customer engagement.
More effective customers engagement
Customers can be engaged and encouraged to take action by using popup plugins. Increase customer engagement and build relationships with potential customers by making it easy for them to sign up for your service or purchase your product.
WordPress popup plugins can improve conversion rates, expand audience reach, target specific customers, and engage customers for various businesses. Popup forms offer many advantages to businesses, allowing them to gain a competitive edge.
List of Top 10 Free WordPress Popup Plugins
If you're looking to create stylish and attention-grabbing popups on your WordPress website, look no further than the top 10 free WordPress popup plugins provided below. With these plugins, you can create stunning yet simple popups that appear upon entering or exiting from a page, when visitors click on an element, or when a certain amount of time has passed. Here are the top 10 free WordPress popup plugins you should consider:
Plerdy WordPress Plugin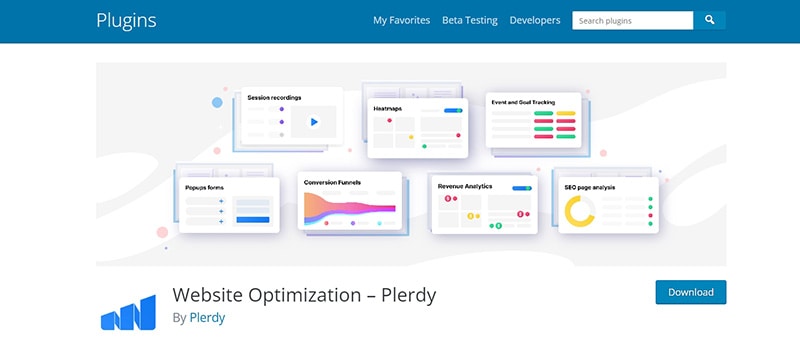 With the Plerdy popup plugin, you can create powerful WordPress website popup forms. Using the Plerdy popup plugin, you can create high-impact campaigns by selecting the appropriate message, click-to-action, and landing page. Thus, you can conduct surveys, gather feedback from WordPress website visitors, improve conversions and increase sales. Lead generation, contact database building, and event notification are all excellent uses of this plugin. One of the essential things about innovative forms is that you are not required to have the help of developers to add them to your WordPress website.
The features of the WordPress popup plugin from Plerdy are as follows:
Over 30 configuration rules can be used to make sure the popup is placed in the right place.
You can add YouTube videos, images, or animated GIFs.
Customizing the impressions according to the traffic channel (mobile or PC users) is possible.
An intelligent popup can appear on the display calendar depending on selected days.
Video popups can be uploaded as long as they are 30 seconds long.
It is a great pride for Plerdy that some of the most prestigious companies in the industry use its popup plugin for WordPress. Among clients are Softserve, Sacart, Prom, Anextour, and Subaru, to name just a few.
There are some reviews about Plerdy:
Cesar V., a Digital Consultant, said, "Great product with an attractive price point." Richard P., a Director, called it a "Fantastic product, our main go-to user insight and engagement service."

It is a piece of software that enables you to add social proof to your WordPress website. This plugin creates a social proof popup to help increase the conversion rate of your WordPress website instantly. Using TrustPulse is fantastic if you sell a product online on your WordPress website. However, it is so powerful, simple, and user-friendly that you can use TrustPulse to grow your engagement on your WordPress blogging website. In short, TrustPulse involves marketing automation software that will help you make your brand more credible by increasing trust and influencing your WordPress website visitors to take action.
An easy-to-use and easy-to-setup plugin for WordPress.
Works on WordPress, Shopify, Squarespace, and other popular web-based platforms.
Tracking the activities of your purchases in real time.
The layout can be fully customized.
Dashboard with easy-to-understand analytics interface.
"Sales and conversion rates increased immediately. Our growth has been accelerated by TrustPulse." The co-founder of MonsterInsights, Chris Christoff, stated that. Jared Atchinson, Co-Founder at WPForms, believes that seeing other people taking action is a powerful way to persuade people to take action. Results speak for themselves when it comes to TrustPulse.
Icegram WordPress Plugin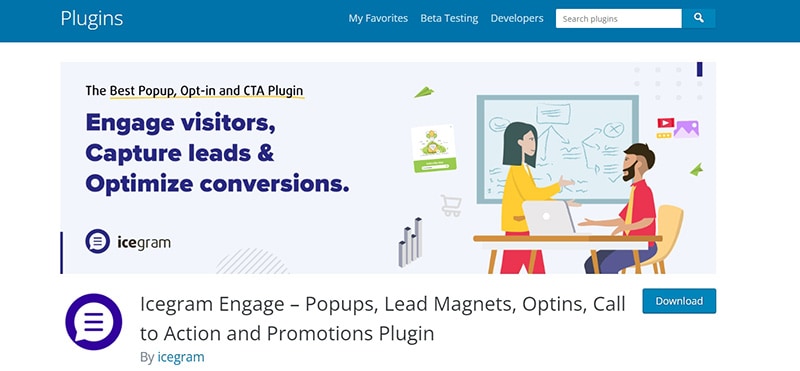 This is another free WordPress popup plugin that will allow you to create beautiful popups on your WordPress website, as well as slide-in forms and welcome bars. As long as you have a basic understanding of coding, you can easily use the Icegram plugin and take advantage of everything it offers. Several advanced features can be set up very quickly, including exit intent, sidebar forms, and sticky badges, which are just a few clicks away. Some of its unique features are listed below;
You can open as many popups as you want for free.
Email marketing integrations are available on a good number of platforms.
Multiple display rules can be used.
Popup templates that are free to use.
Testing campaigns using A/B comparisons.
Clients of the Icegram WordPress popup plugin are making the most out of it. IGI, Godaddy academy, Coding Street, USLegal, and Cubix are using this fantastic plugin to capture customers' emails for marketing purposes.
There have been some reviews about this WordPress plugin from clients. The plugin worked well with his theme, according to Ddmccaleb. He added, "My homepage now has a call to action footer bar. You can do so many customizations for free, and I can't believe it. The bottom bar was even able to have shortcodes, and it worked perfectly." According to Pedro Igor S.'s administrative assistant, "Icegram: Ease of WordPress website management."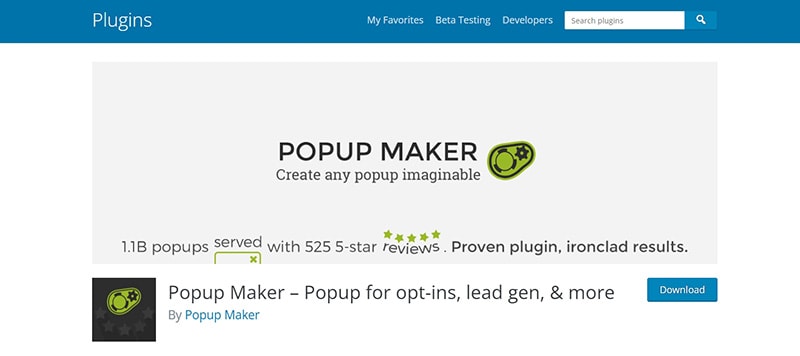 The Popup Maker plugin is one of the best free WordPress popup plugins. More than 700,000 WordPress websites use the plugin. It is also worth noting that users have rated this plugin 4.9 out of 5 on WordPress.org. Aside from creating popups and EU cookie notices, you can also use this plugin to create opt-in popups, slide-ins, and modal forms. In addition to clicking on navigation items, buttons, or sidebars to trigger popups, you can start them after a defined time delay. The product is unique in several ways:
Intent-based technology for detecting exits.
Insights into scheduling and analytics.
Advanced theme builder.
Modalities for verifying the age of an individual.
Popups that are triggered by scrolling.
Modalities for logging in using AJAX.
Targeting with advanced technology.
The scheduling process.
Jim Z., a small online business owner, said, "Popup Maker is a very easy-to-use application. It just takes a few minutes to make an Exit-Intent popup." Rajat D., the product manager, said, "The best software for exit intent popups, especially for mobile."
HubSpot WordPress Plugin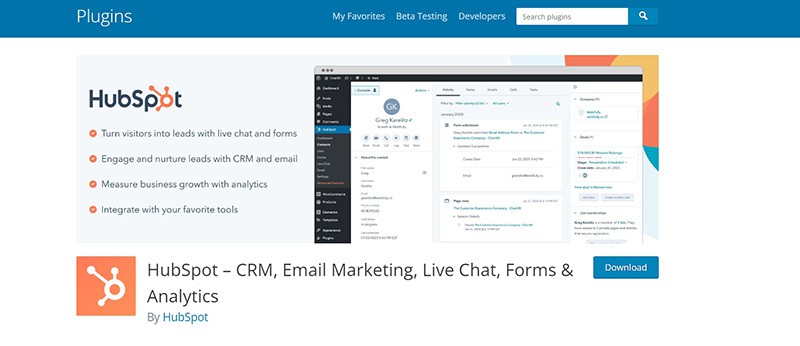 HubSpot's revolutionary marketing suite provides robust tools such as a CRM, live chat capabilities, and an intuitive popup builder — all designed to maximize your successful online presence. With HubSpot, you can craft a variety of forms — from drop-down banners and slide-ins to straightforward popup boxes — that can all be tailored precisely as per your needs. HubSpot popups can be specifically tailored to your visitor's experience, whether based on the URL they are viewing, their actions as a returning user, whether they're about to leave your page or even how long and far down the page they've scrolled. After inputting their data into your popups, customers can also be sent automated follow-up emails. The following features come with it:
No coding is required to set up this service; it is free to use.
Choose the right popup for your WordPress website and brand, and adjust it to match the style.
Use the built-in analytics to monitor the performance of your forms.
A wide range of pre-built layouts is available for you to choose from.
Integrates existing structures with HubSpot CRM using plugins such as WPForms and WPForms Pro.
According to Aivaras B., a Business Project Manager, the HubSpot Sales Hub is an excellent plugin for organizing and streamlining the sales process. Aubrey G. P., Digital Project Manager and Hubspot Specialist, stated that "filtering your way to success" is essential.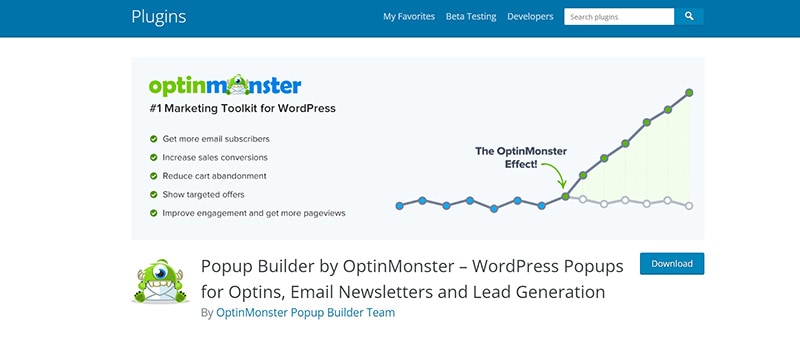 A WordPress popup plugin like OptinMonster can be an excellent plugin for generating leads. The purpose of this software is to help you get more subscribers for your emails and eCommerce sales and enhance your conversion rates. In just a few minutes, you can create all kinds of opt-ins, floating notification bars, email subscription forms, and all other types of popups that you might need for your WordPress website using OptinMonster's drag-and-drop popup builder. Among its features are the following:
Targeting people based on their exit intent.
A powerful plugin for creating popups by dragging and dropping.
75+ pre-built WordPress popup templates that are ready to use.
Analysis and statistics can be accessed in detail.
There are multiple types of campaigns you can run.
The feature of white labeling can be used.
OptinMonster is the world's leading WordPress popup plugin for businesses, used by major companies such as McAfee, Capterra, Patreon, Clickbank, and Pinterest. Its powerful features and intuitive design make it an excellent choice for any business looking to create effective opt-in forms that capture more leads and convert them into customers.
Some clients gave reviews about it. Sansern k., the Managing Director, said that "Optinmonster makes conversion become simple, easy t,o make with real data." Laura M., the Director of Marketing, said, "So much flexibility, and their team is amazing!"
Elementor Popups WordPress Plugin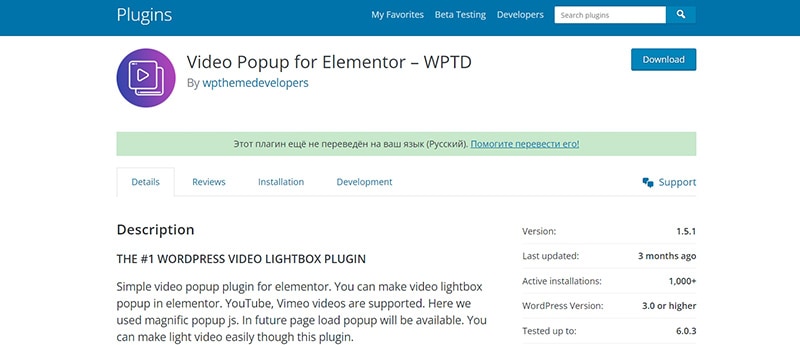 Elementor Pro, a WordPress plugin for the page builder Elementor, offers popup functionality. To build popups that convert better, you can use the Elementor popup builder to create lead-generation popups that are easy to assemble. There are many different ways to trigger WordPress popups and conditions under which they can be displayed. You will also have access to various pre-built popup templates, which will help you get started with lead generation as quickly as possible.
An interface with drag-and-drop functionality.
Elementor users can get up and running quickly with this easy setup.
More advanced targeting rules.
There are over 100 responsive templates to choose from.
Plugins for marketing and customer relationship management (CRM) integration.
There are 1,284 companies currently using Elementor as part of their technology stack. Examples include Grab.com, GrubHub, and Sarkarijob.co, Agora, and Blackboard.
There have been some positive feedbacks from clients about Elementor WordPress popups. Ammar, a Marketing Consultant, said the plugin is "The Go-To plugin For Web Page Designers." Luis A., a WordPress expert, said, "This is the most comprehensive and powerful visual builder for WordPress."
Ninja Popups WordPress Plugin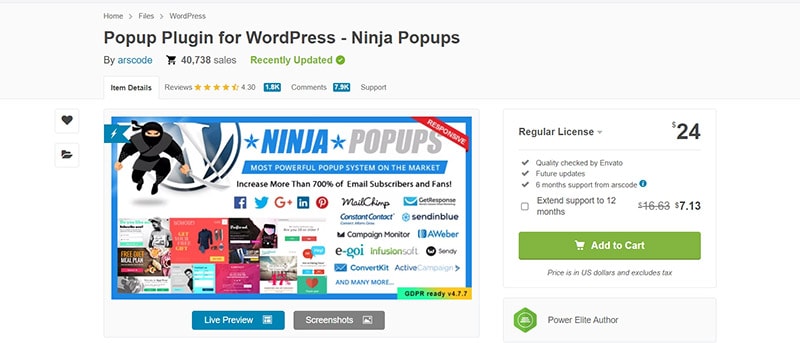 With Ninja Popups for WordPress, you can quickly generate enticing popups on your WordPress website and easily link them to the email marketing software of your choice. It's a user-friendly way to capture leads! Streamline the process of building your popup forms with WordPress' easy-to-use drag-and-drop interface. Simply drag and drop elements, and you're ready to go! Here are the fantastic features available with this plugin:
In addition to being updated frequently, the Ninja popups plugin has several new features and fixes for bugs.
To build forms visually, you can use a drag-and-drop form builder.
Make your popups stand out with dozens of effects available.
Test your WordPress website using the built-in A/B testing feature.
Mobile phones and tablets look great when popups are displayed.
Some clients gave reviews about Ninja Popups. Askwizeowl said, "The Flexibility is outstanding; it works Alright." Apitr highlighted, "Incredibly versatile and does everything you could need a popup to do. The A/B testing feature also works great, and it includes informative analytics to help figure out how to get the best results."
Sumo WordPress Plugin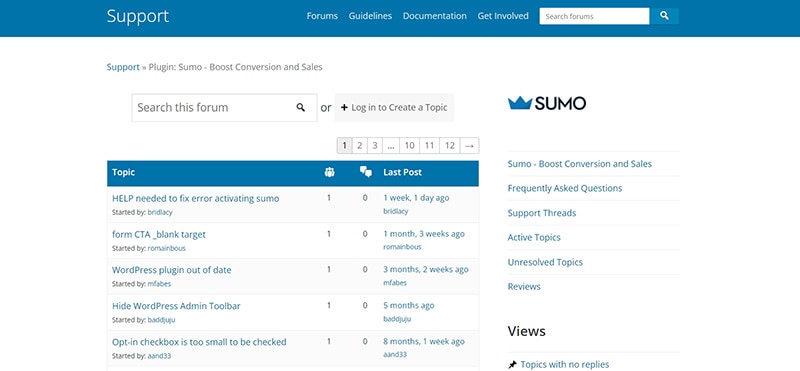 Your WordPress website can be configured with popups to help you build your email list and increase sales through a free plugin named Sumo. Over 60,000 WordPress websites have installed and activated this plugin, and it has received over 300 reviews as of writing. You can collect your visitors' email addresses through a call-to-action popup, an embedded popup, or a popup that appears at the top of your page. You will find the following features, among many others:
Assists in reducing the abandonment of shopping carts.
Adding social media sharing buttons to your WordPress website.
In the free plan, you will be able to send up to 10,000 emails.
Analyze popups with popup analytics access.
Some leading companies and brands have used the Sumo WordPress popup plugin to increase their online presence. From Tony Robbins to Pistol Lake, Solemates to Bulletproof, and Wink, many businesses have seen an immediate increase in WordPress website traffic and conversions through the plugin.
According to the Store Manager AirP., "The service is easy to use and meets my needs in terms of what I need." Anabel S., an entrepreneur, wrote in her review that it "has been helping me run email marketing campaigns for my business."

MailOptin is one of the best WordPress popup plugins available in 2023. It offers an intuitive user interface that makes it easy to create and manage multiple types of opt-in forms, including popups, slide-ins, sidebar widgets, and more. The plugin also integrates with many popular email marketing services such as Mailchimp, ConvertKit, AWeber, and more. With its powerful features and customization options, MailOptin is the perfect plugin for creating opt-ins to capture leads and increase conversions. It also comes with built-in analytics that allows you to track your opt-in success rate and make adjustments as needed. The following are some features that make it unique:
Compliant with the General Data Protection Regulation.
Lightboxes and popups.
Opt-in forms before and after the post.
Opt-in forms for sidebars and widgets.
Targeted messages are displayed in the Calls to Action.
It is possible to create up to three opt-in forms.
Targeting on a page-by-page basis.
The scheduling process.
Technology that detects exit intent.
It is possible to trigger a scroll when scrolling.
Detection of AdBlock software.
The Mailoptin popup plugin is trusted by some of the biggest names in the digital space, including WP Mayor, Designmodo, WPExplorer, Colorlib, and Themeum. Their clients have seen great success with this easy-to-use yet powerful popup solution.
Some clients gave reviews about it. A verified user on G2 said, "Mailoptin For Elementor Forms Integration Works Seamlessly." Anikta A. called it a "Decent Lead Generation WP Plugin."
Hereby, I've exemplified the top free WordPress popup plugins you can benefit from. Now is your turn to give them a try and define which will best suit your WordPress website's needs.
Best Practices to Use Popups on Your WordPress Website
Popups can be helpful for many kinds of WordPress websites, from eCommerce websites to blogs. Indeed, they "can be a really useful marketing tool" — as  Rosanna, Squarespace website designer and online educator, claims — "if used right and in a non-annoying way." So, here are some best practices to help you get the most out of popups on your WordPress website:
Make Your Popup Relevant: Ensure that your popup only appears when it's relevant to what the user is doing. For example, if you have an eCommerce website, show a popup only when the user is about to leave without buying anything.
Use Eye-Catching Designs: Make sure your popup stands out from the rest of your WordPress website design to grab visitors' attention. You can achieve this by using bright colors, eye-catching images, and engaging copywriting.
Keep the Popup Simple: Refrain from overwhelming visitors with too much information in your popup. Keep it short and to the point so that visitors quickly understand what you offer them.
Set a Time Limit: Don't leave popups open indefinitely – set a time limit or an X button so that visitors can close it if they want to.
Test Different Versions: Experiment with different versions of your popup to see which works best. A/B testing is a great way to do this, as you can compare two versions of your popup and pick the winner based on performance metrics such as conversion rate or signups.
By following these best practices, you can ensure that the popups on your WordPress website effectively drive conversions and engagement. You can get more out of your popups by making them relevant, eye-catching, and easy to understand. Good luck!
Conclusion
In conclusion, the ten best WordPress popup plugins in 2023 offer plenty of features and customization options to help you create effective popups that have a positive impact on your customer relationships. From opt-in forms to lead generation, these WordPress plugins can connect you with customers and keep them engaged in your business. The key is to find the right WordPress plugin that best suits your needs and create an effective popup strategy. When used strategically, popups can be an effective way to increase conversions and build customer relationships.