So, you've attracted a lot of traffic to your website; well done! But can you retain your visitors? This is where Optimonk and its alternatives can help you. Optimonk's enlightened popups will help you keep the traffic you drive to your website by providing a "special offer" when they are about to leave your website. And Optimonk alternatives will help you gain insights into your customer behavior, use advanced options for contacting them and engage your visitors.
As for OptiMonk, this service has very deep settings. It's a professional tool that can produce amazing results if you thoroughly understand it. For example, it allows you to present a special message to customers who are about to leave your website. OptiMonk Then they have one more reason to buy, and you get one more sale you would have lost. With OptiMonk, you'll never have a complaining visitor!
Best 10 Optimonk Alternatives
These 10 Optimonk alternatives have other functionalities but are also helpful in driving sales. These alternatives of Optimonk cost differently and offer different functionality. Therefore, you can stay flexible when choosing Optimonk alternatives from this list.
#1. Plerdy Alternative to OptiMonk

Plerdy is the best Optimonk alternative. It is a CRO platform with SEO features. It has all the tools you need to increase your conversion rate of the website. With Plerdy, you can:
Conduct analysis of visitors to the website.
Improve the performance of the website.
Use a heat map of clicks and a video of how customers interact with page elements.
Create popup notifications.
Control SEO optimization of the website.
Analyze the effectiveness of sales.
Plerdy often conducts free CRO and SEO online events with the best experts from renowned companies. Ukrposhta, Kyivstar, Softserve, Honda, and Prom use Plerdy to increase their conversion rate and improve sales. Andrew Chornyy founded Plerdy in 2017. The office is located in Lviv, Ukraine.
#2. AdRoll Alternative to OptiMonk

AdRoll is one of the best Optimonk alternatives to grow business and drive sales. AdRoll was founded in 2007 and headquartered in San Francisco. The AdRoll team has extensive experience in ad optimization and creative strategy. Their advertising services list includes various ad placement options, but the AdRoll team is best known for retargeting programs.
Thanks to AdRoll, you can make your display, social, and email advertising work together to boost your sales growth. Using AdRoll, over 30 000 businesses generate over $200 billion in sales annually. Among its customers are companies like Moz, Levi's, Red Vines, GoPro and Salesforce are among its customers. That indicates that they're one of the best Optimonk alternatives.
#3. ZoomInfo SalesOS Alternative to OptiMonk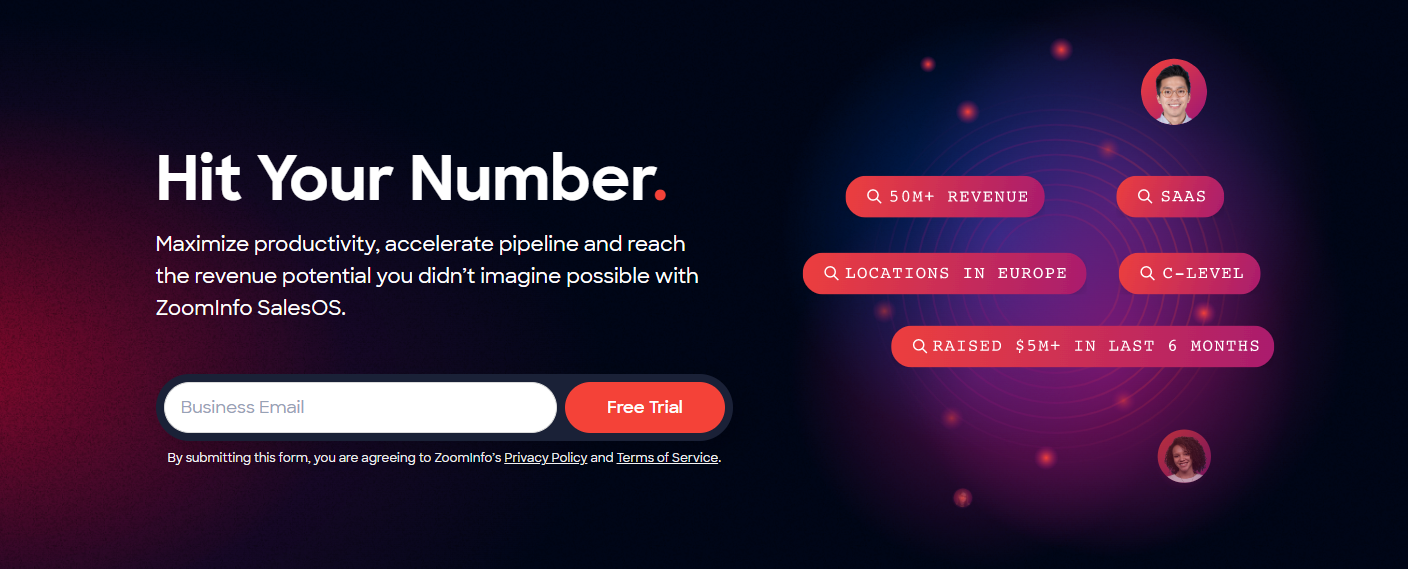 ZoomInfo SalesOS is the biggest and most frequently refreshed database. So what this database consists of, and how can it help you? It consists of contact and company insights, intelligence, and purchasing intent data. With it, you will improve your marketing and drive your sales. Henry Schuck founded ZoomInfo SalesOS. It is used by Workfront, Efi, Red Sift, Litmus, and Hudl. Its offices are in Boston, Vancouver, Ra'anana, and other cities.
#4. Lusha Alternative to OptiMonk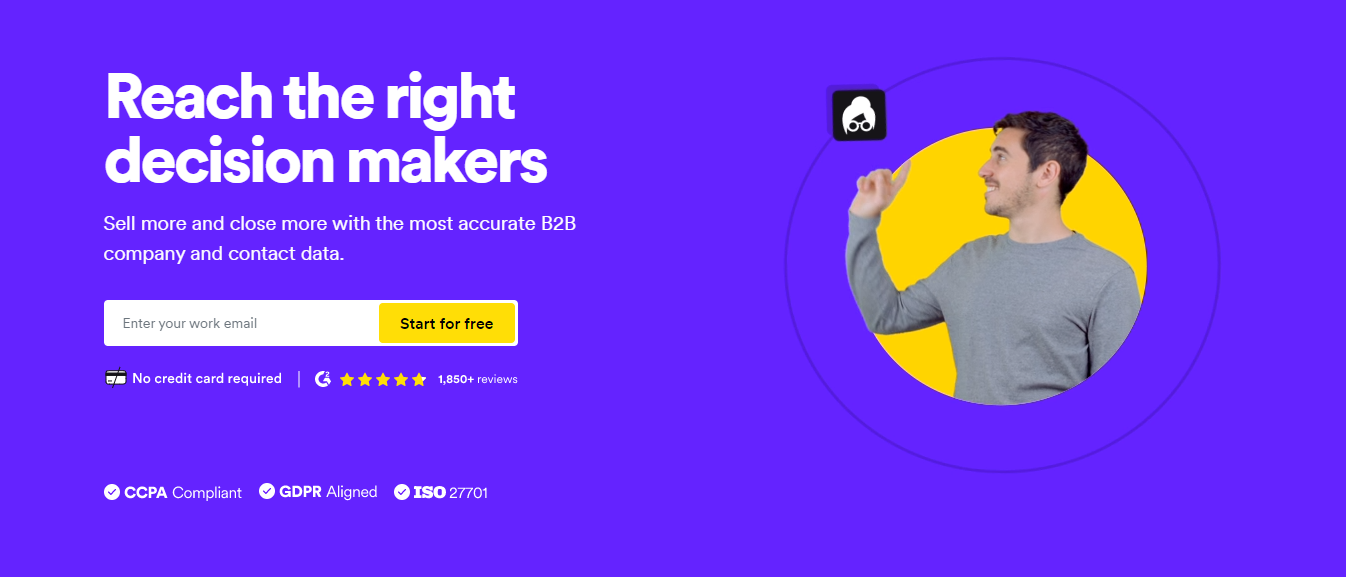 Lusha helps business professionals connect with their leads and contacts quickly. Lusha enables you to build trust with leads with simple tools that allow you to expand and verify business profiles. Today, more than 250,000 sales reps, hiring managers, and marketers change how they communicate with their leads and contacts daily using Lusha. The list of Lusha customers includes Google, Amazon, Salesforce, and Apple.
#5. Bloom Alternative to OptiMonk

Bloom is an email plugin you can use on WordPress (WP). It is as great an Optimonk alternative as other services from this list. It offers a limited number of features but great templates for different purposes. Moreover, they have such a significant number of designs that any website will find the perfect option.
#6. LeadPages Alternative to OptiMonk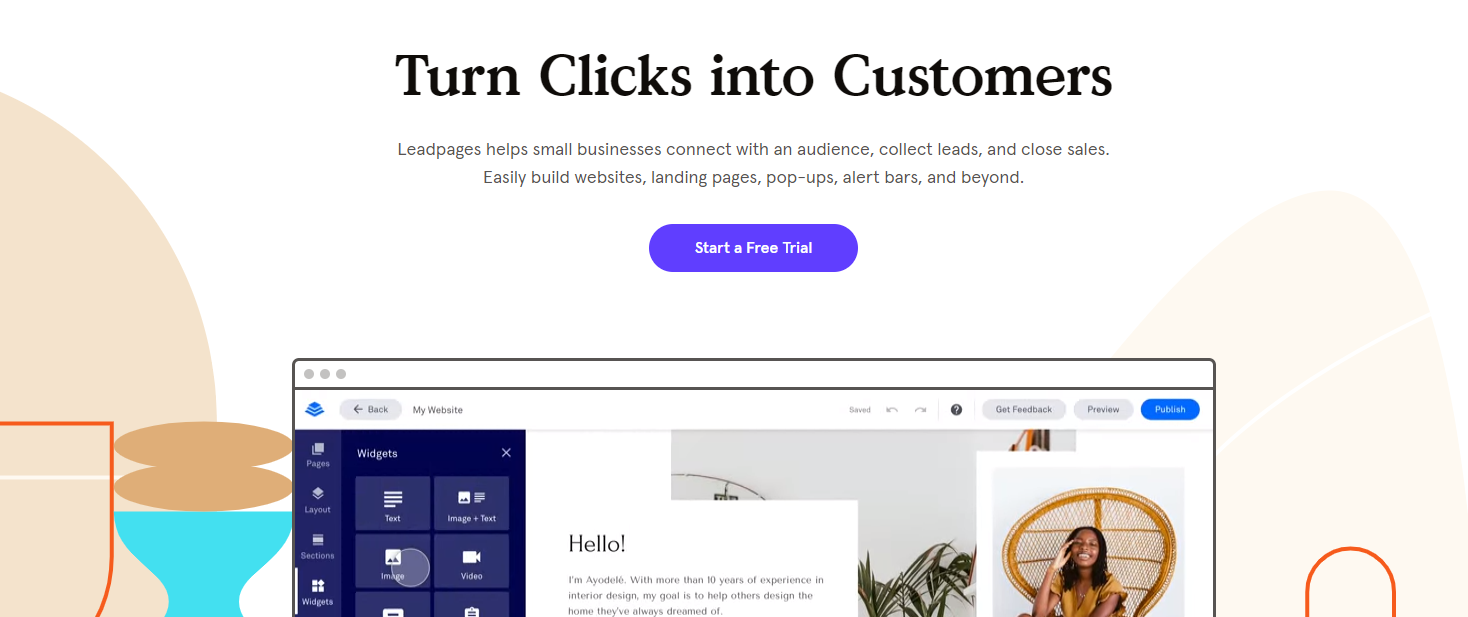 LeadPages is a landing page-building platform with a perfect lead capture popup feature. Popups are easy to use and customize to drive sales. It was used by Amy Porterfield, Million Dollar Coach, and Jenna Kutcher.
#7. Wisepops Alternative to OptiMonk

WisePops is a very simple tool that helps create, manage and track pop-up campaigns on the website. Benjamin Cohen is the founder. WisePops provides high and immediate ROI by speeding up email signups and conversions. It works with all websites and requires no coding. Users like how many templates they can choose from in this service.
Wisepops is easy to use, which makes it a very important part of interacting with website visitors. Also, the one-click integration with Actito makes it very powerful because users can activate a real-time conversation with the audience. It is used by Unilever, Vans, Fiverr, Virgin, and MixPanel.
#8. Elementor Popup Builder Alternative to OptiMonk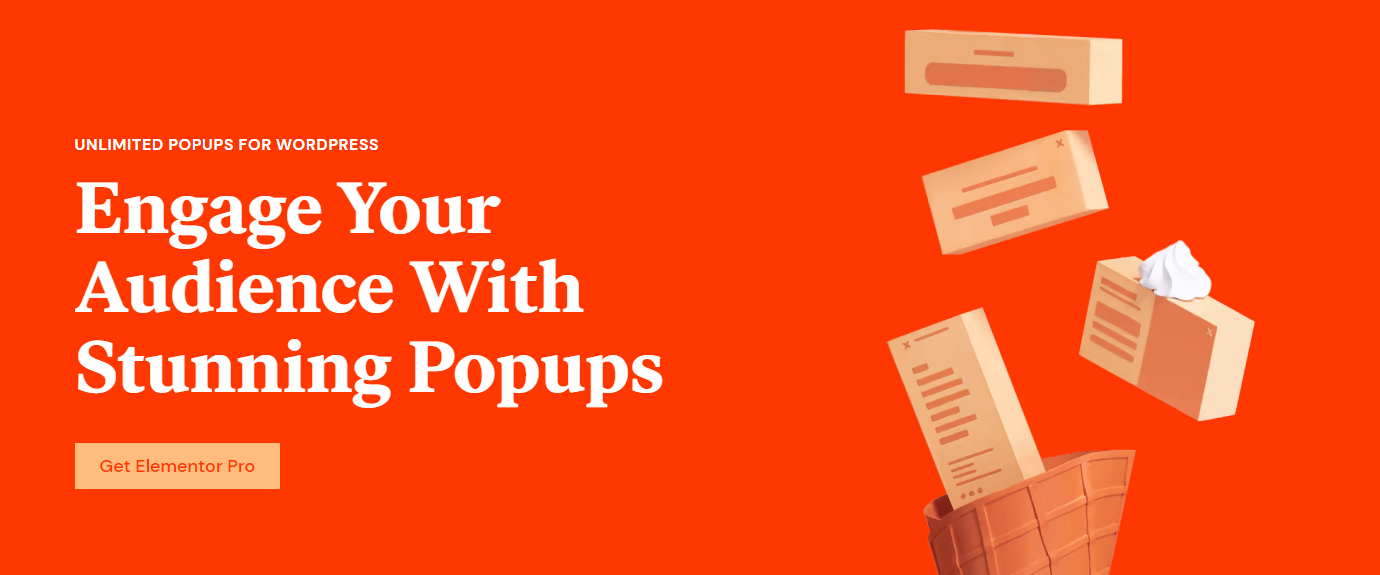 Elementor is a free Optimonk alternative. It is considered the best free WordPress Page Builder. It has more than 3 million active installs. Manu its users say they have used many page builders, but no one is better than Elementor. Zero code is required.
#9. Popupsmart Alternative to OptiMonk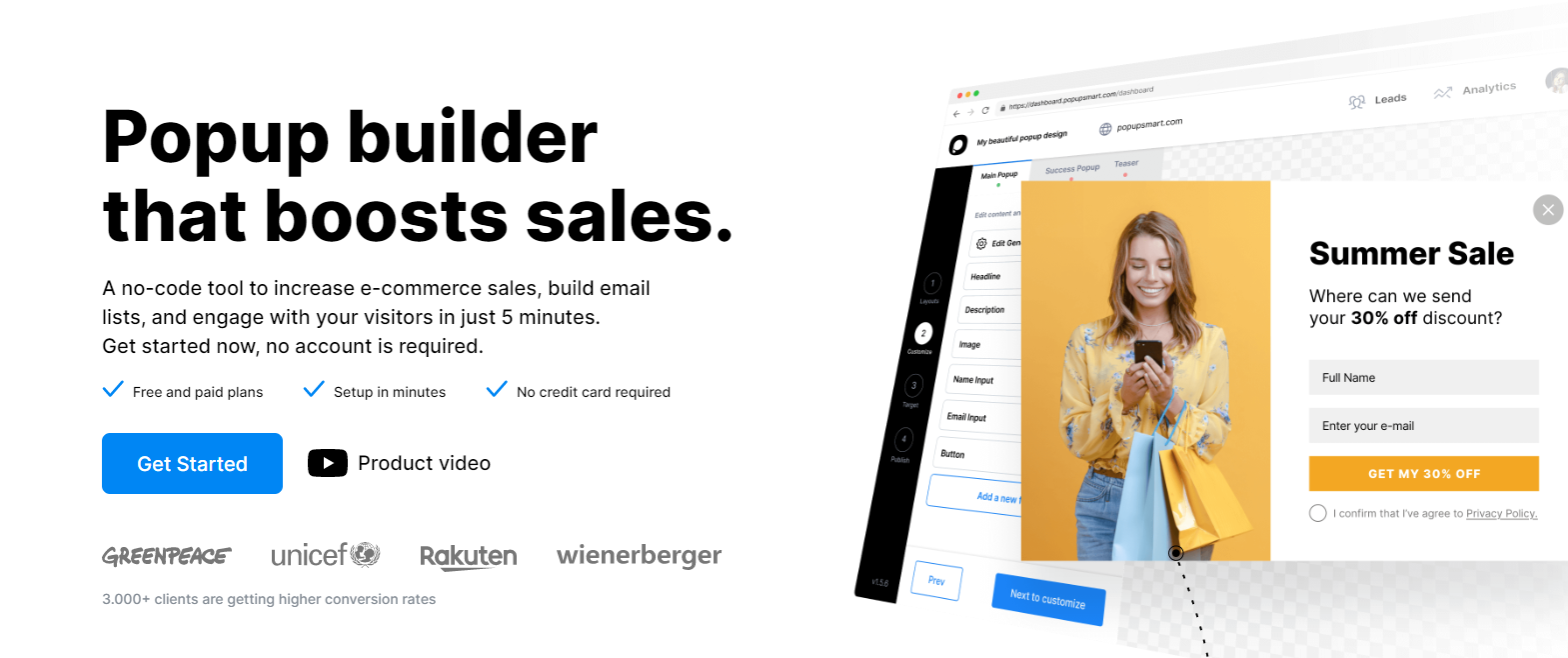 Popupsmart is a simple and effective way to attract potential customers and grow your business quickly. With it, you can build popups without code and easily insert them into your website. If you want to engage visitors, increase sales, and build email lists with popups, Popupsmart is the best option for you. Moreover, Popupsmart is much easier to use than Optimonk for these purposes. The office is based in Miami (USA).
#10. Pushfolio Alternative to OptiMonk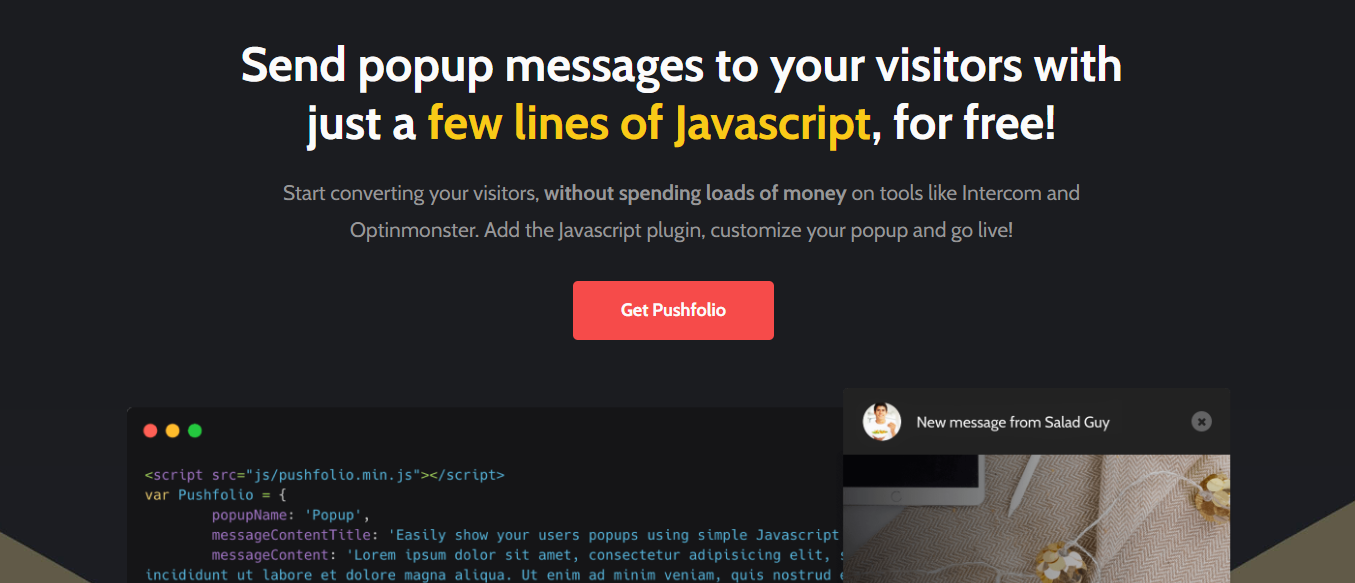 Pushfolio is a platform for building popups. For this, you need the Pushfolio Javascript plugin, and then you can customize your popups. Pushfolio allows you to convert website visitors without wasting money on ineffective tools. Pushfolio features:
You can customize popups according to your content and design
You can consider cookies, locations, and frequencies when designing your popups
Pushfolio works in any browser
You can create popups considering time-based, scroll dept, or exit intent
Pushfolio is a very interesting Otimonk alternative, but you need to know Javascript.
Pros and Cons of using Optimonk
István, CEO of a retail company, used the software for 2+ years:
Great service. I am pleased with the result of working with them. I like Optimonk for its many free templates, outstanding design, and powerful triggering settings. I've tried a couple of Optimonk alternatives, but it is the most delightful.
Gabor, digital marketing manager, used the software for 1-2 years:
For collecting email subscribers with popups, OptiMonk is suited the best. Gamification popups like lucky wheel are awesome. But I don't like that I can't directly integrate it with my small CRM system.
Dion, growth marketing manager at Medical Devices, used the software for less than six months:
I used several services for popup building, and OptiMonk turned out to be the most user-friendly and easy to integrate. But I think it has poor analytics, and they should improve it.
Finally, soma, a CEO, used the software for 2+ years:
I like its ability to ask for Messenger opt-in instead of forcing email signup when the user is logged into Messenger. This smart from display feature is my favorite feature. Compared to alternatives, Optimonk is the easiest to use.
Nemil, digital marketing manager in the computer software niche, used the software for 1-2 years:
Optimonk is one of the best popup and CRO instruments. It has many valuable qualities, customization options, and fantastic templates. The support is outstanding. But I don't like that there is no option to set the probability of the spinwheel. However, this is a minor drawback.
Norbert, CMO at information technology and services, used the software for 2+ years:
Undoubtedly, Optimonk is one of the best marketing services I use continuously. Targeting and design possibilities at Optimonk are great, as well as the first-class support. But Optimonk has minor bugs in the editor that I don't like. I recommend trying it for everyone to build effective and high-qualitative popups.
Conclusion
Now you have a complete list of Optimonk alternatives you should pay attention to. They are no less helpful than Optimonk and even more valuable. Optimonk alternatives prices are different, no matter who you are – small, middle, or big-sized business. You will find Optimonk alternatives according to your budget.