Sumo is a powerful suite of tools to capture emails, grow subscriber lists, and turn website visitors into customers. One of Sumo's main focuses is eCommerce, which has a proven record of converting more purchases and leaving customers satisfied. Read any Sumo review written by an eCommerce marketer to ensure it's effective.
It does so by letting you use a variety of pop-ups that appear on timers, clicks, or before visitor leaves, customize forms, analyze traffic, and view where visitors click on your website. Sumo offers 12 tools, and free versions cover all basic features of these tools.
Now let's dive deeper into the review of Sumo's functionality.
What does Sumo offer to its customers?

Sumo's most popular apps include List Builder, Welcome Mat, Smart Bar, and Share.
List Builder offers different types of pop-ups with an email collection field. You can set this pop-up after page load, hover, trigger or after scroll. Pop-up designs can be changed, and you can also add CTA to them.
Welcome Mat is a full-screen call to action for your visitors that you can customize to suit your needs and add a video background to it. Also, Welcome Mat is mobile-customized, so your mobile visitors will have the same great experience as those who view the website on a PC.
Smart Bar lets you put an email collection form at the top or bottom of your website's page. You can use this tool to make a special offer to your potential customer or place a reminder to subscribe. Smart modes let you choose when the bar is shown and to which audience. For instance, you can segment the visitors from Facebook and target the specific message just for them.
Add social media buttons to your website with Social Share. Built-in social media buttons enable visitors to share your content easily and fast. As a result – your pages get more viral traffic. Use a simple drag & drop builder to place them anywhere on the website. This feature adds up to other strengths of Sumo in the review.
Should You Use Sumo?
When deciding if you should use Sumo in the case of your business, check out a Sumo pro review to know what specialists in online marketing think of the product. After having a review of the main features of Sumo, what are the aspects to consider when in doubt?
Do you need A/B testing?
If you want to see what works and what needs to be optimized, all Sumo's apps offer A/B testing. This way, you can test different copies and templates to see what brings you more conversion.
How much data do you need for decision-making?
As placing forms won't be enough for improving your strategy, Sumo collects data on the email captures and conversion rates, displaying it on dashboards. You are seeing which of your forms and pages perform best, which is a good basis for making informed decisions. However, this may not be the best match if you want to see advanced analytics.
Do you want to customize all of your forms?
If you need custom branding and want to design your pop-ups, paid version of Sumo would be a good choice.
Sumo Review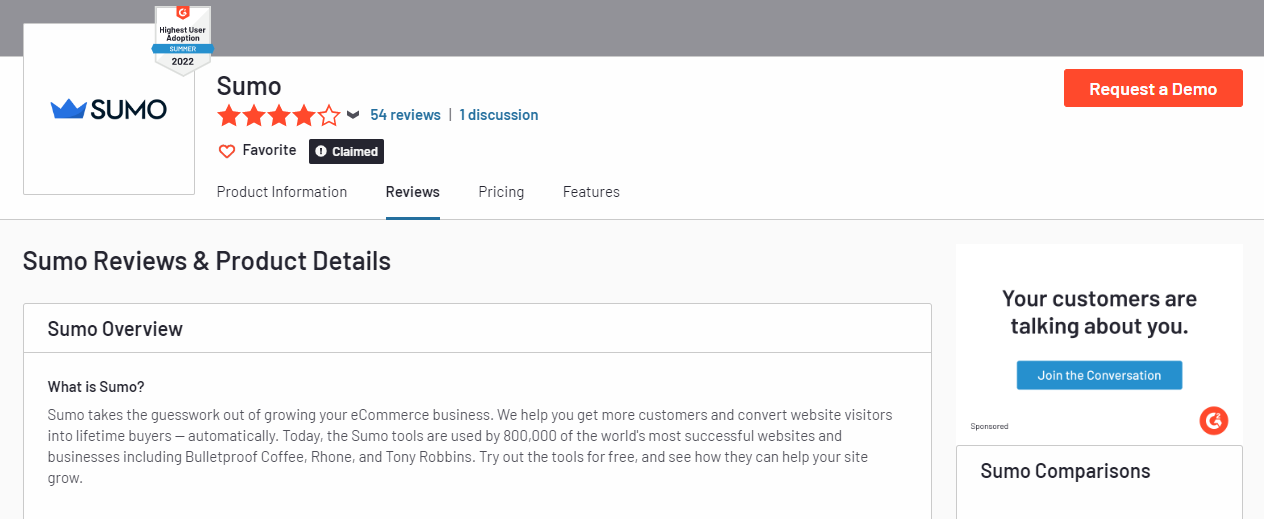 When reading any Sumo software review, you notice that it has strong sides and drawbacks as any other suite of tools. So what are the pros of using Sumo?
Wide selection of tools
When you start using Sumo, you get a suite of instruments that can replace many separate plugins. You don't need to pay for separate tools, because the Sumo suite will cover most of your needs in its free version and if you want more advanced features – they will be included in the paid plan.
In her review, Shannon Simone Miller, CEO of an online business, shares that Sumo solves her problem of collecting email by offering a beautiful collection of pop-ups that can be added to websites without much effort. Check her profile on LinkedIn.
Great user interface
Sumo is quite easy to navigate, especially if you focus on creating pop-ups. You can set them and customize without coding, locate them on a website page with drag & drop builder and do this really quickly. Many users state in Sumo review that its settings are very easy in comparison to other similar products.
Artur N., eCommerce manager, says in the review that Sumo has a very user-friendly interface and makes it easy to test different variants.
Integrates with popular third-party services
You can integrate Sumo with many other apps if you use the Premium version. These tools include Mailchimp, HubSpot Marketing Hub, Active Campaign, Campaign Monitor, and many others. This extends the possibilities of Sumo, making it even more valuable in email marketing.
Avery Hicks, a Marketing administrative assistant, admits in her review that Sumo has easily synchronized with Mailchimp. Check out her profile on LinkedIn.
However, there are some aspects in which Sumo loses to other apps. They are the following:
The high price of paid versions
Premium plan for Sumo is more expensive than the plans of its competitors. You have a choice to pay either monthly or yearly.
Sumo's user, who works in education management, states in the review that this pricing could be reasonable once Sumo was a trailblazer. Still, with the variety of competitors now, it is too expensive.
Lack of analytics and targeting
Even though Sumo proposes a great range of pop-up forms, and templates, many users feel they lack the functionality to make full use of them. The analytics based on email capture forms could be more diverse, enabling marketers to analyze performance better. Also, it has fewer targeting possibilities than other apps.
Emily B., a Freelance marketing strategist, comments that it would be great to see more data connected to her review's success. For example, how many times a pop-up is shown to visitors before they enter email.
Branding in free version
A free version of Sumo sets a significant number of limitations to its features and one of them is the inability to change branding. You can't delete Sumo's branding if you use a free version of it.
Harley V., the Social media manager, doesn't like the branding in the free version but sees the sense of getting a paid plan anyway, so it's not a problem. He left a positive review on Sumo.
Occasional bugs
Some app users are complaining about bugs in Sumo.
Editorial Director Megan B. states in her review that Sumo is a bit buggy, and the changes she implements on the backend are not always showing up.
Summing up
Summing up the review, Sumo can save you a lot of time in setting up and customizing pop-up forms and collecting your subscribers fast. It can replace many instruments at once, but at the same time, it lacks advanced analytics and tracking features that some other apps already have.