Sumo is an effective suite of tools to collect email lists on your website. You can easily create any pop-up form, change its design, and set it to appear on the trigger. After you place a pop-up on your website with a drag & drop builder, you can see analytics showing how many emails were collected at a specific period. There's also a possibility to add social media share buttons to your pages.
Advanced features of Sumo include many possibilities of targeting visitors, seeing more data in analytics, doing A/B tests, checking the heatmaps, and adding more integrations. Of course, the availability of these tools depends on pricing.
All Sumo's features help to collect numerous emails fast, start following up with your potential customers, and grow traffic and revenue.
What about Sumo's pricing?
Sumo Pricing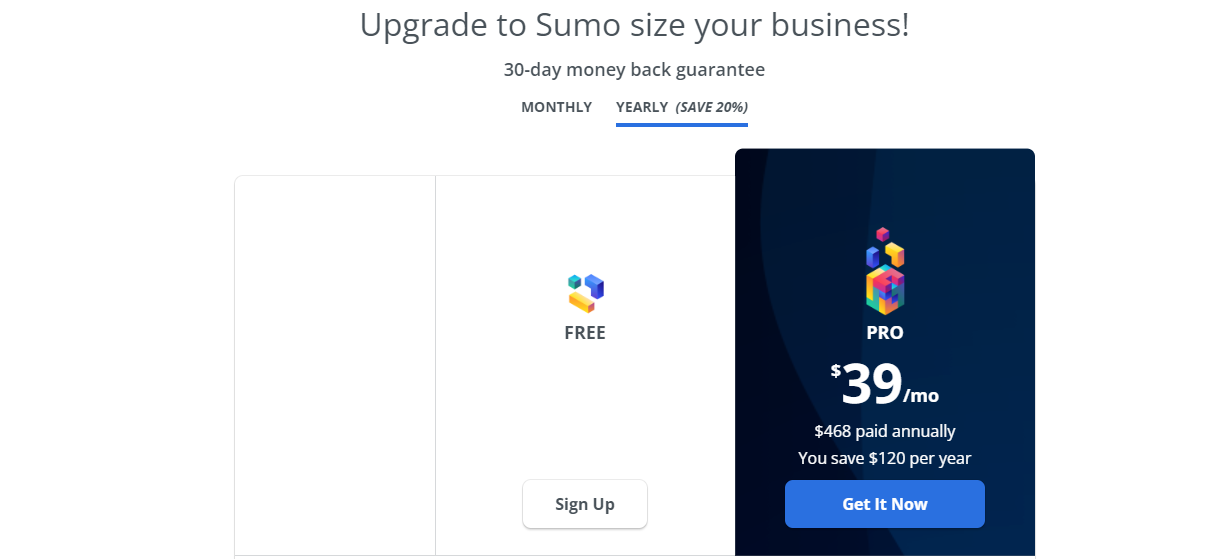 Sumo has free and paid pricing plans. The free plan includes the basic features of Sumo like creating pop-up forms, social media sharing, welcome emails, basic email integrations, analytics, and connecting your store. However, you can use it only for one website.
In contrast, the paid version has more targeting options, advanced analytics, A/B testing, allows the removal of Sumo branding, and has more eCommerce and integration possibilities. In addition, there are two pricing options. You can choose either to pay monthly $49 per month or pay annually $39 per month. Let's look at the differences in Sumo pricing in detail.
| | | |
| --- | --- | --- |
| Sumo feature | Free plan | Sumo Pro ($39 / $49) |
| Number of websites | 1 | 3 |
| Emails per month | 10 000 | 50 000 |
| Subscribers | No limit | No limit |
| Revenue | up to $500 | No limit |
| Statistics for emails and forms | 30 days | No limit |
| Email capture forms | + | + |
| Visitor Targeting | + | + |
| Custom design | + | + |
| Social Share | + | + |
| Connect store | + | + |
| Reduce abandonment of cart | + | + |
| Discount codes | + | + |
| Analytics | + | + |
| Onboarding | + | + |
| Remove Sumo branding | – | + |
| Connect store | – | + |
| Reduce cart abandonment | – | + |
| Discount codes | – | + |
| A/B tests | – | + |
| Remove Sumo branding | – | + |
| Advanced integrations | – | + |
| Advanced analytics | – | + |
| Design templates for eCommerce | – | + |
While the Sumo free plan seems a good choice to get started, some advanced features are available only in the paid pricing plan.
Sumo Pricing Review

To decide which option will satisfy your needs, consider looking at Sumo pricing reviews to evaluate if a certain feature is worth its price.
Free plan
Administrator Bogdan P. is happy with the free plan of Sumo. Before using Sumo, he needed to code the forms himself or used poor plugins. Now he is able not only to set pop-ups without coding but also make use of email automation, which is included for free option.
Luis A., Sales Planner, also considers a free plan to be enough to begin. As for the free functionality, it has a good amount of features.
However, Amirullah C., who works in media production, wishes that Sumo offered more features in the free plan.
Audrey S., who is self-employed and used Sumo for free is not satisfied with the customer support and believes that it could be more effective if he purchased a paid pricing plan.
Paid pricing plan
Marketing Manager Sydney M. considers Sumo Pro to be too expensive. He says that it didn't keep up with his expectations. For its price, he expects Sumo to have fewer errors, minimal issues, and more features.
Xand G., who is also from the marketing field, believes Sumo Pro's price is too high. You need to pay quite a lot to get some important integrations.
On the other hand, Shashu A., who works in a non-profit organization, describes the paid pricing plan features and highlights the ability to test and see analytics as very useful.
Digital Marketing Coordinator Anthony K. believes Sumo is a great value for money. Thanks to it, his company managed to generate thousands of leads.
Sachin E., Digital Media Specialist, who uses Sumo for more than 2 years is satisfied with it. It helped him to grow his email list very fast and boost the number of clients. Sachin notes, however, that a paid plan can be costly if a website doesn't bring enough ROI.
Douglas C., who has been using Sumo for two websites, also believes a variety of tools Sumo offers is worth paying for it. It proved to be very easy to set up and start collecting emails. The app provides many functions that improve the website experience of every visitor.
Conclusion of Sumo Pricing
When choosing a pricing plan for Sumo, you must remember your main goal. A free plan can be a great place to start if you are just collecting emails on your website. However, if you want to build a solid email marketing strategy, the free Sumo can leave you without useful instruments. Consider purchasing a paid pricing plan to see more analytics, do A/B tests, set your branding, and manage advanced targeting.