Do you need help understanding your website's user experience? Look only as far as the top 9 visitor recording tools. These powerful tools allow you to track user behavior and identify pain points, making it easy to fix any UX issues. With clear user behavior recordings and analysis, these tools offer a deeper understanding of your website's user engagement. So say goodbye to guessing and hello to data-driven solutions 💻📊. Upgrade your website's user experience now with the best visitor recording tools on the market.
What are visitor recording tools?
Visitor recording solutions give businesses and online marketers a deeper understanding of their website visitors and how they engage with the website page. By capturing information such as mouse movements, clicks, and scrolling activity, visitor recording technologies provide a plethora of information regarding how people navigate and engage with a website. With this data, businesses can improve their websites for a better user experience, increase online conversions, and give visitors more personalized information.
When selecting a solution for visitor tracking, -consider the data collected and its possible uses. A good solution for visitor tracking must record page visits, mouse movements, clicks, scrolling activity, and even page loads.
It should also distinguish between repeat visitors and new visits, allowing businesses to segment clients and personalize online experiences accordingly. Lastly, evaluating visitor recording technology's data security and privacy precautions is essential. Recording technologies must have an opt-in option, allowing visitors to allow or deny data collection. The visitor recording tool must include data encryption and secure storage to safeguard visitor information. By considering these essential characteristics and considerations, you can select a visitor recording solution that suits your goals and delivers the required insights to enhance your website. Let's take a closer look at the available options:

Plerdy is a visitor recording tool for tracking visitors with many uses. It has features like heatmaps, session recording, click tracking, and more to help you determine how people use your online store or website and improve it. The visitor recording tool offers several different packages, such as the All-in-one Start package for $98 and the Business package for $198 designed to cater to the specific needs of different businesses.
One of Plerdy's best features is heatmaps, which let you see how people use websites in real-time through scroll maps, click sequences, and cursor hover. Businesses can analyze user clicks and actions based on dynamic elements and segment data from different traffic sources or devices to get valuable insights on what is and isn't working to make effective changes. Plerdy also has pop-up forms that businesses can use to poll users, get leads, and let customers know about discounts.
Another great feature of Plerdy is the SEO checker, which runs a daily SEO analysis and generates a thorough report. This way, businesses can ensure optimal search engine performance and make corrections instantly to boost conversions.
Overall, Plerdy is a tool for keeping track of visitors. It can help businesses understand how people use their websites and make changes to improve conversions. It has received positive reviews from users, with one stating, "Plerdy is a crazy great visitor recording tool that has many reviews on AppSumo and G2." Another stated, "Plerdy already includes eight tools with 100+ features. Each tool helps solve at least 6-10 business or UX problems."

Smartlook is a visitor recording tool that uniquely analyzes user behavior on mobile apps and websites. The visitor recording tool provides session recordings, event-based analytics, funnels, heatmaps, and behavior flows to help digital marketers understand user behavior and improve their mobile app and website.
Smartlook offers different pricing packages. The pricing plans start with a 10-day trial and support web and mobile app platforms. The Free plan is for personal use.
the Startup plan starts at $39/month
the Growth plan starts at $89/month
and the Pro plan starts at $189/month
Each plan offers different features, including sessions/month, data retention, events, funnels, heatmaps, session vault, standard integrations, premium integrations, DevTools, and enterprise features.
Customers have praised Smartlook for its advanced features and powerful insights. One customer states, "Smartlook is a game changer for mobile app analytics. With advanced features like funnels, we can see if anything went wrong in the UX or implementation. It helps us discover problems we wouldn't have otherwise. It makes everything so much easier." Another customer states, "With Smartlook we can see user behavior in ways never possible before, and it has helped us improve our mobile app and website."
Smartlook is a tool for tracking visitors that can help businesses figure out how people use their apps and websites and improve them. It has different pricing plans and advanced features to meet the needs of different businesses. Its customers have given it good reviews.

Hotjar is a powerful visitor recording tool that offers a range of features to help UX specialists understand UX and improve website design. With Hotjar, you can use heatmaps, session recordings, real-time feedback, and other features to learn useful things.
Hotjar offers a free plan for personal use and several paid packages. Prices start at $29/month for the Basic plan, which includes 1,000 pageviews per day and 3 months of data retention. The Plus plan starts at $89/month and includes 10,000 pageviews daily and 12 months of data retention. The Business plan starts at $289/month and includes 100,000 pageviews daily.
Many companies have succeeded with Hotjar, including Invision, Reed.co.uk, and Hubspot Academy. The digital product team at Invision uses Hotjar to find pain points and improve the customer experience. Reed.co.uk, the UK's number one job portal, uses Hotjar to optimize the UX and make people happy. Hubspot Academy uses Hotjar to boost conversions by understanding user behavior.
According to one user review, "Hotjar is a crucial visitor recording tool for us to comprehend our users and identify any pain places where they may be getting stuck." On the other hand, some users dislike the lack of flexibility in the plans and limited data retention in the free plan.
Hotjar is a game-changer for website analytics and optimization. It helps businesses make important changes by giving them visual insights.

Mouseflow is a nice visitor recording tool for understanding your website visitors. With its suite of features, you can gain certainty about what's happening at every touchpoint of your users' journey. With session replay, heatmaps, funnels, forms, and feedback, Mouseflow provides a comprehensive view of your users' behavior. With over 210,000 customers worldwide, including companies such as Vodafone, Philips, Etihad, Verizon, and AB in Bev, Mouseflow has proven to be a trusted choice for digital experience frontrunners. Mouseflow offers enterprise-grade security, including anonymized IPs and keystrokes, compliance with CCPA, GDPR, and LGPD. It also complies with ISO 27001, SOC 1 Type II, and PCI. Thanks to over 30 integrations, like Adobe Analytics, Hubspot, Intercom, and Google Analytics, it's easy to add Mouseflow to your existing tech stack. Whether you're in marketing, analytics, product, design, or CRO, Mouseflow empowers cross-functional teams to make data-driven decisions easily.

Lucky Orange is a comprehensive visitor recording tool that helps CRO specialists improve their website's conversion rate using various tools, including dynamic heatmaps, session recordings, and live chat. With Lucky Orange, businesses can learn about their website visitors in many ways. For example, watch a specific person navigate their website to see what's preventing them from converting, see what people engage with on a page, and provide real-time support for inbound chats.
The tool also has conversion funnels, form analytics, visitor profiles, surveys, announcements, and dashboards to help improve their websites and increase conversions. Lucky Orange seamlessly integrates with popular tools like Google Analytics, HubSpot, and Shopify and is trusted by over 300,000 websites worldwide.
Lucky Orange gives you a free 7-day trial that doesn't require a credit card. They also offer a Free plan which includes 500 page views per month, Unlimited team members, 30-day storage for heatmaps and recordings, and 365-day storage for surveys, chat logs, and events. Businesses with higher traffic needs can get the Build plan at $18/month (paid annually), which includes 10,000 pageviews/month and all the features from the Free plan.
Review Like:
We can better understand how users interact with our website and where to make adjustments thanks to the dynamic heatmaps and session recordings. The integration with other tools like Google Analytics and HubSpot is seamless and makes it easy to track conversions and visitor behavior.
Review Dislike:
The pricing can be a bit steep for small businesses or startups with limited budgets. The survey feature could be more robust with more customization options.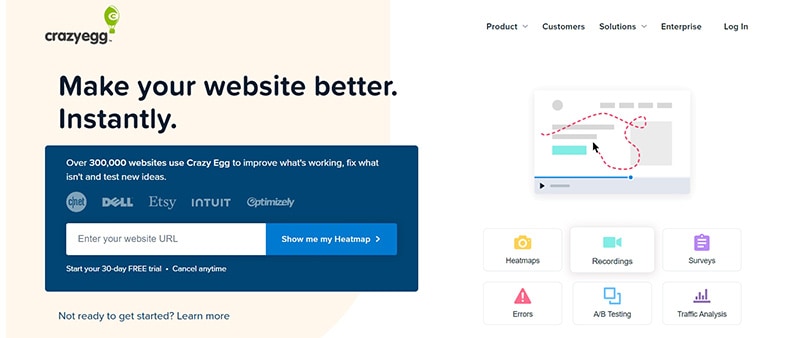 Crazy Egg is a visitor recording tool that helps marketers improve UX or CRO on their websites by providing insights into visitor behavior and website performance. Over 300,000 websites use Crazy Egg to analyze user behavior, fix what isn't working, and test new ideas. The tool offers heatmaps, recordings, surveys, error tracking, A/B testing, and traffic analysis to give businesses a comprehensive understanding of their website's performance.
With Crazy Egg, businesses can understand the customer journey with snapshots, heatmaps, and recordings. The tool also helps identify and fix errors on the website, compare and analyze traffic sources by channel, and get direct feedback from customers and website visitors. Crazy Egg also offers easy setup and integrations with popular CMS like Shopify and WordPress, allowing you to add unlimited team members at no additional cost.
Crazy Egg offers several pricing packages, including Basic ($29/mo), Standard ($49/mo), Plus ($99/mo), Pro ($249/mo) and an Enterprise plan for custom pricing. All plans are billed annually.
Reviews Like:
The heatmaps and recordings provided by Crazy Egg are very useful in understanding how visitors interact with our website and where we can make improvements.
The tool is easy to set up and use, and the integration with other platforms like Bigcommerce, Shopify and Magento are seamless
Reviews Dislike:
The A/B testing feature could be more robust with more customization options.

Inspectlet is a fine visitor recording tool that helps online stores and websites understand their website visitors and improve their website's performance. The session recording feature of the tool shows how each visitor uses the website, including every mouse moves, scroll, click, and keypress. This allows businesses to see how visitors use their websites and confidently make design changes. Over 90,000 companies trust Inspectlet.
Inspectlet also offers conversion funnels, enabling businesses to set up a sequence of pages that lead to the goal, such as signing up or purchasing. Then, they can view session recordings of visitors who abandoned the journey at a certain point. This helps businesses determine where they might lose conversions and make changes to boost conversions. Additionally, Inspectlet offers a javascript tagging API. It allows businesses to send metadata to associate with a user or session, making it easy to filter data and identify individual users.
Inspectlet offers a 1-minute demo to show how it works and a 30-day free trial. They also offer several pricing plans, including Basic ($39/mo), Professional ($99/mo), and Business ($199/mo) plans.
Reviews Like:
The ability to tag and filter data is very useful in identifying user behavior and making targeted changes to our website.
Reviews Dislike:
The interface could be more user-friendly and intuitive for those who are less technically savvy.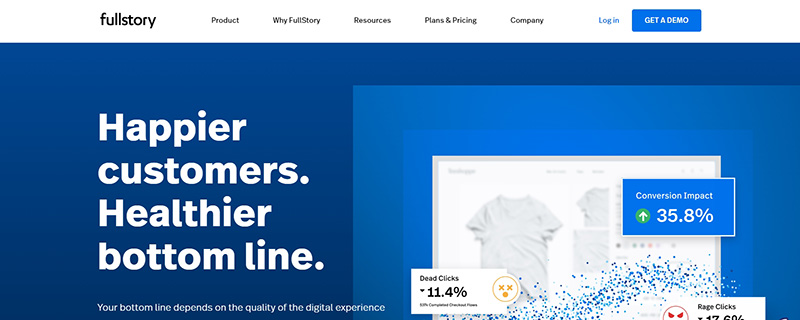 FullStory is the ultimate visitor recording tool that empowers businesses to improve their digital experience and customer satisfaction. With over 90,000 satisfied customers, including brands like L'Occitane, SytnerGroup, William Hill, and Trading Central, FullStory is the most trusted name in Digital Experience Intelligence.
FullStory offers powerful features such as auto-capture technology. It allows businesses to monitor their whole digital experience, identify root causes of issues and opportunities for improvement, and give users exactly what they want. The platform also offers privacy protections, including Private-by-Default settings, industry-leading security practices, and automatic PII detection.
FullStory plans are flexible and tailored to the needs of different organizations, with options like Enterprise, Advanced, and Business. Prices vary based on the package and the number of users.
Customers often achieve an ROI of 411% ROI or more with FullStory. Reviews on G2 and TrustRadius are overwhelmingly positive, with users praising the platform's ability to reveal unknown issues and opportunities, enrich the tech stack, and improve customer experience.
If you want to improve your digital experience (DX) and take your business to the next level, try FullStory. Sign up for a free 14-day trial or request a fully customized demo to hear from the team within one business day.
Reviews Like:
The session replay tool is unparalleled. Replay Fidelity is nearly perfect. FullStory provides insight into the site that we would not have gotten otherwise.
Reviews Dislike:
There aren't many things about fullstory that I don't like. I wish the washed elements were retroactive, and you could create and monitor events based on network calls.

Clarity is a free, easy-to-use visitor recording tool that lets you see how real people interact with your website. With Clarity, setup is a breeze; you'll receive valuable data in minutes. Trusted by major companies such as World Health Organization, Hewlett Packard, Pizza Hut, Cinemark, and Forbes, Clarity is built on open-source technology and is GDPR and CCPA-ready with no sampling involved. Clarity offers powerful insights with instant heatmaps, session recordings, Google Analytics integration and more. Clarity is free forever with no limits on traffic and is built to grow with your business. Success stories from Clarity users include Amedina, Spark Shipping, Conversion Pages, Appstle, SoPlan, B Interactive, Softr.io, Kalicube and Inbox Pirates, who have seen increases in bookings, inbound leads, purchase conversion rates, customer lifetime value and more.
Reviews Like:
I liked how simple it is to use, and that it is a free tool that includes almost every feature you need to track the behaviors of your website visitors, such as sessions video recording, heat maps, and a scroll map.
Reviews Dislike:
I tried to filter my IP address from clarity, but it doesn't work, and I mostly get my own usage report. There should be a step-by-step guide for this filtering because most administrators do not have a static IP address.
Benefits of Using Session Replay and Visitor Recording Tools
Visitor recording and session replay tools are becoming increasingly popular amongst websites and businesses, providing invaluable insight into how customers interact with the website. These tools record customer interactions, providing a detailed picture of how customers use the website, which information they click on, and what they view and purchase. This data can be used to improve website usability, user engagement and conversion rates.
For example, businesses can identify areas with poor website usability by analyzing customers' navigation patterns and making corresponding adjustments. Furthermore, customer recordings can also be used to identify what products customers are most interested in or what features customers most commonly use. It helps businesses to tailor their content to their customers' needs. Additionally, session replay and visitor recording tools can provide data on customer demographics, such as the average time on page and geographic location, enabling businesses to craft targeted campaigns and promotions.
How to Implement and Use Visitor Recording Tools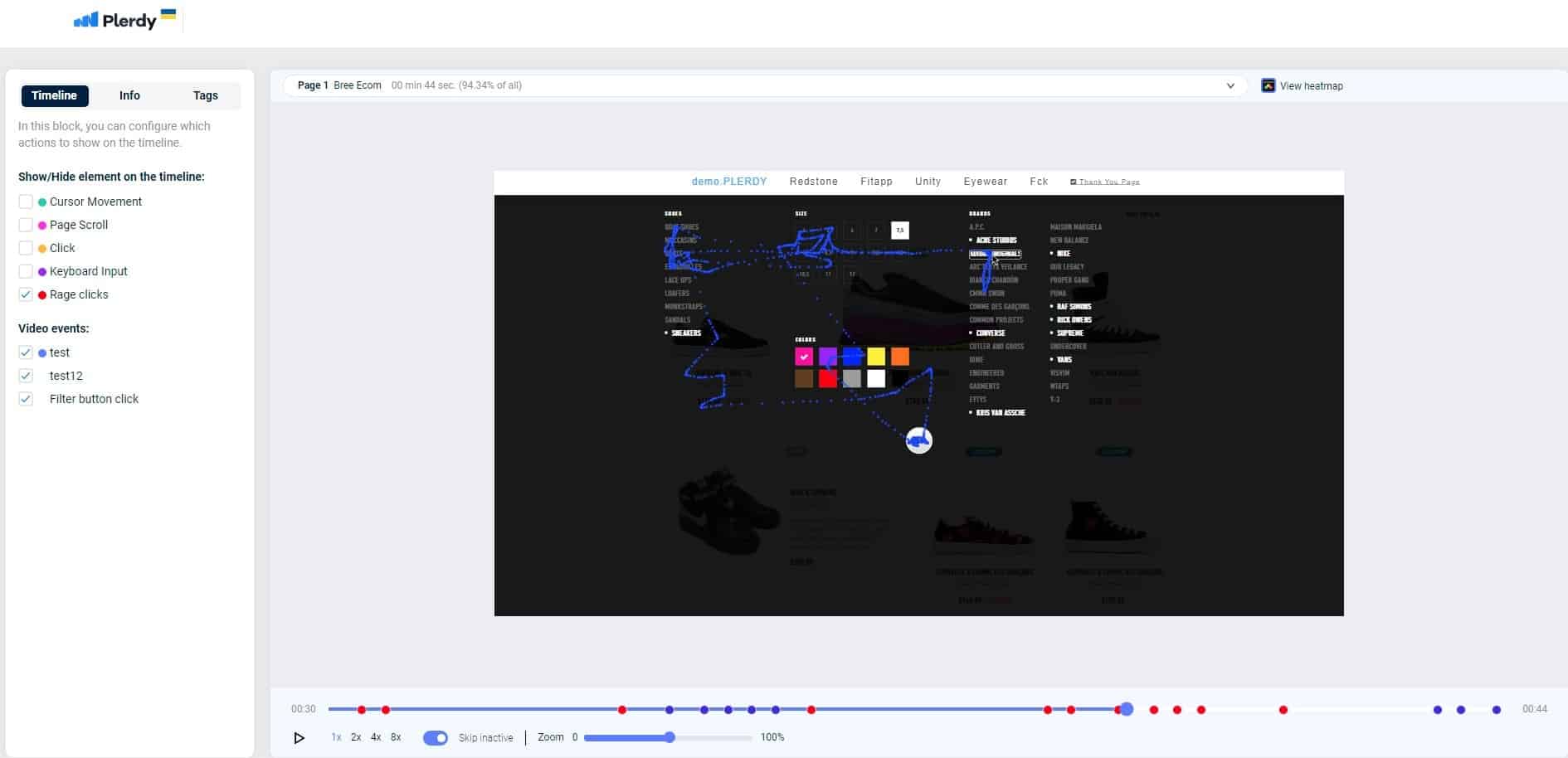 Implementing and utilizing visitor recording solutions can offer useful information into the behavior and preferences of website visitors. Here is a detailed guide on getting started:
Step 1. Plerdy, Crazy Egg, Hotjar, and Mouseflow are the most popular alternatives. Each tool has unique features; therefore, you should research and choose the one that best meets your requirements.
Step 2. After selecting a tool, you must install  JS code on your site to enable visitor recording. You can do it through your website's CMS or Shopify platform.
Step 3. Depending on the chosen tool, this phase may involve selecting recording triggers, defining objectives, and customizing heatmaps and other data visualization choices.
Step 4. Conduct data analysis. The visitor recording tool will collect data on the behavior of site visitors as they engage with your website. Utilize the data visualization capabilities of the program to examine this data and detect patterns and trends. Additionally, examine angry clicks to identify problematic website parts.
Step 5. Make data-driven decisions. Utilize the insights gathered from visitor recordings to make data-driven decisions on optimizing your website's performance and user experience.
Visitor recording systems can provide significant insights into the preferences and behavior of website visitors. Following these straightforward procedures, you can quickly integrate and employ these tools to enhance your website and provide better commercial outcomes.
According to prominent digital marketer Neil Patel, visitor recording tools can help identify confusing or difficult-to-navigate portions of your website, as well as the most engaging elements of your website.
Use Cases Visitor Recording
A real-world example of a company using visitor monitoring is Alseresport.com, a Spanish e-commerce website selling various sporting items. The store's marketing manager analyzes the site's traffic using a heatmap in a YouTube video and suggests enhancements like adding a shopping basket button and making the search bar easier to use.
Daybydaycrm.com, a SaaS website that aids businesses in staying organized and in contact with their customers, is a company that employs visitor logging in the real world. For example, in a YouTube video, a marketing manager uses a heatmap to assess the website's traffic and identifies places that might be improved, such as the navigation bar, the addition of an arrow for quick scrolling, and the placement of the sign-up pop-up.
Other Visitor Recording Tools
Before diving into the options available, note that choosing a visitor recording tool depends on your business's needs and goals. Let's delve into the tools offering various features and niches.
| | | |
| --- | --- | --- |
| Tool Name | Niche | About the Tool |
| Contentsquare | eCommerce | To assist businesses in enhancing their online store, Contentsquare, a visitor recording tool emphasizing e-commerce, provides a wealth of tools like session replay, form analytics, conversion funnels, heat maps, and surveys. |
| Glassbox | FinTech | Glassbox is a fine visitor recording tool for the FinTech niche that helps companies improve their websites by providing session replay, heatmapping, form analytics, and funnels. |
| LogRocket | SaaS | A visitor recording solution with a SaaS focus, LogRocket provides session replay, heat maps, form analytics, and funnels to assist companies in improving their website. |
| Dynatrace | DevOps | Dynatrace is a solution for visitor recording with a DevOps focus that offers video session replay, form analytics, and funnels to help explore and improve their websites. |
| Quantum Metric | eCommerce | Session replay, heatmaps, form analytics, and NPS surveys are just a few of the capabilities that Quantum Metric, an ecommerce-focused visitor recording platform, offers to help businesses with online store optimization. |
| SessionStack | Web Development | To help a company improve its websites, SessionStack is a visitor recording tool with a web development focus that offers video replay, form analytics, etc. |
| Auryc | CRM | The CRM-focused visitor recording platform Auryc helps companies grow by providing different analytics tools. |
It's important to capture all the necessary data and metrics to analyze visitor behavior and improve the user experience. Each of these tools offers unique features and pricing options, so you must evaluate your business needs and budget before making a decision. For developers, having access to a detailed dashboard with quantitative metrics can help quickly identify bugs and dropped-off points in the user journey. Some tools also automatically create heatmaps and funnels to help identify high drop-off areas and pinpoint where users interact and input data. Having enough information to make data-driven decisions is crucial, especially when retaining and returning customers. The right software can help in particular areas and provide valuable insights to improve the user journey.
Conclusion
Web designers and UX experts can only do their jobs effectively with tools that record and playback user sessions. They help us monitor how visitors use our site, identify problems with its navigation, and enhance the overall user experience. The right tools can help achieve our websites' best usability and intuitiveness. Use one of the nine finest visitor recording tools to improve your website's UX and give your users the greatest possible online experience.