The constant growth of search relevance algorithms forces web developers to optimize their websites. Both technical parts and content should be orderly improved to reach the highest evaluation by a search machine. Before implementing any optimizing procedures, you should analyze essential website elements. Website SEO checker helps to do this.
SEO website checker is a particularly essential tool. It represents the effectiveness of significant parameters of a website page's pertinence. In other words, it finds what gives your platform objective superiorities to stay higher in the list of search request results. Commonly, the functions of the tool aimed at SEO check of websites are the following:
Gathering SEO metrics and analyzing their productiveness;
Defining the valuable traffic and the device from which it is mainly given;
Verifying the website content and evaluating its appropriateness due to the latest search mechanism parameters;
It is impossible to understand all of Google's targets and provide perfect optimization even with a website SEO checker tool. But a detailed analysis helps discover all of the invisible flaws related to a website's structure and content and get rid of them quickly.
SEO Case Study
Does your website have unique and interesting content but generate no organic traffic? It does not attract a user audience because people do not find it in the top positions in search engines. Explore, find SEO issues, and analyze your page data to identify weaknesses. To do this, you need to optimize your SEO metrics with automated SEO checkers.
Consider several tips about working with the most regular SEO aspects to provide an elaborate optimization with a website SEO checker online. Here you can find the most significant of them:
Get rid of elements that reduce your website's speed.
Create content primarily for people, not for search engines.
Write shortly and clearly.
Create a semantic core of the most frequent keywords before adding them.
Employ subheadings to make the content separation logical.
Add images for the text break.
Apply links to highly trusted platforms.
The listed above becomes possible if you analyze the website with an SEO rank checker.
Website SEO Checker From Plerdy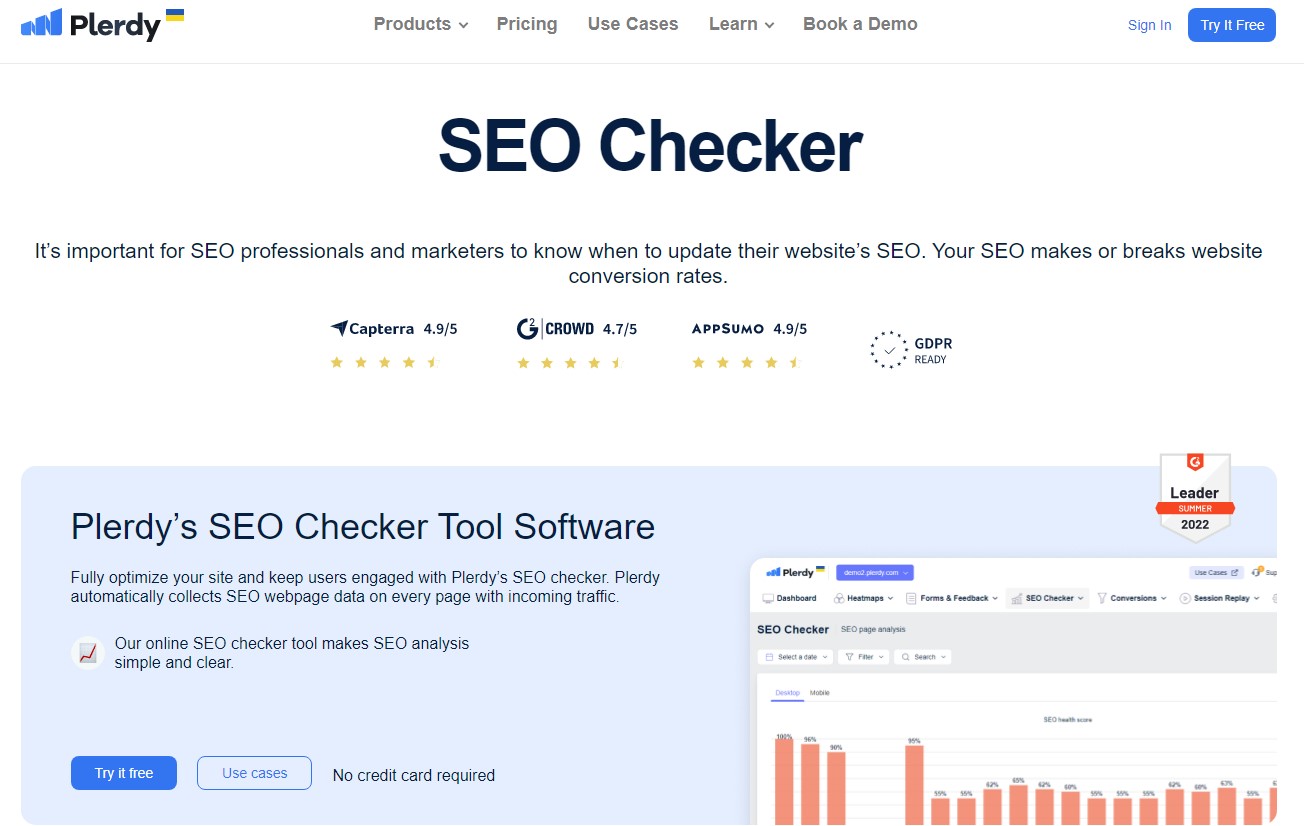 An excellent way to make a deep SEO check of a web platform is to install Plerdy's tracking code on your website. All SEO data will be collected automatically (but only if there is traffic on the pages of your site).
Plerdy team has evaluated the latest search engine algorithms and created a custom website SEO checker tool, which provides a list of significant advantages, SEO changes, and historical data for 30 days:
Regular daily audit of the vital relevance characteristics, such as keywords, titles, H1-H3 headers, source code files (for instance, JavaScript or CSS files), descriptions, etc.
The Plerdy SEO website checker tool ensures automatic analysis and learning of more than 1 million pages.
Analysis of the SEO mistakes made on mobile and desktop website versions; the mistakes are sorted due to the device and the type of SEO mistakes.
Google Search Console API integration analyzes the keywords added and missed on specific pages; automatically evolves the Cyrillic / Latin letters' combination.
Plerdy SEO checker for websites uses the latest indexation model's algorithm – «Mobile-First Index.» It is aimed at ranging of websites that use the mobile version only.
Distinguish the pages which have low SEO indexes.
Comparing and representing the effectiveness of the optimizing procedures provided during the set period.
You can test the Plerdy website SEO score checker for free to confirm its objective effectiveness. Analyze the reports provided by the program that monitors competitive sites and suggests which items need to be optimized for traffic to crawl up. This is professional web analytics of the SEO metrics of your pages to solve all tasks and keep visitors engaged.
TemplateMonster Audit
Promoting or launching marketing campaigns for a website or an online store directly depends on its internal content. Phrases, offers, products, and prices are aimed at informing buyers. But the quality of your texts is also important here: their ranking and ability to attract people from outside. We have demonstrated how to check the SEO of a website using TemplateMonster as an example. In particular, we used a deep data analyzer on the TemplateMonster web template store, installed the script for SEO check of websites and let it collect information and examine pages.
With the website SEO checker, you will save time in making an audit, as it takes 30 hours/per month. For instance, a Plerdy team conducted a TemplateMonster audit to detect the famous marketplace's SEO mistakes. As a result, more than 400 hundred pages of the mobile version and more than 300 hundred pages of the desktop version were considered as such that should be paid attention to.
Reviews
Customers highly evaluate Plerdy's tools because:
The analyzed data is provided clearly and logically, and it doesn't take much time to figure it out.
Excellent 24/7 support, which improves the user experience.
An authentic technical comparison with millions of other websites becomes possible with special Plerdy SEO tools.
Website SEO Checker Chrome Extension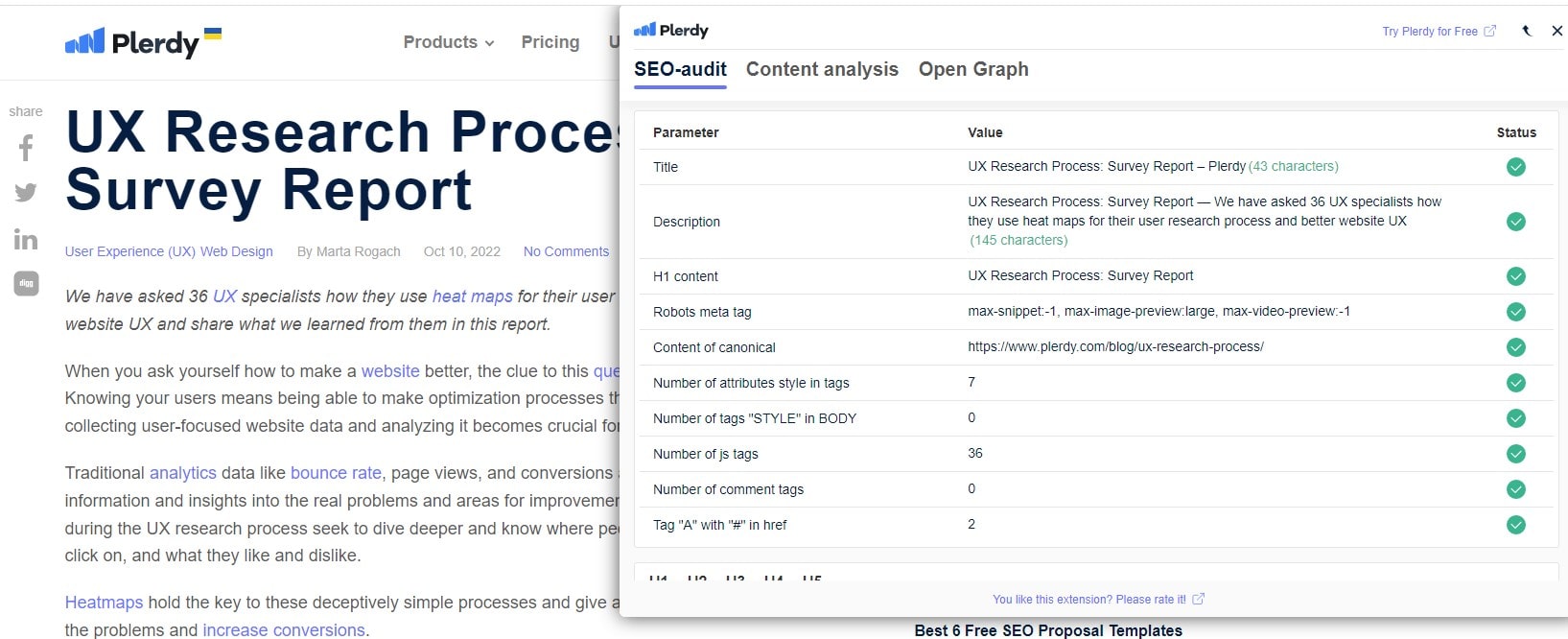 A particular configuration helps to supply a prompt SEO audit of the page and offers the following functions:
SEO errors detection: titles, headings, descriptions, style elements, attributes, elements of JavaScript source code, etc.;
SEO text analysis: the total amount of out-and-outer and stop words, water, text readability, and sentence length;
Analysis of the uniqueness of the words;
Stop word and keyword analysis.
You can install the extension on Google Chrome for free. After an SEO analysis, the employees and customers can get a screenshot of the data obtained.
You can decompound and research the data of competitive sites in terms of SEO markers. To do this, use the add-ons in the Chrome browser.
To Sum Up
As we see, website SEO checkers are important tools that ensure a detailed analysis of considerable factors of the platform's relevance. To make a rapid and elaborate review of hidden flaws of the website development, choose Plerdy's tool, which has already confirmed its efficiency. Many features are offered with demos, so you can do a web page SEO test and evaluate their benefits. You might also scan the on-site SEO data, enter the required URL on the Plerdy website, and decompose the text indicators. Be better than your competitors.