Most people believe that on-page SEO is about adding as many keywords to the text as possible. When a website page doesn't rank as expected, they begin to look for mistakes on the entire website and fail.
Modern marketers should know that on-page SEO is not only about keyword stuffing. It's about the quality of the content, correct metadata, tags, and other details. Therefore, every page will need SEO optimization to get to Google's top.
SEO Case Study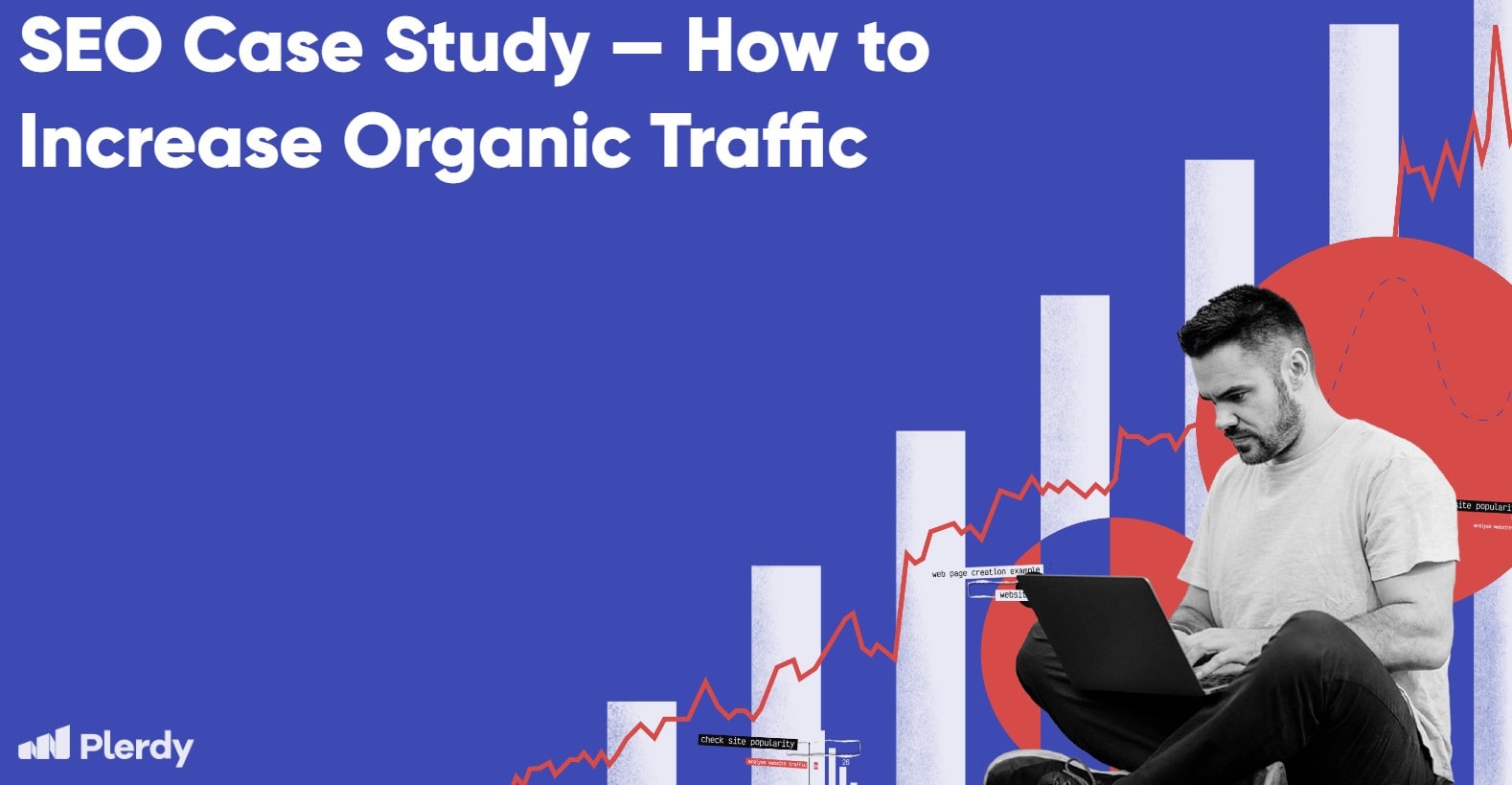 Your site must be profitable, so it must be in demand. Study its weaknesses to conduct a deep SEO analysis and eliminate mistakes. Find out what you need to optimize to reach more visitors by analyzing a spam score, percentage of authentic phrases, conversions, etc.
Fortunately, onpage SEO checkers can automate page-by-page analysis and instantly show how to fix SEO issues. They highlight specific problems and areas for improvement by page.
Learn more about an SEO case study and how on-page SEO checkers work below.
On-Page SEO Analysis
On-page SEO (also called "on-site") is a search optimization approach focused on improving every web page's content and SEO metrics. It reinforces user skills and the optimized pages' ranking by search engines.
This method shows search engines that the content on a web page matches a search query. Search engines automatically evaluate pages to display the most relevant content and give users what they need. A major appropriateness mark is when the page involves the same keywords as the search query. It is also good when they appear in headers and content several times. Metadata descriptions with keywords show algorithms that the analyzed content will meet users' expectations.
Given requests for search mechanisms, on-page optimization comprises these fields:
Content must be unique, keyword-targeted, and crawlable
Metadata must be added to every page observing character limits and other standards
A page must involve links and be linkable itself
Even though marketers can estimate on-page SEO manually, it would be too time-consuming. That's why professionals prefer automated on-page SEO checkers like Plerdy.
For the success and relevance of web pages, not only technical but also content SEO parameters are essential. On-page SEO goes through all items: meta-tags, main titles, anchor text, links, and more. A good SEO is credibility, experience, and reliability. On-Page SEO analyzes titles, content, and so on, and it also optimizes signals that occur outside a site (backlinks).
Automatic On-Page SEO Checker
On-Page SEO Checker is one of the Plerdy marketing tools. You can add its script to your website pages to regulate decisive SEO changes. Daily, this SEO analyzer automatically records mistakes on related pages. The best thing about On-Page SEO Checker is obtaining data on each page separately. Besides, it monitors only pages with traffic, which speeds up the analysis.
Plerdy allocates pages with critical mistakes to save you time and allow you to remove them immediately. It also shows historical SEO data identifying what SEO errors have been fixed and persisted.
This On-Site SEO Checker is particularly efficient for SEO specialists, usability experts, data analysts, and marketers. They can integrate it with Google Search Console for more data-driven testimonials on how to boost organic traffic.
Install the Plerdy tracking code on your website. It will automatically collect and analyze all SEO data if the website has traffic.
Free Chrome Extension for On-Page SEO Audit by Plerdy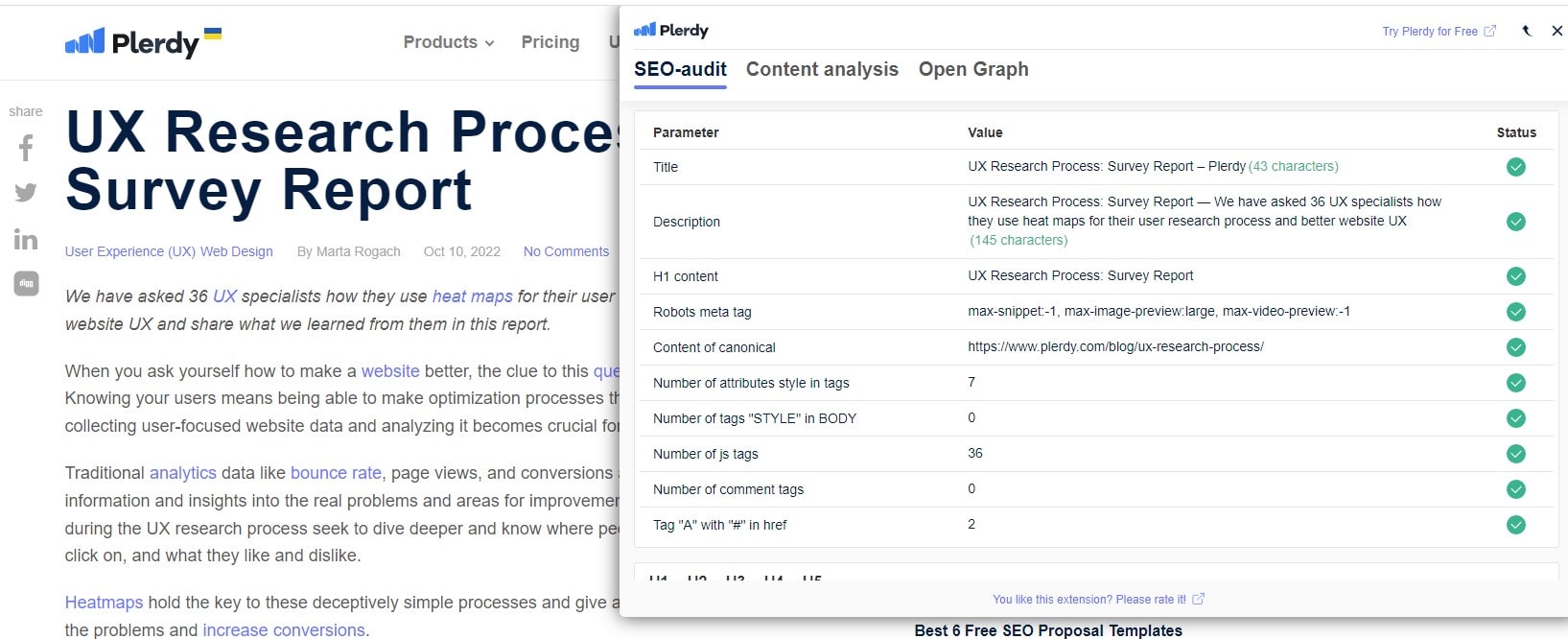 Website SEO Checker is an extension designed to enable users to run quick SEO analysis in Chrome. After adding the checker to the web browser, you can scan the opened page's SEO content characteristics and metadata. It assists in figuring out why this page can't achieve leading results in Google and enhance its ranking by getting rid of difficulties.
The website SEO Checker is a perfect solution when you do not have time for a comprehensive analysis. It's also an effective alternative for small businesses that cannot afford expensive SEO software.
You can analyze your competitors' SEO data. Add-ons in the Chrome browser will help to understand SEO metrics and find SEO insights.
Example of On-Page SEO Checker Use for TemplateMonster
If you are unfamiliar with the TemplateMonster platform, we remind you that this is a website template store for virtual marketplaces. Our group analyzed Template Monster's website with the Plerdy tool and detected almost 2,500 pages with errors.
We segmented the problematic URLs by filters to decompose mobile pages first. Starting from the mobile version is important since the mobile-first approximation has tremendous rankings. Afterward, we filtered mobile pages by fault type. Some H1 titles, Definitions, and H1 Content were the main categories of fallacies. Thanks to segmentation, it was easy to view SEO analysis statements for each page and troubleshoot. The report includes a title, Description, H1 content, headers, and other tags that affect on-page SEO.
The Plerdy team repeated the steps for the Pay-Attention pages and the TemplateMonster desktop version. We dissected the content using the Word analysis feature to strengthen the SEO indexes of its quality.
For more detailed comments and recommendations, visit the case study page.
Conclusion
You must regularly measure key points to ensure new and existing pages follow the latest Google ranking requirements and factors. On-page SEO checker provided by Plerdy automates this process and boasts significant benefits. It collects valuable statistics, provides professional SEO tips, and doesn't overload your server. Based on this data, you will understand how to analyze, research, and improve your online SEO performance. You only need to insert the URL above the frame to explore the SEO score.