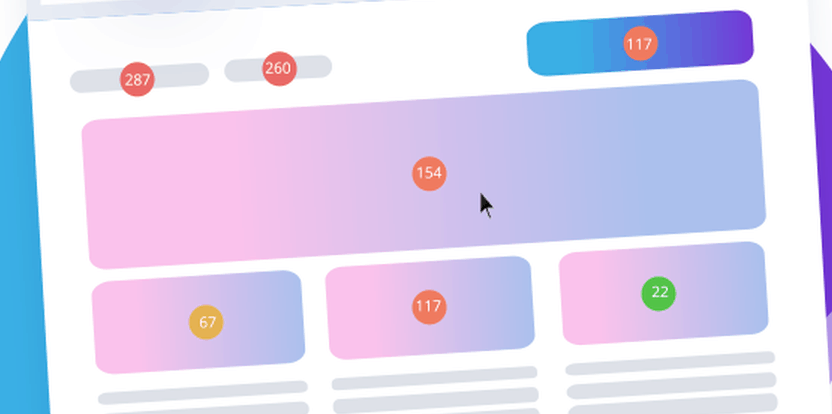 How do you start the acquaintance with any unfamiliar product or service? First of all, you find out how the product will help to solve your current tasks and problems. After that, you assess its ease of use (to see whether you need some special skills). At last, the third important criteria is the price: How much does the solution cost?
If you work with website efficiency and performance, you have probably faced similar issues choosing a heatmap. To understand which heatmap can help you most effectively, it's necessary to analyze its strengths and weaknesses keeping in mind your primary tasks.
Now, let's talk about Plerdy. This service has every right to be considered a multitool since it includes several tools used for different purposes. Generally, they are designed for online marketers and usability specialists. More precisely, they target PPC and SEO experts. Each of the groups has its own vital tasks, which Plerdy can help to solve.
Earlier we have already talked about the reasons to install our click heatmap.
Now, we will take a closer look at another type of heatmaps. The functionality and benefits of other Plerdy's products (smart pop-up forms and SEO alerts) will be described in separate articles.
To demonstrate the whole range of the possibilities of heatmaps (click, scroll, and hover), we have prepared a list of functions available to all registered users.
1. Automatic recording of all clicks on website pages
Immediately after the installation, the script of Plerdy heatmap starts collecting click statistics. You can both check the information in a personal dashboard or view it right on your website.
WHAT IS THE BENEFIT?
The configuration of the heatmap is really simple. Actually, you don't have to do anything – just install the script of Plerdy once. Many other products only collect clicks on the previously configured pages, whereas Plerdy heatmap immediately records clicks, hovers, and scroll depth on all pages.
2. Segmentation of clicks by several parameters
To analyze the collected clicks, usability specialists need to segment the results by a set of parameters. Plerdy heatmap allows you to filter data using several parameters at once:



WHAT IS THE BENEFIT?
Obviously, user behavior differs depending on which website version they see – main or responsive. Thanks to click segmentation based on one or several parameters, you can study different groups of users and make more accurate conclusions on website usability.
3. Upload all clicks to one page
Other heatmaps don't have such a solution. Displaying all clicks on one page, you can find out the CTR of the elements that repeat on all similar pages of a website.


WHAT IS THE BENEFIT?
The opportunity to upload all clicks to one page is necessary if you need to analyze a bunch of pages. For example, product cards in an online store. Usually, their design is identical, so uploading all clicks to one report shows which of the repeated elements has least and most clicks. This way Plerdy heatmap will save you a lot of time.
4. Segmentation by traffic source
A separate section of Plerdy's dashboard is dedicated to the segmentation of traffic data. This function of the heatmap helps to define the most popular pages for each type of traffic. All information is presented in the form of a graph and a table: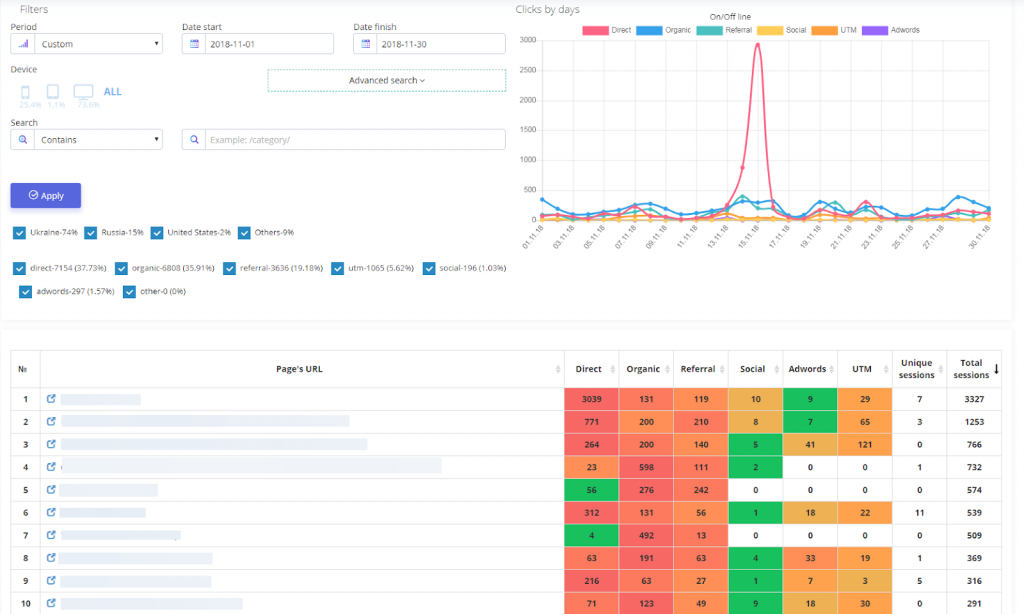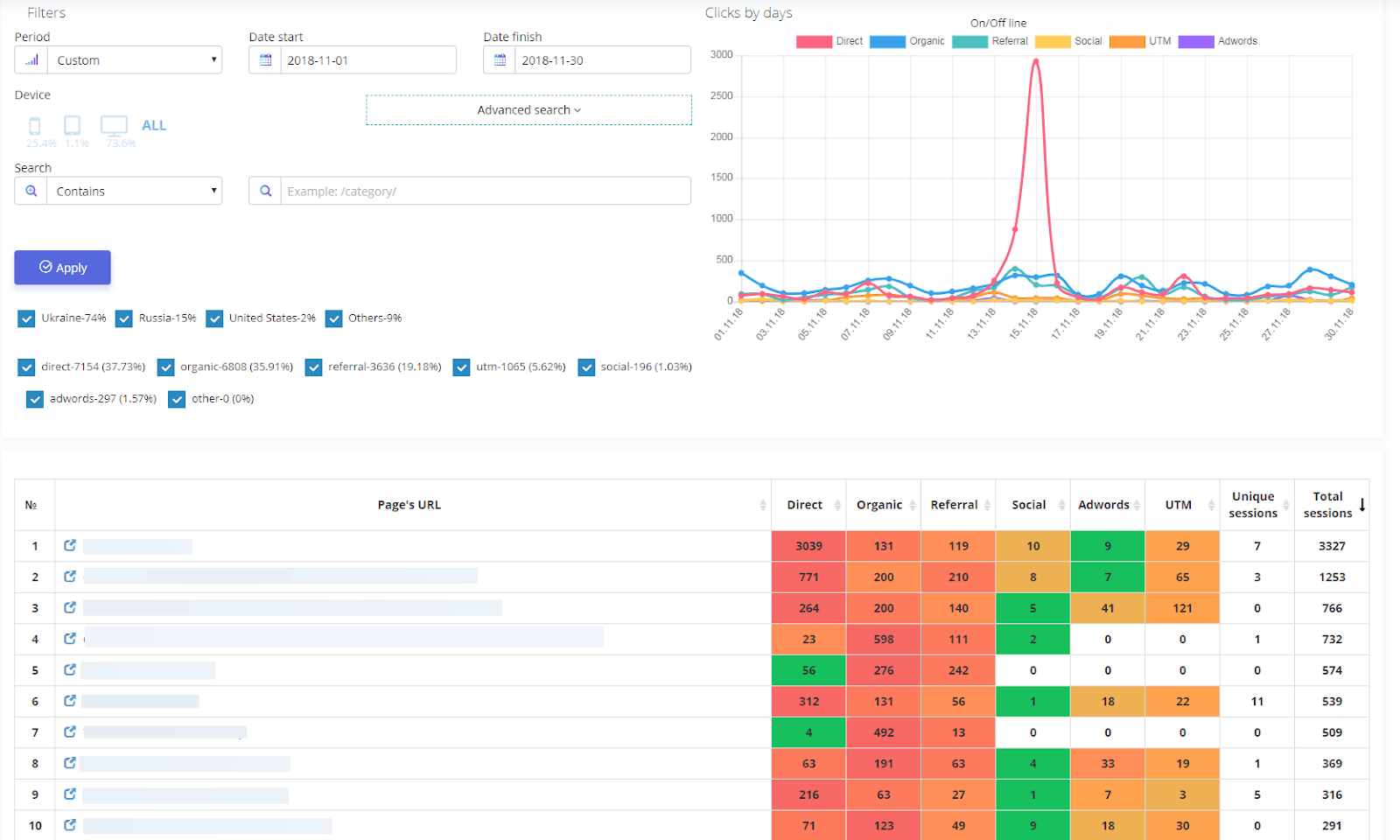 From this section, you can go to a specific page and select to display clicks solely from one of the traffic channels: direct, organic, referral, social, AdWords, UTM, etc.
Additionally, in the dashboard, you can choose a certain period of time (starting from one day and more) to view specific data segmented by traffic.
WHAT IS THE BENEFIT?
Segmentation of heatmap data allows monitoring of how user behavior differs depending on a traffic channel. Also, you can use it to track the clicks of users who came from an advertising campaign (with the UTM tag).
5. Collection of data from mobile devices
The growing volume of mobile traffic to websites nudges usability specialists into studying the behavior characteristics of this segment of users. The key subtlety is that clicks and scrolls on the pages with a responsive layout differ from the same actions made on a PC. Plerdy heatmap allows you to focus solely on the analysis of the behavior of mobile users combining this data with other types of reports (based on time periods and traffic types).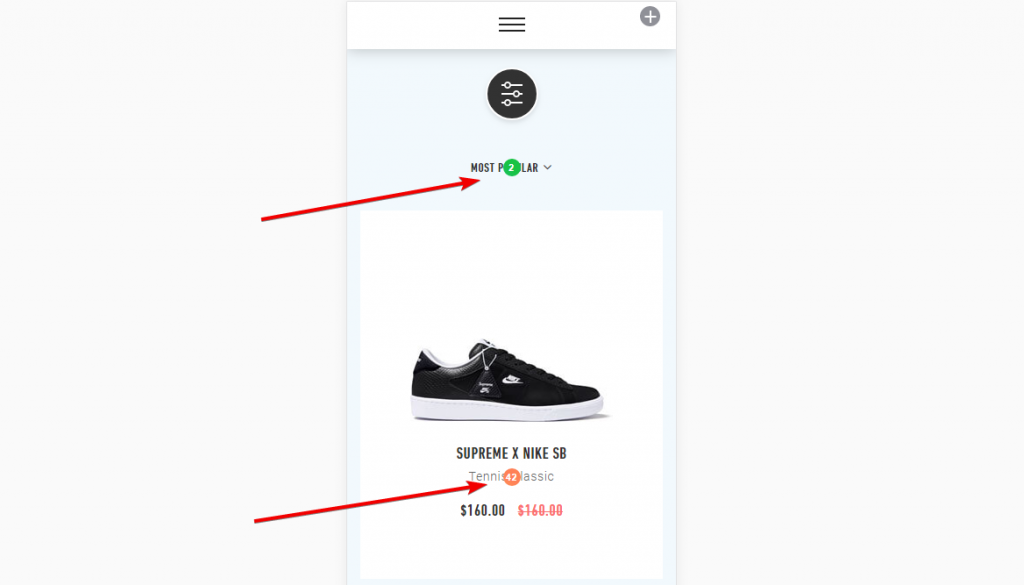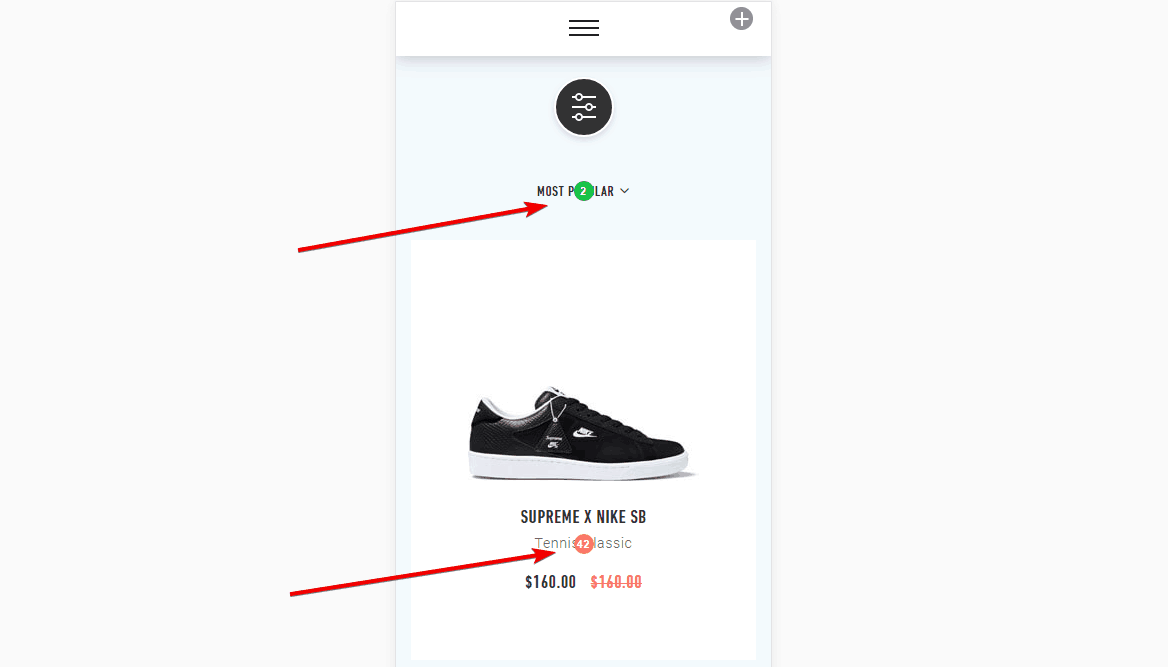 WHAT IS THE BENEFIT?
The analysis of mobile traffic with the heatmap allows you to promptly make changes to the responsive design of the site.
6. Recording clicks on pop-ups
It's hard to imagine a modern website without dynamic elements. Today most solutions attract and engage users with their interactivity. To assess the effectiveness of such solutions, recording clicks on all changing website elements can be really helpful: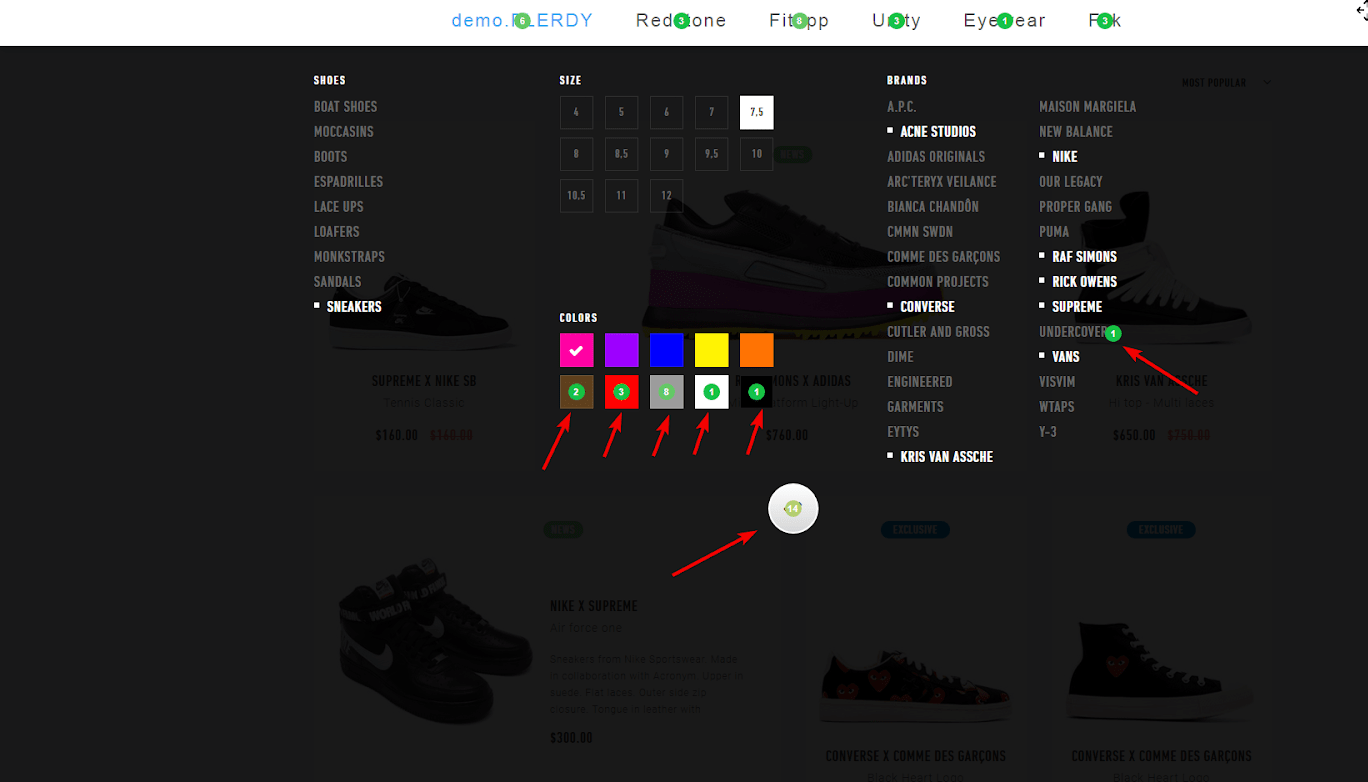 WHAT IS THE BENEFIT?
You can view clicks on pop-up windows and drop-down menus on the heatmap. The click-through rate demonstrates the interest of your target audience in your offer.
7. Recording clicks on sliders
Many websites use huge sliders on their main page. Usually, they contain promotions or special offers. Some sliders are configured to be displayed at a certain time, others are shown randomly. Yet all of them can be scrolled manually. Since a scroll is also considered as a click, Plerdy heatmap records and displays such interactions on a page.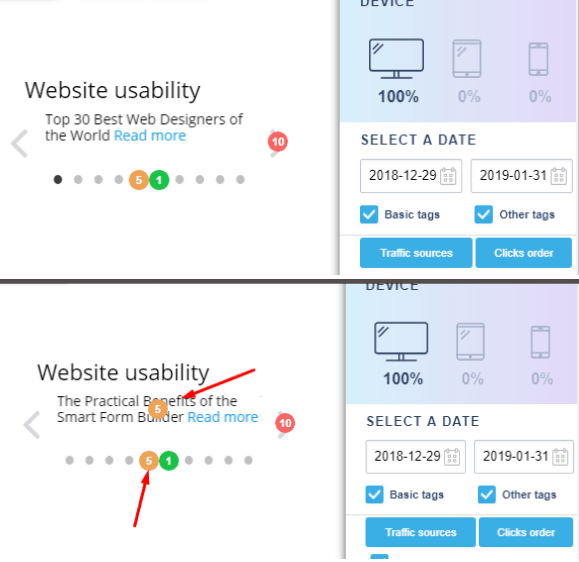 WHAT IS THE BENEFIT?
There are two indicators that help to assess the effectiveness of a slider: the number of clicks to view a specific offer and the number of clicks to switch to the next offer. This information allows making changes to the design and calls-to-action on your website.
8. Scroll map
Plerdy heatmap is the only tool that has two solutions to define user interest in the content of a page. The first one is page scroll depth and the second tool is a scroll map. The scroll map is a joint solution that combines data on clicks and scrolls. In such a report, the page is divided into 5 equal segments. Each of them has its CTR which shows the depth on which users have interacted with the content.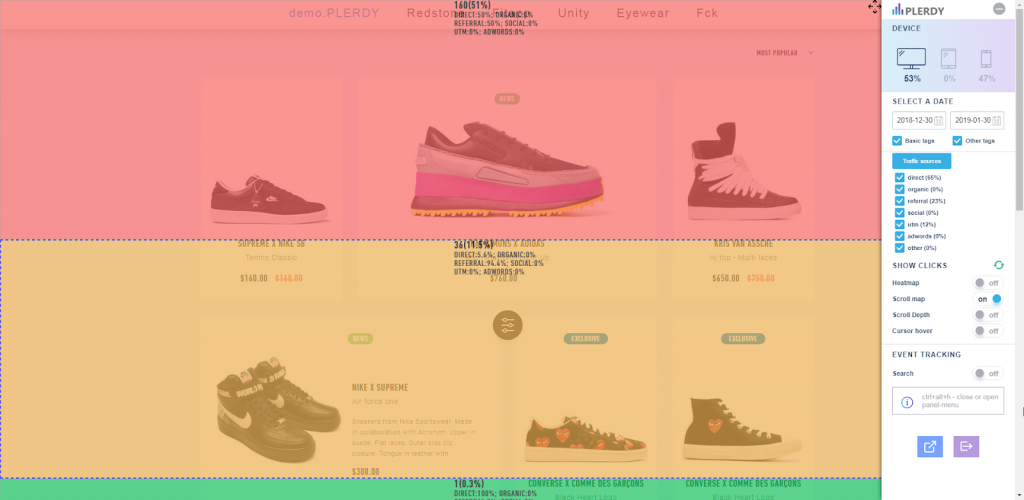 WHAT IS THE BENEFIT?
With the scroll map, you can quickly determine which segments on a page (usually, blogs) get most clicks. It is also useful to evaluate the most and least popular links in the text of longreads.
9. Recording and displaying clicks in real time
All information about clicks, mouse hovers, and scrolls instantly gets to the user dashboard of the Plerdy heatmap. The data is recorded in real time and becomes available for analysis in a few seconds.
WHAT IS THE BENEFIT?
You receive heatmap data unbelievably quickly. No need to wait for several hours or till the end of the day to see what your users do.
10. Table reports in the dashboard
Plerdy heatmap users can choose from several formats of reports. One of them is a table click report available in the dashboard. Each column of the table can be sorted from the smallest to the largest number:



WHAT IS THE BENEFIT?
The table shows clicks of the main elements of every page. It's a very convenient and fast way to find the least clicked groups of elements on a website.
11. Recording mouse hovers
Usability specialists often face the need to find out on which website elements users focus attention. Usually, when visitors get interested in something, they hover it with a mouse. Sometimes, the hover isn't followed with an interaction (the element is unclickable) or the action happens automatically after the hovering (for example, a menu opens). To track such cases, Plerdy heatmap records all hovers during which users stop for more than two seconds.


WHAT IS THE BENEFIT?
You get a chance to analyze website elements that attract user attention or are activated without a click (for example, zooming a fragment of an image).
12. Recording scroll depth
Plerdy heatmap records the scroll depth of every website page on all types of devices. Website visitors can scroll with a mouse, use a touchpad, or scroll content on a smartphone with their finger – all these actions will be recorded and properly sorted by device type.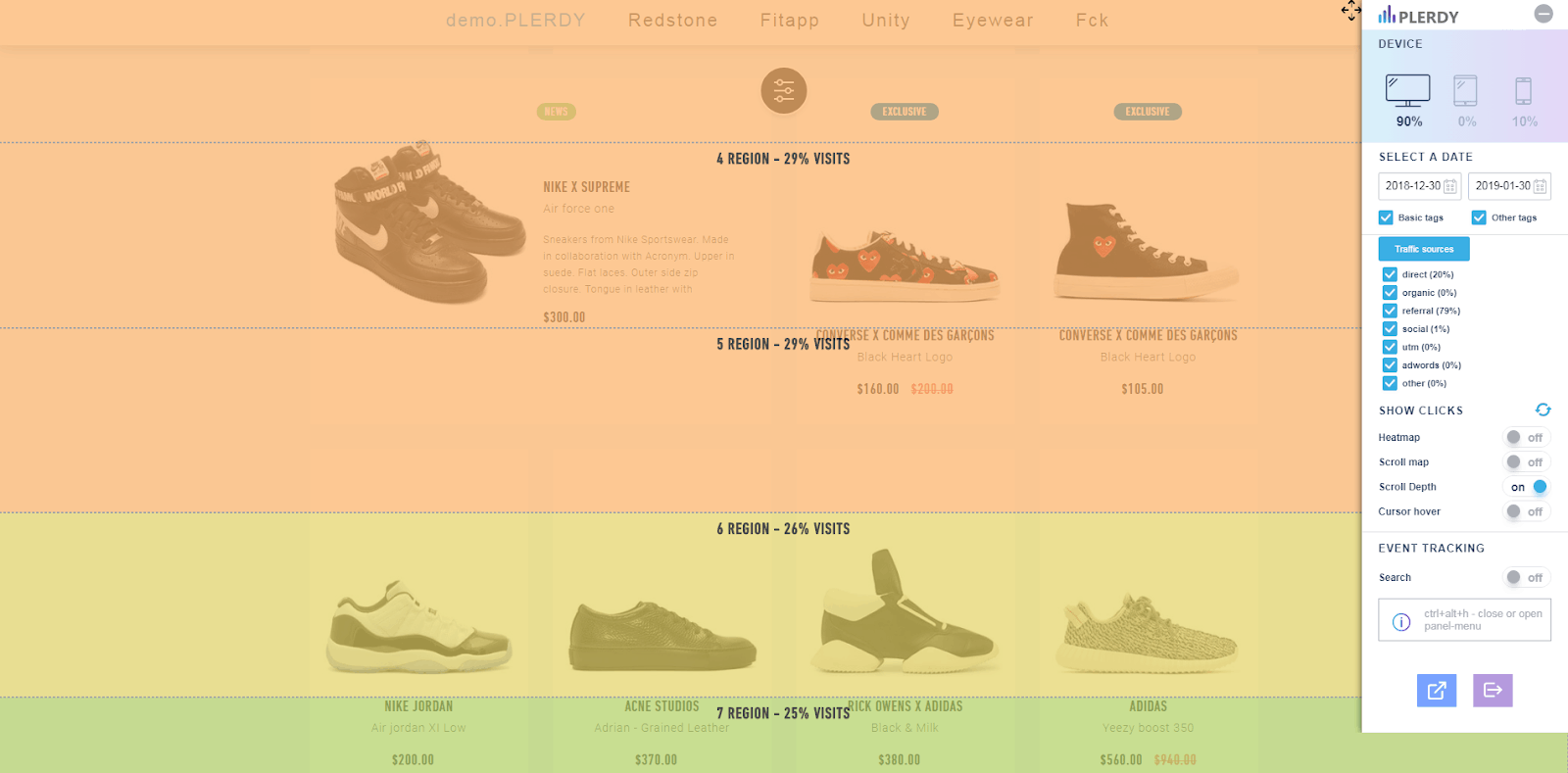 WHAT IS THE BENEFIT?
A Plerdy heatmap user can be sure that a report will include all the data on website visits. This is especially important for information sites and blogs where users mostly read, and it's necessary to evaluate the quality of content.
13. Recording click sequences
Click sequences is an optimum alternative to video recordings of website visits which helps to process data on user behavior more efficiently. Use Plerdy heatmap to record click sequences on your website. By the way, during a website visit, an average user makes from 3 to 7 clicks. A map of click sequences can help you to see which website elements are clicked first, second, and so on.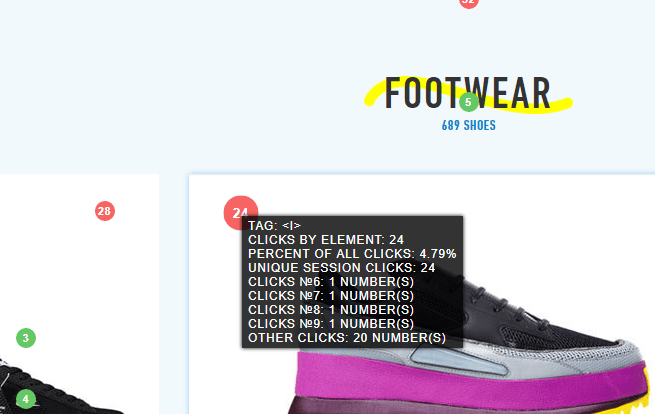 WHAT IS THE BENEFIT?
Click sequences save the time of usability specialists and UI/UX designers. The thing is that the analysis of video recordings is extremely time-consuming. To view only 100 of one-minute recordings, you will need more than 1.5 hour. Yet if a website has thousands of visitors, monitoring their behavior through videos becomes a real burden. It's much easier to analyze which element on a page was clicked first.
14. Click sequence graph in the dashboard
A specialized graph in the Plerdy dashboard makes the analysis of click sequences very convenient. It shows all the information about the number of first, second, their, etc. clicks made during a day: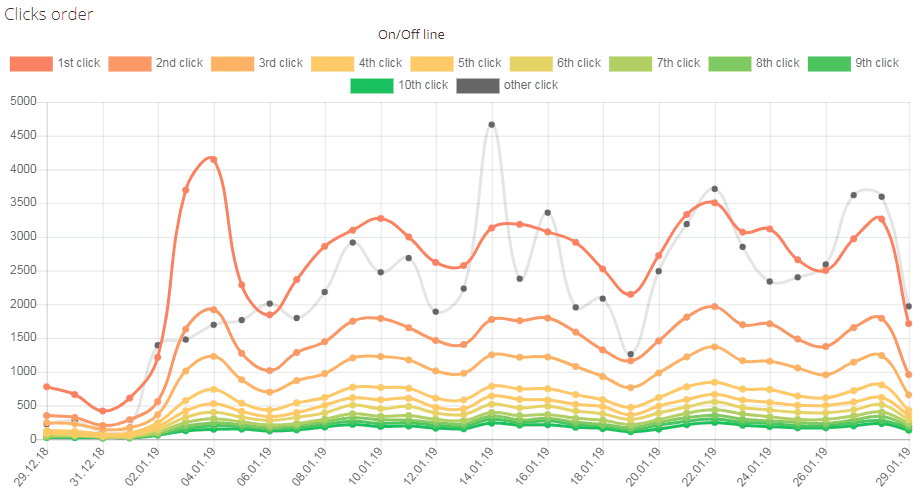 WHAT IS THE BENEFIT?
There is a belief that users must get to any website page in three clicks. Therefore, the data on the number of clicks on a website is a great way to demonstrate its convenience.
15. Segmentation of click order data
You can segment the results of the report on click sequences while viewing the very website. To do that, use the Sequence of Clicks mode that turns on right after the heatmap is activated: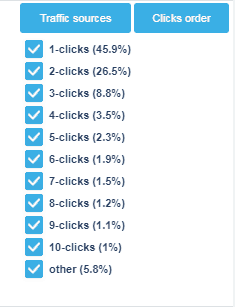 WHAT IS THE BENEFIT?
The segmentation of click sequences helps to track possible anomalies in user behavior on a website and define some common navigation patterns.
16. Click sequence table
A result table with color gradients is one of the visual solutions used for the slick sequence report in Plerdy heatmap:



WHAT IS THE BENEFIT?
This format simplifies the comparison of click sequences on different pages, helping to find similarities and unusual patterns.
17. Recording meaningful clicks
Plerdy heatmap displays clicks in an absolutely unique way. To be more precise, the dashboard shows only the click data that can be interpreted and thus, have a practical value. Plerdy heatmap doesn't include empty clicks – the single random clicks on pages that don't lead to a target action and are impossible to analyze: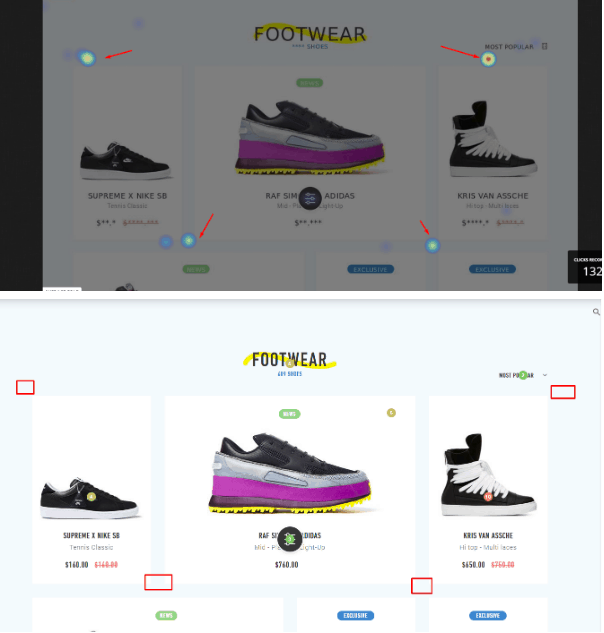 WHAT IS THE BENEFIT?
The quality of information saves the time of specialists who conduct a website usability audit. Thanks to Plerdy empty clicks will no longer distract you.
18. The Plerdy's toolbar can be displayed on an analyzed website
You can open and close the toolbar on any website with the installed Plerdy script using Ctrl-Alt-H shortcut. On this toolbar, you can turn on filters, select a time period, enable a certain type of reports, and configure event tracking to record data on specific website elements.


WHAT IS THE BENEFIT?
The key advantage is the opportunity to analyze a website in real-time. Plerdy heatmap allows you to see how visitors interact with the content directly on the website pages, unlike other heatmap tools that use aggregate screenshots.
19. Tracking clicks on separate elements
Heatmaps by default collect click data on all main elements of a website. However, in some cases, it may be necessary to track clicks on a specific element.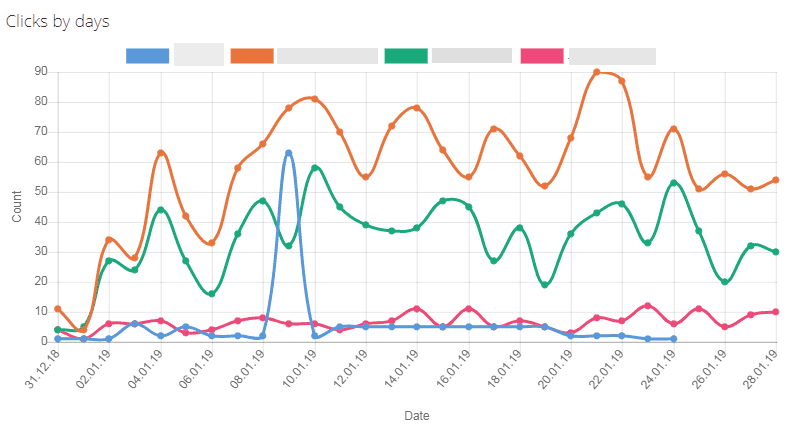 WHAT IS THE BENEFIT?
By configuring separate events, you can track clicks exclusively on certain website elements (e.g. Order or Registration buttons). Moreover, the data recording starts immediately after the script of the heatmap is installed. Hence, if you had no need to track clicks on an element before, but now this information is crucial, just configure a separate event and receive all the data for the previous period.
For example, Google Analytics and Google Tag Manager record events only after you configure them to do that.
20. Changes in website design are reflected in click reports
If you change something in your website design (e.g., delete an element), the clicks on this element will no longer be displayed in reports: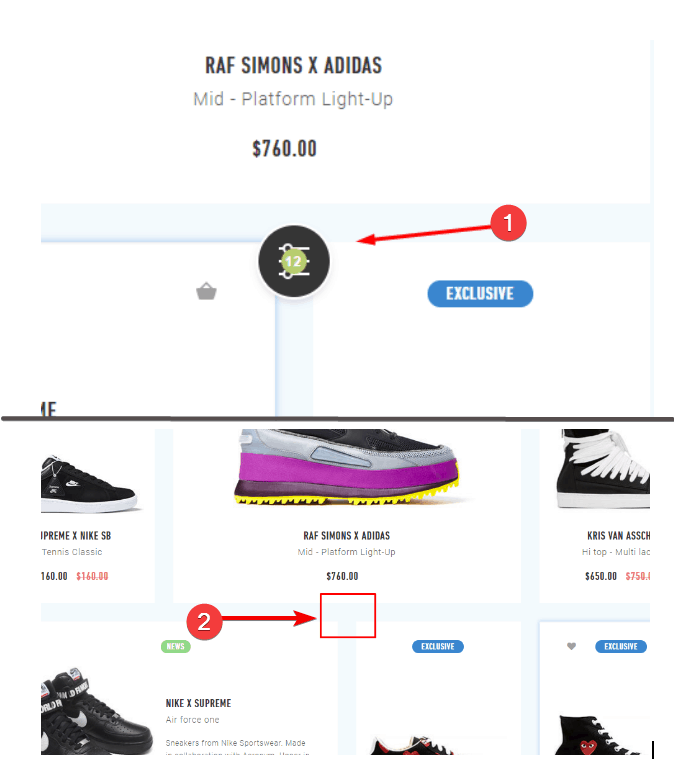 WHAT IS THE BENEFIT?
Almost all heatmaps for some time continue showing click data on the elements that have been removed from a website. Plerdy heatmap ensures that as soon as an object is deleted, all the related clicks won't be displayed.
21. Recording clicks on unique sessions
Plerdy heatmap records data on all website clicks. However, to understand the behavior of new users, the unique session function can really come in handy. Thus, the Plerdy report shows how many clicks have been made during unique sessions: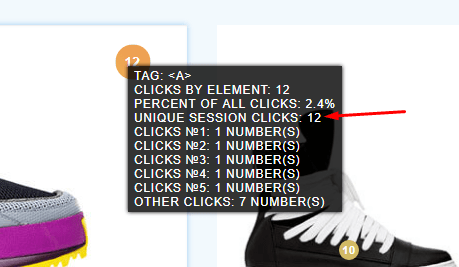 WHAT IS THE BENEFIT?
Such information allows you to find out the number of unique sessions during which users have clicked your page. You will understand whether the clicks have been made by one or several visitors.
22. Plerdy heatmap supports the Angular framework
Many websites with dynamic content are based on the Angular framework. Plerdy can perfectly operate on such web resources, recording and displaying all clicks.
WHAT IS THE BENEFIT?
There is a bunch of websites on Angular. Most of them have a complex and dynamic design.
Whereas you may have problems using other heatmaps, Plerdy heatmap will be correctly displayed and work seamlessly.
23. The Plerdy script doesn't overload a website
The script of Plerdy heatmap includes the Defer attribute. Thanks to this, even a 700-megabyte file will not affect the website loading speed. Users won't notice that there is an additional script installed on a web resource.


WHAT IS THE BENEFIT?
The advantage is obvious: the smaller load a script has, the faster a website works. Thus, unlike some other heatmaps, the Plerdy script doesn't slow down a website.
24. The Plerdy script works faster and has fewer components than the scripts of other services
Website load speed is one of the most important criteria for its further promotion. Many specialists don't integrate third-party solutions into the code since this can decrease the speed of a website. The loading speed may also be affected by the number of third-party components in the script: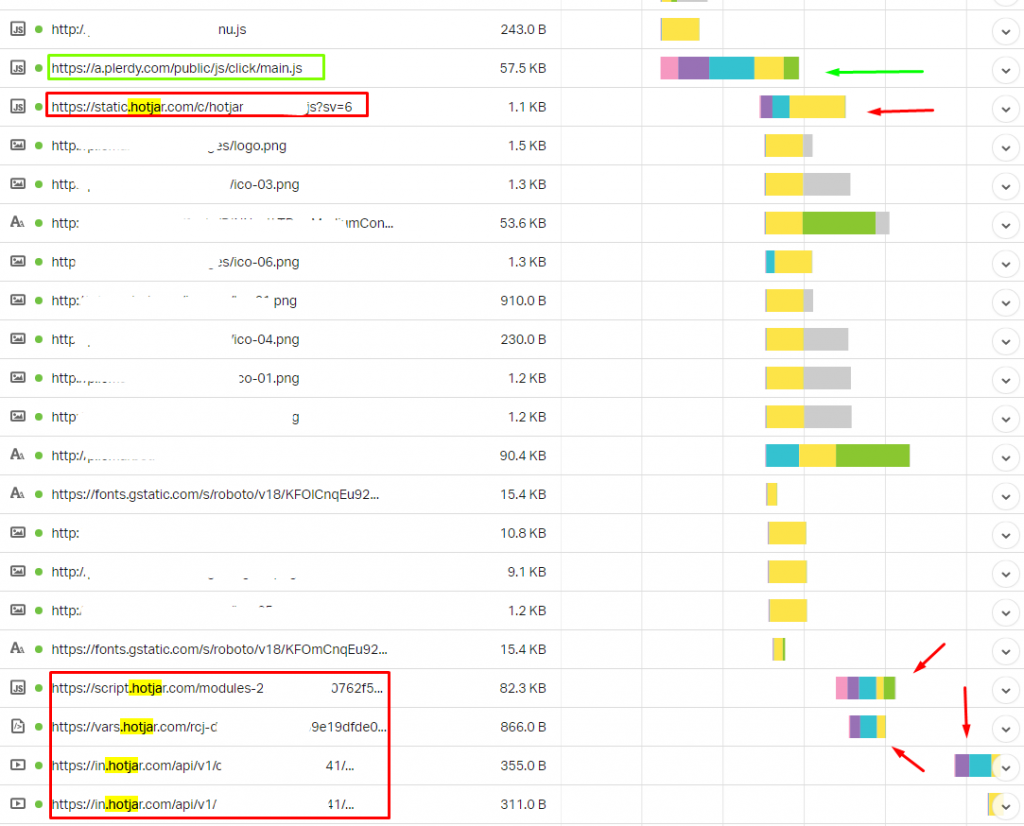 WHAT IS THE BENEFIT?
If you to choose to install the Plerdy script, you don't have to worry about how it will affect your loading speed. This script has no third-party components. Therefore, Plerdy heatmap works much faster than other similar services.
25. Filtering by URL
In the Plerdy dashboard, you can additionally filter the results by URL to view the necessary data. You can both enter a full URL or a part of the address: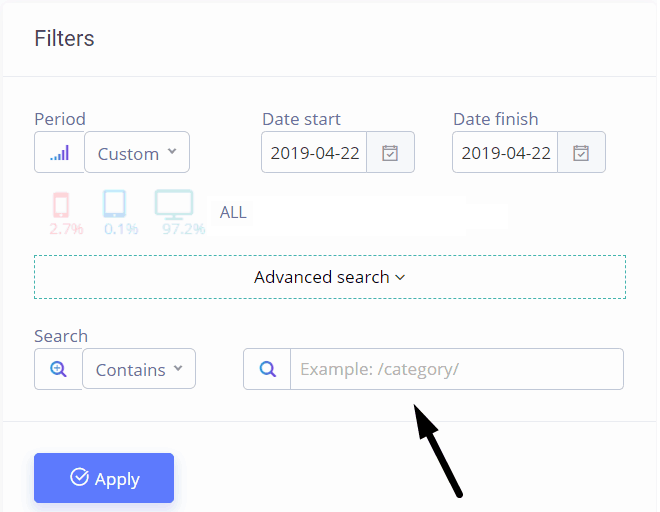 WHAT IS THE BENEFIT?
By choosing one or several URLs, you can turn on a click report for a separate page or a group of pages (a category).
26. Filtering by device type
The dashboard of Plerdy heatmap also allows you to filter the results by several types of devices: smartphones, tablets, and PCs.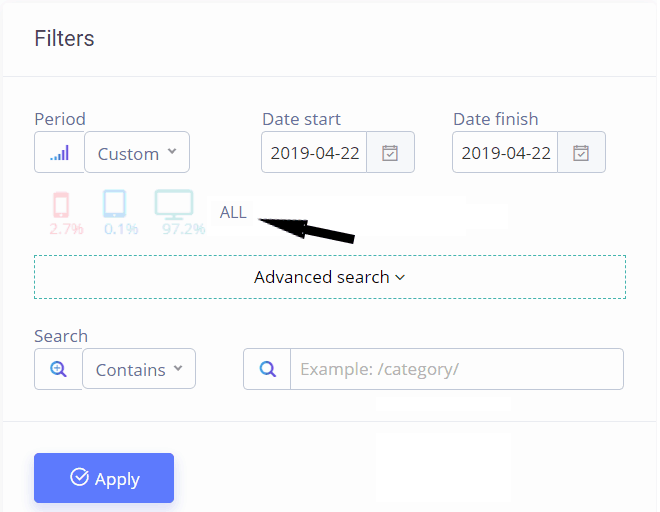 WHAT IS THE BENEFIT?
Depending on the device type, users can view one of several website versions. The results on scrolls and clicks in the responsive version quite often differ from the main one. Therefore, it's better to analyze them separately. Plerdy heatmap has great functionality to do that.
27. 99% click accuracy
Most heatmaps have their own algorithm which is used to record clicks on websites. At the same time, all services also have a certain percentage of error. In the case of Plerdy heatmap, the error percentage of click records in only 1% (taking into account the use of outdated browsers and the disabled script in a browser).
WHAT IS THE BENEFIT?
The accuracy of data means that a usability specialist or online marketer can fully rely on the collected information. There is no sampling of data collection when a project has huge traffic.
28. Graphs of clicks on a website
The Plerdy dashboard includes graphs of website clicks which allow you to compare the results for the selected period: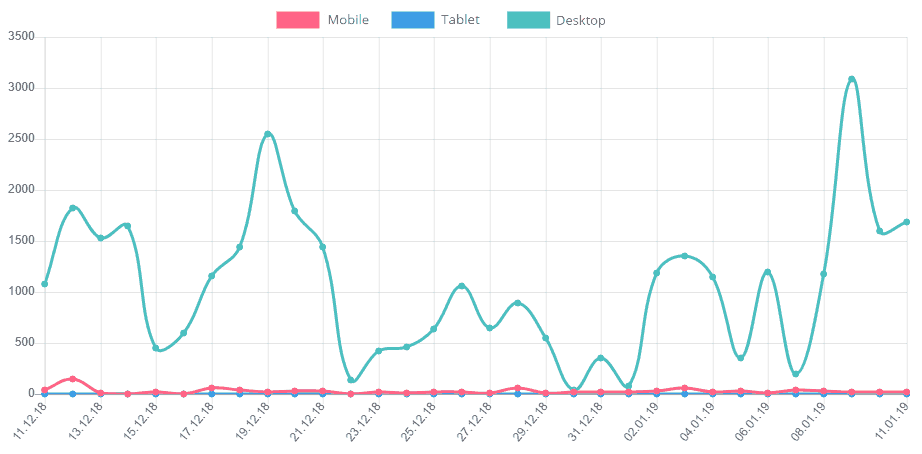 WHAT IS THE BENEFIT?
Such graphs show the overall activity of users on a website. The peaks usually mean that users were particularly interested in the content.
29. One script for a domain and subdomains
You don't need to install several scripts to track user behavior on a domain and its subdomains. With Plerdy heatmap, you can configure the collection and display of results in one place. For example, if there is site.com domain, it's also possible to add 2 subdomains (de.site.com and pl.site.com) to collect heatmap data.
WHAT IS THE BENEFIT?
No need to create several accounts for complex projects.
30. Special account for web agencies
Plerdy is open for cooperation with web agencies that specialize in usability audits. If there is a need to combine data provided by several scripts in one dashboard, just contact the support team to get help with configuration.
WHAT IS THE BENEFIT?
This ensures simultaneous work with several websites without switching between different accounts.
31. Intuitive interface localized into English
The Plerdy team is committed to making its heatmap available to many users. Therefore, the interface and user guides are localized into English and very easy to understand.
WHAT IS THE BENEFIT?
Plerdy heatmap is suitable for a broad audience of users and really convenient. Anyone with some basic English knowledge will be able to master Plerdy heatmap and use it with maximum efficiency. Moreover, all the steps are so logical and intuitive that the tool practically guides you to what to do next.
32. Customized development services
We are ready to have a constructive dialogue and hear your suggestions. If you would like to have some new functionality or a type of reports in Plerdy heatmap, just let us know, and we will consider your offer. Any solution that would allow improving our user experience is encouraged.
WHAT IS THE BENEFIT?
There is no need to look for alternative solutions. We are seeking to make our product as useful to our customers as possible.
33. Different options for viewing mouse hovers
You can either open the report on mouse hovers on page elements for the whole page (to see all hovers on all elements) or choose to display hovers on separate page elements. In the second case, you need to click the result in percents to see the exact number of hovers on the selected element.

WHAT IS THE BENEFIT?
If a website has lots of traffic, a report on mouse hovers on all website elements is going to be quite huge. To decrease the load time, it's better to use the Groups mode. In this case, the report is formed gradually and includes only the necessary elements.
34. Configuring individual events for mouse hovers
In case you need to track mouse hovers on separate elements (for example, an element that opens a menu after you hover it), this can be configured in the dashboard of the heatmap.
WHAT IS THE BENEFIT?
The opportunity to separately set tracking for each mouse hover allows you to track only the necessary website elements. At the same time, the archive of the heatmap stores the information on all the previous mouse hovers on all objects. So you if you need to check hovers on an element that wasn't previously tracked, just set an event. This will allow you to get all the data on hovering this element since the script installation.
35. Can be used on smartphones
Plerdy heatmap is adapted to be used on smartphones:

WHAT IS THE BENEFIT?
Thanks to the responsiveness, it's much more convenient to view heatmap reports online and on smartphones.
36. Export of heatmap reports
All available heatmap reports can be downloaded in the .xlsx format.
WHAT IS THE BENEFIT?
You can process the collected data using spreadsheet tools.
37. Recording clicks on all available screen and display resolutions
There is a sheer number of screen and display resolutions (according to our estimates, over 1.3 thousand). As a result, some users may see your website content in an absolutely different way. The responsive versions of a website may have some differences, but Plerdy ensures that clicks on all resolutions are recorded.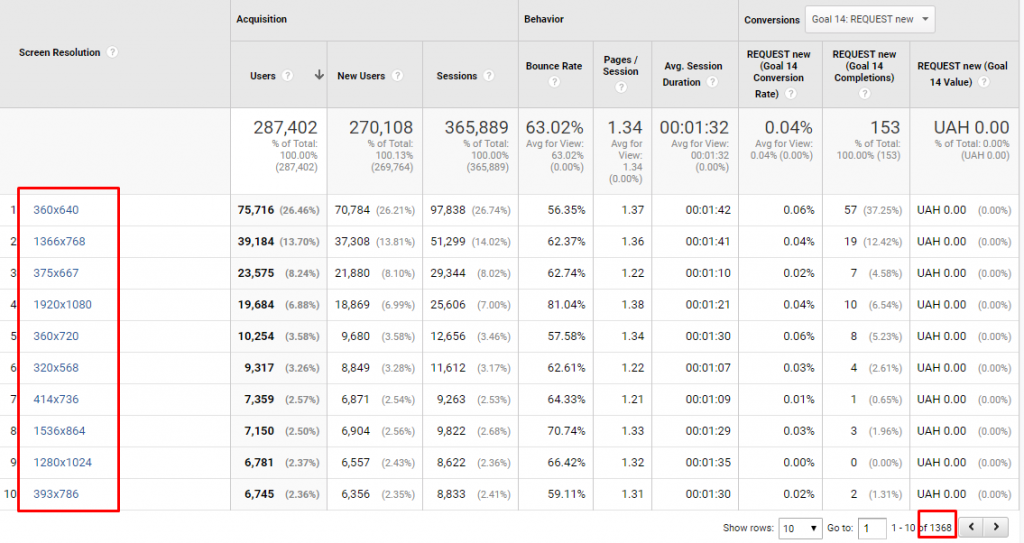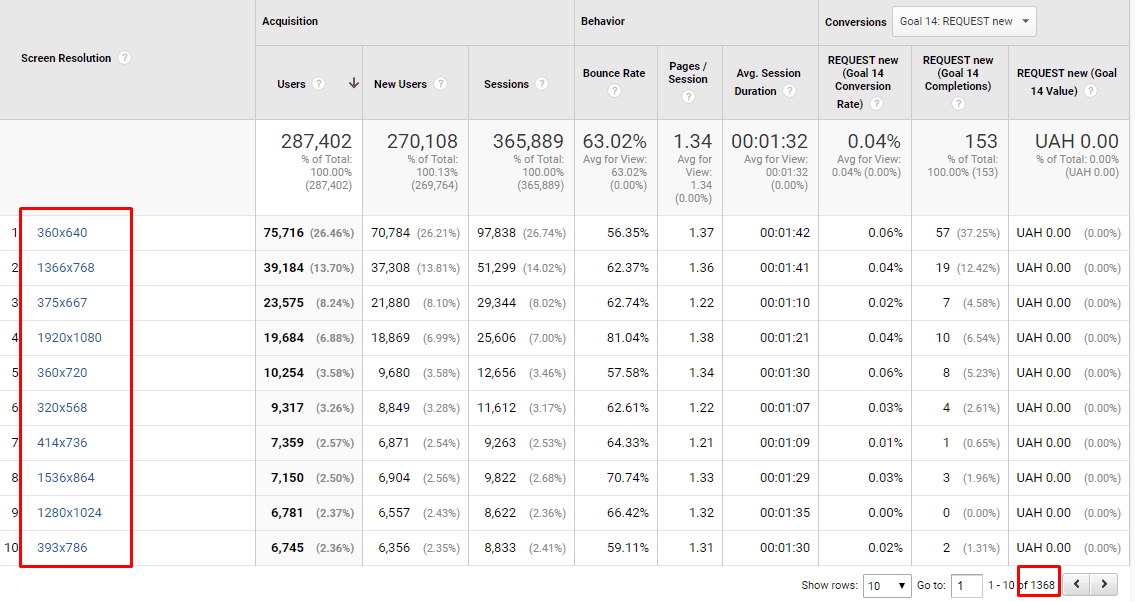 WHAT IS THE BENEFIT?
The accuracy of data on clicks.
38. One dashboard to access data on several websites
Web studios that are working with several websites at the same time and complex projects consisting of the whole network of websites can create one dashboard for all their resources. For example, the reports on site.com and site.co.uk domains can be formed and processed in one account.
WHAT IS THE BENEFIT?
In the dashboard, heatmaps for every project are formed separately, but they can be accessed from one account, for example, by someone, responsible for all projects.
39. Simultaneous use of several filters
In the dashboard, you can simultaneously apply several filters for analysis. For example, to see a report on the sequence of clicks and their sources: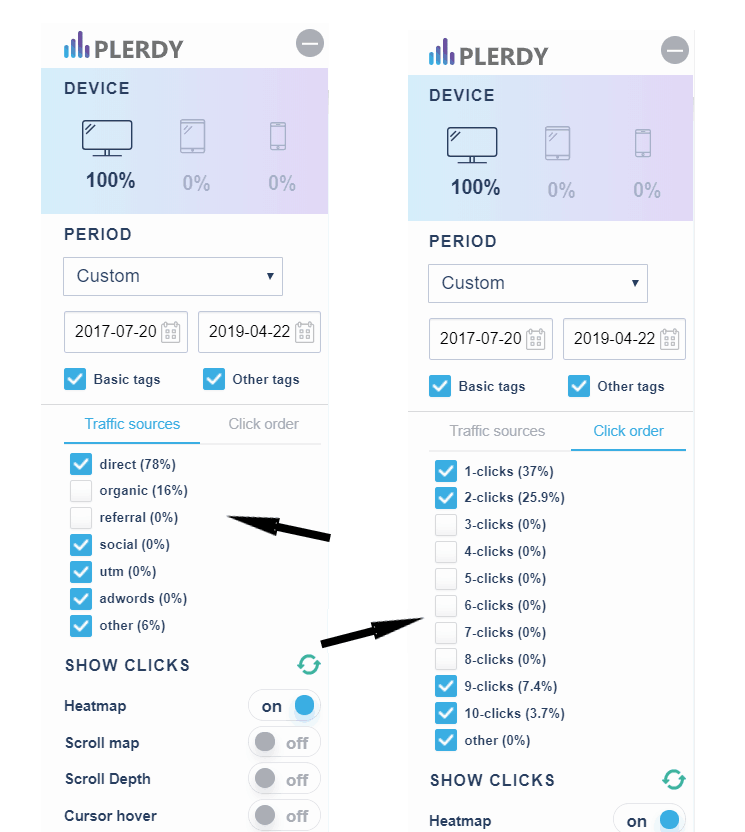 WHAT IS THE BENEFIT?
Such heatmap filters help to define common and unlike patterns of user behavior depending on the source of traffic.