Assessing the interface of your website and changing it is an important way of increasing your conversion rates and sales. When you do this, are you basing your assumptions on how a user goes through your website or on actual data from software? Users often have different aims for coming to your web pages, and they behave in ways that may surprise you. That's why the personal assumption is no longer the best way to approach enhancing user experience.
Heat mapping software serves exactly to help you to make informed and data-driven decisions.
What is heat mapping software? It is a tool that provides a visual representation of user behavior on the website. It collects data on clicks, page scrolls, moves, and hovers and turns it into an image. The software shows your website page with the data presented in colors on different parts of the page. The hotter colors (red, orange, yellow) signify higher user activity, while colder ones (green, blue) mean that these are parts with which the user interacted less. This visual representation in software allows you to view information instantly so you can make fast decisions on changes to your interface.
Why use website heat mapping software? Most heat mapping tools present a variety of data that can benefit you in the following ways:
changing page design to align it with users' expectations after seeing where users click the most.
detecting elements that are currently unclickable and making them clickable.
improving the quality of content after receiving an insight on when users stop reading the webpage.
There is a lot of online free heat mapping software, and we will explore one of them in depth.
Plerdy Heat Mapping Software

Plerdy heat mapping software is a free tool that provides a variety of benefits to those who use it, starting from showing the first clicks and their sequence to segmenting users in different groups and providing insight into the behavior of each group. The software offers value for marketers of online stores, usability experts, analysts, SEO professionals, and UX designers.
Users can try free trial mode and see if the software meets their expectations and provides necessary data. There is also a free subscription with some limitations, but it provides basic data that can already lead to important decisions and changes. Opt for paid plans if you want to generate an unlimited number of Heatmaps reports and use other software Plerdy has to offer.
Functionality
Plerdy free heat mapping software has many functions to improve website usability. It provides you with:
Website Click Heatmap – demonstrates how users interacted with a web page and split these users by the traffic source.
Website Scroll Map – shows how deeply the website page is scrolled on different types of devices (computer, mobile phone, or tablet).
Hot Segments – visually presents which parts of the website have the highest CTR (click-through rate). Hotter colors represent higher CTR.
Mouse Hover Maps – demonstrate how the user moves the cursor on the webpage. Although you cannot be sure it shows the exact eye movement, it is precise in how the mouse is moved, so you see which parts of web page users hover over the most.
Selected Text Tracking – a software feature that allows viewing which fragments of text users select on the website when reading the content.
Click Path Analysis – makes you realize what path users take through your website – the order of their clicks and how users switch between the web pages.
Automatic Synchronisation of Events with Google Analytics – allows to configure goals in the heat map software and add corresponding events in Google Analytics automatically.
Cursor Position Map – shows where users point their cursor and stay longer to examine the content.
The advantage of the software is the accuracy of click collection and enabling you to see only necessary clicks displayed.
Outcomes
After using Plerdy heat mapping software, you will:
know where your users come from and how every group of users interacts with the website.
see what type of content users tend to omit and what captures their attention.
learn what elements of a webpage should become clickable.
know which parts of the website have the highest CTR.
see what journey users take through website pages.
This software data leads to better decisions on website usability and, accordingly, enhances user experience and increased conversion rates.
How to Use Heat Mapping Software

You can use heat mapping software for your website usability audit. It will allow you to see what causes bad conversion, where, and how to improve user experience best to meet users' needs. When auditing a website's usability, you should test both desktop and mobile versions and check the behaviors of users coming from different traffic sources.
Let's have a look at a case where we use Plerdy heat mapping software to assess a website's usability.
Ukrposhta website usability audit

Ukrposhta provides mailing services to customers and its website is the main source for information on tracking letters and parcels, post offices, and other relevant details.
By looking at the data in the table in the software, we can instantly see which web pages are the most frequently visited – Post Offices Tracking, Main Page, Standard, International Shipments, Index Search. These are the pages we will pay special attention to in the audit.
We are also looking at the scroll depth using the Website Scroll Map and seeing that most users don't go further than the first-page screen. So now we know what part of the page they interact with the most and examine this interaction. In addition, we check software data from Cursor Position Map and see where users don't move the cursor to and analyze its cause.
Usability problems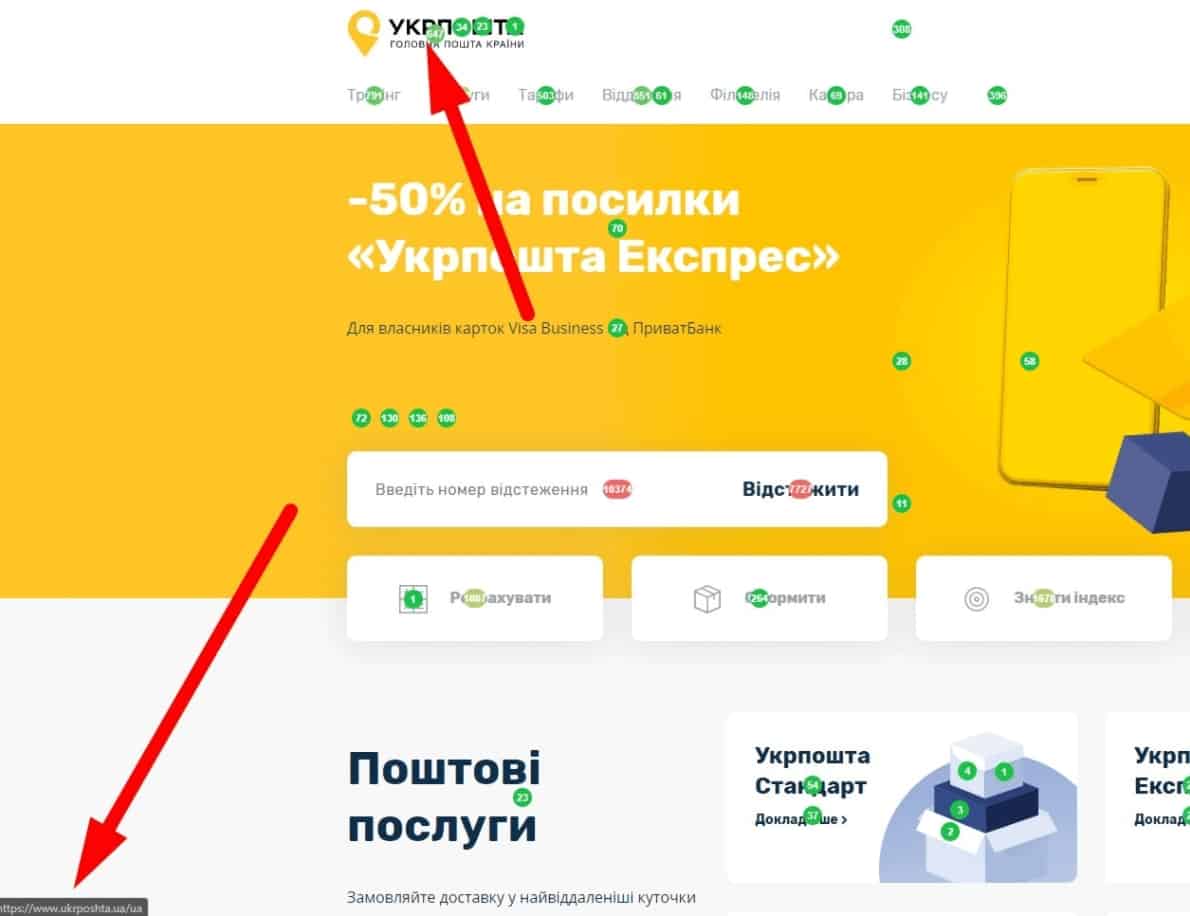 The Main Page is where the user's journey starts. By using Plerdy Heat Mapping software, we detect the following issues:
the company's logo has a link to the Main Page which confuses users.
we see that the second-page screen has key buttons, but most of the users don't reach it.
one button has two functions – Sign In and Sign Up that adds extra steps to the Sign Up process for the user.
the search is presented as an icon instead of an input field which is less convenient
in the Main Menu, the user doesn't see which subcategory is active at the moment.
we see that many users interact with page elements but don't click on them.
users often allocate their Tracking number for copying but the website doesn't have a "Copy" button.
users frequently click on the "Track" button by mistake when the input field is empty.
users almost don't interact with some elements that take most of a web page's space.
Now, let's look at some ways these problems can be solved.
Solutions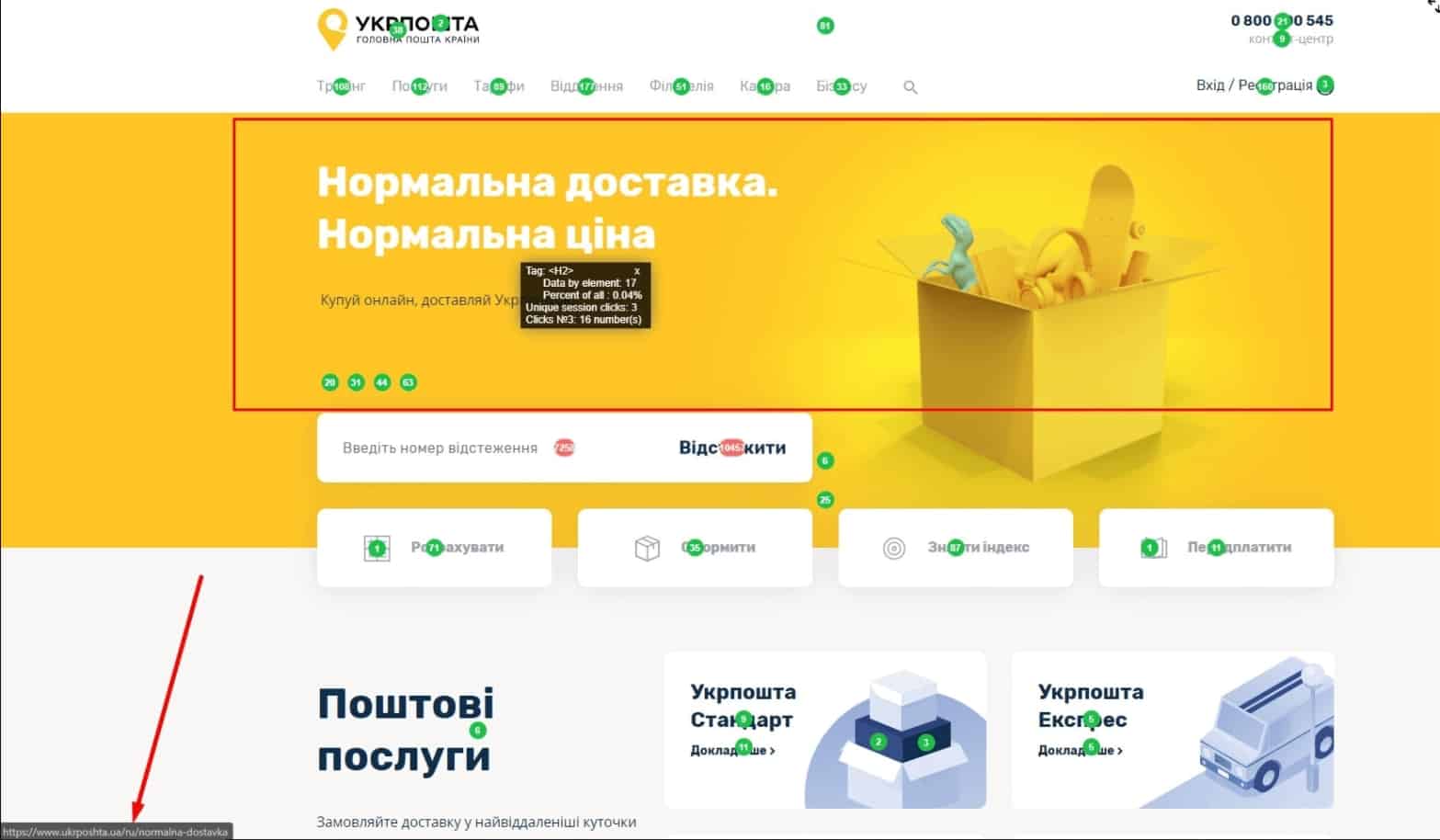 What actions will improve this web page's usability? Here are some ideas:
removing elements that are less interacted with or moving them to the footer.
reducing the height of the first segment so users can reach key buttons on the second screen more easily.
splitting two functions into separate buttons.
presenting functions in ways that are visually familiar to users.
adding animation to highlight active subcategories.
adding "Copy" button where needed.
making the button clicked by mistake inactive unless there is a certain condition.
As you see, heat mapping software allows you to audit a website's usability in a short time and take action fast on any problems that prevent the website from higher conversion rates.
Heat Mapping software usage
Heat mapping is a great visual representation when it comes to your website usability audit, WiFi heat mapping, and other purposes for analyzing data with software. Take the most of it, base your decisions on figures – and soon you will see the best results.