Buckle up and get ready to supercharge your business with our definitive guide to the "30+ Best Agency Tools To Grow Your Business for 2023!" 🌟 Navigating the digital marketing landscape can be daunting, but fear not – we've handpicked the cream of the crop to help you scale new heights.
In this comprehensive guide, we'll cover indispensable agency tools that cater to a wide array of tasks and goals, such as:
Streamlining project management
Enhancing social media presence
Crafting stunning visuals
Boosting search engine rankings
Engaging customers through email marketing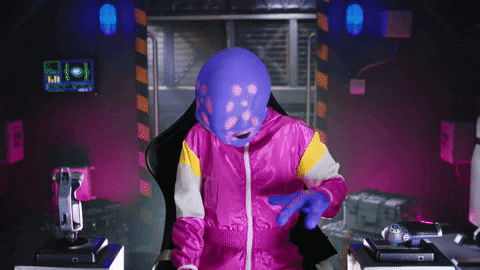 We've also included a special mention of Plerdy UX Analysis, an exceptional agency tool that empowers you to optimize your website's user experience and conversion rates.
With these powerhouse agency tools in your arsenal, you'll be poised to tackle any marketing challenge head-on. Our expertly curated list ensures you'll have the right resources at your fingertips, helping you stay ahead of the curve and outshine the competition. So, roll up your sleeves, dive into this treasure trove of agency tools, and prepare to watch your business skyrocket in 2023!
What Are The Best Agency Tools?
In the bustling digital marketing realm, having the right agency tools is vital for success. Top-notch agency tools streamline processes, boost productivity, and empower you to create compelling content that drives results. Here are some all-stars that deserve a spot in your arsenal:
Project management: Trello or Asana keeps everything organized and on track.
Social media management: Hootsuite and Buffer help you stay ahead in the social sphere.
Design and graphics: Canva and Adobe Creative Cloud let you craft eye-catching visuals.
SEO optimization: Ahrefs and SEMrush assist in elevating your website's search engine ranking.
Email marketing: Mailchimp and ConvertKit ensure your campaigns hit the mark.
These tried-and-true resources are only the tip of the iceberg regarding the plethora of agency tools available. By leveraging these powerful solutions, your agency team can fine-tune strategies and cultivate top-tier results that confuse competitors. So, explore these indispensable agency tools to elevate your marketing agency game!
Type Of Digital Marketing Agency Tools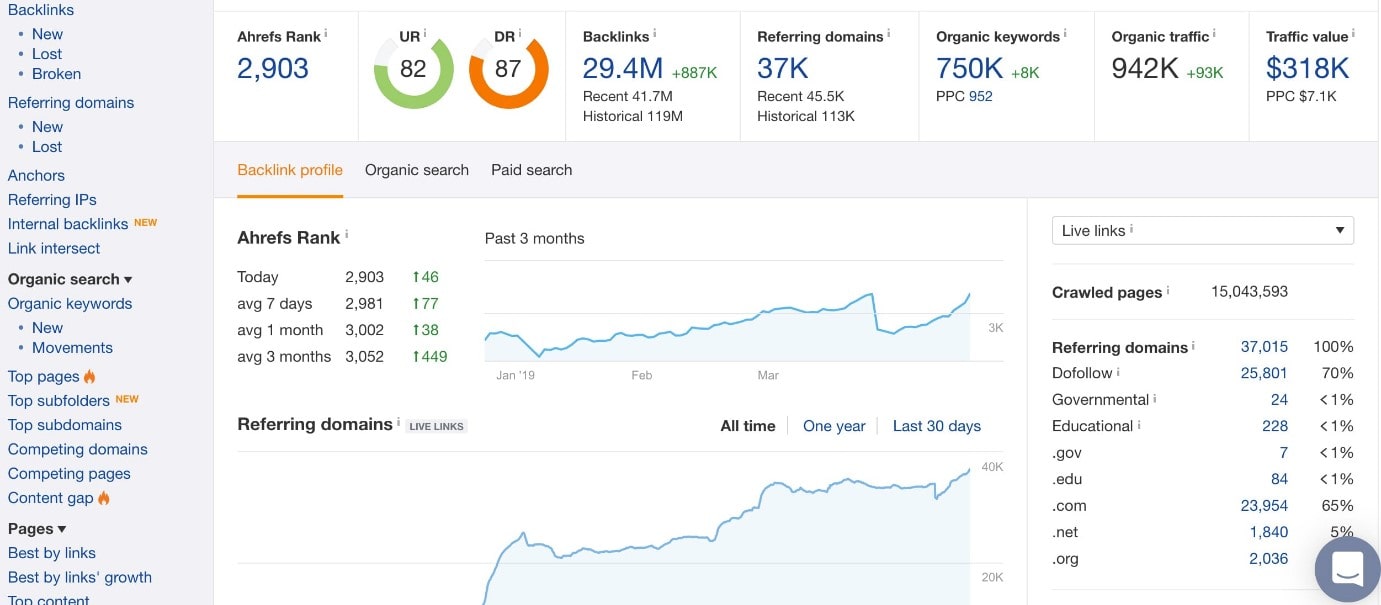 In the fast-paced digital marketing landscape, selecting the right agency tools is crucial for staying ahead. To keep the ball rolling, utilizing top-tier resources catering to your marketing strategy's different aspects is essential. Here's a rundown of various types of digital marketing agency tools you should consider:
Content creation: Tools like Grammarly and Hemingway Editor ensure your copy is polished and engaging.
Analytics and tracking: Plerdy, Google Analytics 4, and Kissmetrics tools deliver valuable insights to gauge performance.
Customer relationship management (CRM): Salesforce and HubSpot tools streamline agency-client interactions and data management.
Marketing automation: Marketo and ActiveCampaign help automate repetitive tasks, saving valuable time.
Landing page builders: Unbounce and Leadpages tools facilitate the creation of high-converting landing pages.
Embracing these solutions enables your agency to tackle various challenges easily. Equipping your team with robust agency tools can enhance efficiency, foster creativity, and yield impressive results. No stone will be left unturned as your agency leverages these indispensable resources to thrive in competitive digital marketing. So, gear up and make the most of these cutting-edge agency tools to reap the rewards!
List Of The Best 31 Agency Tools
Scouring the "30+ Best Agency Tools To Grow Your Business for 2023" is like striking gold in the digital marketing minefield. This treasure trove of digital agency tools is a beacon, guiding you through the maze of resource options to help your business thrive. With such an expertly curated list at your fingertips, it's time to embrace these top-notch solutions and watch your agency flourish like never before.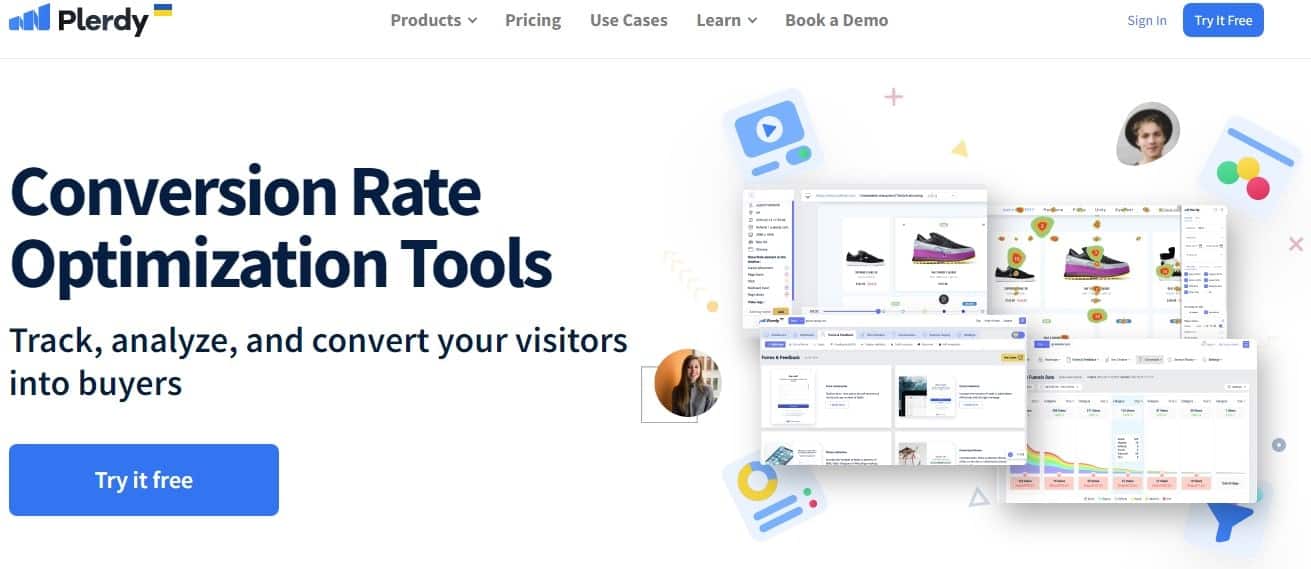 Imagine scaling your business to unprecedented heights – Plerdy is the marketing agency tool to make it happen. This powerhouse platform offers features tailored to boost your online presence and keep you ahead of the curve.
Plerdy's dynamic capabilities catalyze growth, propelling your business into the limelight. The platform's comprehensive features include the following:
Heatmaps tool to refine user experience
SEO analysis tool for website optimization
Pop-up forms to boost conversions
Event tracking tool for insights into user behavior
Picture a bustling café with a website that lacked flair and struggled to attract patrons. Finally, Plerdy stepped in, revamping the site and implementing their versatile agency tools. Within months, the café witnessed an impressive surge in online reservations and customer engagement.
Plerdy is akin to a marketing Swiss Army knife, providing myriad functions to optimize your business's digital footprint. This all-in-one solution equips you with the tools to outshine competitors and leave a lasting impression. So, embrace the power of Plerdy and watch your agency business flourish.

Take the plunge with Monday.com – a dynamic business management agency offering a multifaceted agency tool to streamline your workflow and boost productivity. Say goodbye to cumbersome processes and embrace a seamless experience tailored to your needs. Monday.com's innovative platform will make your professional life a breeze.
Organize tasks efficiently
Tool for monitoring agency team progress
Automate routine processes
Integrate popular applications
Customize dashboards and reporting
Let's paint a picture: Imagine overseeing a bustling digital marketing agency with multiple clients. Juggling deadlines, tracking milestones, and managing resources can be a logistical nightmare. Enter Monday.com to centralize your operations and get everyone on the same page.
Unleash the full potential of your team with Monday.com's powerful agency tools features. The platform's robust collaboration capabilities foster effective communication, ensuring that ideas flow freely and goals are easily met. With Monday.com, watch your agency team's synergy soar to new heights, leaving inefficiency in the dust.
Embrace the future of business management tools with Monday.com, and unlock the door to unparalleled success.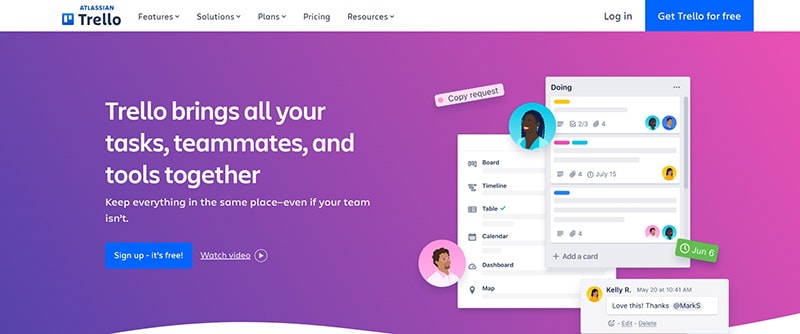 Trello is the ultimate business management agency tool to simplify your agency's operations and advance collaboration. Trello's user-friendly interface is fresh air, transforming task management into a seamless, organized experience.
Visualize projects with ease.
Effortlessly assign tasks
Track progress in real-time
Integrate with popular apps
Personalize workflows
Trello's ingenious card-based system empowers you to keep everything under control. From assigning responsibilities to monitoring progress, the Trello tool has you covered.
Trello's standout feature is its ability to facilitate smooth communication within your agency team. The platform's interactive boards encourage open dialogue and knowledge sharing, ensuring no valuable insights slip through the cracks. Trello's dynamic ecosystem fosters a sense of unity, making teamwork a piece of cake.
Elevate your agency's performance and productivity by incorporating Trello into your toolkit. Join the ranks of countless satisfied businesses and experience the Trello tool's transformative power.

Introducing Teamwork – the all-in-one business management agency tool designed to revolutionize your agency's workflow and optimize collaboration. With Teamwork, you can say goodbye to cluttered inboxes and disorganized tasks and welcome a new era of efficiency and seamless communication.
Streamline agency project management
Enhance agency team communication
Automate repetitive tasks
Integrate popular applications
Customize workflows and dashboards
Envision yourself managing an ever-growing digital marketing agency with various clients and countless deadlines. Keeping track of every detail while ensuring your team stays connected can be arduous. Teamwork swoops in as your knight in shining armor, providing a comprehensive solution that caters to every aspect of your digital agency business.
Teamwork's powerful features create a harmonious environment where your team can thrive. Its intuitive interface eliminates the hassle of tracking milestones, and its communication tools foster a sense of unity. Collaborate like never before with Teamwork's real-time updates and notifications, helping you stay on top of agency project progress and team performance.
Take your time with the challenges of managing a growing agency. Embrace the transformative potential of Teamwork and propel your business to new heights. Empower your team with the ultimate tool for success and experience the difference that Teamwork can make in your agency's day-to-day operations.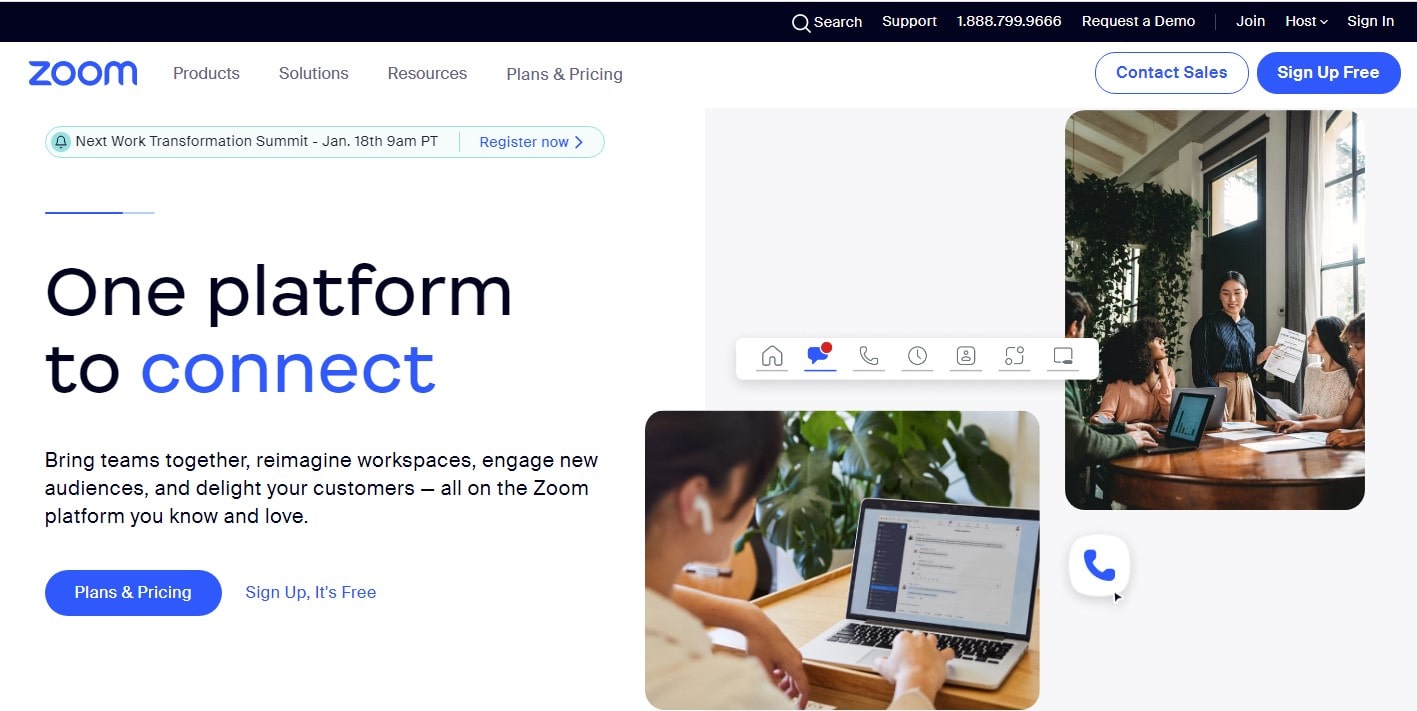 Discover the power of Zoom – the leading video conferencing tool that has taken the business world by storm. Connect, collaborate, and conquer your agency's goals with this cutting-edge platform that makes virtual meetings a walk in the park.
Host video conferences agency team with ease
Share screens for effective collaboration
Record meetings for future reference
Utilize virtual backgrounds and filters
Ensure top-notch security with encryption
Imagine running a thriving design agency where your team members are scattered globally. Coordinating projects, brainstorming ideas, and presenting to agency clients can become a logistical challenge.
With Zoom tool, the days of garbled audio and pixelated video are long gone. Instead, it's crystal-clear audio and high-definition video ensure that communication remains smooth and efficient, regardless of distance. The tool's intuitive interface and advanced features empower you to stay connected, foster collaboration, and elevate your team's performance.
Join the ranks of successful businesses and agencies that have made Zoom their go-to tool for communication and collaboration. Experience how Zoom can transform virtual meetings and help your team work together like a well-oiled machine.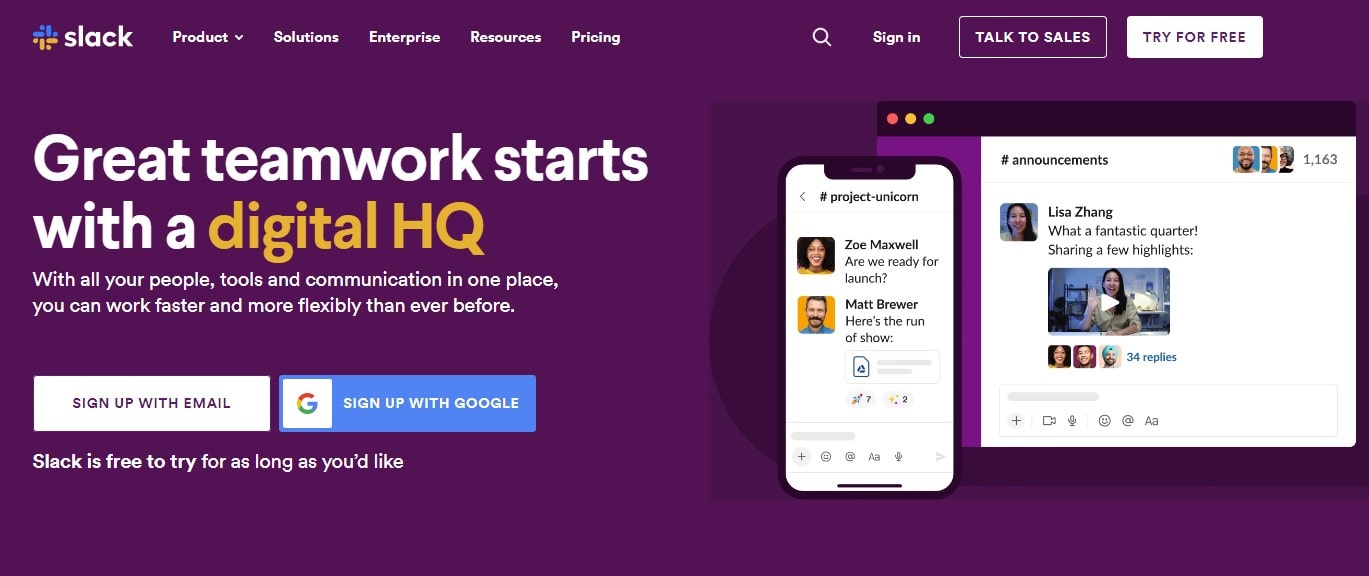 Introducing Slack – the innovative business communication tool that has redefined collaboration for agencies across the globe. Unleash your team's full potential and boost productivity with this user-friendly platform that puts the world at your fingertips.
Organize conversations in channels.
Integrate popular tools
Enable file sharing and search
Customize notifications and preferences
Foster real-time collaboration
Picture yourself managing a fast-paced advertising agency with various teams working on multiple projects. Ensuring everyone stays in the loop and on track can be daunting again. But, again, slack comes to the rescue, offering a centralized hub for all your team's communication and collaboration needs.
Slack's ingenious channel-based system promotes organization, making it easy for your team members to find and share relevant information. Gone are the days of sifting through endless email threads – with the Slack tool, everything is just a few clicks away. The platform's robust integrations enable seamless collaboration, ensuring no valuable insight falls by the wayside.
Empower your team and streamline your agency's communication with Slack. Say goodbye to confusion and hello to a new era of collaboration. Experience the difference Slack can make in your day-to-day operations and watch your team's performance soar.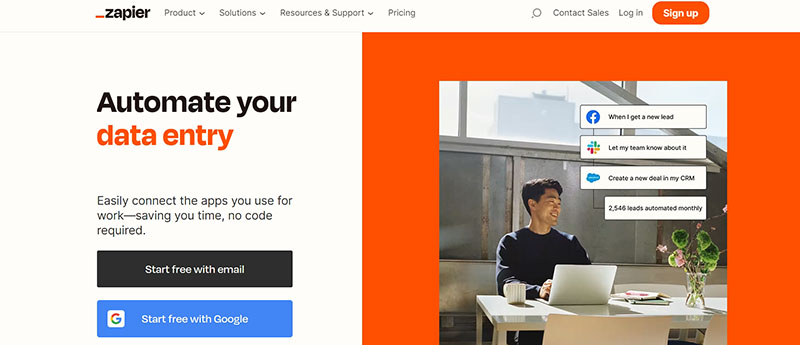 Zapier is the ultimate automation tool for businesses and marketing agencies seeking to streamline workflows and maximize efficiency. Unchain yourself from manual tasks and embrace the power of automation with this innovative platform.
Connect popular tools
Automate repetitive tasks
Create custom workflows
Simplify data transfer
Monitor automation performance
Imagine running a digital marketing agency where time is of the essence. Juggling multiple agency clients and projects can lead to countless hours spent on tedious, repetitive tasks.
Zapier's robust integration capabilities enable you to connect various applications, creating a harmonious ecosystem that keeps your team firing on all cylinders. By automating mundane tasks, Zapier frees up valuable time, allowing you to focus on what truly matters – growing your business and delivering exceptional results.
Embrace the future of work with the Zapier tool and watch your agency's productivity skyrocket. Experience firsthand how Zapier can eliminate bottlenecks and transform your operations, propelling your team to new heights of success. Unleash your full potential with Zapier, the essential tool for modern business management.
Introducing HubSpot – the all-in-one marketing, sales, and customer service tool that helps businesses and agencies scale new heights. Revolutionize your operations with this comprehensive platform to drive growth and customer satisfaction.
Nurture agency leads with inbound marketing.
Streamline agency sales processes
Deliver exceptional customer support
Analyze data-driven agency insights
Enjoy seamless integrations
Picture your marketing agency in the throes of rapid growth, with countless leads to nurture and clients to manage. The pressure is on to deliver top-notch results, but your current toolkit needs help. HubSpot swoops in as your guardian angel, providing an all-encompassing solution to supercharge your agency's success.
HubSpot's robust suite of tools empowers your team to excel in every aspect of your marketing agency business. Attract and convert leads with tailored marketing campaigns, while the streamlined sales process helps close deals like clockwork. Thanks to HubSpot's exceptional customer support features, your customers will feel valued and cared for.
Unlock your agency's full potential with HubSpot, the powerhouse tool that drives growth and fosters long-lasting customer relationships. Experience the transformative impact of HubSpot firsthand, and watch your business soar to unparalleled levels of success.

Canva – a trailblazing design tool elevates your business or agency's visual game to new heights. Unleash your creativity with this intuitive platform, perfect for crafting stunning graphics that captivate and inspire.
Craft visually compelling content
Access a vast library of templates
Collaborate with team members
Streamline brand consistency
Enjoy seamless integrations
Envision a bustling digital agency swamped with projects where visual assets are integral to the success of each campaign. As deadlines loom, your team scrambles to create high-quality graphics that resonate with your audience. Enter Canva, the design superhero that swoops in to streamline your creative process.
With the Canvas tool's vast library of templates, even the most design-challenged individuals can easily create eye-catching graphics quickly. Collaboration is a breeze as team members can simultaneously work on designs, ensuring everyone stays on the same page. Canva's brand kit feature guarantees consistency across all your visual assets, reinforcing brand identity and recognition.
From social media posts to presentations, Canva is the go-to tool for digital businesses and agencies pursuing visual excellence. Embrace the creative freedom offered by this powerhouse platform, and watch as your stunning visuals make a lasting impact on your audience. Discover the magic of Canva and transform your design workflow for the better.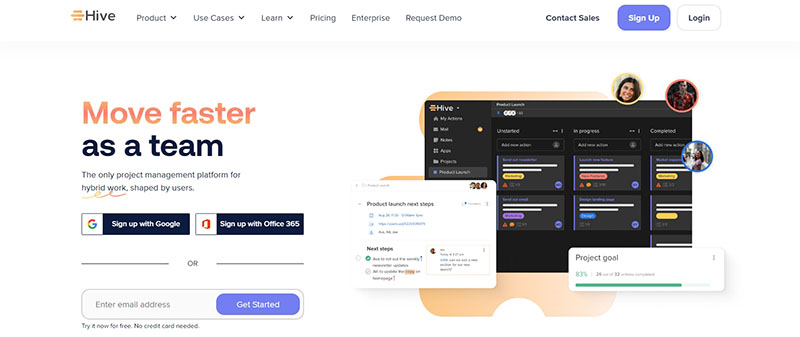 Hive – the ultimate project management tool that empowers your business or digital agency to master the art of productivity. Simplify your workflow and foster seamless collaboration with Hive's all-in-one platform.
Organize agency tasks with ease
Enhance agency team collaboration
Monitor progress in real-time
Integrate popular tools
Customize workflows to fit your needs
Picture a bustling marketing agency juggling multiple client projects, where keeping track of tasks and deadlines can be a Herculean effort. Hive steps in to streamline the chaos, transforming your team into a well-oiled productivity machine.
Hive's user-friendly interface lets you create, assign, and manage tasks effortlessly. Team members can effortlessly collaborate by sharing files, exchanging feedback, and keeping everyone in the loop with Hive's built-in communication tools. Real-time progress tracking allows project managers to spot potential bottlenecks before they escalate, ensuring timely project delivery.
This powerful tool plays well with others, too, boasting integrations with popular platforms such as Slack, Google Drive, and Zoom. Customize your workflow with Hive's flexible project layouts, tailoring the platform to suit your unique business or agency needs.
Elevate your team's productivity and say goodbye to disorganized chaos with Hive. This robust project management tool is your ticket to unlocking your team's full potential, ensuring seamless collaboration and efficiency in every project. So embrace the Hive advantage and watch your productivity soar to new heights.

Dropbox – a versatile file storage and sharing tool that bridges the gap between your business or agency and seamless collaboration. Revolutionize your workflow with Dropbox's user-friendly features and rock-solid reliability.
Effortless file storage and organization
Streamlined file sharing and collaboration
Integration with popular platforms
Secure data protection
Real-time synchronization across devices
Imagine a bustling marketing agency with team members working remotely or a thriving business with multiple departments. Dropbox is the key to unlocking smooth communication and efficient collaboration in these dynamic environments.
Dropbox's robust security measures guarantee the protection of your data. So sleep easy knowing features like two-step verification, password-protected links, and remote device wipe safeguard your files.
Integrating with popular tools like Microsoft Office, Slack, and Trello, Dropbox becomes the central hub for your team's productivity. Join the Dropbox revolution and experience a new efficiency level in your business or agency.
SEMrush – an all-encompassing digital marketing tool designed to help businesses and agencies optimize their online presence. With many features, SEMrush empowers you to dive deep into data and make informed decisions.
Picture a small business striving to establish itself online or an agency managing multiple client accounts. SEMrush is the powerhouse solution for overcoming digital marketing challenges and driving impressive results.
Kick off your SEO strategy with exhaustive keyword research. Identify high-impact keywords and uncover hidden opportunities to help your website rank higher in search results.
Keep a close eye on your competition using SEMrush's agency competitor analysis. Discover their strengths and weaknesses, and fine-tune your strategy to outshine them.
Stay ahead of the curve by regularly auditing your website's on-page and technical SEO. Then, address any issues and watch your digital business performance soar.
Monitor and agency analyze backlinks to maintain a healthy link profile. Pinpoint valuable link-building opportunities and watch your domain authority climb.
Give your content a boost with SEMrush's optimization suggestions. Then, craft engaging, SEO-friendly content that resonates with your target audience and drives organic traffic.

Google Analytics – the go-to tool for businesses and agencies seeking to transform their digital performance. By leveraging data-driven insights, you can identify trends, optimize marketing strategies, and make informed decisions that drive results.
Real-time user tracking
In-depth audience segmentation
Behavior flow analysis
Conversion tracking and goal-setting
Customizable reporting
Google Analytics lays the foundation for informed decision-making and data-driven agency marketing.
Unlock valuable insights by tracking website visitors in real time. Keep tabs on user engagement, identify bottlenecks, and fine-tune your website for optimal performance.
Delve into audience segmentation to better understand your target market. Analyze demographics, interests, and behavior patterns to tailor your marketing efforts for maximum impact.
Set up conversion tracking and goal-setting features to measure the success of your campaigns. Analyze agency ROI and make data-driven adjustments to enhance the effectiveness of your marketing strategies.
Create customizable reports to showcase your progress and share insights with stakeholders. Stay informed, impress agency clients, and pave the way for growth.
Invest in Google Analytics – the indispensable tool for businesses and agencies looking to harness the power of data and revolutionize their digital presence.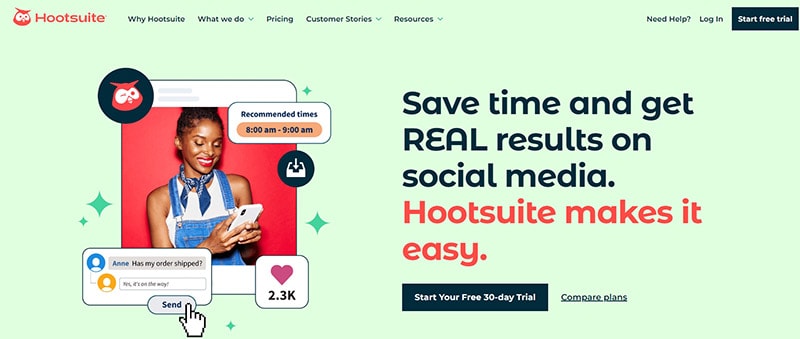 Hootsuite – a powerful tool for businesses and agencies that aspire to conquer the social media landscape. By streamlining your social media management, Hootsuite empowers you to drive engagement, grow your audience, and elevate your brand's online presence.
Multiple platform agency management
Social listening and monitoring
Content scheduling and automation
Comprehensive agency analytics and reporting
Team collaboration and workflow management
Imagine a bustling business striving to maintain a consistent social media presence or an agency determined to deliver top-notch results for clients. Hootsuite comes to the rescue by unifying your social media efforts and ensuring a seamless workflow.
Keep your finger on the pulse with social listening and monitoring. Stay on top of niche trends, monitor brand mentions, and seize every opportunity to engage with your audience.
Plan, schedule, and automate content to ensure your brand remains front and center in the minds of your followers. A consistent posting schedule keeps your audience hooked and coming back for more.
Evaluate your social media performance with comprehensive analytics and reporting. Leverage data-driven insights to refine your strategy and boost your online presence.
Collaborate efficiently with your team, delegate tasks, and streamline workflow management. Maximize productivity and drive results for your business with Hootsuite – the ultimate social media management tool.

Unbounce – the ultimate solution for businesses and agencies seeking a robust tool to create high-converting landing pages. With its intuitive drag-and-drop builder, Unbounce enables you to design stunning, mobile-responsive pages that captivate and convert visitors.
Customizable templates
Drag-and-drop page builder
A/B testing for agency websites or customers
Dynamic text replacement
Popups and sticky bars
Imagine a busy business or agency trying to improve its web presence or client results. Unbounce simplifies landing page design for specific audiences.
Choose from a vast selection of customizable templates, or start from scratch to bring your unique vision to life. The drag-and-drop builder puts you in the driver's seat, empowering you to design pages that align with your brand and resonate with your audience.
Hone your strategy with A/B testing – compare variations of your landing pages to identify which design elements and messaging drives the most conversions. Then, eliminate the guesswork and optimize with data-driven insights.
Embrace the power of dynamic text replacement to personalize landing page content, matching visitors' search queries and enhancing relevance. Boost engagement further with well-timed popups and sticky bars that grab attention and encourage action.
Let Unbounce elevate your online presence – enhance your conversion rates and achieve your business or agency goals with this game-changing tool.

Scoro – a comprehensive tool designed to streamline business and agency operations. Touted as an all-in-one work management solution, Scoro eliminates the need for multiple tools, consolidating various tasks and processes into one centralized platform.
Project management
Time tracking
Invoicing and billing
CRM
Reporting and analytics
Envision a bustling agency juggling numerous projects or a business striving to stay organized and efficient. Scoro comes to the rescue, simplifying work management with its versatile platform.
Effortlessly oversee every agency project detail – from initial planning to final delivery – and keep your team aligned with clear communication channels. Scoro's robust project management capabilities ensure deadlines are met and expectations are exceeded.
Time is money, as they say, and Scoro helps you make the most of both. Its intuitive time-tracking feature enables accurate timekeeping and streamlined billing, leaving no dollar unaccounted.
Nurture agency-client relationships with Scoro's CRM functionality, and stay ahead of the curve with insightful reporting and analytics. These data-driven insights empower businesses and agencies to make informed decisions and continually refine their strategies.
Revolutionize how you manage agency work – embrace Scoro and unlock a world of efficiency, collaboration, and success for your agency.

Tidio – a powerful tool that propels businesses and agencies into the realm of exceptional customer service. As an innovative communication platform, Tidio bridges the gap between customers and service providers, enabling seamless interactions and fostering strong relationships.
Live chat
Chatbots
Email marketing
Messenger integration
Mobile app
Picture an online store striving to provide top-notch customer support. Tidio swoops in, offering live chat capabilities that allow businesses to promptly address customer concerns – a surefire way to leave a lasting impression.
Worried about being stretched too thin? Tidio's intelligent chatbots lend a helping hand, automating responses to frequently asked questions and ensuring that agency customer inquiries never fall through the cracks.
But the benefits don't stop there – Tidio's email marketing feature breathes new life into your campaigns, enabling you to reach out and captivate your audience with tailored content.
With Messenger integration, Tidio makes connecting with customers on their preferred platform a breeze. And with the mobile app, you can stay in touch with your clientele no matter where you are.
Embrace the power of Tidio and elevate your business or agency to new heights. With this versatile tool, exceptional customer service is no longer a distant dream – it's an achievable reality.

Ahrefs – the ultimate tool that turns businesses and agencies into SEO maestros. This dynamic platform gives users the necessary insights to outshine competitors and climb search engine rankings. From keyword research to backlink analysis, Ahrefs delivers comprehensive data that paves the way to online success.
Keyword Explorer Tool
Site Explorer
Content Explorer
Rank Tracker
Imagine a business striving to establish its online presence. Ahrefs' Keyword Explorer uncovers a goldmine of high-impact keywords, helping the business craft content that resonates with its target audience.
Site Explorer shines a light on competitors' backlink profiles, empowering businesses and agencies to learn from their rivals' successes and implement winning strategies.
But wait, there's more! Ahrefs' Content Explorer empowers users to discover popular content within their niche, providing valuable inspiration for crafting compelling articles.
With Rank Tracker, you can closely monitor your website's performance and make data-driven decisions to improve your search visibility. And lastly, Site Audit evaluates your website's technical health, pinpointing areas for improvement.

Moz – the SEO powerhouse businesses and agencies turn to when they want to make waves in the digital ocean. This comprehensive tool offers features that help users navigate the ever-changing world of search engine optimization, driving traffic and boosting online visibility.
Keyword Research
Rank Tracking
Site Crawling
Backlink Analysis
Imagine a bustling agency working tirelessly to improve its clients' online presence. Moz's Keyword Research tool uncovers hidden gems – high-value keywords that elevate content and resonate with the target audience.
The Rank Tracking feature helps users monitor their website's performance in search results, enabling them to make data-driven decisions and fine-tune their strategies.
Moz's Site Crawling tool doesn't pull any punches – it identifies and diagnoses website issues, paving the way for impactful improvements. On-Page Optimization, on the other hand, provides actionable insights to boost individual page rankings.
And let's remember the Backlink Analysis tool, which uncovers valuable link-building opportunities that help businesses and agencies leave their competitors in the dust.
In a nutshell, Moz is the go-to resource for digital professionals seeking to conquer the online arena and steer agency clients toward unparalleled success.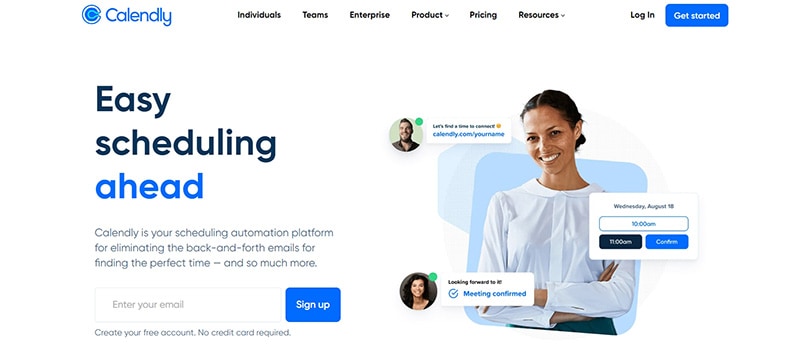 Calendly – the ultimate time-saver and scheduling superhero for businesses and agencies. This user-friendly tool streamlines appointment booking, freeing valuable time and eliminating the back-and-forth of finding that perfect meeting slot.
Picture this: a busy marketing agency working with multiple clients, each with its deadlines and priorities. Time is of the essence, and managing calendars can feel like juggling flaming torches. Enter Calendly – the solution that extinguishes the flames and brings order to the chaos.
This impressive tool offers a variety of features, such as:
Seamless Integration with Popular Calendars
Customizable Event Types
Time Zone Detection
Buffer Times
Group Events
Calendly works its magic by integrating with popular calendar tools, keeping everything in sync and avoiding double bookings. Users can customize event types, tailoring them to specific needs – a client call or agency team brainstorming session.
Fear not, globe-trotters – Calendly's time zone detection ensures smooth scheduling across borders, while buffer times allow users to build in breaks between appointments.
The cherry on top is Calendly's ability to coordinate group events, making it the go-to tool for webinars, workshops, and other collaborative gatherings.
Calendly tool is the secret weapon of every busy professional, making scheduling easy and allowing businesses and agencies to focus on their goals.

Snov.io – the all-in-one prospecting powerhouse for businesses and agencies. This versatile tool helps you unearth golden opportunities, streamline outreach, and cultivate connections – all without breaking a sweat.
Picture a bustling marketing agency seeking fresh leads to fuel its growth. Hunting down the right contacts can feel like navigating a maze, but Snov.io shines a light on the path to success.
Email Finder
Email Verifier
Email Drip Campaigns
Email Tracker
Snov.io's Email Finder empowers users to dig up relevant contacts from LinkedIn profiles, websites, or even a list of company domains. Its Email Verifier then steps in, ensuring the accuracy of these valuable nuggets of information.
But the journey doesn't end there – Snov.io's Email Drip Campaigns simplify follow-ups and nurture leads, keeping the conversation alive and kicking. And with the Email Tracker, users can monitor opens and clicks, fine-tuning their approach to maximize results.
In essence, Snov.io tools are the compass that guides professionals through the wilderness of prospecting. By cutting through the noise and zeroing in on the right targets, businesses and agencies can unlock a treasure trove of opportunities – propelling them toward their ultimate goals.

Xtensio – the Swiss Army knife for businesses and agencies looking to craft striking, professional documents. This powerful tool enables agency teams to work smarter, not harder, when designing and collaborating on various projects.
Imagine a bustling agency juggling multiple client proposals, marketing plans, and creative briefs. Xtensio streamlines these tasks, putting a wealth of intuitive design features at users' fingertips.
Customizable templates
Real-time collaboration
Version History
Multiple export options
Users can tailor Xtensio's vast templates to suit their unique needs, molding them into eye-catching, engaging documents. Real-time collaboration keeps everyone in sync, eliminating the risk of crossing wires and ensuring a seamless workflow.
Version history lets users turn back the clock, while multiple export options – from PDFs to web links – make sharing a breeze.
In short, Xtensio is the linchpin that holds everything together for businesses and agencies. By providing a versatile, user-friendly platform for crafting stunning documents, Xtensio unlocks the potential for agency teams to work in harmony and deliver top-notch results every time.

Asana – the ultimate productivity booster for businesses and agencies seeking a streamlined approach to project management. This all-in-one tool keeps teams in sync, enabling them to track, manage, and collaborate on tasks effortlessly.
Picture a bustling agency juggling various projects and deadlines. With Asana in their toolkit, team members can stay on top of their game, ensuring nothing slips through the cracks. The platform's user-friendly interface and robust features make it a go-to solution for project management specialists.
Task and project organization
Timeline and workload views
Customizable dashboards
Seamless integration with other apps
Organizing tasks and projects is a breeze with Asana's intuitive layout, which allows users to create, assign, and prioritize tasks as needed. Timeline and workload views provide a bird's-eye view of progress.
Customizable dashboards offer a tailored experience, ensuring the most relevant information is always front and center. Plus, Asana's seamless integration with popular apps – like Slack and Google Drive – streamlines workflows and keeps teams connected.
In a nutshell, Asana is a powerful ally for businesses and agencies seeking to level up their project management game. This innovative tool sets the stage for efficient, harmonious teamwork, ensuring every project is executed precisely and successfully.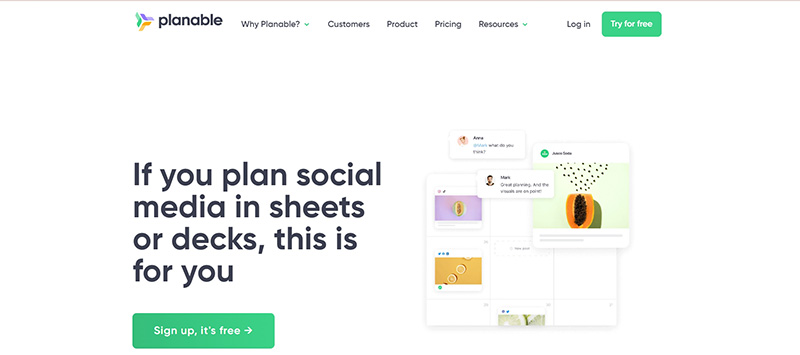 Planable – the ultimate collaboration hub for businesses and agencies needing a seamless way to manage their social media content. This remarkable tool helps teams easily brainstorm, create, and review content, taking the hassle out of social media planning.
Imagine a marketing agency seeking to optimize its content creation process. With Planable in their toolkit, they can wave goodbye to messy email threads and say hello to a streamlined, centralized platform where all team members can collaborate in real time.
User-friendly interface
Real-time collaboration and feedback
Multiple platform preview
Approval workflows and scheduling
The platform's user-friendly interface allows teams to quickly draft and visualize content, while real-time collaboration and feedback features foster a smooth exchange of ideas. Planable's multiple-platform preview makes it a cinch to see how posts will appear on various social media platforms.
Approval workflows ensure that only the best content reaches the public, while scheduling features allow easy content management. Planable is a one-stop shop for organizations and agencies looking to improve their social media game by improving teamwork and creating engaging content.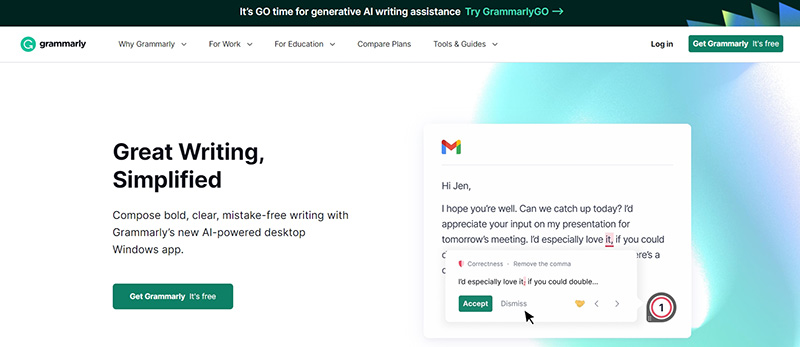 Grammarly – is a tool for business agencies aiming to produce top-notch content. Whether crafting an email, drafting a report, or perfecting a blog post, Grammarly's got your back, ensuring your writing is polished and professional.
Picture a busy marketing agency with multiple team members working on various projects. Grammarly is their go-to writing assistant, helping them present error-free, compelling content that captures the audience's attention and strengthens their brand image.
Real-time grammar and spelling checks
Enhanced vocabulary suggestions
Tone detection and adjustments
Plagiarism detection
Grammarly's real-time grammar and spelling checks leave no room for typos and grammatical errors, while its vocabulary suggestions help to elevate your writing, making it more engaging and persuasive. Additionally, the tone detection feature allows users to strike the perfect balance between professionalism and approachability – a must for successful business communication.
Moreover, the plagiarism detection feature adds an extra layer of security, ensuring content is high-quality and original. In a nutshell, Grammarly is the ultimate writing companion for businesses and agencies alike, guaranteeing impeccable content that leaves a lasting impression on the target audience.

Curata – a powerful content curation tool designed to streamline content marketing efforts for businesses and agencies. With the digital landscape growing more competitive by the day, staying ahead of the curve is crucial – and that's where Curata steps in, helping you easily discover, curate, and distribute quality content.
Picture an advertising agency responsible for creating engaging content for numerous clients. Curata acts as its content management hub, providing valuable resources that fuel its creative process and boost efficiency. It's like having a personal content assistant at your fingertips!
Key features of Curata include:
Content discovery and recommendations
Customizable filters and sorting options
In-app content editing
Distribution and promotion tools
Curata's advanced algorithms sift through the vast ocean of digital content, cherry-picking relevant, high-quality materials tailored to your needs. Thanks to customizable filters and sorting options, you can refine your search, ensuring the content aligns perfectly with your brand voice.
Moreover, Curata's in-app content editing feature allows quick adjustments and personalization. Finally, once your content is ready to shine, use the built-in distribution and promotion tools to share it with your target audience, optimizing your reach and engagement. In a nutshell, Curata is the ultimate time-saver and productivity booster for any content-driven business or agency.

In today's fast-paced business landscape, staying on top of industry trends and news is paramount. Feedly, a top-notch agency offers a robust tool to help professionals keep their finger on the pulse. With Feedly's streamlined platform, you can effortlessly curate and manage the information that matters most.
Tailored content curation
Easy organization and navigation
Seamless integration with other apps
Envision a busy entrepreneur juggling multiple tasks and struggling to stay in the loop. With Feedly, they can create a personalized news feed by subscribing to their favorite blogs, publications, and YouTube channels. No more time wasted sifting through the clutter – everything is just a click away!
Feedly's smart categorization system keeps your content organized, making it a breeze to navigate. So whether you're a marketing guru or a tech enthusiast, this platform lets you efficiently hone in on your interests.
And it doesn't stop there. Feedly integrates seamlessly with popular apps such as Evernote, Pocket, and Trello, streamlining your workflow and ensuring you're always in the know.
In a nutshell, Feedly is the go-to agency tool for busy professionals who value staying informed without sacrificing efficiency. Give it a whirl, and you'll wonder how you managed without it.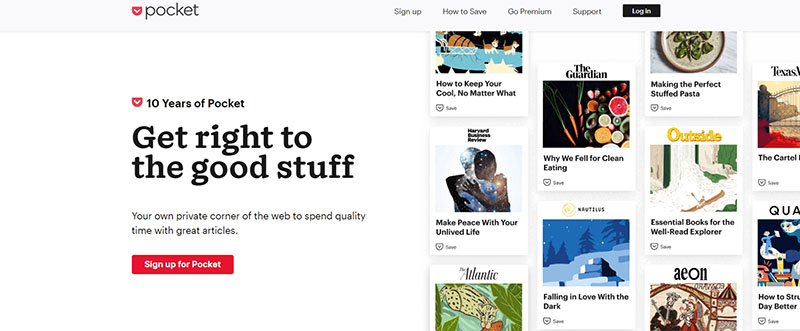 Enter Pocket is an innovative tool a savvy agency offers to revolutionize how you consume online content. With Pocket, you can effortlessly save articles, videos, and other digital media for later consumption – a game-changer for busy professionals.
Offline accessibility
Cross-device synchronization
Customizable tagging
Imagine a hectic day at the office, where you stumble upon a fascinating article but need more time to read it. Pocket lets you quickly save that content and return to it when it's convenient – even without internet access! No more losing track of valuable resources or squandering precious minutes trying to relocate them.
But wait – there's more! Pocket synchronizes across devices, ensuring that your saved content is always at your fingertips, regardless of whether you're using a smartphone, tablet, or laptop. The platform's tagging feature allows easy organization, streamlining your digital library and making it a cinch to find exactly what you need.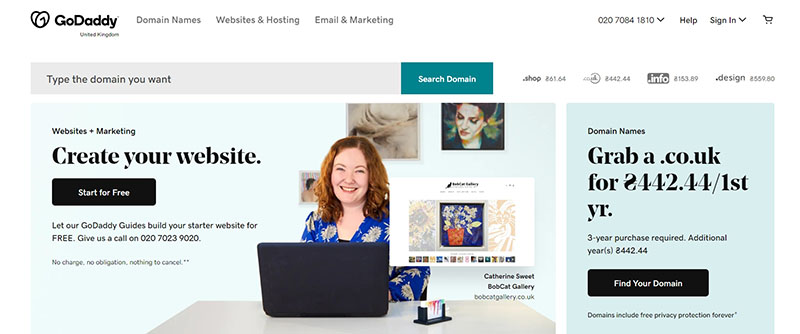 In the competitive business world, establishing a strong online presence is crucial. GoDaddy, a renowned agency, offers a comprehensive suite of tools to help entrepreneurs build and grow their digital footprint – from domain registration to website hosting.
Some of GoDaddy's top features include:
Domain name registration
Web hosting solutions
Website builders
Picture this: a budding entrepreneur ready to launch their startup. They need a catchy domain name, reliable hosting, and a visually appealing website to make a splash in the market. GoDaddy swoops in, providing a one-stop shop for all their online needs.
GoDaddy simplifies securing a domain name and offers various web hosting options to suit any budget. With GoDaddy's user-friendly website builders, even those with limited technical know-how can create a professional-looking site quickly.
But it doesn't end there. GoDaddy also provides online marketing tools to help businesses drive traffic, engage customers, and boost agency sales. From email marketing campaigns to search engine optimization, GoDaddy has you covered.
In a nutshell, GoDaddy is the perfect ally for businesses seeking to carve out a niche in the digital landscape. So embrace the power of this dynamic agency, and watch your online presence flourish.

In today's digital age, a strong social media presence is vital for any thriving business. Buffer, a cutting-edge agency, offers an all-in-one platform to simplify and optimize social media management, making audience engagement easy.
Post scheduling
Analytics for agency
Team collaboration
Picture a bustling entrepreneur juggling multiple social media accounts, struggling to post content at optimal times. Enter Buffer a powerful tool that allows users to schedule posts across various platforms, ensuring consistent engagement with their target audience.
Moreover, Buffer's built-in analytics help businesses measure the impact of their social media efforts, offering valuable insights for future campaigns. As a result, you can fine-tune your strategy and maximize your online reach by monitoring key metrics.
But that's not all. Buffer encourages seamless team collaboration, making it easy for multiple users to manage accounts, draft content, and share ideas. This efficient workflow ensures that your brand's social media presence remains cohesive and compelling.

In business, effective social media management is essential for success. A forward-thinking firm, Agorapulse, offers a comprehensive tool to simplify and improve your social media efforts, empowering you to communicate with your audience like never before.
Unified inbox
Post scheduling
Analytics and Reporting
Envision a bustling entrepreneur striving to keep up with the ever-growing demands of managing multiple social media accounts. Agorapulse swoops in, providing a unified inbox that consolidates messages and notifications from all platforms, streamlining communication and ensuring no interaction goes unnoticed.
Agorapulse's post-scheduling capabilities also enable users to plan and publish content across various networks, maintaining a consistent online presence. So say goodbye to last-minute scrambling and hello to a well-orchestrated social media strategy.
But wait, there's more! Agorapulse's analytics and reporting tools help businesses track their social media performance, delivering valuable insights that inform future campaigns. Understanding what resonates with your audience can tailor your approach and amplify your online impact.
In a nutshell, Agorapulse is the ultimate ally for businesses looking to supercharge their social media prowess. So embrace its capabilities, and witness your online engagement soar to new heights.
Bottom Line
The "15 Best SEO Tools for Agencies in 2023" arms your marketing team with the perfect arsenal to conquer the digital battlefield. These top-tier tools, handpicked by experts, streamline SEO efforts, enabling you to ace rankings. Pave the way for online success by embracing these indispensable resources that cover:
Keyword research
Competitor analysis
Site audits
Backlink monitoring
Rank tracking
Remember to check out Plerdy, a stellar SEO tool that enhances the user experience while optimizing conversion rates. Its remarkable capabilities set your business up for remarkable growth.
As you forge ahead in the marketing realm, remember to stay adaptable, harnessing the power of these cutting-edge SEO tools. Equip your agency with the best and prepare for a triumphant journey into 2023. So, explore these fantastic tools without further ado – your future self will thank you!