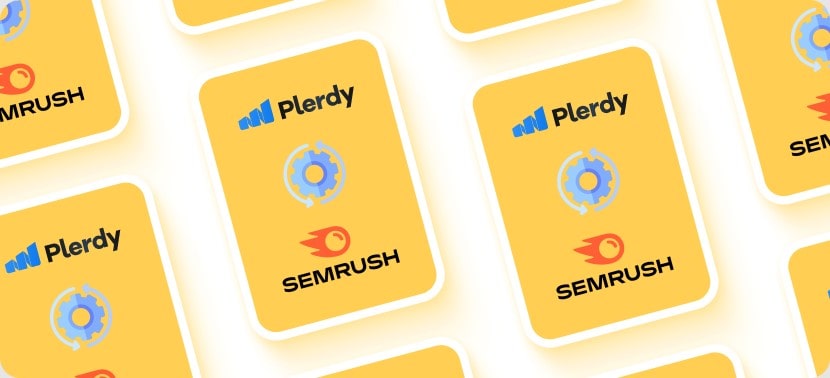 Evaluate the number and quality of websites linking to your domain and build the strongest SEO backlink campaigns with Semrush & Plerdy software. Conduct a thorough backlink analysis to identify dofollow and nofollow links and strengthen your backlink profile. Thanks to the integrated backlink data from Semrush, the analysis potential of Plerdy SEO explorer has become even more powerful.
What does the integration of Semrush backlink analysis data mean?
To make Plerdy an even more efficient business intelligence solution, we joined forces with Semrush, an advanced backlink analysis platform. Thus, we armed our users with more monitoring tools for building effective SEO strategies. A backlink profile remains a leaking bucket for many websites, even though it is one of the most important ranking factors. We made the backlink analysis process easy and convenient for users, enabling them to check the amount and the quality of their backlinks and referring domains and to keep an eye on their competitors.
The puzzle of a perfect backlink counter is finally complete – you can audit all pages of your website with the SEO Checker monitoring tool, find missing keywords via the integration with Google Search Consoleand build a good backlink profile via the integration with Semrush! All of the most important SEO features in one SEO explorer.
Why is a backlink analysis so cool?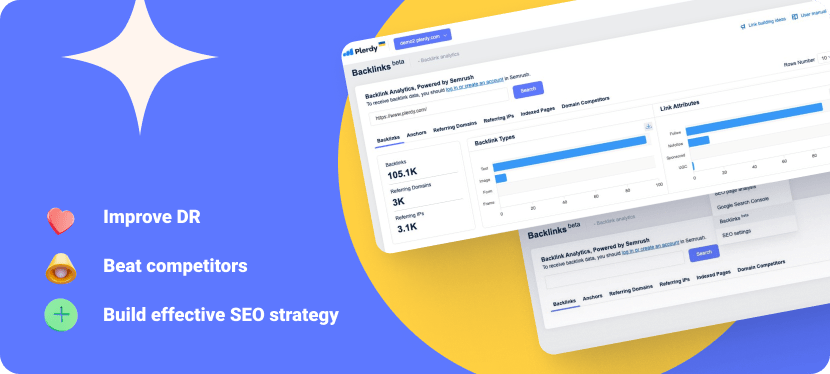 Adding high-quality backlinks improves DR
Quality over quantity. It is as simple as it is. In current SEO strategies, the quality of links has more of an impact compared to the number of backlinks. You should focus on finding high-authority domains to place your links rather than trying to hop on any link placement opportunity. This will not add to your site any credibility or trust, which are, after all, the main goals of working on your backlink profile.
There is another side to this. We can forbid any site to place a link to our site, no matter if this is a high or low-quality domain. However, you can track it and identify toxic backlinks you might need to get rid of, like a spammy link or a low-quality backlink to disavow, with the help of our SEO issues tracker.
Competitors' backlink analysis prompts how to get ranked higher
The backlinks section of the tracker gives you data to identify competitors' backlinks you need to target.
Analyzing a top-ranking competitor will provide you with the high-quality backlinks you need to acquire to improve your SEO and crush search results.
Not all websites are open to placing the links on their site, or they might have a strict requirement for what they are placing. Rather than wasting hours on outreach to different authoritative domains and getting 0 responses – use the shortcut. Analyzing competitors' backlinks is an effective strategy because the websites you discover have a proven track record of linking to sites similar to yours.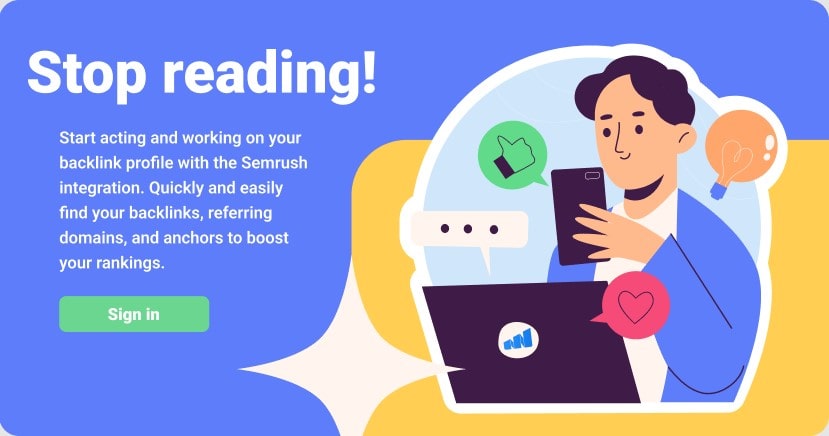 Backlink analysis data ensures stronger content and SEO strategies
A good backlink analysis gives you a lot of insights that can be used to improve your post and site performance and see how your website stacks up against a competitor.
But since backlinks aren't the only factor contributing to your success in the search rankings, combining your backlinks strategy with your blog and technical SEO becomes essential. Backlinks provide critical information that can help you benchmark against and surpass competitors in your ranking. Your content is especially interrelated with the backlinks; they always go hand in hand.
What's in the backlink analysis data integration?
Only cool stuff ?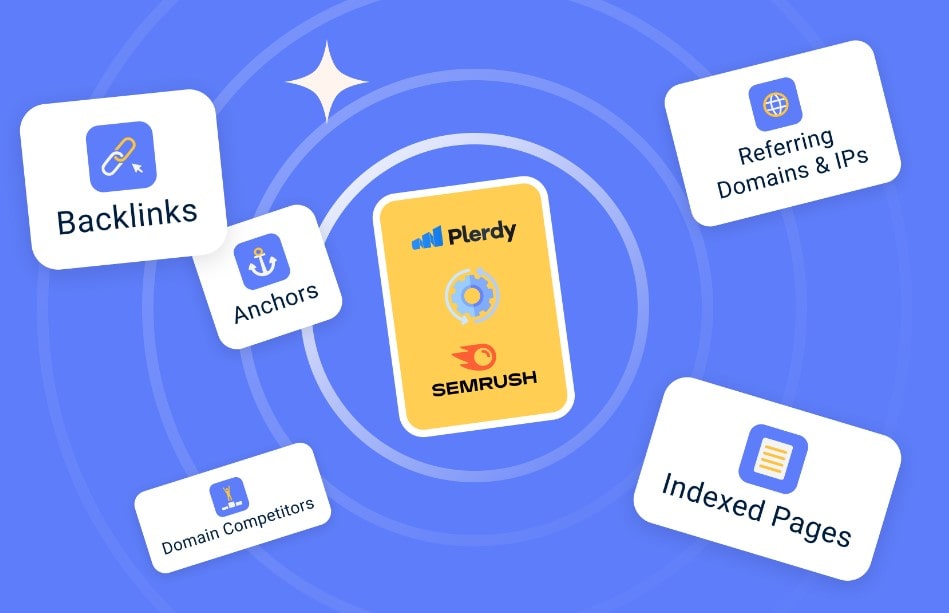 Backlinks
Find out what the backlink profile looks like for any site. Analyze your own domain and keep an eye on your competitors. This is the best SEO scanner report to find backlink opportunities and audit the quality of your existing backlinks.
The Backlinks finder report has helpful sorting, filtering, and exporting functions to make the analysis easy even if you have a large domain with many backlinks.
Anchors
The relevancy of the backlink is a very important factor that the anchor can define. The anchor analyzer report will give you a list of the most common anchor texts linking to your domain. This will help you understand the topics that search engines associate with your website.
Same here, you can analyze anchors for your own domain or check what anchors are used in the backlinks going to your competitors' domains. This will help to see if there are any trends or missing opportunities for you.
Referring Domains & IPs
What can be better than having 10 backlinks from one authoritative domain? Having 10 backlinks from 10 different authoritative domains:)
A number of referring domains is one of the ranking factors for Google, though you should consider having a variety of domains that are linking to your site.
When analyzing the referring domains for your competitors, you might notice which websites placed many links to your competitors and might be able to feature you as well.
On the other hand, the IPs analyzer report shows the information on every IP address of the backlinks to a website, including the country. This will help to see in which location this domain is more popular and if it has widespread distribution of backlinks.
Indexed Pages
To put it simply – the indexed pages report shows you the pages with the most backlinks. Those are the top pages you need to analyze when looking at your competitors' backlinks but also when evaluating which of your content is the most interesting and popular.
Domain Competitors
Before jumping into competitor analysis, you need to understand who your competitors are. The companies you might consider your competitors because they offer the same services as you do are not essentially your SEO competitors and are the ones who you should analyze.
Use this analysis report to find domains you share the most backlinks with and that are your real competitors when it comes to backlinks.
How does Semrush Backlinks integration work?
Better to see something once than to hear about it a thousand times.
Watch this short video to check out how the integration of the analysis data works and how you can level up your SEO strategy with powerful insights from the Semrush backlink finder.
Learn the complete instructions on the backlink analysis data integration in the Help Center article.
A blend of the best SEO practices and tools with Plerdy & Semrush
With new data from Semrush, we are ready to uncover a secret three-ingredient recipe for rocking your SEO. Combining three best practices and absolutely stunning instruments, you will see how your organic traffic is growing while you are sitting back and drinking your coffee.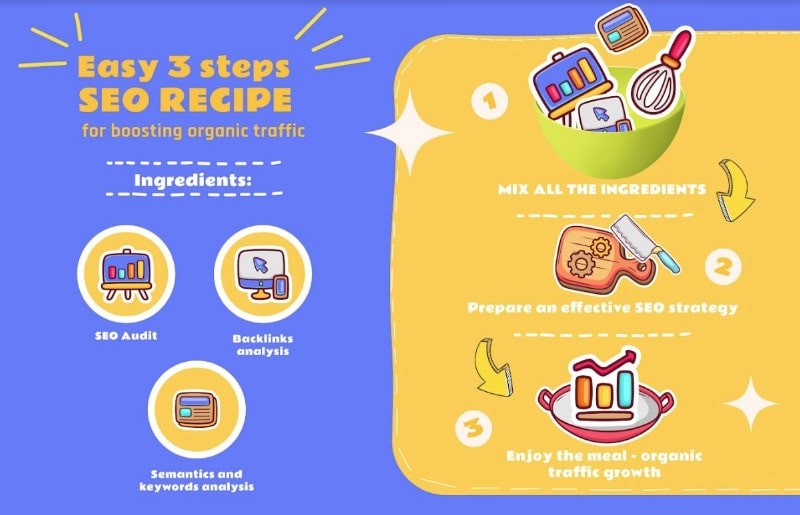 Step 1 – Check your fridge and ensure you have only good products
Preparing a good dinner starts with opening your fridge and checking out what products you have and whether they are good. You will never prepare your dinner from bad products.
Same in SEO. You should start your SEO strategy with a thorough analysis by auditing ALL pages on your site, trying to identify where you have the leaking buckets and how to fix them. SEO Checker can analyze dozens, thousands, and millions of pages instantly! It automatically checks and gives you information about pages and issues you should pay attention to and fix. The SEO analysis suits both mobile and desktop website versions.
Step 2 – Add a variety of tastes
If your dinner consists only of one product, it is boring; no one will want such a dinner. A variety of tastes, products and dishes is what attracts people.
With your site analysis, it works similarly. If your content is all around just one topic and one keyword, you will have a very limited audience, but they will be, of course, big fans of the topic you write about. However, when you are analyzing what the other related topics are and what "tastes," aka keywords are missing, you can reach broader audiences and build an effective content strategy.
Step 3 – Share with others
Eating your dinner alone isn't fun. If you are a good chef, people should know of you! Just like word-of-mouth works in the offline world, the backlinks help to share information about your brilliant dishes over the Internet.
The more authoritative sites link to you, the more trust and credibility you will have in the eyes of search engines. This "ingredient" is sometimes overlooked, but it plays an important role and completes your SEO strategy.
So, if you want to be a good chef, you need to invest in good kitchen gadgets. Same as if you want to be a good SEO specialist and enjoy the growth in organic traffic – you need to have good SEO analysis tools and reports.