Auditing backlinks with Plerdy SEO Checker lets you fully optimize your site and keep users engaged. We collect SEO webpage data on every page with incoming traffic so you can run automatic SEO audits with light speed and find missing keywords for growing organic traffic. Now we extended the auditing possibilities of Plerdy SEO Checker by powering it up with the backlinks data from Semrush audits. In this post, you will learn how to connect backlink auditing via Semrush and Perdy to take maximum advantage of our SEO toolset.
The Semrush backlinks data in Plerdy audits
SEO is a complex long-term strategy that consists of many bits and pieces, from backlinks to content. Together with Semrush, an efficient backlink explorer, we've built an integration that solves the puzzle and completes Plerdy SEO Checker with valuable backlinks insights.
Getting access to this backlink auditing data is easy. If you already have a Semrush account, you need to connect it with Plerdy. If you haven't usedSemrush before, you'll need to register while connecting Semrush to Plerdy.
All Plerdy users can access the backlink auditing integration (regardless of your plan). However, your Semrush account plan will decide the limits of backlinks data availability.
How to start using backlinks reports in Plerdy
Follow these simple steps to connect your Semrush & Plerdy accounts and start monitoring and analyzing backlinks.
Go to the "SEO Checker" tab of the analyzer and open the "Backlinks" section.

Connect your account on the Semrush backlink counter to Plerdy.
There are two ways to trigger the connection window in the scanner:
A. Click on "log in or create an account";
B. Insert the URL you want to analyze and click "Search".

Complete the login or create an account to access the features of the backlink explorer.
A. If you already have a Semrush account, log indirectly in the pop-up window and allow Plerdy to connect the accounts.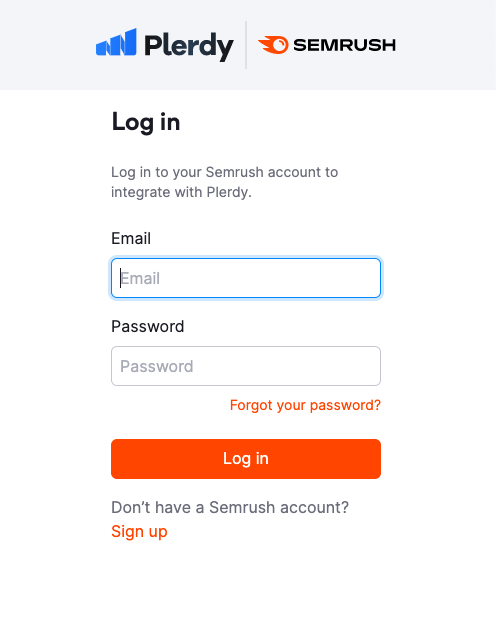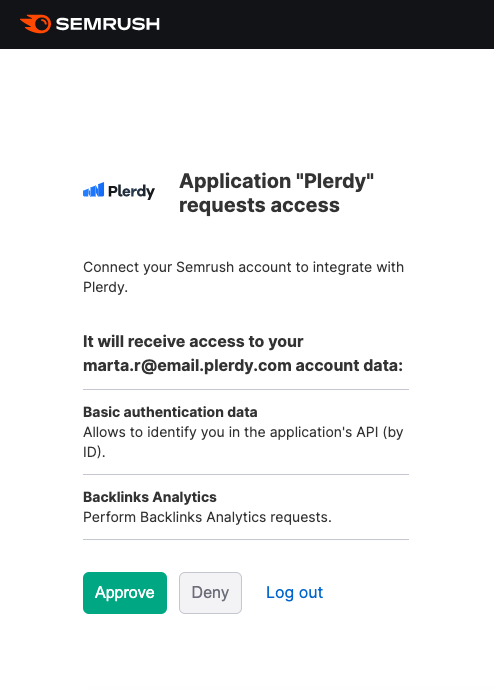 B. If you don't have a Semrush account,click "Sign up" to create an account and then allow Plerdy to connect the accounts.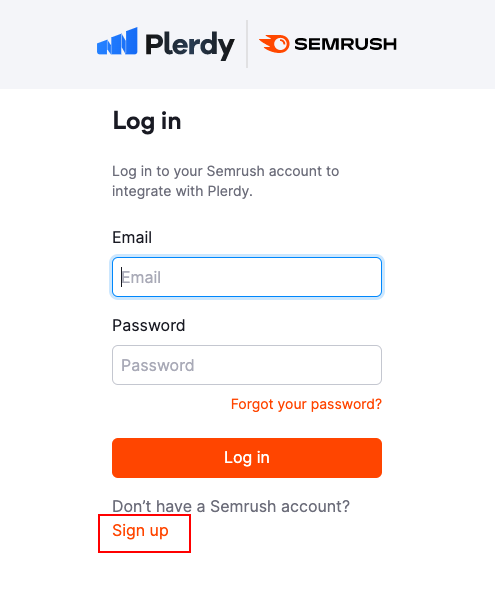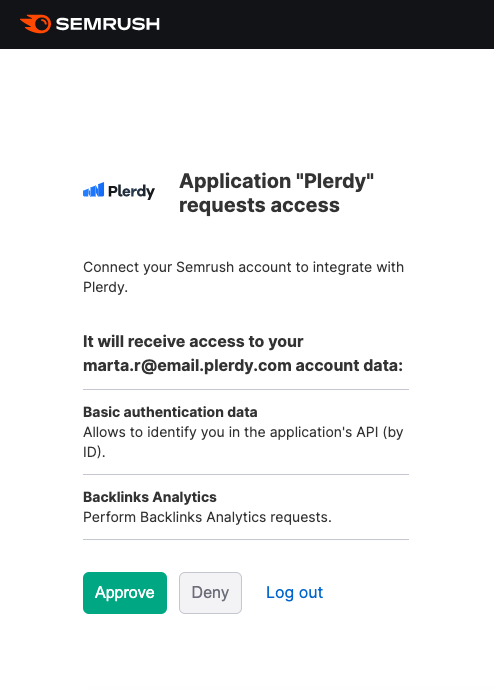 C. If you are already logged into your Semrush account, allow Plerdy to access your account.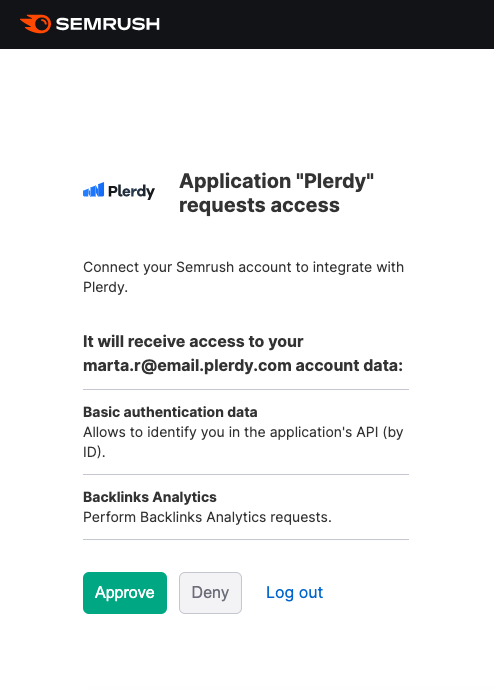 After a successful account connection, paste the domain you want to analyze and click "Search".

Dive into the backlinks details:
Check the backlink audit overview.
In the first section, you can see a backlink profile for any site. You can analyze your own domain and backlinks and keep an eye on your competitors with our backlink finder. This is the best report to find backlink opportunities and audit the quality of your existing dofollow and nofollow links.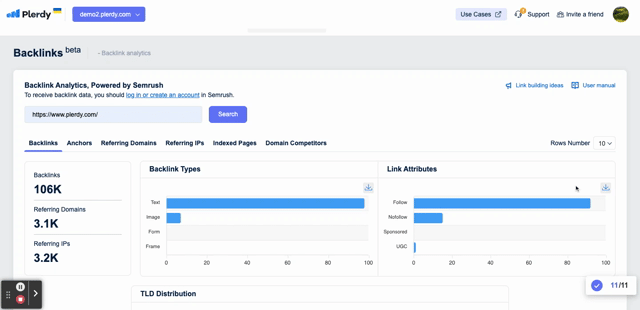 Analyze backlink anchors.
The relevancy of the backlink is a very important factor that the anchor can define. The backlink anchor auditing report will give you a list of the most common anchor texts linking to your domain.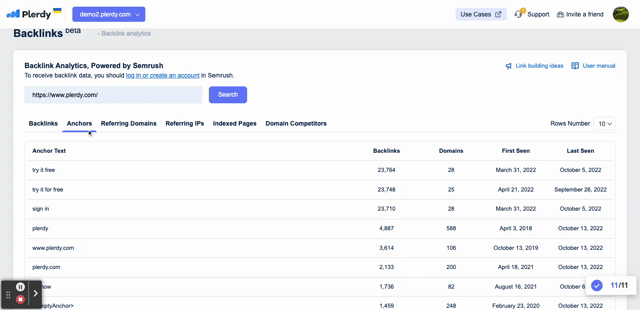 See referring domains & IPs.
Check which domains are linking to your site, and audit which location your site is more popular in.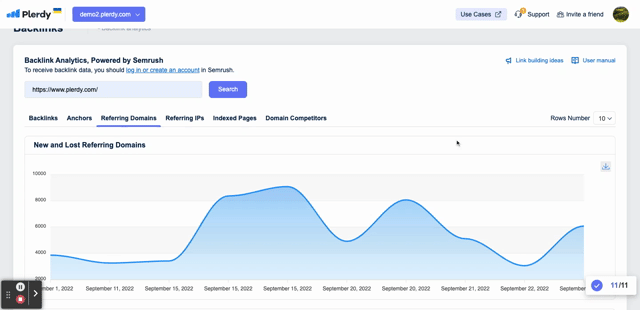 This report shows you the pages that have the most internal and external links.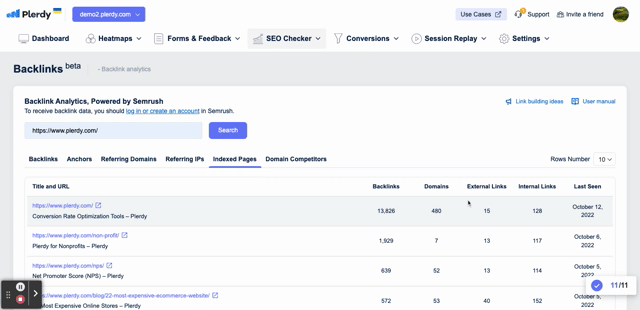 Understand who your SEO competitors are, and find domains you share the most backlinks with using the efficient finder tool. You will see the auditing information about the competition level, the number of common referring domains, total referring domains, and also the total number of backlinks.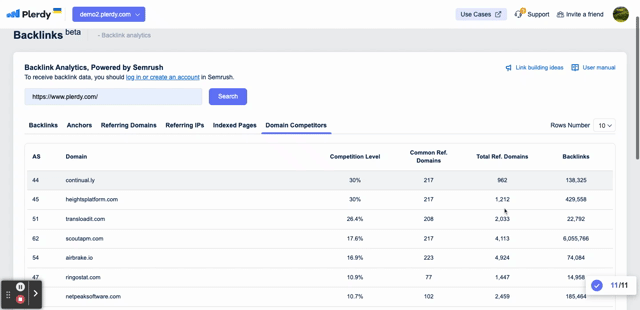 Learn more about creating an effective SEO strategy
Integration with the Semrush backlink analyzer makes it easy to analyze the important links data for your and your competitors' websites. But, the backlinks analysis is just one step on a complex and multistep journey of building a good SEO strategy.
Are you eager to learn more about crafting a complete SEO strategy and growing organic traffic like a pro? You can find a lot of auditing video tutorials from our platform.They will explain to you what business intelligence is and which monitoring tools you need to optimize your SEO processes. With the guide on the Plerdy SEO issues tracker, you will discover how to do SEO audits to ensure your SEO health score is good enough. You can also learn how to find missing keywords to optimize your content strategy! For example, apart from backlink audits, you can start with these:
Get a free SEO audit!
You can conduct an instant analysis of the most important SEO metrics that influence the ranking positions of your site pages, including backlink auditing, with the Plerdy SEO issues tracker. Try a free SEO audit here.