Attention all marketers! Do you want to avoid juggling multiple software and needing help keeping track of your campaigns? Look no further! We've rounded up the Best 17 Marketing Software to help streamline your workflow and take your marketing game to the next level. 🚀  This software is designed to tackle various marketing tasks, from email marketing and social media management to lead generation and analytics. So whether you're a small business owner, a marketing team, or an individual marketer, these tools can help you achieve your marketing goals. 💡 So say goodbye to disorganized campaigns and hello to a more efficient and effective marketing strategy.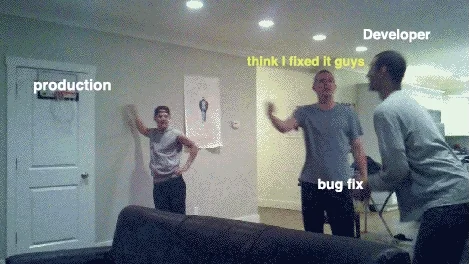 List of Best 17 Marketing Software
Putting your best foot forward in the marketing game just got much easier with our comprehensive list of the "Best 17 Marketing Software." Whether you're a seasoned pro or just starting, this list is the ultimate cheat sheet to streamline your marketing efforts and knock your goals out of the park. 💻🎯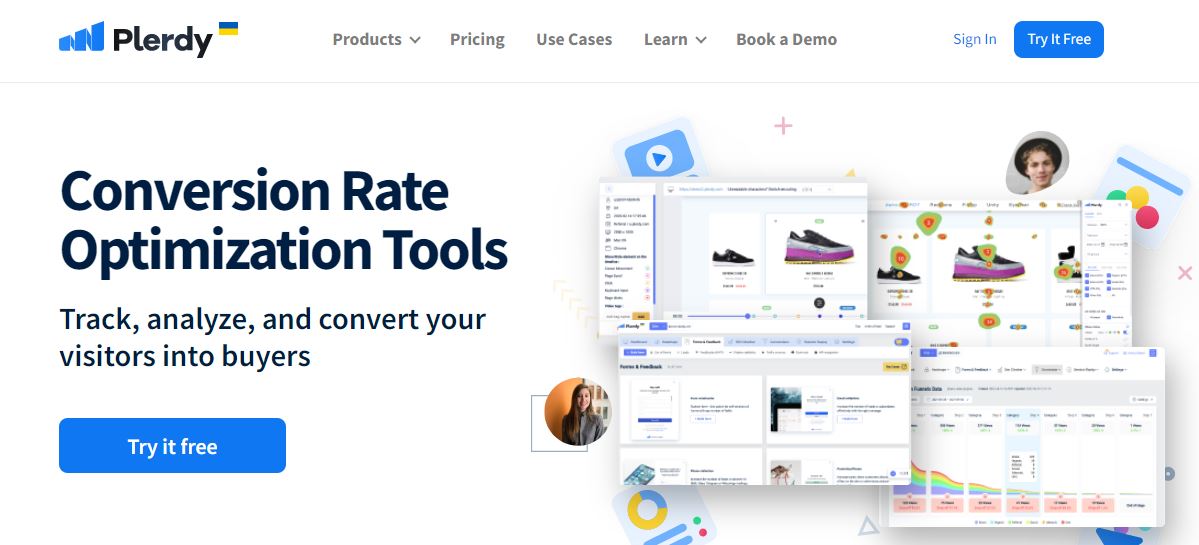 Plerdy is an all-inclusive marketing software that assists website owners in tracking, analyzing, and converting site visits into customers. It provides an array of tools for conversion rate optimization, including heatmaps, SEO checkers, session replay, event tracking, and pop-up forms. Plerdy also helps website owners understand how their visitors behave and where they drop off by providing detailed information about sales performance, marketing conversion funnels, and net SEO scores.
Pricing packages
Plerdy offers flexible pricing packages, from $29 monthly for the Basic plan to $399 for the Enterprise plan. The different plans cater to the needs of different businesses, from small startups to large enterprises.

Oktopost is a marketing software that empowers social media professionals to work at scale and demonstrate business impact. Trusted by thousands of B2B marketing professionals globally, Oktopost is software that maximizes content visibility, measures the true impact of social, creates engaging customer experiences and ties social to a company's bottom line. The software includes features such as a publishing calendar, social analytics, social media conversation management, leads, and employee advocacy tools. With integrations with marketing automation, CRM and BI, Oktopost helps build stronger relationships across every channel.
Pricing for Oktopost
Oktopost offers a starting price of $49 monthly with no entry-level setup fee. The software offers support options such as phone, email, forum/community, FAQ/knowledgebase, and video tutorials/webinars for marketing tasks.

Sprout Social is a powerful solution for social media management that helps businesses transform their marketing strategy and every aspect of their organization. The software is a leader in usability, customer support, satisfaction, and user adoption, as recognized by top-tier software reviews sites like G2 Crowd, Capterra, and TrustRadius.
Package prices and features
Sprout Social offers a 30-day free trial and a standard package starting at $249 per month for 5 social profiles and a range of features, including an all-in-one social inbox, publishing and scheduling tools, review management, and reporting. Each additional user costs $199 per month.

Mailchimp is a renowned marketing software that provides businesses of all sizes with a comprehensive email marketing and automation solution. Through tailored emails and automation, Mailchimp enables businesses to convert more clients and increase revenue. Mailchimp's AI-assisted analytics and integrations are designed to optimize campaigns and deliver the appropriate message at the appropriate moment.
Mailchimp pricing structures
Mailchimp offers a variety of price plans to accommodate the varying needs of businesses. The premium subscription for 10,000 contacts begins at $350 monthly, while the Standard plan at $20 per month. The Essentials plan is $13 per month, while the Free plan is $0.00 monthly.

GetResponse is a comprehensive marketing software that offers tools to help businesses get online and reach new customers. With GetResponse, businesses can create and send newsletters, build websites, and automate marketing efforts to save time and improve results. Big and small brands trust the software, including IKEA, CD PROJEKT, and the University of Nottingham.
Pricing
GetResponse offers several pricing plans, starting from a free-forever plan for new businesses, including email marketing, a website builder, and the ability to connect a domain. The most popular choice is the Marketing Automation plan, which starts at €44.28 per month and includes marketing automation, advanced segmentation, and webinars. Starting at €86.92 per month, the E-commerce Marketing plan offers features such as abandoned cart recovery and product recommendations.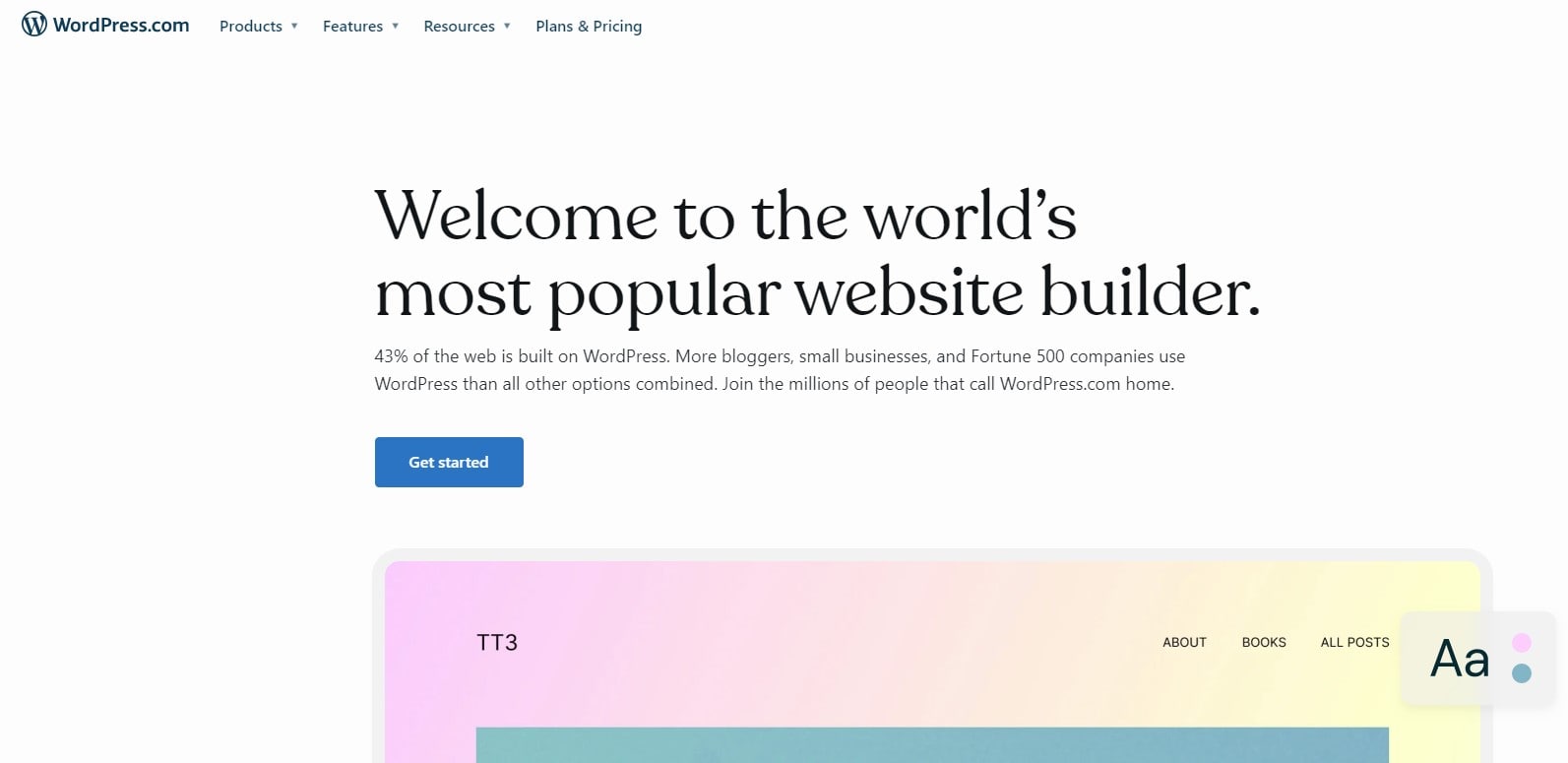 WordPress is the most popular website builder and content management system (CMS) in the world, powering 42 percent of the web. Bloggers, small enterprises, and Fortune 500 companies all favor it. WordPress provides numerous features and marketing tools, such as beautiful layouts and themes, an intuitive block editor, and numerous plugins and themes. Additionally, it provides premium managed-to-host services, which provide excellent performance, security, and dependability. So, WordPress has a plan that meets your requirements, whether you want to establish a blog, manage an online store (based on WooCommerce), or create a website for your business.
Prices and packages
WordPress.org – a free, open-source CMS.
WordPress.com offers a variety of options, including a free plan, personal plans, premium plans, and commercial plans. Personal plans begin at $4 per month, Premium plans are $8, and Business plans cost $25. Each plan includes industry-leading hosting, a one-year free domain, and access to over 50,000 plugins and themes.

Wix is a marketing software that enables you to create and manage your web presence without limits. With its powerful infrastructure, enterprise-grade security, and fast loading speeds, Wix is designed to support the growth of your business. The platform offers a complete suite of functionalities, including 900+ customizable templates, a smart drag-and-drop editor, and AI technology to create a site for you.
Wix Packages and Prices
Free Plan: Includes 500MB storage and limited features
Combo Plan: $14/month, includes unlimited storage, a free domain for a year, and more
Unlimited Plan: $18/month, includes everything in the Combo Plan and more
Pro Plan: $23/month, includes eCommerce features, professional logo, and more
VIP Plan: $39/month, includes priority support and more

Sugar Market is a powerful marketing automation software designed to help companies increase lead velocity, amplify marketing ROI, and encourage retention. With Sugar Market, companies can deliver the right leads to sales at the right time by engaging with customers across channels and analyzing performance to visualize results. The software has AI-driven predictive analytics, inbound and outbound email marketing tools, social media management capabilities, and even Google Ads management tools. Sugar Market is pre-integrated into leading sales automation solutions, including Sugar Sell, allowing companies to track customer behaviors and interest levels throughout the entire customer lifecycle. Sugar Market also offers onboarding and ongoing advisory services to help marketing organizations meet their goals.
Pricing packages
Sugar Market offers three pricing packages to fit your needs. Contact Sugar Market for a personalized quote.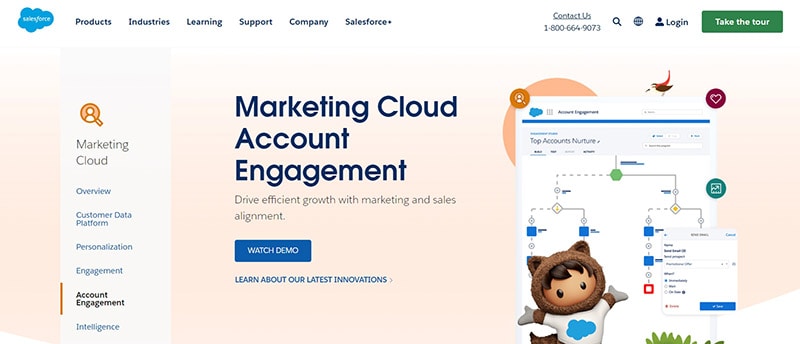 Marketing Cloud Account Engagement is a marketing software solution that helps businesses drive growth through efficient marketing and sales alignment. With this software, businesses can automate cross-channel journeys and automatically deliver personalized moments to customers with relevant content. This solution also helps businesses close deals faster, optimize marketing performance, and have a single source of truth for marketing and sales alignment.
The software has several features, including the ability to customize journeys with easy-to-create assets, alert sales when a prospect is most engaged, connect your marketing tech stack, scale efforts with artificial intelligence, and showcase impact on revenue. The software has successfully delivered growth to top brands like NBC Universal, which spends 50% less time creating email audiences, and NI, which has seen targeted demand at scale.
Marketing Cloud Pricing
Marketing Cloud offers several solutions and packages, including Marketing Cloud Customer Data Platform, Loyalty Management, Marketing Cloud Account Engagement, Marketing Cloud Engagement, Marketing Cloud Advertising, and Marketing Cloud Analytics. The pricing for each solution varies and can be found on their website.

Canva is a leading marketing software that helps individuals and teams easily create professional designs. Canva offers three plans – Canva Free, Canva Pro, and Canva for Teams – catering to different needs and budgets. Canva Free is for anyone wanting to design anything, with no design experience required. Canva Pro offers unlimited access to premium content, tools, and features for individuals. Finally, Canva for Teams is for teams of all sizes, with advanced tools for teamwork and collaboration.
Prices and Packages
Canva for marketing teams is priced based on the number of seats, with monthly and annual options available. The cost starts from $14.99 per month for 5 seats and goes up to $1,242.49 per month for 100 seats. The pricing is flexible, and custom pricing options are available for teams with bespoke needs.
Canva offers an all-in-one solution for creating professional designs and is a popular choice among businesses of all sizes. With its user-friendly interface, a vast library of templates, images, and quality content, Canva makes designing and collaboration a breeze. So whether you're a solopreneur or a team of 100, Canva has a plan to meet your marketing needs and budget.

PicMonkey is an all-in-one marketing software that facilitates the creation of professional-looking photographs for Facebook, Instagram, YouTube, and other platforms. PicMonkey offers a variety of themes, visuals, and tools to help you realize your idea, whether you're designing advertisements, logos, or social media postings. Using the picture editor on PicMonkey, you can perfectly edit your photos and apply special effects to make them stand out. You can also use the brand kit to store your logo, fonts, and colors conveniently.
Prices and Packages
PicMonkey provides three pricing tiers: Basic, Professional, and Business. The Basic package is the cheapest, providing comprehensive photo editing and creative capabilities. The Pro version offers unlimited storage and brand fonts and is suited for expanding enterprises. The Business bundle includes all the Pro package's features and capabilities for collaboration. Prices range from $7.99 per month to $23 per month. All packages can be invoiced monthly or annually, with annual billing offering discounts.

Event Farm is a suite of event engagement tools that help experience creators capture attendees' attention and influence behavior. The company is trusted by some of the best event professionals in the world. In partnership with CLEAR Health Pass, Event Farm offers the top solution to confirm vaccination status and ensure a safe environment for attendees. Unlike traditional event management software, Event Farm provides comprehensive tools to promote brands, grow businesses, and engage virtual audiences. From registration to in-event experiences, the technology is designed by event professionals who understand human behavior.
Packages and pricing
Event Farm offers a free quote to get started. The company's engagement tools helps businesses promote their brand, grow their business, and engage virtual and in-person audiences. The Event Farm + CLEAR Health Pass integration simplifies health screenings and vaccine verifications for event attendees, making the check-in process more efficient.
Cvent is a nice marketing software that aids firms in event planning, promotion, execution, and analysis. This user-friendly software offers integrated technology solutions to enhance the impact of meetings and events of all sizes. From event registration to attendee engagement, Cvent ensures the success of all areas of event management. Cvent caters to the demands of event organizers and marketers, regardless of the scale or complexity of their event, by providing a wide selection of products and tools. With 24/7 customer service and a community of over 190,000 active customers, Cvent ensures your events succeed.
Pricing for Cvent Events
Cvent offers customizable pricing and packaging based on your event's size, scope, and requirements. Cvent provides a price plan that meets your needs, whether you want to manage a single event or your entire event program. Pricing is decided based on the products required and the number of registrations. Three alternatives are available: Products, Solutions, and the Total Program. Each package is tailored to distinct event management requirements, and the price will vary dependent on your demands.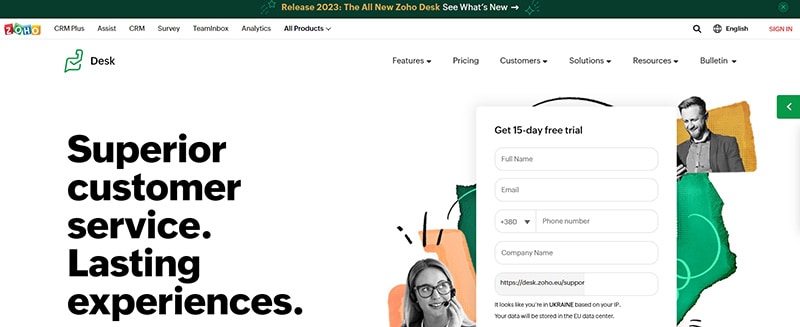 Zoho Desk is a customer service and marketing software that helps marketers deliver lasting customer experiences and simplify customer service operations. With features such as omnichannel support, AI-powered sentiment analysis, and customizable workspaces, Zoho Desk empowers agents and enables businesses to build strong customer relationships. The software integrates with over 200 third-party apps and has received accolades, such as being featured in Gartner's Magic Quadrant for CRM CEC 2021 and receiving the highest satisfaction award in G2's Best Software Products 2022.
Package prices for Zoho Desk
Standard Package: €14/user/month billed annually Professional Package: €23/user/month billed annually Enterprise Package: €39/user/month billed annually

A comprehensive marketing software, Freshdesk enables companies to provide first-rate customer assistance through all channels. With Freshdesk, businesses can simplify the customer experience and provide support through the customer's preferred channel, be it email, social media, phone, or live chat. The software's features include integrated ticketing, a knowledge base, ticket trend reports, and out-of-the-box analytics.
Freshdesk also empowers agents to be customer champions by providing more context and automation. With Freshdesk, businesses can achieve service productivity gains in under three months and innovate faster with the Freshworks Neo platform. Trusted by over 50,000 businesses globally, Freshdesk is an industry leader in delivering delightful customer experiences.
Freshdesk pricing packages
Freshdesk offers a free package for up to 10 agents, with integrated ticketing across email and social, ticket dispatch, knowledge base, ticket trend report, and out-of-the-box analytics. The company also offers premium packages for businesses with more extensive support needs.

Google Analytics is a free software tool that allows companies to evaluate different data types and make wise judgments. Examining user data on their website and mobile app enables businesses to assess the success of their marketing initiatives, content, and goods. Businesses may maximize the value of their data by utilizing Google's exclusive insights and machine learning capabilities. For marketers and publishers, Google Analytics combines with other Google products to help develop businesses by accessing customer insights and enhancing marketing ROI.
Information on Prices
The free software is Google Analytics.
User opinions of marketing software
On G2, consumers have given Google Analytics favorable feedback. Associate Professor Eduardo P. stated that it is a vital tool for digital marketers and offers a variety of information and insights. According to marketing strategist Pritam C, it is a helpful tool for firms searching for economical analytics solutions. However, some users have found the site overwhelming due to the abundance of data and information provided. Understanding all the metrics and statistics can take some time.
Google Analytics supports key performance indicators in traffic, conversions, e-commerce, acquisition, and marketing while generally assisting businesses in streamlining data collection and analysis. Users may monitor website traffic, user behavior, and performance with the software.

Adobe Analytics is a marketing software that provides actionable insights to help businesses understand their customer journey. It offers various features, including web analytics, marketing analytics across digital channels, attribution for better decision-making, and AI and machine learning predictive analytics. By integrating data from multiple sources, Adobe Analytics allows businesses to view their customers in real-time and deliver personalized experiences comprehensively. In 2022, Gartner named Adobe a leader in digital experiences.
Pricing and Packages
Adobe Analytics offers different packages to fit the needs of different organizations. The packages include Adobe Analytics Select, Prime, Ultimate, and Basic Analytics. The packages vary in features and pricing, from $275 to $325 monthly.
Conclusion
The "Best 17 Marketing Software" list provides a comprehensive overview of some of the top marketing tools available on the market today. The tools listed on this page allow marketers to tackle their marketing objectives more effectively and efficiently, from attracting landing page traffic and improving conversion rates to developing persona-driven campaigns and optimizing search engine results. Whether you're looking to turn prospects into customers, manage your customer relations, or simply streamline your marketing efforts, check out this edition of "Best 17 Marketing Software" to find the right solution for your needs. So why not look closer, read the full article, and click your way to marketing success!