👋🏼 WordPress fans! Ready to upgrade your website in 2023? Then don't miss our expertly curated list of the 20 Best WordPress Plugins of the year! We use the latest plugins to improve your website's functionality, security, and performance. SEO, social media, e-commerce, and lead generation—we've got you. Please put on your thinking caps and explore our carefully selected WordPress plugins! 💪🏼✨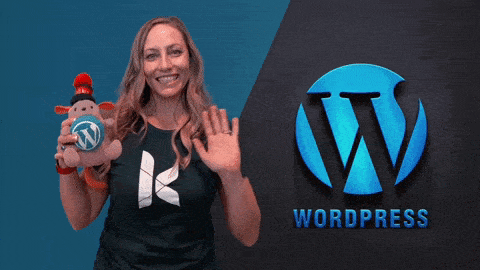 How to Choose WordPress Plugins?
WordPress plugins are an excellent way to add functionalities to your website. However, with over 60,515 plugins available on WordPress.org, choosing the right one for your needs can take time and effort. Choosing the best plugin is crucial because it impacts your website's security, performance, and user experience. Here are some factors to consider when selecting WordPress plugins:
Examine Your Needs: Determine what features you require from a plugin before searching for one. Writing down a list of requirements can help you save time and money.
WordPress Security: Ensure the plugin is secure by checking when it was last updated. Choose plugins updated within the past two months and work with the latest WordPress version.
Check out the Changelog: This is an excellent way to know what you're getting with a plugin, and you can also find out if security issues have been fixed.
Free versus Premium: While free plugins can be useful, premium plugins have more features, frequent updates, and dedicated support.
The reputation of the Plugin Developer: Check reviews and download counts of the plugin and the developer's other plugins.
Technical Aspects: Technical aspects such as memory usage, database queries, JavaScript errors, and PHP warnings can impact site performance. Use tools such as GTmetrix.com, P3 profiling plugin, query monitor plugin, and browser console to check these aspects.
WooCommerce: Integration with an online store is available.
When choosing plugins, ensure they are fresh, have high active installations, good ratings, and an active support forum. You can also ask a WordPress expert for advice. Considering these factors, you can choose the best WordPress plugins for your website's needs.
List of The Best 20 WordPress Plugins
👀 Now that you've got a taste of what's in store for the year, it's time to dive into our 20 Best WordPress Plugins list in 2023. We've scoured the depths of the plugin repository and combed through the latest updates and user reviews to bring you the cream of the crop. So buckle up and get ready to supercharge your website with these game-changing plugins!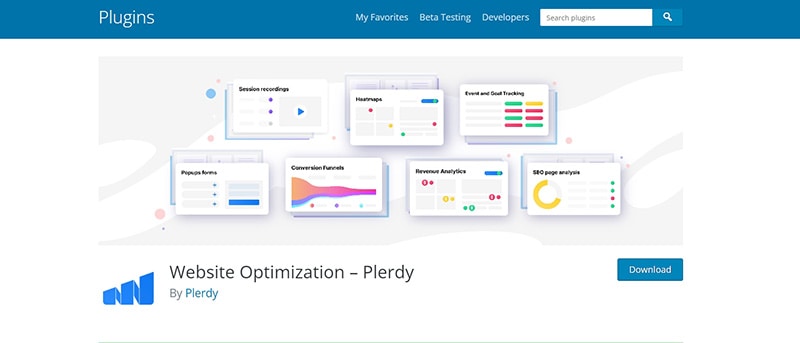 If you're running a WordPress website, you know optimizing its performance is vital. Plerdy SEO tool can help you achieve the highest level of website optimization by analyzing several essential statistics. With this WordPress plugin and tool, you can track users' behavior and detect any bottlenecks that can be improved to increase conversion rates. You can access tools for website optimization such as Website heatmap, Session recordings, Popup forms, NPS forms, and SEO checker.
Plerdy's click heatmap tool shows how users behave when they visit your web page with 99% accuracy, providing a detailed report on the most clicked elements, scroll depth, popular page parts, and click sequence. Their Popup forms are an excellent tool to generate more leads. You can place the right popup with over 30 configuration rules, add a YouTube video, images, and GIF animation, and customize the impressions based on the traffic channel.
SEO optimization is also possible with Plerdy. You can perform SEO audits and analyze your web page semantics, track SEO indicators' changes over time, and understand why your website is far from top search results. With Plerdy's session replay software, you can record and analyze user behavior on your website, segment millions of user sessions by custom parameters, and optimize the customer experience.
Plerdy offers several other features, such as event tracking, e-commerce sales performance, and conversion funnel optimization, which can help you enhance your website's usability and increase conversion rates. The best part is that Plerdy's script takes only 30-40 seconds to add and doesn't slow down your website. So, if you're looking for a comprehensive and user-friendly tool to optimize your website's performance, the Plerdy SEO tool is worth trying.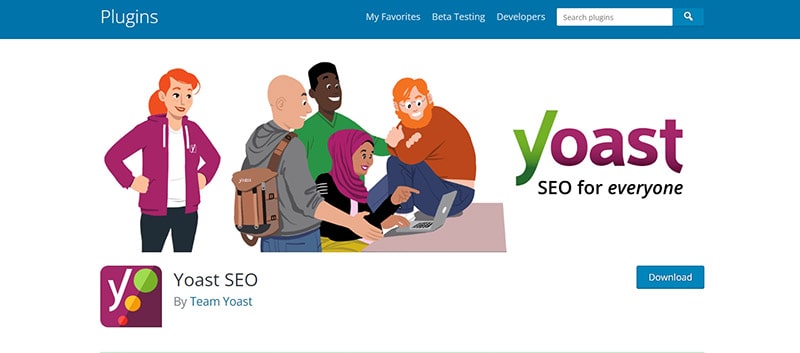 Yoast SEO is a WordPress plugin designed to assist website owners, specialists, experts, and businesses in optimizing their websites for search engines. Since 2008, Yoast SEO has helped millions of websites to rank higher in search engines with automated technical SEO improvements, advanced XML sitemaps, and much more. It is the most-used WordPress SEO plugin, and for a good reason. Yoast SEO is packed with features designed to help visitors and search engines get the most out of your website. With the plugin's SEO and readability analysis, you can write SEO-friendly content with the right focus keyphrases in mind. It even offers full language support for multiple languages, including English, German, French, and Dutch. With the Premium version, you can get automatic internal linking suggestions, SEO workouts, and even an orphaned content filter to detect posts that have no links pointing toward them. Yoast SEO also allows you to expand with News SEO, Video SEO, Local SEO, and WooCommerce SEO extensions. Yoast SEO helps you care for your WordPress SEO, giving you the plugins you need to stay ahead of the competition.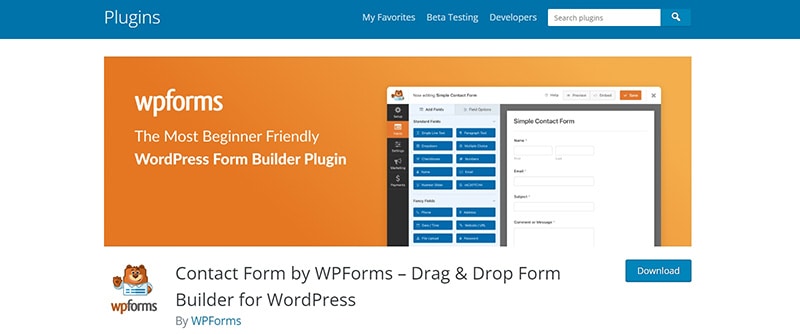 Do you want to create forms for your website without the need for coding knowledge or hiring a developer? Then, the Contact Form for WordPress is your solution. WPForms offers a user-friendly and intuitive form builder that allows you to create professional forms quickly and easily. The plugin is beginner-friendly with pre-built form templates, and it provides a challenge that guides you through creating your first form in under 5 minutes. It's mobile responsive, ensuring your forms look great on all devices. WPForms is optimized for speed, making it one of the fastest WordPress form builder plugins available.
WPForms Pro is the premium version of the plugin. It has additional features like email subscription forms, multi-page contact forms, conditional logic, payment integrations, and form templates.
Using WPForms, you can create various types of forms, including contact forms, feedback forms, subscription forms, payment forms, and others. The plugin is popular among business owners, designers, and developers who love its ease of use and speed. Using the drag-and-drop feature, you can easily customize your form fields, rearrange them, and add new ones. WPForms also provides SEO-friendly titles and descriptions that you can embed on any page.
Overall, WPForms is the best contact form plugin available on the market. With its features, beginner-friendliness, and optimized performance, WPForms will make creating forms a breeze.
Jetpack – WP Security, Backup, Speed, & Growth

Jetpack is a multi-functional plugin by Automattic that offers users various plugins for WordPress security, performance, marketing, and design. This plugin is designed to make WP sites safer and faster while helping users grow their website's traffic. One of its most notable features is the 24/7 Auto Site Security that provides comprehensive WordPress site security, including real-time auto backups, malware scans, spam protection, brute force protection, and downtime/uptime monitoring. Another feature is the automatic backup function that enables users to restore their site to any point with just one click, making it ideal for e-commerce sites, especially WooCommerce. Jetpack also allows users to manage website migration, duplicate websites, repair broken, and create a test website.
In terms of performance, Jetpack offers users blazing-fast site speed with its free CDN, which auto-optimizes images and serves them from a global network, reducing bandwidth usage and saving money and helping SEO. It also features the Lazy Load Images function that automatically delays media loading on your posts and pages until visitors scroll down to where they appear. This WordPress plugin is ideal for mobile devices, speeding up site loading times.
Jetpack also provides powerful WordPress plugins for growth, such as advanced site stats and analytics, automatic publishing of blog posts and products to social media, Instagram post sharing, payment collection, and donation collection. It also offers SEO tools for Google, Bing, Twitter, Facebook, and WordPress.com, XML sitemap creation, and ad placement on users' sites. With Jetpack's plugin for WordPress, users can build, customize, optimize, and grow their website while managing its features from anywhere using the official WordPress mobile app.
Advanced Editor Plugin (previously TinyMCE Advanced)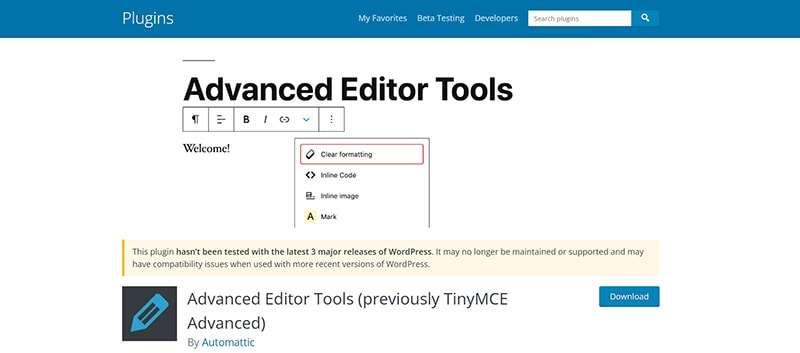 Millions of WordPress developers appreciate Advanced Editor Plugin (formerly TinyMCE Advanced). It offers the Traditional Paragraph block for those not ready for the block editor. In addition, it lets users utilize TinyMCE for most tasks and access all block editor blocks and new features. Advanced Editing Plugin 5.5 builds on version 5.0's additional functionality. For example, it has a better "Clear Formatting" button, advanced table settings, and file import/export.
This plugin enables you to add, remove, and arrange Visual Editor toolbar buttons in Classic Paragraph and Classic blocks in the block editor and classic editor. Font Sizes, Font Family, text and background colors, tables, and more can be configured in four rows of buttons. The buttons you choose instantly enable or disable 15 TinyMCE plugins under Advanced Editing WordPress Plugin.
This plugin also imports the theme's editor-style.css CSS classes and keeps paragraph tags in text mode. It converts most default blocks to classic paragraphs and back again. Search, replace, and set Font Family and Font Sizes in Classic blocks and the classic editor.
Advanced Editor plugin never stores user data. No cookies or third-party websites are used. It just uses WordPress and TinyMCE features. It's a great plugin that helps professionals and businesses improve their website's user experience without development resources.
MC4WP: Mailchimp for WordPress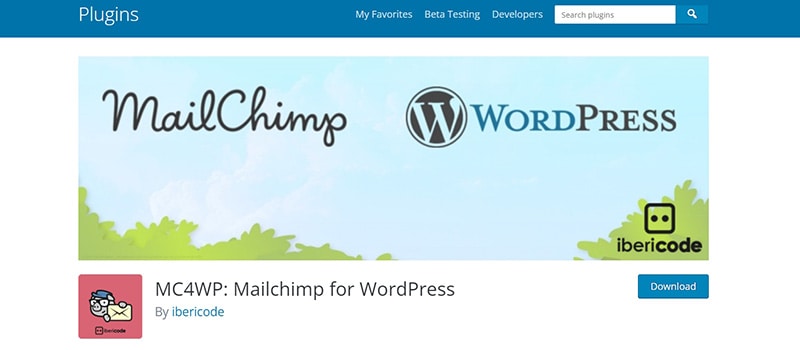 This WordPress plugin, created by ibericode, allows you to easily connect your Mailchimp account to a real-time autos site, creating good-looking and accessible sign-up forms that are mobile optimized. You have complete control over the form fields and can build your forms using native HTML.
With seamless integration with the WordPress comment form, registration form, WooCommerce, Gravity Forms, and many more, you can quickly and easily add your clients to your email list. Additionally, you can send your WooCommerce orders to Mailchimp to see exactly what each subscriber purchased and how much revenue your email campaigns generate.
If you need help setting up the plugin, the MC4WP: Mailchimp for WordPress has a knowledge base, WordPress.org support forums, and email support for premium users. Additionally, the plugin is developer friendly, with a repository of example code snippets to inspire you.
Mailchimp is a free newsletter service that allows you to send email campaigns to a list of subscribers. Creating an account is free and easy if you still need to start using Mailchimp. Then, choose your license, and start using the Mailchimp for WordPress Premium plugin for more benefits, such as creating more than one form, styling your forms easily, e-commerce integration for WooCommerce, email notifications, and more.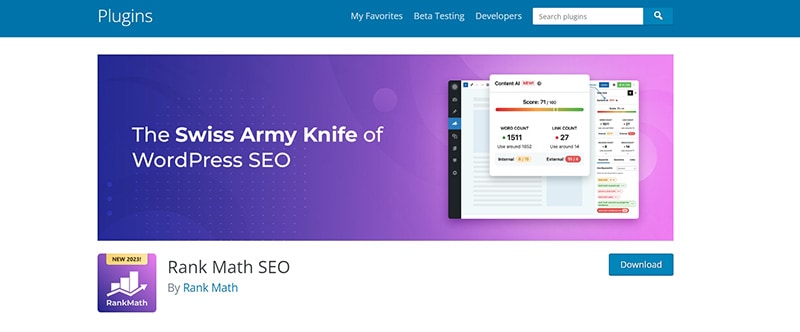 Rank Math SEO is an AI-driven WordPress plugin that provides website owners with the necessary plugin to optimize their websites for better search engine rankings. This powerful plugin boasts a user-friendly interface and features an easy-to-follow setup wizard that helps you configure SEO for your website perfectly. Rank Math includes advanced automation features that help website owners save time in optimizing their website and get access to top SEO capabilities that were previously out of reach. The SEO plugin's smart automation features give you the power of an entire SEO team with just a few clicks. With Rank Math, you can optimize unlimited keywords per post, and unlike other plugins, it lets you optimize your posts for an unlimited number of focus keywords.
Additionally, the plugin integrates with Google Analytics and Google Search Console, displaying essential information about your website right inside WordPress. This SEO plugin is a game-changer that will level the SEO playing field in your favor to help increase traffic to your website. With this plugin, you can quickly write highly optimized SEO content using Artificial Intelligence and get intelligent recommendations, dynamic keywords, intelligent questions, and smart links.
Smush – Lazy Load Images, Optimize & Compress Images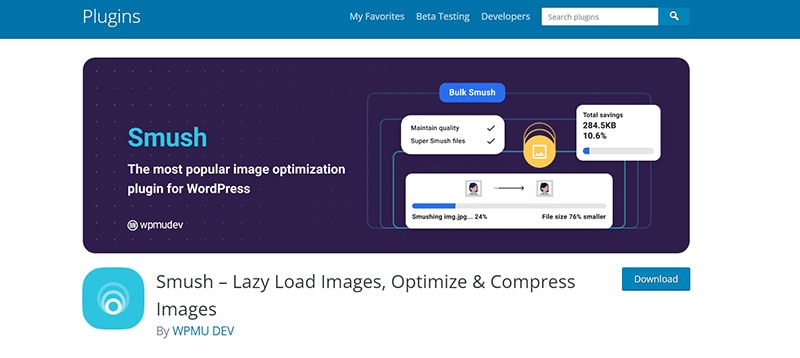 Are you seeking a powerful WordPress plugin to increase the page speed of your website and optimize images? Go no farther than WPMU DEV's Smush. This award-winning plugin has been tested and benchmarked for speed and quality, making it an excellent choice for image optimization and compression.
Smush provides several image optimization capabilities, including Super Smush for even more compression, slow loading to defer offscreen images, and lossless compression that removes redundant data. It also offers a bulk smush option that allows you to optimize and compress unlimited photographs with a single click.
One of the best aspects of Smush is that, because of its outstanding optimization features, it continues to run in the background even when the plugin is closed. It's also compatible with a wide range of WordPress themes, page builders, and media library plugins, allowing you to utilize it with whatever plugin you like.
Smush allows you to optimize photographs up to 5MB in size for free, with no daily, monthly, or annual limits. If you subscribe to the Pro edition, you can convert your photographs to Next-Gen WebP format for faster loading times.
Prevent slow-loading photos from degrading the performance of your website. Try Smush – today to witness the difference!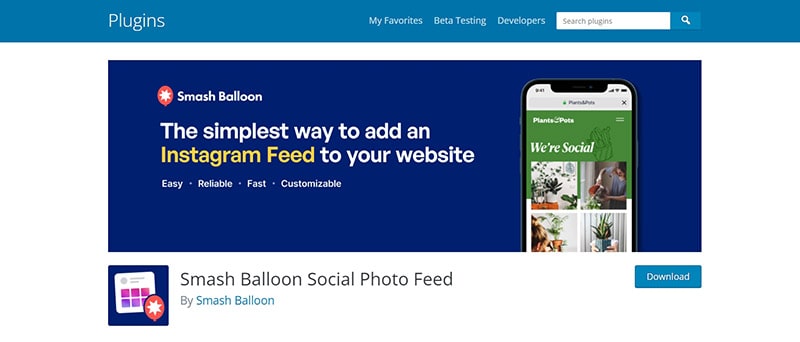 Look no further than the Smash WordPress plugin! This WP plugin lets you display your Instagram content directly on your website, making engaging with your followers and attracting new ones easily. With the Smash plugin, you can customize your Instagram feeds to match your site's design and layout, with features like background color, image spacing, and more. The plugin also integrates seamlessly with many popular GDPR cookie consent plugins, making it easy to stay compliant.
One of the best things about the Smash plugin is its simple setup, with no confusing steps or Instagram Developer account needed. Within 30 seconds of installation, you'll display your Instagram photos on your site.
In addition to the free version of the plugin, there's also a Pro version that lets you display hashtag feeds, view post comments, create carousels from your posts, and more. With a strong focus on providing excellent support, the Smash plugin is a must-have for anyone looking to increase social engagement, save time, and keep their website looking fresh.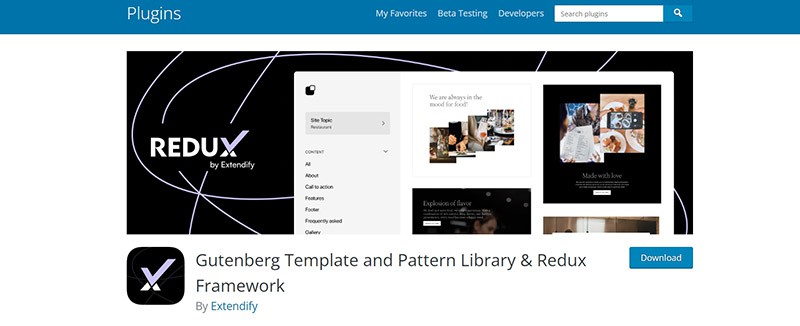 Check out the WordPress plugin Gutenberg Template by Extendify! This plugin lets you quickly create full pages in WordPress' Gutenberg editor.
The library has over 1,000 templates, layouts, and patterns for WordPress blocks. You can easily preview each on a demo site before choosing which to implement on your website. Plus, with built-in Gutenberg Block Patterns library support, you can filter content and site types to find exactly what you need.
What sets the Gutenberg Template apart is that their templates and patterns are guaranteed to adapt to your website's style, so you don't need to worry about compatibility issues. As a result, this plugin is perfect for website specialists, experts, and businesses who want to create stunning pages and templates quickly and easily.
You can find the plugin on its website, where you can browse, filter, and preview templates, layouts, and patterns. The best part? The plugin is developer-friendly, with clean code and inline documentation to help you easily customize and implement each template or pattern.
Supported by the most trusted option framework in the industry for creating a website from scratch or making updates to your existing website. The Gutenberg Template is an excellent choice for users of the WordPress 5.0+ Block Editor, and it's compatible with a wide range of popular themes, including Astra, GeneratePress, OceanWP, and more.
Whether building a small or large site, you can find templates, layouts, and patterns that suit your website's design. So say goodbye to hours of trying to recreate a design you love—get started with the Gutenberg Template today!
Ninja Forms Contact Form – for WordPress is a versatile plugin created by Saturday Drive that helps website owners to design beautiful, user-friendly WordPress forms that will make them feel like professional web developers. With this plugin, there's no need to be a tech person or possess any coding skills because it has a dedicated support team that is always available to address any issue or answer any question, no matter how small it is. Users can easily create beautiful and complex forms using the drag-and-drop fields and easy row and column layouts features. Furthermore, this plugin has advanced features that do not require developers' expertise, such as letting users upload files, sending or exporting submissions as PDF, Microsoft Excel files, and even Google Sheets. Ninja Forms plugin also allows users to accept payments and donations securely and easily with a payment or donation form, as it integrates with PayPal, Stripe, and other payment options. The plugin comes with pre-built templates that make creating a contact form, registration form, application form, MailChimp form, quote request form, and many others easily. It's mobile responsive, blends beautifully with any well-designed theme, and is available in 16+ languages.
Go no further than the Nextend Smart Slider 3 WordPress plugin. Its fully responsive and SEO-optimized capabilities enable you to create gorgeous sliders and communicate your tales without writing code. The UI of the live slide editor allows you to construct and organize your presentations efficiently by dragging and dropping layers and creating rows and columns to add the finishing touches.
Smart Slider 3 includes distinctive layouts that enhance and refine your sliders. Any element, including headings, text, photos, buttons, and videos, can be modified. This WordPress plugin contains responsive and mobile-ready sliders, allowing your website to be viewed on any device, such as a desktop computer, a mobile phone, or a tablet. Pick from various premade themes or construct a blank slider to create whatever type of slider you desire, such as an image, layer, video, or post slider.
Smart Slider 3 possesses numerous potent features, including default and absolute position editing, a slide library, a WordPress connection, and compatibility with page builders such as Elementor, Divi, and Visual Composer. Additional capabilities include control customization, slide backdrops, dynamic slides, font, a style manager system, template sliders, and SEO optimization. Several users have lauded the performance of Smart Slider 3, particularly its free edition, which offers more capabilities than competing slider plugins. Smart Slider 3 enables you to design gorgeous sliders and make your website look professional.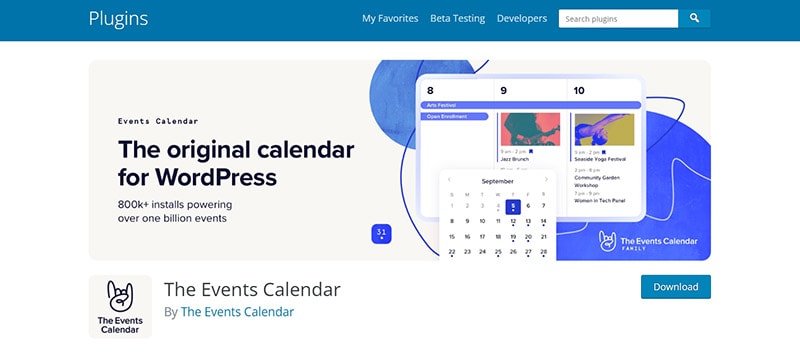 The Events Calendar is a WordPress plugin that provides users with an easy way to create and manage an events calendar on their website. This WP plugin is nice for website owners who need to keep track of in-person or virtual events, and it comes loaded with professional features. The plugin is easy to use and completely customizable, making it ideal for businesses of all sizes. With The Events Calendar, users can rapidly create events, add saved venues and organizers, view events by month, day, or list, and search for events. Additionally, users can export events to Google Calendar and iCal, increase their SEO with JSON-LD Structured Data, and choose from multiple stylesheets to improve integration. The plugin is completely responsive, making it accessible on any device. The Events Calendar has a library of extensions, extensive template tags for customization, and galore hooks and filters. Hundreds of thousands of small businesses, musicians, venues, restaurants, and non-profits use this plugin to publish and promote their events. The Events Calendar is free, or users can upgrade to Events Calendar Pro, Event Aggregator, and other add-ons to access additional features.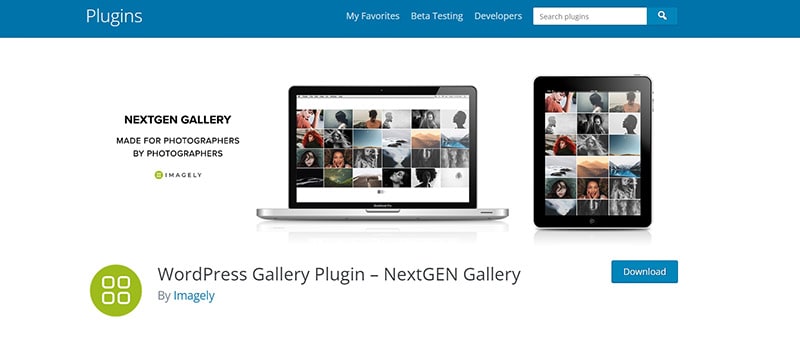 Are you running a website or business that depends on visual content like images and videos? Do you want to manage your media files easily and professionally? Look no further than the WordPress Gallery Plugin – NextGEN Gallery, by Imagely. Since 2007, NextGEN Gallery has been the industry's standard WordPress gallery plugin, receiving over 1.5 million new downloads annually.
With NextGEN Gallery, you have a complete WordPress gallery management system that allows you to batch-upload photos, import metadata, edit thumbnails, group galleries into albums, and more. On the front end, the free version of NextGEN provides three main gallery styles – slideshow, thumbnail, and image browser galleries – and two album styles – compact and extended. You can control size, style, timing, transitions, and lightbox effects.
NextGEN Gallery also offers two premium extensions – NextGEN Plus and NextGEN Pro – that add new photo gallery displays, lightboxes, e-commerce, proofing, and pro support. These premium extensions can take your visual content to the next level.
NextGEN Gallery works seamlessly with the Gutenberg block editor, enabling you to add a gallery or album anywhere on your site, with a page builder type feel directly in the WordPress editor.
NextGEN Gallery is mobile-friendly and offers a shortcode system for those who prefer to work with shortcodes. Customization options, such as password-protected galleries, watermarking, and customizing lightboxes, are also available.
Imagely, WordPrand ess photography experts maintain NextGEN Gallery. In addition to NextGEN Gallery, Imagely provides WordPress themes and turnkey websites for photographers and runs the WordPress Photography Podcast. Join over 1,000,000 users and take your photo site to the next level with NextGEN Gallery.
MailPoet – emails and newsletters in WordPress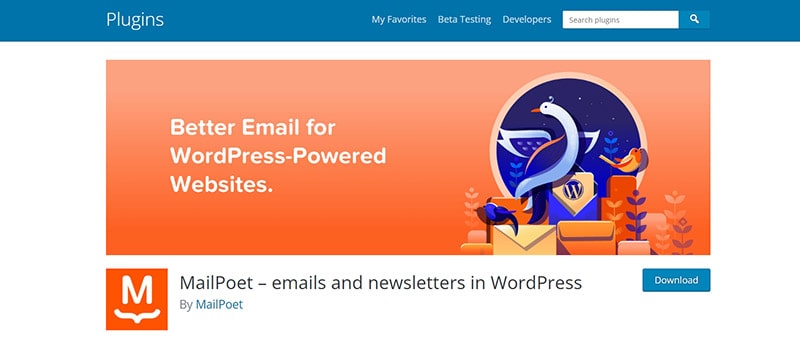 If you are looking for an effective email marketing solution, MailPoet can be a great choice. The plugin is designed for WordPress websites and has been trusted by 500,000 WordPress websites since 2011. This plugin helps you to create, send, manage, and grow your email marketing campaigns without leaving your WordPress dashboard. You can create beautiful emails from scratch or use responsive templates that work perfectly across all devices. With features such as newsletter subscription forms, subscriber segmentation options, automatic emails to send new post notifications, and abandoned cart emails, you can enhance customer service and boost your sales. MailPoet Sending Service ensures that your emails reach your customer's inbox and not the spam box. Moreover, the plugin is GDPR compliant and has a free plan for up to 1,000 subscribers.
Popup Builder – Create highly converting, mobile-friendly marketing popups

Are you seeking a solution to create high-converting popups on your WordPress website? Look no further than Popup Builder by Sygnoos. With various popup types and events to choose from, you can create effective promotional and informative popups that boost conversion rates and sales. The best part? No coding experience is required. Just choose your preferred type of popup and start creating. Plus, with the ability to fully customize the design and look of your popups and integrate them with third-party WordPress plugins like WooCommerce, MailChimp, and more, Popup Builder is the perfect solution for all your needs. And if you have any questions or issues, Popup Builder's great support team is there to help.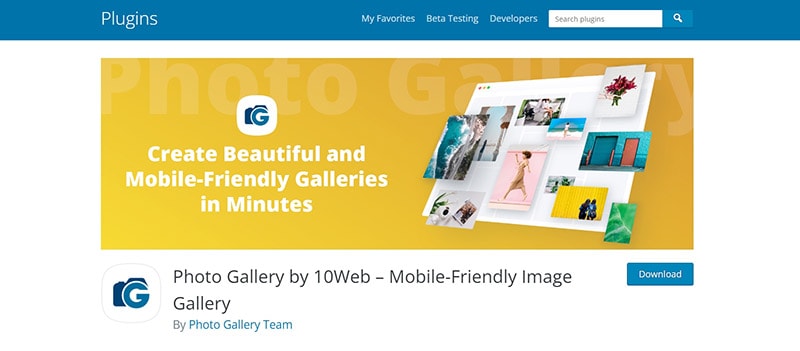 Picture Gallery by 10Web is an excellent plugin for adding responsive galleries and albums to your WordPress website. The plugin features robust functionality and aesthetically pleasing layout options, gallery and album views, numerous widgets, and extensions that expand its usefulness. This user-friendly plugin allows you to create photo galleries ranging from simple to complicated. It is ideally suited for photography websites, blogs, and websites desiring comprehensive image galleries with simple navigation. Benefits of the plugin include higher visitor engagement, enhanced SEO, improved website navigation, and a contemporary web design. Also, the plugin grants you complete control over the design, optimization, and presentation of visual information on your website. In addition, the Picture Gallery team provides quick and effective support. The plugin lets you organize your galleries and albums in attractive views, such as Slideshow, Thumbnails, Masonry, Image Browser, Extended and Compact Album, Blog Style, and Mosaic. You can create as many galleries and albums as possible and upload infinite photographs and videos. Videos from YouTube, Vimeo, Instagram, Flickr, or Dailymotion can be included in a gallery alongside photographs. Using the watermarking tool, you can safeguard the photographs in your galleries and albums from unauthorized usage by adding text or image watermarks. The plugin includes two themes by default, both adjustable in styling, colors, layout settings, and picture navigation choices. Users can post photographs on Facebook, Twitter, Pinterest, and Tumblr using social sharing buttons. Picture Gallery offers various add-ons for importing and exporting galleries and albums between WordPress websites.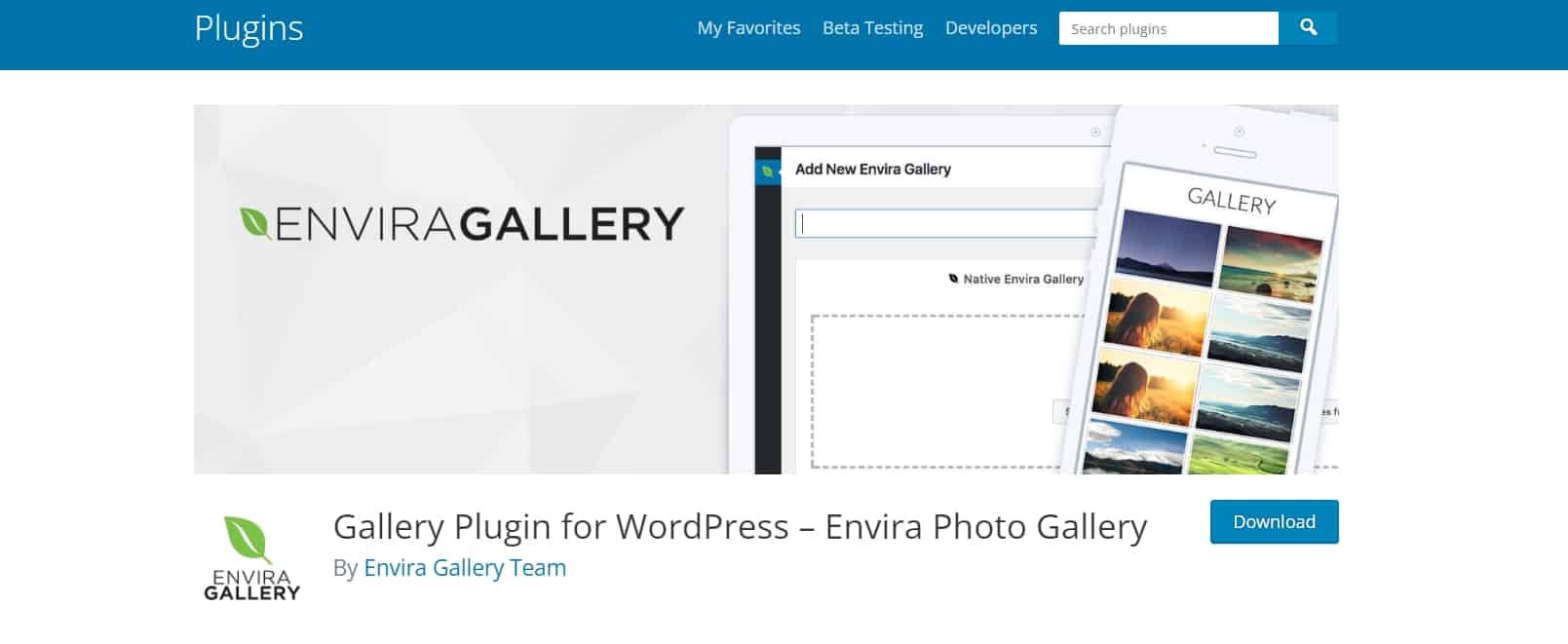 Envira Photo Gallery is a powerful, fast, easy-to-use plugin that allows website owners, specialists, and businesses to create stunning WordPress galleries in minutes. This drag-and-drop photo gallery builder, by Envira Gallery Team, provides users with a wide range of features such as social media integration, image proofing and a WooCommerce store. It is also mobile-friendly, SEO-optimized and customizable, allowing users to choose from beautiful templates and layouts or create their own. Envira works seamlessly with page builders, including Elementor, Divi, and Beaver Builder. With over 3 million downloads, Envira Photo Gallery is the go-to plugin for smart photographers, designers and developers who want to get things done.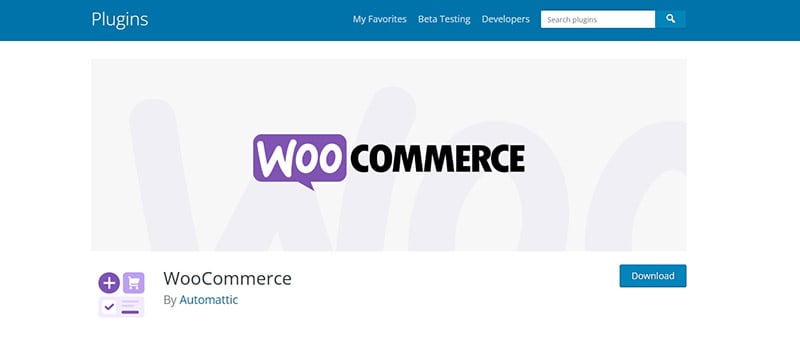 WordPress plugin WooCommerce is an open-source eCommerce solution, flexible and customizable, supported by a global community. It allows you to blend content and commerce to create enticing storefronts with themes suited to your brand and industry. With WooCommerce, you can increase revenue with an optimized shopping cart experience that converts and customize product pages in minutes using modular product blocks. WooCommerce also allows you to sell physical and digital goods, product variations, custom configurations, instant downloads, and affiliate items, as well as subscriptions, bookings, and memberships, with the help of developer-vetted extensions.
Moreover, WooCommerce leverages WordPress's SEO advantage to reach the top of search results. WooCommerce's built-in plugin and popular integrations can help you efficiently manage your business operations, including payments, shipping, and sales tax. You can also enhance store functionality with hundreds of free and paid extensions from the official WooCommerce Marketplace. WooCommerce also offers a powerful, customizable central dashboard for your store, WooCommerce Admin, which allows you to keep tabs on the performance metrics most important to you. With WooCommerce, you can own and control your store data forever, and developers can use it to create, customize, and scale a store to meet a client's exact specifications. WooCommerce also has a large, passionate community dedicated to helping merchants succeed, and it's growing fast.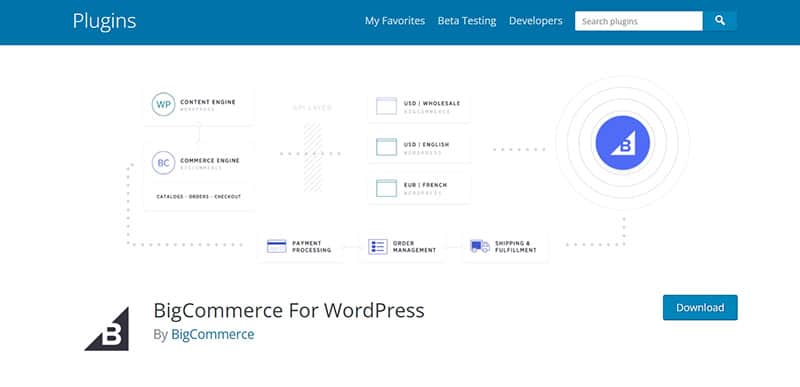 BigCommerce for WordPress is an amazing plugin that can take your e-commerce site to a new level. This plugin allows you to scale e-commerce further than ever before on WordPress. It has been built to integrate seamlessly with WordPress, enabling you to access native e-commerce features from a single plugin. With BigCommerce on the backend, you will free up server resources from tasks like catalog management, processing payments, and managing fulfillment logistics. This plugin differs from your traditional plugin in that it leverages the best aspects of WordPress and BigCommerce, allowing WordPress to manage content while BigCommerce manages e-commerce. The plugin is highly scalable, allowing you to build complex catalogs and manage large volumes of concurrent traffic, orders, and analytics. It also offloads backend resources and handles PCI compliance, offering extensive payment gateways and multi-channel selling and management. Finally, it works with any WordPress theme, although you may need some styling to make it perfect.
Other 25 Popular WordPress Plugins
Using WordPress plugins is crucial to creating a successful website. Nevertheless, choosing from among thousands of options can be time- and effort-consuming. To assist you in making the best decisions for your website, here are 25 of the most popular WordPress plugins, their key features, and the quantity of active installations.
| | |
| --- | --- |
| Plugin Name | Key Features |
| Contact Form 7 | A simple and flexible contact form plugin |
| Elementor Website Builder | Drag and drop page builder with pixel-perfect design |
| Classic Editor | Enables the classic editor and old-style Edit Post screen |
| Akismet Spam Protection | Anti-spam protection to block spam comments and form submissions |
| Really Simple SSL | Leverage your SSL certificate and protect your visitors |
| All-in-One WP Migration | Move, transfer, copy, migrate, and backup a site with 1-click |
| Wordfence Security | Firewall, malware scanner, and login security |
| Yoast Duplicate Post | Clone posts and pages with the powerful Rewrite & Republish feature |
| LiteSpeed Cache | All-in-one acceleration and PageSpeed optimization |
| WordPress Importer | Import posts, pages, comments, and custom fields |
| UpdraftPlus WordPress Backup Plugin | Complete backups with manual or scheduled options |
| MonsterInsights | Free Google Analytics plugin for WordPress |
| All in One SEO | Comprehensive SEO plugin to improve rankings and traffic |
| WP Mail SMTP by WPForms | Connect with SMTP and popular email services |
| Site Kit by Google | One-stop solution for using Google Analytics, Search Console, AdSense, and Speed |
| Duplicate Page | Duplicate posts, pages, and custom posts with a single click |
| Redirection | Manage 301 redirects and track 404 errors |
| Limit Login Attempts Reloaded | Block excessive login attempts and protect against brute force attacks |
| Advanced Custom Fields | Customize WordPress with powerful and intuitive fields |
| WP Super Cache | Fast caching engine that produces static HTML files |
| WPCode – Insert Headers and Footers + Custom Code Snippets | Easily add code snippets and scripts |
| Classic Widgets | Enables the classic widgets settings screens in Appearance – Widgets and the Customizer |
| Duplicator – WordPress Migration & Backup Plugin | Clone, backup, move, and transfer sites |
| Essential Addons for Elementor | Free elements including Advanced |
| Loco Translate | Translate WordPress plugins and themes in your browser |
And there it is—a thorough list of the top 25 WordPress plugins. Numerous plugins are available to improve your WordPress website's usability, security, and effectiveness. There is a plugin for every need, whether you want to boost your SEO, add a contact form, or back up your website. Having seen the table, let's examine some top plugins and their main features in more detail.
Bottom Line
Well, folks, we've covered a lot of ground in this article about the 45 Best WordPress Plugins in 2023. We hope you've learned a lot and found some new plugins to try out for your website or campaign. As you can see, many reliable and useful plugins are available to help you engage with your audience, schedule content, and learn more about your visitors.
If you're looking for something specific, we recommend you read more about the plugins we've called out and install the ones that make the most sense for your needs. From pop-up surveys to CTA triggers, plugins exist for every landing page or website URL.
As entrepreneurs, staying on top of current trends and following what's coming soon in WordPress plugins is important. Keep an eye out for new releases and updates, and be bold and try something new beyond the plugin's total downloads or related reviews.
To engage your audience and get their attention, try using the Plerdy WordPress plugin. This special plugin can help you schedule campaigns, trigger pop-ups, and even run NPS or CES surveys to notice visitors' thoughts about your WordPress website.
Remember, it's less about the number of plugins you install and more about finding the ones that work best for you. So read up, engage with your current audience, and try out some new plugins to see what difference they can make for your website or special campaign.