Do you promote your brand online?
Guess what?
I have a fantastic idea for promoting your brand through a team of professionals!
Over the past decade, the business world has shifted its strategies. As a result, new opportunities are constantly emerging in this advanced world; one of those opportunities is digital marketing. The reason is the widespread use of the internet.
Entering this online ocean alone can be terrifying or even drown you. In that case, a digital marketing agency could be your savior. But, unfortunately, this is because you won't be in a position to take advantage of this vast opportunity accurately.
With the help of a digital marketing agency, it might seem simpler to increase visibility in front of a large audience and adapt to the new marketing strategies for building a brand.
Here are some tips and tricks for choosing a digital marketing agency. So, without much further ado, Let's get in.
What is a digital marketing agency?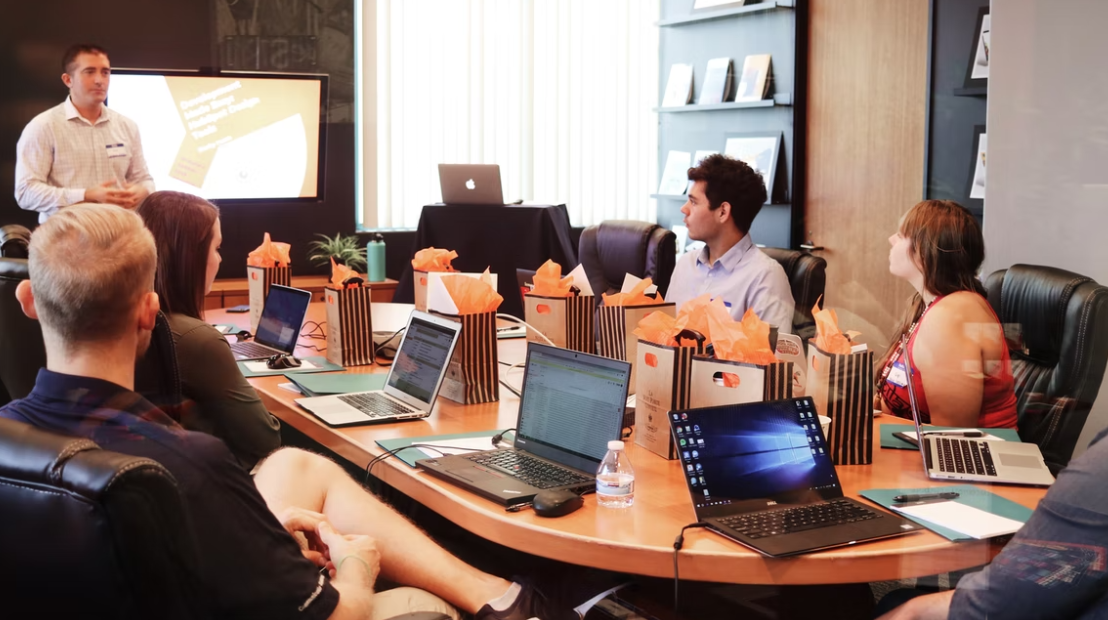 Digital marketing is a never-ending endeavor. Ranking websites on top of SERPs is just half the long run. Your online marketing tasks can only be handled and carried out consistently by a team of professionals. Therefore, the digital marketing agency employs strategies to promote brands that are constantly visible to the targeted online customers.
Several marketing components are used in this field of digital marketing, including
SEO (Search engine optimization)
SMM (Social media marketing)
SEM (Social engine marketing)
Website Maintenance
Website development and design
Lead generation
Data analysis and reports
Email marketing
Video Marketing
Strategic development
A digital marketing agency has the flexibility to handle all the tasks at once. After all, they have specialists in every field. But, on the other hand, you shouldn't let money go to waste when you have the room to outsource, which can be more affordable than adding a new department. This is because when you spend all your time just marketing, you lose track of other business areas.
Whether you're in the establishment stage of a business or have already established popularity, the less you hire a person, the more chance you have to gain profit. It can be the best solution if the company aims to grow sales, develop customer loyalty, and promote its brand.
What does a digital marketing agency do?
Back in the day, when conventional marketing methods like television ads, read-out ads on local radio stations, and handout flyers predominated globally, today's advanced use of the internet stands firmly and builds a new kind of marketing process.
In the recent past, 81% of people looked up information about the products they planned to purchase online. As a result, several well-known brands turn to digital marketing agencies for help because they can manage all kinds of digital marketing efforts to obtain high conversion rates.
If you're still unclear about what they do to achieve greater results, consider these tasks:
Design and develop the website's user experience and interface
Build brand awareness through social media channels.
Monitor campaigns and implements consumer behavior outcomes to get better data-driven solutions.
Work on search engine optimization (SEO) and social media marketing (SEM) campaigns.
Review the campaign with the right metrics and KPIs (Key Performance Indicators) before evaluating campaign performance.
Create a plan for PR, backlinks, and content marketing.
Supervise Email campaigns
Acquire knowledge of digital marketing principles like digital display ads and trackers.
Market to target audiences via social media.
Seek new opportunities to generate leads and boost the ROI
Why hire a digital marketing agency?
Companies struggled to keep up with demand during the pandemic. As a result, they decided to outsource their digital marketing activities to the firm. Outsourcing is not a new concept in the marketing world, yet every established company hires a digital marketing agency to widen its brand as fast as possible. It is the place of experts who are very knowledgeable about their fields.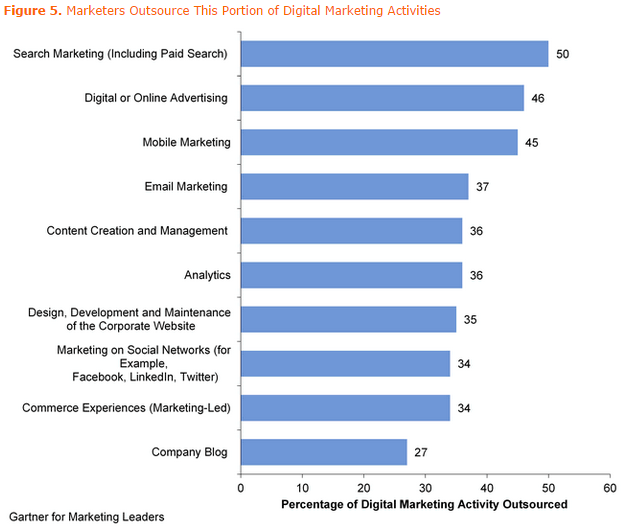 In this graph, you can see that most marketers invest almost half of the portion in search engines, PPC (Pay-per-click), and nearly half in online advertising.
66% of established businesses outsource their digital marketing efforts to an agency. 75% of outsourcing is done to cut costs. Primarily, they appoint agencies to firmly build their place in the SERPs and generate high conversion rates.
This fills the gap between brand and targeted audience. The metrics of using digital marketing are impressive. Several digital marketing studies have found that blogging is the only way to generate 67% of leads, and SEO boasts a 14.6% higher conversion rate than traditional outbound marketing.
There are numerous additional justifications for hiring experts in digital marketing.
It helps expand the business online.
It drives more conversions and boosts ROI.
They have access to numerous resources that may not have.
You can relax knowing that professionals handle everything.
 They are capable of reaching more social channels.
They recommend the right activities to experience the brand, targeted audience, and KPIs.
Agencies are comparatively cheaper, which means big time savings for businesses.
They will analyze the metrics and redevelop action plan.
How to choose a digital marketing agency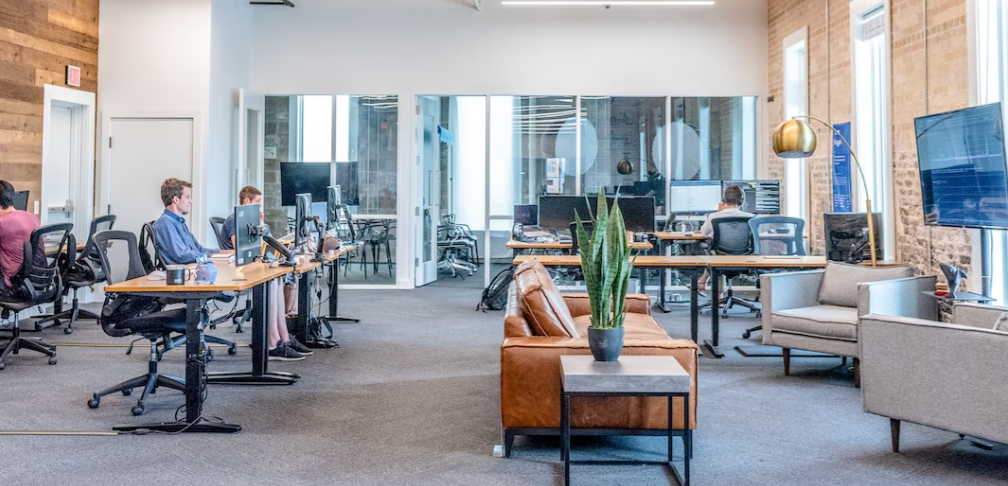 It seems easy to choose an in-demand digital marketing agency, but it is far more difficult. Do you feel confused about which one is best?
Hold on! We're here to make things easier, and I'll share my top picks with you there.
Well-designed website – Can help with building trust
They only have 15 seconds to impress the audience in the modern digital world visually. So if the website design doesn't excite you, stick around for a little longer. This is a result of their inability to create visually appealing websites.
How can you believe them with yours?
So look for a digital agency with a visually appealing website design that captures their enthusiasm and excellence.
Skills and expertise – Identifying what skills and expertise your project requires.
As a digital marketing agency, they have a team of experts who have gathered a ton of resources that you've never had access to. Make sure your agency offers services depending on requirements and assists in making changes following Google updates and algorithms.
One more thing to consider is direct communication. For example, if you're having trouble figuring out who is on the marketing team, you can check on LinkedIn, make it clear over the phone, or send an email that wants to know about the employees' areas of expertise.
To elicit justification, you can ask a few of the following questions, like
Can you give me some examples of your work for current or past clients?
 Do employees collaborate or operate on their own?
 When working on my account, will the same creatives and strategists be involved?
 Do you outsource a portion of your services or complete packages of services?
Making the right choice in a digital marketing agency can speed up your success.
Industry reputation & experience – Makes it clear why they're worth it.
Which type of digital marketing agency is best for you?
Those who have a good reputation and experience, right?
Each industry has different entry barriers, suppliers, target markets, and customer profiles.
Find an agency that has a solid reputation and works with diverse industries. When hiring an agency that has a thorough understanding of the company, even they can assure better service for the audience and higher conversions. In addition, having insight that constantly identifies areas for improvement will help you strengthen your position in the digital market.
Clear goals and desired outcomes – Able to achieve something worthwhile
Do you have clarity about the goals and the results? If so, you're on the right track. If not, find out first.
We said this because it can be difficult to choose the best digital agency if you're unclear about objectives. Some digital marketing firms offer "full service," while others specialize in two or more fields. These projects fall under their expertise, so might only require one service at a time or in stages. On the other hand, it might be your big-time savings, and I hope to achieve the best outcome.
Check reviews & testimonials – It strengthens the brand's reputation.
Reviews and testimonials from clients can reveal a lot about an agency. They are either inexperienced or have never had any clients if they have no testimonials or reviews.
There is no denying the fact that social proof, or reviews and testimonials, differentiates it from other agencies, but creating communication can help to build its credibility. A trustworthy digital marketing agency will reply to you immediately and show transparency in their actions and words.
Look at the agency's capabilities – How they manage digital transformation in your business.
Is the agency able to help business get ready for digital transformation?
If yes, that means you're in the right hands.
In essence, digital transformation converts and adapts to escalating customer expectations and society's technological changes. As a result, it encourages businesses to pick the appropriate technology and identify any issues that need to be updated or replaced.
The knowledge of technology, the method of technology adaptation, and innovation are all important factors to consider when looking for the best agencies. Factors that may have worked extremely well ten years ago might not be practical today due to the constant evolution of time.
Currently, most marketers depend on technological automation rather than customer needs. We agree that knowledge of technological automation must be required, but at the exact time, not every time.
Ask about marketing strategy – How does marketing strategy work
Every business has a unique approach to formulating a strategy. Agencies are fully aware of their goals to satisfy their clients' needs. Ask about their intentions to meet your needs and the timing and methodology used to identify your customers' needs.
This is so that a sound strategic plan can effectively distinguish between sales and exponential growth. Make sure to interview at the front of the line when talking about their online marketing strategy and the credentials of their hired employees.
If you're convinced about their market strategy at this time, you ask them to give some samples of their work.
Consider the pricing.
Does the agency you've chosen fit your budget? This is because the budget can limit boundaries. If you hire an agency within your budget, you can maximize the things you can do for your business. It is not all about the budget issue; the concerning factor is the value of services.
With outsourcing, you can eliminate your dependence on employee overhead costs while utilizing the team's research and innovative thinking to help accomplish your goals. Ensure that you are getting the best services and inquire about their packages or pricing rates, which must be within your budget, or negotiate the best for you.
Conclusion How To Choose A Digital Marketing Agency
If you want to handle these marketing initiatives on your own, the rapid advancement of technology and the digital age have become the worst nightmare. However, instead of being discouraging, it serves as a reality check. The tips mentioned above will assist in choosing the best digital marketing company. Then, working together, you can create the best strategy for a company that will enable to generate high-quality leads and advance your online presence.
Plerdy, a conversion rate optimization tool, is a good choice if you want to examine the sales performance of your website, learn about your users' experiences, or even track visitor drop-offs. After hiring a digital marketing agency to handle your outsourcing needs, this top conversion tracking tool may help you determine the best conversion results.