While no content marketing tool can replace a solid marketing strategy and talented humans, having the right tech stack can help you get the job done better, easier, and faster👌
Hundreds of content marketing tools are available now, some of which are free or inexpensive, while others are quite costly. Such marketing tools also serve various functions, from content creation to promotion and optimization. Every year, the content marketing technology landscape expands.
This is exciting because it means that if you have a problem, a software solution will likely help you solve it. It is, however, overwhelming. How do you decide which of the several hundred marketing tools to try?
This post will assist you in making the right decision. Let's go over the best content marketing tools available right now.
Why Do You Need Content Marketing Tools?
What is the significance of content marketing? Sunny Shinde, Founder and CEO of Revenue Marketing, marked that "Marketing is telling the world you're a leader; Content Marketing is showing the world that you are one."
Content marketing is important because it is a low-cost, long-term marketing strategy. According to the State of Inbound report, 80% of marketers prioritize content creation. Furthermore, content marketing accounts for 26% of B2B marketing budgets on average. And to create valuable marketing content, you need efficient content marketing tools.
The following are some of the most significant advantages of content marketing tools:
By creating unique marketing content, you can increase conversions.
More and better leads will be generated.
Your audience will trust you.
You will gain more traction on social media.
Brand awareness can be increased by producing high-quality marketing content.
To summarize, content marketing is crucial because it is a low-cost, long-term marketing strategy that nurtures your audience, answers their questions, and builds their trust. And all this helps your company generate more leads, conversions, and sales.
List of Top 13 Content Marketing Tools for Businesses
I've compiled a list of content marketing tools for businesses to help you take some things off your plate.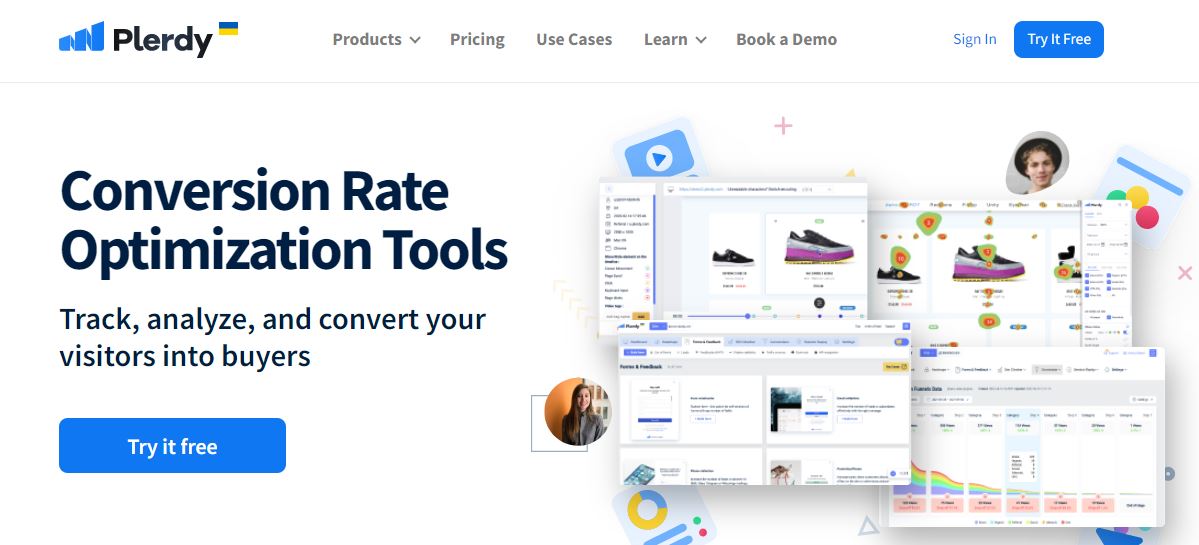 Plerdy is an excellent marketing tool for growing your conversion rate. This is a conversion rate optimization tool with a plethora of useful features in terms of:
There are numerous heatmaps to choose from. You can see how people interact with your website, scroll through it, and so on. You can also view videos of your customers' interactions. It's like a series.
This marketing tool is about better understanding your audience, why your website isn't converting well, and how you can change and fix it. So, learn more from Plerdy, and you will gain a wealth of knowledge about how your audience navigates your website.
Based on the gathered information about your business customers' behavior, you can determine weak points in your website content. Once you fix them, your marketing efforts will bring better results and higher conversions.
Many companies reportedly use this tool in their tech stacks, including Dr.Leeds, Divine Design, and FLOWYZE.
I got Plerdy mainly for the recordings of the user interactions and the heatmaps but nos, but I'm using the SEO functionalities and for the price point is a great tool. — Cesar V.
2. Content research tool: Statista
This content marketing tool is ideal for writers and SEO marketers. This tool collects data from market research, trade publications, scientific journals, and government databases that you would otherwise have to pay a premium for if you subscribed to each magazine individually.
It's not a free content marketing tool, but if you want to write high-quality marketing content, this is a subscription you should consider early on.
Finding credible sources and statistics is a challenge for any content marketer. Aggregator websites frequently credit one another, making it nearly impossible to see the source.
Statista, on the other hand, displays sourcing information right next to charts, making it simple to see where data comes from.
This marketing tool is trusted by over 23,000 businesses, including such huge companies as Google, Samsung, PayPal, Adobe, and P&G.
I have been using Statista for the past two years. It is an excellent resource for data and statistics on various topics. — RS.
3. Content measurement marketing tool: Google Analytics

This marketing tool is ideal for learning about your audience and tracking website metrics. This content marketing tool is widely available, free, and simple. Use it to see how visitors found your website and to monitor visitor behavior.
You can only talk about content marketing tools by mentioning measurement. Sure, SEO tools like Google Search Console can provide useful information. However, you will also require a digital analytics platform to track business metrics.
This marketing tool is one of the most popular on the Internet. It's simple to use and completely free. These are two significant advantages.
It is, however, extremely powerful if you are technically savvy and know how to configure the marketing tool properly. You can track goals, such as form submissions or product purchases, and behavioral events, such as scroll-depth.
The best part is that you can do little to get access to all of this information. Create a Google Analytics account, copy the provided code to your website, and you're ready to go. Google Analytics will begin tracking data from your website automatically.
69,102 companies reportedly use this content marketing tool in their tech stacks, including Uber, Airbnb, Spotify, Udemy, LaunchDarkly, Robinhood, Slack, and Google.
Google Analytics is easy to use and provides an abundance of detailed and accurate reports. It also integrates well with other Google products, which makes it even more powerful. — SUDIP M.
4. Content analytics marketing tool: Digimind

Digimind is a social media analytics platform available online. This tool allows businesses to monitor brand or industry-related conversations and provides insights and data to optimize marketing strategies. It also includes a customizable dashboard for tracking the marketing performance of your content across an unlimited number of social accounts.
Digimind is the industry's leading social media monitoring and competitive intelligence software, created for businesses, brands and agencies looking to accelerate digital transformation through an insights-driven approach. Digimind's best-in-class technology, recognized by Forrester and Gartner, transforms social and online data into actionable business insights, allowing marketers to plan, execute, and analyze their marketing strategy effectively.
Companies such as Canon, McDonald's, Macy's, L'Oreal, Audi, Honda, and others have used this tool.
The dashboard is super user-friendly, and our account person is the best! Very knowledgeable and helpful. — James J.
5. Content experience marketing tool: Scribble Live

ScribbleLive is a content marketing tool that expands your content's reach by sharing it on social media and syndicating it to over 500 ScribbeLive partners. The tool assists marketers in developing and managing their content strategy while publishing content on the go.
This leading content marketing tool uses big data to help businesses grow and expand the top of the marketing funnel. The all-in-one SaaS solution combines predictive analytics with content planning, creation, and distribution technologies to deliver optimized business results.
The companies that use this marketing tool include CNBC LLC, Search Engine Optimization, Inc., TaskRabbit, Inc, CBS Local Media, and Blackfriars Group.
ScribbleLive is an excellent product for producing information and content rapidly. It's simple, easy to understand, and doesn't require much time to set up. — Mike R.
6. Influencer marketing tool: BuzzStream

BuzzStream is an influencer outreach management tool that helps marketers identify the best influencers for their content and audience. Using the tool, you can organize your outreach by project, add tags, and assign specific contacts to team members.
BuzzStream's adaptability makes it a popular choice among numerous market conglomerates.
The companies that use this content marketing tool are Glassdoor, Fractl, Siegemedia, Seer, Taylor & Hart, Airbnb, Canva, Shopify, and Indeed.
The most helpful is the Bulk sends to that I can send as many as possible because it's automatic sending, and there are emails and names directly, and I'm thankful for that. — Marivic D.
7. Content project management tool: Basecamp

Basecamp is a dependable online project management software for businesses that makes it simple to organize people, delegate new projects, and track team members' progress. It also has a remote project management system that allows users to collaborate regardless of where they are. Basecamp can also store documents and files via a simple drag-and-drop mechanism.
The companies that use this content marketing tool include Search Engine Optimization, Inc., Blackfriars Group, NetSuite Inc, The North Face, Inc., and California State University-Stanislaus.
Communication with our clients is much more organized and efficient with the message board, and I love that we can track to-do dates and link to online calendars for reminders! — Barbara B.
8. Content sourcing tool: HARO

Help a Reporter Out, or HARO, is an online public relations platform that journalists and bloggers from popular websites use to connect with sources to assist with their content. As a result, sources can obtain valuable media coverage from high-traffic websites, which is beneficial for branding and SEO.
This content marketing tool is the most effective online service to increase brand awareness, build trustworthy links, and create unique and relevant content.
Despite its origins as a tool for journalists, HARO is now used by marketers, link-building experts, public relations specialists, and online business owners worldwide.
HARO's key features are as follows:
Look for specific topics
Email alerts at the right time
A wide range of subjects are covered
A large database of potential sources
The interface is simple to use
The companies using this content marketing tool are Fast Company, CNBC, VentureBeat, Examiner.com, Workopolis, Monster, The Globe and Mail, and The Guardian.
I like how the DR is available. When wanting to create valuable backlinks to your site, knowing the DR upfront helps you achieve that goal faster. — Donna G.
9. Content writing marketing tool: Grammarly

This content marketing tool is ideal for editing and proofreading content before publication. This tool works across multiple communication channels, including email, documents, and social media.
The key features of the tool are as follows:
Use shared guidelines to help teams sound consistent by encouraging brand-specific language and tones.
Follow clear suggestions to make your writing easier for your reader to understand.
Seek advice on how to change the mood and attitude of your writing without changing the meaning.
Catch typos, missing punctuation, and frequently confused words before they distract your reader.
Their browser extension is compatible with Chrome, Safari, and Firefox, and it  provides a free basic grammar and punctuation plan.
The companies that use this content marketing tool are Website Profit Course, MindJournal, Starter Story, Pain Care Labs, a dba of MMJ Labs, CanvasChamp, Blue Coffee Box., Taylor & Hart, and Flaming Licks.
Great integration across all possible text fields, online or desktop apps. It is a versatile tool for spell check, and the free package has a lot of features such as the tonality of the paragraphs. — Sid K.
10. Content optimization marketing tool: Clearscope

Clearscope is a content optimization tool powered by artificial intelligence (AI) that assists users in creating highly relevant new content and refreshing old content for optimal ranking.
This content marketing tool provides the highest quality recommendations, a simple-to-use interface, and a one-of-a-kind content grading system. Its reports also include a shareable link for writers; they do not require a password to access the report.
Users can use this marketing tool to determine which keywords to include, which questions to answer, how to organize and structure the piece, how long an article should be, and how to improve readability. Users can also compare their work with their top competitors' one.
Clearscope assists content teams in producing high-performing SEO content from start to finish:
Determine relevant keywords and topics.
Streamline content creation and quality control.
Keep an eye on the performance and decay of your content.
Companies such as Shopify, Condé Nast, Deloitte, Adobe, Intuit, and HubSpot use this tool to increase SEO traffic.
Clearscope is an excellent tool if you're looking to improve your overall SEO page rank. It's very intuitive, and the customer support is second to none. — Angelo F.
11. Content distribution marketing tool: Quuu

Quuu is the content marketing tool that will assist you in obtaining high-quality recommendations based on the interests of your target audience. To ensure that your audience receives the highest-quality content, Quuu's content is hand-curated and individually evaluated by a team of knowledgeable content managers.
You can share your content on various social media platforms by using this tool. It is one of the most popular social media marketing tools among bloggers because it provides multiple features that allow them to quickly share their content with their large community of followers.
This marketing tool allows users to schedule their posts automatically using the Quuu Promote feature.
Quuu provides an easy-to-use interface with a simple list of account options for managing your scheduling and sharing. It also allows you to add content from the web by entering links into text boxes or uploading images directly into its database.
Furthermore, if you need assistance getting started with a campaign, this tool provides free training videos that will walk you through each step of creating one.
Content Marketing, SEO, and Digital Marketing are the top three industries that use Quuu as a Content Discovery Platform.
When you need to know what content to look for or don't have the time, it can give you ideas, if not direct content, you can use for social posts or engagement. — James L.
12. Content design and video tool: Canva

This content marketing tool is ideal for creating custom marketing materials. Canva's user-friendly interface makes it simple for novices in designing to create infographics and other materials suitable for print materials, social media posts, and blogging platforms.
This marketing tool is excellent for creating content marketing imagery such as social media images, blog cover photos, Twitter cover photos, etc. It's versatile.
Begin by using one of their templates or start from scratch. This marketing tool allows you to create materials by dragging and dropping different elements on the canvas.
The Canva tool has been used by large corporations such as Coca-Cola, McDonald's, and Nike to create marketing materials and designs for their social media accounts.
Canva is an application or website where I can create anything for any platform, whether it be Facebook, Instagram, or a Website. It has multiple uses for a designer and being a passionate designer, I use it now and then. — Sarthak S.
13. Content team collaboration marketing tool: Trello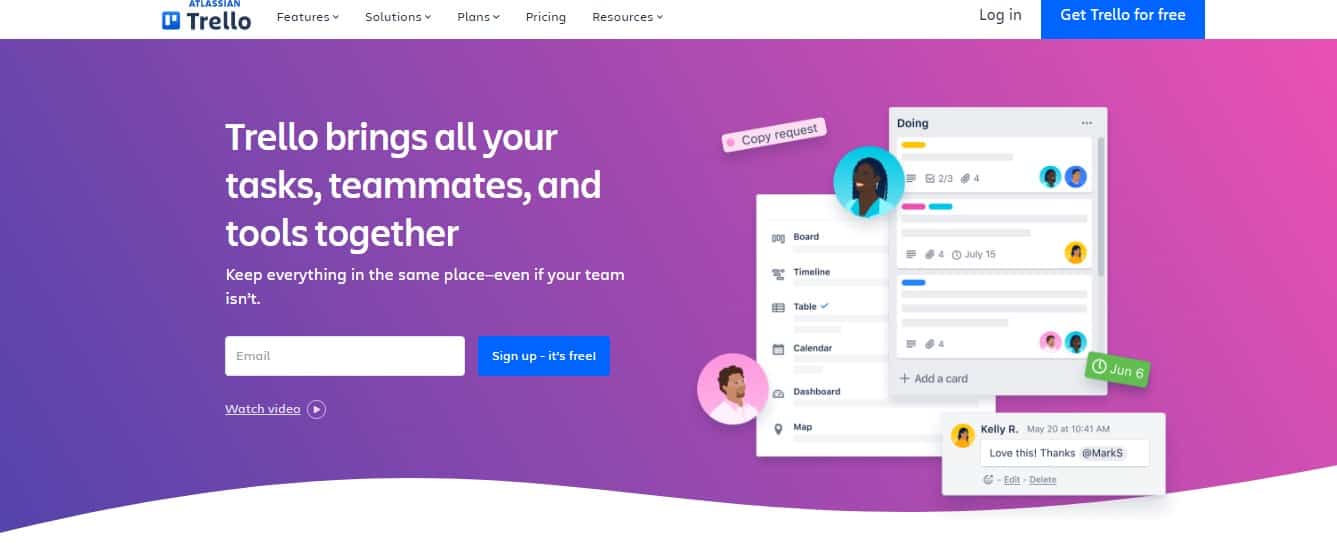 This content marketing tool is best known for task management and project management. Trello centralizes all your team's projects and is adaptable enough to grow with your changing needs.
When you're ready to start creating content, you'll need a way to keep track of everything. This is especially true if you're working with a large number of staff or guest writers.
This marketing tool is a simple kanban and project management tool that can be used for multiple marketing purposes, including growth experiments, sales pipelines, and product feature roadmaps.
Companies that use this content marketing tool are Unicef, Tumblr, Spotify, PayPal, and Google.
Trello has a quick and easy path to organizing, visualizing, and rationalizing your projects. It's great for all sorts of things. I use it for Game Dev, Budgets, Inventory, and more. — David B.
Your command of content marketing tools determines your success as a content marketer. However, sifting through the thousands of available content marketing tools can result in information overload. That's why we gathered 13 of the best content marketing tools above.
Conclusion
Content marketing is a road of confusion, mistakes, and difficulties for businesses, but the further you go down, the easier and more rewarding it becomes. The above 13 content marketing tools are the simplest ways to increase engagement with your content without investing a lot of time and effort.
Simply select the ones you want to test and see which content marketing tool will bring the best results to your business!😉