Web agencies keep offering versatile tools for conversion boost. Why are these tools on the rise today, and which tool may completely change your business story? Let's dwell on conversion and its role first. Conversion measures a website's effectiveness in motivating users to take targeted action. The high rate of users who have visited the website and have been driven to purchase, watch a video, go to a particular page, or any other targeted action is a sign of efficient website improvement. It is good to use a tool for measuring conversion metrics; however, it is vital to track these continuously. So what tracking tool can help you stun your competitors with viral sales? We will share a clue to this question! 😉
Tracking website conversion rate is a necessary part of the website optimization process. Otherwise, it is impossible to determine the benefit of the website and its elements. Still, you create a website for some specific purposes. Of course, the number of visitors says much, but it is hardly the main task. Most likely, the online store is not created to be visited by 5000 users but for the visitors to make X number of purchases or spend Y money on them. It is the same story with service websites.
Special conversion rate optimization software helps significantly with this task. It can show you futile elements, CTAs, buttons, etc., on the website. This software can also help you grow visitor engagement with your content, products, or services.
Tips for Choosing the Right Conversion Rate Optimization Software
Let's discuss some tips for choosing the right one for your website:
If you still have any further questions, it would be great to contact the support of your chosen tool for help or book a call.
A List of 10 Best Conversion Rate Optimization Software
There is a lot of conversion rate optimization software, but each tool has different functionality and accuracy. Some tools can even negatively affect your conversion rate optimization (CRO). So, we have prepared the ten best conversion rate optimization software to increase the revenue of your online business. Learn more about the best optimization tools.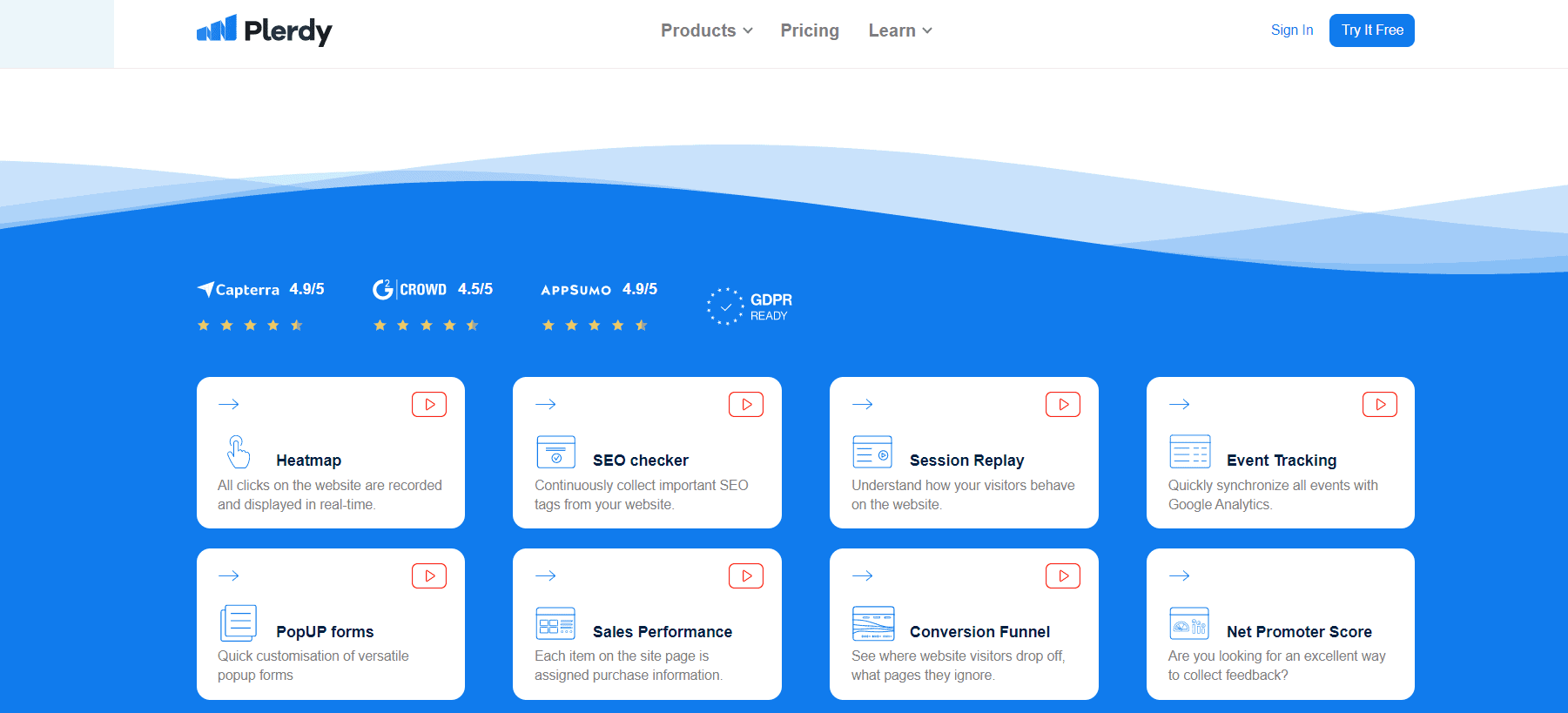 Plerdy is a versatile platform for optimization and improving conversion rates. It offers tools that can not only help with conversion rate optimization but also positions in search results. Plerdy has a huge number of optimization advantages over other platforms for conversion rate optimization; for example, it provides more accurate data, which allows you to take more effective actions.
Plerdy conversion rate optimization software combines several powerful tools :
Annex Tour, Kredo Bank, MOYO, Template Monster, and Neatpeak already use Plerdy for conversion rate optimization.
Plerdy review from Anthony:

About a year ago, I analyzed the best conversion tracking and popup forms service. In the end, I`ve found Plerdy and understood that it was exactly what I was looking for in the company. I`ve been using it for a while and paid monthly, but now I`m happy to get an LT deal for this great software. During the pandemic, my business is struggling, so it's a relief for me.
Plerdy review from Potgieter:

I am so happy with this conversion rate optimization software. We are in the process of revamping our webpage, and thanks to Plerdy, we have identified important UX improvements that have got us a huge impact on conversions. It is so easy to set up, and the insights you get out of it are priceless. Support is top class. Thank you guys very much!
Plerdy`s review from Zanbeverly:

I started working with Plerdy when I was looking into Hotjar, so glad I haven't used it, and I don't even want to. Plerdy is amazingly easy to use, intuitive, and gives me all that I need. I especially love watching the videos of how people interact with my landing pages. Also, I have not noticed any performance hit.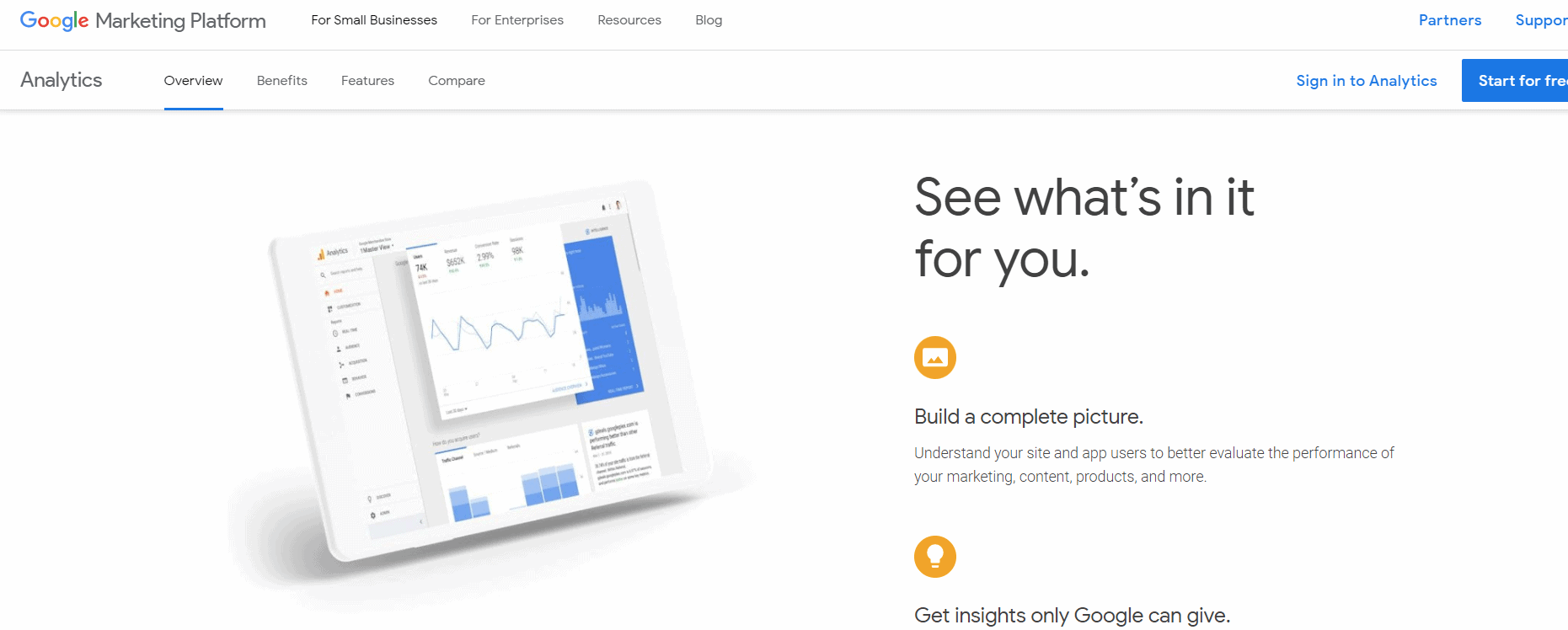 It is a specialized optimization service for web admins. The tool allows them to monitor and analyze site visitors' behavior closely. The most important indicators are the number of visitors, page views, traffic sources, session duration, bounce rate, conversion rate. Considering the data provided, the webmaster can make optimization changes in his web resource to improve the behavioral factors, hence, its position in search results. In addition to displaying statistics in the form of tabular numeric data, there is an opportunity to follow it through charts, graphs, and other visual tools of display.
Google Analytics review from Samarth P.:

This tool is a perfect one who wants to know what's happening to the traffic on the website, which page is getting maximum visitors, and through which channels. Customizable additional features and good interfaces make it an even better tool.
Google Analytics review from Milind G.:

We can measure conversions, or completion rates, for each Goal we set up. Combine Goals with Funnels to analyze user actions leading up to a Goal.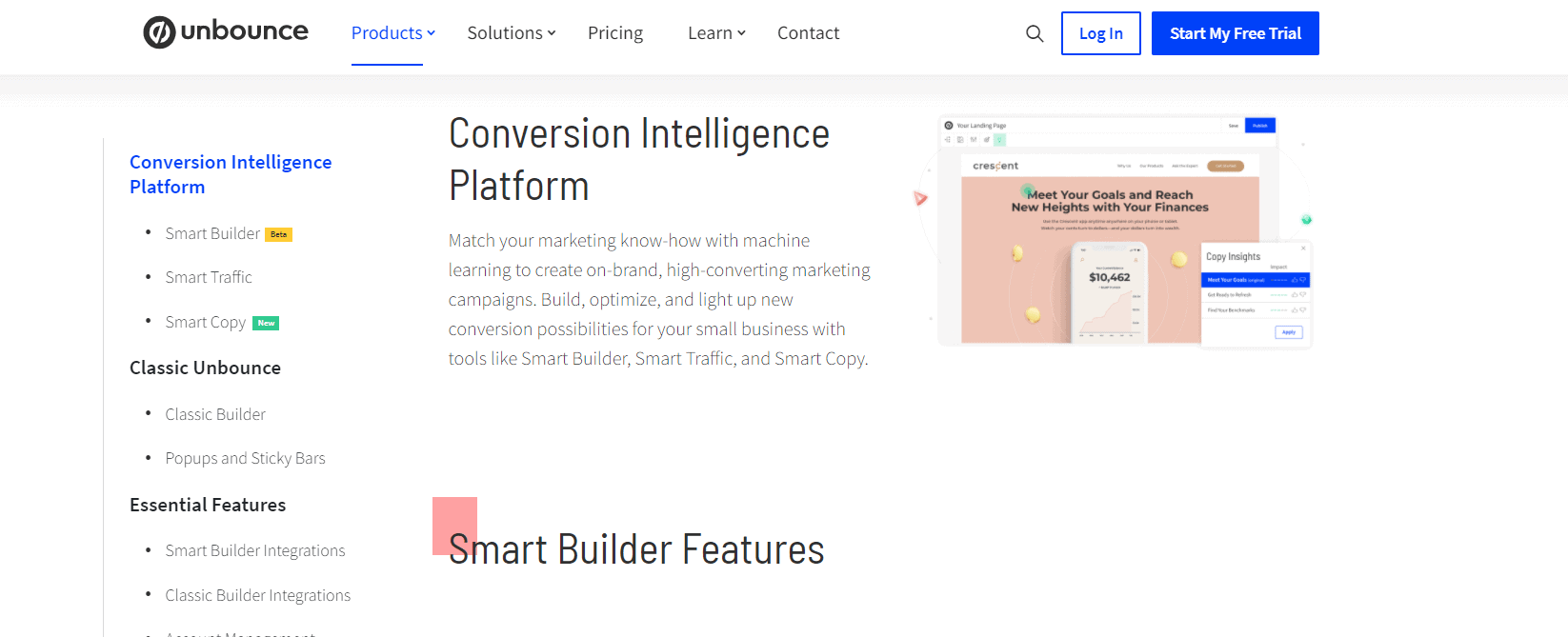 This CRO software not only makes it easier to create, publish and test multiple landing pages, but it also provides a wide range of tools to optimize interactions and subsequent conversions. Unbounce has two offices: one in Vancouver (Canada) and the other in Berlin (Germany). Rick Perreault has been CEO of the company for a long time, and now he is one of the executives . Among its customers are Fifty&Fifty, HELIX, Zola, OfficeVibe, and Agency Within.
Review on Unbounce from Matt S:

We use unbounce for personalized landing page creation and A/B testing. We currently do about 30-40 leads a day through the platform and have raised conversion rates to almost 20%.
Review on Unbounce from Michael C.:

Great tool, easy to use…it's made producing new landing pages a breeze. A/B testing is simple to implement and very useful when trying to determine what works and what doesn't.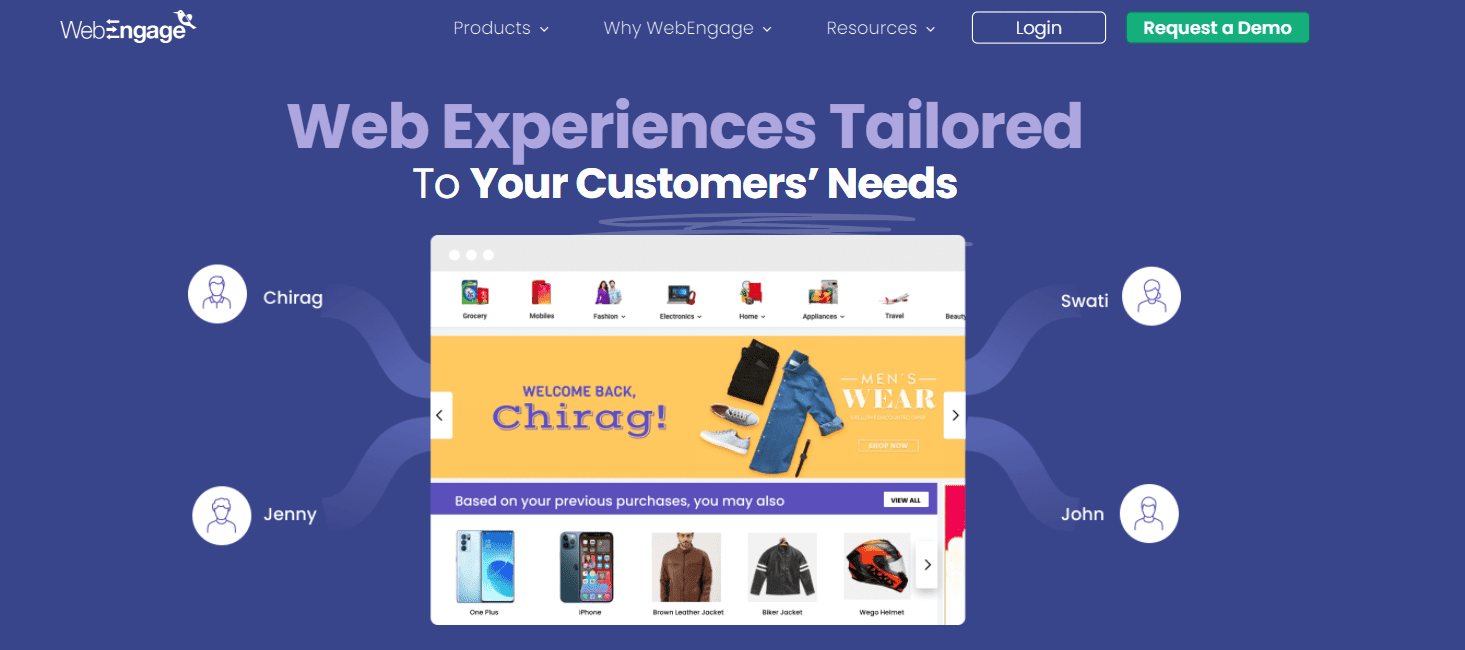 WebEngage conversion rate optimization solution offers a feedback form and survey designer. In addition to survey widgets, WebEngage also offers tools for sending notifications on a website or mobile app. Avlesh Singh is the co-founder & CEO of this CRO software, and Ankit Utreja is the co-founder & CTO. Both offices are located in India, one in Mumbai and the other in Bangalore. Myntra, Unacademy, HT Media, Travel Triangle, Toppr trust their conversion rate optimization process to WebEngage.
Review on WebEngage from Arpit D.:

WebEngage helps us to create complete customer journeys on omnichannel platforms and maximize performances with a lot of delivery optimization features.
Review on WebEngage from Surjeet Y.:

Overall this is a very good tool for remarketing and customer acquisition. The most likely thinking in this tool is to set up the journey and check the path of a user.

This CRO software offers a remarkable set of tools designed not only to create landing pages but also to improve their conversion rates. Instapage helps you get in-depth Google analytics, access to split-testing, and intuitive customizable templates. Relevant application of these tools favorably influence site convertion rates. Tyson Quick is the founder and CEO of the company since 2012. Offices are located in different parts of the world: in San Francisco and San Jose (USA), Timisoara (Romania), Białystok and Warsaw (Poland). Famous companies like eBay, Sound Cloud, Verifone, Yamaha, and Vimeo use this conversion rate optimization software.
Reviews on Instapage from a verified user in computer software:

Instapage is great to use for seamlessly building landing pages. It makes the build-process easy for anyone and has great abilities for mobile and desktop optimization.
Reviews on Instapage from Anthony C.:

Online chat support is amazing and fast; Also, some features – like A/B testing – help me a lot in making decisions to increase the conversion rate.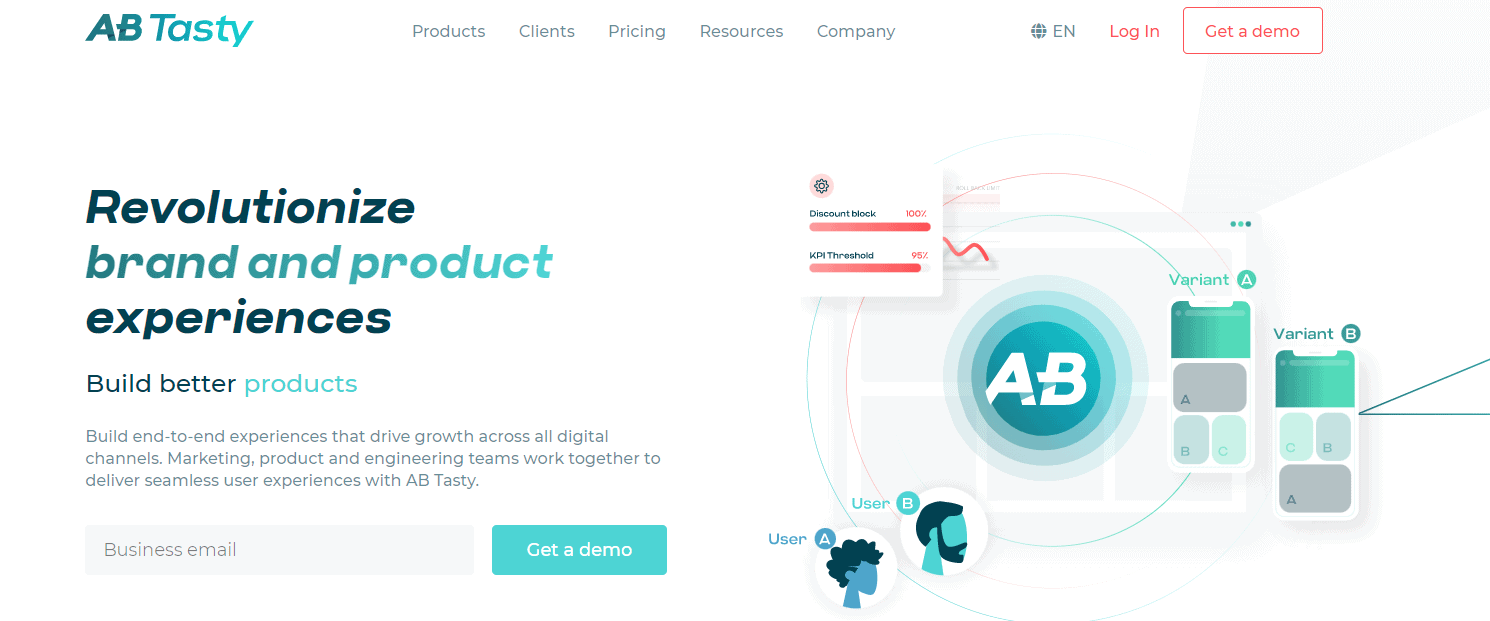 AB Tasty has created a handy conversion rate optimization software that can significantly increase your website conversion. It allows you to conduct A/B testing to improve user experience and website usability. Alix de Sagazan and Rémi Aubert are co-founders of this conversion rate optimization software. The company offices are located all over the world: in Paris (France), Cologne (Germany), Madrid (Spain), Berlin (Germany), Singapore, London (United Kingdom), San Francisco (USA), and New York (USA).
Review on AB Tasty from Alexis R.:

The AB Tasty platform really empowers you. As a Marketing team member without specific code nor technique skills, you can really easily deploy any kind of optimization!
Review on AB Tasty from Patawat P.:

AB Tasty is one of best in class AB Testing tool that enables businesses to explore new solution of UX/UI. With user-friendly interface, our staff can easily set up the test in a finger tip. Plus, the client service team is very active and always provide new solution which improve our website conversion rate.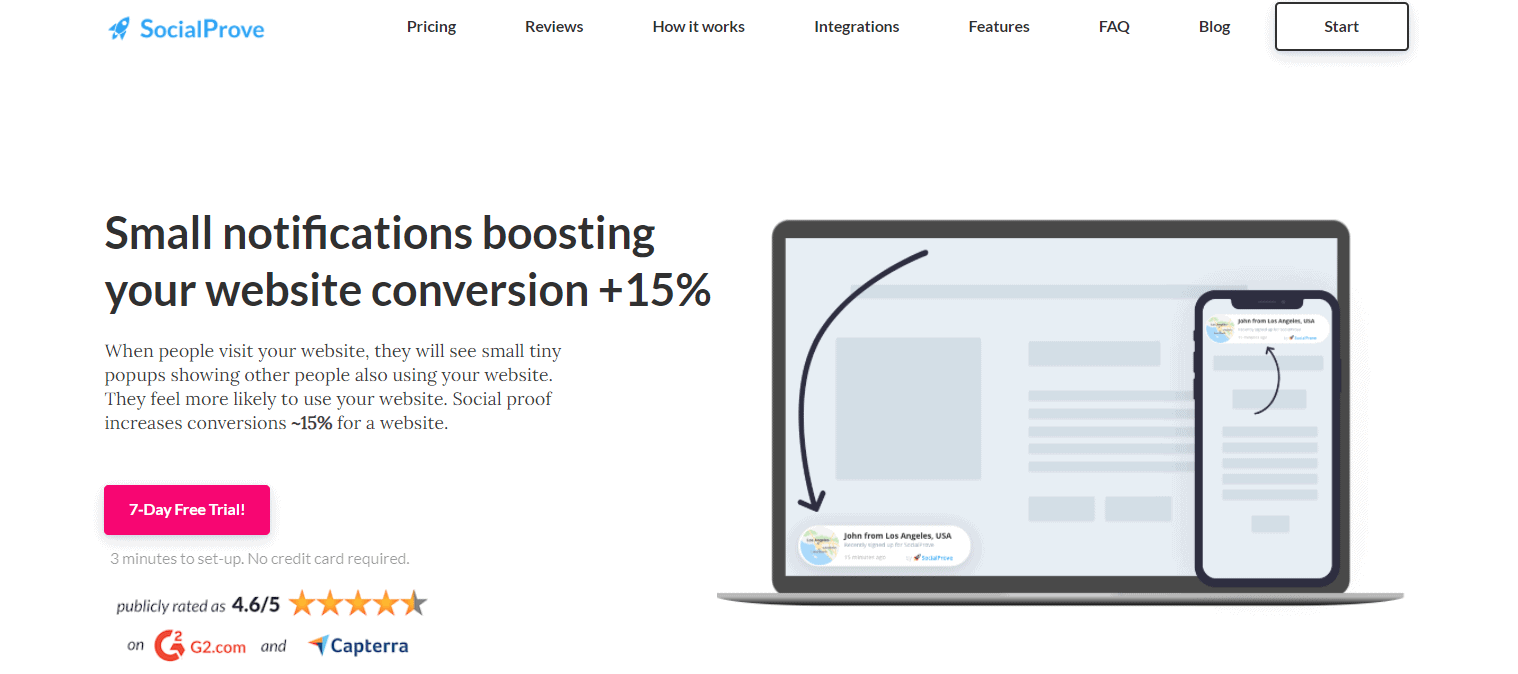 SocialProve offers conversion rate optimization software can improve your website's conversion rate by up to 15%. The tool  allows you to show popups on your website and thus boost visitors' engagement.. If used correctly, this conversion rate optimization software can increase your website's revenue by even more than 15% (of course, it largely depends on the niche). Another advantage of this CRO software is improved user trust, decreased acquisition costs, and increased sales revenue. The office is located in St Louis (USA). The biggest clients are Yummy Plants, Kaspien, INTUIT, Distilled, and Seer.
Review on SocialProve from verified user in retail:

They increased my sales by 35%. First I got an email about them and started a business plan with them. I first thought what if I can't make enough to pay for this service but right now I am getting triple results!

The company has created powerful conversion rate optimization software. It was the first tool of this type in the market in 2000. The technology has evolved, and today, the Webtrends Optimize platform offers multiple testing, analysis and personification tools. A wide range of CRO tools include:
AB, ABn, MVT and split testing.
social proof and product recommendation techniques.
online surveys and retargeting.
The company is based in the UK and was founded by Matt Smith (CEO), Matt Goodchild and Ben Charlesworth. In 2018, it was acquired by Accelerate Group Ltd.
Review on Webtrends Optimize from Jon C.:

WTO is a perfectly functional tool that allows experimentation on websites and apps and therefore allows us a powerful tool for any client we would work with.
Review on Webtrends Optimize from Liam H.:

WebTrends' data-driven approach and the time that they spent to understand our business and help shape our KPIs were excellent.

This intelligent platform uses the most advanced optimization tools to help e-Commerce brands drive conversion and multiply ROI. You will easily personalize your marketing plan and make it more fruitful with a multi-channel CRM and chatbots. With the BIK software, you can use WhatsApp broadcasting tools that will clarify what, when and whom to send to boost your revenue. This data-driven approach is capable of generating 5x higher profits. The company was founded by Sonakshi Nathani (CEO) and Ashutosh Singla. The main customers are Recode, ChocoCraft, Soxytoes, and Terra.
Review on BIK.ia from Shashank T.:

Using this tool for five months now for my startup & it gives me exponential ROI in minimum spend. This is an excellent tool for D2C brands.
Review on BIK.ia from Suravi G.:

They actually conversed and got us a good rate of conversions so it is a good deal for us.

The company created a robust digital analytics platform with a wide range of optimization tools. Their primary purpose is to track visitors' behavior and analyze their interaction with products. A real-time optimization system focuses on customer engagement, analyzes revenue, and boosts retention. Overall, Amplitude offers 750+ optimization tools for a business of any size.
The company was founded in 2012 by Spenser Skates, currently its CEO. Today, it has over 500 employees and offices in the US, Europe and Asia.
Review on Amplitude from Randy C.:

Live chat has been KEY to answering any questions I may have. The design tool is very intuitive. Their customer service is fantastic. Automations are so easy to create and I love the forms and site tools.
Review on Amplitude from Lainey T.:

Active Campaign is great for keeping all client information in one place. Searching, tagging and list management are amazing.
Conclusion about Best Conversion Rate Optimization Software Tools
Any changes to the website optimization should rely on real data, not the results of research by independent companies. Any attempts of website optimization are useless if you do not have feedback from your target audience in the form of analytical metrics or completed questionnaires. It's important to understand, listen and hear the person for whom you are performing the website optimization, not a third-party targeted audience that is socially similar to yours.
Plerdy tools show how convenient your website is for users and how it differs from competitors. Testing is based on factors that directly affect search rankings. So, you can get answers to why users do not buy and why the website is not at the top of search engine results. Plerdy will provide you with a direct step-by-step guide on website conversion rate optimization for users and search engines.