Customer engagement is the key to success in the modern business world. Staying connected with your customers is crucial for retaining them and attracting new ones. That's why we've compiled a list of the 11 best customer engagement tools for 2023. Whether you're looking to improve customer satisfaction, increase sales, or boost brand loyalty, these tools can help you reach your goals. ? These cutting-edge technologies have been designed to streamline your customer engagement efforts, giving you the power to connect with your audience like never before. So buckle up and get ready to level up your customer engagement game!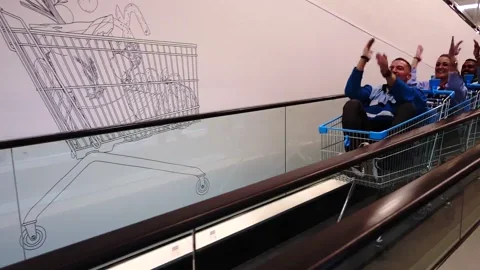 How to Select the Right Customer Engagement Tools?
Following these guidelines can help you make the best choice when it comes to customer interaction tools:
Find out what you need for your company (and website): Then, create a list of what your company needs. Think about whether live chat, email, social media, or any other customer connection is most important to you.
Analyze the tool's features: Consider the aspects that are important to you in the tool and see if they are present in the options you are considering. Analytics, CRM (like a Hubspot), and omnichannel support are just a few functionalities.
Consult with professionals: Get in touch with professionals in your field (via LinkedIn) and trusted coworkers to get their thoughts on the tool they've used. You can learn what other companies think by reading reviews (G2 or Capterra) about the tool on the web.
Verify the capacity for integration: Make sure the tool you choose can connect with your existing tools, including your CRM and marketing automation tool (APIs with Mailchimp, Zapier, etc.).
Make sure you can scale up: You need a customer engagement tool to expand your company. Make certain that the tool you select can handle your company's future growth by including the appropriate capabilities.
Keep your eyes peeled for a good deal: Invest wisely by picking a tool that gives you a decent return on your money. The software's long-term advantages include enhanced customer happiness, better customer involvement, and devoted customers.
Prove it out first: Take advantage of the trial time (14 or 30 days) that most providers of customer interaction tool offer before committing to a purchase. You may learn more about the software's features and functionality and decide if it's a good fit for your company if you do this.
Using these rules as a guide, your business can choose the best tool for getting customers involved, leading to more customer participation, happiness, and loyalty.
List of Top 11 Customer Engagement Tools
We're pulling out all the stops to bring you the best of the best in customer engagement tools. From old dogs with new tricks to the cream of the crop, this list has got you covered like a warm blanket.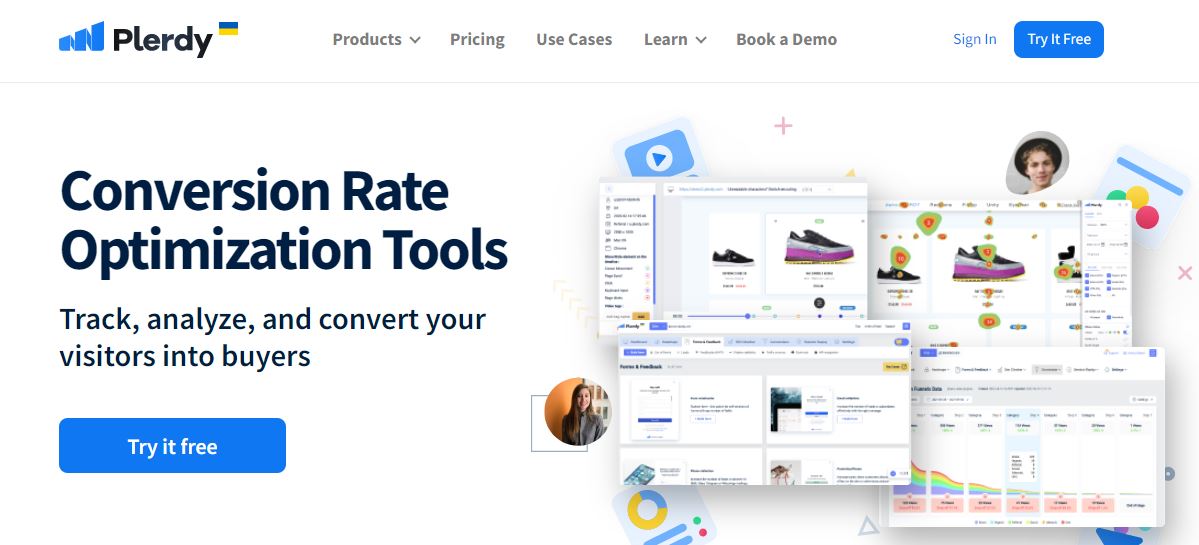 Plerdy is a customer engagement tool that assists businesses in improving the UX and usability of their websites. With Plerdy, businesses can track, analyze, and convert their website, visitors, into buyers. The tool is designed to provide valuable insights into user behavior and website performance, which can help businesses optimize their website elements, boost traffic, and increase sales.
Products and Pricing
Plerdy offers several packages with different pricing options. The prices range from $19 to $299 per month, depending on the number of features and customization required. Some of the popular packages include:
Basic: $19 per month
Standard: $49 per month
Pro: $99 per month
Enterprise: $299 per month

Qualaroo is a customer engagement tool that enables businesses to gather feedback and insights from their website visitors. Qualaroo surveys are ten times more valuable than email surveys as they capture user feedback in real time and with context. By targeting specific users based on their behavior and actions, businesses can gain valuable insights into how their website or product functions, what their customers like and why potential buyers need to convert. Qualaroo is easy to use, with professionally designed templates and the ability to customize with company branding.
Packages & Pricing
Qualaroo offers a free, and two paid plans, Growth and Enterprise, with prices starting at $49 per month. The pricing details for the Growth and Enterprise plans can be obtained by booking a demo with Qualaroo.
Signals is a tool for connecting with customers that helps businesses and websites interact with those who visit them online. The tool provides the necessary features for businesses to identify, segment and engage with their target audience. By using Signals, digital marketers can save time and money by targeting the right people and engaging with them at the right time. This can drive sales (and profit), increase conversion rates (CR), and help to retain and grow the business to new summit.
Packages and Prices of Signals
More information about the packages and prices of Signals should be available on the website. Examples:
Best Value Company Plan $999 / month
Team Plan $499 / month
Premium Plan Custom Pricing
Leaders in their fields like Pantheon, Archive360, Domo, LFT, Tenbound, and others trust Signals. The tool has been rated as a leader in Bot Platforms, Buyer Intent Data Providers, and Account-Based Orchestration Platforms on G2. Interested businesses can book a live demo of Signals by providing their full name, work email, phone number, and company details.

Avaya is a major customer engagement tool that assists businesses to enhance their customer experience by embracing modern cloud capabilities such as digital channels (direct, organic, PPC, etc), artificial intelligence (AI), workflow automation, and more. With Avaya, a digital expert can maintain their existing contact center while innovating without disrupting current processes. Avaya offers a comprehensive tool that delivers personalized, effortless experiences to customers while unlocking the value in customer data and boosting cost savings.
Avaya pricing packages
Avaya offers two pricing plans for their customer engagement tool: the Basic plan costs $109 per user per month, and the Advanced plan costs $129 per user per month. Additionally, Avaya offers three payment options for call minutes: toll minutes per agent (one cent per minute per agent), toll-free minutes per agent (two cents per minute per agent) and unlimited toll minutes ($70 per month).

A cloud-based customer interaction technology with AI at its core, LiveVox enhances contact center efficiency. Voice, email, SMS, web chat, chatbots, and other omnichannel communications are integrated into the platform. Because of this, customers can have a smooth customer journey.
Prices for LiveVox packages
Package costs for LiveVox are private. For a price, interested customers should get in touch with the business.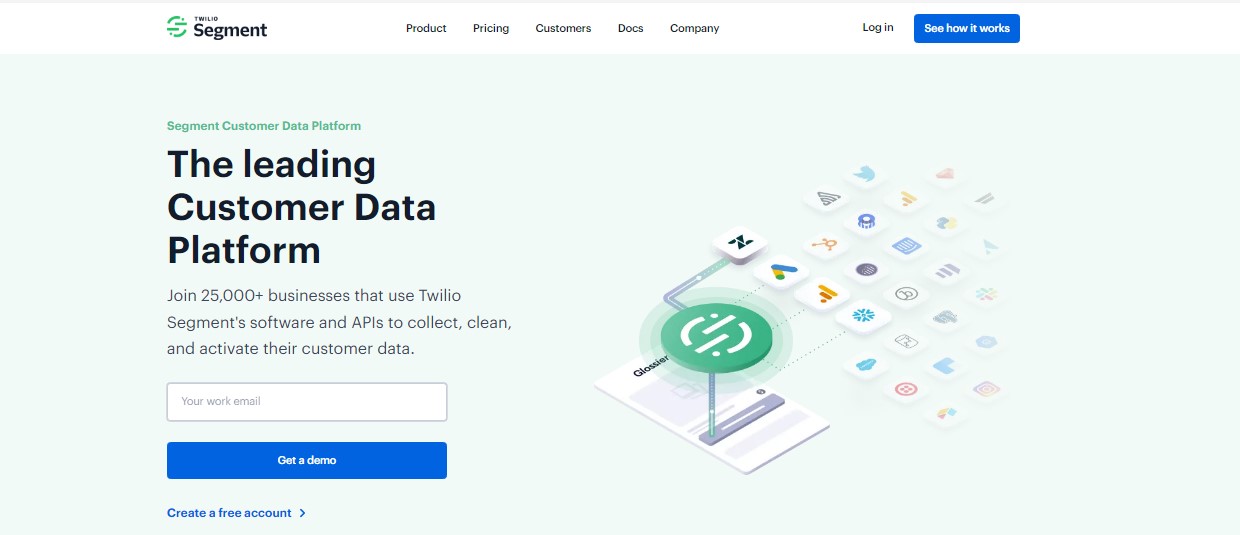 Segment is one of the best tools for collecting, cleaning, and putting to use customer data. With over 25,000 businesses using Segment's tool (with APIs), it has become a trusted tool for companies of all types and sizes. The Segment tool gives every team in a company, like marketing and product, a complete set of data tools. The tool gives a single view of the customer, real-time audiences, and the ability to use more than 400 marketing tools.
Packages and Prices
Segment offers three pricing plans, each scaling with a business's growth. The free plan includes 1,000 visitors per month, 2 sources, and over 300 integrations. The Team plan starts at $120 per month. It includes all of the Free plan's features, unlimited sources, and one data warehouse destination. Finally, the Business plan is customized pricing, including all the features of the Team plan, as well as custom volume, data governance, advanced roles and permissions, and personalized customer experiences.

ProProfs is a tool that helps businesses make their staff smarter and their customers happier. It does this by leveraging artificial intelligence (AI). ProProfs provides training, a knowledge base, a quiz maker, tools for collaboration, project management tools, a help desk, a survey maker, live chat, and BIGContacts CRM. All of these help businesses connect with and support their customers.
The tool has set a goal for itself to establish a company that delights its customers and is dedicated to giving its users straightforward, honest pricing and outstanding assistance from real people. This goal has a time frame of one hundred years. ProProfs is the market leader in customer interaction because it serves 15 million customers (Sony, DHL, Lenovo, Shell, Yale) from more than 150 countries monthly.
The monthly cost of using ProProfs
The tool begins at $29, and price reductions are available for paying for the tool annually. There is only one simple fee for everything, which gives you access to all features and allows you to use it as you wish and does not require a credit card to sign up.

Appcues is a product-led customer engagement tool designed to help businesses improve their user onboarding, feature adoption, and customer engagement. With Appcues, businesses can design, deploy, and test onboarding experiences in minutes, not weeks. The tool helps businesses to boost activation, improve conversion, and create stickiness with feature adoption. Appcues has been adopted by over 1,500 businesses, including Frame.io, Copper, and Bench, to lead with experience. With Appcues, businesses can easily improve user activation, feature adoption, and user retention.
Package prices of Appcues Appcues has three pricing packages:
Pro – $500/month
Plus – $1,000/month
Enterprise – Custom pricing

Helpshift is a customer engagement tool revolutionizing the traditional customer service approach. It is a digital support tool that prioritizes the customer experience and delivers operational cost savings, a return on investment, and high customer satisfaction. 7 out of the top 10 revenue-generating apps trust Helpshift for their customer service needs.
The tool offers an in-app help experience for mobile users, a messaging system for modern app users, and an automation system that resolves common customer issues and captures agent support details. Helpshift is highly customizable, with a product demo experience that allows you to select the features that best suit your needs.
Nataly Kuzmina, Head of Support at Playrix, praised the fully-integrated in-app messaging experience offered by Helpshift, saying it "delighted our players."
Pricing
Helpshift offers flexible, consumption-based pricing with packages for all levels of customer service needs. The three package options include Starter ($150/month), Growth (custom pricing), and Enterprise (custom pricing). The number of monthly issues created determines the cost, with greater usage leading to a reduced per-issue price. All packages have 250 issues per month and various features such as in-app messaging, automation, and agent tools.

Twilio is a fine customer engagement tool that allows businesses to connect with customers through personalized interactions and global communications. Twilio provides APIs for various digital channels such as SMS, WhatsApp messaging, voice, video, and email. With real-time data and flexible workflows, businesses can provide exceptional customer service, reducing acquisition costs and increasing lifetime value.
Twilio Pricing
Twilio offers simple and flexible pricing options, with pay-as-you-go pricing and volume discounts that trigger as usage grows. Committed-use discounts are also available through their sales team. The pricing for the Twilio Engage tool is customized based on the client's needs. It is provided through a demo from Segment.

Pushwoosh is a mobile-inspired customer engagement tool for online store and marketers. The tool offers a unified solution to manage and streamline audience interactions across multiple channels, such as mobile and web push notifications, in-app messaging, email, SMS, and WhatsApp. The tool offers deep personalization options, allowing businesses to customize their messaging for each customer. Campaign management is also available, with the ability to create segment-based and event-based campaigns and gather statistics automatically.
Pushwoosh's results speak for themselves with higher engagement with push notifications, higher conversion into target actions, and higher in-app activity. The tool offers seamless integration with third-party services and is available on all tools. It is also GDPR compliant and offers 24/7 support.
Pushwoosh offers two pricing packages
"Developer" and "Marketing." The Developer package starts at $84 per month. It includes unlimited push notifications, up to 50k subscribed users, Customer Journey Builder, basic personalization & segmentation, API access, and messaging analytics. The Marketing package starts at $169 per month. It includes all of the features of the Developer package, plus advanced personalization & segmentation and A/B testing.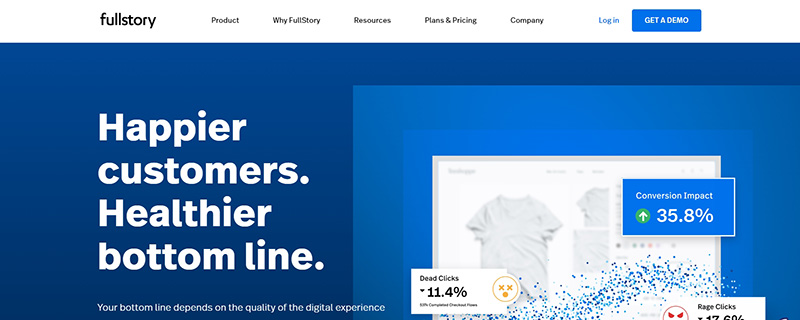 FullStory is a customer engagement tool that provides a complete data capture solution to help businesses understand how customers engage with their website, mobile app, or software platform. With proprietary auto-capture technology, FullStory helps businesses monitor their entire digital experience and quickly identify root causes of issues or opportunities for improvement. The tool also offers several features, such as session replay, heatmaps, dashboards, and user segments to help businesses give users exactly what they want.
FullStory is a trusted name in digital experience intelligence, used by over 11,000 popular digital destinations. The company is strongly committed to privacy and security, offering private-by-default settings and automatic PII detection. With an open API and a growing catalog of integrations, FullStory integrates seamlessly with the tools businesses already use.
Plans & Pricing
FullStory offers several packages with varying features and prices starting at $199 per month.

Mixpanel is a powerful tool for interacting with customers that helps digital analytic and websites use self-serve product analytics to help increase conversions, engagement, and retention. With over 7,000 paying customers, Mixpanel is trusted by major companies like DocuSign, Uber, Yelp, and BuzzFeed.
Mixpanel offers interactive reports that provide deep insights into a product's use, including popular features, power user information, and retention rates. The tool also has simple workflows that make it easy to build funnels, track user flows, and create cohorts with just a few clicks. Integrating Mixpanel with a data lake or using its SDKs makes streaming events directly from apps and servers easy.
Pricing:
Free Plan: 100K monthly tracked users
Professional Plan: $999/month
Business Plan: $2,499/month
Enterprise Plan: Contact sales

Hotjar is a customer engagement tool that can help small and enterprise businesses understand how users behave on their websites, what they need, and how they feel. It provides an intuitive and visual way of consolidating and communicating user needs, allowing businesses to eliminate guesswork and make informed decisions. Hotjar offers a suite of tools, including heatmaps, recordings, feedback, surveys, and user interviews. With 1.1 million websites in 180+ countries using Hotjar, it has become a trusted tool for Product Managers, Designers, and Analysts.
Pricing
Free – $0/month
Basic – $29/month
Plus – $89/month
Business – $589/month

Businesses may improve their customers' digital experiences with the help of Optimizely, a customer engagement tool. Optimizely, also known as the Digital Experience Platform, is used by millions of businesses daily to expand their online presence. Optimizely's mission is to give its customers with cutting-edge e-commerce, web analytics, and other digital solutions. Established: January 2010. Experiment Engine, Inc., NewsCred, Inc., Zaius, Inc., and Synference Ltd. are subsidiaries.
Costs
Depending on a company's requirements, you can choose from several Optimizely plans, from simple to sophisticated. There is no indication of cost anywhere on the site.
Conclusion
All the customer interaction tools discussed in this article are critical for providing relevant and accurate contact to customers via the website. Each tool has advantages and disadvantages (which may be examined on G2), making it appropriate for various retail firms, whether large or small. Investigating and evaluating which tool would best complement your marketing tactics and generate results for your company is critical. According to experts like Jay Baer, author of "Hug Your Haters," it is critical to breaking the hurdle of engaging customers and providing inspiration to customers. Predictive analysis and built-in tactics can be utilized to increase customer involvement. Plerdy is an excellent CRO and UX tool; test it for free today. Furthermore, the 15 tools offered in this article are an excellent beginning point for determining the best solution for your business's needs.