As a business owner or digital specialist, you must clearly understand your customers' needs and the unique challenges they may face. This understanding will assist you in overcoming guesswork and tailoring your goods, tools, or local services to perfectly meet your customer needs. ? And, eventually, it will help you generate more sales, as customers tend to buy what you offer without having any second thoughts in mind. To gather customer insights on your website, you need to use the most effective methods to gather customer insights on your website. That's where customer insight tools can help you ?
In this article, I'll share details on the top 7 effective customer insight tools you may use. Use any of the suggested customer insight tools to learn more about your customers.
How and Where to Gather Customer Insights
You can gather customer insights on your website in different ways. Customer feedback holds a prominent place among them. By carefully analyzing customer feedback via such metrics as NPS, CES, and CSAT, you can know whether your products or services can fulfill customer needs. Another effective method to gather customer insights is customer sentiment. Star ratings and NPS are perfect examples of such methods. Third-party data can also help you with gathering customer insight. For example, you can look at market research data published by large-scale organizations.
Using traditional methods such as doing your own research on Google is not the best decision for gathering customer insights. Julian Cole, an Expert Strategy Trainer at Strategy Finishing School in Australia,  says, "We think the algorithms influence us for the worse but what if the algorithms just reveal the worst of us."
While keeping this in mind, let's consider the top customer insight tools.
List of Top 7 Customer Insight Tools
Consider using a customer insight tool to make your life easy by gathering customer insights. Here are 7 of the most effective customer insight tools available for use as of now.
Plerdy Customer Insight Tool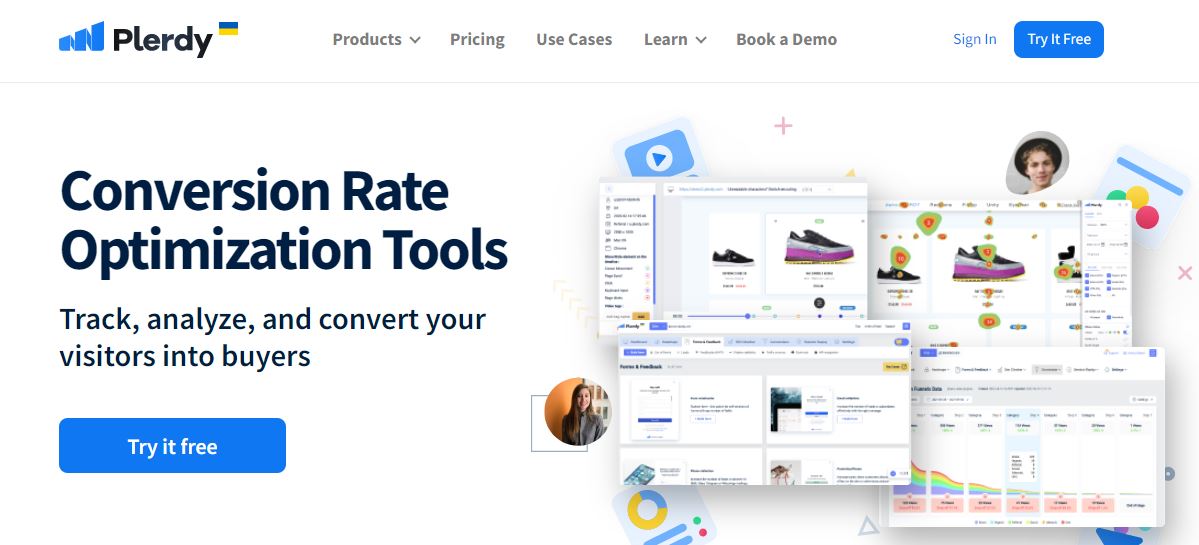 Plerdy is a tool that can help you track your visitors, analyze them in detail, and convert them into revenue-generating customers of your business. By using this tool, you can see the click patterns of visitors on the website, discover what parts of your web pages make visitors leave, and understand what the least effective elements of your website are. You can also use session recordings of visitors and understand how visitors coming from different channels behave on the website. You can also segment the visitors into a few groups and better analyze their behavior. When gathering customer insights, you should understand that different users behave differently. As a result, you will need to create user groups and analyze their behavior in detail. Plerdy can help you easily create user groups and filter useful customer insights. You can find more information on it by watching this video on How to Analyze User Groups.
Main features:
Heatmaps to analyze the behavior of visitors on your website
Record the sessions of visitors to gain better insights
Group visitors according to their behavior
How can this tool help your business? ?
To generate more sales through your business website, you must understand how to provide a better customer experience. That's where Plerdy can help you.
Clients who already use this customer insight tool:
Lavoratore autonomo
Lemon official
Mercury Advance AB
Autonomo
FLOWYZE
Reviews of Plerdy
Simple to use, powerful tool, great customer service.

Elba Maria M.
Want to check SEO and nice visuals Heatmaps at once?

David G.
Mixpanel Customer Insight Tool

If you want to find out from customers how good your product is in practice, consider using Mixpanel. It enables you to understand which product features are popular and know the total number of their power users. Mixpanel generates quite informative reports, and you can use them to understand valuable customer insights, such as user behavior. With this tool, you may also build funnels and learn the top user flows.
Main features:
Generate meaningful and informative reports
Easily connect your entire data lake
Understand how customers are using your products
How can this tool help your business? ?
You can learn which features of your product perform better and which need improvement with the help of this tool. Then you will be able to invest your efforts accordingly to build better products.
Clients who already use this customer insight tool:
Rakuten Viber
Expedia
ZipRecruiter
BuzzFeed
GoDaddy
Reviews of Mixpanel
Great Data insight

Kakeli B.
The most most impactful and insightful way to understand how people user your product

Shachaf R.
Latana Customer Insight Tool

Latana is a comprehensive solution available to track your brand performance. It will help you connect with your audience and see how they view and use your brand. Moreover, Latana can also assist you in discovering your growth potential. You may use this tool to speak to the right audience. By doing that, you can increase your chances of generating more sales.
Furthermore, it can enhance your perception. As you run your brand marketing campaigns, consider using Latana to track the impact it is creating. Based on that, you can decide whether people develop a positive image of your brand through marketing campaigns or not.
Main features:
Intuitive dashboard to track brand performance
Accurately target and track audience with the help of reliable data
Understand the impact created by your brand marketing campaigns
How can this tool help your business? ?
Branding plays a major role in ensuring the effectiveness of your sales campaigns. You can see how your branding campaigns yield results with the assistance of Latana. You can also use feedback to optimize your brand marketing campaigns to generate better returns.
Clients who already use this customer insight tool
Blinkist
Duolingo
Udemy
Emma
Bitpanda

Whether you own an eCommerce business or a SaaS, consider using Kissmetrics to increase your sales. For example, SaaS providers can understand what content and features of their services can assist them with increasing conversions on the website. They'll also manage to convert more trials into revenue-generating customers while reducing churn. On the other hand, Kissmetrics will help you increase the revenue generated per customer. Likewise, eCommerce website owners can use Kissmetrics to understand the big spenders in their target market and get them to buy the products offered on the online store. The tool also helps you understand how to increase customer lifetime value and the number of new and repeat purchases.
Main features:
Ability to tie data to real-world individuals
Learn more than traditional metrics such as bounce rates, page views, and time spent on the website
Understand the drop-off points related to each flow on the website
Understand the complete customer journey on your website across multiple devices
How can this tool help your business? ?
You can learn more about the target audience and gather customer insights with the help of Kissmetrics. By understanding their needs, you can optimize your products or services accordingly and turn them into long-lasting business customers and generate more revenue.
Clients who already use this customer insight tool:
SendGrid
Unbounce
Lucidchart
Carvana
Reviews of Kissmetrics
It's excellent with accuracy in data collection and analysis

Hayden J.
The most effective way to research your company's marketing"

Keyla A.
Pollfish Customer Insight Tool

Pollfish is a comprehensive market research software that business owners can use to gather useful insights about customers. Once you start using Pollfish, relying on any other third-party market research institute is unnecessary. You can do market research and gather all the information you need by yourself. You can also use Pollfish to narrow your market research to a specific audience, which can eventually help you secure better results. Different options available through Pollfish to conduct market research and gather customer insights include advanced questionnaires, templates, and A/B testing.
Main features:
Target any specific audience of your choice and run granular-level market research campaigns
Ability to set up a survey with just three steps
Ability to analyze research data on a user-friendly dashboard with real-time updates
Random device engagement and dynamic sampling
How can this tool help your business? ?
You can run specific market research campaigns and gather useful insights about customers with the help of Pollfish. The more you learn about customers, the easier it becomes to align your products or services accordingly.
Clients who already use this customer insight tool:
Sony
Netflix
Adidas
Buzzfeed
Microsoft
Reviews of Pollfish
Incredible support and lightning fast results

Brian R.
Great Customer Feedback Tool

Daniel B.
Remesh Customer Insight Tool

Remesh presents an optimal solution to understand your target audience thoroughly with minimal effort. This tool allows for the initiation and facilitation of live conversations with your desired demographic, and its AI-powered engine facilitates the analysis of participant interactions and perspectives. In addition, the platform can process feedback from up to 1,000 users simultaneously, providing the most relevant responses to meet your specific needs. As an illustration, when considering the launch of a new product and seeking to gauge its potential success, Remesh serves as a valuable tool for obtaining crucial customer insights.
Main features:
Run a live conversation along with the participation of hundreds of individuals
Useful templates to start a conversation within a couple of minutes
Ability to add polls, open-ended questions, and visual content to get better responses
In-built AI engine to generate better responses
How can this tool help your business? ?
If you want to learn more about your customers or any other target audience, you may use Remesh. It helps you to get in touch with them, understand their responses to questions of your choice, and gather better insights.
Clients who already use this customer insight tool:
Nascar
Metrix Lab
Mercer
Wills Towers Watson
Deloitte
Reviews of Remesh
Remesh as feedback tool. Allow get insight before making execution.

Janusz N.
Quick access to insights

Beth B.

PureSpectrum offers a comprehensive market research and customer insights gathering tool. Along with the help of this tool, you can create and launch surveys within a matter of a few minutes. Besides, you can easily reach out to your target audience and learn more about them. With the help of PureSpectrum, you can easily define a market audience before you run a research campaign. The extensive field management ability and intuitive interface can assist you in gathering all information in a breeze. It can also analyze real-time answers from your prospects or customers and provide valuable insights. All analytics are user-friendly and easy to understand. There is excellent customer support service behind PureSpectrum as well. Whenever you need assistance, you may get in touch with the customer support team. You can always expect to receive a faster response from them.
Main features:
Automated fielding as you run marketing campaigns
Intelligent fraud prevention methodologies
Intelligent sample management
Deduplication across multiple channels
How can this tool help your business? ?
If you want to run a market research campaign to gather customer insights by yourself, consider using PureSpectrum. It will help you build a survey of your choice and easily launch it. Besides, PureSpectrum can analyze the responses and provide analytics that you are looking forward to getting.
Clients who already use this customer insight tool:
Pilotly
Chirp Research
Shiseido
Tide
Office Depot
Reviews of PureSpectrum
Faultless. Amazingly helpful customer service, high quality responses

A small business owner
Amazing Insights, Brighter Future

A small business owner
As you can see, all customer insight tools mentioned above can help you learn useful insights about customers' behavior. They all deliver accurate, concise information which can be easily used for business decision-making.
Final Words
In this article, I highlighted the 7 effective customer insight tools businesses could use to gather information about their customers' needs and preferences. These tools include Plerdy, which helps track website visitors and analyze their behavior, and Mixpanel, which provides insights into product usage and user behavior. Other tools include NPS, CES, CSAT, and third-party market research data.
The article emphasizes the importance of understanding customer behavior and preferences to improve products and services and generate more sales. It also notes the importance of using multiple methods to gather customer insights.
So, pick the right tool for your needs and gather insights about your customers or prospects. Then, make sure you use data wisely to ensure your business's future success.