Every day, the modern commercial world acquires new features. It is constantly replenished with companies specialized in various niches and providing unique services. Dental marketing, a branch of healthcare, is one of the most growing. The reasons for opening a clinic are clear and known to each medical worker (high demand, variable working field, perfect tandem of medicine and business, etc.).
It's recommended to use complex strategic algorithms to efficiently popularize the company and optimize the website to increase the online presence. And now, let's discover the most typical dental marketing ideas that make your brand relevant for modern business peculiarities.
16 Dental Marketing Ideas
More than 60% of the nation consults dentists at least once a year for preventive examinations in the USA, making famous clinics use it for their business success. Firstly, you should think about your brand's primary goals in online promotion. Typical patients usually consider reviews, their positive response rate, and the clinic's web representation. And below, you can learn efficient pieces of advice for progressive dental marketing.
Update and Optimize Google My Business Page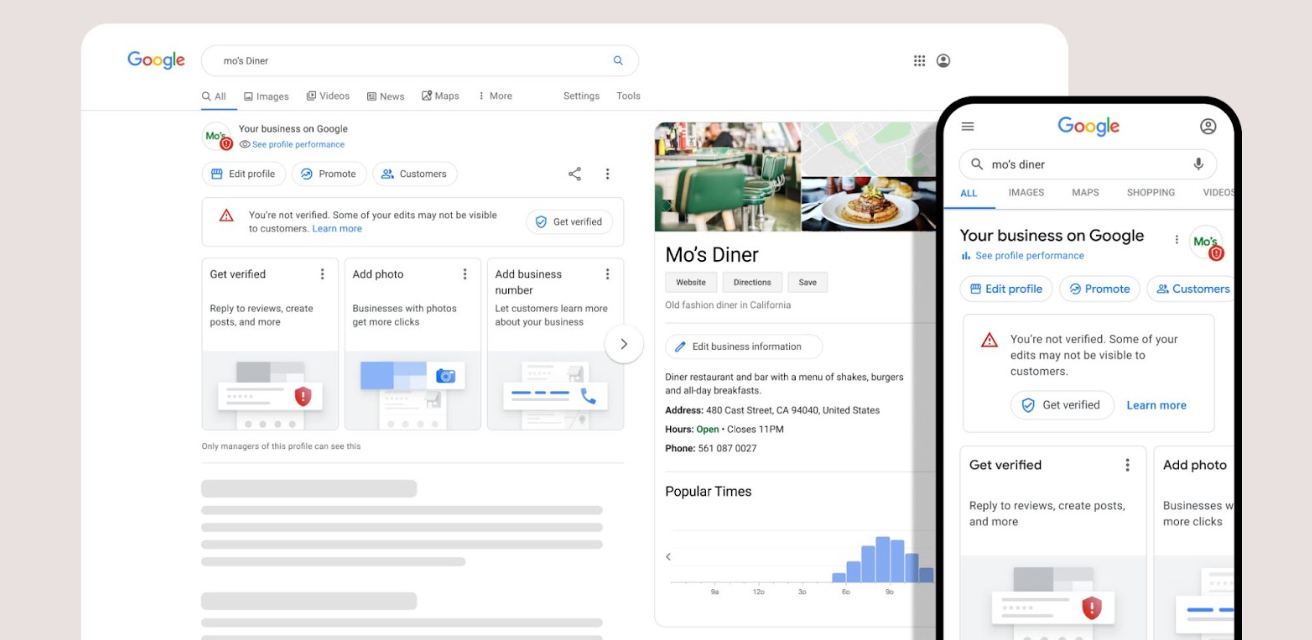 The SEO toolbar improves the brand's recognition and visibility to search engines, adds the location to Google maps, and helps gather operational statistics. The last is crucial because physical contact is necessary for primary examination and treatment. So, the account page should have the following features:
Logically structured information (the photo of a clinic and a team, location, service list, contacts, etc.).
Include keywords: determine the most relevant requests and paste the specific keywords to the content.
Regularly optimized: if changing the clinic's structure or expanding the service list, don't forget about updating information on the landing page.
The dental marketing agencies specialize in efficient Google Ads maintenance and create a suitable My Business page for your brand's specificity. You can find more details about such a management approach here.
Upgrade Website Design
Web design should be laconic and make the user interact with each function appropriately. For dental marketing, it's better to introduce:
3D-visualization;
video records of the procedures;
patient's forum page;
diagnostics survey.
It's necessary to make a responsive design for perfect website use on different devices and have interactive elements perform well.
Start Blogging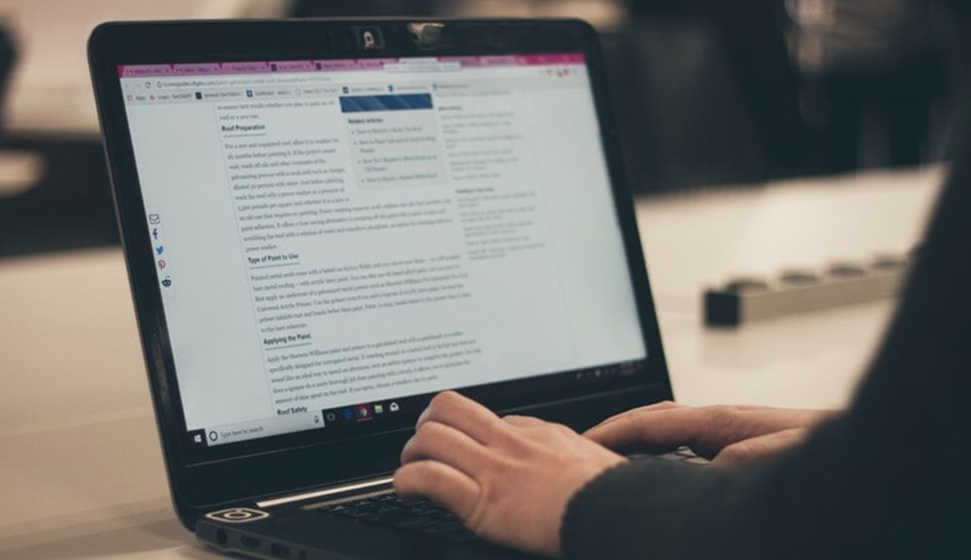 Nowadays, the users enjoy following the physicians who are open to the audience and ready to speak on painful topics about health. The Instagram page or a YouTube channel may provide a specific content:
Answering questions with patients.
Best advice for oral and dental care.
Working-in-dentistry pros and cons.
It will help determine suitable blogging activities for a dental marketing plan to get a response from the viewers and increase their interest in your services.
Optimize Blog and Web Page for SEO
A search engine is a thing, still not disclosed but is responsible for a particular website ranking in SERP. If your website is relevant, suits modern algorithms, and passes through filtering, the user will get it at the result's list top. The essential SEO features to implement are:
Informative and updated content.
Keywords research and distribution of the semantic core.
Increasing loading speed.
Websites can't reach a good presence and grow up without SEO optimization and permanent update of their digital characteristics.
Build Your Brand
Dental practice marketing must make your firm recognized as a high-trusted brand with a unique structure and particular activities. Therefore, it's obligatory to establish exclusive composition elements:
naming;
logo;
motto;
niche in dentistry.
It would be best to make a recognizable firm that constantly focuses on the potential client's treatment and consulting necessities.
High Intent PPC (pay per click)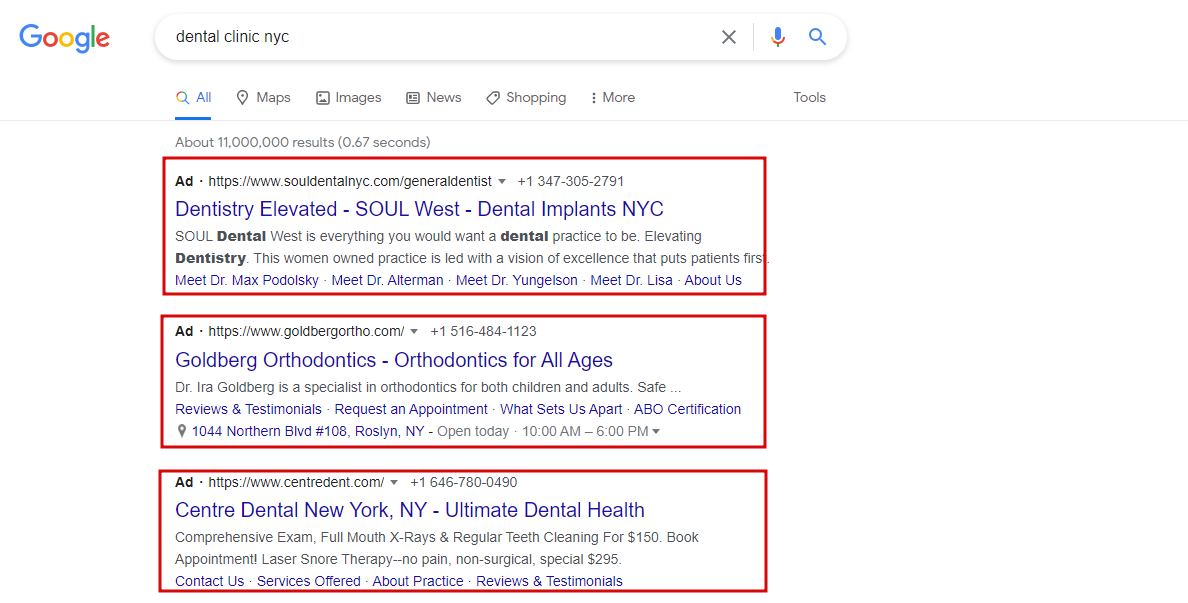 Google Ads suits such a strategy the most because it's step-by-step installed and quickly gives the result. The algorithm is the following:
First, choose the most relevant keywords from the semantic core list.
Then, start Google Ads, including the targeted request.
The users get a displayed advertisement with the SERP.
PPC dental marketing agencies help start activities and target clients initially with a suitable method for your clinic.
Emergency Keywords
In ordinary life, emergency conditions occur, and people immediately start researching first-aid algorithms on the Internet. So, remember all acute diseases from your experience and paste them into the text – it may become a "life-saving" factor.
Google Answer Box
If properly implemented, it's the perfect way to gain customers by answering their questions to solve everyday problems. The SERP firstly provides a separately defined answer that responds to what you'd asked in most cases. You shouldn't pay all the attention and promotion efforts to it, but it can be decisive in various situations.
Build a Customer Profile
Your dental marketing website should be an information base for patients only for a half. The strategy should get the full image of a potential clinic visitor, including his age, income, sex, and pain points. Understanding who will come for your help and what kind of services they require helps build a guaranteed successful healthcare establishment.
Get Involved in Your Community
The perfect way to become recognized among the targeted audience is by being active. And there are various ways of doing it, including:
Open Day with consulting everybody for free.
Sponsoring the sports team or setting a trial healthcare contract with them.
Perform at conferences by speaking about scientific and technical innovations in dentistry.
The approach makes the global audience perceive your company positively, improves sales, and expands the customer base through recommendations after somebody works with your clinic.
Use Email Marketing
Data collection allows you to contact the potential clients and one more time represent the clinic, outlining the most relevant and helpful services. Dental email marketing is based on sending letters with the specific content:
sponsorship offer;
lead magnet;
checklist.
Don't miss tips for email marketing that can significantly improve your promotional techniques.
Partner with Other Businesses
Discover similar clinics in your region or country and call them for cooperation. The obligatory partners for a dental clinic are orthodontists, dental technicians, private anesthesiologists, etc. It's excellent to create a joint system of several brands practicing together.
Invest in a Long-Term SEO Strategy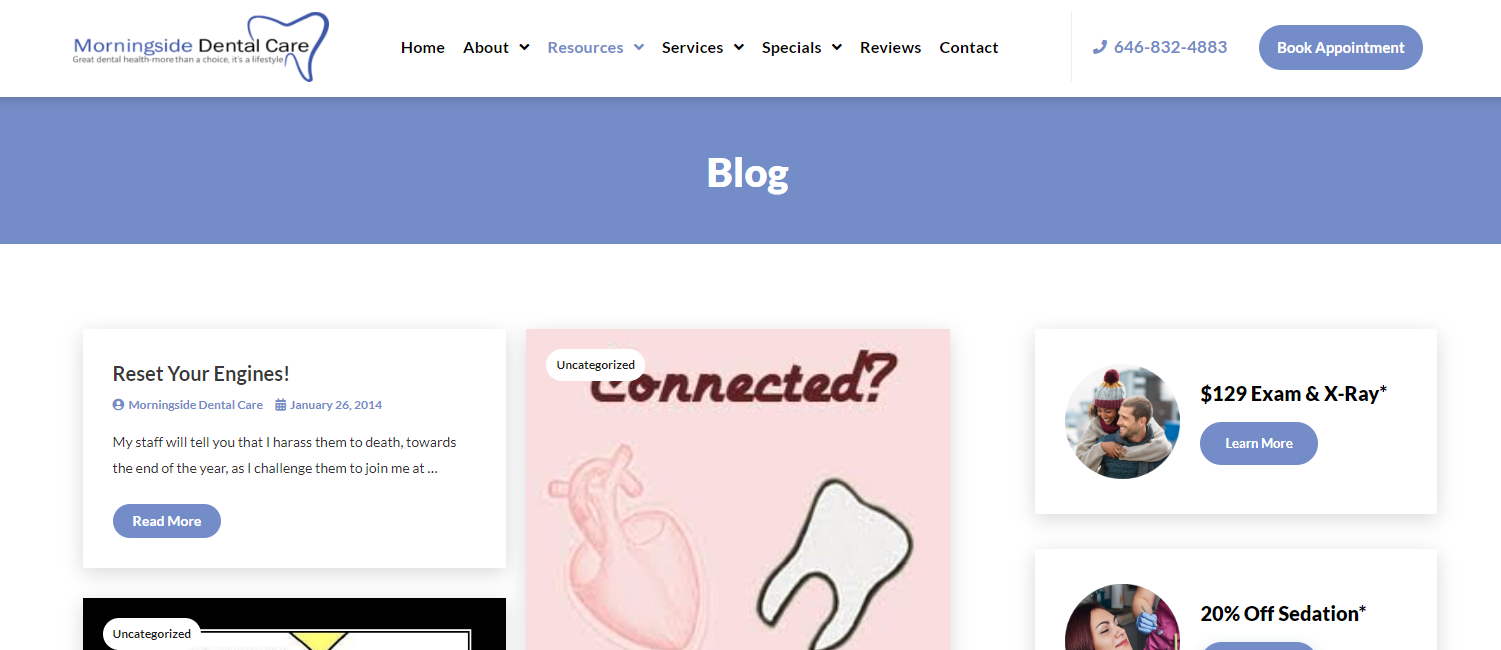 You should always be aware of your website's high performance and correspondence to the customers' needs. That's why it's necessary to build up a profitable and durable SEO campaign, optimizing meta tag descriptions and titles for pages, getting confirmation with HTTPS protocol, implementing PageSpeed Insights, etc.
Ramp Up Your Social Media Game
More than 50% of people use social networks before purchasing something, and why can't it become a reason for approaching SMM? The dental marketing strategy may include creating posts and videos, representing infographics, Facebook or Instagram ads, etc.
Make Video Part of Your Marketing Mix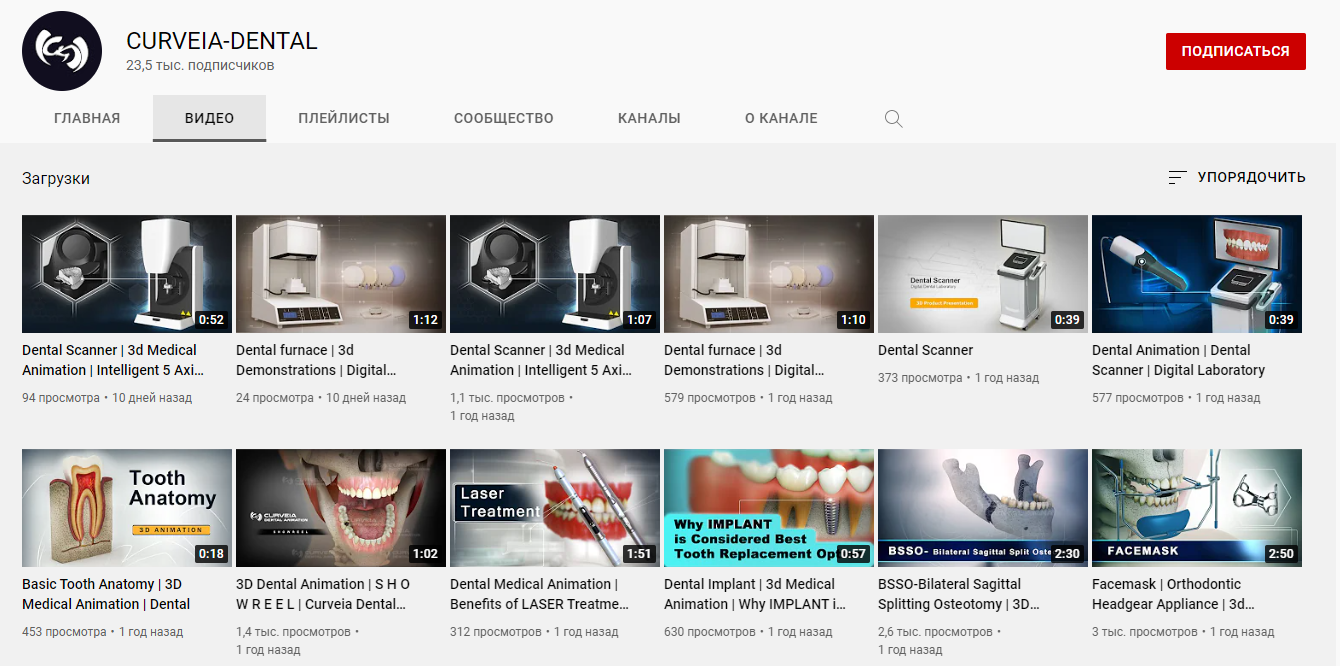 Here, you can find possible specifications of video content:
Welcome clips.
Stay-healthy guides.
Procedure overviews.
When users reveal dentistry secrets with your help, they address your clinic with their specific problems.
Add Your Practice to Relevant Dental Directories
Being a member of the healthcare organization increases the brand's authority and works as a reliability factor. In addition, people prefer the services of their state firms, so entering American Dental Association, Smile Guide, or Super Dentists positively influences the clinic's performance.
Top 5 Dental Marketing Companies
Clutch helped determine the best dental marketing agencies that established a convenient promotion method for famous clinics.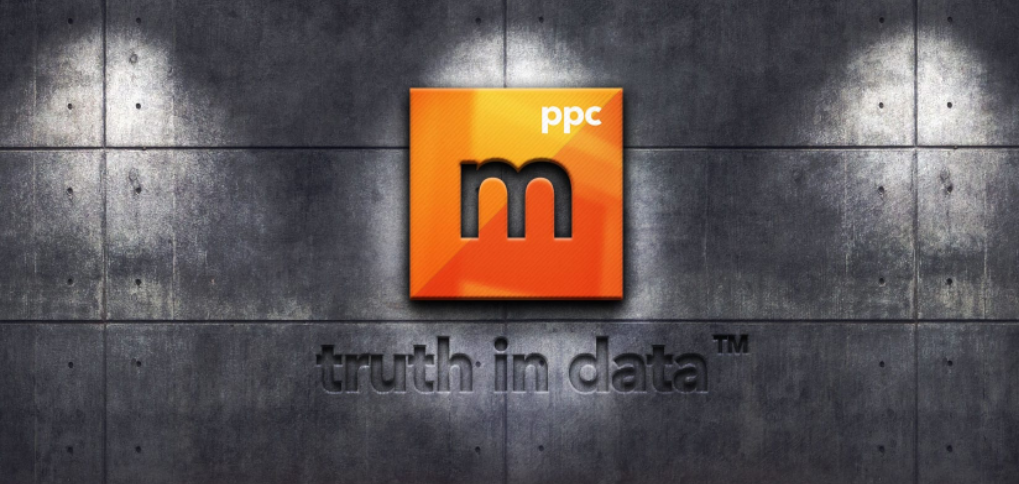 The agency is based in Bozeman, Montana, and provides promotional procedures such as remarketing, mobile ads and search and display advertising. Sean Golliher, the President, has been giving pay-per-click services since 2004 and gained essential knowledge for efficient promotion. Hudson Solar, Yoga Today, and FH Communications are delighted with Metric PPC.
"They work hard to understand the objective of the task," – Jaki Welch, Owner of J Welch Marketing.
"They have an effective workflow," – Lesslie Silverman, Owner at Hive 180.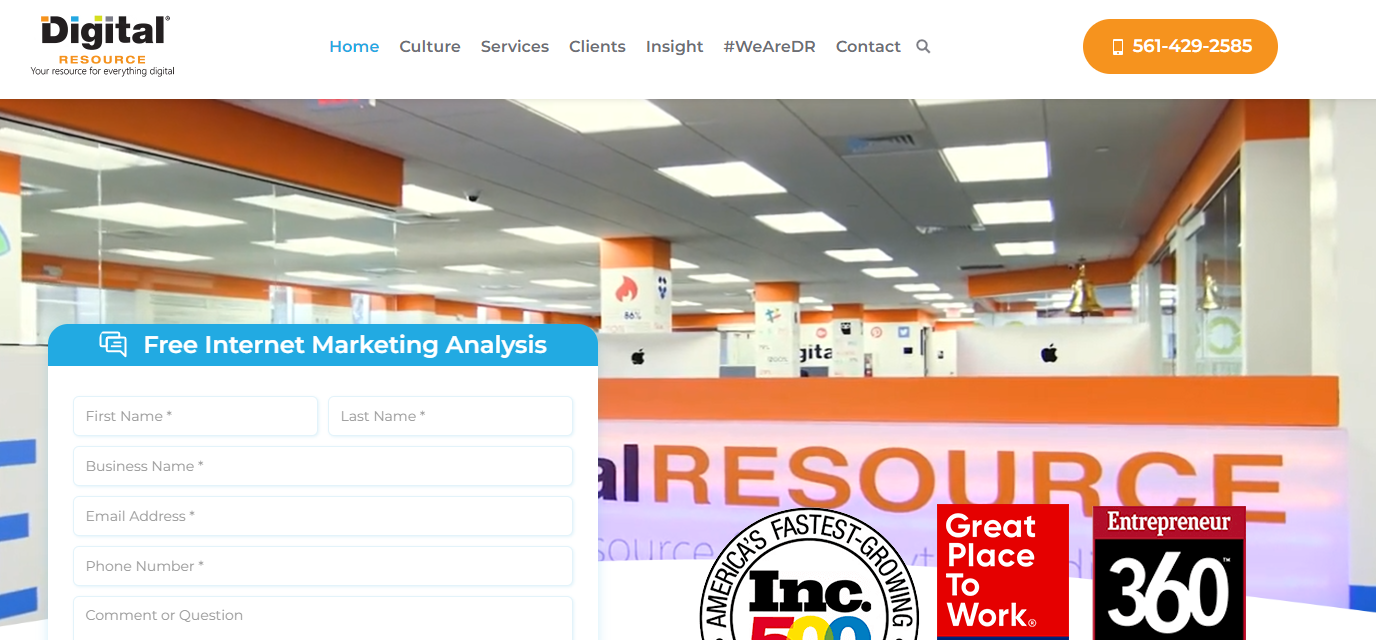 The dental marketing agency in West Palm Beach, Florida, has provided efficient services for eight years. Its founder, Shay Berman, created a dedicated team of designers, analysts, and programmers to meet the expectations of different customers. The brands that successfully cooperate with the agency are iDental Group, F45 North Holland, Happy Hemp, etc.
"They used innovative resources for our strategy," – Paul Donohue, President at Debthelper.org.
"They gave us clear and proper communication," – Content Marketer at Lifestyle Publication.

David Fernandez is a President responsible for permanent efficient strategy development, including web design, SEO, and PPC advertising. Capital Solutions has a main office in Denver, Colorado, and already cooperates with well-known organizations, optimizing their keyword structure, providing guest posting, supporting content, etc.
"They always know what they're doing," – Brandon Thompson, Director of Marketing at ContourMD.
"My brand never was something small to them," – Melissa Green, Owner of Consumer Services.
The dental marketing agency's main office is located in Edmonton, Canada. The company's President, Eric Cheng, works with an excellent team specializing in marketing and branding. 12 Creative cooperated with high-trusted brands such as West Village Towers, Ace Medical Clinic, Kimberley, etc.
"Their work is on a high level," – Jenny Le, Senior Advisor at ATCO.
"Their team focuses on developing a local business community," – Dwayne Olatonade, CEO at Oliver Park Central.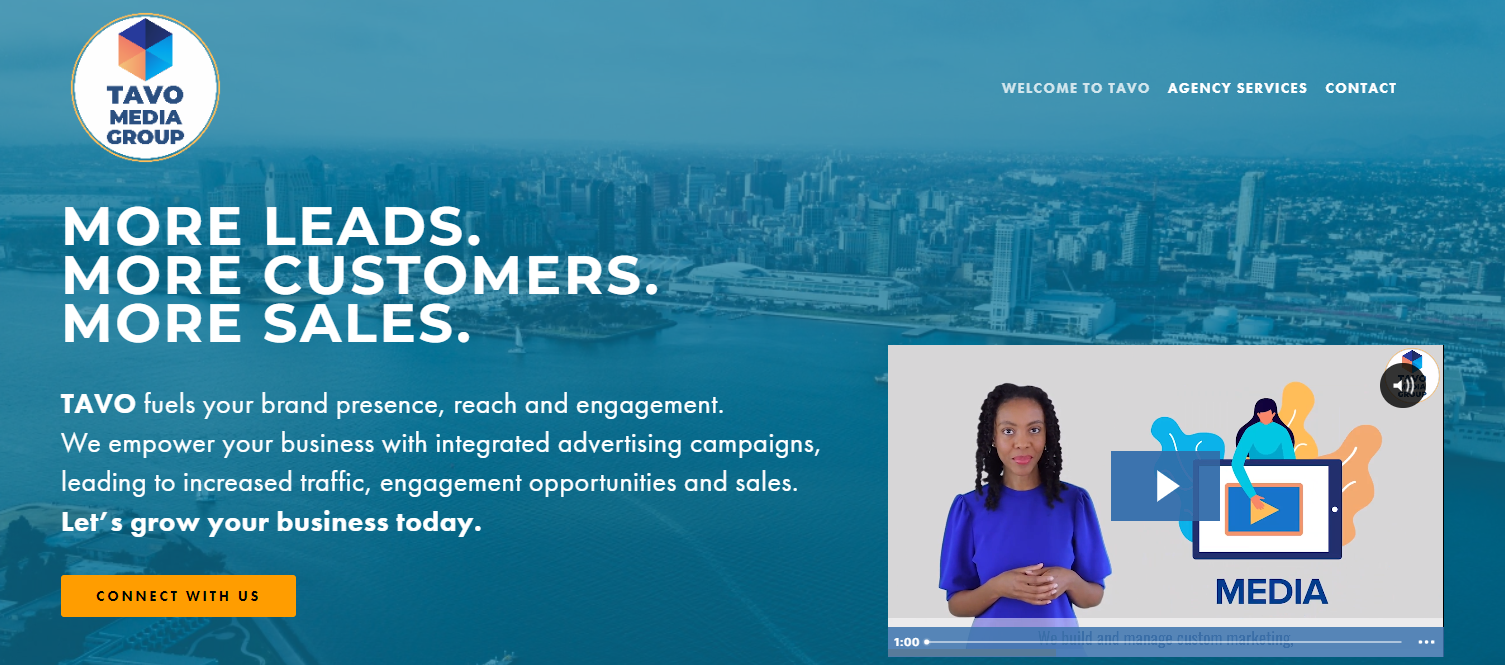 Bryant Walker started a company in 2012 with the main office in San Diego, California. The agency provides research and competitor analysis, business innovation, media planning, etc. The efficient result is confirmed by the experience of working with Johnson & Johnson, Scripps, Northwestern Mutual, etc.
"They are true professionals and provide highly efficient services," – Aaron McCoy, Project Manager at Continental Design Build.
To Sum Up
Dental marketing is a massive system of business procedures required for the product's promotion. You can follow the specific tips to improve dental clinic or hire the particular services to choose the most suitable strategy for your brand.