Even the best talent needs a meaningful resume when applying for a digital marketing analyst job. Tell us about your experience, achievements, and readiness for new projects – HR specialists are interested in hiring people with your professionalism.
What you need to include in your resume for a digital marketing analyst position:
Without a resume detailing your professional skills, finding the right digital marketing analyst job isn't easy.
Fundamental points in the resume that HR managers pay attention to include:
Within the first six seconds, from the moment the file with the resume is opened, the HR specialist makes a decision about the candidate. Analyze your own resume with a similarly cool head (you are an analyst!). Optimize it by selecting the most important information you want to convey to the employer and place it above the secondary information.
What are different types of Digital Marketing Analyst resumes?
A professional digital marketing analyst resume consists of a few key sections:
Depending on your skill level and employer expectations, focus on specific sections to create the most competitive digital marketing analyst resume.
Junior Digital Marketing Analyst Resume
Lack of experience or minimal work experience will not prevent a beginner specialist from finding a job. In the resume of a digital marketing analyst, it is important to focus on education and academic performance and certificates of professional development.
Acceptable positive characteristics a young specialist should emphasize in their resume include: self-discipline, confidence, the ability to take responsibility, and a high level of motivation.
✅ Correct wording:

I manage a successful non-profit project.
I increased website traffic by 120% using contextual advertising.
❌ Incorrect wording:

I can set up contextual advertising.
I have experience in setting up contextual advertising.
Mid-level Digital Marketing Analyst Resume
For a jobseeker in the Middle category, a combination of gained work experience and active professional skills development will bring significant success in your employment search. Along with proficiency in analytics tools, CRM, and programming languages, high-quality education and the desire to develop in the professional field will play an important role in your self-presentation.
Digital marketing analyst success stories indicate there is a high level of success in finding employment at this level. Additionally, previous work experience may indicate the applicant's ability to admit mistakes and correct them.
✅ Correct wording:

Optimized ad spending by 20% for Google.
Consolidated data using Plerdy Analytics Tools.
❌ Incorrect wording:

Collaborated with Google.
I use data analysis tools.
Senior Digital Marketing Analyst Resume
If your experience as a digital marketing analyst qualifies you for the Senior level, the best way to present yourself as a professional is to include real projects on your resume. Then, tell us how your work has been helpful to the employer.
If it is not possible to disclose confidential data about past advertising campaigns, present your achievements in the form of a case study. Describe the campaign step by step, specify the result of your work as a percentage, not in dollars.
Regardless of skill level, employers often expect a team player – mention your friendliness and willingness to work in a team. Personal qualities are sometimes more important than experience and competence. Pay attention to the "hobbies" section, describe your favorite books and your non-commercial projects. This will show the applicant as a well-rounded and open person.
✅ Correct wording:

Graduated from Python programming language courses.
Managed an advertising campaign with a budget of $20,000.
❌ Incorrect wording:

I am constantly engaged in self-education.
I worked with large budgets for an advertising campaign.
Example of a Digital Marketing Analyst Resume from Plerdy
To draw the attention of an HR professional, strike a balance between providing complete information and leaving out unnecessary details. Plerdy provides an example of an effective resume – evaluate the optimal location for different types of information and the format for its presentation.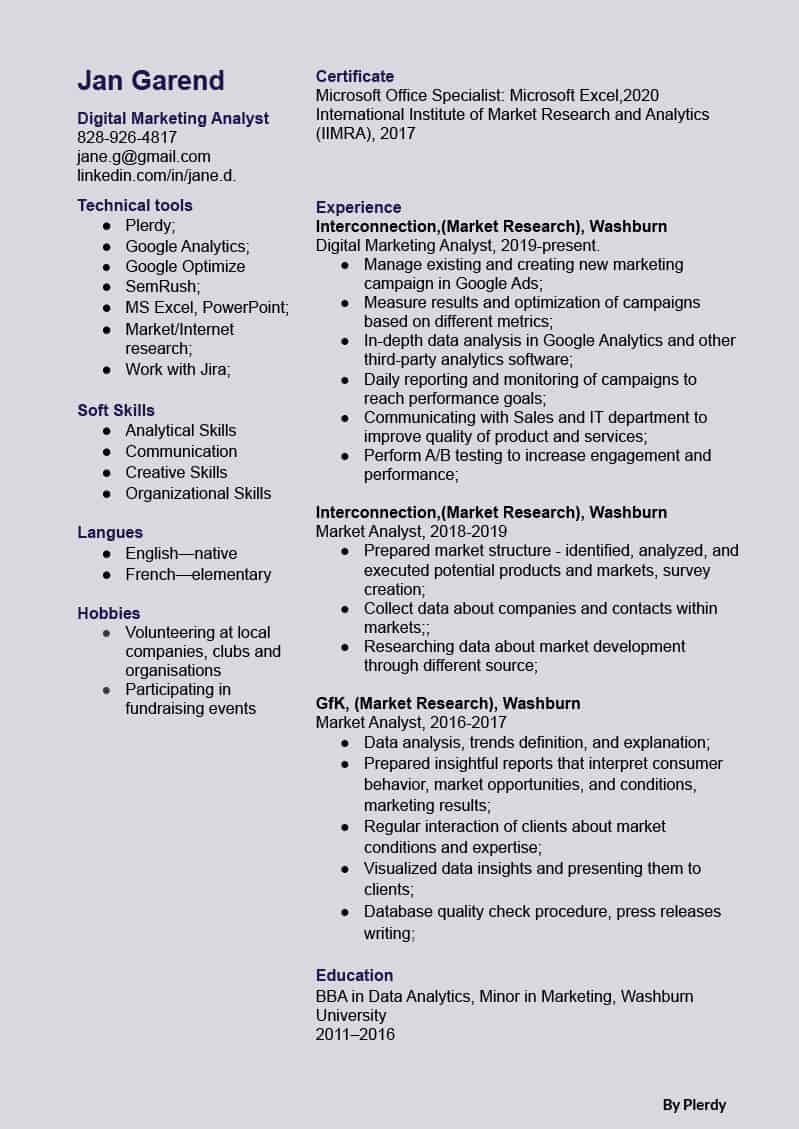 Detailed personal data gives more options for contacting the applicant. The hiring manager can get acquainted with the candidate's social networks even before the first call. A LinkedIn or Facebook account will show the candidate's openness, and it will give the HR professional insight into the interests and hobbies of the digital marketing analyst.
The list of certificates in the resume indicates that the candidate is proactive in furthering their professional development. Certificates also validate the high-level skills of a specialist.
In the skill block, you can mention your experience with professional tools. The list should be extensive enough to cover most of the tasks required of a digital marketing analyst. The most productive ones to include are:
Personal qualities are included in the list of basic skills – they demonstrate that colleagues will be comfortable working with the candidate.
In the paragraph on work experience, indicate times of cooperation and job responsibilities you completed. The list of companies is formed with the current place of employment first and descends chronologically – this way, the information is more accessible to the reader.
It's worth complementing your digital marketing analyst resume with hobbies and interests – it's important to show how a candidate's work and personal life fit together. For the candidate, a resume is especially beneficial if their personal preferences overlap with professional activity. In addition, this part of the resume demonstrates to the prospective employer that you are willing to engage in a dialogue.
Information about education is placed in the lowest block – specialists of this level traditionally have excellent diplomas.
The best vacancies for a Digital Marketing Analyst
A well-crafted resume for a digital marketing analyst is the first step to getting an interesting job. In addition, it is important to meet the requirements of the employing company. Companies with open vacancies are looking for professionals with sufficient skills who are inclined towards development and self-training. The HR department is interested in hiring specialists with specific knowledge and the tools to work with maximum efficiency. Here are the most popular skills and characteristics that the applicant can emphasize to help them find employment:
The digital marketing analyst is offered a decent salary and additional employment benefits. Some employers take out health insurance for their employees, pay for meals, educational training and entertainment, and much more.
Conclusion
A laconic and structured presentation of information on a resume allows you to draw the employer's attention to your skills and arouse their interest. A well-thought-out and well-crafted resume for a digital marketing analyst can highlight strengths and competitive advantages.