Over the past five years, the popularity of ecommerce software remained high. Many new platforms that enable businesses to sell their products online appear on the market. In 2021, the eCommerce software market revenue will reach 6.53 billion US dollars. As to the players, WooCommerce Checkout, Shopify, Wix Stores, and Squarespace Add to Cart are currently the biggest names.
Apart from the platforms that allow creating eCommerce websites and enable online transactions, some tools help with eCommerce marketing. They enable you to analyze your customer behavior to improve usability and increase sales.
In this article, we will review the key eCommerce market trends and solutions. Keep reading to learn what options are out there.
Ecommerce Software with Plerdy
Plerdy is a CRO platform designed to help website owners improve their performance and boost sales. Ecommerce businesses should use it to track their website visitors and nudge them into conversion.
Plerdy is a must-have for CRO optimization and UX analysis. It helps to reach the best leads and improve conversion. (Guillermo C, Marketing Director)
You can see what the visitors are doing on your site with video recordings. No guesses. No doubts (Rajesh G, Agency Owner)
Plerdy platform consists of multiple products that allow you to study different aspects of user behavior, from clicks to navigation paths.

Learn what website elements users click in real-time. Heatmaps also enable you to filter clicks by traffic channel and device type to analyze the target audience. This data allows detecting effective and ineffective elements on an eCommerce website to enhance the navigation and user experience. See how it works in the case study.

Record how users behave on your eCommerce website. You can choose what pages and traffic sources to record for more granular research. Such records enable you to see the website with the eyes of your visitors to improve their experience.

Create custom conversion funnels to analyze unique pageviews at each funnel stage and see when users drop off. It allows you to fix specific problems and make more leads convert.

Create events to track specific user actions. Events and Goals automatically transfer data to Google Analytics, giving you additional metrics on user activity. It's a 10X time economy since you collect data on the chosen activity.

View reports on sales through different traffic channels, conversion rates, transactions, unique purchases, and other metrics. It helps to build the best marketing strategy for your eCommerce store.

Add pop-ups to your eCommerce website and inform visitors about special discounts, offers, and other important events. Pop-ups also allow you to collect contact information or invite users to sign up for a newsletter.

Receive alerts about changes on your eCommerce website to ensure it's always at the top of the search.
What is Ecommerce Software?
Ecommerce software is designed to help eCommerce businesses create, manage, and optimize their online stores. First, you can set up an online store from scratch and add the desired functionality to it. Then, once the eCommerce website is launched, the software enables you to keep managing it. It allows you to control the inventory, add new products, change pricing, process payments, complete orders, arrange shipment, and perform many other actions.
Even though eCommerce software varies and has rich functionality, there are two categories of eCommerce platforms. On-premise (installed on local servers and managed on-site) and SaaS (centrally hosted and offered on a subscription model). Lately, SaaS solutions have become much more popular than on-premise ones.
How Does Ecommerce Software Work?
Ecommerce software automates and integrates many processes happening in an online store. Instead of manually handling orders, inventory, payments, and shipping, business owners have everything in one place.
Usually, eCommerce solution performs the following operations:
When a shopper visits an eCommerce website, it displays the products loaded from the database.
Before placing an order, the shopper shares their information which is saved in the database.
At the checkout, the website automatically secures the connection and may utilize third-party software to show delivery options and shipping rates.
If the shopper places an order, the software automatically sends the credit card details to the processor (e.g., PayPal).
The payment is transferred to your bank account or deposited in your merchant account.
In addition to these steps, eCommerce software automatically tracks inventory, supports SEO optimization, automates taxation, and more.
Best 10 Ecommerce Software Solutions
This section is based on the best eCommerce solutions and reviews listed by Capterra. It's not a ranking since each of these services has rich functionality and can help you build an eCommerce business.

Shopify is an all-in-one commerce platform headquartered in Ottawa, Ontario, and run by Tobias Lütke. It allows business owners to start, manage, and grow their businesses on the web. You can create an online store, sell across web, mobile, or social media, and manage products, shipping, and inventory. Since the solution is cloud-based, you don't have to worry about software or web server maintenance.
Apart from the standard eCommerce functionality, Shopify has the following unique features:
Multiple sales channels, including Facebook shop or Pinterest
Point of sale (POS) support
Unlimited bandwidth and storage
No restriction on the number of products
Built-in fraud analysis
Low pricing, just $29/month
The ability to integrate Shopify with many parts of your business is the best thing about it
They charge a commission on your sales
This eCommerce software is used by Penguin Books, Whole Foods Market, The Economist, Heinz, Victoria Beckham, BBC Shop, and other renowned brands. Consider using Shopify for your e-commerce needs and take advantage of the Shopify free trial to explore its features and benefits for your business.

Magento is an open-source PHP-based eCommerce platform launched in 2008. After the recent acquisition by Adobe for $1.68 billion, it has become a part of Adobe Commerce. The core functionality of Magento has remained unchanged, but now it is powered by additional features. Magento allows you to build pages using out-of-the-box templates, add products,  manage ship inventory, assign price lists, and more.
It also has some unique features, including:
Easy integration with third-party solutions (Mail Chimp, eBay, Paypal, etc.)
B2B and B2C customers integrated within one platform
LiveChat for customer support
Content staging and scheduling
Visual Merchandiser for custom product positioning
Shopping cart price rules for rewards
Online gift cards
Additional payment methods (Braintree, Klarna, and Amazon Pay)
The platform is pretty easy to navigate and integrate
If you decide to change Magento built-in functionality, it would cost you a lot
Magento is chosen by Ford, Nestle Nespresso, Coca-Cola, Nike, Christian Louboutin, Marie Claire, Moschino, and others.

Wix is an Israeli company founded in 2006 that provides a cloud-based solution for easy web development. It allows creating HTML5 and mobile websites with drag-and-drop builders. Wix supports any online resources, be it eCommerce stores or personal blogs. Like other eCommerce platforms, Wix allows you to launch an online store, manage inventory, and process payments.
Besides, it offers the following unique capabilities:
Site contributors feature for shared website access
Wix App Market to improve your Wix website
Google Submission tool
Interactive Google maps you can add to your website
Cinemagraph GIF images support
Wix is easy-to-use for beginners and offers great designs
It's not the best idea for complex websites or large online stores
Wix platform has become popular among small businesses, including L' Appartement, Sonja van Duelmen, Charcoal, AliceBlue Forest, and more.

WooCommerce is a WordPress plugin launched in 2011 as an open-source solution. Designed for small to large eCommerce businesses, it offers everything you need to start selling online. For WooCommerce installation, you will need a WordPress website.
This plugin allows you to set up a store, manage orders, complete payments, and automate other standard eCommerce activities. It also supports some specialties, such as:
Super easy integration
Library of extensions (400+)
Open development
WooCommerce Marketplace with handy features
It's open-source and, therefore, highly customizable
Since WooCommerce is self-hosted, you will have to handle maintenance
Northwest Community Healthcare Corp., Porter and York, The Good Batch, Root Science, are among many companies using WooCommerce.

Salesforce B2B Commerce is a part of Salesforce Commerce Cloud. It's a separate solution tailored to businesses that sell products or services to other businesses. That's why Salesforce B2B allows launching B2B ordering functionality (e.g., shopping carts with hundreds of items), supports quick reorder, etc.
Salesforce B2B is unique with its focus on the capabilities B2B eCommerce companies need:
Large shopping carts that allow adding hundreds of items
Reorder feature for frequent orders
Complex shipping functionality with multiple locations and dates
Tailored real-time purchase recommendations
Account-based pricing
I like the customization most of all. No business is the same. Navigation is also great
You need a developer to set up and manage the software. It's impossible to implement it yourself
USG Corporation, MRC Global, and PetroChoice are currently using Salesforce B2B Commerce.

Constant Contact is primarily a marketing tool to send automated eCommerce emails and social messages. Even though Constant Contact supports a website builder, the capabilities are limited. So you'd better integrate it with Shopify, Magento, or BigCommerce.
Constant Contact has the following unique features you should try:
Free Email Template Builder and templates for email marketing
Easy creation of Facebook and Instagram ad campaigns
ROI tracking and data analytics
Lead qualification
Project sorting in Constant Contact is what I particularly like
The interface is a bit clunky compared to other similar platforms
The American Red Cross and California State University are renowned Constant Contact users.

dotdigital Engagement Cloud is an omnichannel marketing solution for B2B, B2C, and NFP companies. Recommended for growing businesses, it allows engaging with customers via emails, social media, SMS, push notifications, social ads, and live chat. In addition, this solution offers a separate set of features for eCommerce and integrates with all leading eCommerce solutions through an API.
dotdigital Engagement Cloud is unique with:
Customer lifecycle automation
RFM segmentation
Single account for multiple stores
AI product recommendations for your eCommerce website
It smoothly integrates with top eCommerce platforms, like Salesforce, powering them with marketing features
One thing I would like to add is heatmaps
Cellar One, Copa Airlines, British Airways, and Royal Aeronautical Society use dotdigital Engagement Cloud.

Pipedrive is a sales CRM service headquartered in New York. This software optimizes conversion funnels on eCommerce websites. With over 275 integrations supported, it also automates sales and facilitates lead management.
You can use Pipedrive for the next unique capabilities:
Pipelines for sales visualization
Customer chatbot and forms for 24/7 lead generation
Email, call, and contact tracking
AI-powered sales mentor
Sales automation recommendations
Less complicated than many other CRM tools
They should improve workflows to support more complicated options
Zendesk, 360 Payments, Lessonly, and Cengage Learning, Inc. are some of the Pipedrive users.

Buffer is a free application for social media management. It gives you a single place to control all communications, marketing efforts, and interactions across social media. Buffer is effective for eCommerce stores that want to increase their online presence and promote products through multiple channels.
This software is unique with its SMM features for e-commerce:
Content publishing planning on Facebook, Twitter, Pinterest, and LinkedIn from a single dashboard
Shop grid support
Content collaboration
Customer engagement functionality for customer support and sales
A cheap and easy alternative for SMM automation
Videos and album posts have to be pushed through
Huckberry, Access Ventures, and Basecamp are the key Buffer users among 75,000 brands.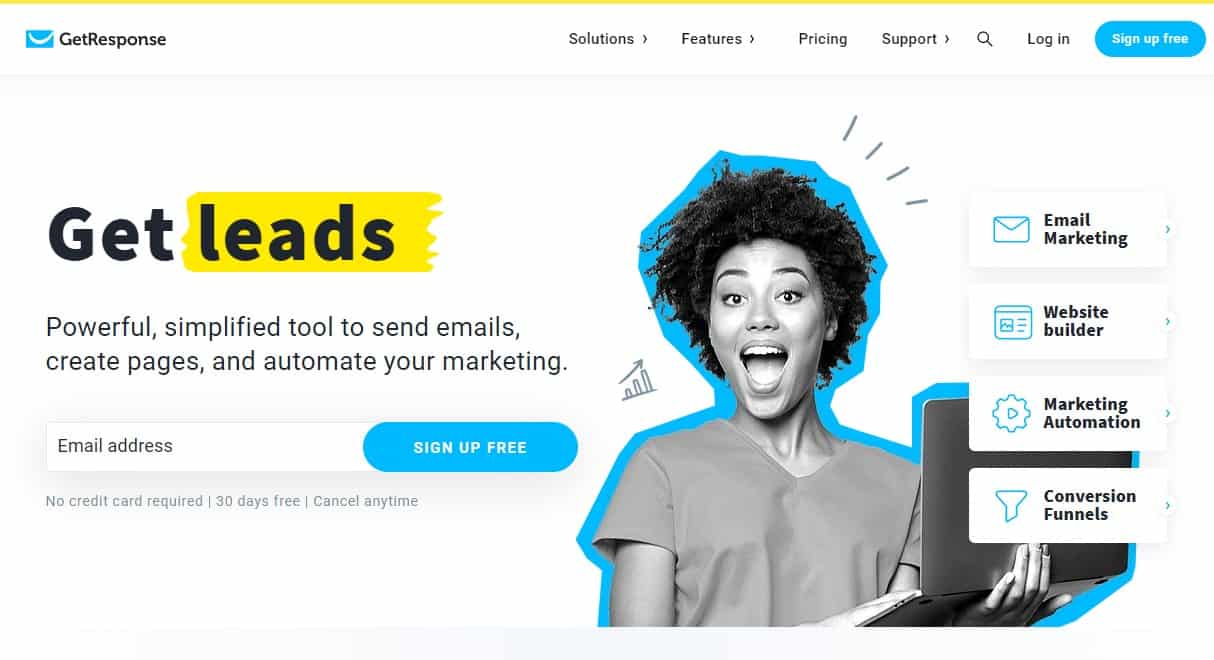 GetResponse offers an online platform with email marketing capabilities, landing page creator, conversion funnels, and other features. You can use it to build a basic website or integrate it with your online store for advanced digital marketing.
GetResponse stands out with the following features:
Targeted online communication
200+ landing page templates
Email analytics with clicks, opens, unsubscribes, complaints, and bounces
Webinar platform to host demos, product announcements, and training sessions
You can easily start without any tech skills
It doesn't allow you to create a domain name and an SMTP server
GetResponse is trusted by IKEA, Revolut, Zendesk, Stripe, Carrefour, and many others.
Conclusion
Ecommerce software is versatile. It's not only about online store builders, inventory management, and payment processing. Ecommerce tools offer omnichannel marketing, SMM, AI-based product recommendations, tailored B2B functionality, user behavior tracking, and other features.
Hence, an eCommerce business that wants to be successful will need to integrate multiple solutions. In addition to order management, it's essential to study the target audience with tools like Plerdy. Customer analysis allows you to improve website design, ensure better navigation, and increase sales.