Are you an eCommerce store looking to gain a competitive advantage? We have some exciting news for you: 2023 is the year of conversion rate optimization! We've compiled a list of 30 essential tips to get your eCommerce store up and running and converting visitors into loyal customers. Let's take 🎬 a look at what the future holds for online retailers everywhere.
What is Ecommerce Conversion Rate Optimization?
Ecommerce Conversion Rate Optimization (CRO) is the science of converting internet visitors into paying customers. CRO, sometimes known as "the art of getting people to do what you want them to do," has become an essential tool for organizations in recent years.
But how does it work exactly? Consider this: imagine someone entering your business and trying on a pair of shoes. They'll buy those shoes if they fit well and look great! The same is true for eCommerce stores; if a buyer can quickly and easily find what they're looking for, they're more likely to finish their transaction.
CRO works by analyzing user behavior (heatmaps and video sessions) on your website and helping you identify potential obstacles preventing visitors from completing their transactions.
An Example of Bad UX in an Ecommerce Website that Affects the Conversion Rate
Starting an online business is a complicated process, which usually depends on different factors. The eCommerce website requires unique characteristics to become highly demanded and profitable. Modern users pay attention to interactive UX/UI elements developed in a complex digital promotion strategy. To transform website visitors into «profitable users,» an effective eCommerce conversion rate optimization should be implemented.
Learn from others!
SEO
and CRO communities have been getting larger thanks to developers' and engineers' communities that inspire a lot of SEO and CRO people in the world. Literally, it costs nothing to learn new skills from experienced people online. I never had a mentor that taught me SEO, but every experienced SEOs helped me develop my own strength.
Hayata Nakamura
Sr. SEO Specialist | G2
Imagine a website in which «user information» bars can be filled in only after text removal, or standard buttons, such as «next page» or «click here,» are mixed or reversed. As an example of the disastrous state of an eCommerce website, the Plerdy team has created an example of a very bad UX (try to pass this game to the end and quickly). It allows users to fill out several template forms with a maximum lack of conversion optimization and usability. This situation will complicate and anger the visitor and is fatal, because users will leave the website after the first click. The illustrated mistakes are a sign of poor elaboration of the general elements by which eCommerce website pages should be optimized.

Conversion is an objective indicator of a website's (online- store's) profit because it displays the proportion of "beneficial users" who performed specific beneficial actions (purchase, add to cart, etc.) to the total number of users. It is, without a doubt, represented by percentage indicators. Ecommerce conversion rate optimization assists in achieving a specific number of conversions as well as improving the conversion rate of pages to high indicators.
How to Calculate Ecommerce Conversion Rate?
If you are trying to figure out an eCommerce business, then you know that conversion rate is one of the most important metrics. But how do you determine it? Do you need a calculator or a degree in mathematics? Not at all! All you need to calculate the conversion rate is a few simple steps and some basic math.
First, define what is considered a "conversion" for business. Is it when someone clicks the "buy" button and completes their order? Or when they sign up for an account? Once this is established, divide the number of conversions (say 500) by the number of customers who visited the store (5,000). This will give you 0.1 or 10%, which means that 10% of visitors took action in store, or it is also called a macro conversion!
If you have an online store on Shopify or WordPress, you can use the Plerdy app for these platforms. That automatically installs Plerdy eCommerce tracking; you will collect data on user behavior and influenced purchases.
10 Ideas For Ecommerce Conversion Rate Optimization
Due to the high level of digital competition, websites are now subject to stringent selection. Several factors must be considered when determining what is a good eCommerce conversion rate. As a result, the eCommerce website should be meticulously optimized while taking key factors into account.
Simple Navigation in the Ecommerce Website
The navigation should be simple and easy to understand. Users should not pay special attention to common actions when adding data to the landing page. All customer-related processes should be carried out intuitively. As a result, its optimization must be well-planned.
High-Resolution Of Images
Several factors must be considered when determining acceptable image quality for placement:
Selection of correct file type due to the determined goals of picture placing.
Use of compression tools and plugins.
Avoidance of unoptimized image abuse.
Filters, models, outlines, and other effects should be competently used.
Ecommerce conversion rate optimization includes all the listed requirements – Plerdy professional team can help do it with custom professional tools.
Free Shipping
It is an essential part of marketing strategy, which is crucial in attracting customers. Despite the direct impact of free shipping on the financial component, the long-term optimizing effect will be perceptible.
Usability Testing Ecommerce Website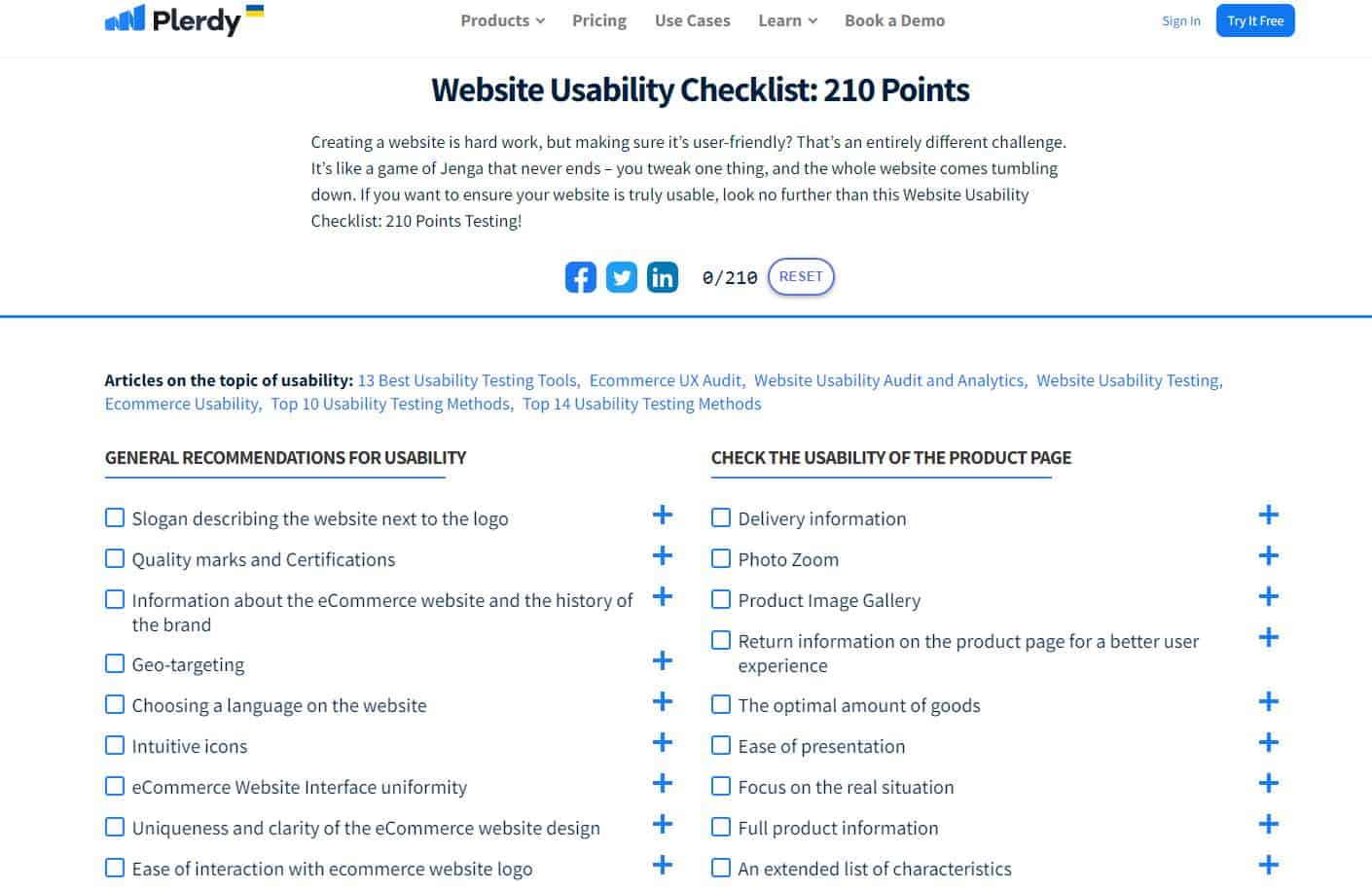 The website elements should be regularly checked for their convenient application and proper functioning. Products, content, structure, UX/UI parts, etc., fall under necessary testing procedures. Plerdy has a specific usability checklist of obligatory elements, which should be tested during eCommerce conversion rate optimization.
Competitive Price
Even the most experienced marketers can't set the ideal price for the products, but the competitive one should be chosen. Analytics of the competitor's products and their juxtaposition are required; the custom strategy due to essential parameters (discounts, losses, stocks, etc.) is necessary.
Live Chat
Unless you have a large online store, having live chat as an option to enhance conversion rates is just what you need. Why? Because it provides a straightforward, fast, and personalized approach for customers to acquire real-time answers to their issues. Furthermore, it's a terrific approach for you and your team to stay on the same page when deciding how to optimize business for conversion rate optimization (CRO).  Here are some pointers for using live chat as an effective CRO tool. To begin, ensure that clients may contact you via live chat whenever they require assistance. This means you should include it on every page of your website and make sure someone is ready to answer client questions 24 hours a day, seven days a week. If it is not possible to have someone on the chat 24/7, you should conceal it from the site if none of the management are online.
Safe Store/Return Policy
The security of a website should be demonstrated in order to achieve user trust. In this case, the following tools can be used:
SSL protocols;
customer-trust payment services;
Specific security badges.
The eCommerce website credibility is a sign that it is high-trusted and doesn't threaten the customers. Therefore eCommerce conversion rate optimization prioritizes this essential aspect.
Easy Checkout Form

It should contain only necessary data, which users are suggested to fill in. To make it easy, set up the limit of typed symbols in the exact bars and use more additional menu tools (dropdowns, automatic data pickers) to simplify the task.
Mobile Optimization
It's no secret that in this day and age, optimizing eCommerce website for mobile devices is critical. But did you know that by optimizing your site for mobile use, you can significantly increase your conversion rate?
"Yeah, sure… it can't be THAT much of a difference!" you may be thinking. Let us tell you, it most emphatically is! According to studies, customers are far more likely to purchase products on their phones when the experience is optimized. According to one study, customers using an optimized eCommerce website convert at a rate that is up to 58 percent higher than those using a non-optimized one!
So don't delay – start optimizing for mobile today and watch as those conversion rates skyrocket! You'll be glad you did – trust us!
Optimize Sales Funnel
When it comes to running a successful eCommerce business, optimizing your sales funnel conversion rate is key. Without the right strategy, you'll leave money on the table – no one wants that! But how can you make sure your customer's journey is as smooth as possible? Here are some tips to help boost the conversion rate!
First and foremost, ensure that you understand who your customers are. What do they require? Why should they choose you over your competitors? Understanding these points will allow you to better tailor your sales funnels for maximum efficiency. Second, prioritize the customer experience. Ensure that everything, from site navigation to the payment process, runs smoothly – any hiccup along the way could result in a customer abandoning the purchase!
Aim to choose the right landing pages for each advertising campaign. Of course, it doesn't hurt to check SEO and keywords in more detail. For example, a slicer for a restaurant and a slicer for a home are different things, so you should name the right categories for the target audience so as not to bother potential customers.
30 Tips To Ecommerce Conversion Rate Optimization
Use these hints based on Plerdy specialists' experience to increase your online store's sales rate and optimize its compatibility.
Improve Website Speed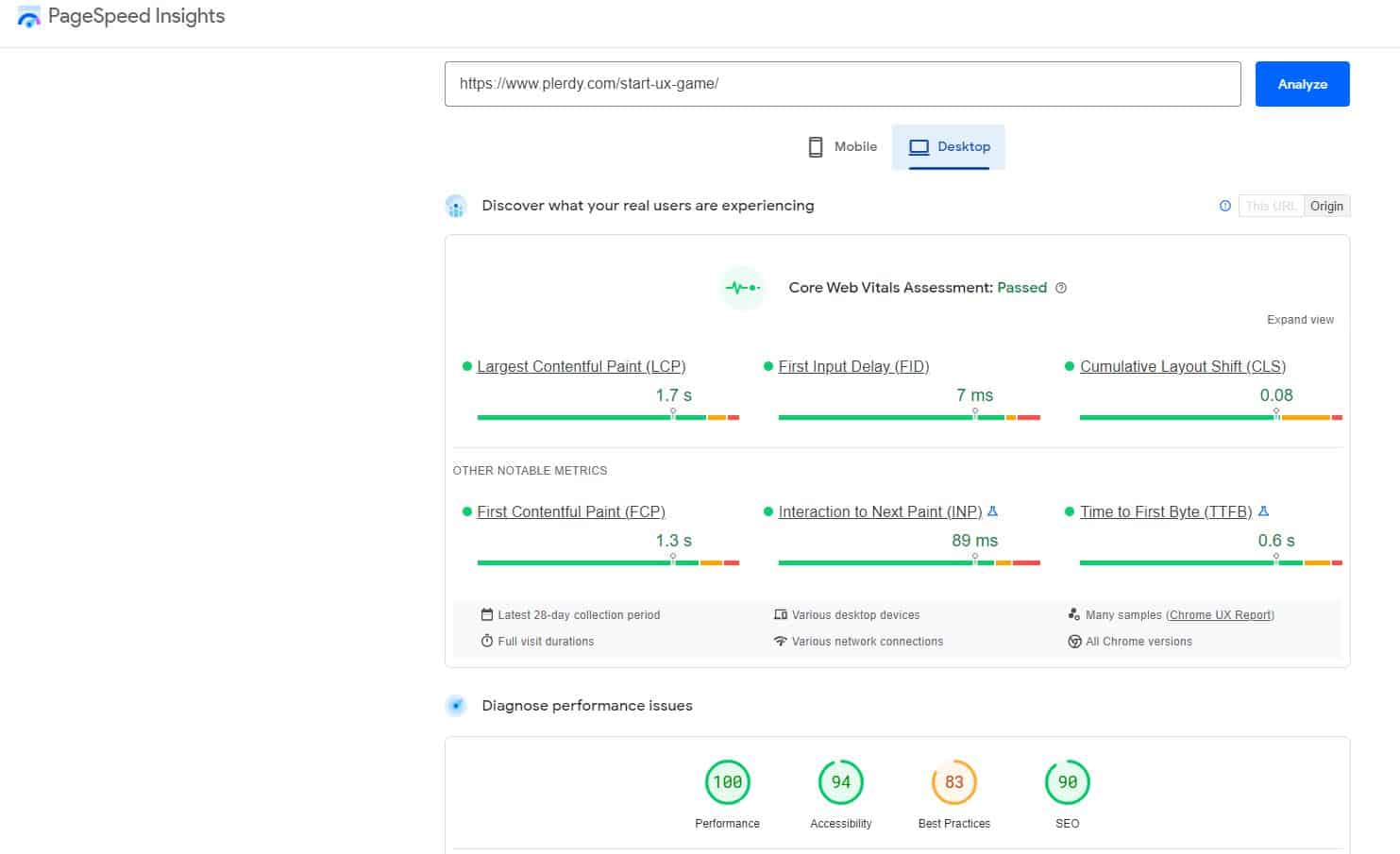 It is a basic aspect of SEO and SEM and a great indicator of internal optimization. The users are keen on fast page loadings and value it at all.
Help Customers Recover From 404 Errors
A 404 error is usually inevitable in most cases, so the solution should be well-performed. Turn common «mistake message» into a readable and understandable form, which helps users find the link primarily aimed at (if the search function is optimized, a search bar may be placed on the error page).
Make Limit Choices To Help Shoppers Decide
Plenty of suggested item categories confuse most users and reduce their ability to choose an exact one. A limited number of products and directing users to potentially desired products is important for proper eCommerce conversion rate optimization.
Use Product Images Deliberately
Visualization is always essential because visibility helps to correctly choose and outline the essential characteristics not mentioned in the description. Optimize images due to the required parameters and supplement the product description with them.
Offer Discounts Strategically
Regular discounts are usually signs of wrong marketing strategy and poorly implemented promotion procedures. Use different types of loyalty in your online business to optimize eCommerce conversion rate, and don't forget to actualize them correctly (the discount for low-priced items may be shown in percentage; implement promo codes).
Pay Attention To Thank-You Page
Try to supplement customers' purchase-related happiness with:
Showing customers similar products after the purchase.
Suggest downloading a mobile app (if developed and optimized) or visiting other pages of your website (blog, FAQ section).
Stir up interest with loyalty programs.
Each customer should not doubt about making a correct decision when choosing your website.
Use Behavior Triggered Popups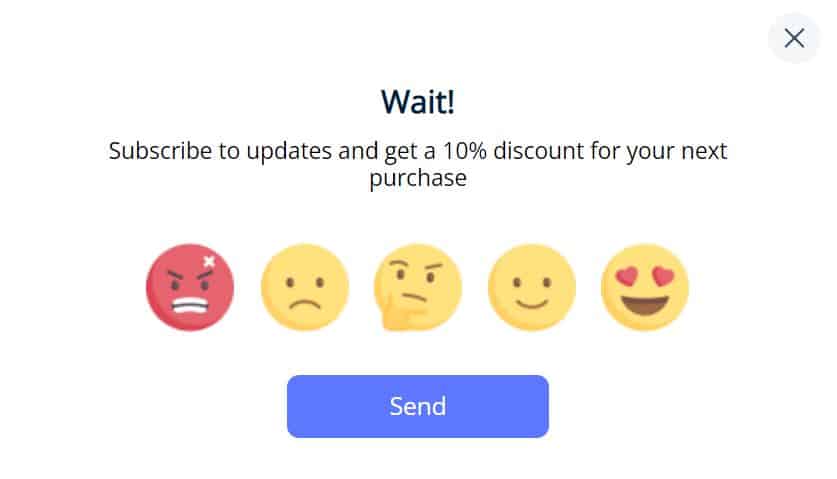 All in all, some visitors will leave your website without bringing any reasonable profit. Try to return them with ordinary events, such as mailings, popup modals, etc. But remember to make popups only condition-related.
Use Multimedia In Blog Posts To Enhance Content
With so many eCommerce stores out there, it's important to stand out from the crowd. One way to do this is to include multimedia elements in your blog posts. Not only can a good multimedia element make content more interesting and entertaining, but it can also help increase customer conversions and sales on your website.
Adding multimedia components like videos, infographics, or GIFs to blog posts is a great way to get potential customers interested in what you have to offer. It also helps break up long blocks of text and gives readers something interesting and visually appealing to look at. This can help keep visitors on your page for a longer period of time, increasing the chances that they will convert into paying customers. In addition, having a good mix of visual elements on your page gives customers more opportunities to interact with your content – which means more opportunities for them to make a buying decision!
Create Unique Landings Pages For Unique Customer Segments
Complement detailed customer analysis and segmentation due to the specific parameters (traffic, device type, cart item count) by creating a particular landing page, which becomes an integral part of well-optimized interaction. Landing pages optimization and its simplifying is a key aspect of eCommerce optimization
Display Big Brands You've Worked For
It would be best to always show your competitiveness and high level of provided services by displaying the eminent partner brands. It will always be an objective sign of your professionalism.
Make Call To Action Persuasive
It requires some specific options:
Make a single CTA button with acceptable visual characteristics.
Determine the most integral element of its attractiveness: it may be color, shape, size, etc.
Endow the button with clarity and make it social proof.
Considering that CTA is widely used at different online shops, eCommerce conversion rate optimization makes it entirely suitable to most digital requirements.
Follow The 80-20 Rule
The 80-20 rule (aka Pareto Principle) is an old concept in business, but how do you apply it to optimize eCommerce conversion rate? If you're like most online stores, your customers are likely spending 80% of their time on 20% of your product offering. This means that if you really want to maximize sales and conversions, you need to focus most of your efforts on that 20%.
But where should you start? Well, the first step is to understand who your customer is. Do they prefer one type of product over another? What types of promotions do they respond to best? Answering these questions can help you guide your decision-making process when it comes to conversion optimization.
Set Up Simple Navigation For Customers

All actions on the eCommerce website should be done intuitively and without wasting time. Don't make users familiarize themselves with complicated elements in order to expand their website browsing. Remember that eCommerce optimization is always about making the website's investigation process easier.
Optimize For Mobile Devices
The mobile version should be similar to the original one – try to develop an optimized mobile eCommerce website without losing sense and save all the necessary functions to provide eCommerce conversion rate optimization.
To avoid making mistakes in mobile optimization, learn how you would determine the mobile eCommerce conversion rate for paid traffic. It will help to get more objective profit from the different segments of the users.
Collect Emails Without Distracting The Customer
Do you want to enhance eCommerce conversions without annoying your customers? You don't need to search any further! Here's a clever method for keeping your consumers engaged while increasing purchases.
Gather emails! This may appear to be an odd proposal, but it can be highly helpful in converting more leads into paying clients. Inviting visitors to join the email list will not function. It is preferable to display a popup and offer something valuable, such as a promo code, discount, or tip. You can learn a lot about their likes and preferences. You may also use this information to send them offers that are targeted particularly to them, boosting the possibility that they will buy from your store.
The idea is to avoid becoming too invasive or overpowering the customer. When they visit your store, you want them to feel welcomed and valued, not bombarded with email requests.
Cater To Early-Stage Visitors
The user's way to understand your website is dependent on their interaction in the first stages:
Place the primary content in the form of guides, which help investigate the eCommerce website and determine its aim.
Start the user interaction at the upper part of the page, slowly moving to the lower one (or the other page).
The emphasis on eCommerce conversion rate optimization should be directed toward becoming a «reliable partner» interested in customers' desires.
Format Copy Text To Highlight Important Information
When it comes to optimizing eCommerce conversions, formatted copy text is the best way to highlight important information. Whether your goal is to show customers the advantages of shopping online or to persuade them that they require a specific product, text formatting can make a significant difference.
Consider bolding key phrases like "save time" or "great deals". Customers are more likely to click on these phrases and read further if they are highlighted against the rest of the message. Furthermore, using eye-catching visuals like arrows and accent colors will draw attention and help customers understand what's going on right away. Using different font sizes for headlines and subtitles will also help break up long content and keep readers from becoming overwhelmed.
Communicate Benefits Of Completing Forms

Do not direct users onto filling in useless forms – show them the importance of the last. Show that their experience will improve after adding data to each information bar they have faced.
Give Customers Product Reviews
Customers want to get reliable products, and the easiest way to know this – check reviews of the others. Let them read some information about already purchased products and convince them to make the right choice.
Double-check spelling and grammar
The most important thing you can do to improve your eCommerce conversion rate is to double-check spelling and grammar.  Why? Well, when customers scroll through the website, they will pay attention to small details like spelling and grammar. If they notice any typos or errors, chances are they won't take you seriously and will click away faster than hummingbird wings!
Therefore, if you want to increase your eCommerce conversion rate, ensure that all your site's content is error-free. Before publishing each page online, check it with a spell checker. Also, don't forget to take a break from proofreading after working on a project for hours – our eyes can get tired too!
Autofill Form Fields
Implement plugins to simplify the process of adding data to several forms. It reduces users' time expenses and becomes a sign of proper optional elaboration.
Set Pricing Correctly
Choose the most optimal price for each product, considering essential aspects:
The competitor's price;
Price on the global market;
Your evaluation of the product.
Remember that only proper statistical and analytical representation may help set the most suitable price.
Offer A Good Return Policy
The customer should always be sure of the product's quality. Even if it doesn't meet his expectations, the service should be ready for making a return considering privacy and policy rules.
Thank Customer After The Purchase
It will help to endear the customer and suggest something else from your stock and lead to the use of other website's functions. Use a competent approach to this element of eCommerce conversion rate optimization.
Capture More Valuable Traffic
A misunderstanding about getting more clients by capturing more traffic is spread. The main aim should be in the auto-segmentation of the users of the targeted groups and implementing marketing strategy considering the investigation of their actions and goals on your website.
Use Heatmaps For Deeper Behavioral Insights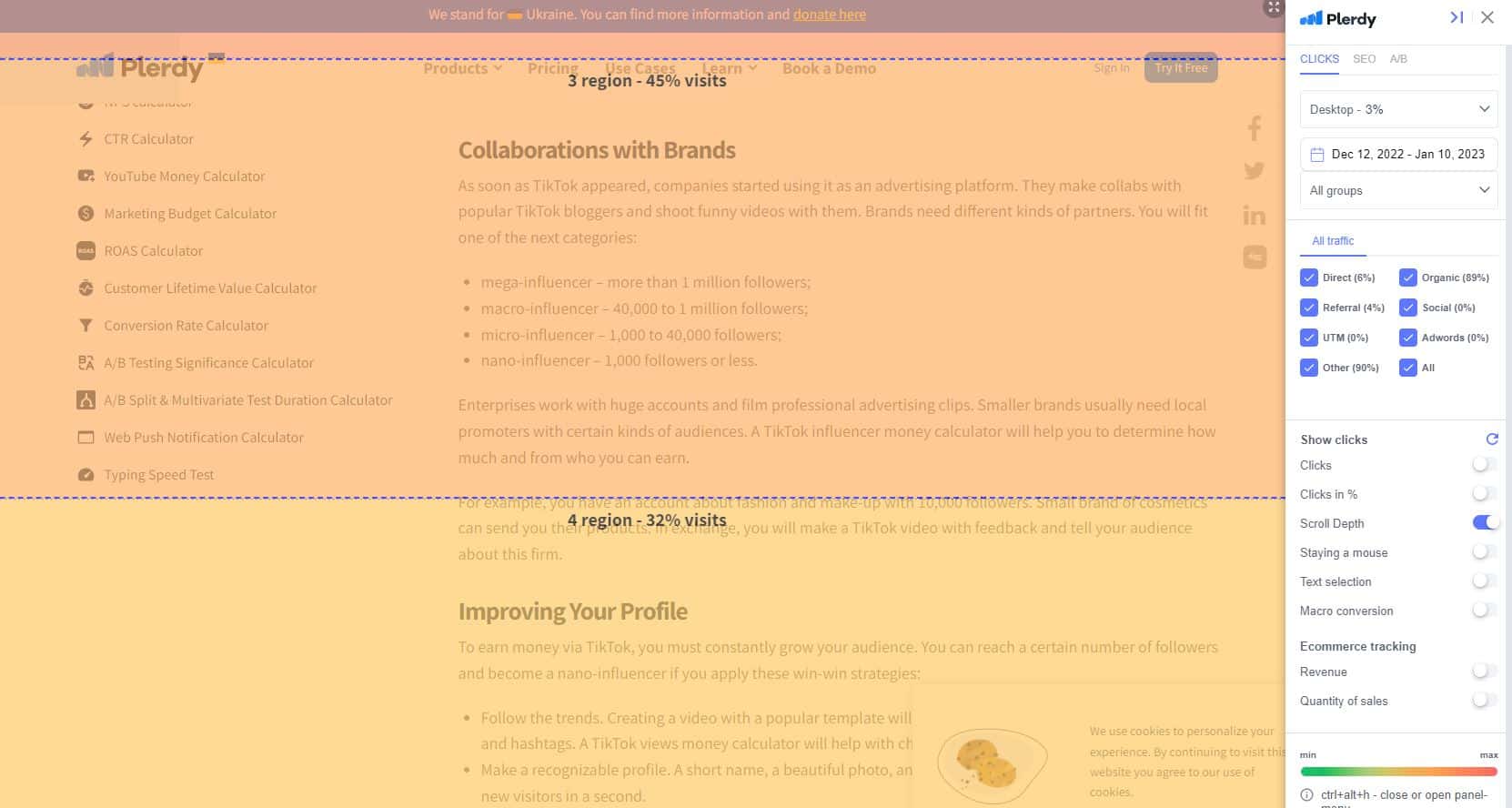 It's time to get creative and try the latest optimization tool – Plerdy Heatmaps! This powerful software provides deeper customer insights that simply cannot be achieved with Google Analytics.
Plerdy Heatmaps makes it easy to identify areas of improvement for your eCommerce website and make your ad campaigns more converting so you can make the most of every customer interaction. With this powerful tool, you can better understand how visitors interact with your site, providing you with valuable data about their behavior.
All this means that the power is now in your hands! With Plerdy Heatmaps, you have the opportunity to increase conversions and stand out from the competition – all while having fun!
Collect Exit-Intent Information
Using specific tools to determine why users leave your website and improve connection with clients by automatically obtaining exit-intent information. E-commerce conversion rate optimization, in general, entails regular behavioral monitoring.
Never Stop Testing
Continue to test each component of your website for proper operation. Use automated and testing tools to quickly analyze performance, draw conclusions, and eliminate weak points on your eCommerce website. Learn how to boost eCommerce conversion rates and continue testing each of the newly implemented elements.
To Sum Up
2023 is also the year of eCommerce optimization! There's no reason why you can't use these 30 tips to increase your conversion rate, whether you're a newcomer or a seasoned pro. So put on your cape and your tights. It's time to transform into an eCommerce superhero! Remember that great power comes with great responsibility, so test each strategy and make data-driven decisions to get the most out of your strategies!