Starting an online business is a complicated process, which usually depends on different factors. The resource requires unique characteristics to become highly demanded and profitable. Modern users pay attention to interactive UX/UI elements developed in a complex digital promotion strategy. To transform website visitors into «profitable users,» an effective eCommerce conversion rate optimization should be implemented.
Imagine a website in which «user information» bars can be filled in only after text removal, or standard buttons, such as «next page» or «click here,» are mixed or reversed. The Plerdy team has created a specific web application as an example of the catastrophic condition of the resource. It allows users to fill in several formulaic forms with maximum lack of eCommerce conversion rate optimization and convenient use. Such a situation looks attractive at first sight but is fatal because the users will leave a website after the first click. Exemplified mistakes are a sign of poor elaboration of common elements, which should be optimized resources.

Conversion is an objective sign of the website (online-store) profit – it shows the ratio of «beneficial users» who made exact beneficial actions (purchase, add to cart, etc.) to the total number of users. For sure, it is represented in percentage indicators. Ecommerce conversion rate optimization helps to achieve an exact number of conversions and improve the conversion rate of the pages to high indicators.
10 Steps To Ecommerce Conversion Rate Optimization
Nowadays, websites fall under strict selection due to high digital competitiveness. To understand what is a good conversion rate for eCommerce, several aspects must be taken into account. Therefore the resource should be elaborately optimized considering key factors.
Simple Navigation
The navigation should be simple and understandable. The users shouldn't pay extra attention to making common actions while adding data to the landing page. All the customer-connected processes should be done intuitively. Therefore its optimization should be well-planned.
High Resolution Of Images
To set the acceptable quality of the placed pictures, several aspects should be maintained:
Selection of correct file type due to the determined goals of picture placing.
Avoidance of unoptimized images abuse.
Filters, models, outlines, and other effects should be competently used.
Ecommerce conversion rate optimization includes all of the listed requirements – Plerdy professional team can help to do it with custom professional tools.
Free Shipping
It is an essential part of marketing strategy, which is crucial in attracting customers. Despite the direct impact of free shipping on the financial component, the long-term optimizing effect will be perceptible.
Usability Testing

The website elements should be regularly checked for their convenient application and proper functioning. Products, content, structure, UX/UI parts, etc., fall under necessary testing procedures. Plerdy has a specific usability checklist of obligatory elements, which should be tested during eCommerce conversion rate optimization.
Competitive Price
Even the most experienced marketers can't set the ideal price for the products, but the competitive one should be chosen. Analytics of the competitor's products and their juxtaposition are required; the custom strategy due to essential parameters (discounts, losses, stocks, etc.) is necessary.
Live Chat
It is necessary not only for customer support provision but also for a detailed analysis of user behavior. Customers write their wishes and remarks, which are considered in further optimization.
Safe Store/Return Policy
A website's safety should be shown for achieving user's reliability. In this case, some tools can be implemented:
SSL protocols;
customer-trust payment services;
Specific security badges.
The resource's credibility is a sign that it is high-trusted and doesn't threaten the customers. Therefore eCommerce conversion rate optimization prioritizes this essential aspect.
Easy Checkout Form

It should contain only necessary data, which users are suggested to fill in. To make it easy, set up the limit of typed symbols in the exact bars and use more additional menu tools (dropdowns, automatic data pickers) to simplify the task.
Mobile Optimization
Adjust your web resource for mobile use and make it fully comparable to the original version: save all the necessary functions without losing productivity and general structure. Ecommerce conversion rate optimization is strictly dependent on the condition of the mobile version.
Filters To Category Pages
Also, an essential part of clear and easy-to-use online-store performance should be provided – the customer spends less time searching for the required item and is allowed to systematize the search request due to the custom parameters.
30 Tips To Ecommerce Conversion Rate Optimization
Use these hints based on the experience of Plerdy specialists to increase the sales rate of your online store and optimize its compatibility.
Improve Website Speed

It is a basic aspect of SEO and SEM and a great indicator of internal optimization. The users are keen on fast page loadings and value it at all.
Help Customers Recover From 404 Errors
A 404 error is usually inevitable in most cases, so the solution should be well-performed. Turn common «mistake message» into a readable and understandable form, which helps users find the link primarily aimed at (if the search function is optimized, a search bar may be placed on the error page).
Make Limit Choices To Help Shoppers Decide
Plenty of suggested categories for items confuses most users and reduces their wish for choosing an exact one. A limited number of products and directing users to potentially desired products is important for proper eCommerce conversion rate optimization.
Use Product Images Deliberately
Visualisation is always essential because visibility helps to choose correctly and outline the essential characteristics that are not found in the description. Optimize images due to the required parameters and supplement the product description with them.
Offer Discounts Strategically
Regular discounts are usually a sign of wrong marketing strategy and poorly implemented promotion procedures. Use different types of loyalty in your online business to provide eCommerce conversion rate optimization, and don't forget to actualize them correctly (the discount for low-priced items may be shown in percentage; implement promo codes).
Pay Attention To Thank-You Page
Try to supplement customers purchase-related happiness with:
Showing customers similar products after the purchase.
Suggest downloading a mobile app (if developed and optimized) or visiting other pages of your website (blog, FAQ section).
Stir up the interest with loyalty programs.
Each customer should not doubt about making a correct decision when choosing your website.
Use Behavior Triggered Popups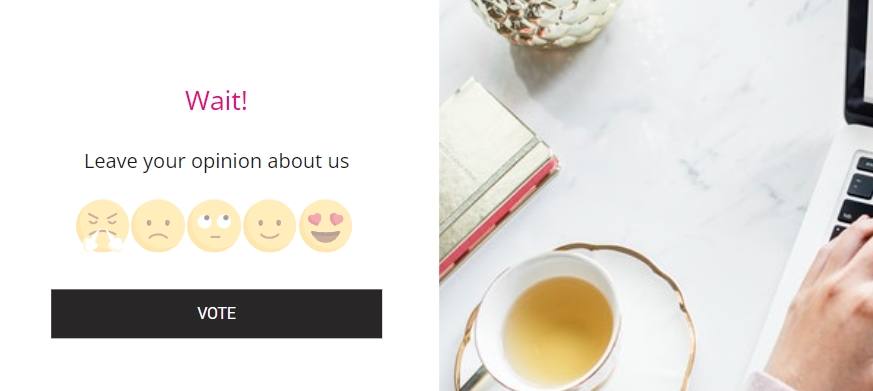 All in all, some visitors will leave your website without bringing any reasonable profit. Try to return them with ordinary events, such as mailings, popup modals, etc. But remember to make popups only condition-related.
Use Multimedia In Blog Posts To Enhance Content
Place videos, photos, images, and other types of learning content to share your ideas and goals with the customers – activate marketing imagination and make eCommerce conversion rate optimization of your resource.
Create Unique Landings Pages For Unique Customer Segments
Complement detailed customer analysis and segmentation due to the specific parameters (traffic, device type, cart item count) with creating a particular landing page, which becomes an integral part of well-optimized interaction. Landing pages optimization and its simplifying is a key aspect of eCommerce optimization
Display Big Brands You've Worked For
It would be best to always show your competitiveness and high level of provided services by displaying the eminent partner brands. It will always be an objective sign of your professionalism.
Make Call To Action Persuasive
It requires some specific options:
Make a single CTA button with acceptable visual characteristics.
Determine the most integral element of its attractiveness: it may be color, shape, size, etc.
Endow the button with clarity and make it social proof.
Considering that CTA is widely used at different online shops, eCommerce conversion rate optimization makes it entirely suitable to most digital requirements.
Follow The 80-20 Rule
It means that 20% of your design elements increase your conversions up to 80%. Develop all the web-design parts properly and get objective profit from it.
Set Up Simple Navigation For Customers

All of the actions on the web resource should be done intuitively without extra time expenses. Don't force the users to expand their website surfing with familiarization with complicated elements. Remember that eCommerce optimization always means simplifying the website's investigation process.
Optimize For Mobile Devices
The mobile version should be similar to the original one – try to develop an optimized mobile resource without losing sense and save all the necessary functions to provide eCommerce conversion rate optimization.
To avoid making mistakes in mobile optimization, learn how you would determine the mobile eCommerce conversion rate for paid traffic. It will help to get more objective profit from the different segments of the users.
Collect Emails Without Distracting The Customer
To provide communication try not to make it obsessively, so make email gathering procedures hidden and don't divert customers from website investigation.
Cater To Early-Stage Visitors
The user's way to understand your website is dependent on their interaction in the first stages:
Place the primary content in the form of guides, which help investigate the resource and determine its aim.
Start the user interaction at the upper part of the page, slowly moving to the lower one (or the other page).
The emphasis on eCommerce conversion rate optimization should be directed toward becoming a «reliable partner» interested in customers' desires.
Format Copy Text To Highlight Important Information
The necessary information is always desired to fall under the attention, so it should be specifically outlined with bold underlines, etc. Make customers separate the important from the unimportant.
Communicate Benefits Of Completing Forms

Do not direct users onto filling in useless forms – show them the importance of the last. Show that their experience will improve after adding data to each information bar they have faced.
Give Customers Product Reviews
Customers want to get reliable products, and the easiest way to know this – check reviews of the others. Let them read some information about already purchased products and convince them to make the right choice.
Double-check spelling and grammar
It is an indispensable part of SEO and eCommerce conversion rate optimization. Be confident in the literacy of your content and avoid making even minor mistakes.
Autofill Form Fields
Implement plugins to simplify the process of adding data to several forms. It reduces users' time expenses and becomes a sign of proper optional elaboration.
Set Pricing Correctly
Choose the most optimal price for each product, considering essential aspects:
The competitor's price;
Price on the global market;
Your evaluation of the product.
Remember that only proper statistical and analytical representation may help set the most suitable price.
Offer A Good Return Policy
The customer should always be sure of the product's quality. Even if it doesn't meet his expectations, the service should be ready for making a return considering privacy and policy rules.
Thank Customer After The Purchase
It will help to endear the customer and suggest something else from your stock and lead to the use of other website's functions. Use a competent approach to this element of eCommerce conversion rate optimization.
Capture More Valuable Traffic
A misunderstanding about getting more clients by capturing more traffic is spread. The main aim should be in the auto-segmentation of the users of the targeted groups and implementing marketing strategy considering the investigation of their actions and goals on your website.
Use Heatmaps For Deeper Behavioral Insights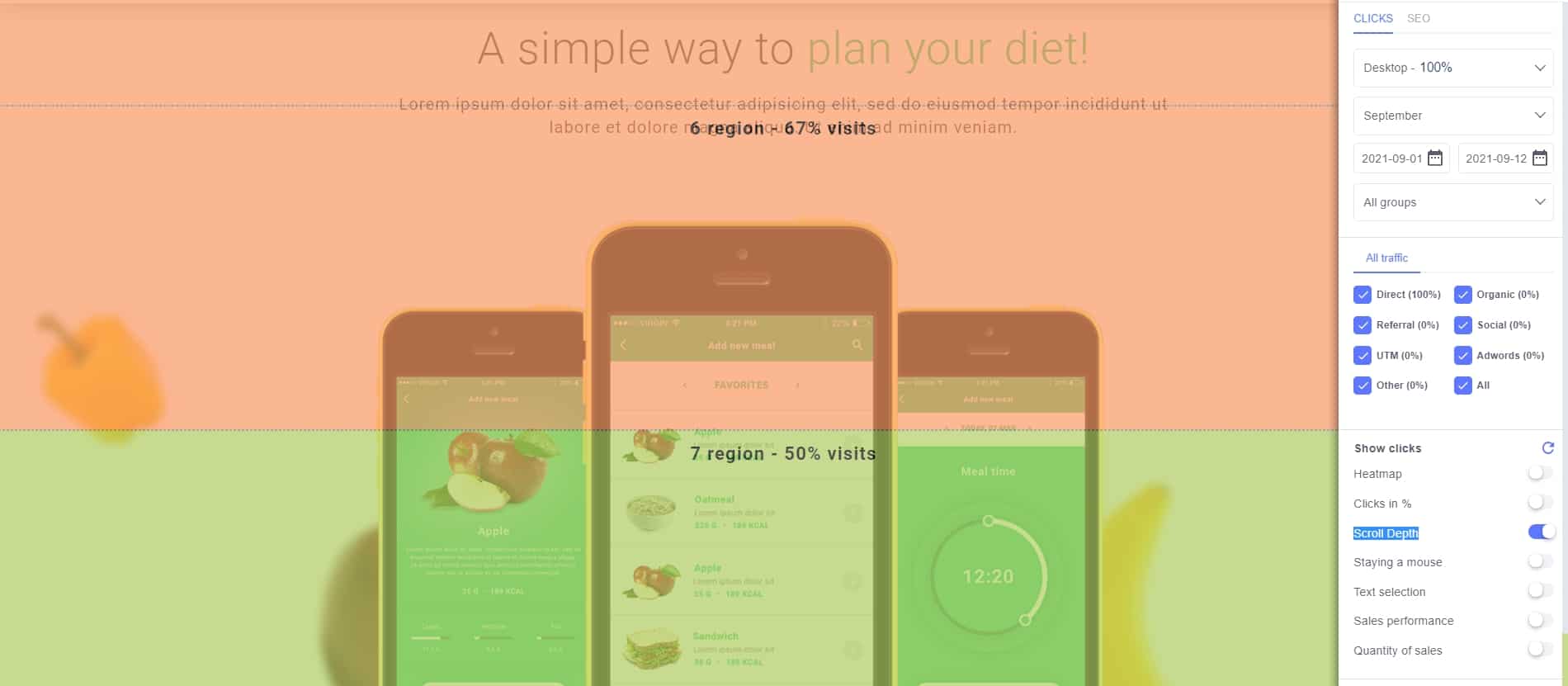 Such a tool will help define the most profitable elements of your website and show the user's behavior by counting clicks on each element and representing statistics with filters, colorful signs, etc. It is a modern aspect of eCommerce conversion rate optimization, which plays a key role in a website's promotion.
Collect Exit-Intent Information
Determine why users leave your website using specific tools and improve interaction with customers by automatically gathering their exit-intent information. As a rule, e-commerce conversion rate optimization means regular behavioral monitoring.
Never Stop Testing
Keep checking each element of your website for proper functioning. Use automatic and testing tools for fast performance analysis, draw conclusions and get rid of weak spots of your resource. Learn how to increase the conversion rate for eCommerce and continue testing each of the newly implemented elements.
To Sum Up
As you see, many aspects should be considered to make the online resource a competitive one among the thousands of them that exist nowadays. A specific approach based on eCommerce conversion rate optimization is required to place your commercial web product on top of digital marketing, fill it with effective promotion options, understand the customer's needs, and endear them with easy-to-use and highly optimized tools. Set up the goals, become a partner of a professional team, and improve your online business by implementing various innovations.