Inbound marketing is crucial for attracting and retaining customers. You can make your strategy more effective, efficient, and engaging with the right tools. This article reveals the top 15 inbound marketing tools in 2023 that are absolute game-changers. These gems help you:
One standout tool we'll explore is Plerdy, a comprehensive solution for keyword analysis. Plerdy allows you to:
Identify high-performing keywords 🏆
Uncover competitors' strategies 🔍
Optimize your content for SEO 🌐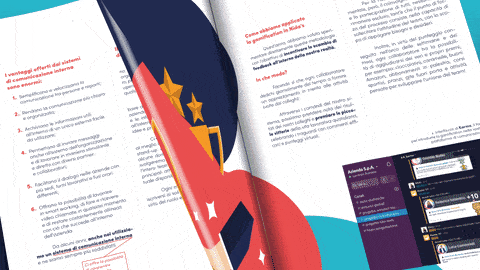 These top 15 tools will empower your inbound marketing efforts, making it easier to draw in potential customers and keep them coming back for more. Stay ahead of the curve and discover how these cutting-edge solutions can skyrocket your business growth! So, let's dive in and uncover the power of these amazing inbound marketing tools. 🌟
Brief Explanation of Inbound Marketing
Inbound marketing – a game-changer for businesses in the digital era – has become the go-to strategy for attracting and engaging customers online. At the heart of this approach, you'll find a suite of innovative software and tools designed to empower marketers like never before.
By leveraging the power of inbound marketing, companies can harness the potential of these key components:
To stay ahead in this competitive landscape, investing in a robust inbound marketing tool that streamlines and automates these processes is essential. Top-notch software saves time and resources and elevates the overall marketing strategy to new heights.
The right inbound marketing software offers a myriad of features, such as lead generation, analytics, and customer relationship management – all working in harmony to propel your business forward. Integrating these tools with your existing systems is a piece of cake, allowing for seamless operations and an optimized workflow.
In summary, inbound marketing has revolutionized how businesses attract and engage customers online. Marketers can create a powerhouse strategy that delivers results and drives growth by employing cutting-edge tools and software.
Importance of inbound marketing tools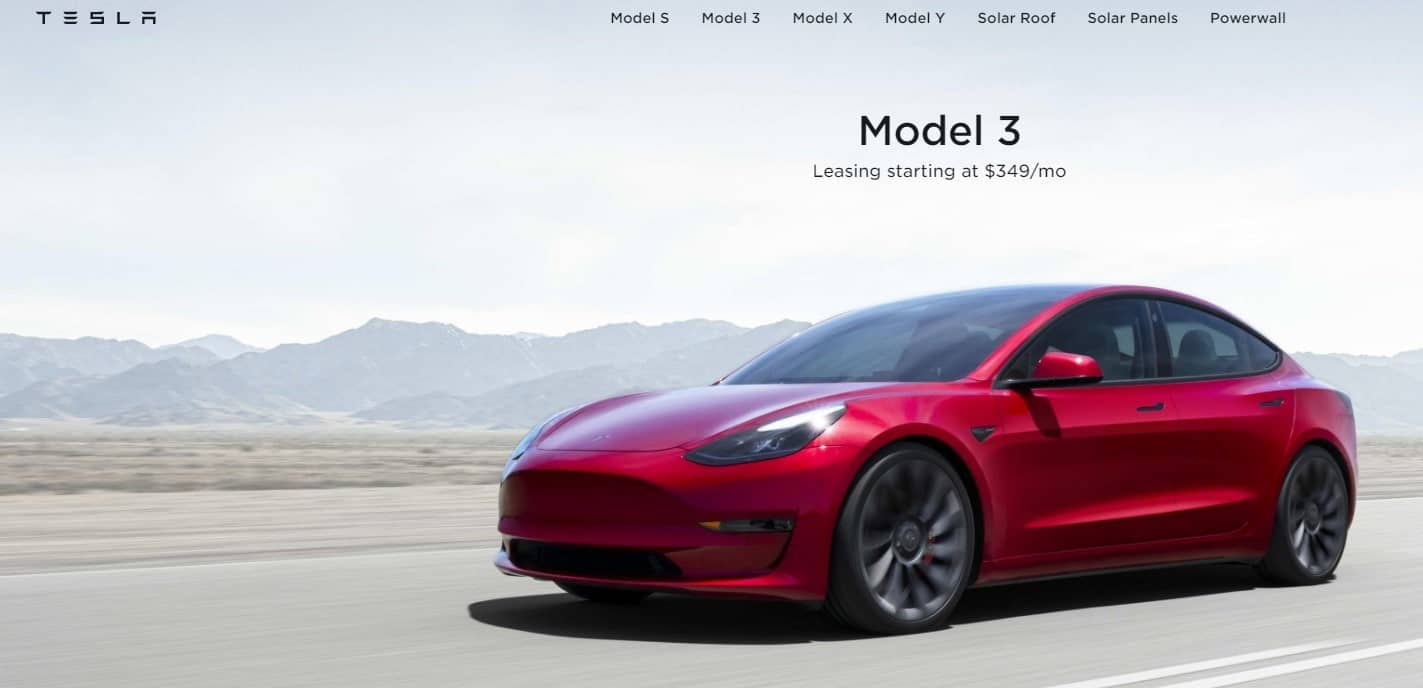 In the digital age, businesses must recognize the immense value of inbound marketing tools in driving growth and achieving success. These tools form the backbone of a solid inbound marketing strategy, enabling companies to stand out from the crowd and connect with their target audience more effectively.
Inbound marketing tools play a pivotal role in:
Streamlining processes: Automating repetitive tasks, saving time, and allowing marketers to focus on creativity and innovation
Enhancing customer engagement: Personalizing interactions and fostering lasting relationships with prospects and clients
Optimizing content: Identifying gaps in current strategies and providing data-driven insights for improvement
Measuring success: Tracking metrics and KPIs, offering invaluable data for informed decision-making
In a competitive market, companies can stay ahead by using cutting-edge inbound marketing tools. These tools enhance productivity and efficiency and empower marketers to deliver captivating content that resonates with their audience.
The importance of inbound marketing tools in today's fast-paced business environment cannot be overstated. By adopting these cutting-edge solutions, companies can effectively attract, engage, and convert leads, paving the way for long-term success and growth.
The Top 15 Inbound Marketing Tools of 2023
Embarking on a journey through the Best 15 Inbound Marketing Tools of 2023 unveils a digital arsenal designed to elevate your marketing prowess to its peak potential. As you explore this lineup of trailblazing tools, you'll discover innovative software solutions that redefine the inbound marketing landscape. By harnessing the power of these technological marvels, you'll be well-equipped to transform your online presence and skyrocket your business to new heights.
Plerdy: Revolutionizing Inbound Marketing with Cutting-Edge Solutions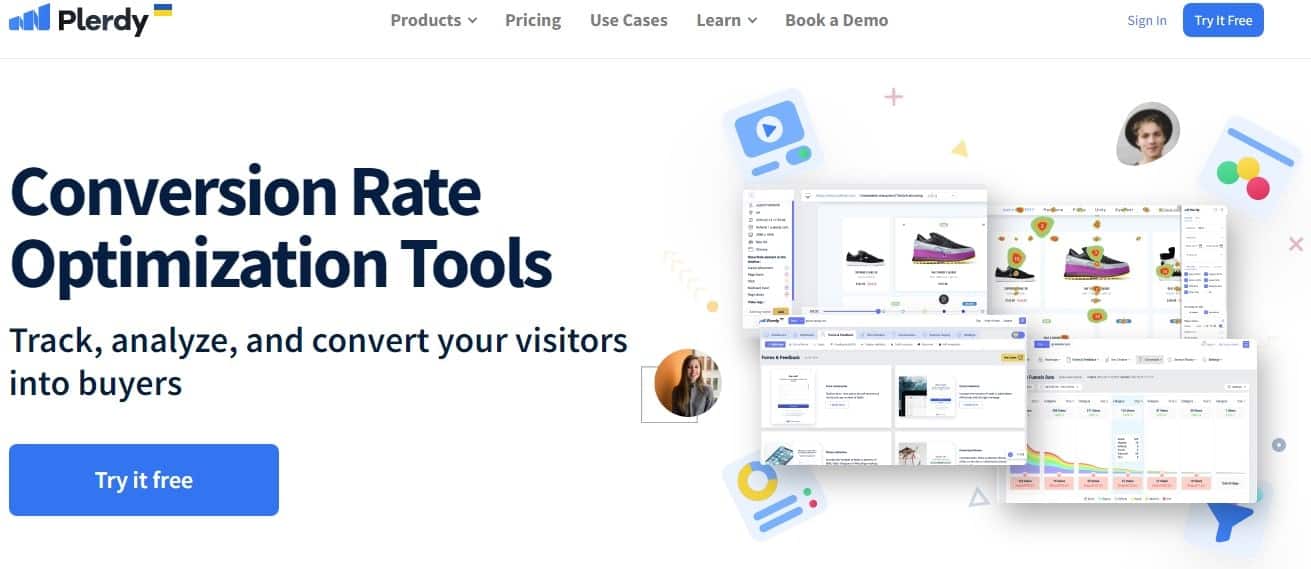 Elevate your inbound marketing game with Plerdy, a dynamic software that caters to the unique needs of digital marketers. This all-in-one tool paves the way for an optimized online presence, enabling businesses to shine in a highly competitive environment.
Plerdy boasts an impressive array of features:
Heatmaps: Visualize user interactions to identify hotspots and optimize web design
SEO audit: Pinpoint areas for improvement and ensure your website meets search engine requirements
Pop-up forms: Boost lead generation and conversions with targeted, customizable pop-ups
Event tracking: Analyze visitor actions and gain invaluable insights for data-driven decision-making
With Plerdy in your arsenal, businesses can benefit from enhanced user experience and higher search rankings. For instance, an e-commerce store might harness the power of heatmaps to streamline navigation, while a blog could utilize SEO audits to optimize content and drive organic traffic.
Plerdy provides top-tier inbound marketing solutions for success. So choose Plerdy to boost your internet visibility and business.
HubSpot: Inbound Marketing Powerhouse for Seamless Success

Elevate inbound marketing strategies with HubSpot – the ultimate, all-in-one tool to streamline your online presence and boost business growth. HubSpot's comprehensive suite of features makes it a top choice for marketers seeking to dominate the digital arena.
Key benefits of HubSpot include:
Content management: Create, optimize, and manage content effortlessly
Marketing automation: Streamline workflows and personalize customer experiences
Lead nurturing: Cultivate and convert prospects with targeted campaigns
Analytics: Monitor performance, track KPIs, and make data-driven decisions
CRM integration: Align marketing, sales, and customer service for maximum efficiency
For instance, a software company can leverage HubSpot's marketing automation to nurture leads through every sales funnel stage. At the same time, a healthcare provider might utilize its CRM integration to deliver personalized patient experiences.
HubSpot is the go-to inbound marketing tool for businesses seeking a seamless, all-encompassing solution.
Mailchimp: Email Marketing Maestro for Unrivaled Business Growth

Experience the power of Mailchimp, an inbound marketing juggernaut specializing in crafting captivating email campaigns.
Mailchimp's key features include the following:
Drag-and-drop email builder: Design visually appealing, responsive emails with ease
Segmentation and targeting: Deliver personalized content to the right audience at the right time
A/B testing: Optimize campaigns by testing subject lines, content, and design
Analytics and reporting: Gain valuable insights into performance metrics and subscriber engagement
Integrations: Connect Mailchimp with your favorite CRM, e-commerce, and marketing tools
Whether you're a small business or a global enterprise, Mailchimp's comprehensive email marketing solutions cater to various needs. For example, a local restaurant might harness the power of Mailchimp to send targeted promotions to loyal customers, while a digital agency could utilize segmentation and targeting to nurture leads and drive conversions.
In a nutshell, Mailchimp is a game-changer for businesses seeking to enhance their inbound marketing strategy through email. Embrace this powerful tool and unlock new opportunities for growth and success.
Ahrefs: Mastering SEO and Conquering the Digital Domain

Ahrefs is a powerful SEO tool that boosts organic traffic and inbound marketing. This versatile software delivers actionable insights, allowing you to outperform competitors and climb search engine rankings.
Ahrefs' top features include:
Keyword research: Discover high-performing keywords and optimize content for maximum visibility
Site audit: Uncover technical issues and implement improvements to bolster website performance
Backlink analysis: Assess your link profile and identify valuable opportunities for growth
Rank tracking: Monitor keyword performance and stay ahead of the competition
Content explorer: Unearth trending topics and capitalize on their potential
Ahrefs serves as an invaluable asset for SEO strategies across the spectrum. For example, a niche blog can harness Ahrefs' keyword research to identify content gaps and generate high-quality articles that resonate with readers. Likewise, an e-commerce platform might utilize the site audit feature to optimize site structure and enhance user experience.
SEMrush: An Inbound Marketing Trailblazer for Stellar Digital Success

Elevate your inbound marketing prowess with SEMrush – a comprehensive software suite to streamline your digital strategy and skyrocket your online visibility. This all-encompassing tool provides actionable insights, empowering you to outshine competitors and conquer search engine rankings.
SEMrush's key offerings include:
Organic research: Unearth high-impact keywords and optimize your content for search engines
Technical SEO audit: Diagnose and fix issues to improve your website's performance
Competitive analysis: Gauge your rivals' strategies
Link building: Identify lucrative opportunities to strengthen your backlink profile
Advertising research: Optimize your ad campaigns for maximum return on investment
For instance, a digital marketing agency might utilize SEMrush's competitive analysis to uncover the secret sauce behind a rival's success, while a local business could capitalize on link-building opportunities to bolster its online presence.
SEMrush is essential for digital dominance. SEMrush will boost your inbound marketing approach like never before.
ActiveCampaign: Turbocharge Your Inbound Marketing Efforts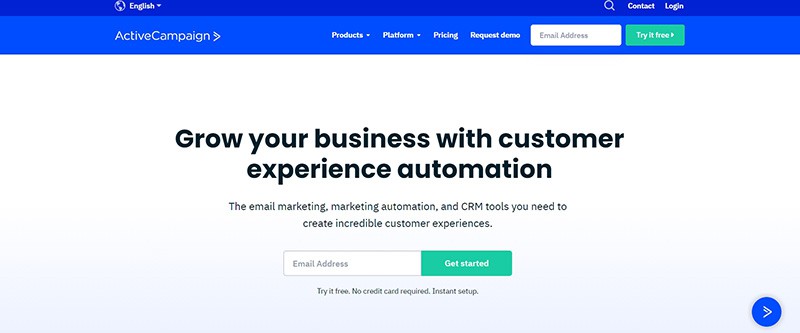 Revolutionize your inbound marketing strategy with ActiveCampaign, an all-in-one marketing automation platform to streamline your workflow and maximize conversions. This dynamic tool empowers you to craft targeted campaigns, optimize customer interactions, and propel a business to new heights.
ActiveCampaign's standout features include:
Email marketing: Create visually stunning, responsive emails to captivate your audience
Marketing automation: Build personalized, automated workflows to nurture potential leads and boost engagement
CRM and sales automation: Manage leads, track deals, and close sales efficiently
Customer messaging: Foster relationships via targeted messaging across multiple channels
Reporting and analytics: Gain valuable insights into campaign performance and customer behavior
ActiveCampaign is a priceless resource for companies looking to succeed online. For example, an e-commerce retailer might leverage the platform's CRM capabilities to optimize their sales funnel, while a B2B company could employ marketing automation to nurture prospects and boost conversions.
In short, ActiveCampaign is the ultimate inbound marketing powerhouse, enabling businesses to thrive in an increasingly competitive digital landscape. Embrace this feature-rich tool and witness your marketing efforts soar to unparalleled success.
ConvertKit: Inbound Marketing Virtuoso for Content Creators

Unleash your inbound marketing potential with ConvertKit, a powerful email marketing software tailored for content creators, bloggers, and entrepreneurs. This versatile platform equips you with the tools to build your audience, foster engagement, and drive revenue like a seasoned pro.
ConvertKit offers an array of remarkable features:
Visual automation: Craft personalized, automated email sequences to engage subscribers
Customizable sign-up forms: Capture leads with eye-catching, easy-to-build forms
Landing page builder: Create stunning, conversion-optimized landing pages in minutes
Email designer: Construct beautiful, mobile-responsive emails without any coding skills
Subscriber tagging: Segment your audience based on interests, actions, and more
Whether you're an aspiring blogger, a seasoned podcaster, or a creative entrepreneur, ConvertKit has your back. A freelance writer might tap into the platform's landing page builder to showcase their portfolio and attract clients, while an online course creator could utilize visual automation to nurture leads and boost enrollments.
In a nutshell, ConvertKit is an indispensable ally for content creators seeking to supercharge their inbound marketing efforts. Tap into the power of this game-changing software and watch your digital empire flourish.
Hootsuite: The One-Stop-Shop for Social Media Mastery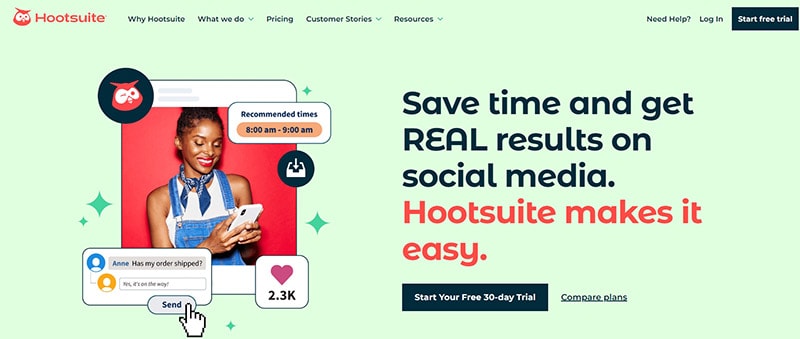 Elevate your inbound marketing game by harnessing the power of Hootsuite, a comprehensive social media management tool that streamlines your online presence. With Hootsuite, you can glide through your social media tasks like a hot knife through butter, ensuring a consistent, engaging brand image across multiple platforms.
Hootsuite's top-notch features include:
Unified dashboard: Manage multiple social accounts in one centralized location
Scheduling: Pre-plan and auto-publish content to keep your audience engaged around the clock
Analytics: Dive deep into data and gain valuable insights to optimize your strategy
Social listening: Monitor brand mentions, competitors, and industry trends in real-time
Team collaboration: Assign tasks, review drafts, and approve content in a seamless workflow
Imagine effortlessly juggling your Twitter, Facebook, Instagram, and LinkedIn accounts from one intuitive interface. Hootsuite empowers you to do just that, letting you stay on top of the social media landscape without breaking a sweat. A local restaurant, for example, can schedule daily posts featuring their mouthwatering dishes and monitor customer feedback, while a digital marketing agency can easily collaborate on client campaigns.
In summary, Hootsuite is the ace up your sleeve for effective inbound marketing through social media channels. Make the most of this powerful tool and watch your online influence soar.
Buffer: The Swiss Army Knife of Social Media Management

Buffer can help you improve your inbound marketing skills, a versatile social media management software streamlines your online presence like a well-oiled machine. Buffer takes the hassle out of managing your social media accounts, letting you focus on creating content that resonates with your target audience.
Key features of Buffer include:
Multi-platform publishing: Effortlessly push content to Twitter, Facebook, LinkedIn, Instagram, and Pinterest
Scheduling: Plan and queue up posts in advance to maintain a consistent online presence
Analytics: Measure the performance of your content, uncovering insights to refine your strategy
Collaboration: Work seamlessly with team members by drafting, reviewing, and approving posts together
Customizable content: Tailor your posts to suit each platform's unique requirements and style
Imagine sailing smoothly through your SMM tasks, armed with Buffer as your first mate. Whether you're a small business owner looking to build brand awareness or a digital marketer orchestrating campaigns for multiple clients, Buffer is your go-to tool for staying on top of the ever-changing social media landscape.
In a nutshell, Buffer is a powerful ally in your quest for inbound marketing success. Embrace its multifaceted capabilities and watch your online engagement and influence skyrocket.
Google Analytics 4: Unleash the Power of Data-Driven Marketing

Inbound marketing professionals rely on data-driven insights to thrive in today's competitive digital landscape. Enter Google Analytics 4 – the gold standard in web analytics software, empowering you to make informed decisions and elevate your marketing game.
Core features of Google Analytics 4 include:
Audience insights: Discover who your visitors are, where they're coming from, and what devices they're using
Acquisition analysis: Identity which channels drive the most traffic and conversions
Behavior examination: Uncover how users interact with your website, pinpointing areas for improvement
Conversion tracking: Monitor your goals and assess the effectiveness of your marketing efforts
Real-time reporting: Keep your finger on the pulse with up-to-the-minute data on user activity
With these invaluable insights, Google Analytics 4 helps you chart a course toward greater engagement, higher conversion rates, and increased revenue. Whether fine-tuning your content strategy or optimizing your sales funnel, Google Analytics provides the data-driven compass to navigate the complex seas of digital marketing.
In essence, Google Analytics 4 is the secret weapon every inbound marketer needs in their arsenal. Harness its full potential and unlock the door to unparalleled marketing success.
Marketo: Unleashing the Full Potential of Inbound Marketing

In a world where inbound marketing reigns supreme, Marketo is a powerful, all-in-one software solution tailored to skyrocket your campaigns and outpace the competition. With its cutting-edge capabilities, Marketo transforms your marketing strategy into a well-oiled machine.
Key Marketo features include:
Lead management: Nurture prospects with personalized, targeted content and convert them into customers
Email marketing: Craft compelling emails and automate campaigns to boost engagement
Social media promotion: Connect with your audience across channels and amplify your reach
Analytics and reporting: Track performance, identify trends, and optimize your strategy with data-driven insights
Marketing automation: Streamline processes, eliminate manual tasks, and focus on what matters most—growing your business
By leveraging Marketo's robust toolset, inbound marketers can craft targeted campaigns that resonate with their audience, fostering long-lasting relationships and boosting CR. So it's time to take the plunge, seize the reins, and catapult your marketing initiatives to new heights with Marketo—your one-stop solution for inbound marketing success.
Unbounce: The Ultimate Inbound Marketing Weapon

Unbounce stands tall as an indispensable tool in the digital marketing battlefield, empowering you to create high-converting landing pages that capture leads like bees to honey. So say goodbye to lackluster results and watch your inbound marketing efforts take flight with Unbounce.
Unbounce's robust features include:
Drag-and-drop builder: Design stunning, responsive landing pages without writing a single line of code
A/B testing: Optimize conversions by testing variations and identifying top-performers
Dynamic text replacement: Personalize landing page content to match user search queries
Pop-ups and sticky bars: Drive engagement with attention-grabbing, targeted messaging
Integrations: Seamlessly connect Unbounce to your favorite marketing tools and platforms
With Unbounce, the sky's the limit as you effortlessly churn out captivating landing pages that keep visitors hooked. Turn your inbound marketing dreams into reality by harnessing the unrivaled power of Unbounce—the software that puts conversion optimization at the forefront of your strategy. Experience the thrill of skyrocketing conversions and watch your business soar to new heights with Unbounce by your side.
Trello: The Inbound Marketing Maestro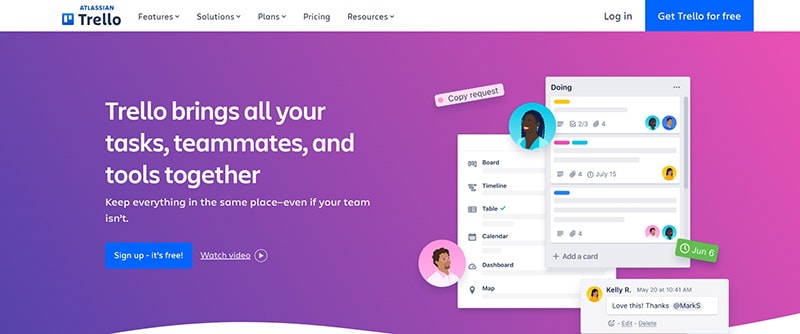 Picture this: A sleek, intuitive platform where your inbound marketing campaigns come alive, harmonizing seamlessly like an expertly conducted orchestra. Trello, a user-friendly project management software, breathes life into your marketing efforts, keeping you organized, efficient, and always on the ball.
Trello's top-notch features include:
Boards, lists, and cards: Effortlessly visualize your projects, priorities, and progress
Collaborative workspace: Work in sync with your team, assign tasks, and track completion
Customizable workflow: Tailor Trello to suit your unique inbound marketing process
Labels, checklists, and due dates: Manage tasks with clarity, ensuring no detail goes unnoticed
Power-Ups: Supercharge your boards by integrating with popular marketing tools
Wave goodbye to chaos and confusion and say hello to a smooth-sailing inbound marketing journey. With Trello in your toolkit, you'll master the art of organization, keeping your marketing efforts sharp, focused, and primed for success. Unleash the full potential of your campaigns and watch your team flourish, thanks to the unparalleled capabilities of Trello—the maestro of a marketing organization.
Yoast SEO: The Inbound Marketing Virtuoso

Imagine a tool that elevates your inbound marketing strategy, catapulting it to new heights of success. Enter Yoast SEO, the software maestro that orchestrates an SEO symphony, harmonizing your content with search engine algorithms to hit all the right notes.
Yoast SEO's standout features include:
Real-time content analysis: Optimize your content for SEO as you write
Keyword optimization: Uncover the perfect keyword balance to make your content sing
Readability check: Engage your audience with clear, concise, and captivating text
Breadcrumbs: Enhance user experience and simplify navigation, ensuring seamless website exploration
XML sitemaps: Help search engines crawl and index your site effortlessly
Take advantage of the competitive world of inbound marketing. With Yoast SEO, you'll conduct an awe-inspiring performance, captivating search engines and visitors alike. Embrace the power of this software virtuoso and witness your inbound marketing strategy soars to new heights, striking a chord with your target audience like never before.
Canva: Unleashing Creativity in Inbound Marketing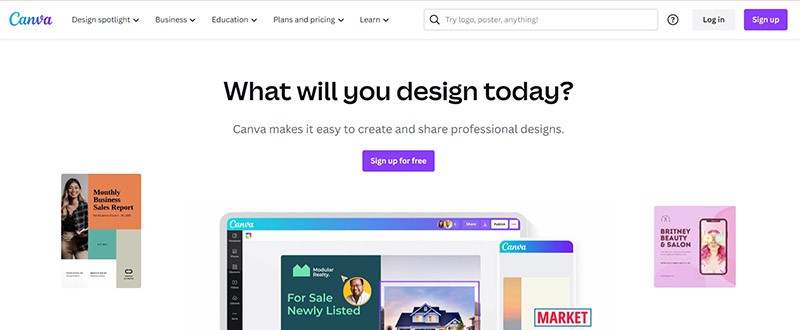 In the world of inbound marketing, captivating visuals are paramount, and Canva is the secret ingredient that spices up your content, leaving a lasting impression on your audience. This user-friendly software empowers marketers to craft eye-catching graphics in a snap without breaking a sweat.
Canvas stellar features include:
Intuitive drag-and-drop editor: Effortlessly build stunning visuals, even with zero design experience
Templates galore: Choose from a plethora of professionally designed templates tailored to various industries and platforms
Customizable branding: Ensure brand consistency across all your visuals with a click of a button
Collaboration tools: Seamlessly work together with your team, streamlining the creative process
Multimedia versatility: Create everything from social media graphics to ebooks and presentations
With Canva in your inbound marketing toolkit, you'll paint a vivid picture that resonates with your audience, driving engagement and conversions. So, roll up your sleeves and dive into the boundless creative possibilities that Canva offers as you watch your marketing campaigns flourish like never before.
Conclusions: Unleashing the Power of Inbound Marketing Tools
We've just explored the fantastic world of the top 15 inbound marketing tools in 2023. These game-changing software solutions can potentially propel your marketing strategies to new heights. By leveraging these powerful tools, you can tap into new audiences, delight existing customers, and grow your business like never before.
Plerdy, for instance, is an excellent tool that can help optimize your website with in-depth keyword analysis, making it a cost-effective investment for your business. No need to break the bank or feel overwhelmed by costly software – Plerdy has got your back! 🔥
Choosing the right tools that fit your unique needs, goals, and budget is essential. With these fantastic inbound marketing tools, you'll be ready to:
Generate more leads 🚀
Nurture relationships 💕
Optimize your strategies 📈
Boost your revenue 💰
Are you excited to grow your business using these perfect inbound marketing tools? Don't wait – try Plerdy today with their free trial! You'll see the difference it can make in your marketing efforts and be delighted with the results.
So, don't hesitate – sign up for Plerdy and let your marketing fly higher than ever! 🌟
P.S. Looking for alternatives? We've covered many other fantastic tools like Zendesk, Drift, Intercom, and more. Be sure to check them out and find the perfect software for your inbound marketing needs!