The acquisition of external links is one of the top-priority goals in search engine optimization. To achieve it, you need to know how to implement link building, which strategies will help boost your link profile, which tools are suitable for a consistent build-up of link mass, natural links, and many other aspects. The most significant issues will be discussed in this article.
What is link building?
Link building is one of the key areas of SEO. It is applied to build up a website link profile, which is essential for successfully promoting a website in search engines.
Websites with hundreds and thousands of backlinks of different types from relevant sites are treated better by search engines. Building up a link profile properly requires considerable skills and effort.
An effective link-building strategy is aimed at creating the most natural link profile. This means that links are posted on credible quality websites that share their equity with the acceptor site. Ideally, this should happen constantly and evenly. How to achieve this?
"Eternal" strategies
Every junior SEO specialist faces the question of how to acquire natural links for a website quickly, safely, and for free. There are many useful strategies. Some of them have long been tested by link builders, while others appeared recently. The choice of the most effective technique for each case depends on the budget, the situation in the niche, and the methods used by competitors.
But some strategies are especially effective for commercial and information websites.
Outreach
Outreach is a method of acquiring links based on direct interaction with the owners of sites interesting in posting websites and blogs. Mutually beneficial contacts with relevant sites are established through email requests and personal agreements on cooperation. As a result, the project gets references from the brand, articles with backlinks, and banner advertising.
Outreach is at the intersection of crowd and email marketing. It differs from ordinary paid links by the need to maintain human contact with partners, the ability to grab attention and persuade. This is a troublesome but profitable business. Search crawlers treat links acquired through outreach as natural, and they positively affect the organic ranking of the project.
In turn, outreach is conditionally divided into guest blogging and link and article exchange.
Guest blogging
This is a type of promotion without investments. Some websites offer the opportunity to publish guest posts subject to the requirements concerning the format of the materials, rules, relevance of topics, and the following moderation. On other sites, posts can be made only after direct negotiations with the owner.
Articles attracting traffic, which the authors of the post actively promote, are beneficial to a guest site and willingly published. Therefore, this is a good opportunity for a project under the promotion to get free links on the already promoted website. The main thing is to correctly identify a website for a guest post and meet posting conditions.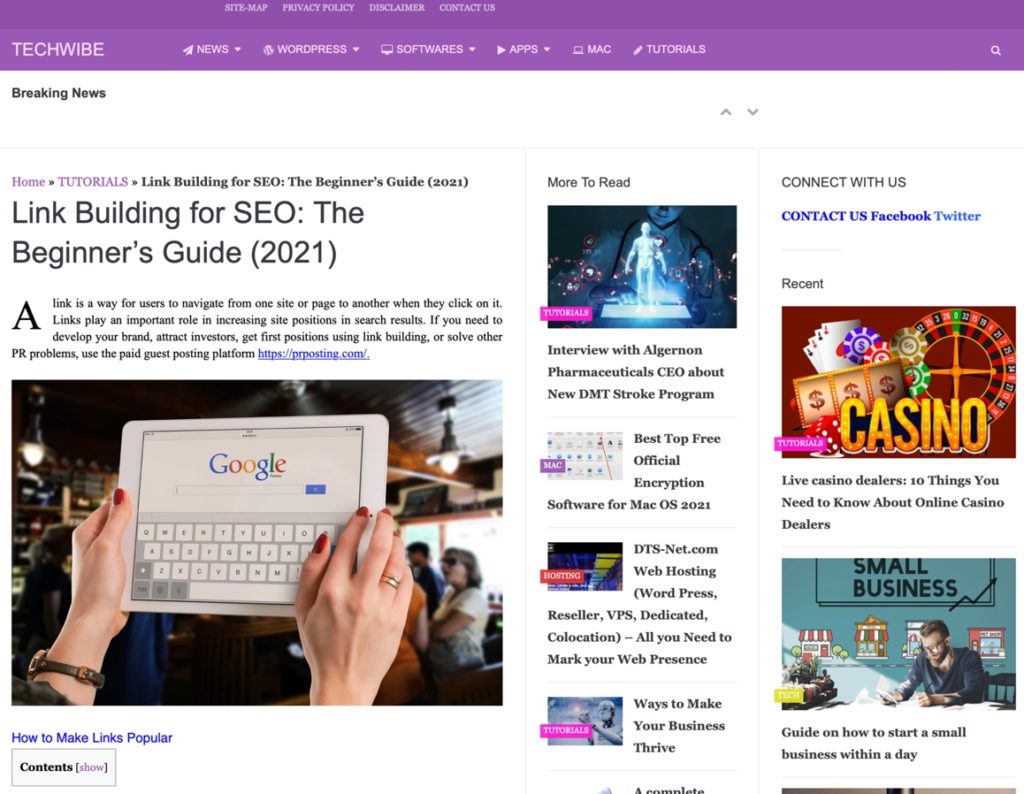 Link and article exchange
Usually, the exchange of links and articles between sites is free based on agreements.
Arepresentative can write the article with keywords and links to the donor site, but more often, the owners of the promoted project themselves provide appropriate content for publication.
Websites should have approximately equal rankings and be relevant to the topic for the process to be mutually beneficial. Then, they "share" equity with each other and mutually improve their positions.
However, the method should be applied cautiously by carefully selecting partners for posting, as search engine crawlers may perceive excessive exchange as manipulation and penalize participants.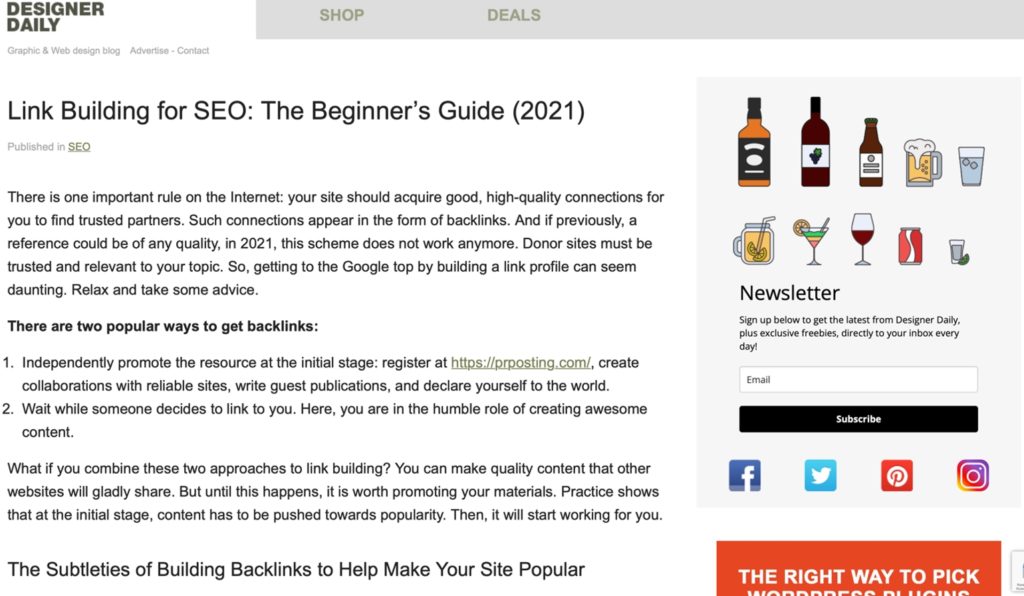 Link purchase
According to search algorithms, the basis for link exchange is useful unique content that gains popularity naturally. This takes a lot of time. There is a lot of quality content on the web; so, website owners try to speed up the process and manage link mass by purchasing backlinks.
It is important to do it correctly: if links appear to be unnatural, the search engine can penalize the project for manipulation.
Purchasing links through services
If you need to build up many links quickly, it is worth using services for purchasing links. They are still sometimes referred to as link exchanges. However, unlike the classic exchanges with automatic link purchasing, modern services have greatly expanded their capabilities.
The best ones are websites that can help solve a wide range of problems. It is important that the service allows studying potential donors and taking into account many criteria. To do this, it can:
have an extensive database of sites for posting;
monitor quality indicators of sites, weed out spammy websites;
choose relevant topics;
work with different locations;
post eternal links;
have tools for manual control of all stages of publishing.
One such multi-functional website is PRPosting, which provides link-building services of any level of complexity with various budgets.
Buying links through resellers
An alternative to outreach and services is the purchase of links through private resellers. Their main competitive advantages are lower prices and databases with sites from rare niches and regions. The drawback is an insufficient level of automation. The tools of resellers are tabular editors; so, selecting a donor and publishing can be quite time-consuming. In addition, they usually have small databases of profile services.
Buying links directly from webmasters
Technically, this method is similar to outreach. You must directly contact the webmaster in charge of the website. The key difference is the terms of cooperation. Outreach is based on mutually beneficial arrangements, and there is no fee for posting content. Buying from a web admin is paid to post, which means there can be initial requirements for the quality and format of content.
Various submissions
Posting information about the website, links to the site in various directories, social networks, job search sites, websites with reviews, any projects with user-generated content is one of the oldest methods of acquiring backlinks.
Today, backlinks from submissions no longer play a leading role in search engine promotion and do not generate organic traffic. However, they should be included in a natural link profile, and therefore, they are useful for SEO. Moreover, posting in submissions is usually free.
Blog and forum comments
Links in forums and blog comments help maintain the pace of link building. This is one of the safe link-building methods.
Although the effectiveness of links in the forums has been noticeably declining in recent years, the method still increases brand awareness and attracts a target audience.
Blog comments do not always have the desired effect, as many bloggers now more actively interact with their audiences on social networks and in messengers.
In addition, many forums and blogs forbid posting links in comments. In these cases, links will be removed, and users violating the rules may be banned.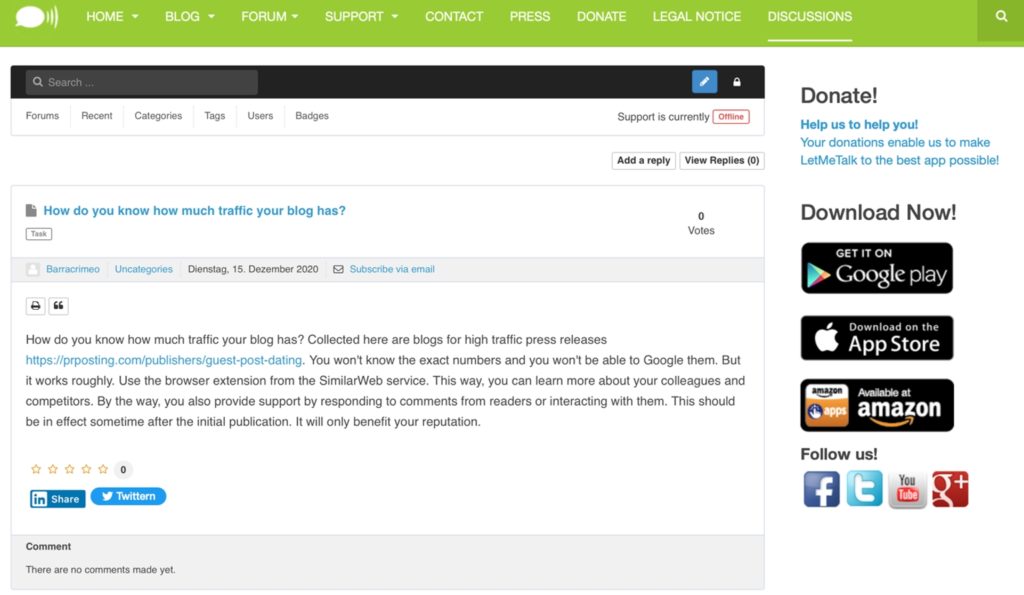 Creating profiles on different websites
A project can generate additional references and links by filling out profiles and adding information about the brand on different websites. To dilute the link profile with backlinks of this type, you need to register as a member on a relevant site.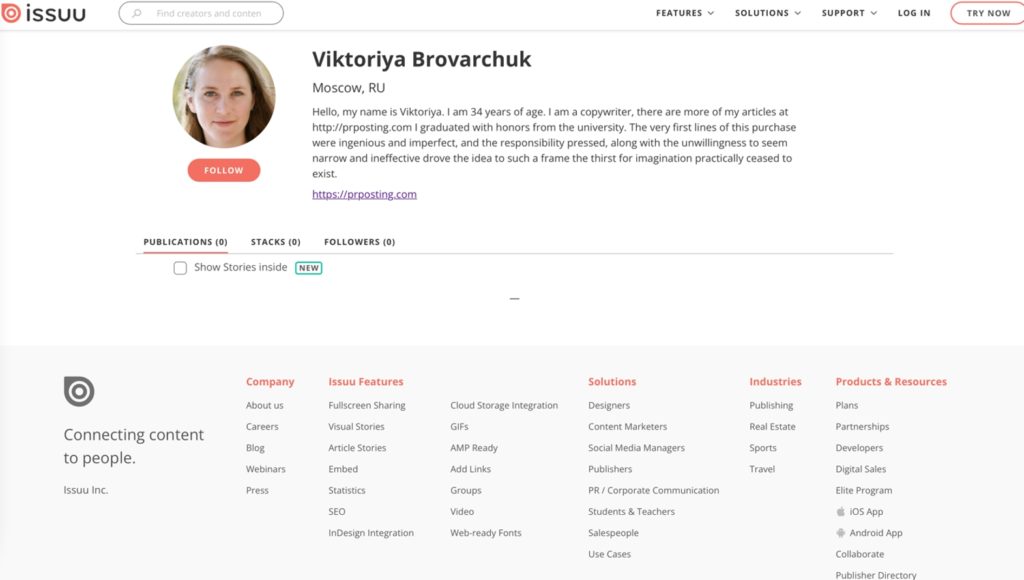 Links from home pages
Links from home pages are of great importance for search engines. Backlinks from the main pages of authoritative sites are considered the most effective and, accordingly, the most expensive. Without them, it isn't easy to succeed in competitive niches.
At the same time, you should be aware that buying links from the main page will not bring the expected result in all cases. An unreasonable purchase of links from home pages can result in large expenditures with minimal benefit. In any case, before you post on the main page, you should try less expensive methods of link building.
If the time has come, and links from home pages are required, you should:
choose sites relevant to the subject;
check the position in the rankings;
analyze quality parameters, the level of domain;
determine the actual equity of the page;
make sure that there are not many outbound links.
Not all sites allow posting outbound links on their main pages. To check such a possibility, you can use special exchanges or contact a webmaster directly.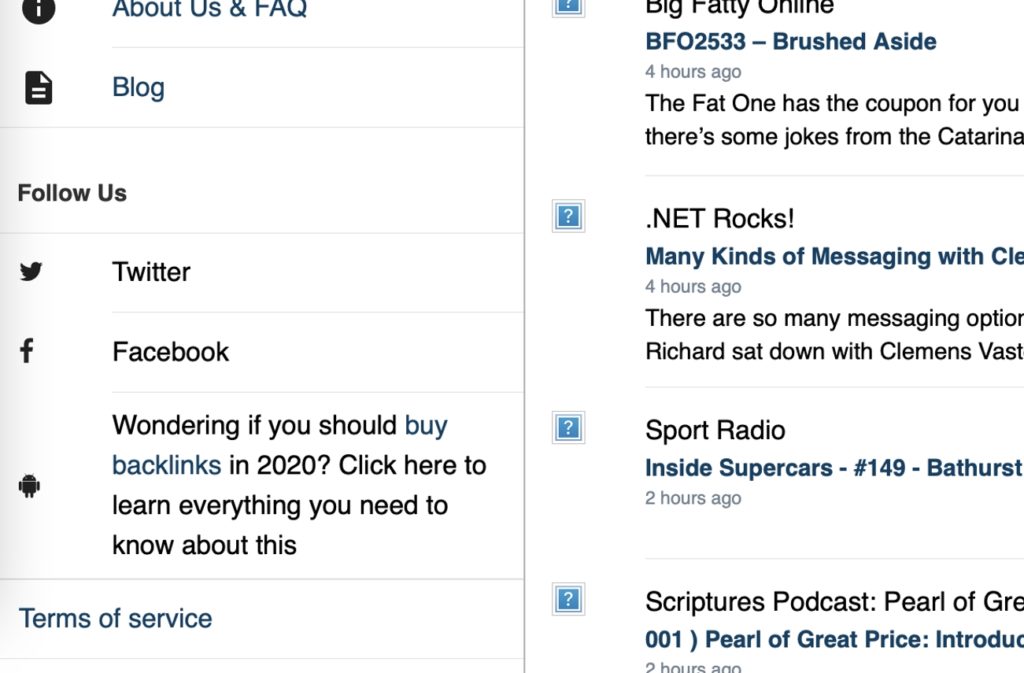 PBN
There is a way to boost link mass without attracting external sites by placing backlinks on Private Blog Network satellite sites. Pages in the PBN look like regular sites, but they are designed to promote the main website.
Sites from PBNs need to be constantly maintained and developed to be perceived as maximally "live" projects. However, there is no guarantee that search engines will not detect the network and limit all related projects' ranking at once.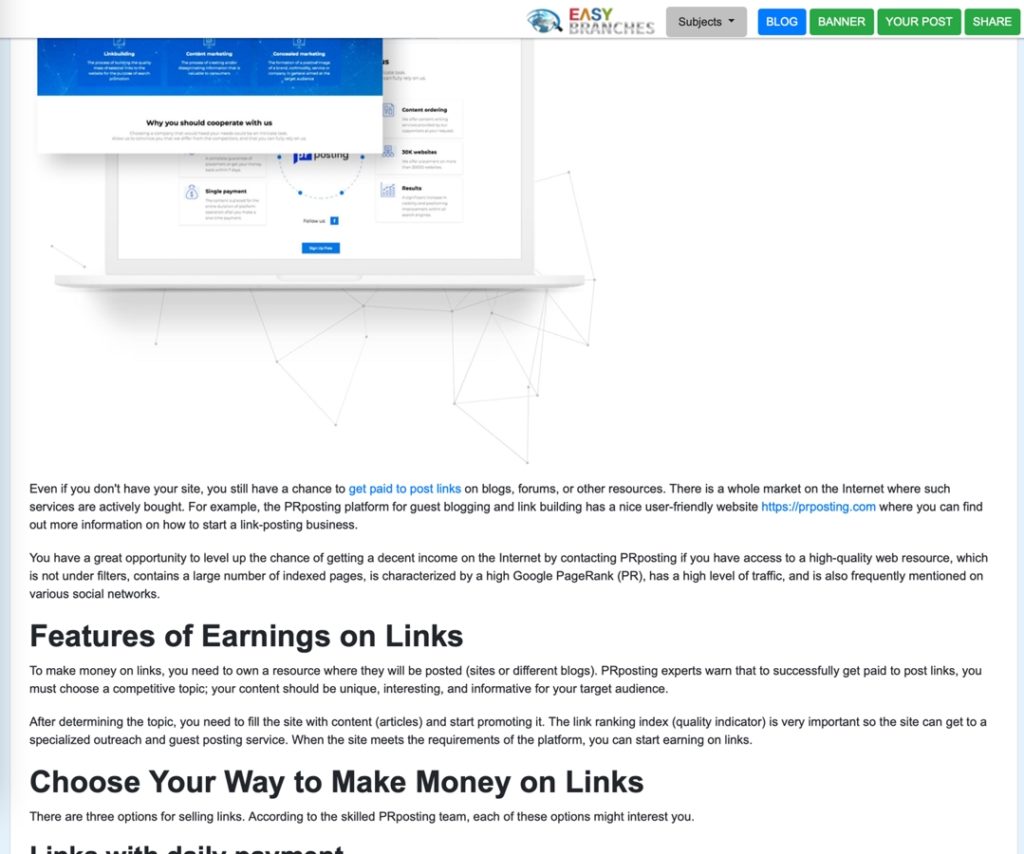 Scholarship
Eternal links can be acquired with the help of so-called scholarships. Links must be of high quality. Without them it is impossible to get to the top in competitive niches. However, it is very difficult to acquire them.
Scholarship is a rather simple and legitimate method of boosting a project's link profile. The strategy is based on engaging students who participate in a research paper contest announced by the promoted site for posting on government and educational portals. Publications should contain a link to the website that launched the contest. In this way, it is possible to acquire links not only in the .edu and .gov domain zones but also on any sites of legitimate topics.
Natural links
Google's recommendation for webmasters on getting links is simple: create unique and useful content that will gain popularity on its own. Usefulness and authority increase the probability that publishers will share your articles on their initiative.
Conclusion
The effectiveness of certain link-building methods is a constant subject of controversy among promotion specialists. Each strategy has its adherents and opponents. We do not claim to know the absolute truth, but we still believe that each of the current methods has the right to exist. However, this does not mean that any of them will necessarily work and bring maximum benefit. Some of them were discussed in this article.
SEO specialists also use other effective link-building strategies. Different methods may work at certain stages of promotion. Do not focus only on one or two directions different strategies bring various types of links, which is essential for the diversity of the link profile of the site under promotion.