Introducing the unrivaled lineup of the ? Top 11 Chicago SEO Companies (2023)! Harnessing cutting-edge strategies and a wealth of digital expertise, these powerhouses are poised to revolutionize your online presence. ?
Determined to propel your business to the zenith of search engine rankings, these SEO behemoths are armed with a comprehensive arsenal of tactics. They sculpt your website's content through meticulous keyword research, ensuring it aligns seamlessly with user intent. Their skilled technicians deftly navigate the complex realm of backlink acquisition, securing high-quality links that bolster your authority in the digital landscape. With their exceptional proficiency in on-page optimization, they fine-tune your website's architecture, enhancing its loading speed and user experience.
These trailblazers understand the power of tailored strategies, adapting their methods to your unique niche and business goals. ? By leveraging their expertise, you can witness a dramatic surge in organic traffic, expanded brand visibility, and amplified conversions.
Pioneering the industry, the Top 11 Chicago SEO Companies (2023) have embraced the game-changing Plerdy UX & SEO analysis. This revolutionary tool offers invaluable insights into user behavior, allowing them to refine their strategies further and optimize your website's performance.
Discover the perfect SEO partner among this stellar roster and unlock unparalleled success in the digital landscape. Take advantage of their unrivaled expertise today!
? Boost your rankings
? Maximize organic traffic
? Skyrocket conversions
? Dominate your niche
? Expand brand visibility
Embark on a transformative SEO journey and soar to unprecedented heights with the most esteemed companies in Chicago.
List of the Top 11 Chicago SEO Companies
As you delve into the comprehensive lineup of the Top 11 Chicago SEO Companies (2023), it's time to wear your detective hat and meticulously examine their profiles. Analyze their prowess in search engine optimization, keeping an eye out for companies that possess the Midas touch for boosting online visibility. Look for the shining stars in the city's digital landscape, those who can navigate the intricate algorithms with finesse and offer optimization strategies as diverse as Chicago's neighborhoods.
Straight North is a leading SEO company based in Chicago, specializing in optimization services for businesses looking to enhance their online presence. With a team of skilled SEO experts, Straight North is committed to driving results and helping businesses succeed.
Why Choose Straight North SEO Company?
Proven Results: With over 25 years of experience, Straight North SEO company has delivered thousands of successful SEO campaigns. They have an A+ BBB rating and a team of over 100 full-time professionals dedicated to achieving outstanding outcomes.
Business Vertical Expertise: Straight North offers tailored SEO services to a wide range of ecommerce across various industry verticals.
Cutting-Edge Strategies: Straight North SEO follows industry trends and tactics to stay ahead. They continuously test new methods to ensure their clients stay ahead of their competitors.
Chicago Services Offered by Straight North:
Search Engine Optimization: Straight North's SEO professionals have the skills and experience to boost your rankings and drive revenue. They specialize in link acquisition and compelling copywriting that engages users.
Paid Advertising: Straight North improves paid search, shopping, display, and social advertising campaigns. Their experts help businesses grow by increasing e-commerce revenue, generating more sales leads, expanding brand awareness, and maximizing ROI.
Web Design & Development: Straight North SEO company builds websites that drive traffic and generate sales leads for B2B and B2C businesses. Their experienced team covers all aspects of web design, development, copywriting, SEO, UI/UX, and conversion optimization.
Creative Services: Straight North's SEO company specialized creative team helps businesses stand out and attract customers through effective visual communications. They offer comprehensive creative solutions from brand development to brochures, photography, and video capabilities.
Case Study: Retail POS Systems, Retail Software
Straight North partnered with Celerant, a provider of retail commerce software, to increase sales leads and improve ROI. By implementing a strategic marketing plan that integrated SEO and PPC campaigns, the collaboration resulted in aligned goals, improved campaign performance, and a greater ROI. Celerant achieved a 21% increase in organic leads, a 170% increase in paid leads, and a significant reduction in the cost per acquisition of paid leads.
Straight North is the perfect fit if you're looking for a trusted SEO company in Chicago. With their extensive experience, full range of services, and commitment to delivering measurable results, they can help your business succeed in the competitive online landscape.

Digital Authority Partners (DAP) is a Chicago SEO leader and SEO company. It optimizes enterprises for online presence. DAP's SEO experts consistently offer excellent results for clients.
This year alone, DAP has received prestigious awards, including the best search engine optimization award by MarCom, recognition as a top global advertising and marketing agency by Clutch, the Best SEO agency by Expertise.
DAP understands the significance of organic search and its impact on businesses. With 89% of US consumers conducting product research through search engines, having a strong online presence is crucial. DAP has a history of achieving better search rankings, higher organic traffic, and revenue-driven outcomes for its clients.
As an award-winning Chicago SEO agency, DAP has decades of experience helping businesses in the area enhance their SEO strategies and achieve exceptional results. They offer a comprehensive suite of proven SEO services, including technical SEO, web design and development, authority backlinks, and analytics.
Chicago company services offered by DAP include:
Technical SEO to improve website performance
Web design and development to create engaging and user-friendly websites
Authority backlinks to enhance search engine visibility
Analytics to monitor website performance and track progress
SEO company DAP focuses on helping businesses rank organically for buy-oriented keywords that drive traffic, leads, and sales. They understand the importance of schema markup, optimized titles and meta tags, high-performing landing pages, mobile optimization, backlink building, and online publications.
In addition to its SEO Chicago services, DAP caters to various industries, including healthcare, financial services, education, government, e-commerce, manufacturing, legal, professional services, and biotech. They have successfully assisted numerous businesses in achieving mission-critical keyword rankings.
With DAP as your Chicago SEO company, you'll benefit from their expertise, timely delivery of results, and their focus on staying ahead of industry trends. They continuously monitor changes in search engine algorithms and ranking factors to ensure their strategies remain effective.
DAP's commitment to delivering exceptional results is evident in its case studies. They have helped businesses across different industries significantly improve search rankings, organic traffic, click-through rates, and conversions. Their clients' success stories speak to the effectiveness of their strategies and the trust businesses place in DAP.
If you're seeking a reputable SEO agency in Chicago, look no further than Digital Authority Partners. Contact them today to schedule a consultation and discover how their Expertise can take your Chicago business to new heights in search engine optimization.

Comrade SEO is a premier digital marketing company based in Chicago, IL, specializing in web development, SEO, and PPC services that drive revenue growth. With over a decade of experience, Comrade has established itself as a trusted SEO company for businesses nationwide.
Why Choose Comrade Digital Marketing Agency?
A Full-Service Solution: Comrade is a one-stop shop for all your digital marketing needs. They offer comprehensive services tailored to your business goals, from web design to SEO and PPC.
Results-Oriented Approach: Comrade SEO company is committed to delivering tangible client results. With a focus on ROI, they leverage their expertise to increase qualified leads, boost conversions, and generate revenue.
Industry Expertise: Comrade serves businesses across various sectors, from e-commerce to law firms, manufacturing, and small businesses. Their team of SEO experts understands the unique challenges and opportunities in each industry.
Services Offered by Comrade Digital Marketing Agency:
SEO Services: With a proven track record, Comrade's SEO services with the main goal to put a website on top of Google. Their effective optimization strategies have generated over $50M in client revenue.
PPC Services: Comrade helps you maximize your return on investment through targeted pay-per-click advertising. Their high-performance campaigns drive qualified traffic and increase revenue.
Web Design: Comrade empowers your business with result-oriented web design services. They create websites that showcase your brand, attract visitors, and convert them into customers.
Other Online Marketing Services: Comrade's content, social media, email, and reputation management services boost your online presence and audience engagement
Case Study: American Tent (E-commerce)
Comrade partnered with American Tent, a leading tent manufacturer, to develop an eCommerce website and implement a comprehensive digital marketing and SEO strategy. The results were outstanding, with a 300% increase in qualified leads and conversions. Comrade's web design and digital marketing expertise helped American Tent become a prominent player in the industry.
Suppose you're looking for a top digital marketing agency in Chicago that can deliver measurable results. In that case, Comrade SEO company is your ideal choice. With their customer-centric approach, industry expertise, and commitment to driving ROI, they are poised to help your business thrive digitally.

Brafton is a leading content marketing agency and SEO company based in Chicago, specializing in strategic content marketing services. Their platform, strategy, and content creation services simplify high-impact content marketing for businesses. Brafton offers various services to meet marketing needs, including SEO-focused content, eBooks and white papers, graphic design, web design, video production and animation, newsletters and email copy, and sales enablement content.
Their expertise in content marketing extends to SEO optimization, where they create website copy that targets intent-driven keywords. Brafton's data-led approach ensures that every landing page and blog post is tailored to your target audience and optimized for search engines. They also excel in creating informative eBooks and white papers that showcase your expertise and build trust.
Brafton's award-winning graphic design team also delivers visually stunning content, including infographics, white papers, display ads, and more. Their web design services help businesses make a killer first impression with search-optimized websites that enhance brand credibility. Brafton's video production and animation services bring your message to life, captivating your audience and increasing brand awareness.
Through their newsletters and email copy, Brafton helps businesses nurture subscribers and turn contacts into loyal customers. They also provide sales enablement content, including case studies, testimonials, and presentations, to help businesses win deals at the point of sale.
One notable case study from Brafton showcases their success with e-PlanSoft, a software company. By conducting a technical website audit, targeting keywords, and creating high-quality content, Brafton helped e-PlanSoft achieve page 1 rankings for relevant keywords and improve their overall SEO performance.
If you're seeking an SEO company in Chicago that understands the power of SEO and can deliver compelling content tailored to your audience, Brafton is the ideal choice. Their comprehensive services and data-driven approach ensure that your content marketing efforts drive results and help your business thrive online.

VisualFizz is a top-notch SEO company based in Chicago specializing in search engine optimization strategies that improve brand visibility and establish a long-term online reputation. Their tailor-made SEO services help businesses gain an edge over the competition and climb the Search Engine Result Page (SERPs). VisualFizz understands the importance of organic performance and offers sustainable SEO strategies to build credibility and drive growth.
Their comprehensive SEO services include audits, competitive analysis, keyword research, Chicago local SEO, on-page optimization, link building, mobile-first optimization, and more. They also provide enterprise SEO solutions for businesses with hundreds or thousands of pages that need optimization within a short timeframe.
VisualFizz SEO company believes in white hat, long-term success, and implementing clean SEO strategies that outlast algorithm updates. Their evergreen SEO strategies are built to last and drive sustainable growth. They prioritize the user experience and create valuable content that connects with users on a human level, resulting in high-performing organic traffic.
VisualFizz, a full-service marketing agency, integrates SEO with branding, content marketing, social media, and other services to provide a unified user experience.
One impressive SEO case study by VisualFizz showcases their work with a construction brand, Rose Paving. Through their PPC, SEO, branding, and web expertise, VisualFizz helped establish Rose Paving as North America's most trusted contractor, delivering impressive ROI.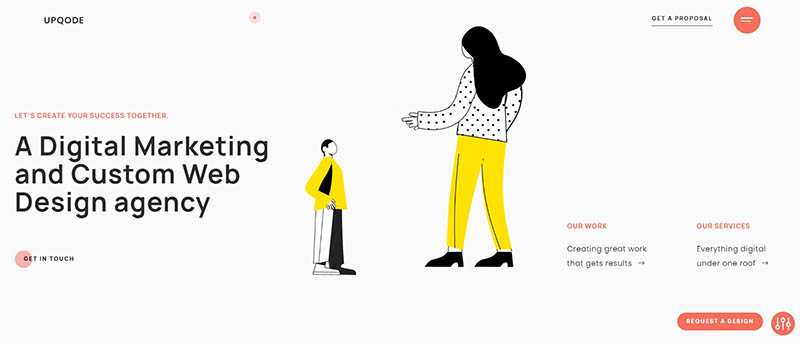 UPQODE is a top Chicago SEO company that helps businesses succeed online. As a digital marketing and custom web design agency, UPQODE is dedicated to creating exceptional online experiences that convert into profit. They provide web design, development, internet marketing, and SEO services for your website.
With UPQODE, you can expect the following services:
Website Presence Chicago:

Web design and development
Responsive websites
Shopify web design

Online Marketing:

SEO optimization
Pay-per-click marketing
Content writing

Other Services in Chicago:

Website maintenance
Social media marketing
Google Analytics service
UPQODE SEO is a customer-focused company prioritizes transparency, reliability, trust, and outstanding customer care. Their talented web design specialists are dedicated to creating your online success. They understand your business goals and deliver results aligned with your values.

1o8 is a premier SEO company based in Chicago that offers services designed to unlock growth and deliver creative solutions for modern commerce challenges. With a team of wildly effective experts, they provide customized SEO strategies to help businesses meet their goals and generate more online traffic. Their comprehensive approach includes website optimization, content marketing, and white hat link building.
Some key points about 1o8 and their SEO services:
They have experience working with various industries, including Shopify stores, eCommerce, B2B businesses, dental practices, manufacturers, and more.
Their SEO strategies focus on improving rankings on search engines like Google and Bing to attract the right customers and achieve ambitious goals.
1o8 offers a strategic blend of competitor research, on-page optimization, content creation, backlinking, and conversion optimization to maximize the effectiveness of SEO campaigns.
1o8 takes a personalized approach to SEO, tailoring strategies to meet each client's unique needs and objectives. Their knowledge and dedication make them a top choice for internet enterprises.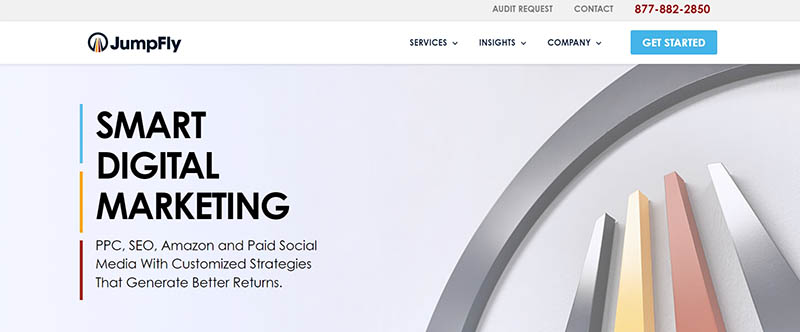 JumpFly is a smart SEO company based in Chicago that specializes in providing customized strategies for PPC, SEO, Amazon advertising, and paid social media. They are a trusted partner in the ever-changing digital advertising industry with over 20 years of experience.
Here are some key points about JumpFly and its services:
They offer superior strategies for pay-per-click marketing, search engine optimization, paid social media advertising, and advertising for Amazon.
JumpFly is recognized by Google as a trusted partner and has access to dedicated Googlers trained on new rollouts and beta programs.
Their paid search services can resurrect and transform underperforming ad campaigns, leveraging talent, proprietary technology, and years of expertise.
They deeply understand the strategic and tactical tools available for maximizing advertising results on Amazon.
JumpFly's SEO strategies focus on effective communication with search engines and customers, utilizing keyword identification, technical analysis, content optimization, and link authority.
The company is led by Jill, their Director of SEO, who brings unparalleled expertise and data-driven decision-making to drive long-term SEO results.
Their clients have experienced significant increases in website traffic, conversions, revenue, and overall business growth.

BFO (Be Found Online) is a Chicago-based SEO company that goes beyond the basics to deliver truly effective search engine optimization strategies. Focusing on data, audience, and brand, they strive to connect businesses with their customers in the right place and with the right content. BFO offers services and expertise to help businesses improve their SEO performance and drive measurable results and traffic growth.
Here are key points about BFO and its services:
They provide comprehensive SEO audits, technical SEO consulting, and offsite SEO consulting to optimize your website for maximum performance.
BFO offers keyword research, optimization services, and content auditing to improve organic keyword rankings and brand awareness.
They have expertise in website transition projects, including site redesigns, platform migrations, and launches, to ensure a smooth and successful transition while maintaining SEO performance.
BFO can provide in-house SEO support, helping your team develop and execute effective SEO strategies.
Their top-level performance tracking and SEO reporting enable you to monitor and measure the success of your SEO efforts.
BFO SEO company has a track record of success with both B2B and B2C brands, helping them achieve significant growth in revenue and online presence. Their team of SEO experts is dedicated to solving problems, identifying opportunities, and staying ahead of the evolving SEO landscape. Clients have praised BFO's quick responsiveness, exceeded expectations, and ability to deliver strategic and fun partnerships.
Suppose you're seeking an SEO Chicago company to take your website's performance to the next level and drive tangible business outcomes. In that case, BFO is the partner to trust.

Dabaran is a Chicago-based SEO company that delivers results-driven search engine optimization strategies. With a focus on personalized digital marketing solutions, Dabaran aims to help businesses climb the search engine results page (SERP) and achieve long-term profitability. They offer various services tailored to meet their client's unique needs and goals.
Here are key points about Dabaran and its services:
SEO Audit: Dabaran conducts comprehensive on-site audits to identify and address any deficiencies, ensuring a strong foundation for your website's SEO.
Competitor Analysis: They thoroughly review your top competitors to develop strategies that outperform the competition and deliver sustainable results.
Link Building: Their team builds organic links from moderate to high domain authority websites, enhancing your website's online presence.
Content Marketing: Dabaran creates optimized articles and blogs with target keyword anchor links strategically posted on high-traffic websites to drive traffic and improve rankings.
Local SEO Chicago: They help businesses rank high in Chicago local search results by leveraging hyperlocal organic links, ensuring visibility where your target market is located.
Technical SEO: Dabaran delves deep into your website's URL structure, robots file, sitemap, and more to optimize every aspect of your site for improved search performance.
SEO Reporting: Their SEO dashboard provides comprehensive insights into optimizations, backlink status, and historical and current rankings.
Dabaran follows a proven seven-step SEO methodology that ensures clients consistently achieve optimal results. Their team proactively adapts to the ever-changing search landscape, from the discovery phase to recalibrating strategies. Transparency is a cornerstone of their services, with regular reports and open communication to keep clients informed and involved.
With a focus on integrity and white-hat SEO practices, Dabaran upholds a strict SEO code of ethics. They prioritize client success and provide personalized strategies that align with specific business goals. By choosing Dabaran, clients gain access to dedicated SEO professionals who are committed to driving measurable results and improving online visibility.
Suppose you're looking for an experienced SEO agency in Chicago that prioritizes your unique needs and delivers transparent, effective strategies.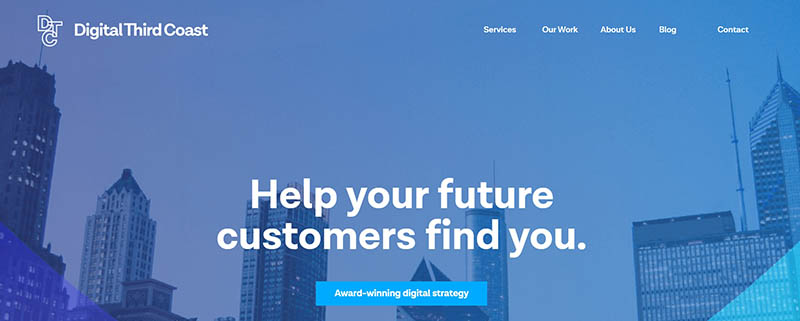 Search engine optimization (SEO) and digital marketing tactics are the areas of expertise of Digital Third Coast, an industry-leading SEO company headquartered in Chicago. With over 15 years of experience, their team of experts delivers measurable results that help businesses increase their online visibility and drive growth. Here's what sets Digital Third Coast apart:
SEO Expertise: As SEO specialists, Digital Third Coast deeply understands the ever-changing digital landscape. They stay ahead of the curve by implementing cutting-edge strategies to help clients consistently outrank their competitors.
Digital PR: Digital Third Coast's digital PR services focus on creating compelling content that earns media coverage from top publications. Building high-quality backlinks enhances their clients' online authority and improves search rankings.
Digital Third Coast's dedication to client success is evident through their case studies:
Viral content boosts national brand's visibility: Through a viral digital PR campaign and on-site SEO work, Digital Third Coast helped US Foods increase its digital visibility ahead of its top competitor in just six months. This resulted in over 500 media placements and significant brand exposure.
4x visibility for financial services client: By combining SEO and PPC strategies, Digital Third Coast achieved remarkable results for a financial services client. They scaled the client's digital presence across new markets, resulting in record-setting monthly orders.
703% increase in purchases via Facebook Ads: For a B2C e-commerce client, Digital Third Coast implemented a successful Facebook Ad strategy during the Covid-19 pandemic. The result dramatically boosted online sales and purchases, with a significant return on ad spend.
Digital Third Coast's team comprises creative problem solvers, data devotees, and industry experts. They take a personalized approach to every client, understanding their unique needs and providing tailored strategies for success. With a track record of excellence, including recognition as a Google Premier Partner and US Search Award winner, Digital Third Coast is recognized as one of the best digital marketing agencies in the US.
Conclusion
​​The Top 11 SEO Companies in Chicago (2023) are the real deal in optimizing your online presence. They understand search engine algorithms and trends and are SEO experts. These organizations work hard to make your website stand out and attract the correct audience.
These companies can help your business achieve remarkable results by employing various strategies and techniques. From meticulous keyword research to on-page optimization, they leave no stone unturned to boost your website's visibility. They understand that every company is unique and tailor their approaches to your specific goals and niche.
Don't miss the opportunity to work with these exceptional SEO companies in Chicago. Take action now and reap the benefits of increased organic traffic, improved conversions, and enhanced brand visibility. Your online success is just a click away.