Any company — a newly opened online store or a multinational corporation — cannot go without a landing page if it sells something or wants to increase its brand awareness.
The structure of such pages is well known and mathematically verified. However, some landing pages provide the highest conversions, while others do not bring the desired result. Why?
The answer should start with the structure of the page and the function of each element. The experience proves that optimization is always needed for any element of a landing page.
The landing page mainly consists of:
Header block. It contains the essence of your proposal and is intended to keep the visitor's attention. Since this is the first anchor that should grab visitors and keep them on the page, the importance of headline optimization cannot be overstated.
Description of the offer (product or service). "Selling text" — it is exactly about this block. Optimization of this block assumes a "sniper" approach: "One shoot — one hit." The proposal should be formulated as clearly and unambiguously as possible.
Examples of the most successful cases. The customer needs confirmation of the correctness of his choice. Optimizing this block means selecting the most impressive choice of firms that have used your services or buyers who have purchased your product. Their positive (and, if possible, enthusiastic) reviews are hooks that confidently pull a potential buyer to checkout.
Information "About us." The feedback from your grateful customers is very important and should be placed here. This section is directly related to the previous one. The essence of optimization, in this case, is to warm up the level of confidence of a potential buyer in your offer, but not to repeat itself and not look too intrusive.
Promotions, short-term discounts about to expire, bonuses for the first hundred customers, etc. For optimization of this block, the so-called "fear of loss of profit" is used. Promises of significant discounts on immediate purchase and reminders of the imminent expiration of the exclusive offer are a must in this section.
Form for contacts and order. Even if a customer doesn't buy right away, getting their data will allow you to connect with them in the future. Optimization of this block always requires special attention and combined efforts of the designer and psychologist. The form should not scare off the buyer with ambiguity in wording or excessive attention to his data. At the same time, it should add to your database of potential buyers, even if the purchase was not completed immediately.
Contacts (so-called basement — the area at the very bottom of the page). Your phones, address, map. A block whose optimization is often neglected in vain. Crisp, clear, and complete information about your contacts is just as important as a catchy headline.
The formal presence of these elements does not yet guarantee the result — high conversion. Even if your landing page works, it requires thorough optimization to get even more impact.
Plerdy Landing Page Optimization Tools
The most effective landing page optimization tools are Heatmap and Session Replay. Their use guarantees a manifold increase in the effectiveness of each element and the page as a whole.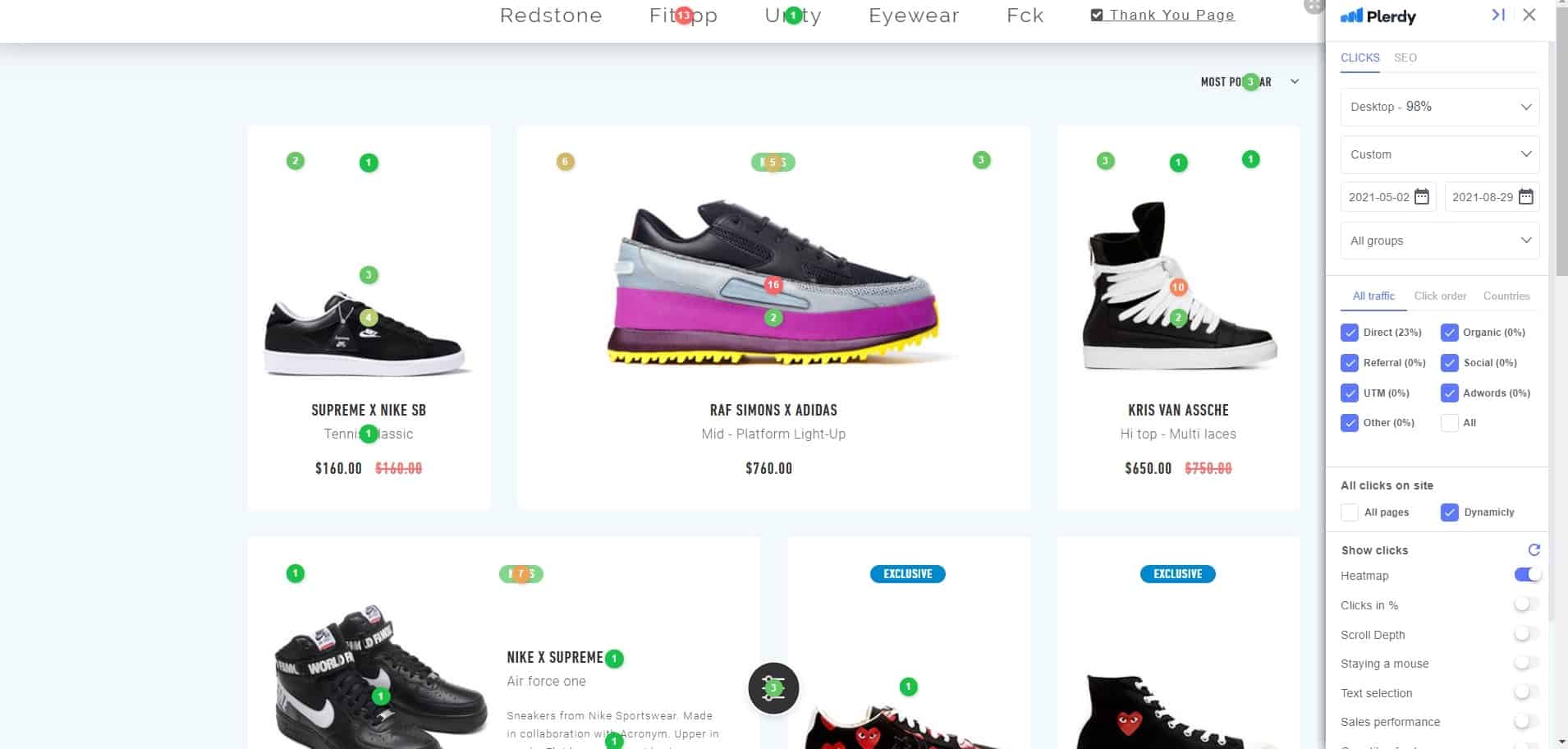 Fixes the topography of the user's movement across the page from the very first click.
Identifies the device the visitor is using for surfing and the type of its traffic.
Distributes visitors by type of behavior on the page. Analyzes each group in detail.
Identifies the most and least requested elements on the page. Finds dead spots.
Finds "exit points" — the elements or areas where the visitor leaves the page.

According to the filters you preset, it records every visitor's action for further analysis.
In fact, this tool is an extension of heatmaps. It senses users by country, device type, traffic, etc.
By using these tools, you get
Fast and accurate (up to 99%!) User experience (UX) analysis.
Detailed analytics for Single Page Applications (SPA) usage.
Visitor's use of dynamic elements and their effectiveness.
Graph of the user's movement across the page in real-time.
Adjusting the interface based on the received data guarantees an increase in conversion from 50%.
Free Landing Page Optimization Tools
The most popular and accurate free landing page optimization tools are Google Analytics and Google Optimize.

To get the most complete and detailed data about your landing page, you need to embed a JavaScript snippet in its header. The easiest way to do this is using Google Tag Manager.
This solution allows you to analyze the behavior of page visitors by dozens of different parameters. Sorts all data into informative tables. Integrates with A/B testing tools.
Google's analytical product is entirely adapted to work seamlessly with the algorithms of this search engine. At the same time, recommendations from Google Analytics, on the one hand, are completely free, and on the other hand, they are absolutely easy to use. Moreover, their application is immediately reflected in the ranking of your website in Google search.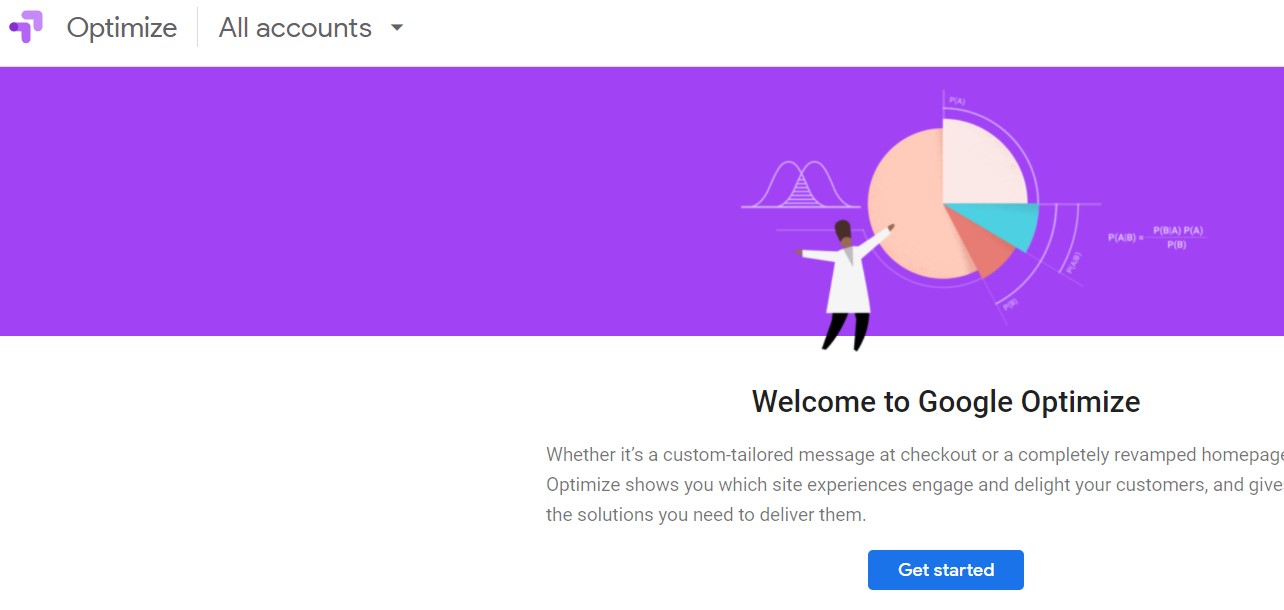 The main element of Google Optimize is A/B Tools, the tool for testing different versions of the interface of your landing page. When analyzing large sites, the free Google Optimize approach can seem overwhelming and traffic-intensive. But for working with landing pages, this tool is almost perfect.
A/B Tool is a system that is actively used on most specialized UX testing platforms. Its essence lies in the fact that different testers are shown a variant of a page to which minor changes are made for each group — their own. This allows you to choose an option that will appeal to the maximum number of users.
Paid Landing Page Optimization Tools
Paid tools for optimizing landing pages can contain significantly more features than solutions from Google. In addition, some of them offer their original approach for UX optimization.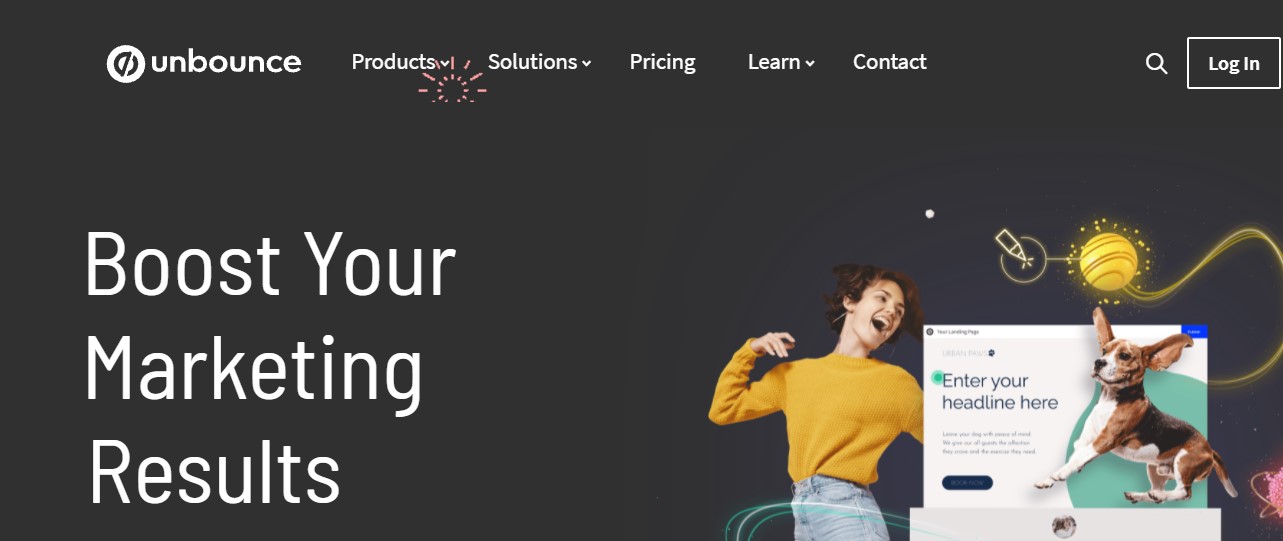 The landing page of this tool, owned by the firm of the same name, is a worthy role model. Rick Perreault founded the Company in 2009 and today has offices in six countries, including Australia. Unbounce is a kind of no-code drag-and-drop Lego that allows people, even with no coding experience, to create original and attractive landing pages.
All page elements can be automated. Their appearance as pop-ups is dependent on specific user actions and does not obstruct the page view.
The clients of this agency are such companies as Helix, Zola, Fifty & Fifty, Campaign Monitor, Officevibe

The Company is focused on small businesses and has 40,000 successful cases in its portfolio.
Before handing over the page to the customer, Leadpages' designer's pre-test and optimize it according to the results. Thus, the customer immediately receives a ready-to-use product that does not require additional refinement.
Leadpages offers the user a huge list of templates for any task. With the help of interactive elements and a convenient "constructor," the customer can change them to suit his needs in a few minutes.
Leadpages was founded in 2012 with headquarters in Minneapolis, Minnesota, led by Jeanette Dorazio.
Among the clients and partners of the Company are Drip Inc., Vegas.com, GoDaddy, Intuit, Arthur Ventures, Foundry Group. and others.

This firm has offices in the USA, Poland, and Romania. It offers the platform for creating and optimizing landing pages. The platform consists of 6 tools combined into a unified interface.
The Company offers tools for personalizing and analyzing visitor data, as well as A/B testing. In addition, the platform allows you to create so-called AdMaps, causing the appearance of personalized advertising due to the region from where the traffic is coming.
Instapage's client list looks pretty impressive: Soundcloud, Vimeo, eBay, Udacity, HelloFresh.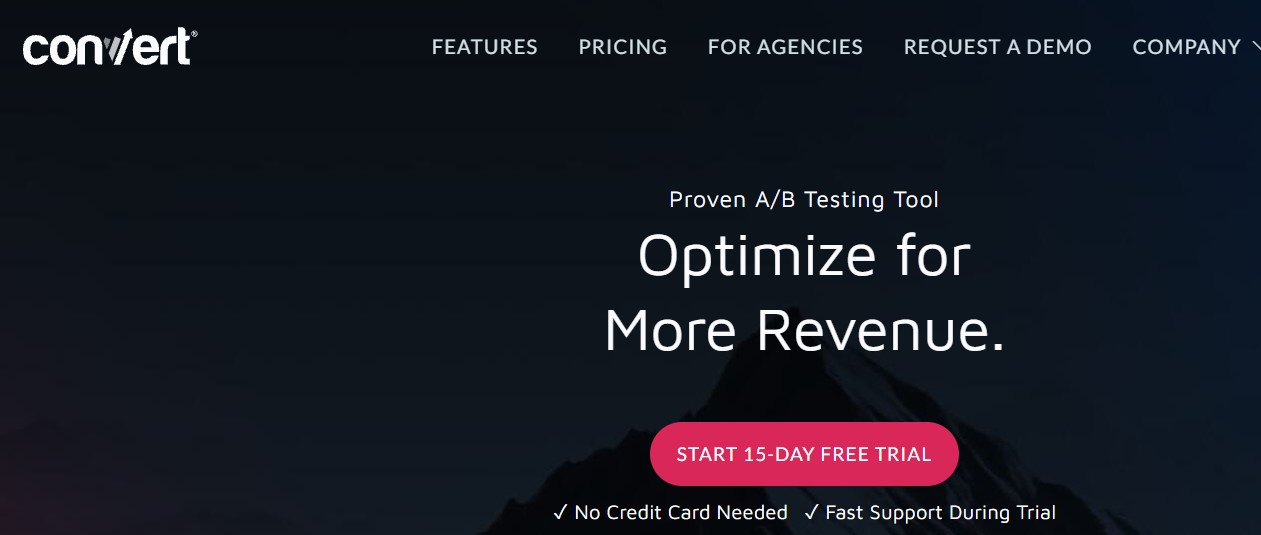 The main product of this Company is a tool for UX testing of landing pages. Convert bills itself as an alternative to Google Optimize, arguing that while their A/B testing tool costs money instead of Google's solution, it is significantly more user-friendly. The availability of a 14-day trial period allows you to test this statement in practice without risking money.
Sony and Unicef ​​are Covert's most significant clients, attesting to the effectiveness of its development.
Head of the company – Dennis van der Heijden.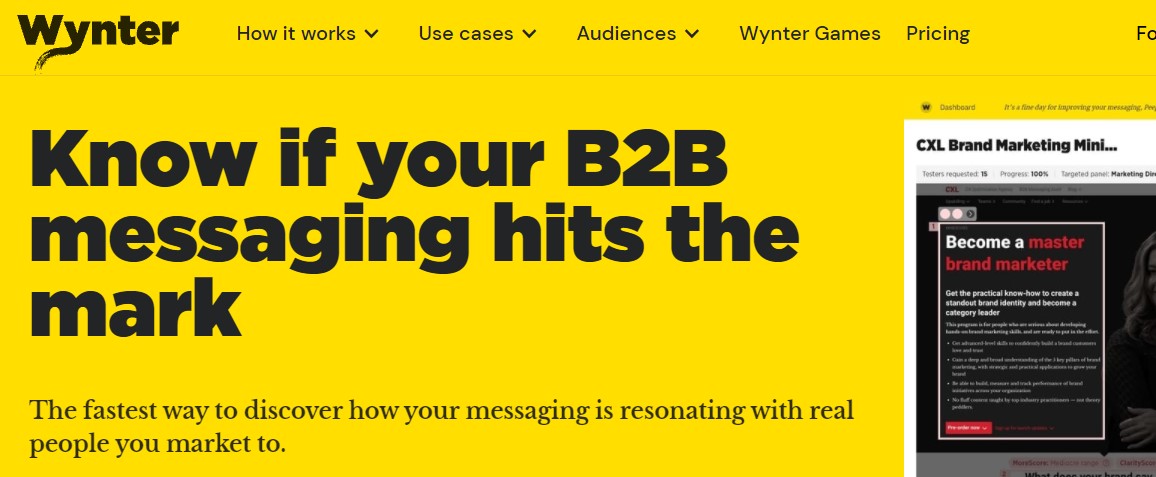 The head of Wynter Peep Laja positions the main feature of his Company as a statistical analysis of the effectiveness of the text on the landing page. Wynter's algorithms are sharpened for examining each message on the page upon the analysis of user reactions. Then, Wynter's experts conclude how much a particular text contributes to increasing conversion.
Wynter's experts on their landing page promise to provide the real growth of conversions no later than 48 hours after receiving the order.
The Company works closely with brands such as Drift, Intercom, LastPass, HubSpot, RingCentral.

HubSpot was founded in 2005 by MIT alumni Brian Halligan and Dharmesh Shah. According to the mission stated on their website, they do not impose products on customers but help them with a choice. Their main product — CRM platform HubSpot — is supposedly based on this principle. The platform consists of several hubs:
Each of them can work both individually and in combination with others.
The clients of this Company are companies with world renown: Trello, WWF, Suzuki, VMWare, Survey Monkey.

The Company offers an integrated platform for centralized management of multiple businesses and an enterprise CMS. Optimizely uses its Performance Edge tool to test sites and pages and promises a 64% increase in landing page conversions.
Optimizely boasts not only the fastest end-to-end landing page testing platform but also an impressive list of clients. More than 9,000 companies use its services. Names like IBM, The Wall Street Journal, Discovery Channel, eBay, Pizza Hut, Dolby, Mocco Food Service speak for themselves.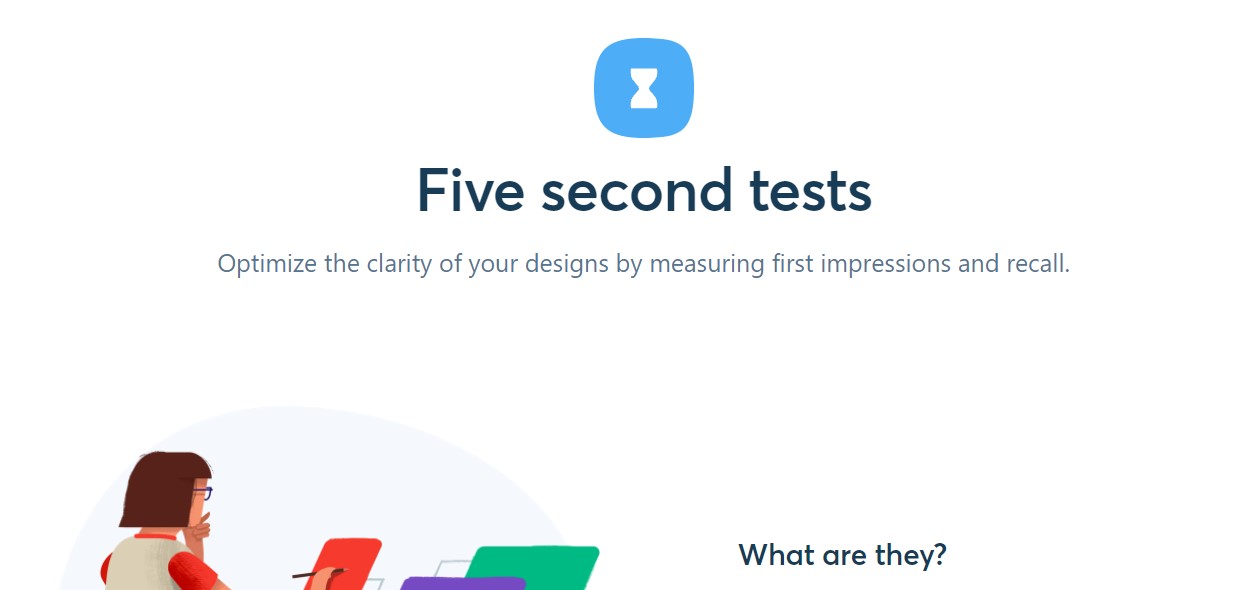 UsabilityHub includes Google, Amazon, Box cloud service, and others in its clients. The gist of Five-second tests is that the user decides whether to stay on a particular site within 5 seconds. Therefore, UsabilityHub conducts a series of short tests to study users' first reaction to the landing page. Based on a comprehensive analysis of the data obtained, experts give practical recommendations for increasing the page's attractiveness.
This five-second approach has profound implications. According to research by psychologists and marketers, in such a blink of time, a visitor unconsciously asks himself:
What is the purpose of this website?
Is it trustworthy?
Do I need what it offers?
Do I want to stay here?
Your success and your profit depend on his positive answers.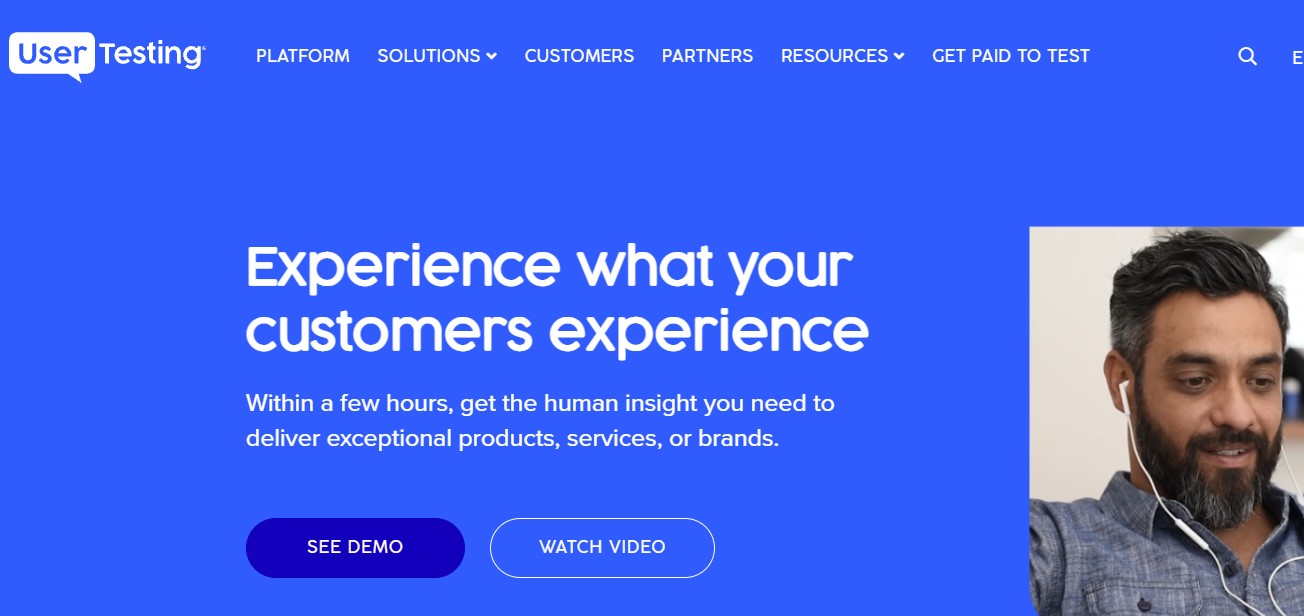 User Testing was founded by Dave Garr and Darrell Benatar in 1999. In addition to the United States, it has offices in Scotland and Singapore. The Company is a winner of plenty of prestigious annual awards such as Best Customer Support, Top Rated, Best Work Places, etc.
User Testing's solution for optimizing landing pages is called Human Insight Platform. The principle of its work is that after determining the target audience, testers recruited from non-specialists evaluate how attractive the page is for them.
Then the User Testing experts communicate with them, summarize their comments and, on this basis, prepare the recommendations for the owner of the landing page.
Summing up
Despite the seeming simplicity of the landing page, there are no random or unimportant elements in it. Weaving the net that can capture the customer's attention and not let go of it until the very moment of purchase requires consolidated efforts. Copywriters, designers, psychologists, and programmers are supposed to work on it hand-in-hand. The target action of the client is the main point of creating such a page. Therefore, building a balanced virtual environment is a real art. Since not a single heading or a banner should distract a visitor from the goal, you need to lead him to make the right decision confidently.
Therefore, your personal "like and dislike" feeling is not enough to gauge the future performance of a landing page, despite all your experience. There is never too much optimization. And to achieve a guaranteed result, quite well-proven tools have been created. Use them regularly, and may the Force be with you!